Do you write about goal setting or a related topic? 
Or are you looking for ways to easily monetize your existing goal-centered content on your blog or social media? Make money online with affiliate sales of the Printable Slay Your Goals Planner.
HOW IT WORKS:
When someone clicks on your unique referral link and purchases the Printable Slay Your Goals Planner, you'll earn a commission. If they spend $27, you get $10. Sweet deal, right?
Sign up below to start earning. Payouts are made directly to your PayPal account.
You'll also receive special referral links to It's All You Boo's top resources and promotional images and product photos to help you promote the planner.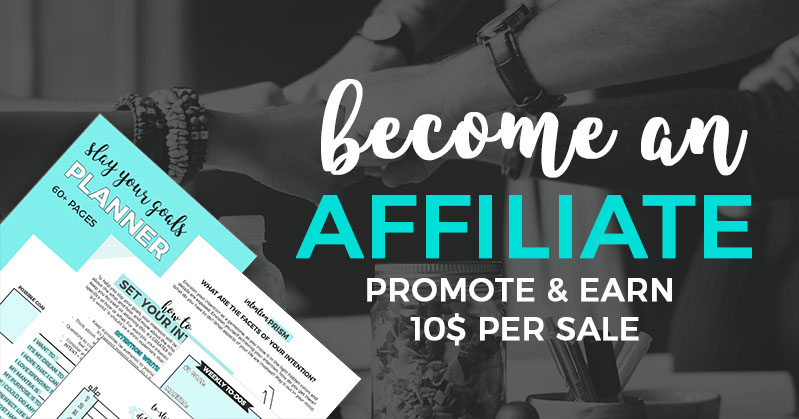 If you're all about goal setting, following your dreams, personal development, mindset and motivation, self-help or even a lifestyle blogger, this goal planner is just what your tribe needs to help them set actionable goals, that they can actually achieve. Click here to learn more about the Slay Your Goals Planner including product details, preview images, and testimonials.
The Slay Your Goals Planner is the perfect product to feature and promote as this is the time of the year most people start giving up on their goals and New Year's Resolutions!
Affiliate Program Application
Fill out the form below to apply to join our affiliate program.
Get the Slay Your Goals Guide!
Subscribe to our VIP newsletter, plus get the free 10-step guide.