What are the best healthy foods to eat every day?
What should I eat every day to be healthy?
Healthy eating is a part of the foundation for optimal well being and is important for lowering health care and insurance costs. Healthy eating also has a variety of health benefits, including increasing energy, managing weight, and preventing a number of chronic diseases.
Some of the leading causes of death can be linked to diet, including heart disease, stroke, cancer, and Type 2 diabetes. Eating healthy benefits our health by lowering the risk of chronic diseases but is also important for managing chronic health conditions.
Diet and physical activity are important for lowering the risk of Type 2 diabetes. Type 2 diabetes is a serious health condition that requires daily management and can lead to serious complications if not managed properly. It can also affect life insurance rates and coverage. In fact, term insurance for a diabetic person may be more difficult and costly to obtain.
The foods we should eat for optimal health include foods from all the food groups. These healthy foods have a significant amount of vitamins, minerals, and other nutrients and are low in calories, low in sugar, low in sodium, and have minimal processing.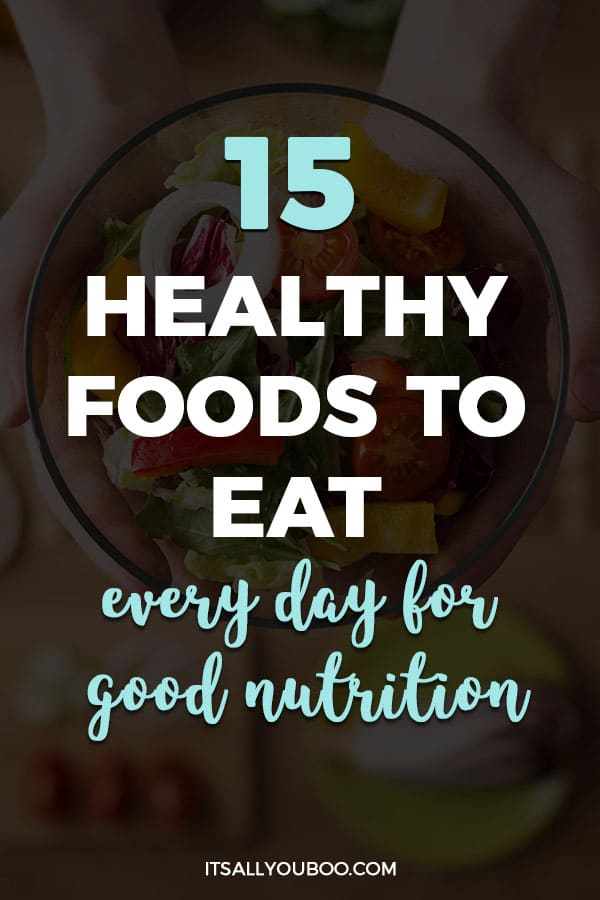 Top Questions About Eating Healthy Every Day
What Should I Eat to Keep Healthy?
Eating more vegetables, eating more protein, and eating healthy fats are three nutritional changes for good health.
If your goals are weight management or weight loss, the most important thing is calories. It comes down to the daily calories you are consuming from foods and beverages in relation to the calories you are expending for metabolism and physical activity.
Healthy foods to eat every day to lose weight include fruits, vegetables, whole grains, lean protein, and low-fat dairy products. These foods are not only naturally low in calories but also contain fiber, which helps you feel fuller.
Processed foods, packaged foods, and restaurant foods should be limited. You should also minimize or eliminate sugary beverages to cut back on extra sugar and calories.
👉🏽 RELATED POST: How to Start Eating Healthy When You're Busy
What are the Best Foods for Good Health?
The best foods for good health have a variety of nutrients needed for good health, like vitamins, minerals, carbohydrates, antioxidants, phytonutrients, heart-healthy unsaturated fats, and fiber.
Many of the foods listed below are high in fiber. Fiber is one important nutrient that many Americans do not get enough of on a daily basis. Fiber helps keep us regular and prevents constipation, lowers cholesterol levels, helps keep you full, and can help lower the risk of colorectal cancer.
Vitamin C is also found in many of the top 15 healthy foods. Vitamin C also acts as an antioxidant, which helps protect your cells from damage from free radicals. Free radicals are a result of oxidative stress produced by smoking, exercise, pollution, UV rays, and normal body processes.
👉🏽 RELATED POST: Healthy Habits For Students To Be Successful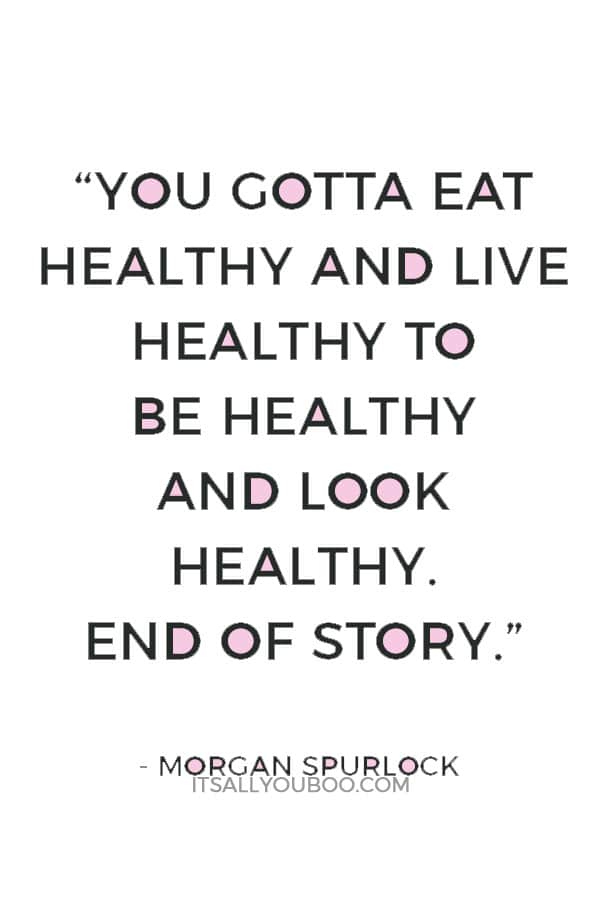 Vitamin E also acts as an antioxidant. Other antioxidants and phytonutrients found in the foods below include carotenoids (like beta-carotene), anthocyanins, polyphenols, lutein, and zeaxanthin.
Vitamin K is important for blood clotting. The B-complex vitamins are important for energy metabolism, healthy red blood cells, and enzymes for many body functions.
Vitamin D helps the body absorb calcium and plays an important role in immunity and disease prevention. Calcium is important for healthy bones and plays a role in muscle contraction.
Potassium is a mineral that keeps muscles and nerves healthy and plays a role in fluid balance. Iron is important for helping the red blood cells transport oxygen throughout the blood and body. Here is a healthy food list of 15 of the best foods to eat for good health.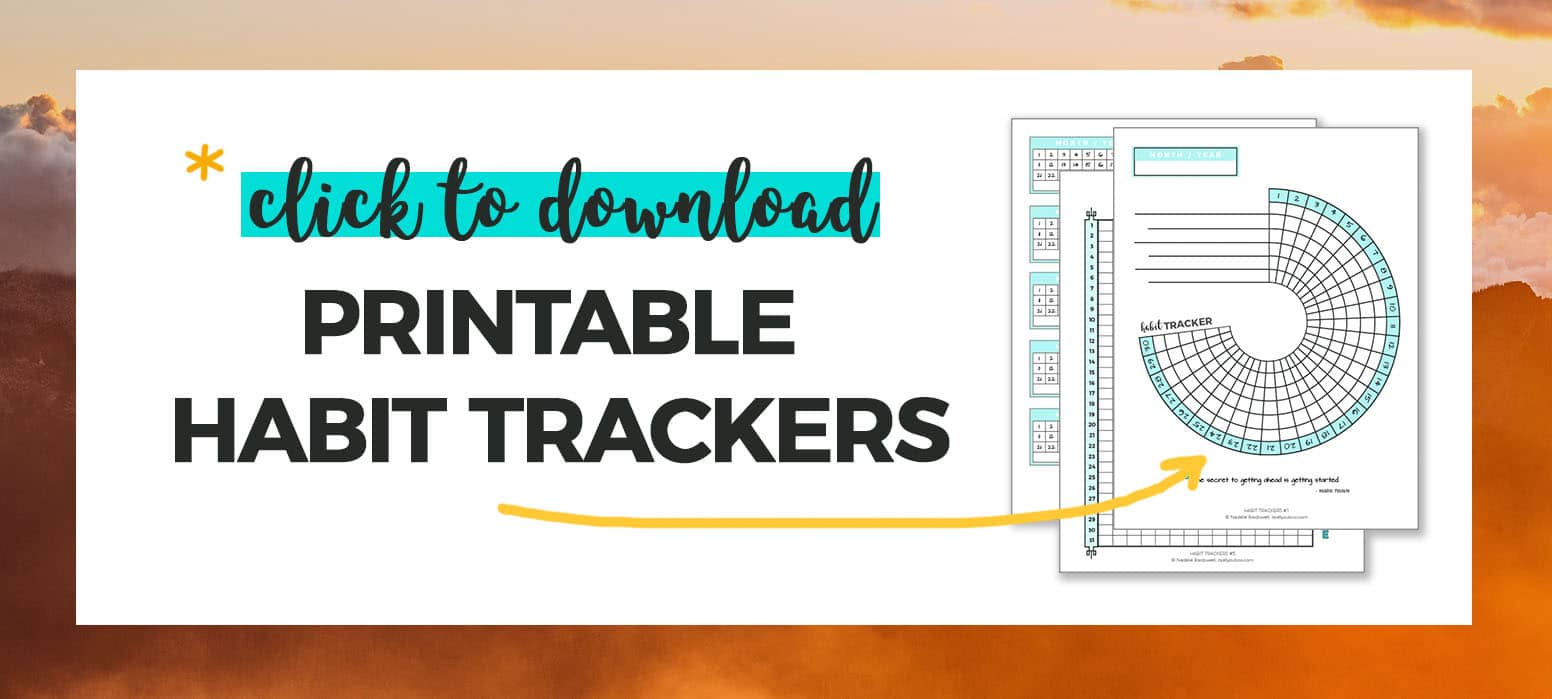 Healthy Foods to Eat Every Day
#1.
Leafy Greens
Leafy greens include spinach, kale, mustard greens, and collard greens. These leafy greens are some of the most nutritious foods you can eat because they are packed full of vitamins and minerals. They have vitamin C, vitamin K, vitamin E, some B-complex vitamins, phosphorus, calcium, iron, potassium, magnesium, and fiber.
Leafy greens also have carotenoids, which are converted to vitamin A by the body. Leafy greens are very low in calories, low in fat, low in sodium, and have no sugar. Spinach is very versatile and can be eaten raw in salads, on a wrap or sandwich, or cooked. Spinach can also be added to smoothies without changing the flavor.
#2.
Berries
Berries are versatile and tasty and include options like strawberries, raspberries, blueberries, blackberries, and cranberries. They are also a great source of phytonutrients called anthocyanins, which may have some cognitive benefits.
Berries also have vitamin C, fiber, beta-carotene, and other phytonutrients. Fresh berries taste great and can be used in various ways, but frozen berries are also convenient for oatmeal, smoothies, or yogurt parfaits.
👉🏽 RELATED POST: How to Stay Healthy while Chasing Your Dreams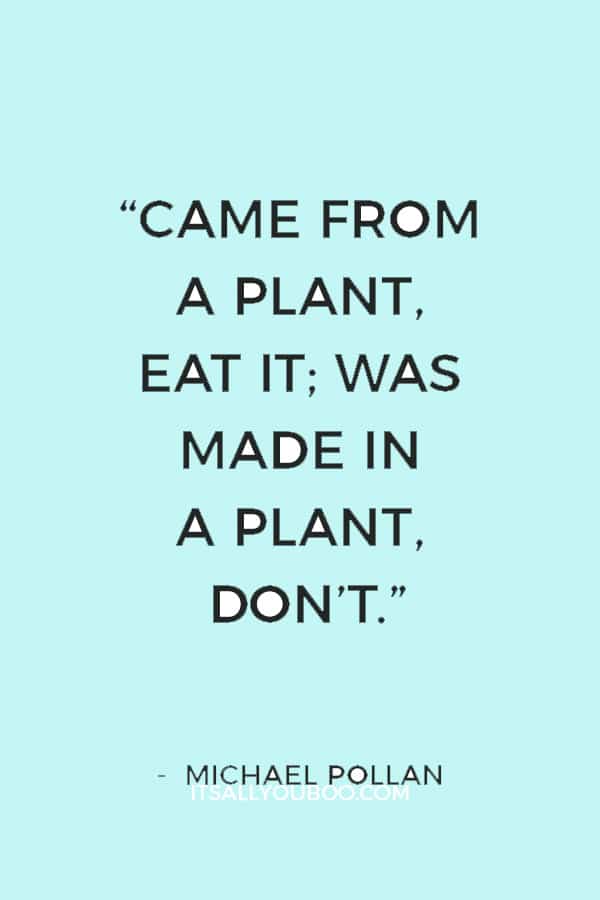 #3.
Low-fat Greek Yogurt
Low-fat Greek yogurt is high in protein and has calcium, vitamin D, and potassium. Yogurt also has live microorganisms called probiotics that help keep your gastrointestinal tract healthy. Plain low-fat Greek yogurt is the best bet because the flavored yogurts have more sugar and calories.
Pair low-fat Greek yogurt with berries for a double-up on healthy foods. Yogurt with fruit can be a healthy snack, a breakfast meal, or dessert with any meal.
#4.
Tofu or Tempeh
Tofu and tempeh are both soy-based protein options that can replace the meat in a meal. These two options are plant-based so they are great options for vegetarians and vegans. Soy is a complete protein that has all of the essential amino acids needed for good health.
Tofu and tempeh have some similar nutrients like fiber, iron, potassium, and calcium. Tempeh is a little more versatile when it comes to cooking and recipes. Also, tempeh has a slightly nutty flavor, but both tofu and tempeh take on the flavor of whatever type of sauce is used in the entree.
#5.
Red, Orange, and Yellow Bell Peppers
Red, orange, and yellow bell peppers are extremely high in vitamin C. The sweet taste of bell peppers is appealing and they can be added to sandwiches or salads, or eaten as a snack.
Bell peppers also have fiber, vitamin B6, and carotenoids. One medium bell pepper only has about 40 calories.
👉🏽 RELATED POST: 11 Ways to Stay Healthy with a Desk Job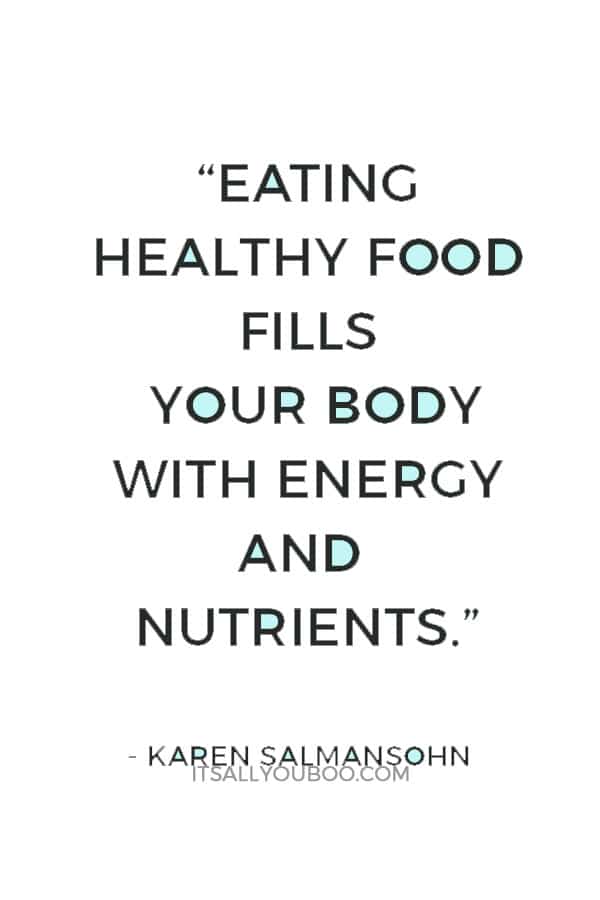 #6.
Sweet Potatoes
The orange color in sweet potatoes is due to a carotenoid called beta-carotene. Beta-carotene is converted to vitamin A by the body so it is important for healthy vision. It also acts as an antioxidant in the boy to protect cells from oxidative damage.
Sweet potatoes also have vitamin C, potassium, vitamin B6, and fiber. Sweet potatoes can be served baked, mashed, diced, or made into fries.
#7.
Salmon
Salmon is a great source of omega-3 fatty acids, which are beneficial for the heart, brain, and blood vessels. Omega-3 fatty acids also help lower inflammation in the body, which can help lower the risk of chronic diseases. Salmon is also a great source of protein, iron, and vitamin D.
#8.
Eggs
Eggs can get a bad reputation because of the cholesterol found in them. It is not thought that this dietary cholesterol translates well to blood cholesterol, so eggs are a healthy food choice.
Eggs have protein and a variety of vitamins and minerals. Lutein and zeaxanthin are two nutrients found in eggs that are important for healthy vision. Eggs are an inexpensive source of protein that can replace meat in many meals for a cheaper option.
👉🏽 RELATED POST: How to Reach Health and Fitness Goals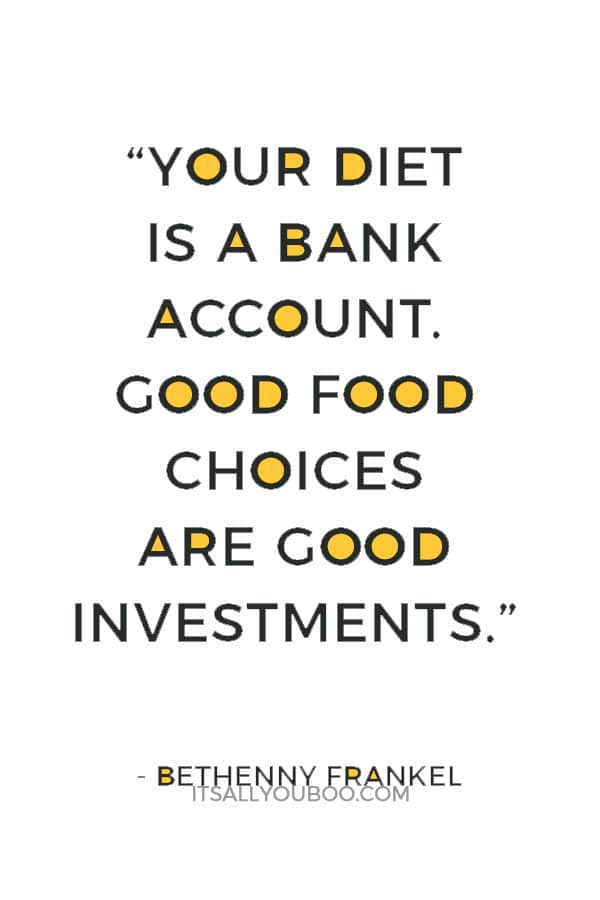 #9.
Beans
Beans include garbanzo beans (chickpeas), black beans, pinto beans, or kidney beans. Different types of beans have different nutrients, but generally, beans are a good source of iron, fiber, magnesium, phosphorus, and protein.
Beans are inexpensive and can be used in a variety of different meals.
#10.
Walnuts
Walnuts are high in alpha-linolenic acid (ALA), which may play a role in lowering the risk of heart disease. They also have antioxidants called polyphenols. ALA and polyphenols can also lower inflammation in the body, which can lower the risk of many chronic diseases.
All nuts, including almonds, walnuts, cashews, and Brazil nuts, have heart-healthy unsaturated fats, vitamin E, and fiber. Nuts are a great snack or can be added to salads, entrees, or desserts.
👉🏽 RELATED POST:  25 SMART Health Goals Examples
#11.
Avocados
Avocados have heart-healthy unsaturated fats, vitamin E, vitamin K, potassium, and some B-complex vitamins. You can add Avocados to sandwiches, wraps, salads, or added to a smoothie. The heart-healthy unsaturated fat helps with the feeling of fullness and satisfaction.
#12.
Tuna
Canned tuna is convenient and inexpensive. Tuna has omega-3 fatty acids, heart-healthy unsaturated fats, and protein. Tuna is low in calories and low in sodium. The protein and heart-healthy fats help you feel full for longer.
The mercury in tuna is not a concern for healthy adults, but pregnant women, women who are nursing, infants, and young children should limit their intake of tuna to no more than twice a week.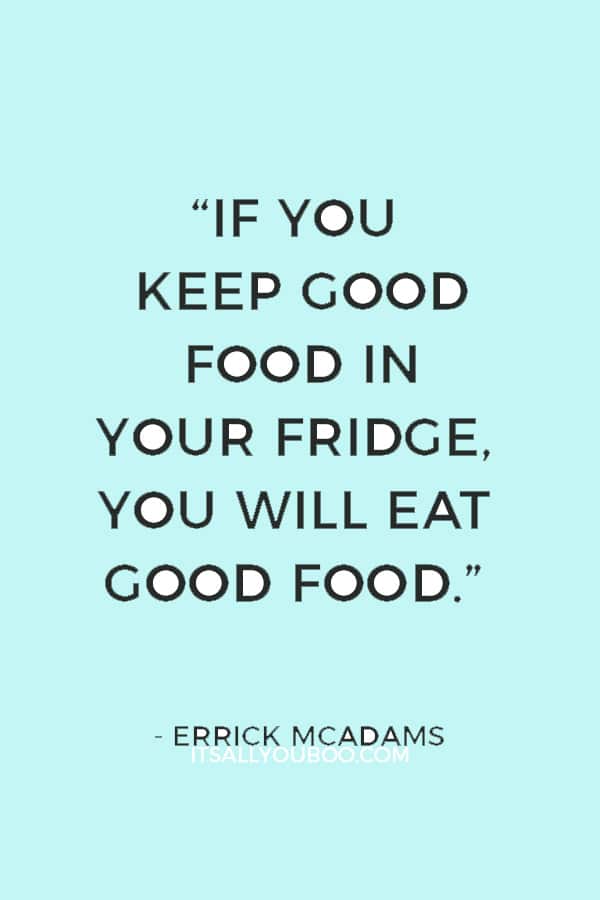 #13.
Quinoa
Quinoa is usually considered a grain, even though it is actually a seed and is in the same botanical group as spinach. It is an ancient grain that has been a staple in South American for many years.
Quinoa is a whole grain and is full of fiber. It is also considered a complete protein, meaning it has all of the essential amino acids needed from the diet for good health. Quinoa is also naturally gluten-free, which is good for those with celiac disease.
#14.
Oatmeal
Oatmeal is a whole grain that is high in soluble fiber, which can help lower cholesterol levels in the body. Being inexpensive, convenient, and versatile, oatmeal is an easy choice. Add some berries or other fruit to your morning oatmeal for a nutritious and tasty breakfast.
#15.
Broccoli
Another green vegetable that is packed full of nutrients for good health, broccoli can be eaten cooked or raw, but cooking does destroy some of the vitamin C. A cup of broccoli has less than 40 calories. Broccoli has vitamin C, vitamin E, potassium, folate, B-vitamins, calcium, iron, and phosphorus.
All these are foods to eat for optimum health. It's not that you need to eat every single one of them every day, but getting them in at least weekly is ideal.
More Questions About Eating Healthy
What Should I Eat Every Day to be Healthy?
Half of your daily intake should come from colorful fruits and vegetables. Great ways to do this include having fruit with breakfast, including vegetables with lunch and dinner, eating fruit for dessert, and snacking on fruits and vegetables throughout the day. Try to eat a rainbow of colorful fruits and vegetables to get a variety of nutrients.
The rest of your daily intake should come from grains, low-fat dairy products, and lean protein.
The best grain options are whole grains like quinoa, brown rice, 100 percent whole-grain bread, whole-grain cereals, or whole-grain pasta. Whole grains have more fiber, more vitamins, and more minerals than processed grains.
Low-fat dairy products are high in nutrients like calcium, vitamin D, potassium, and protein. Lean protein like chicken, turkey, fish, seafood, soy-based products, beans, nuts/seeds, and eggs. Eating healthy with a busy lifestyle is possible and does not have to be complicated with some knowledge and motivation.
👉🏽 RELATED POST: 6 Healthy Lifestyle Excuses You Need To Stop Making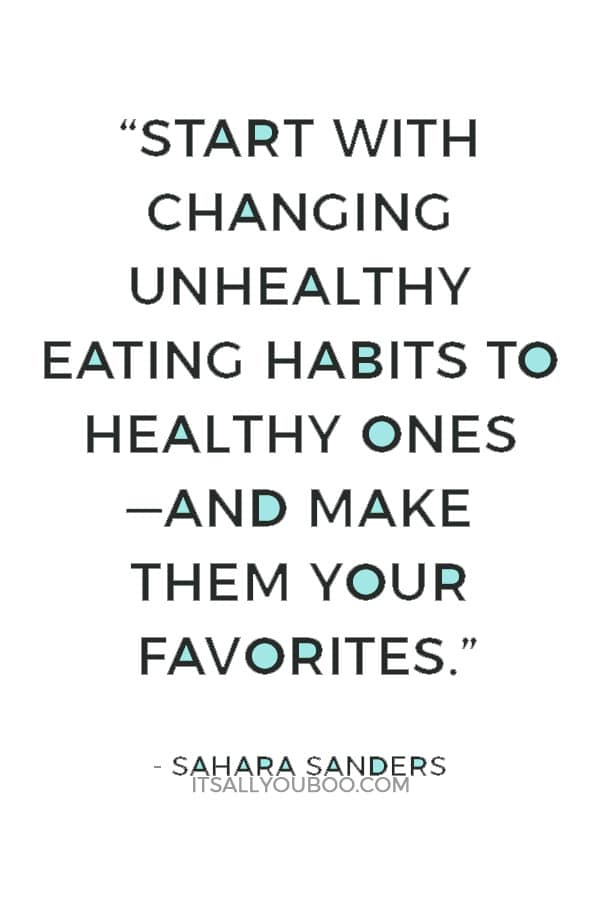 What is the #1 Healthiest Food in the World?
It is difficult to choose just one number 1 healthy food in the world because different foods have different nutrients. Eating a variety of different foods gives you a variety of nutrients needed daily for good health.
What are the 10 Best Foods to Eat?
It is difficult to narrow the list of 15 healthy goods down to just 10. Any of the foods from the above list could arguably be narrowed down to a list of 10 of the best foods to eat.
Five foods you should eat daily include oatmeal, low-fat Greek yogurt, berries, leafy greens, and beans. These foods are relatively inexpensive, full of nutrients, easy to incorporate into a variety of meals and snacks, and are simple to find at the supermarket.
Printable Habit Tracker Templates
Ready to start eating healthier? To add more of these healthy foods to your diet? Sign up below to get the FREE Printable Habit Trackers, with pages for 30 and 31 days. Use it to track your food consumption.
Want the best foods for optimum health? Click here for the 15 healthy foods to eat every day for good nutrition, with benefits. Get this healthy food list! #HealthyFood #HealthyEating #NutritionTips

What healthy foods to eat every day do you prefer?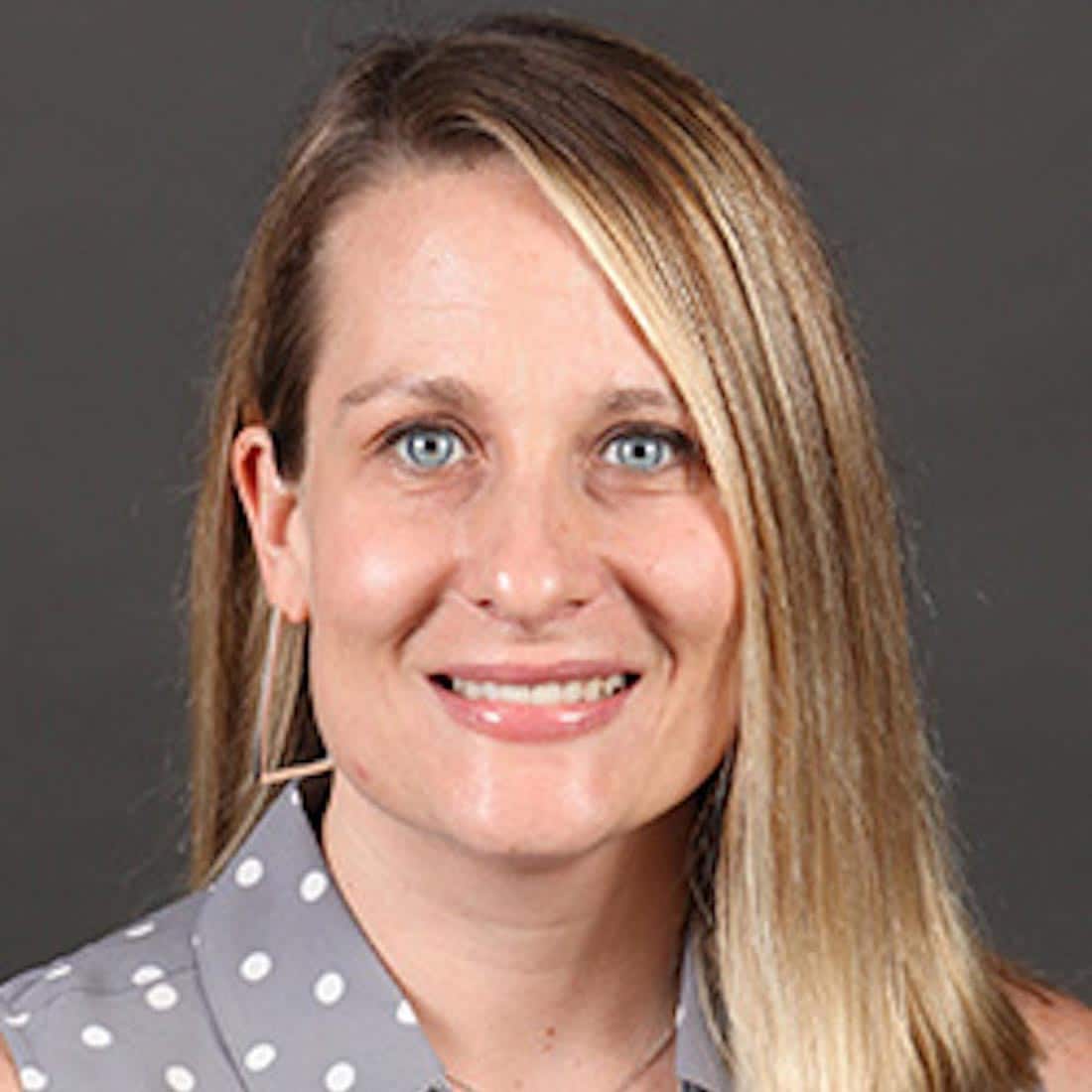 More About Guest Contributor
Melissa Morris writes for the life insurance comparison site, QuickQuote.com. She has an MS in exercise science, is an ACSM certified exercise physiologist, and an ISSN certified sports nutritionist.
Last Updated on July 11, 2021
✕
Get Your Habit Trackers
+ weekly tips to help you slay your goals.