Want to make extra money on the side?
How do you earn more money while working full time?
Want to start a side-hustle and make extra money while working your 9-5? It's not as hard as you think. Click here for step-by-step guide to getting started by @simply__amanda #entrepreneur #millennial #success
Are you working a 9-5 but struggling to make ends meet? Maybe you work in a toxic work environment and dream of escaping?
Is your paycheck just not cutting it? Well, the good news is that there's a way to make extra money than just what you earn from your full-time job.
It's called a side hustle! Side hustling is great because it's a way to earn more cash on the side without having to find a second job or trying to make extra money within a rigid time frame.
You can make money with side hustles on your own time and in the way that you want to. You're in control.
Side hustles are really popular right now not just for the monetary aspect, but because they allow us to tap into our passions and be who we've always wanted to be before all those pesky bills came piling in.
But that's the thing with 9-5's – we not only have countless bills, loans, and expenses to take care of… but we also want to save up for that dream vacation we've always wanted or buy ourselves a little something nice every once in a while.
Sometimes things like that are just not feasible without a side hustle. You can't improve your life and get ahead without making extra money on the side.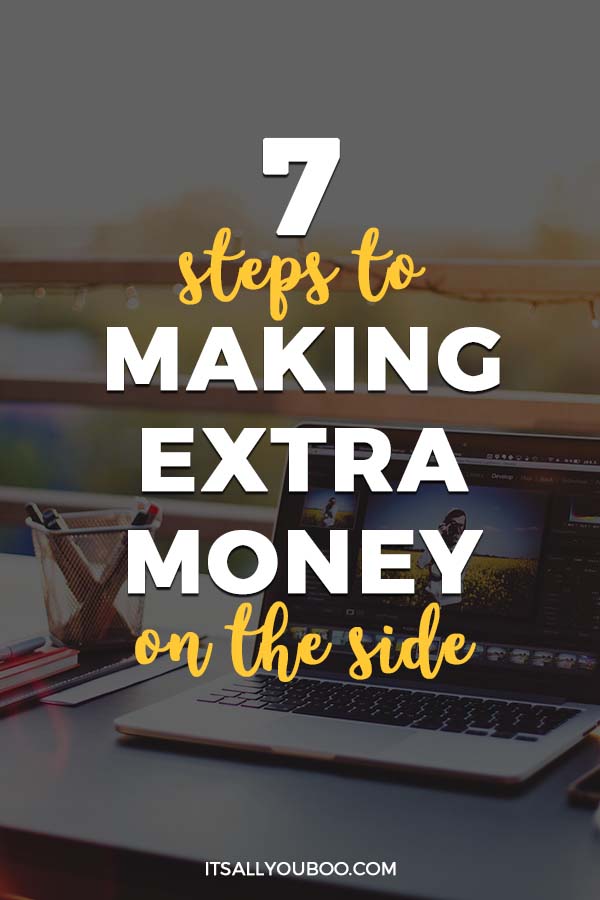 Why You Should Invest Your Time and Energy To Make Extra Money
There are plenty of reasons why you should start a side hustle. In fact, it could even be your best investment yet. It's the perfect way to give yourself that raise that you might not be seeing at your full-time job.
It's also a great way to put money away for a rainy day. Things happen — you never know what could come up in life and if you're living paycheck to paycheck, it's hard to even think about having a little something extra set aside.
That's why it's so important to invest your time and energy into creating a profitable side hustle. Side hustles aren't for everyone but if you learn to focus your time and be patient, you can definitely grow a budding little hustle.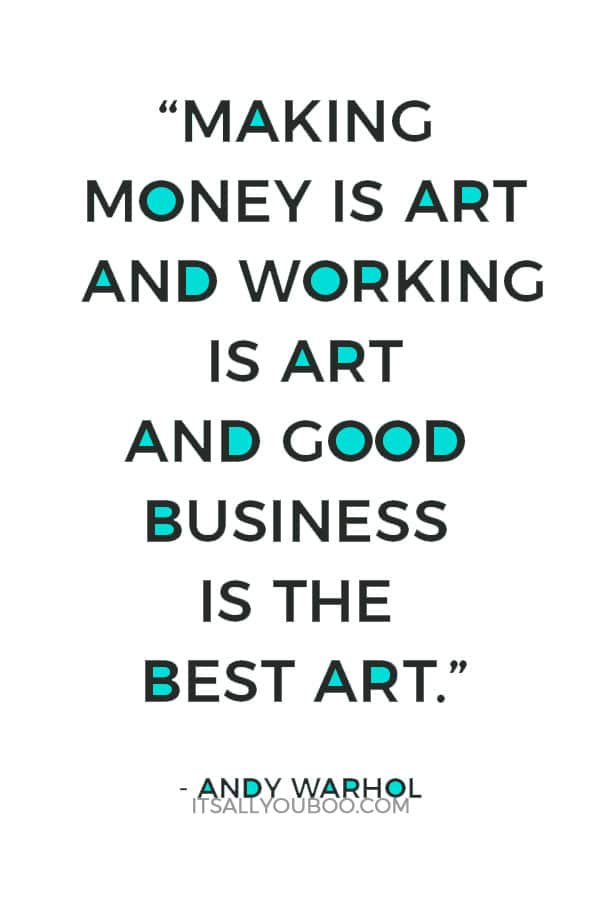 You can still make extra money on the side without having to pick up another job.
But you might be wondering "how can I possibly start a side hustle while working full-time?!"
What's the secret to building a side hustle when you're pressed for time? It's actually not as hard as you think. With the right strategies in place and a well thought out action plan, you could easily be making bank on the side.
So let's dive into these 7 steps to making extra money on the side, while you're on that 9-5 grind.
7 Steps to Make Extra Money While Working Full-Time
#1.
Identify Your Skills and Strengths
This might be a no-brainer, but the first thing you need to do when you're thinking of starting a side hustle is identifying your skills and strengths. Your side hustle will not thrive and succeed if you are doing something you are not very skilled at.
If it's not your strong suit, it will be a bit more difficult to make extra money from your side hustle because you will need to spend more time learning and practicing so that you have the skill set needed.
Think about it:
What are you good at?
What are your strengths?
Are there any skills from your 9-5 that you could apply to your side hustle?
When you choose a side hustle that requires skills that you already excel at, it makes it much easier for you to be able to monetize and convert those skills into a money-flowing hustle.

#2.
Discover Your Passion
The #1 mistake people make far too often is choosing something they are not passionate about for their side hustle. Your hustle is something you will be doing in your spare time when you're not working. It's not just about the money.
Those hours you could be doing something else, you're hustling instead to create a better future for yourself. That's why you need to love what you do or you will run the risk of burning out quickly.
When you're not passionate about what you're doing, it shows through and people often pick up on that. In fact, it could even turn away potential customers from making purchases or hiring you and that's the last thing you want, right?
Maybe you have a hobby that you're absolutely passionate about.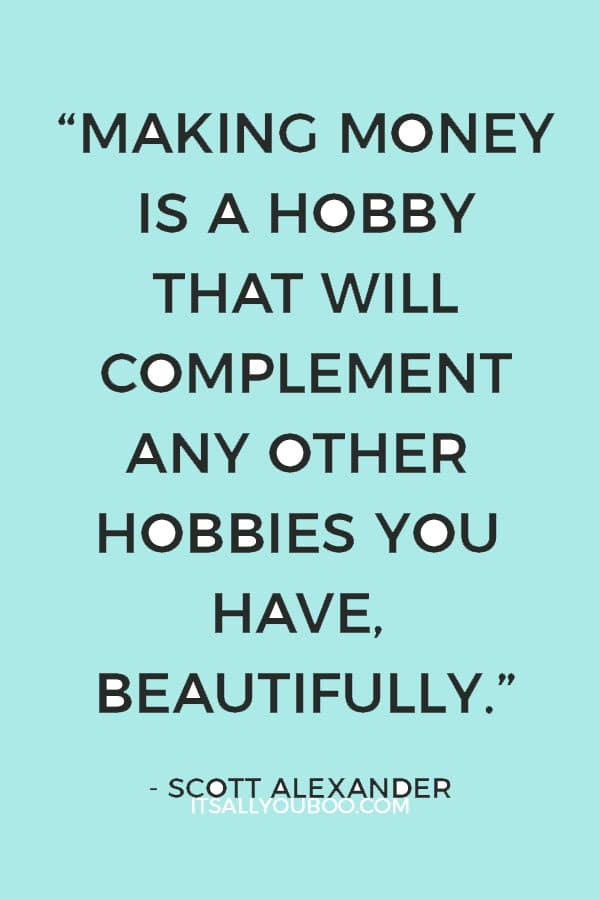 Profit from Your Hobby
The good news is that hobbies have the biggest potential of turning into side hustles. If you're a creative person and love hand-making things, that's something you are passionate about and can make extra money from!
And if you're multi-passionate, no worries! An excellent way to narrow down a passion that would make a great side hustle is by hopping on the web and seeing which one is most successful.
Ask yourself: "Which one is most popular? Which one has the most people looking to buy that product or use that service?"
👉🏽 RELATED POST:  How To Start A Profitable Business That You Love
Then it should be clear what your side hustle should be. If you're still unsure of what you could do with your particular skill set or passions, don't worry! There are countless side hustle ideas for you to choose from based on what you like to do and what your personality is like.
If you an introverted creative, you might want to start a side hustle that isn't so front a center with people or customer service. If you're extroverted, you might want to interact with others more through your side hustle. Whatever the case may be, there is something out there for everyone.
#3.
Define Clear, Actionable Goals
Making the time to actually work on the side hustle is something you really need to do if you want your side hustle to work, especially while you've got a 9-5. The best way to start is by defining clear, actionable goals for yourself.
What do you want to achieve with your side hustle?
Think about the end goal for the reason you're starting a side hustle in the first place and then brainstorm what steps you need to take to make that happen.
Don't overwhelm yourself with huge, unattainable goals. Start off one main goal and then create some mini goals to go along with it. Your mini goals can be short-term weekly or quarterly goals.

When setting your goals, make sure to be mindful of what your priorities are and create an action plan for how you will be achieving these goals. That way, you have a clear path to what you need to do to accomplish your goals for your side hustle.
👉🏽 RELATED POST:  Intro to SMART Goal Setting for Your Passion Project

#4.
Create a Schedule
The key to being able to put in time and effort into a successful side hustle that will help you make extra money is by creating a schedule.
You're busy. Your full-time job takes a chunk of your time every single day. So the best way to make things happen for your side hustle is getting organized. Think about your work day and see what time slots work best for you.
Maybe you want to work on your side hustle every day after work. Or maybe you want to only work on it on the weekends or 2-3 days a week. It's completely up to you and what you feel most comfortable doing. You do not want to overwork yourself.
Plan out a weekly schedule on paper or create a digital one. My favorite tool for planning out my week and sticking to a schedule is Google Calendar.
A full-time job can be a handful. Calendars and schedules simplify the process of adding a side hustle on top of it.
You'll be able to set reminders, block your time by task, and reach your goals of a profitable side hustle even faster.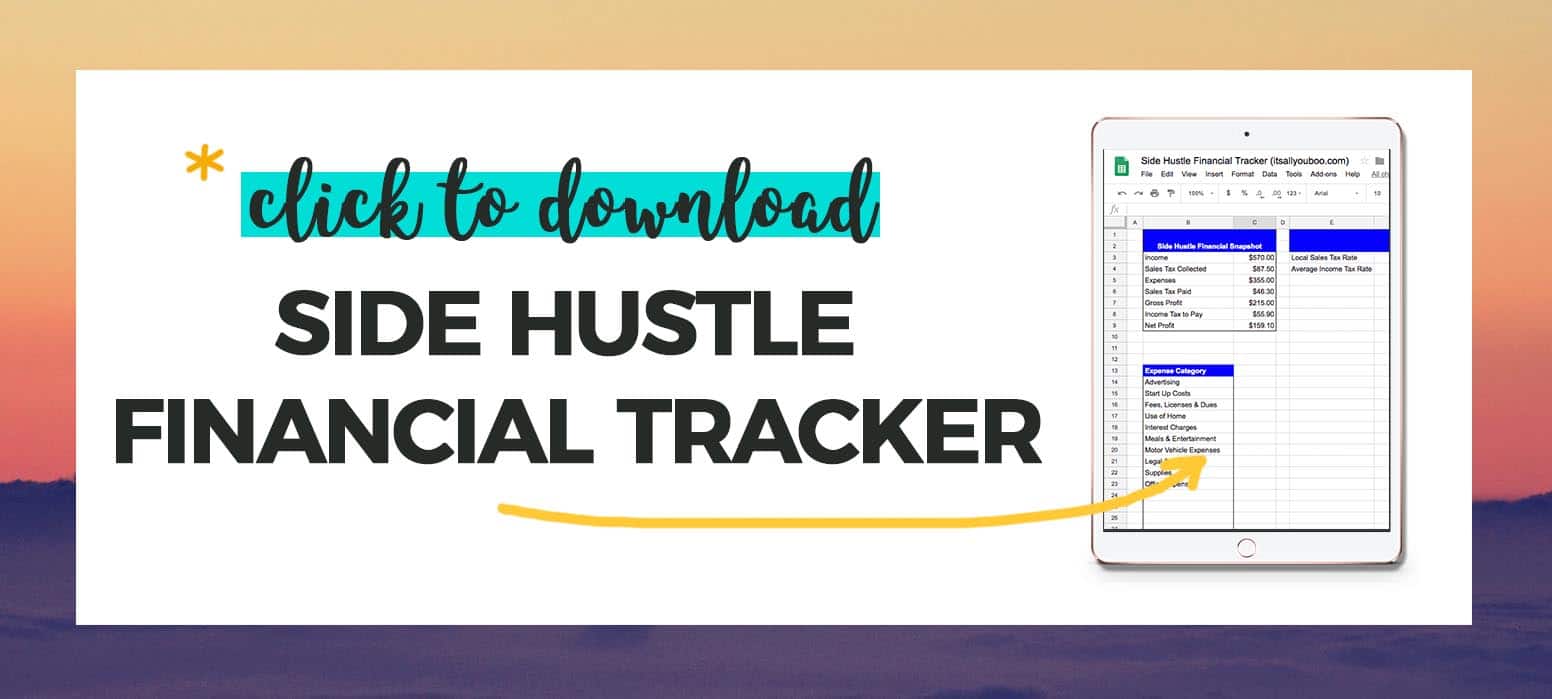 #5.
Spread the Word
Building the side hustle itself is just half the battle.
You need to get your side hustle out into the world and in front of the right eyes. People need to know about it in order for it to become successful.
Tell your friends, family, and peers about it so that it can spread through word of mouth. You never know who might need your product or service and it's great to expand your circle so you can get more clients.
You can also use social media to get your side hustle to spread like wildfire! There are so many people on social media nowadays and you'll definitely be able to reach your target audience on there.
Who is your ideal customer or client? Think about the type of person who would benefit from your side hustle and think about where they would hang out. Facebook groups? Instagram? Pinterest?
Identify where the best place would be to reach them and go there!
Don't be afraid to reach out to other side hustlers, creators, or influencers who have a similar target audience. An amazing way to get the word out about your side hustle is by collaborating with others. Collaboration is key to building a successful, profitable business and both collaborates will be able to benefit from working together.
Collaboration also helps you learn and grow which will seriously help in the long run towards your goals. You'll also be able to get things done at a faster and more effective rate. It's a win-win situation!
#6.
Overcome the Impostor Syndrome
When trying to build a side hustle, things can get tough. Don't let your fears get the best of you and don't let negativity creep up on you.
Don't give up. Sometimes we fall victim to the oh-so-popular Impostor Syndrome. The Impostor Syndrome is when you start to doubt yourself and your accomplishments because you don't think you're good enough.
You get this internalized fear that you're somehow a "fraud" which is really not the case. You know what you're doing. It's easy to get frustrated and think the worst when you're in the beginning stages of your side hustle.
👉🏽 RELATED POST: How to Actually Fake It Until You Make It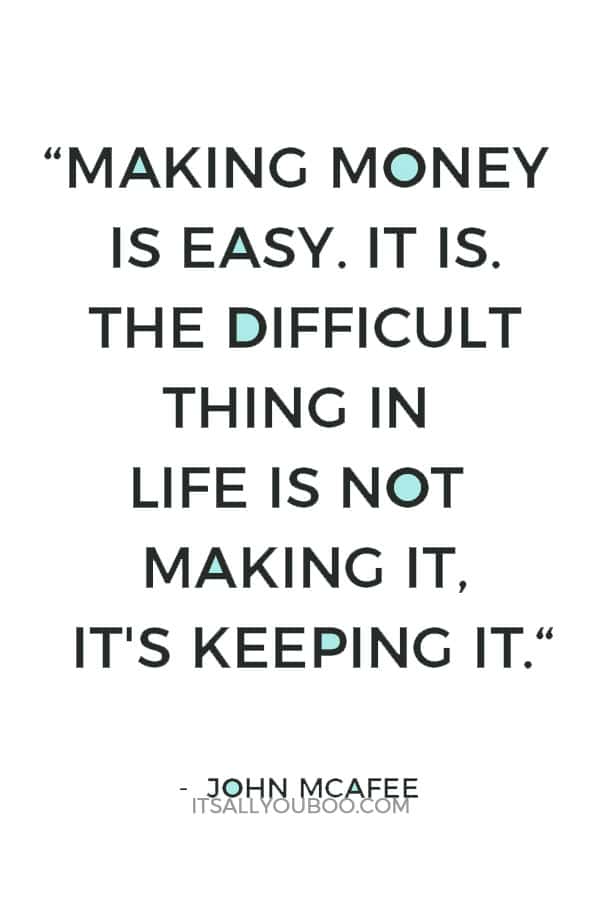 You want to make extra money, but sometimes it doesn't happen as quickly as we'd like it to. And with Impostor Syndrome, any accomplishments that do happen, you tend to tell yourself it was pure luck.
So along with the hard work of building your side hustle apart from your full-time job, it's important to remember to stay patient, confident and beat that Impostor Syndrome. Don't let setbacks deter you from making that extra side cash.
Don't forget that you are unique. You don't need to be perfect because perfect doesn't exist.
You got this!
#7.
Find Your Community
A community is everything. Find other side hustlers you can relate to and make some new friends. It'll help keep you motivated to put in the time and invest your energy to make extra money outside of your full-time job.
There are tons of other hustlers out there who are on that 9-5 grind too. Connecting, sharing and growing with other people in the same situation as you will help you get ahead with your side hustle.
Reach out to people in your community who are already doing what you want to be doing. Connect with those you find inspirational. They have been in your shoes before and can give you the guidance you need when you're unsure of something.

When you connect with people on the same journey as you, you'll be able to keep each other in check and be accountable.
👉🏽 RELATED POST: 8 Reasons Why an Entourage Can Help You
Get your Side Hustle Finance Spreadsheet
Need help managing the money from your side-hustle or side-job? Get the Side Hustler Financial Tracker for your expenses and income.
Working hard and staying organized while you're working full-time will help you make extra money and grow the successful and profitable side hustle you've always dreamed of.
Having the time and energy to create a side hustle from the ground up starts with you implementing these strategies to make it happen:
Identifying your skills and strengths
Discovering your true passion
Defining clear, actionable goals that will help you accomplish things
Creating an organized schedule
Spreading the word about your side hustle
Connect with people who are making extra money
Finding your community of full-timers who are building side hustles just like you
Stay confident and keep trying no matter what and you will reap the amazing benefits of making extra money on the side all while working your 9-5.

How will you make extra money on the side?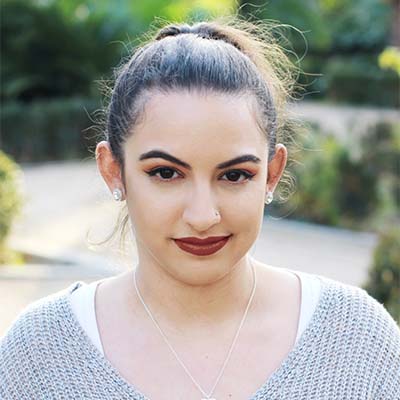 More About Guest Contributor
Amanda Montero is the creator of Simply Amanda, a lifestyle blog for millennial women interested in pursuing digital entrepreneurship and location independence. She is passionate about teaching women how to build a life you don't need a vacation from. Amanda is also a Pinterest Manager, enjoys freelance writing in her spare time, and loves promoting financial freedom.
Last Updated on July 11, 2021
✕
Get the Financial Tracker
+ weekly tips to help you slay your goals.