Want to be an organized working mom?
Need some time-saving tips for working moms?
Are you struggling to balance home life and work life? Click here for 10 ways to be an organized working mom by @blogger_carol. #mompreneur #momlife #timemanagement #organized
Being a mom comes with a whole host of responsibilities, and when you combine that with having a job, you will have double the responsibilities which make it very hard to get organized.
At some point, you find either your work is suffering because you are paying a lot of attention to your kids or your kids are being neglected because you are putting in far too many hours at work.
Well, I have discovered that this does not have to be the case as long as you get organized.
As hard as that may seem, the following tips I will share with you will help you achieve organization amidst the chaos of working and being a mum.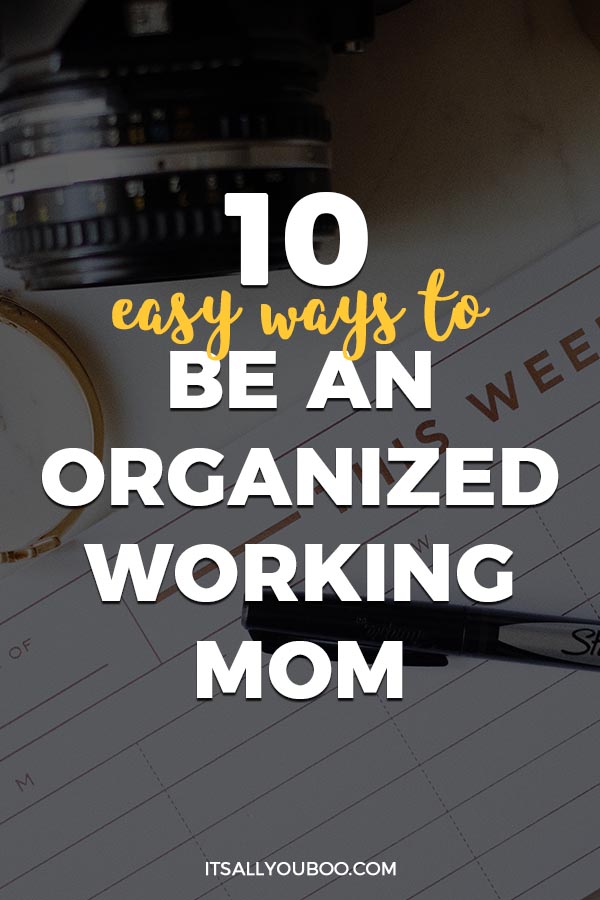 How to Be An Organized Working Mom
#1.
Do Nothing Every Day

I know this may sound extremely counterproductive and you may be thinking of abandoning this article already, but hear me out first.
I am simply suggesting that you schedule some time every day to do absolutely nothing, just sit for a few minutes or an hour and relax like you are on vacation. This allows your mind to rest and your body too.
When I started doing this, I actually found I was more productive and I got more creative when it came to ways of getting organized. Some people may choose to meditate and that works even better.
#2.
Plan Your Day the Night Before
As a working mom, you can no longer do things spontaneously, your day needs to function like clockwork and to achieve this you need to plan.
Take some time before you go to bed at night to prioritize the different tasks you will need to perform the next day.
You can use a pen and paper to write them down and then schedule them. Today there are a number of Apps for working moms you can download onto your phone and then use them to schedule your day you can actually search the phrase "how to be an organized working mom" in the App store.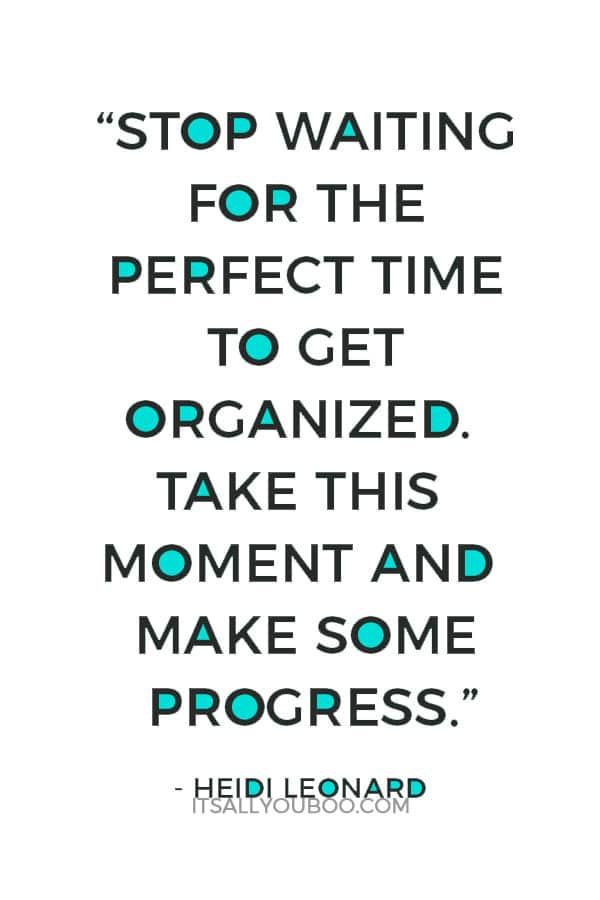 👉🏽 RELATED POST: How to Project Manage Reaching Your Goals
I like the Apps because they can beep to alert you that it is time for a particular task so you do not need to keep checking.
Planning at night means you wake up with a purpose and there are very few surprises, as far as urgent things you need to attend to. The virtual assistant Apps, like Asana or Trello, are quite interesting to use and they really make you more organized.
#3.
Embrace Technology
The world of technology is always coming up with improved gadgets to make carrying out tasks easier and faster, so I suggest you keep up with these trends.
For example vacuums we have today are more specific. By that I mean you will find a vacuum designed particularly for laminate floors or for cleaning tiles floors and these do the work much faster so you can get back to attending to your work and children.
So always be on the lookout for efficient modern gadgets that will make your life easier and save money.


#4.
Take Work Home and Take Home to Work
We working mums will always have small tasks from the two parts of their life that need to be attended to. But, we often fail to do them or forget about them entirely because we do not want to cross the line between work and home.
To an extent, you should not. For example, do not treat your children badly simply because you had a bad day at work. But something like your daughter would like to join ballet summer camp but you need to call in and book, schedule this phone call for your lunch break so that instead of enjoying office gossip the entire lunchtime, you can get your mom-duties done as well.
👉🏽 RELATED POST: How to Manage Your Time as a Work-at-Home Mom
And you can also choose to respond to not so urgent work emails received after 3 pm, at home as you supervise your kid's homework.
I find that with this system, I get a lot of stuff done in a single day and I do not even feel like I have been doing a lot. It has been a big improvement in my life compared to the days I ran around like a headless chicken trying to get home things done separately from work.
#5.
Plan Meals on the Weekend
Deciding what to eat can be very complicated and time-consuming, for this reason, I choose to plan the entire week's menu on the weekend.
It gives me more time to think about how healthy the meals will be, who prefers what, how much of what I should buy and so on. By planning menus for an entire week. Dinner preparations after work become a lot easier.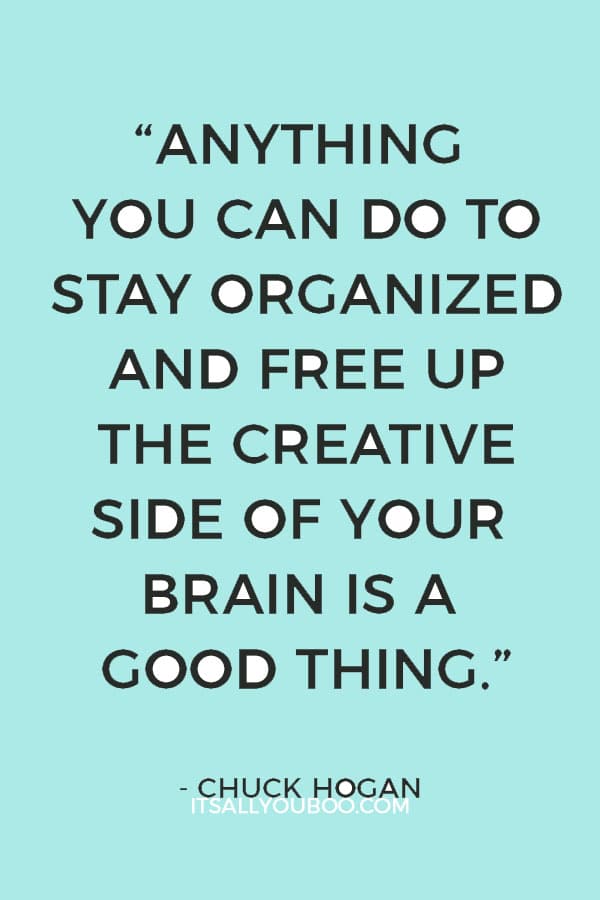 For one, I do not need to swing by the grocery store to pick up anything, because the shopping too is done on the weekend and two, I do not need to spare time to think of what I will be preparing since the menu is already set.
With these tips, you can go about being a working mom without making it so obvious that your life is an everyday emergency.
#6.
Share Your Plans with Family
You really cannot sail through this all on your own. It is a lot easier if you have a team contributing to you being an organized working mother.
If your kids are old enough to tell time, you will find that by letting them know your schedule for the day or week, they can act as personal assistants by reminding you about appointments, things you wanted to pick up, and they will try not to get in the way of important engagements.
👉🏽 RELATED POST: Why You Need to Schedule Mommy Me Time
Adults in the home like a husband or extended family may also be able to help you out with some of your motherly duties to make it easier for you to do other things.
#7.
Maximize the Weekend
Weekends for me are a time to take a break from the 9 to 5 hassle and focus on me and my family. I always schedule sometime on the weekend to just do things that I enjoy. Sometimes that involves a night out with the girls, catching up and being total "wine-holics." Other times it is catching up on my reading or watching my favorite show on TV.
Scheduling me time helps you live life more and appreciate the simple things in life, I find that this energizes me and makes it much easier to get through the week no matter what the daily grind throws at me.
Since my life is not just about me, I also make time for family and especially the kids. During the week there may not be enough time to really have fun with the family, so the weekends compensate for that. This helps you be an organized working mom because if you maximize the time you spend with your family, during the week it is much easier to let the kids know you need to focus on your work so that on the weekend you are all in on whatever they may want to do.
You will also need to fix some time on the weekend to plan for the week as I suggested earlier will help you be an unflappable working mom.

#8.
Buy Easy to Match Clothes
So many mothers will find they spend a lot of time trying to find the right outfit. You can avoid this by thinking about what you are buying before you add it to your shopping list.
Having lots of colorful clothes in your wardrobe may look beautiful but on a busy midweek morning, they can become the reason you are late for work or drop the kids off at school.
It is best to have fewer colors which go together so that you can make a choice much easier. I know a few friends who just go for plain colors that blend into the professional world. Black, grey, blue and white are the colors I find really easy to match.
Even better, create a capsule wardrobe of complimentary pieces only.

#9.
Do Your Bookkeeping Regularly
Maybe it's just me, though I doubt you have not experienced this. Doing your taxes take up a lot of time and cause a lot of frustration. So, why not be prepared?
In my quest to become an organized working mum, I decided to keep small records of all my taxes and to break up the process of doing taxes into weekly tasks.
This means when it is time to submit my tax records, I have less work to do and less stress, it also saves me from having to go over a pile of receipts.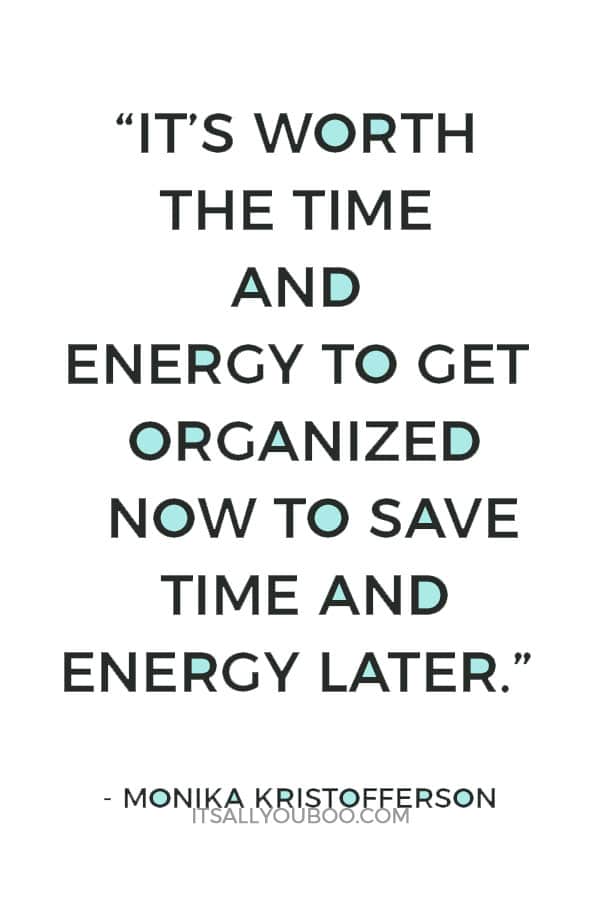 I also discovered a few Apps that can be used to help you do your taxes, this is a lot cheaper than hiring a tax expert, though if you are terrible at maths like my sister, I would suggest you hire an expert.
Managing your money, will not only help you be a well-organized mum but an on budget mum too.
#10.
Take Care of Your Health

Have you ever noticed how catching a cold or some other illness may throw you totally off your game?
I once caught a cold and my entire household went into meltdown. It is for this reason that I try my best to avoid any illness that can be prevented. I exercise, eat healthily and have regular checkups and so far it is working well.
Don't make health excuses, it's important for you and your family. As long as I'm healthy, I can be that organized working mom.

Printable Daily & Weekly Planners
Ready to get more done, in less time? Put these time management tips for WAHMS into practice with the FREE Printable Daily and Weekly Planners. They're perfect for time-blocking and helping you plan ahead.

Ready to be an organized working mom?

More About Guest Contributor
Carol has a passion for all things neat, clean and organized. She is the editor over at Vacuum Koo. A wife and a mother to two sons, she understands what it means to balance work, home management and family.
Last Updated on July 11, 2021
✕
Get Your Daily & Weekly Planners
+ get weekly tips to help you slay your goals.