What technology do I need to start a business?
Are there any must-have tech and gadgets for entrepreneurs?
Are you starting a business? Here's the must-have tech for entrepreneurs in office & on the go, including best laptop, webcam, storage and more. #Entrepreneur #StartUp #HomeOffice
You're just starting out as a business owner and it can feel like you need everything and you need to learn everything.
Whether you're looking for ways to make money at home, starting a side-hustle in college or launching an online business, you need the right tech.
Don't get overwhelmed! Odds are if you have a working smartphone and internet you can accomplish a lot. But, if you're like me, you want to invest in yourself and your new business, then you want to know what the best technology for small business owners is.
Or maybe you know someone who wants to be an entrepreneur and you want to get them an awesome gift they will love and find useful. Personally, I love thoughtful gifts that are practical to my hustle, it shows that you get me and what I'm about. So feel free to use this as a gift guide for entrepreneurs too.
I've been going at this self-employed, entrepreneur's life for a while now, and I've bought, tried and returned a lot of gadgets and tech. That's why I love Amazon Prime (get your Prime Discounted Monthly Offering)
, I buy it, get it in a day and if I don't love it I return it and get something better.
This post is a collection of the very best products I love and use and the highest-ranked and reviewed technology online. I did the research and the returning so hopefully, you don't have to.
Let's get to the must-have tech for entrepreneurs!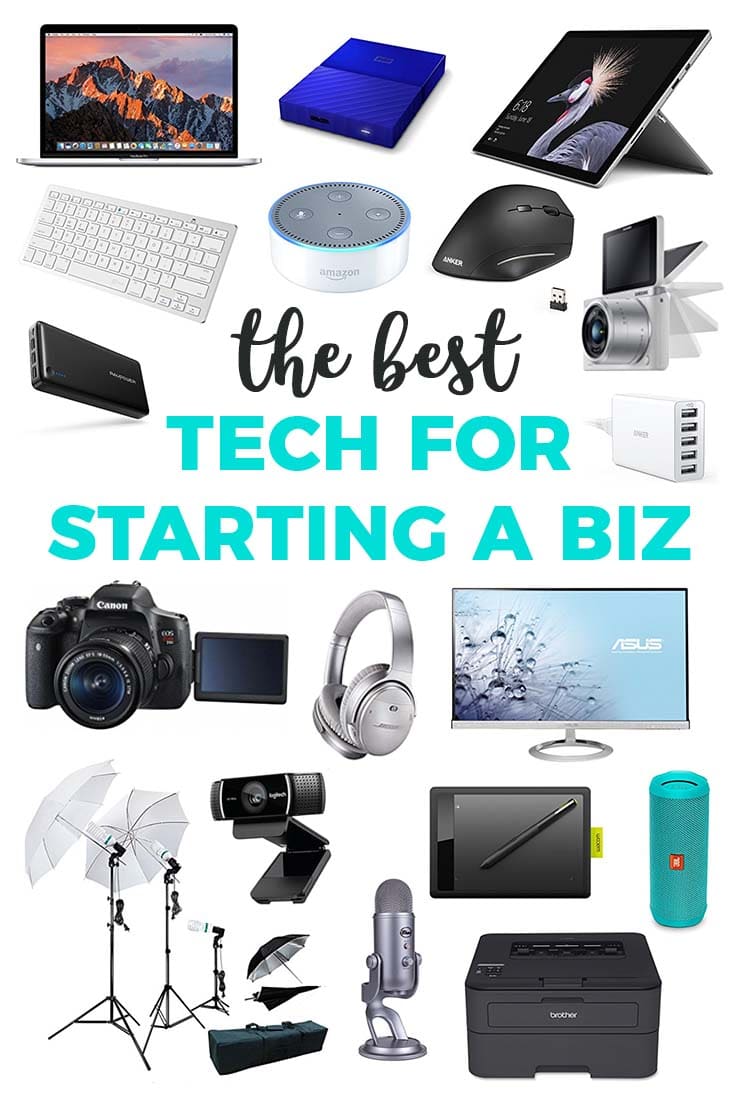 Click below to jump ahead
👇🏽 The Bare Essentials
MacBook Pro, Asus Chromebook or Microsoft Surface Pro
👇🏽 The Perfect Office Set-Up
Anker Ergonomic Wireless Mouse
JTech Bluetooth Wireless Keyboard
Amazon Echo Dot Personal Assistant
👇🏽 The Office On-the-Go Essentials
Bose Noise-Canceling Headphones
👇🏽 The Creative Content Set-Up

The Bare Essentials
These are the basics, nothing beats having a powerful laptop that can keep up with you and enough storage to grow with.
1.

Laptop
👉🏽For the Apple-User
You're a boss now and the number #1 thing you need is a reliable laptop that you can count on to keep up with you and everything you need to get done in a day. Everyone always asks which laptop they should get, or if they "need" a Mac. Sure, you can work on anything, but if you want a laptop that will last you for years and has reliable support, then I highly recommend the Apple 13″ MacBook Pro (2017). With 8GB of Ram, 2.3GHz dual-core Intel Core i5 processor with Turbo Boost up to 3.6GHz and Retina Display, this MacBook Pro should serve you well and for many years. It's an investment, I've had mine since mid-2012 and it's still going strong, so I'll always first recommend a MacBook Pro.


👉🏽For the Chrome-User
But, it's you're not a fan of Apple and maybe looking for a more medium-term investment in a laptop, check out these. The ASUS Chromebook Flip C302
runs Google Chrome OS, has stellar online reviews, is extremely light-weight and a battery that lasts up to 10 hours. With an Intel Core m3 Processor, 64GB storage and 4GB RAM also features a 360-degree hinge for it's 12.5″ Full-HD touchscreen. I actually just purchased one and I LOVE IT!


👉🏽For the Windows-User
Switch to Mac, just kidding. If you're willing to splurge, I've heard nothing but good things about the Microsoft Surface Pro
. Tablet meets a laptop with a touchscreen, Intel Core i5 Processor, 256GB of storage, 8GB RAM and an insane battery. Plus, with loads of memory, storage options and fun accessories to choose from you can customize it just for you. This beauty makes me want to switch to Windows.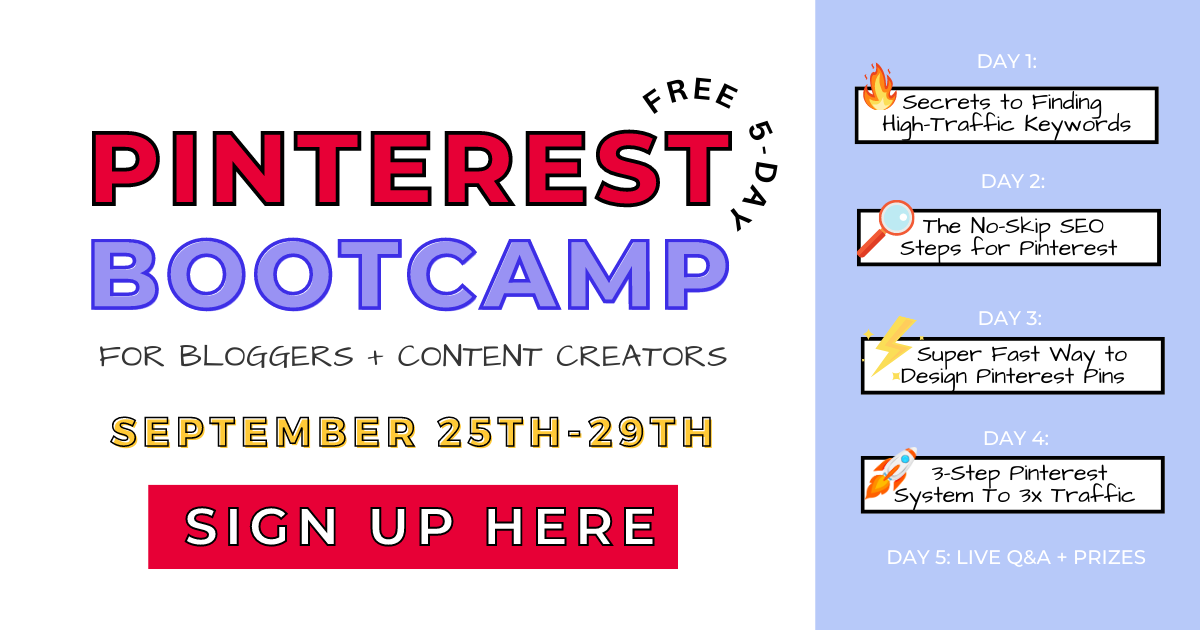 2.

Portable Hard Drive
Let's be honest, once you start creating products, shooting photos and video you're going to run out of hard drive space. Enter the WD 2TB My Passport Portable External Hard Drive
. Available with up to 4TB available, it comes in a super fun metal meets matte finish available in eight different colors including red, yellow, orange and blue.


3.

Cloud Storage
When you're on the go and you need cloud storage for your files. I'm a huge fan of Dropbox. Not only does it store your files safely and securely for you, but it allows for easy sharing with clients and collaborators, as well as quick syncing across your devices. Get started for free today and get 500MB of bonus space when you join with my referral link and install Dropbox of your computer.



Once you join, you can sign up for 1TB of storage for $9.99/month.
The Perfect Home Office Set Up
4.

Frameless Eye Care Monitor
If you have an office, you need this monitor. Hunching over your tiny laptop is bad for your back, eyes and mental health (been there, tried that).
The ASUS Designo MX279H 27″ Frameless Monitor
is where it's at with Full HD, and a wide range of monitor controls including night mode for those late-night work sessions.


ps. If you have a Mac or Surface Pro, don't forget to grab a Mini DisplayPort to HDMI cable, this Fosmon Mini DisplayPort to HDMI
one is 6ft long and for Surface Pro, MacBook Pro, iMac or MacMini.
5.

Wireless Ergonomic Mouse
You need a mouse that isn't going to kill your hand and shoulder.
I switched to the Anker Ergonomic Wireless Mouse
and haven't clicked back since. It's also USB 2.4G Wireless and has fun side controls.



ps. You may also want to get a wrist rest to offset your wrist rubbing on the desk. Get the Gimars Memory Foam Set Keyboard and Mouse Wrist Rest on Amazon.
6.

Bluetooth Wireless Keyboard
No matter which device you're working from, you can always use a wireless keyboard to help you set up an ergonomic office space (on the go or away!).
The JETech Ultra-Slim Bluetooth Wireless Keyboard
works on pretty much every device, from your smartphone to your computer as long as it has a Bluetooth connection. It's compact and portable, with comfortable keys for quiet and effortless typing and with super long battery life.


7.

Wireless Printer
I'm sure you'd love to be fully paperless but the reality is your going to need to print stuff. Save time on running to the print shop every minute with a simple, yet reliable Brother HL-L2340DW Compact Laser Printer. It has just what you need with fast printing from your mobile device or laptop and two-sided when you need it.


ps. Keep your headphones safe and beautifully displayed with the Link Dream Headset Stand
for your desk or office.
8.

USB Multi-Port Charger
You're probably going to run out of USB ports to charge your phone, tablet and other gadgets. Pick up the Anker 40W/8A 5-Port USB Multi-Port Charger with PowerIQ that charges your devices as fast as possible.


ps. Most laptops only come with two USB ports, you might want to also get a UDB port hub, I recommend the Anker 4-Port USB 3.0 Ultra Slim Data Hub for Macbook, Surface Pro, Notebook, and more. I have mines secured to the side of my desk.
9.

Echo Dot Personal Assistant
Get the personal assistant you've always wanted with the Amazon Echo Dot, now available in white or black to match your office. Call or message anyone hands-free, play music, get directions, check your calendar or weather with just a command.
Office On-the-Go Essentials
10.

Noise-canceling Headphones
You need to focus and work almost anywhere. Give yourself peace and quiet with the Bose QuietComfort Noise Cancelling Headphones. With world-class noise cancellation, the world is quieter and your music sounds better, plus enjoy 20-hour battery life per charge and up to 40 hours in wired mode. Also, take calls with build-in dual-microphone.


ps. Keep your headphones safe and beautifully displayed with the Link Dream Headset Stand
for your desk or office.
11.

Portable Charger
Running a business from your smartphone while listening to music and catching up on social smartphones drains your battery. Don't lose your charge with the Portable Charger 26800mAh, KUULAA Power Bank Ultra-High Capacity Portable Battery. Not only does it have high-speed charging, but simultaneously charges up to 3 devices.

12.

Compact Digital Camera
You're on the go every day and want to take amazing photos, but don't necessarily want to always around with a bulky DSLR. Meet the Samsung NX Mini 20.5MP CMOS Smart WiFi & NFC Mirrorless Digital Camera
, it's compact and powerful, with Smart Wifi, touchscreen, a 3″ flip screen for easy selfies or videos shooting, and a 9-27mm lens. And it comes in mint, white, pink, brown and black.



13.

Bluetooth Wireless Speaker
Take your playlists anywhere with a portable, wireless speaker that packs a punch. The JBL FLIP 4 Flip4 Bluetooth Speaker comes in 7 colors including white, grey, teal and red, and has 12 hours of playtime. Connect wirelessly to up to 2 smartphones or tablets and it's waterproof so "working" by the beach or pool ain't a problem.


The Creative Content Set-Up
14.

HD Webcam
Video is poised to be the #1 form of content in 2019. Shoot awesome YouTube videos, do high-quality Facebook lives and Skype calls, and webinars with the Logitech HD Pro Webcam C920 Steam Webcam. With full 1080p HD and background replacement technology, this is the best webinar for entrepreneurs, bloggers or social media mavens.



15.

USB Microphone
Can you hear me now? Pick up the most popular microphone among creative to complete your setup. The Blue Yeti USB Microphone delivers clear audio for all your online calling and conferencing needs and is perfect for recording podcasts or videos. Bonus, it's compatible with Windows and Mac and comes in 10 colors including blackout, space grey, satin red, white, and teal.


16.

Lighting Kit
We call can't live and work in perfectly lit spaces. Shooting video or snapping flat lays in poor lighting is a nightmare. Stay lite with the LimoStudio 800W Triple Umbrella Continuous Lighting Kit
, which includes 3 compact light bulbs, three umbrellas, 3 light stand tripods, and carrying cases. I love the tabletop light for shooting live videos!


17.

DSLR Camera
Want to shoot video and photos with more power and performance? The Canon EOS Rebel T6i DSLR
features a flip-out screen, shoots up to 24.2 Megapixels, and comes with a bunch of bonuses including a spare battery, shotgun mic, tripod, and 64 GB SDHC Card.


18.

Drawing Tablet
Are you an artist, photographer or is sketching part of your creative process? If you don't have a touchscreen laptop, the Wacom Bamboo Pen Tablet is the best for detailed drawing or digital editing. Plug it in via USB and is compatible with both Mac and Windows-based computers.


BONUS Must-Have for Entrepreneurs
Have all of your entrepreneur essentials delivered to you in record time with Amazon Prime. Trust me, nothing beats one-day delivery when you really need something for your business ANYWHERE in your country. Seriously amazing feature if you're always on the go.

Am I missing any essential start-up technology?
Last Updated on December 11, 2021