Are you looking for the best printable goal planner?
Do you need a goal setting template to help you achieve your goals?
Ready to upgrade your goal setting? Check out the best printable goals planner to help you achieve your goals. #goalsetting #slayyourgoals #slayyourgoalsplanner
Whether you're a blogger, entrepreneur, busy parent or student, you know that achieving your goals is an important part of building the life you want.
If only it was that easy. You know you need to set goals, but maybe right now all you feel is lost and uncertain about where (or how) to start. Maybe, you don't even know what your goal is (or should be). And you can't find the clarity to make the right choice and take your next step.
Maybe you're overwhelmed by the BIG PICTURE and it all just feels impossible. And you need a blueprint to translate your thoughts and ideas, into actionable steps and to-dos.
Or perhaps, you've already even set goals for yourself, but a few weeks in and you're losing steam and you just can't follow through. You've simply lost the motivation. So, you decide to try yet another bright idea or to go back to planning.
Table of Contents:
From being unable to get started, getting caught in the planning trap, or losing motivation, there are so many reasons why achieving your goals is hard. But what if there was an easier way?
*exhale*
What if there was a printable goals planner that could help you go from frustrated to fearless? The ultimate goal setting template that could guide you from intention to action and keep you focused along the way. Your wish for the best goals planner has been answered!
Introducing the Slay Your Goals Planner, a 60+ Page printable to help you set goals and actually achieve them.
More than just a planner, it's a crash course in slaying your goals. Here's how!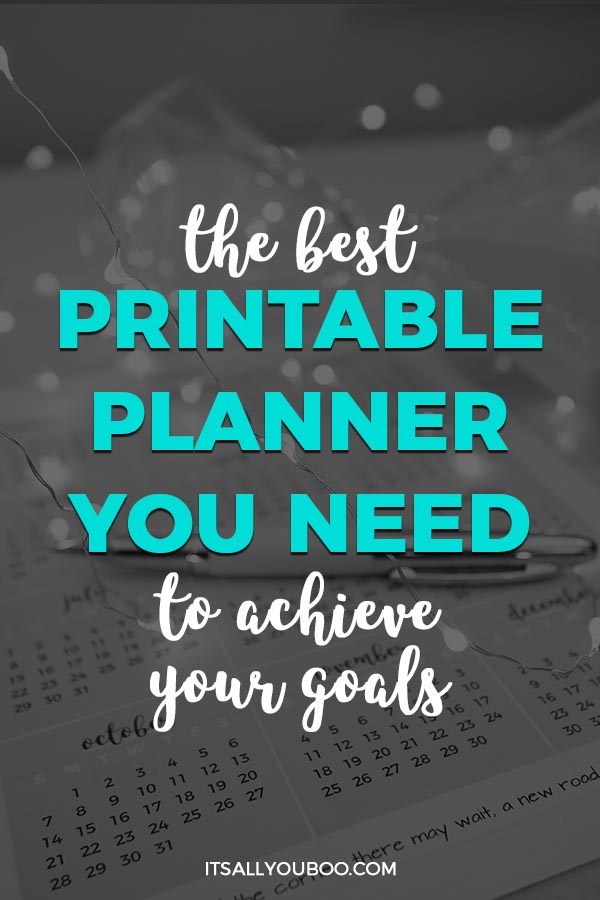 Ready to set goals and actually acheive them with the Printable Slay Your Goals Planner?
Meet The Slay Your Goals Planner
Who doesn't love a good planner?! Most of us have multiple planners that we were really excited about purchasing, but somehow inevitably give up on soon after. Maybe you're even seeking planner peace?
Unlike every other planner on the market, the Slay Your Goals Planner is solely dedicated to helping you achieve your goals. From guiding you to choosing your best possible goal, all the way to staying focused and motivated week after week. This goals planner is all about getting you to the finish line, NOT just keeping you organized and on time.
Sure it does that too, but that's just a small part of it. Planning isn't just about organizing your months, weeks and days, but about creating an actual achievable, step-by-step you can follow. Most planners are just for time management and keeping you organized with hundreds of pages of only calendars and daily timetables. Even some very popular "goals planners" on the market (no names needed) shockingly only actually have a few pages in the front for goal setting.
So, how exactly is my Slay Your Goals Planner different from all the best?
"You look at different aspects of your life, which is something normal planners don't even bother tackling, such as your: Physical Life, Educational Life, Mental Life, Spiritual Life, etc. PLEASE tell me which normal planner in stores helps you look at your life as a whole all in one place? I'm telling you if you're planning on making any changes to your life, career, lifestyle, or just want to make 2018 an awesome year for your personal growth, then THIS is your planner."

– Nicole, Bad With Directions
Slay Your Goals Planner goes well beyond basic monthly, weekly and daily planner pages, to provide you with one-of-a-kind worksheets and goal setting activities that take you from dreaming to doing. And, since it's dateless, it's the last planner you'll ever need.
Take a closer look here:
This ain't your typical planner! Here's how:
One-of-a-kind Designs: Goal setting is exciting and so should your planner! With unique worksheets like prisms and triangles found nowhere else, your mind will be racing towards achieving your goals.
More than "Just a Planner": This isn't your typical planner, it's a crash course on how to slay your goals. Unlike other planners, this goals planner focuses on making your goals actionable, not just keeping you organized.
Printable and Fillable: It's the last planner you'll ever need to buy. Its dateless page design allows you to print and use it as many times as you need. Every year, month and week! Did I mention there are regular updates?
Beyond Goal Setting: With 6 chapters worth of worksheets and planner pages, goal setting is just the beginning, before you know it you'll be goal slaying.
The 6 Chapter Goals Planner
From setting your intention all the way to reviewing your progress, the Slay Your Goals Planner takes you step-by-step through the entire goal slaying process. It's intuitively organized into 6 Chapters with an interactive checklist at the beginning to easily track your progress.
"You need to make sure you find a planner that gets to the root of your intentions (the reason you want to achieve the goal in the first place!) and keeps it at the forefront of your mind. And, we found the perfect, most comprehensive planner out there: The Slay Your Goals Planner."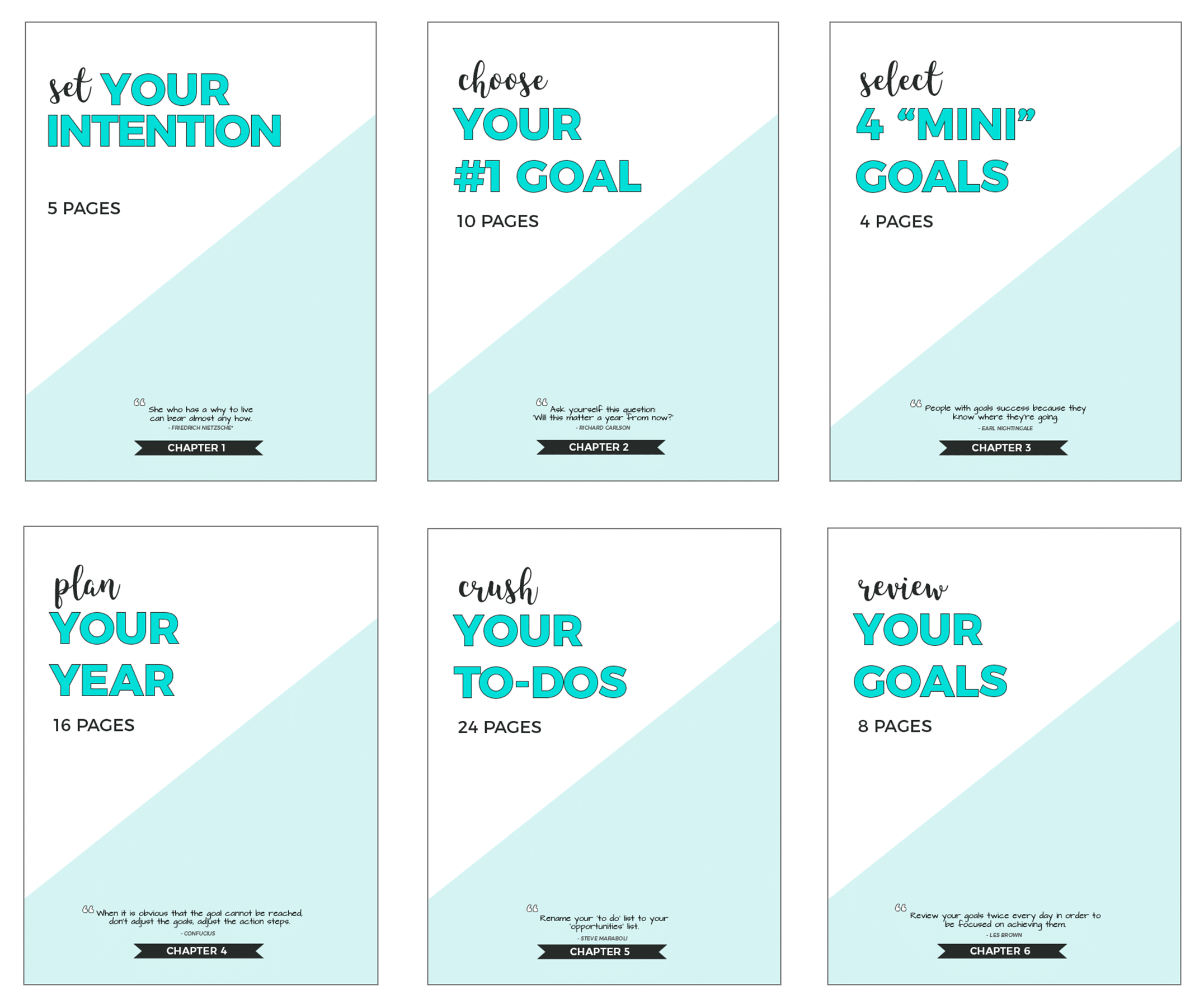 Chapter 1: Set Your Intention
Discover the path you should take by setting your intention in life. Greater than any goal you set, your intention acts as your true north. With guiding prompts, this chapter of the printable goals planner leads you to what you actually want in life. And with a BONUS quiz that tells you what area of your life you should focus on, finding your goal is easy.
Set Your Intention Worksheet
Your Life in Fast Forward
Intention Life Grid
Letter of Intention Template
BONUS QUIZ: What Area of Your Life Should You Focus On?
BONUS GUIDE: 350+ Goals Guide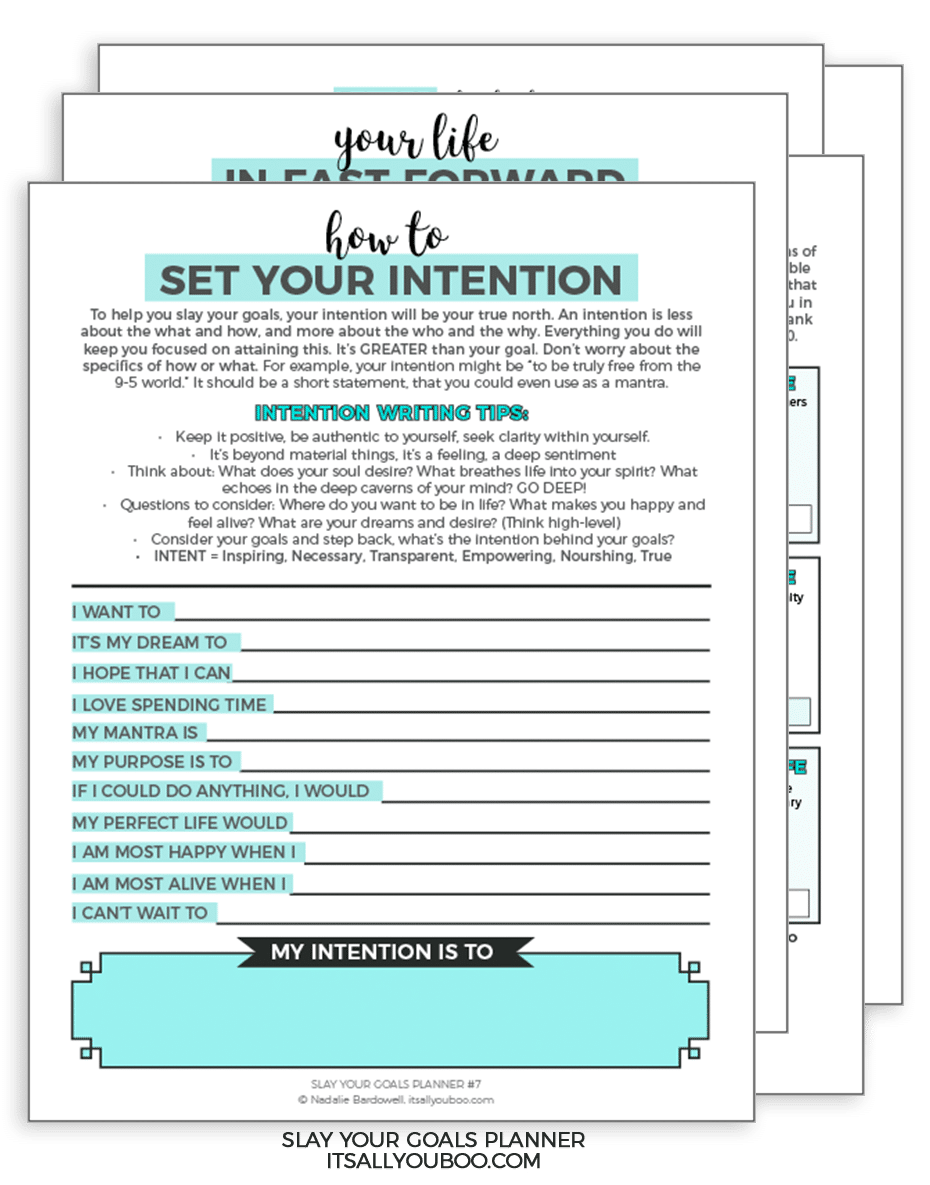 What People Are Saying:
"There's honestly no stone left unturned while working through all of the different prompts; this baby's gonna reach into the deepest corners of your mind and pull out anything and everything it can to help you make a game plan for your life." – Shannon, Going with Happy
"The creator, Nadalie, doesn't just sit you down with a blank page; she provides many examples through free access to other resources such as the 350+ Goals Guide. If you have trouble thinking of goals related to one of the areas of life, you will find many ideas there." – Heidi, Finding Life's Corners
Chapter 2: Choose Your #1 Goal
With your intention in mind, let's "anchor" it to your #1 goal – where you're aiming to be in the next year. In this chapter of the goals planner, you pick and choose the best brainstorming worksheets and mind maps for you. When you've chosen your #1 goal, you put it to the test by making sure it's S.M.A.R.T. and R.I.G.H.T. before taking action.
Goal Digging Brainstorm
Investigate Your Intention
Intention Prism, Mind Map + Triangle
Set S.M.A.R.T. and R.I.G.H.T Goals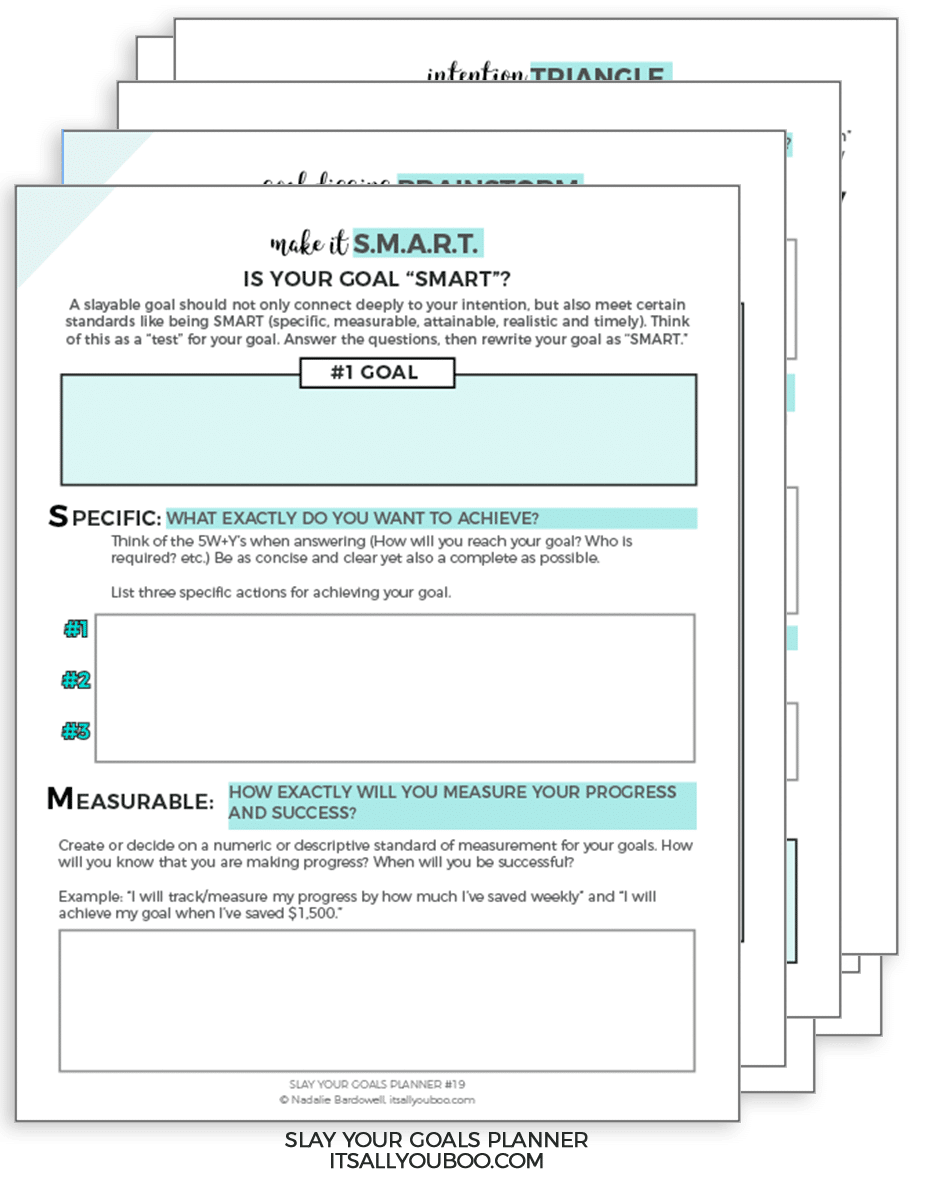 What People Are Saying:
"So instead of being expected to come up with goals of the tops of your head, you are actually being asked the question that will get your brain moving." – Megan, Love Megan Anne
"I love this extension of SMART goals; it goes a lot deeper and encourages introspection about your hopes and goals." – Kathryn, So Candidly Kathryn
Chapter 3: Select 4 "Mini" Goals
Keeping you motivated to get that quick wins, "mini" goals are your stepping stones to success. Shifting your focus from the big picture to your tiny steps, this chapter of the goals planner helps you break down your #1 goal into manageable smaller goals. By setting one per quarter, your goals start to feel doable.
Investigate Your #1 Goal Worksheet
Goal SWOT Analysis
Goals Mind Map
Quarterly Goals Forecast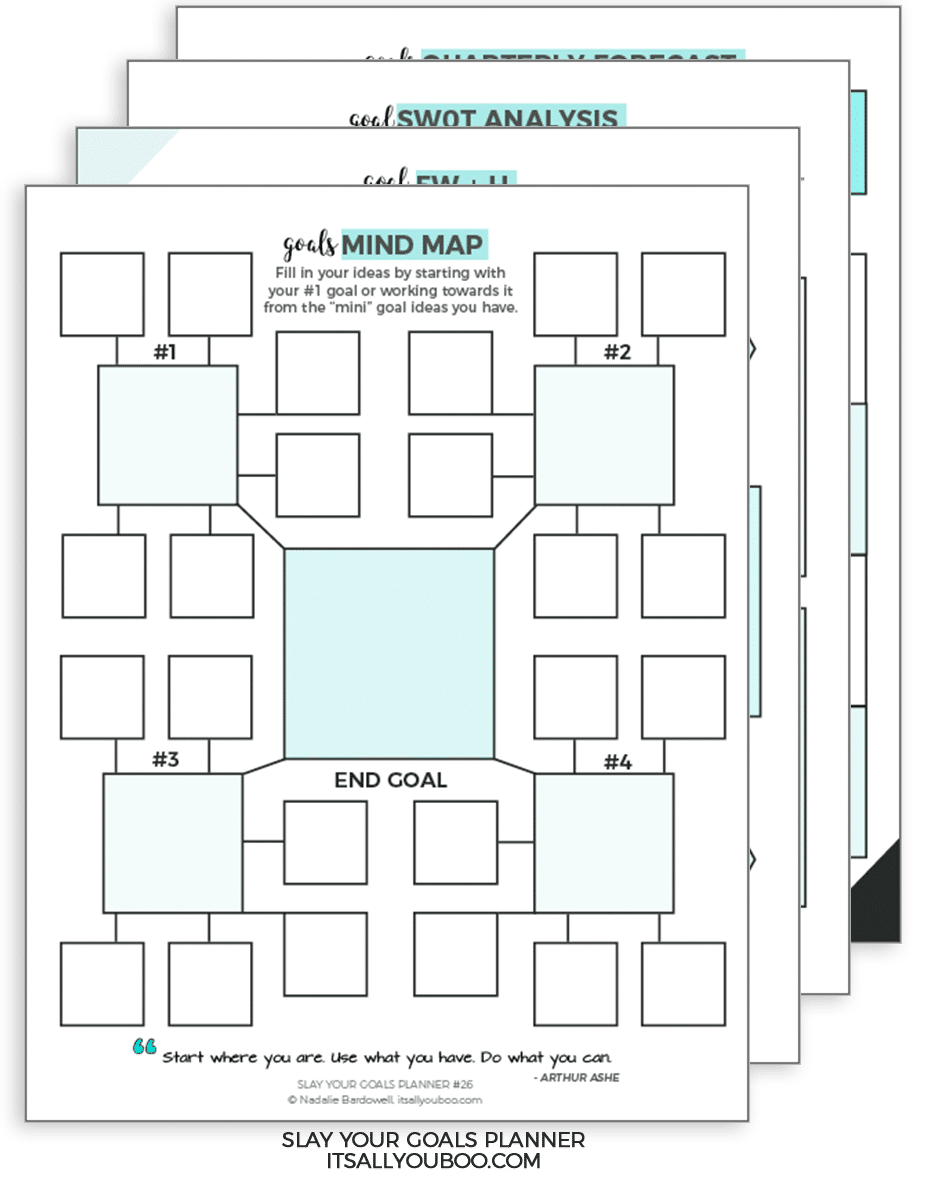 What People Are Saying:
"When you fill in the worksheets in the Slay Your Goals planner you notice that find the questions are well thought out, and the worksheets help narrow down weekly monthly and yearly life goals. This planner is well laid out and really illustrates how to fulfill your dreams and desires for your blog, your biz, and your life." – Lisa, Lisa Designs Life
"Just a glance to your Slay Your Goals Planner and you'll have a clear vision of your next action to take. Honestly, it is like having someone you trust holding your right hand leading you in the right direction towards your success." – Sarah Fabol, My Life's Manual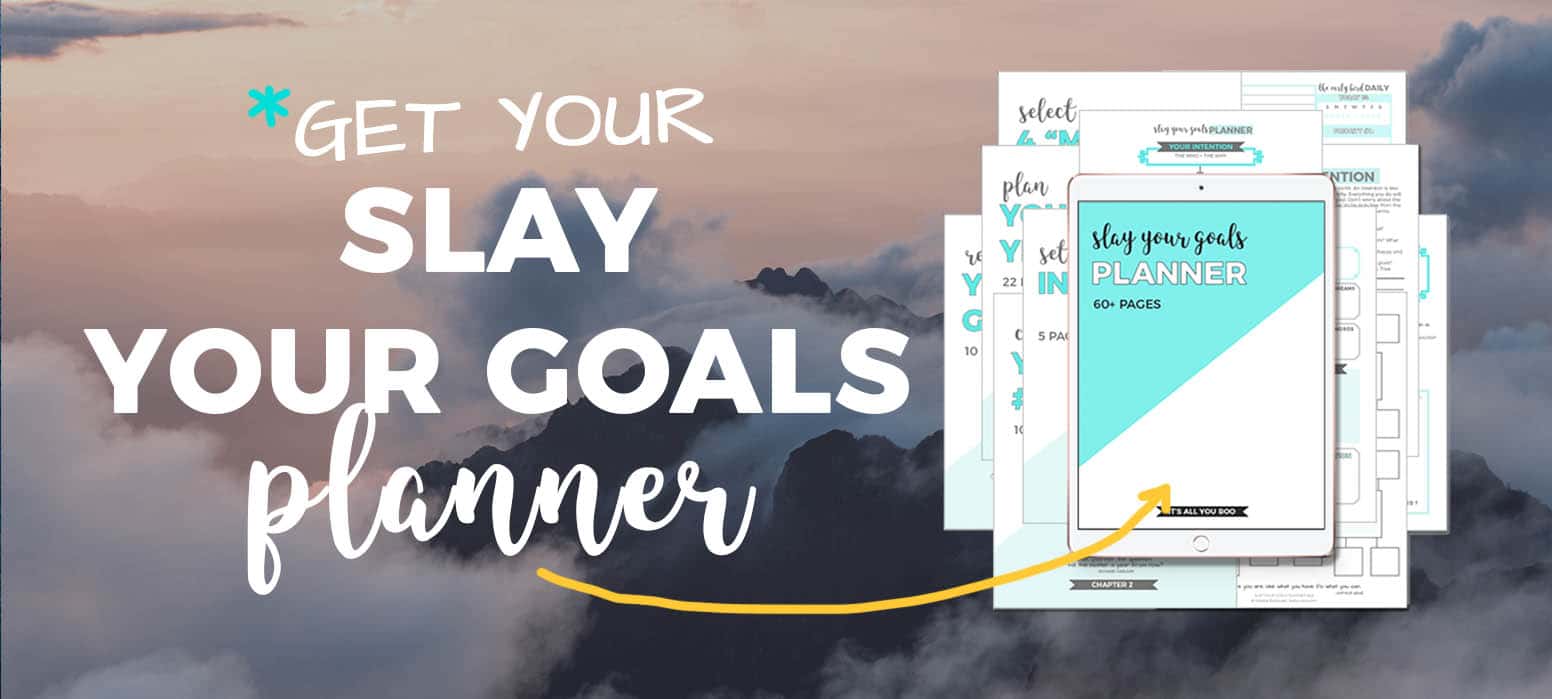 Chapter 4: Plan Your Year
You've got your goals, now let's see the big picture and map out each of your steps along the way. This chapter of the Slay Your Goals Goals Printable Planner provides you with a selection of step-by-step planner pages, dated yearly calendars, and fill-in-the-blank yearly calendars in multiple styles. Choose the designs you like the best to help you go from the big picture to tiny steps to make it a reality.
One Page Yearly Plan
2019 & 2020 Yearly Calendars
Yearly Goals Overview
Fill-in-the-blank Yearly Calendars
Strategic Planning Road Map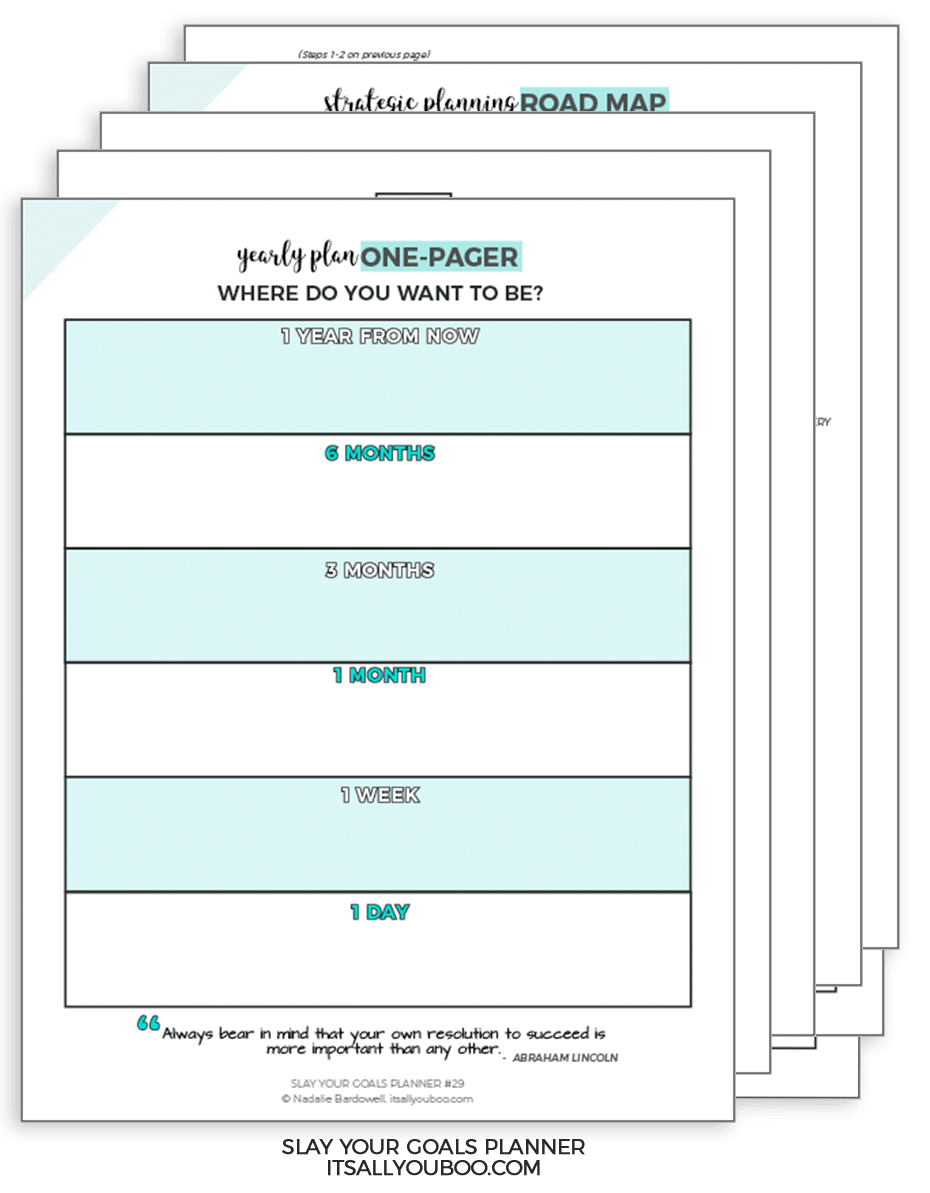 What People Are Saying:
"As you can see, Nadalie walks you through your whole year so that you really get the most out of the planner. You go from a big picture goal for the whole year, to quarterly goals, monthly tasks, weekly and even a daily to-do (complete with priority matrix!) and then follows up with a monthly review." – Steffani Dahl, Flourish and Free
"Starting with a strategic planning roadmap – practically a guided brainstorm throughout the quarters of the year. Then helping you to sum up everything in a one-page yearly plan!" – Lisa, From Dream to Plan
Chapter 5: Crush Your To-Dos
You've broken your goal down into tiny to-dos and tasks, now it's time to crush them. In this chapter of the goals planner, you hear how to hack your to-do list by focusing only on what's important and urgent. Achieving your goals isn't about doing more, but prioritizing the time and energy that you already have.
Quarterly Goals Flowchart
Monthly Goals Planners & Trackers
Priority Matrix and To-Slay Lists
Fillable Weekly + Daily Planners
Journal and Reflection Pages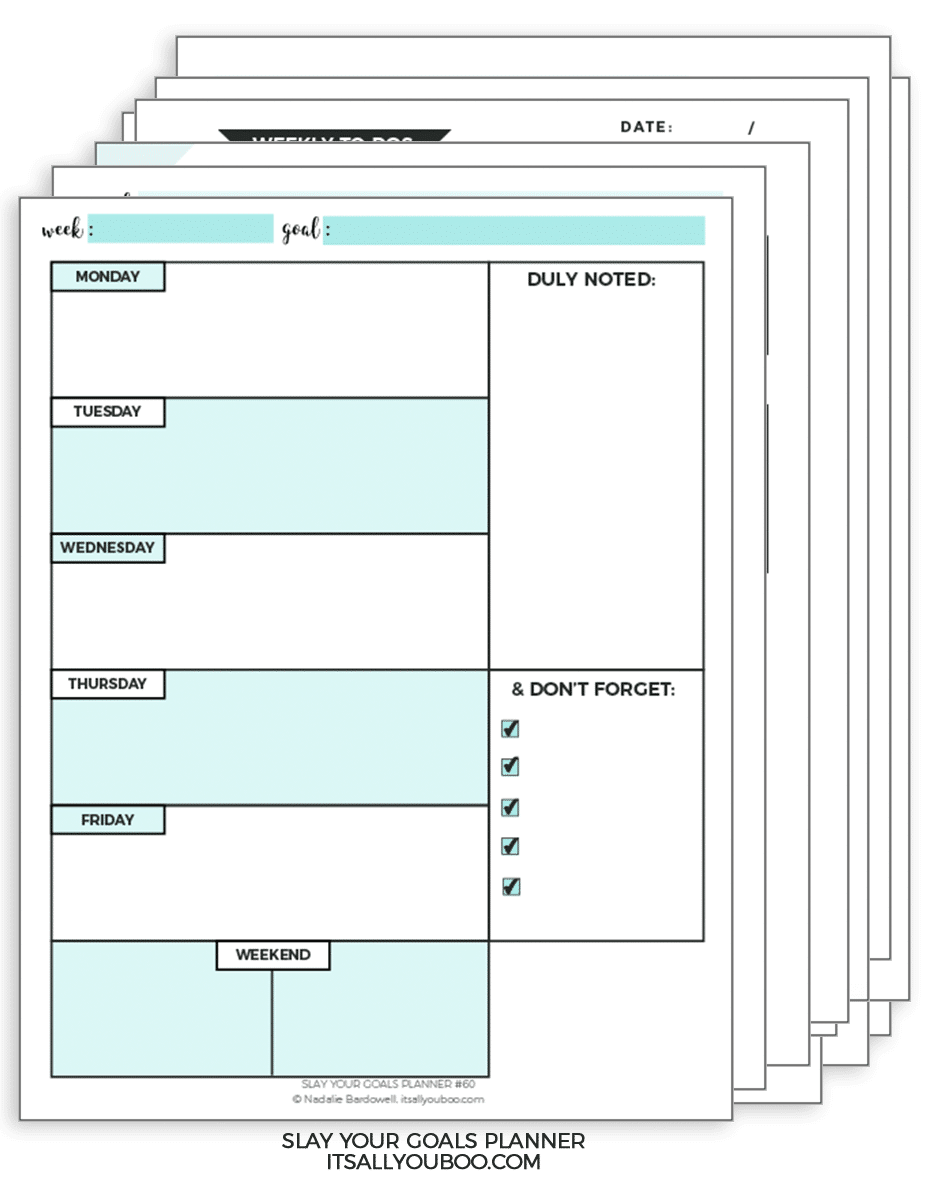 What People Are Saying:
"If you use this Planner as it is intended, you'll be on the fast-track to achieving your goals, and you'll have all the motivation you need when you totally crush your weekly, monthly and quarterly goals! Nadalie's Slay Your Goals Planner helped me get crystal clear on my #1 Goal, and realize how simple achieving it really is by breaking it down week by week." – Kate, Sun Kissed Kate
Chapter 6: Review Your Goals
You're almost at the finish line, before you rest and recommit to your goals, you need to review. This chapter of the goals planner is all about knowing where things went right and wrong is key to overcoming challenges and plotting your way forward. With one-page and reflection workbooks to choose from, you'll be implementing everything you learned in the last month or year.
Month in Review One Pager
Year in Review One Pager
Review Your Month Reflection Workbook
BONUS: Review Your Year Workbook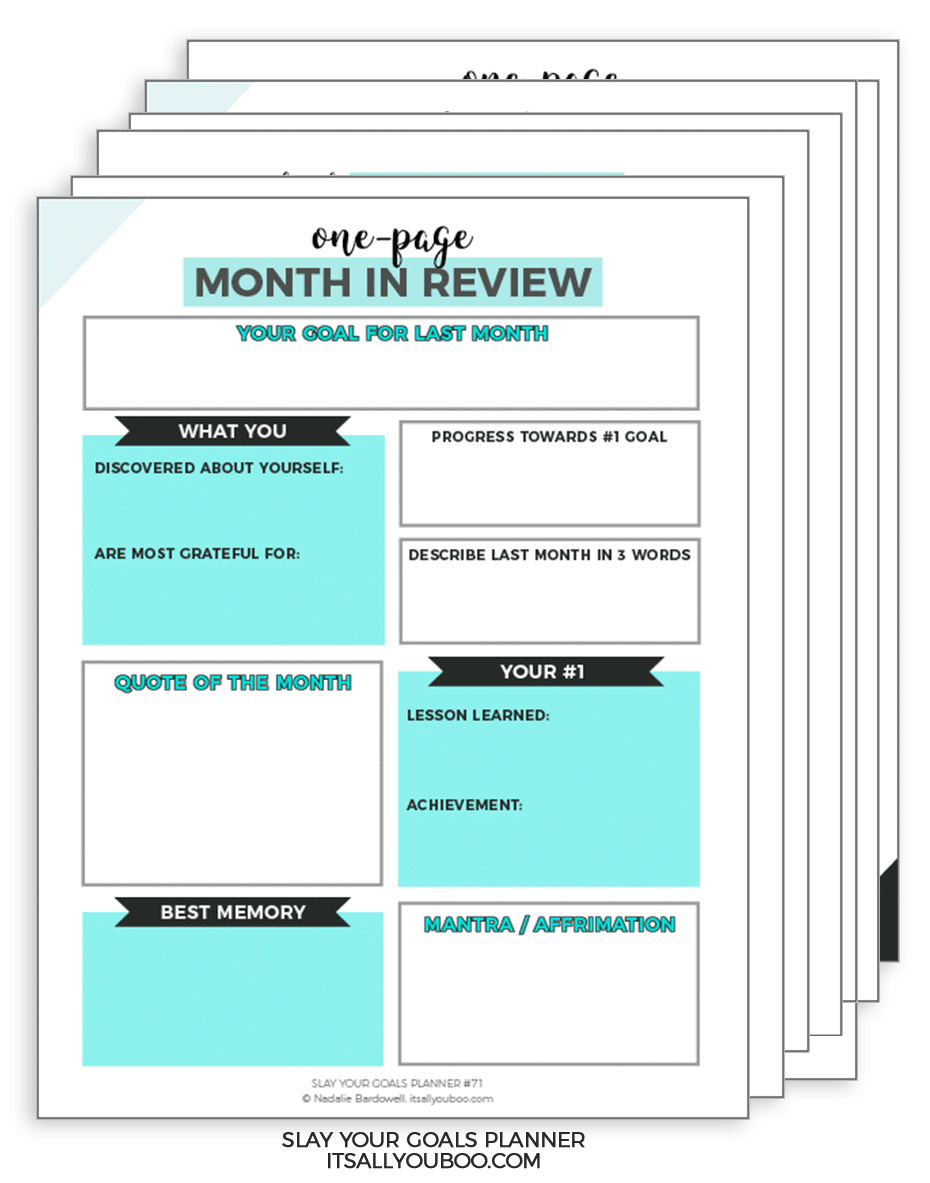 What People Are Saying:
"This section of the planner gives you all the tools you need to completely review your goal including journal and reflection pages. It asks specific questions to get you thinking and really introspecting." – Kathryn, So Candidly Kathryn
Goals Planner Features and Design Details:
More than just a planner, the Slay Your Goals Planner includes 60+ printable and form-fillable worksheets and planner pages. Being date-free, this goal setting template can be used endlessly to guide you in achieving all your goals, year after year.
Designed with your success in mind, it features:
Motivational quotes when you need them the most
Guiding prompts and reflection questions at every step
Date-free planner pages for any day, week, month and year
Multiples designs and layouts to choose from
Printable as many times as you need
Form-fillable on desktop and mobile devices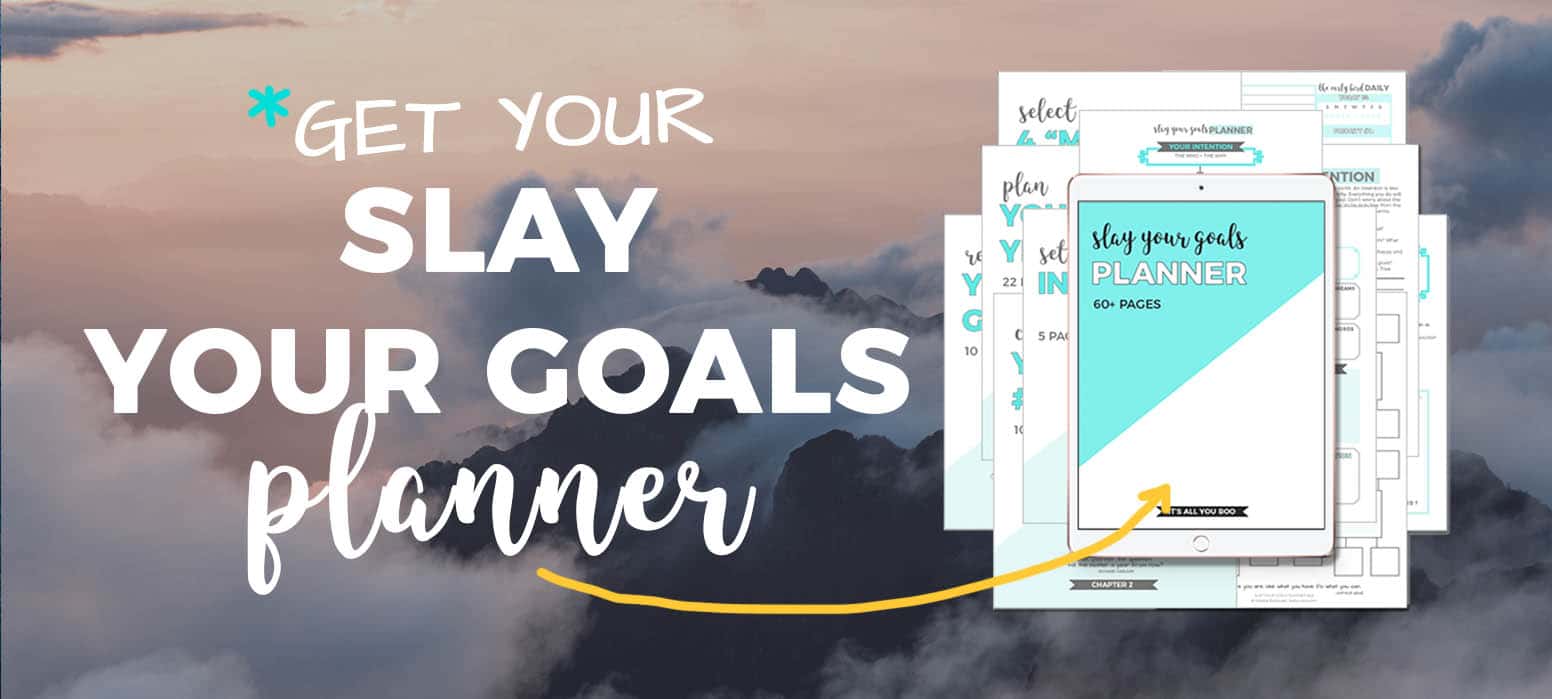 I'm a firm believer that design is everything, and the Printable Slay Your Goals Planner is no exception. Its pages feature a mixture of calming and inspiring shades of turquoise, paired with classic black and white. It's gorgeous when printed in black and white, and stunning when printed in full color.
"I absolutely love the Slay Your Goals Planner. The first things that drew me to this planner are the color scheme and design. From my first view of the planner, I could feel the energy radiating from the pages. This isn't just another planner. The sheets are colorful. The tone is energetic. The design and format of the Slay Your Goals Planner makes you want to set goals and slay them one by one."

– LaWann, Mocha Masterpiece
But, you don't need to print at all, as the entire planner is form-fillable and compatible with your desktop, tablet, and mobile devices. You can literally slay your goals on the go!
An added bonuses of purchasing the Printable Slay Your Goals Planner is that you'll also receive every new update, from design changes and entirely new templates. Not to mention that each chapter features multiple layouts and designs to choose from, so your journey through the planner is your own. With the Slay Your Goals Planner you get to pick the goal setting templates and planner pages you like!
"The Slay Your Goals Planner is the perfect planner for helping you map out your way! It costs just a fraction of what other goal planners/ worksheets cost, and because it's printable-you're able to custom make it and tailor it to your specific needs. Not only that, because it's date-free, you can use this goal after goal and year after year!"


– Sina, Living By The Margin
Slay Your Goals Planner Specifications:
Downloadable PDF document (1.4 MB)
Dimensions: 8 1/2″ x 11″ inches
Pages: 78 (v. 2.0 Feb., 2018 release)
Color: Turquoise, black and white
Print full-size at 100% or "actual size"
Print half-size with 2 to a page
Form-fillable on desktop and mobile devices
Price: $27 USD, PayPal or Credit Card
Get Your Printable Slay Your Goals Planner
What if there was an amazing goal setting template that helped you not only set achievable goals and create an actionable plan but stay motivated about achieving them every step of the way?
GET THE SLAY YOUR GOALS PLANNER!
No more what ifs and if only, the best Printable Goal Planner is here, and it's the Slay Your Goals Planner. Get yours today and start setting goals and actually achieving them. Click here to purchase your planner now for $27 USD.
Let's take your goal setting to the next level with the Slay Your Goals Planner.

Are you ready for the best goals planner?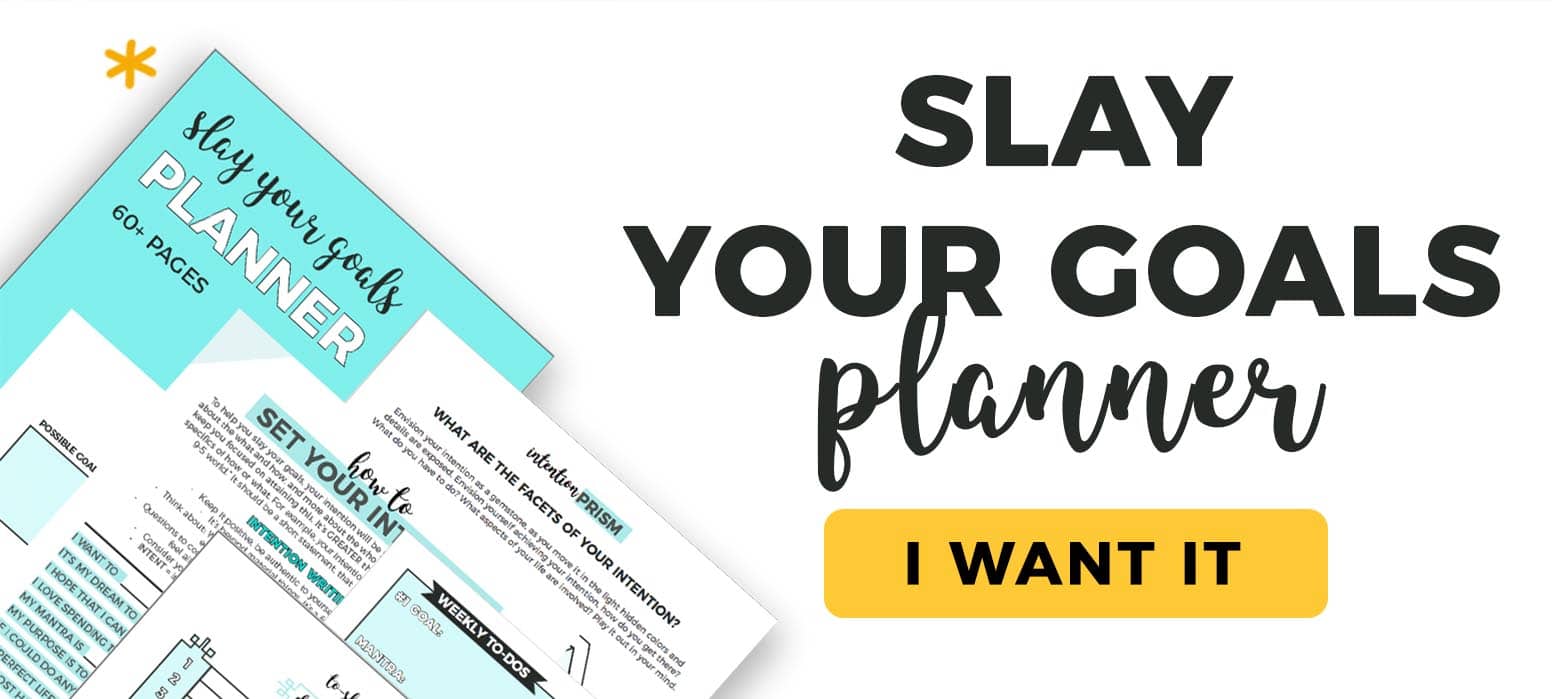 Last Updated on July 11, 2021