Should I buy the Genius Blogger's Toolkit?
What's included in Ultimate Bundle's 2021 Genius Blogger's Toolkit? Is it worth it?
Don't worry, you are not the only one asking these questions.
I've been right where you are now wondering how there's even such a thing as a bundle of 75 products for 97% off!
It was back in 2017 when I first discovered Ultimate Bundle's Genius Blogger Toolkit. A blogger must have recommended it, and I was amazed at how many blogging products, courses, ebooks, and more were being offered at such a massive discount. "$97, for all of this? This can't be legit?"
But, as I discovered when I clicked and purchased my first Genius Blogger's Toolkit, it's 100% real! And hands down one of the best investments I've ever made for my blog.


Thanks to all those insightful and in many cases mind-blowing resources on everything from WordPress and SEO, to social media and making sales I leveled up majorly as a blogger. I went from making hardly anything to earning a consistent monthly income.
I can't wait to see where I'll end up because of the 2021 Genius Blogger's Toolkit. It's never the same bundle of resources or contributors.
How the 2021 Genius Blogger's Toolkit Works
Ultimate Bundles like this one are always available for a limited time only and are usually valued at over $1,000, but offer over 90% in savings.
The all-new 2021 Genius Blogger's Toolkit that's available right now, features 75 blogging and online business products valued at $6309.98, but on sale for just $97 USD!
Yup, that's correct. This massive sale ends soon and is only available to you for a few days. So, get clicking!
As a contributor to this toolkit, I received an advance copy so here's my complete and honest review of every product in the 2021 GBTK. If you're considering buying the Genius Blogger's Toolkit to help you start or grow your blog, I want you to know what's inside and feel confident in purchasing.
So read on for my "unboxing" of the 2021 Genius Blogger's Toolkit by Ultimate Bundles, with my impressions and thoughts about all 75 products, plus my top picks for beginner, intermediate, and advanced level bloggers.
Let's get started with a few things you should know before purchasing an Ultimate Bundle.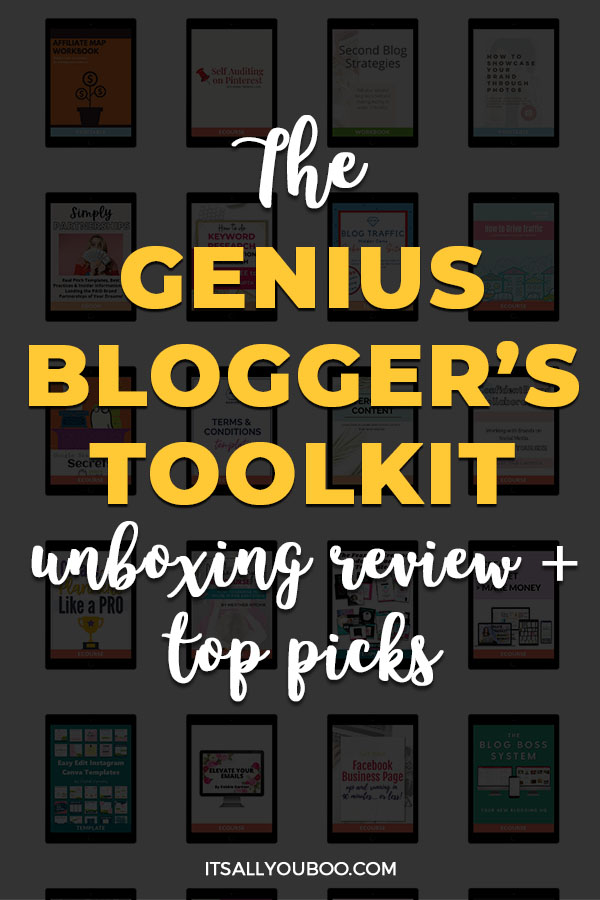 How to Get the Most Out of an Ultimate Bundle
There's nothing more annoying than buyer's remorse, so you should know that the Genius Blogger's Toolkit comes with a 30-day guarantee. As a blogger shiny object syndrome is so real, and we love buying courses that we'll maybe one day need when they're on sale. Before you buy anything make sure you have a plan for using it, not just buying it. That's how you get the most out of the Genius Blogger's Toolkit.
Before buying the Genius Blogger's Toolkit, here are a few reflection questions you need to ask yourself:
Are there 2 or 3 courses or ebooks you'll use immediately?
Is there a specific contributor you're excited to learn from?
What skills do you need to improve that the toolkit teaches?
Are there resources that will help you start or grow your blog?
Would you buy at least one of these $97+ products on its own?

Plus, once you purchase be sure to download, print, and fill out the free user manual, that helps you set your own goals for the Genius Blogger's Toolkit and outline your action steps towards achieving it. Use it to also track your progress through the bundle and manage passwords and logins.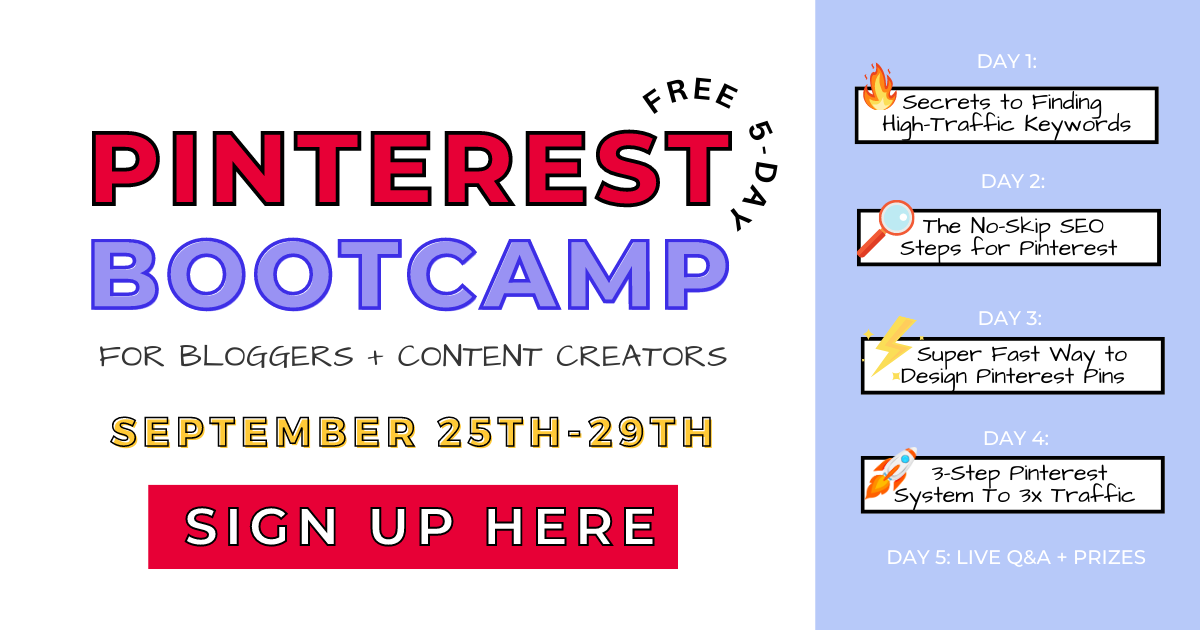 Is the Genius Blogger's Toolkit Worth It?
The truth of the matter is that you're so not going to use every single resource in this bundle, but you don't need to for it to be worth it.
As long as the value of the resources + bonuses you will use is greater than $97, you're getting the worth of your investment. Odds are you'll use way more than that amount, as several courses in the Genius Blogger's Toolkit are priced regularly at close to $400.
I remember discovering this ONE secret in an SEO eBook back in the 2017 toolkit, and that secret is why my organic traffic from Google is up 1,500% from last year this time. And that's just one way this bundle elevated me from newbie blogger to full-time blogger earning a consistent income.
Having reviewed this 2021 bundle, I have a list of such small changes that I've just learned and cannot wait to implement. What will you learn? Let's talk about what's inside.
Claim Your Exclusive Free Pin Templates with Purchase
I want you to get the most out of the 2021 Genius Blogger's Toolkit! And to celebrate my course, Idea Pin Stater Kit, being a part of it, I've got a special bonus just for you. Follow the steps below to claim 20 FREE Pinterest Pin Templates, a $36 value.
How to Claim Your FREE Pin Templates
Click here to purchase the 2021 Genius Blogger's Toolkit with my affiliate link.
Then, find your Order ID number in your receipt from Ultimate Bundles.
Send me an email info@itsallyouboo.com, with your Order ID.
I'll confirm your purchase is listed among my sales and send you 20 Pin Templates.
Be sure to use my link, you have to click and buy immediately, do not click anyone else's link or your purchase will not qualify.

What's included in the 2021 Genius Blogger's Toolkit?
The Genius Blogger's Toolkit is a collection of hand-picked products from some of the biggest blogging bosses in the world. They know how to blog like a boss who's making bank. They aren't just "experts" at blogging, online business, social media and so much more, they're passionate bloggers just like you.
Each product helps you master one aspect of blogging, and with 9 categories of resources, I can confidently say, nothing is left out.
Want to start a blog? There are courses on that!
Ready to make money blogging? So many ways with the bundle!
Struggling to get traffic? You won't after this!
Wishing for subscribers? Get your blueprint!
This bundle features 13 eBooks, 6 Printables & Workbooks, 52 eCourses & Audio, 4 Templates, 1 Membership Site one price. As a contributor to this bundle, I'm proud to be featured with the best in the blogging business.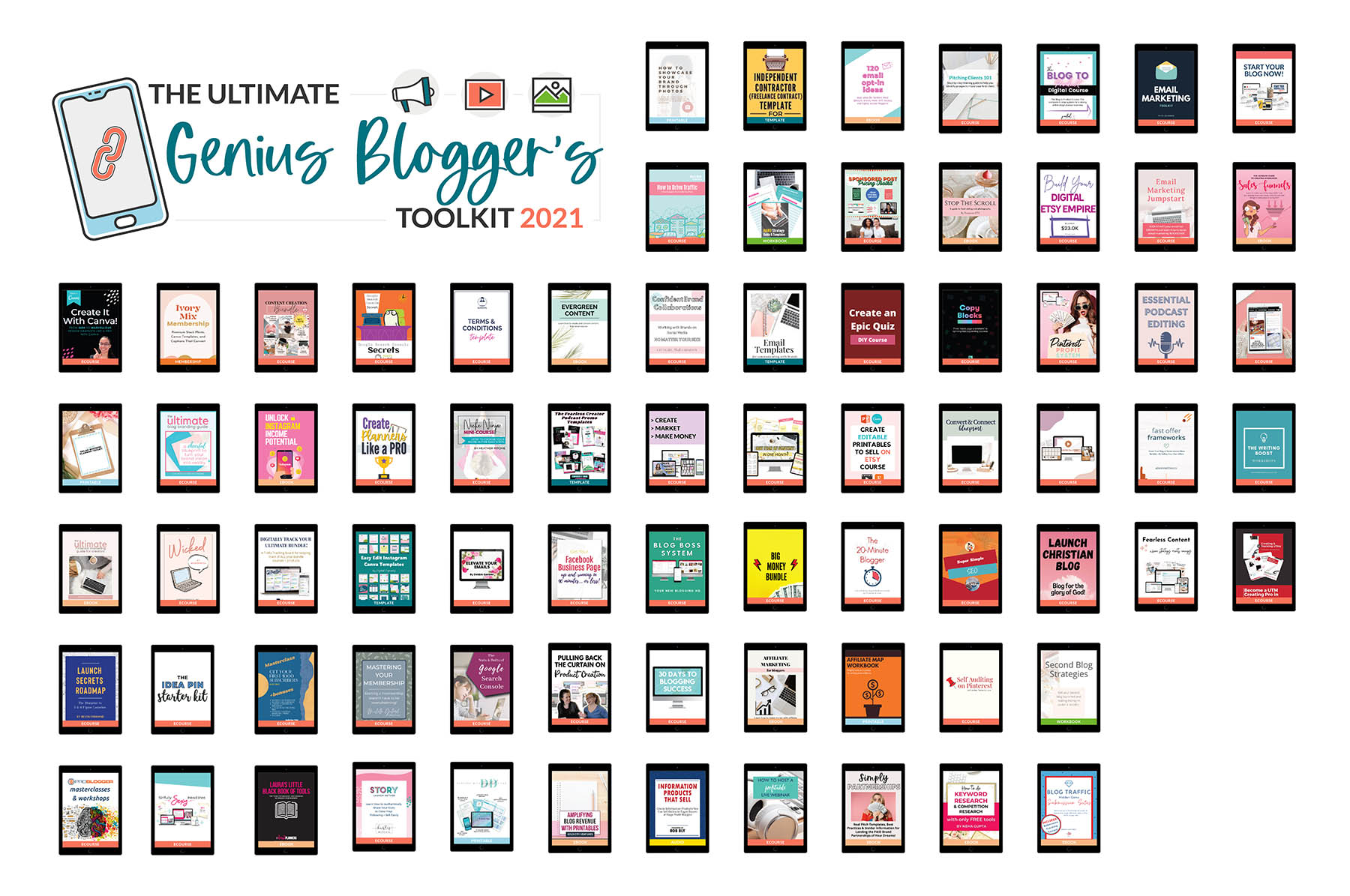 I can also tell you from firsthand that the Ultimate Bundles team spends months recruiting and reviewing the best blogging products to ensure it's the perfect combination of resources for you. And the 2021 Genius Blogger's Toolkit is their biggest bundle yet!
Quick Facts about the Genius Blogger's Toolkit:
On sale:

Tuesday, April 12 to Thursday, April 14 at 11:59 pm EST

Contents: 13 eBooks, 6 Printables & Workbooks, 52 eCourses & Audio, 4 Templates, 1 Membership Site
Value: $6309.98
Price: $97 + $50.00 cheat sheets
Click here to get your Toolkit now!
The 2021 Genius Blogger Toolkit Product Breakdown
Let's take a close look and review all the eBooks, eCourses, workbooks, printables, and more that are included in the 2021 Genius Blogger's Toolkit!
Keep reading for my product by product breakdown of the 2021 Genius Blogger's Toolkit, with my honest thoughts and summary of each, by category. Every time you see a "⭐️" it means it's one of my top picks for something specific, like using WordPress, making money, or social media.
The 75 products are broken down into the following topic categories:
Content Creation
(10 resources worth $1025.00)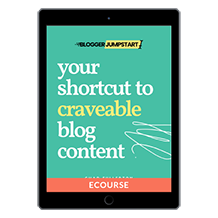 Blogger Jumpstart by Chad Fullerton ($127.00)
Are you a complete newbie to affiliate marketing?
"Discover the secret shortcuts to creating high-traffic blog content your audience will crave!"
Format: eCourse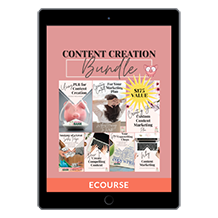 Content Creation Bundle: Learn & Earn with these Done-For-You products including private label rights by Tracy Roberts & Susanne Myers ($175.00)
Ready to learn more about content creation?
Build Your List, Grow Your Reach, And Stop Worrying About Constant Content Creation with these helpful ebooks.
Format: ZIP-File 7 pdf ebooks + 1 bonus book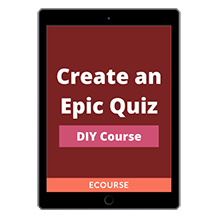 Create an Epic Quiz DIY Course by Jo Ellis ($97.00)
What to create a quiz for your website?
Learn all the steps to a high-converting quiz with this course to get you started. From the best quiz builders,
making your online quiz
all the way to the best ways to promote it.
Format: eCourse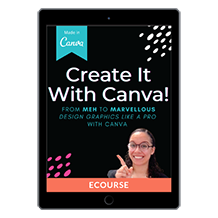 Create It With Canva!: The A-Z Guide To Learn Canva Fast by Sheree Ade ($37.00)
Need help with Canva?
Heard of Canva, but not sure how to use it? This step-by-step course shows you the ins and outs of Canva and takes you from beginner to expert.
Format: eCourse with video lessons and tutorials in Canva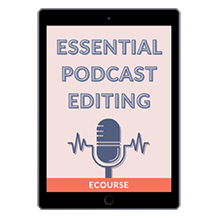 Essential Podcast Editingby Melissa Guller ($95.00)
Want to start a podcast?

If you're putting off starting a podcast because of your fear of technology, then this is the course for you. Melissa teaches you how easy it is to quickly edit podcast episodes.
Format:eCourse, videos, and text lessons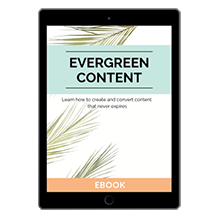 Evergreen Content Strategies: Learn how to create and convert content that never expires by Arfa Nazeer ($29.00)
Want to create evergreen content?
There's content that is seasonal, then there's content that people are interested in all year round. In this amazing ebook, Arfa shares with you everything from finding keywords and creating content to sharing that content to grow your traffic.
Format: 147-Page eBook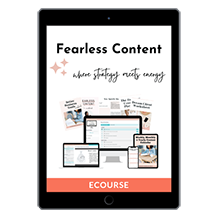 Fearless Content: A 4-Week Program to Unlock Your Best Content, Uplevel Your Brand & Create Profound Impact by Lidiya Kesarovska ($222.00)
⭐️
My top pick for Female bloggers
Tired of creating content you don't care about?

This is a 4-week program to unlock your best content, uplevel your brand & create a profound impact as a blogger. I really appreciated how Lidiya teaches human design and how to find your zone of genius. Blogging does not have to be hard if you get in tune with yourself and your soul.
Format: Mix of video and PDF content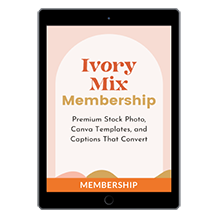 Ivory Mix Content Membership by Kayla Butler ($97.00)
⭐️

My number one pick from this bundle!
Want to join a stock photo membership site?

This product alone makes the bundle worthwhile, join Ivory Mix content membership to get access to premium stock photos, ready-to-use social media captions, Canva templates and so much more.
Format: Membership site with 6000+ photos, graphics, images, and more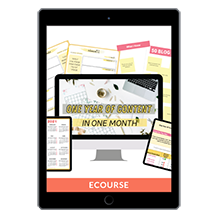 One Year Of Blog Content In One Month Challenge by Ana Skyes ($47.00)
Struggling to create content for your blog?
Write one year's worth of blog posts in 30 days using this time-saving content creation system and easy-to-implement SEO training for bloggers.
Format: 4-phase challenge with a mix of video, and text lessons + tutorials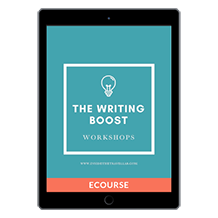 The Writing Boost by Abigail King from Inside the Travel Lab ($99.00)
Does your writing need a boost?

Become a better writer in this four-part workshop that teaches you writing techniques like structure, standing out, and more. Each workshop comes with slides and downloads.
Format: 4 1-hour or so workshops + slides and downloads
Email Marketing
(7 resources worth $509.00)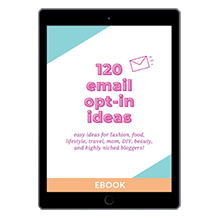 120 Email Opt-In Ideasby Bree Pair | Thrive Blogging Educator ($47.00)
Not sure what your first freebie should be?
With 120 opt-in ideas organized by niches, you'll be able to create your first freebie today. Stop wondering and wasting time and use this PDF to make it already.
Format: 12-page PDF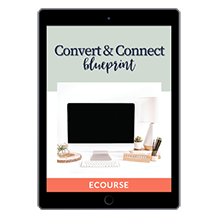 Convert + Connect Blueprint: Get Your Welcome Sequence Set Up on ConvertKit in an Afternoon by Bev Feldman ($37.00)
Don't have an email welcome series?
It's time to learn how to use ConvertKit to its full abilities, by setting up a welcome sequence. Learn how to deliver freebies and use features like tags and segments.
Format: Dripped to your email inbox.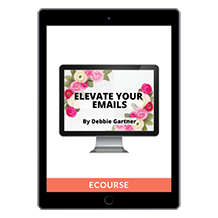 Elevate Your Emails: Secret insider tips to monetize your email list by Debbie Gartner ($37.00)
Is no one reading your emails?
This course teaches strategies to monetize and engage your people by just being yourself. I really enjoyed Debbie's list of ways to make your emails more engaging. You never know what mistakes you are making.
Format: eCourse, mostly text with a few videos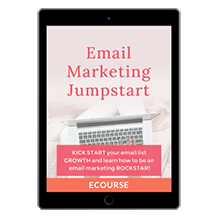 Email Marketing Jumpstart: KICK START your email list GROWTH and learn how to be an email marketing ROCKSTAR! by Eb Gargano ($197.00)
Wish blog visitors were actually dedicated fans?
This course teaches you how to grow your email list and make money with a dedicated audience. More than that, Eb shows you how to create a welcome newsletter, use automation and landing pages so you can become an email marketing pro.
Format: eCourse, mix of text lessons and video training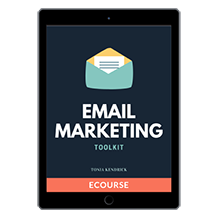 Email Marketing Toolkit by Tonia Kendrick ($47.00)
⭐️
My top pick for email marketing
Not sure what to send in your email newsletters?
Stop stressing about your email list and create a plan that you can easily execute. This course comes fully loaded with helpful workbooks and printables on everything you could need. Be sure to get your bonuses at the end like the subject line formulas.
Format: eCourse, video, and workbooks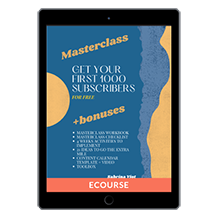 Masterclass: 7-steps to Get Your First 1000 Email Subscribers for Free by Sabrina Viot ($47.00)
Tired of wishing you had 1000 subscribers?
It's time to make your email list size dreams come true. Plus, you've gotta love the four bonuses that come with this course, including a content calendar.
Format: eCourse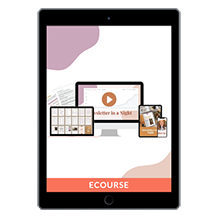 Newsletter in a Night by Helene Sula ($97.00)
⭐️
My top pick for a quick win
Looking for a quick way to start an email list?
You don't have to spend ages building an email newsletter, you can do it in one night. This two-hour workshop has everything you need to start an email list, including creating an irresistible opt-in. The bonuses are amazing, with done for you lead magnets, swipe files, and subject lines.
Format: 2-Hour Workshop + bonuses
Click here to get the Genius Blogger Toolkit
Getting Started
(11 resources worth $1285.00)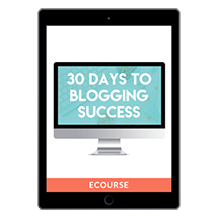 30 Days to Blogging Success by Dale Persons ($97.00)
Want a 30-day road map to your new blog?
If you're a new blogger, it's hard to know what to do when. With this roadmap to success, you just follow along. Plus, Dale shares blogger secrets like the best affiliate programs and email sales templates.
Format:eCourse, Text-based
Exclusive ProBlogger Masterclasses & Workshops by ProBlogger ($99.00)
What to learn from pro-level bloggers?
In this series of workshops, learn tips about everything from podcasting and list building to social media and more. Follow along with slides.
Format: Series of audio + slides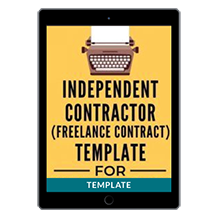 Independent Contractor Agreement (AKA Freelance Contract) by Amira Irfan ($100)
⭐️
My top pick for freelancers!
Are you a freelancer or working with freelancers?
This legal template will help to protect you from lawsuits. Be sure to use this template when starting a freelancing position or hiring one.
Format: 16-Page PDF Template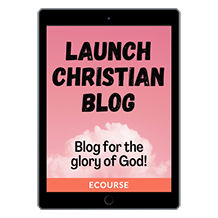 Launch Christian Blog: Avoid the biggest beginner mistakes by learning how to implement SEO, set up your email list, and all the must-know legalities to blogging by Elaine Rau | LadyBossBlogger ($97.00)
Want to become a Christian blogger?
If you're ready to become a faith-based blogger, Elaine shows you have to do it. This course teaches you the foundations of blogging, but also the necessary mindset and spiritual aspects for success in this blogging niche.
Format: eCourse, mostly videos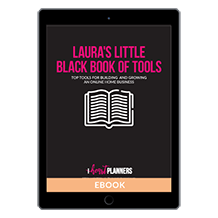 Laura's Little Black Book of Tools: Top Tools for Building and Growing an Online Home Business by Laura Smith ($49.00)
Want a 30-day road map to your new blog?
In this easy-to-read PDF, you'll learn all the best tools for everything from productivity to design. With a quick review and ranking, you'll be able to level up your blog with the tools you need.
Format: 59-Page PDF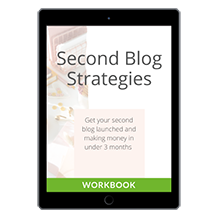 Second Blog Strategies by Gemma ($27.00)
Want to start a second blog, but not sure how?
Having one blog is a challenge, having two blogs can feel impossible. With this helpful ebook, you'll be able to learn how to balance two websites without burning out.
Format: 43-Page PDF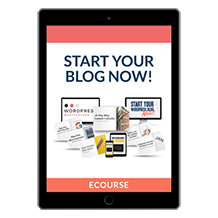 Start Your Blog Kit by Bob Lotich ($36.00)
Need help starting your blog
"Designed specifically to help you shave months off your learning curve and get started blogging "the right way"."
Format: eCourse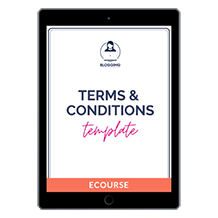 Terms & Conditions Template for Bloggers and Content Creators by Lucrezia Iapichino ($87.00)
Did you know your new blog needs legal templates?
Be sure to always have a terms and conditions page on your blog or website. Easily customize this template to your website. Plus, enjoy the extra bonuses.
Format: eCourse with Docx files.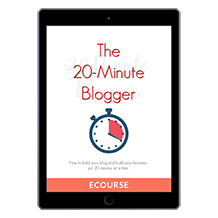 The 20-Minute Blogger: Build Your Blog and Build Your Business Just 20 Minutes at a Time by Kathy Widenhouse ($49.00)
Do you feel like you just do not have enough time to blog?
As a new blogger, you can spend days writing just one blog post. Sadly, that is just not sustainable. With this course, Kathy shows you how to get it done in 20-minutes. You don't need all the time in the world, you need a process that works. Let's go from ideas to published in 20 minutes.
Format: eCourse with short videos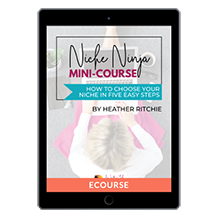 The Niche Ninja Mini-Course by Heather Ritchie ($47.00)
Can't decide on a profitable niche?
There's so much talk in the blogging community about which niche is most profitable. Stop doubting and questioning and find out for sure which niche is best for you. Plus, with these helpful bonuses, you'll create your ideal reader avatar and easily stand out in any niche.
Format: eCourse, Text, and Video Lessons
Wicked At WordPress by Chelsea Clarke ($597.00)
⭐️
My top pick for the best beginner blogger course!
Wish you were better at WordPress?
You can build your own website if you know the tech. In this course, Chelsea levels up your WordPress skills from newbie to pro in no time. Everything from themes and plugins to building an eCommerce shop is covered. Don't miss the bonus section that answers any questions you might have left.
Format: eCourse with videos and text lessons
Click here to get the Genius Blogger Toolkit
Marketing & Branding
(9 resources worth $567.00)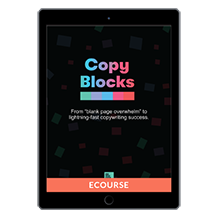 Copy Blocks: From blank-page-overwhelm to lightning-fast copywriting success by Pete McPherson ($99.00)
Got no clue when it comes to building landing pages?
Copy is easy when you have the formula to follow. This course provides you with guiding questions, prompts, and examples to make your next landing page a breeze. Just fill in the details and get your copy!
Format: Video + interactive file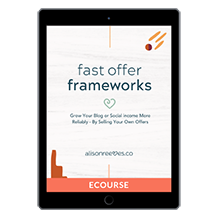 Fast Offer Frameworks: Grow Your Blog or Social Income More Easily By Selling Your Own Offers by Alison Reeves ($97.00)
⭐️
My top pick for a quick win
Want to make money blogging, but not sure what course to sell?
If you're ready to start selling your first online offer, this quick course will get you there. With easy ideas for products to the best platforms for selling, your first digital product will be up in no time.
Format:eCourse videos + text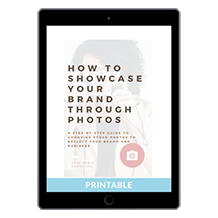 How to Showcase Your Brand Through Photos: A Step-by-Step Guide to Choosing Stock Photos to Reflect Your Brand and Business by Sage Media & Marketing – Robyn Roste + Jennifer Pinkerton ($10.00)
Overwhelmed with stock photography?
With so many images to choose from, it's hard to create a consistent brand presence online. With this printable, you're able to learn how to choose images that reflect your brand.
Format: 16-page PDF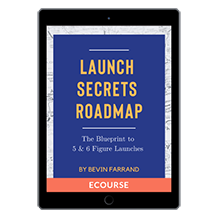 Launch Secrets Roadmap: The Roadmap to 6 – 7 Figure Launches by Bevin Farrand ($27.00)
⭐️
My top pick for building landing pages
Launching a product soon?
If you've launched a product before you know how much is involved. There's a sequence to follow, there are important dates you just cannot miss. With this Roadmap, your next launch will be your most successful.
Format: Videos + Customizable Google Doc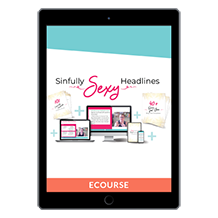 Sinfully Sexy Headlines by Kelly Thoreson ($57.00)
Need help with writing headlines?
Your headline is not the only key for getting clicks, but for catching people's attention, to begin with. Boring ol' headlines just won't cut it. You'll love all the fun cheat sheets too.
Format: eCourse, video + text.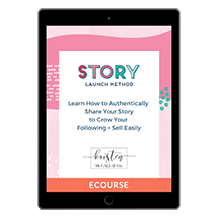 Story Launch Method by Kristen McCall ($74.00)
Got no idea what to post on social media?
If you're ready to actually create a social media strategy, this is the mini-course for you. Use the easy-to-follow prompts to craft a brand story.
Format: eCourse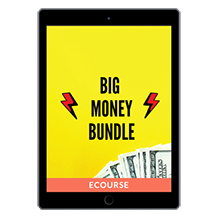 The Big Money Bundle by Faith Mariah ($97.00)
Need to level up your money mindset?
In business, your mindset is just as important as your business sense. When you have clarity and confidence, you can not only hit but surpass your goals.
Format: Videos + live workshop replays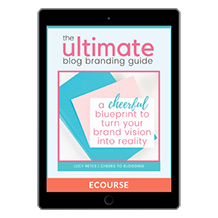 The Ultimate Blog Branding Guide by Lucy Reyes ($37.00)
⭐️
My top pick for branding
Got questions about branding?
If you're clueless when it comes to branding, this eBook is going to help you develop a unique brand presence. Lucy helps you create a brand design that you're proud of and excited to market to the world. Plus, her font pairing cheat sheet is so helpful.
Format: eCourse with Videos + 88-Page eBook + 9-Page Workbook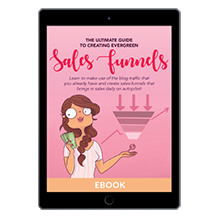 The Ultimate Guide to Creating Evergreen Sales Funnels by Angela Mary Vaz ($69.00)
Wish you were making passive, evergreen sales?
It all starts with a sales funnel. Which could be scary if you don't know what you're doing. In this ebook, Angela walks you through the process of creating a passive income funnel.
Format: 105-Page eBook
Monetization
(8 resources worth $868.00)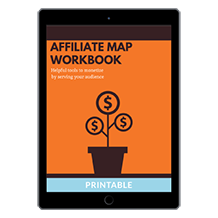 Affiliate Map Workbook by Laura L Marschel ($20.00)
Wish you were making money from affiliate marketing?
Without an actual strategy for affiliate marketing, your results will be very hit or miss. Joining an affiliate program is the easy part, actually making money is another thing. Use this affiliate map workbook to find opportunities to serve your audience and make money.
Format: 20-page PDF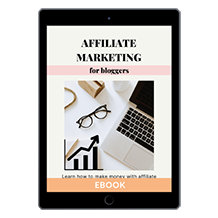 Affiliate Marketing for Bloggers by Neesha Rees ($45.00)
New to affiliate marketing?
If you're brand new to affiliate marketing, this is the eBook for you. You'll learn all the basics from what is affiliate marketing and finding the best programs to join, all the way to writing content and building marketing funnels.
Format: 57-Page eBook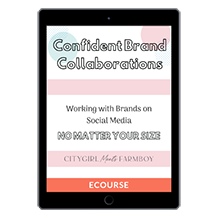 Confident Brand Collaborations Course by Kelly Ballard ($325.00)
Want to work with brands on social media?
So, you want to be an influencer, but you're not sure where to begin. With social media of course! With the proven strategies in this course, you'll be able to connect with brands, create a media kit and so much more.
Format: eCourse
Email Templates For Communicating With Brands by Ashley Carpenter ($24.00)
Want to work with brands?
Listen, reaching out to brands and the media is nerve-wracking. It's stressful when you don't know what to say or how to reach out. Skip the headache and copy these easy-to-use email templates and start building this side of your business today.
Format: 12-Page PDF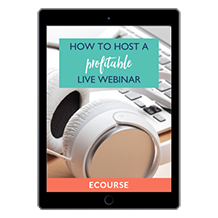 How To Host A Profitable Live Webinar by Jessie Festa ($74.00)
Want to host a webinar?
Hosting your very first webinar can be scary! You've got to be comfortable on camera, deliver an engaging presentation, promote it beforehand, and even pitch. Plus, there's all the tech to learn! This course has all the bases covered so you can create your first webinar with confidence.
Format: eCourse Video + text with PDFs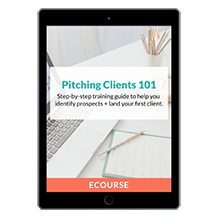 Pitching Clients 101: Step-by-step guide to land your first (and next!) client by Sagan Morrow ($249.00)
Wish you had more clients?
There's a science and an art to pitching new clients. Knowing what to say is only half of the puzzle, you need confidence. It all starts with identifying the right clients and preparing the perfect pitch. Learn how to market yourself and follow up to close the deal.
Format: eCourse – Text based lessons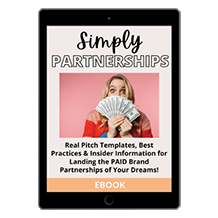 Simply Partnerships: Learn how to pitch & land the paid partnerships of your dreams! by Siobhan Alvarez ($67.00)
Want to partner with brands?
Landing a big partnership deal could be a changer for you. With this eBook, you'll learn everything from who to pitch and what to pitch to how to price your offers. Plus, with easy-to-copy templates for everything, you'll be collaborating with brands in no time.
Format: 45-Page eBook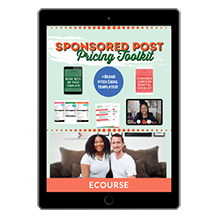 Sponsored Post Pricing Toolkit by Jasmine Watts and Christopher Drown ($64.00)
Curious about sponsored content?
If you want to start offering sponsored content but are not sure where to even being, this is the course for you. This toolkit helps you to price, package, and pitch your sponsored post proposals.
Format: Video, Google Spreadsheet and PDFs
Click here to get Your Bundle Now
Planning & Organization
(4 resources worth $153.00)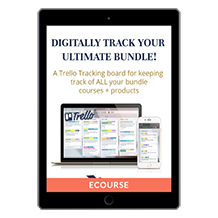 Genius Blogger's Toolkit 2021 Trello Tracking Board by Kristi @ Paperless Boss ($12.00)
Want to track all of your bundle products DIGITALLY?
Use this bundle tracking board to keep track of all the products in this year's bundle
Format: Trello Board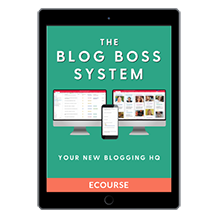 The Blog Boss System by Leanne Scott ($57.00)
Want to use Airtable?
Airtable is the best new online organization tool, and it can help you boss up your blog system. If you're unorganized and need to get a hold of things, this course will help you.
Format: eCourse, Video + Text-based lessons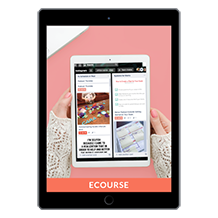 The Ultimate Mompreneur Trello Bundle by Cara Harvey ($47.00)
Got questions about Trello?
Trello is a popular option for staying organized online, but how do you use it as a blogger? Cara shares 7 plug and play templates to get you organized as a blogger.
Format: Trello boards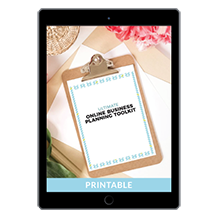 Ultimate Online Business Planning Toolkit by Holly Hanna ($37.00)
Wasting time and energy in your business?
Getting and staying organized can mean the difference between benign success and failure at blogging.
Format: ZIP File with 7 PDFs
Click here to get Your Bundle Now
Product Creation
(10 resources worth $759.00)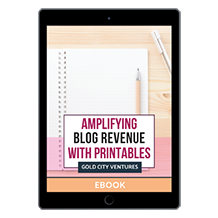 Amplifying Blog Revenue with Printables by Julie Berninger & Cody Berman ($27.00)
Want to grow your blog with printables?
There are so many questions about building an online printable business. This quick read offers up the best tools for designing printables, tips for creating and selling them. Plus, with a list of downloads, you can create listed by niche, you can get started right away.
Format: eBook 22- Page PDF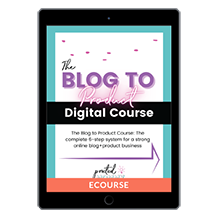 Blog to Product: The complete 6-step system for a strong online blog+product business by Kristen Miller ($104.00)
Ready to create and launch an online course?
If you're new to blogging and ready to start creating courses, Blog to Product is for you. Learn everything from defining your audience to launching your first $10 product and beyond. Plus, enjoy the extra bonuses like Pin Templates.
Format: eCourse, Video with Worksheets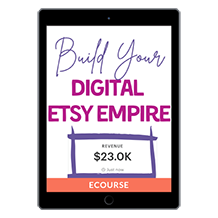 Build Your Digital Etsy Empire by Sadie Smiley ($127.00)
What to build an Etsy store?
It's challenging to know where to start building your Etsy Empire, but Sadie shares an exact blueprint to success. Don't waste a minute not knowing how to set up your shop, create digital products, or make listings that sell with beautiful mockups.
Format: eCourse with videos, text, and templates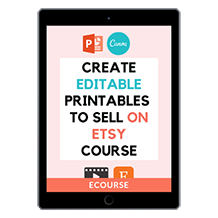 Create Editable Printables To Sell On Etsy by Carmen Chan ($57.00)
Want to know how to create editable printables?
Digital planners and printables are all the rage. Learn how to make interactive printables in PowerPoint and Canva that you can sell on Etsy.
Format: eCourse Videos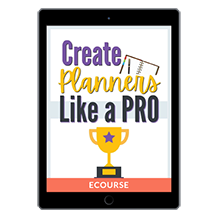 Create Planners Like A Pro by Faith Lee ($97.00)
Want to create a planner?
If you've wanted to create planners this is the course for you. Use it to design your very own planner that you can sell. Plus, gotta love the bonus lessons on how to create stickers.
Format: eCourse with videos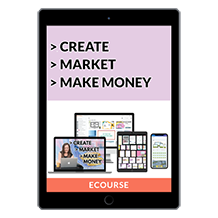 Create, Market, & Make Money – Templates by Caroline Vencil ($97.00)
Ready to sell online and make money?
Setting up shop online requires so much upfront work, from sales pages to creating products, it all takes so much time. But with this eCourse, Caroline gives you a headstart with templates that are completely customizable to your branding.
Format: eCourse + Templates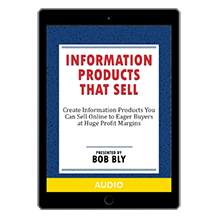 Creating Information Products That Sell Online by Bob Bly ($49.00)
Want to sell information products?
No matter what you're selling, online courses or even workbooks, it's all information. In this audio series, you'll learn a proven system for creating an info product pages business.
Format: 13 Audio Files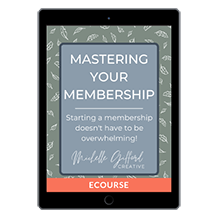 Mastering Your Membership by Michelle Gifford ($97.00)
What to start a membership site?
There's so much you need to do when starting a membership site. This course walks you through all the steps from what to do before you launch to growing your membership site. Plus, I love the bonus email templates for launching.
Format: eCourse with Videos and Files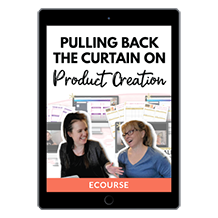 Pull Back the Curtain on Product Creation by Tracy Lynn and Caroline Vencil ($47.00)
Not sure what products to create?
Brainstorming ideas can be challenging? Not sure how to create products your niche audience will love? In this pre-recorded course, Tracy and Caroline show you exactly how they create products together. Use your worksheet to brainstorm your own products.
Format: eCourse with videos and transcripts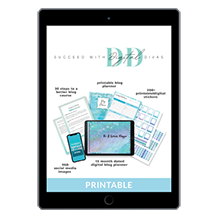 The Ultimate Blogger's Toolkit – Featuring The 30 Day Challenge To A Better Blog by Succeed With The Digital Divas! ($57.00)
Looking for a blogging challenge?
"The complete Toolkit to launch, grow and promote your blog – from concept to subscribers, this Toolkit has something for every stage of your blog!"
Format: Printable
Click here to get the Genius Blogger Toolkit
SEO & Traffic
(7 resources worth $534.99)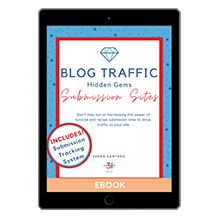 Blog Traffic Hidden Gems – Submission Sites by Susan Santoro ($29.99)
Looking for new ways to get blog traffic?
Submission sites are an untapped resource when it comes to blog traffic, as many have never heard of them. In this ebook, Susan shares strategies for getting your site listed and lists all the top sites to reach out to.
Format: 40-Page PDF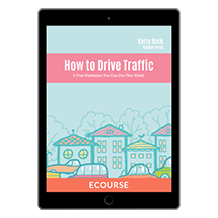 FE How to Drive Traffic to Your Website: 5 Free & Simple Strategies by Kerry Beck ($97.00)
Want to drive traffic to your website for free?
There's an art to making the most of free traffic sources. When you do you can increase your blog income, but also your subscribers. Learn how to use collaborations, events, Pinterest, and more to get free traffic to your site.
Format: eCourse, Videos + Workbook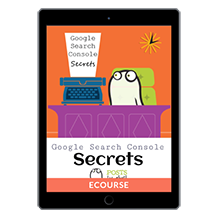 Google Search Console Secrets: Your Key to Unlocking More Search Traffic Than Ever Before! by Niki Robinson ($149.00)
⭐️
My top pick for Search Console
Want to get more free traffic to your site?
It's all about harnessing the power of organic search traffic. Get to the top of Google search results using the power of the search console. Don't miss out on the two bonus guides either.
Format: eCourse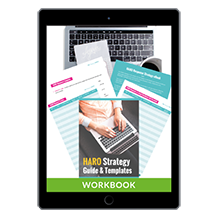 HARO Backlink Strategy Guide: Build high-quality backlinks to your blog in less than 10 minutes per day! by Kelan & Brittany Kline ($27.00)
Want to know how to get more backlinks?
Help a Reporter Out (HARO) is one of the best-kept secrets for getting backlinks for bloggers. It can also help you get featured on big sites like Hugg Post and Business Insider. Use this strategy guide to get features and get backlinks fast.
Format: 14-Page PDF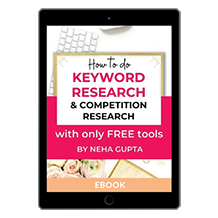 How to do keyword research & Competition research using ONLY FREE tools by Neha Gupta ($35.00)
Not ready to invest in an expensive keyword tool?
Organic-search traffic is the key to massively growing your traffic. But how do you do that without purchasing expensive SEO tools? In this eBook learn how to do competitor analysis with free keywords tools.
Format: 50-Page PDF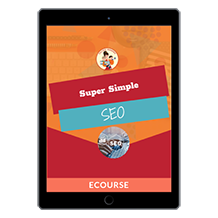 Super Simple SEO by Cousett Hoover ($100.00)
⭐️
My top pick for SEO
Totally confused when it comes to SEO?
With search engine optimization you can bring traffic to your site. But you have to know not only how to find keywords, but how to create content that ranks. It's about more than Core Web Vitals, and this course helps you get there.
Format: eCourse with Videos and Text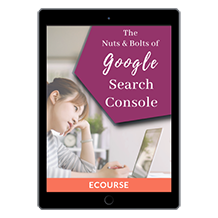 The Nuts & Bolts of Google Search Console by Sherry Smothermon-Short ($97.00)
Need help with Google Search Console?
Measuring traffic and keyword performance can be confusing if you have no idea what the numbers mean.
Format: eCourse Video and Text
Social Media
(10 resources worth $608.99)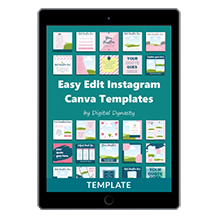 Easy Edit Instagram Templates> by Lisa Hebert ($37.00)
Looking for easy to edit Instagram templates?
Save time creating posts for Instagram by using these easy to update Canva templates. Just update the text, change the colors to match your brand, and drop in images.
Format: Canva Templates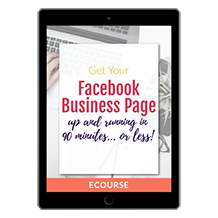 Get Your Facebook Business Page Up & Running in 90 Minutes or Less! by Stacey Ogden ($29.00)
Want to get your Facebook page up?
Facebook can be confusing for businesses, especially if it's your first business page. Learn how to create your Facebook page and actually drive engagement. Don't launch to crickets!
Format: eCourse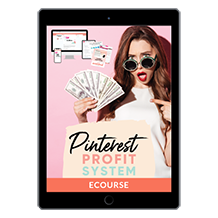 Pinterest Profit System by Misty Dorman ($297.00)
Want to get more exposure with Pinterest?
In this course, you'll learn the basics of Pinterest, create pins that are profitable, and build a strategy that works. Plus, take the 14-day kickstart to go through the steps with Misty.
Format: eCourse with Video, Text, and Workbook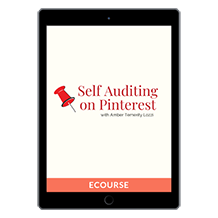 Self Auditing on Pinterest by Amber Temerity Lozzi ($47.00)
Are you using the right Pinterest strategy?
By auditing your Pinterest account you can find ways to improve your strategy. Follow along with the provided workbook as Amber shows you exactly how to audit your account.
Format: eCourse video + 18-page workbook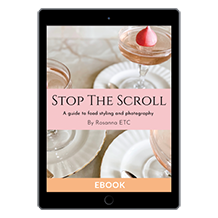 Stop The Scroll – A Guide To Food Styling and Photography by Rosanna Stevens ($9.99
Are you a food blogger?
Photography is everything when you're a recipe, lifestyle or food photographer. You cannot just use stock photography when you're sharing your own recipes. Learn how to take scroll-stopping professional-level photography.
Format: 32-Page eBook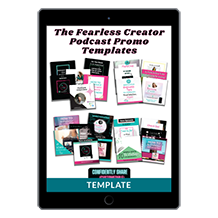 The Fearless Creator Canva Podcast Promo Templates: Confidently Share Your Promotions for a Profitable Podcast! by Stacy Zant ($25.00)
Launching a podcast?
You've got to promote your podcast on social media to get more listeners. But skip the headache of designing pin templates with these 25-Canva templates.
Format: 25-Canva Templates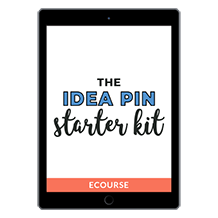 The Idea Pin Starter Kit: Your Complete Guide to Creating Idea Pins for Pinterest by Nadalie Bardo ($49.00)
⭐️

My top pick for Pinterest- it's my course!
Ready to create Idea Pins for Pinterest?
Click-by-click lessons and templates so you can easily start creating Idea Pins that increase you, your brand, blog, or business's exposure and engagement on Pinterest.
Format: eCourse, Workbook + Templates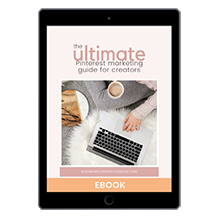 The Ultimate Pinterest Marketing Guide by Mariam Chamma ($30.00)
New to Pinterest?
This eBook is a crash course in all the basics of Pinterest marketing. Learn how to set up your account, create pins and grow with Pinterest.
Format: 88-Page PDF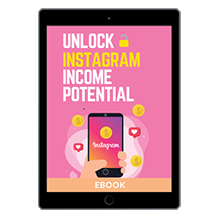 Unlock Instagram Income Potential: Read this if you want to START & SCALE your Instagram to profitable levels! by Marta Ostoja Kiedrzynska | Wherelifeisgreat ($11.00)
Set goals for Instagram, identify your audience and create content that connects with them. Learn how to funnel potential clients from Instagram to your sales page.
Format: 65-Page eBook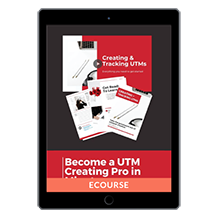 UTM Creation Video + Workbook (w/ bonus Canva pin templates for Pinterest!) by Kate Ahl ($74.00)
How well are your social media posts doing?
Did you know that with UTM codes you can track how successful an image is? Stop posting without tracking results and use UTM codes to know for sure what's working and not working with Pinterest. Plus, get those free Pin templates!
Format: eCourse Video + workbook
Click here to get the Genius Blogger's Toolkit
How Do I Get the Genius Blogger's Toolkit?
It's super easy to secure your copy of this before the sale ends! Plus, snag those early bird bonuses while you can.
Click here to visit the sales page, then, click the "get my copy now!" button in the top right corner. Fill out the payment form and proceed to check out securely with a credit card or with PayPal.
Should I Upgrade and Get the Cheat Sheets?
The real question is, what to save time and get results quicker? Plus, skip having to take your own notes?
Having accessed and tested all 75 resources in this bundle, I know how overwhelming it can be. Trust me you want to avoid wasting time trying to figure out where to start and what you need in the bundle. The Ultimate Bundles Team has taken the time to summarize every resource in this bundle to save you time.
Be sure to upgrade for $50 at checkout and come with all the best tips, tricks, and techniques in each and every product. Think of them as the "Coles Notes" version of all these products.
As soon as you've checked out, you'll see this confirmation page. Then, click the "access bundle" link to be taken right to the bundle page to access all the products.
You'll also receive an order confirmation email immediately after checkout with instructions. Plus, be able to claim your bonuses!
And, that's it! It's time to start implementing the best blogging strategies for success.
There you have it – my complete review of the entire 2021 Genius Blogger's Toolkit.
The Genius Blogger's Toolkit is finally here, let's take a look inside! Is it worth it? Here's my review and reveal of all 75 products in the 2021 Genius Blogger's Toolkit. #Bloggers #Blogging
Last Updated on April 12, 2022