How do you blog legally and protect your blog?
Is your blog legal and protected?

Is your blog legal? Do you have the 3 essential legal pages on your blog? Click here for my interview with lawyer @aselfguru + what you need to know about privacy policies, blog disclosures, and disclaimers. #Blogging #Bloggers #Blog
Hi guys! I'm Amira, a lawyer, blogger and business coach from ASelfGuru.com. Thank you, Nadalie for providing me the opportunity to write this guest post on how to blog legally and to answer the most common legal questions I get from bloggers.
It's so important to learn how to blog legally to protect yourself from lawsuits!
Everyone knows that lawsuits are scary, intimidating and expensive.
If you don't comply with all the legal requirements as a blogger then you risk getting sued and paying thousands in lawsuits, so you must learn how to blog legally as soon as you start your blog or online business.
I've been practicing law for more than 8 years, and as a lawyer, I've seen tons of bloggers and entrepreneurs getting in legal trouble for not complying with the laws or being clueless about their blog legalities.
You don't want to be one of them!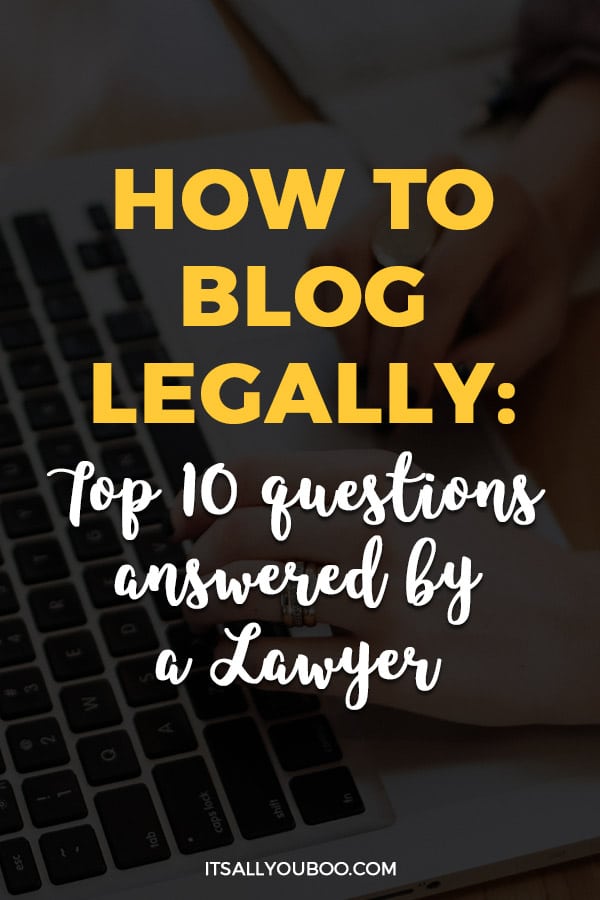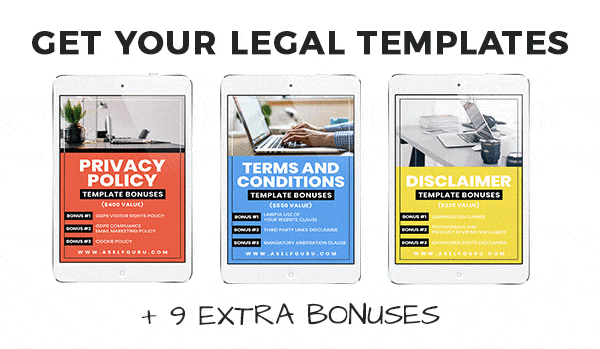 This is why I created a Legal Bundle of 3 blog legal templates that have helped thousands of bloggers comply with the laws and protect their online businesses legally!
The Legal Bundle ensures your compliance with all the different blogging laws out there that impact you such as the General Data Protection Regulation (GDPR) and other privacy laws.
It also protects you from lawsuits by making sure you have the appropriate blog legal pages you need as a blogger for different reasons.
The three blog legal templates included in the Legal Bundle are:
A Privacy Policy Template
Disclaimer Template (including your Disclosures as well)
Terms and Conditions Template
PLUS, 9 additional bonuses valued at $1175!
You can check out the Legal Bundle here and we will discuss it in more detail below.
Before we get into the questions, here's my legal disclaimer:

Disclaimer: Although I'm a lawyer by profession, I'm not YOUR lawyer. This article is for informational and educational purposes only, does not constitute legal advice and does not establish any kind of attorney-client relationship with me. I'm not liable or responsible for any damages resulting from or related to your use of this information.
Top 10 Questions about How to Blog Legally
#1.
How do I blog legally? How do I make sure my blog is legal?
One of the easiest ways you blog legally is by making sure you have the proper blog legal pages on your site. There are 3 things your blog needs to make sure it's legal.

These are called your 3 blog legal pages that you must have on your blog BEFORE you launch to protect yourself from lawsuits and comply with the laws.
Some bloggers mistakenly believe that blog legal pages are optional but they are not. For example, a Privacy Policy is a legal page that is required by law and you must have it on your blog from day one!
👉🏽 RELATED POST: How to Create a Blog Business Plan
#2.
What blog legal pages does every blogger need?
As mentioned above, there are 3 blog legal pages every blogger needs and those are:
A Privacy Policy
Disclaimer (including your Disclosures)
Terms and Conditions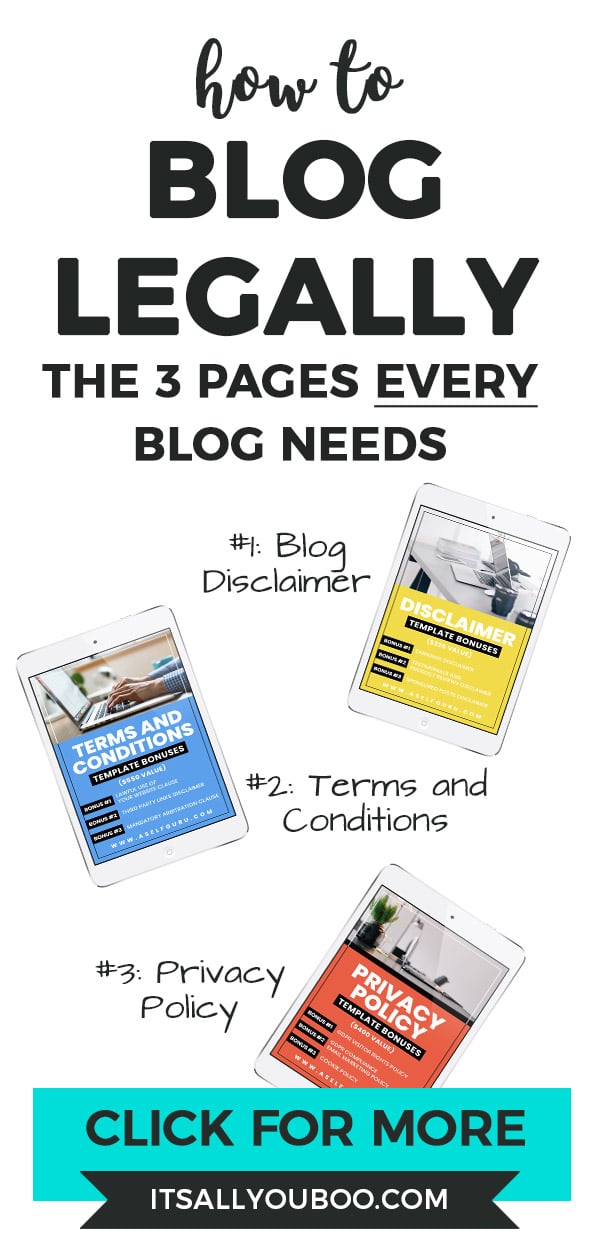 All three of these legal pages are available in my legal templates bundle.
#3.
Do I need blog legal templates or can I write these pages myself?
Getting blog legal templates written by a lawyer is always a smart idea because that's the only way to make sure your blog legal pages are comprehensive, detailed and include all the important legal provisions your blog needs to be compliant with the law.
You CANNOT copy anyone else's blog legal pages because that's copyright infringement and you will get sued!
Some bloggers think they can write these blog legal pages on their own and end up wasting valuable hours or days trying to figure out the legal stuff on their own. Obviously, this is not the best use of your time or a wise business decision because what if you miss an important legal provision in your blog legal pages exposing you to lawsuits?
👉🏽 RELATED POST: How to Start a Business You Love
You need a Lawyer to Write Your Legal Pages
Unless you are a lawyer, you wouldn't know EVERYTHING you need to include in your blog legal pages. You will certainly miss something important. This happens a lot!
I know this because I'm hired by bloggers to audit their blog legal pages all the time and when I perform that service, I get to see firsthand how many legal mistakes they are making!
When I show them all the important legal provisions that are missing in their blog legal pages, that's when they realize all the legal mistakes they were making and immediately purchase my Legal Bundle to make their blog legally compliant!
So why waste so much time trying to be a lawyer yourself and attempt to write these legal pages on your own when you could easily trust a lawyer to handle this for you!
Legal Templates are Cheaper than Hiring a Lawyer
I also know that hiring a lawyer to write these blog legal pages for you can be expensive and cost you anywhere from $500-$1000.
So some bloggers tend to go for free legal templates but I've audited the free legal templates too and found them to be deficient, unreliable and exposing you to all kinds of legal liabilities.
The problem with the free legal templates is that you get what you pay for! And in this case, you get some basic generic legal templates that don't protect you or your blog legally.
This is why getting blog legal templates written by a lawyer is the best option because it's much more affordable than hiring a lawyer yet you can be satisfied knowing your blog legal pages are actually written by a lawyer and meet all your legal requirements.
This way, you can easily protect yourself and your blog legally from hefty fines and lawsuits.
#4.
What's the Legal Bundle? What's included?
The Legal Bundle is the only legal bundle (my 3 best selling blog legal templates + 9 bonuses) you need to blog legally and protect yourself from lawsuits!
I created the Legal Bundle because I saw tons of bloggers and entrepreneurs struggling with writing their own blog legal pages. And I wanted to help in a way that wouldn't break your wallet!
So I created the Legal Bundle to show you how to blog legally easily and quickly! With the Legal Bundle, your website will be legally compliant within 15 minutes or less. It's that simple.
Over the years, I saw tons of bloggers making legal mistakes.
For example, you selling products and never having a terms and conditions on your website to explain your refund or exchange policies and then later getting into a legal battle with your customer or client.
Another example, you being sued in Michigan while you live in California because you didn't have a clear governing law provision as part of your blog's legal pages.
Another example, your reader suffering a nasty side effect from your blogging advice on health and fitness and deciding to sue you for their damages.
The list is endless! But you get the point.
Blog Legally with the Legal Bundle
This is where the Legal Bundle protects you because it includes sooo many important legal provisions you don't think about but you MUST have to protect yourself and your blogging business legally.
With the Legal Bundle, you can rest in peace knowing you have taken the right steps to protect your blog legally. After all, your blog is a legitimate business and you should treat it as such from the very beginning.
As I mentioned, the Legal Bundle includes these 3 blog legal templates that you can easily customize and begin using –
Privacy policy template which is GDPR compliant
Disclaimer template which also includes your affiliate and other Disclosures you need
Terms and Conditions (also known as Terms of Use or Terms of Service) template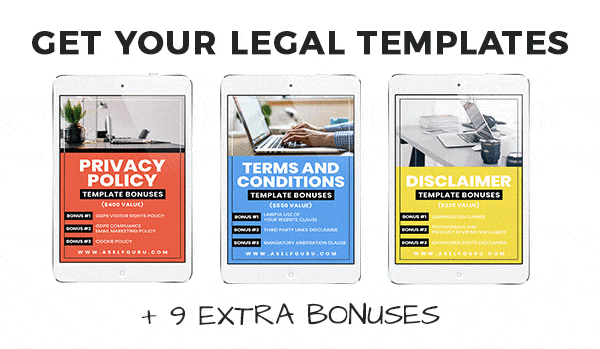 The Legal Bundle Comes with 9 Bonuses
Plus for a limited time, I'm giving away these 9 bonuses worth $1175 to save you more money, time and headache down the road:
GDPR visitor rights policy, so you know what information you must include on your site for EU visitors ($150 Value)
GDPR compliance / Email Marketing policy, so you are in compliance with the email marketing laws ($150 Value)
Cookie Policy, so your users know how and where cookies are used on your website ($100 Value)
Earnings Disclaimer, you need it if you publish any income reports or success results on your website ($75 Value)
Testimonials and Product Reviews Disclaimer, you need it if you publish product reviews or testimonials on your website ($75 Value)
Sponsored Posts Disclaimer, you need it if you publish any sponsored posts on your website ($75 Value)
Lawful Use of Your Website Clause, so you can prevent abuse ($150 Value)
Third Party Links Disclaimer, to prevent risk of legal liability from third party links on your website ($150 Value)
Mandatory Arbitration Clause, to lower your risk of legal liability and long expensive lawsuits! ($250 Value)

This total package of bonuses worth $1175 is free for you with the Legal Bundle!!
#5.
What is a Privacy Policy? Does my blog need a privacy policy?
A privacy policy is a legal page on your blog that outlines what personal information you collect from your readers and how you will use that information.
Yes, your blog needs a Privacy Policy because it is required by law any time you collect someone's personal information such as their name and email address.
An easy example is when someone subscribes to your blog's newsletter or signs up for your freebie. You are required to disclose to your readers what you are going to do with that information. Don't think just because you have a hobby blog that you are exempt from having a Privacy Policy.
There are other ways you collect personal information from your website visitors too such as through Google Analytics, cookies, Google Adsense, etc.
As part of your Privacy Policy, you need to include tons of key legal provisions that explain your reasons for collecting the personal information from your readers and how they can opt out of your email list.
More importantly, you need to inform your readers about their rights under the GDPR and ensure your compliance with all the privacy rules and regulations.
#6.
What's the difference between a blog disclaimer and a blog disclosure?
Great question! I get asked this question frequently! I already described what a blog disclaimer is above.
A blog disclosure, on the other hand, is another legal page that's not optional on your site. It is required under the Federal Trade Commission (FTC) for you to have blog disclosures any time you publish affiliate links, sponsored posts or any other endorsements you receive for the content/products you share with your readers.
For example, if you promote other people's products on your blog and in exchange receive a commission if someone buys from your affiliate link, then under the FTC, you are legally required to provide a "blog disclosure" of that.
Your Blog Needs a Disclosure and a Disclaimer
It looks like something like this – "This blog post may contain affiliate links and I'll receive a small commission if you purchase through my link, at no extra cost to you."
This is just one way of giving a blog disclosure for affiliate links but you can use a variation of this language as long as it links to a proper Disclosure/Disclaimer page that fully informs your readers what kind of financial rewards or incentives you will receive.
Similarly, you need a blog disclosure if you are publishing sponsored posts because readers need to know that you were paid to write that blog post and whether those are your opinions or not.
I include all these blog disclosures as part of my Disclaimer template in the Legal Bundle, so this way, you know how to blog legally and have everything you need in one place!
#7.
What is a terms and conditions page, why is it so important for a blog?
A terms and conditions page is very important for your blog. Terms and Conditions are your blog rules that your readers need to know so you don't run into any legal issues down the road.
You may have seen Terms and Conditions referred to as the Terms of Use or Terms of Service.
They are often forgotten by bloggers but are super important because they serve as a legal contract between you and your readers!
For example, you must have a terms and conditions page on your blog describing things like –
Your intellectual property rights
Lawful use of your blog content, products and services
Your refund or exchange policies
Where you will resolve legal disputes and how?
Your right to terminate someone's use of your blog
And much more!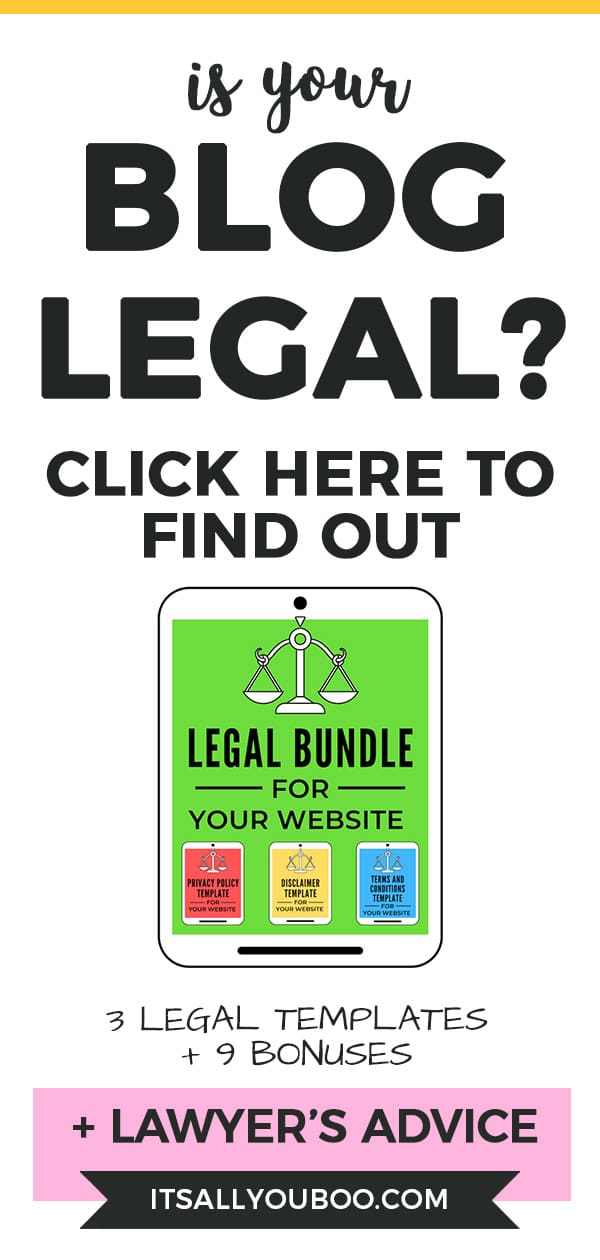 Your blog needs a Terms & Conditions Page
Just like any blog legal page, your terms and conditions page is no different. It needs to include tons of important legal provisions to protect you and you should have your readers accept these terms before they make a purchase from your blog.
This way they are bound by your terms and conditions otherwise you will run into legal issues and without a proper terms and conditions page, you will lose that legal battle!
A common example of this is when someone buys your product or service but doesn't like it. Now that customer wants a full refund but you don't want to give the refund. You also don't have any refund policy spelled out in your terms and conditions page that the customer agreed to prior to making the purchase.
So you are stuck losing the money and giving that refund.
This is just one easy example I gave because I see it all the time but there are many other legal disputes and headaches you can avoid with a proper terms and conditions page on your blog.
#8.
What about GDPR, is that covered in the legal bundle? What else do I need to blog legally?
Yes, my Privacy Policy template included as part of the Legal Bundle is GDPR compliant.
GDPR is a data protection privacy law that applies to all companies who collect, store and process any data related to EU citizens.
If you have EU visitors to your blog, the GDPR applies to you regardless of where you are located. This is to provide people more control over their personal data.
Under the GDPR, you are required to obtain proper consent before collecting personal information from EU citizens so make sure your email marketing provider (MailChimp, ConvertKit, etc) is also GDPR compliant.
Additionally, under the GDPR, EU citizens are granted certain rights to privacy that need to be spelled out in your Privacy Policy and then you need to comply with those as well.
So you must have a Privacy Policy on your blog that's GDPR compliant and includes a proper cookie policy as well.
The Legal Bundle Includes FREE GDPR Bonuses
As part of the Legal Bundle, you get the cookie policy as a bonus for free! You also get these two GDPR bonuses for free to make sure you know how to blog legally –
Bonus #1, GDPR visitor rights policy, so you know what information you must include on your site for EU visitors ($150 Value)
Bonus #2, GDPR compliance / Email Marketing policy, so you are in compliance with the email marketing laws ($150 Value)

There are serious penalties and fines for not complying with the GDPR ranging up to 20 million Euros or 4% of the annual revenue, whichever is greater.
So definitely make sure you have a Privacy Policy on your blog that's GDPR compliant before you launch!
#9.
How do I copyright my blog and my blog content?
Copyright law protects your original creative work in tangible form such as your blog content and you are provided automatic copyright protection from the moment you create your content.
This means when you start writing your blog posts, they become your intellectual property and other people need permission to use your content.
However, you need to register a copyright for your blog in order to file a lawsuit against an infringer and be able to collect statutory damages.

To register, you can easily file the copyright application with the United States Copyright Office here.
Registering your copyright will give you the right to sue someone if they steal your blog's content.
#10.
What do I do if someone steals my blog's content?
Now you know that you should never COPY anyone's blog content or any other work but unfortunately, there are still times when someone may steal your work.
In those cases, don't panic and follow these two steps to have your stolen content removed:
Once you have confirmed that your blog content is indeed stolen then you should send a cease and desist letter or email to the infringer demanding your copyright blog content be removed.
After sending the cease and desist letter, if your copyright blog content is still not removed then send a Digital Millennium Copyright Act (DMCA) Takedown notice to the infringer's internet hosting company, search engine, etc.
You can grab my free cease and desist letter template here to send to the infringer if you find that your blog content is stolen. This letter has helped tons of bloggers already.
Lastly, you can always sue the infringer but like I said, first you need to register your copyright before you hire a lawyer to file a lawsuit for you.
Most importantly, you can avoid copyright infringement on your blog by reminding your readers in your blog legal pages about your intellectual property rights. This way, people reading your blog are put on notice that they cannot copy your blog content.
This is already covered in my Terms and Conditions template, which is included in the Legal Bundle.

3 Ways Bloggers Can Protect Themselves Legally
Here's a helpful post on the 3 ways you can protect yourself and your blog legally.
Avoid all kinds of legal hassles down the road by making sure:
You must have a Privacy Policy page on your blog before you launch
Secondly, you must have a Disclaimer page on your blog before you launch
Lastly, you must have a Terms and Conditions page on your blog before you launch
There you have it, now you know how to blog legally! As you can see, the legal side of blogging doesn't have to be difficult, daunting or confusing anymore with the help of my best selling Legal Bundle.
Get done with all your blog legal pages easily within minutes plus receive 9 additional bonuses for free!
Do you have all 3 blog legal pages on your site to comply with the laws and protect yourself from lawsuits?
Comment below to let us know!

Are you blogging legally? Is your blog protected?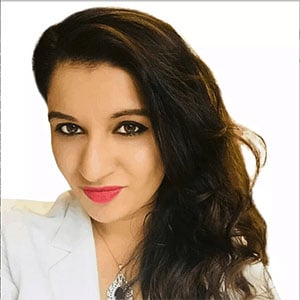 More About Guest Contributor
Amira is a lawyer, blogger and business coach from Florida. She blogs at ASelfGuru.com where she teaches you how to protect your online business legally along with the business skills you need to become your own boss!
Sign up for your FREE business and legal tips here.
Last Updated on July 11, 2021