What are the best Happy Mother's Day quotes?
Looking for inspirational Mother's Day quotes and sayings?
Where do I even begin, when I began with her?
How can I describe what she means to me? My first love, my superhero, my protector, and my fiercest advocate. She taught me everything that I know, from tieing my shoelaces to how to never give up!
My mom has this saying in Patois, "What is for you, cannot be unfor you" which basically means what's meant for you, will be yours – no one and nothing can take it from you.
When I think about everything my mother means to me, and what I mean to her, somehow saying just "Happy Mother's Day, Mom" just doesn't seem like enough.
What do you think, can we do better and make this Mother's Day a little bit more special?
Table of Contents:
And even more so, how much you mean so much to her! Think about how much time you used to spend together, every morning and night, and somehow now we don't spend as much time together. I wonder if that separation is hard for our mothers.
Imagine how much she loved receiving handmade gifts and cards from you as a child. Displaying how much you loved her on the fridge or her desk at work. I'm sure she still has a few hidden somewhere.
Instead of just getting her the usual card and flowers this year, give her a personalized Mother's Day gift and use these quotes to write a sweet handwritten message.
As much as I support any day that encourages us to tell our Mother we love them, perhaps we can show her just how much she STILL means to us, even now as adults.
I'm sure she'd absolutely love receiving a handmade Mother's Day Card with the perfect quote saying just how much she means to you. Here are 28 of the best Happy Mother's Day Quotes and Sayings.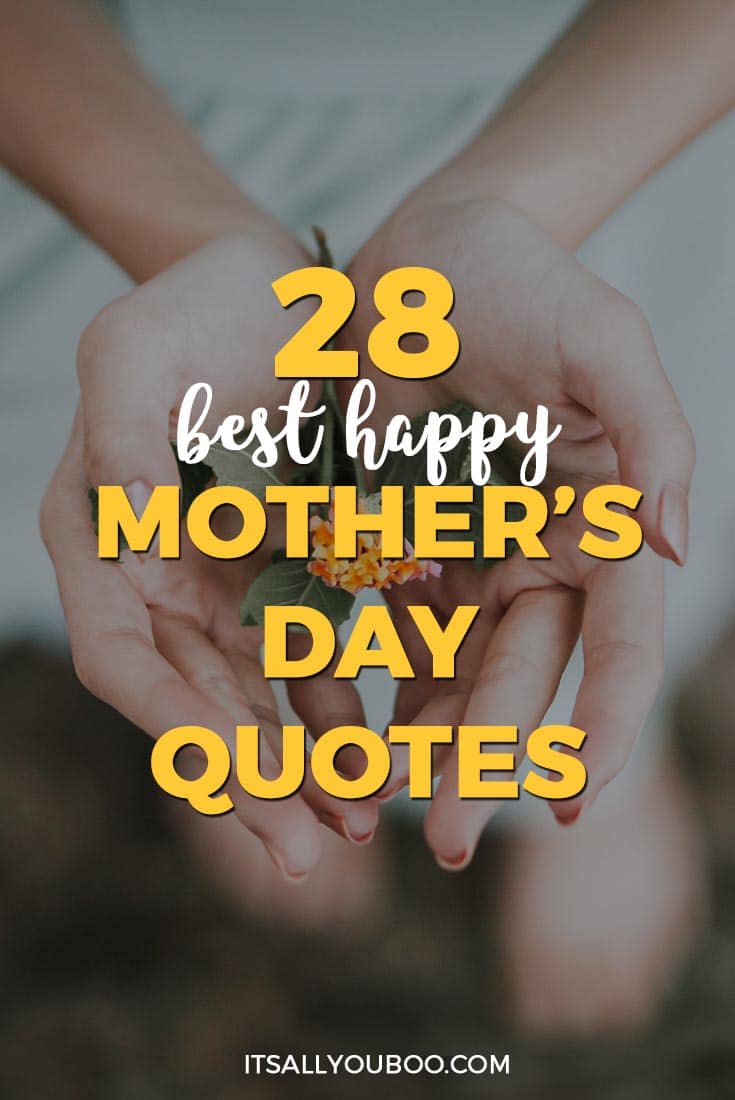 Made Me Who I Am Mother's Day Quotes
She made us who we are! From every encouraging word spoken to inspire us and keep us going, she taught us to believe in ourselves. This collection of Happy Mother's Day Quotes and sayings reminds us just how much of who we are because of her hope and love for us. What better way to show your mom you love her than by appreciating how she made you who you are?
"Mother love is the fuel that enables a normal human being to do the impossible." — Marion C. Garretty
2. "[My mother] had handed down respect for the possibilities—and the will to grasp them." – Alice Walker
3. "I got to grow up with a mother who taught me to believe in me." — Antonio Villaraigosa
👉🏽 RELATED POST: 39 Quotes to Boost Your Confidence Right Now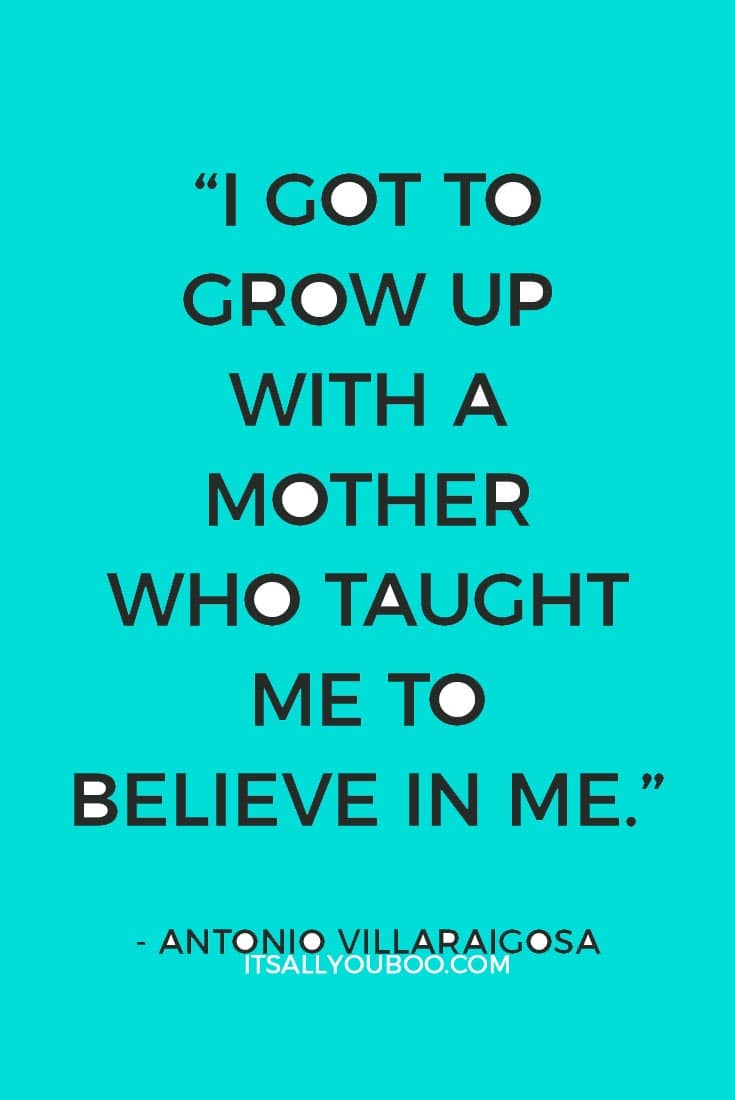 4. "My mother is my root, my foundation. She planted the seed that I base my life on, and that is the belief that the ability to achieve starts in your mind." — Michael Jordan
5. "My mother was the making of me. She was so true and so sure of me, I felt that I had someone to live for–someone I must not disappoint. The memory of my mother will always be a blessing to me." — Thomas A. Edison
6. "All that I am, or hope to be, I owe to my angel mother." — Abraham Lincoln
All That You Taught Me Quotes for Mother's Day
What lessons has your mother taught you? From how to tie your shoelaces and maybe ride your bike, all the way to the epic life lessons that drive your life. She taught you to never give up, to get up, and keep going no matter what. This selection of Happy Mother's Day Quotes celebrates everything that your mother taught you.
7. "Life doesn't come with a manual, it comes with a mother." — Unknown
👉🏽 RELATED POST:  143 Inspirational Quotes About Love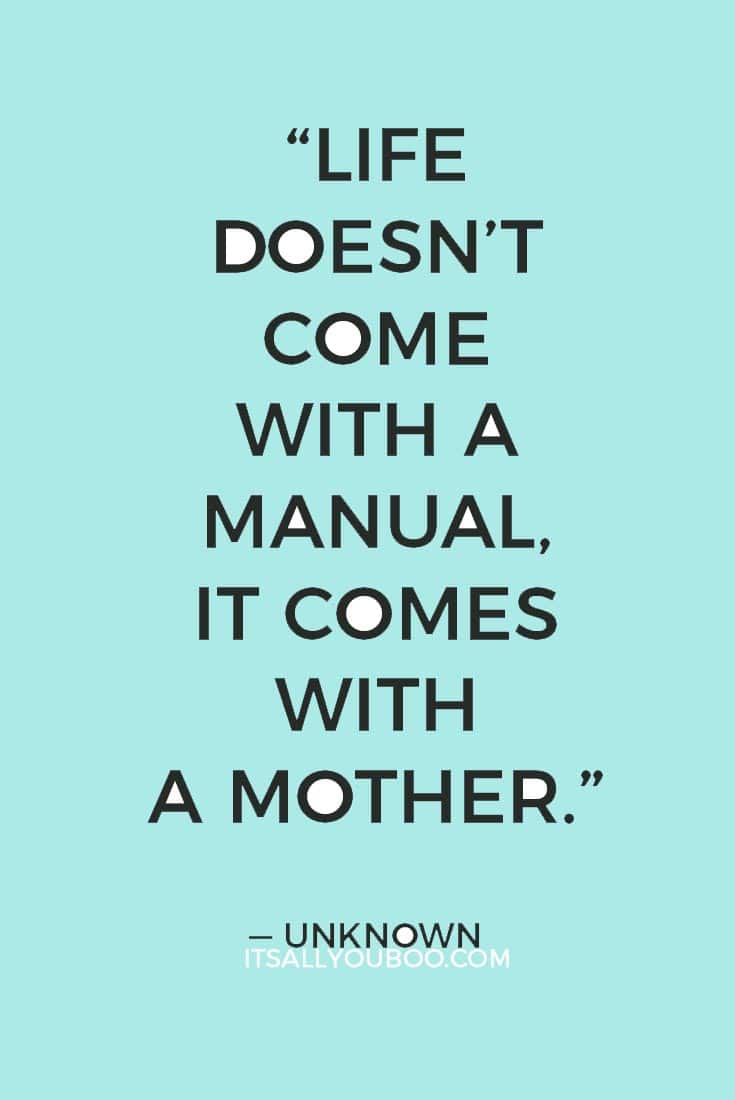 8. "Mama was my greatest teacher, a teacher of compassion, love, and fearlessness. If love is sweet as a flower, then my mother is that sweet flower of love." — Stevie Wonder
"Acceptance, tolerance, bravery, compassion. These are the things my mom taught me." — Lady Gaga
10. "She raised us with humor, and she raised us to understand that not everything was going to be great – but how to laugh through it." — Liza Minnelli
Mother Knows Best Quotes and Sayings
Okay, let's be honest, how many times was Mom right? She calls it how it is, she's always honest and she knows what you need to do. These Mother's Day Quotes and Sayings remind us that we can always go to Mom for honest advice when we need it most. Who else can you trust to always be straight with you, no matter what but your mom?
11. "When you mother asks, 'Do you want a piece of advice?' It is a mere formality. It doesn't matter if you answer yes or no. You're going to get it anyway." ― Erma Bombeck
"In the end, Mothers are always right. No one else tells the truth." — Randy Susan Meyers
13. "Mothers were the only ones you could depend on to tell the whole, unvarnished truth." ― Margaret Dilloway
👉🏽 RELATED POST: 38 Best Happy Valentine's Day Quotes for Friends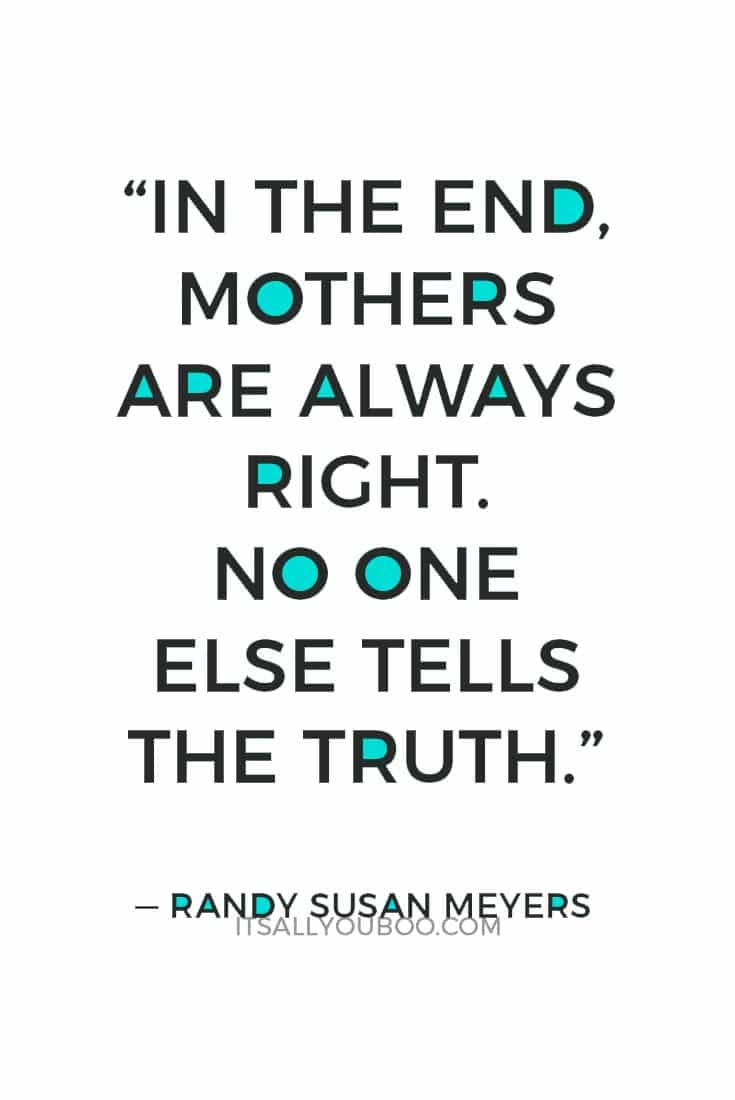 "If at first you don't succeed, try doing it the way mom told you to in the beginning." ― Unknown
15."Sooner or later, we all quote our mothers" ― Unknown
Quotes About Mother's Love for You
She was your first love! Every hug, kiss and embrace your entire life. No one loves you as much as your mom and she sure knows how to show it. This selection of Best Mother's Day Quotes captures the essence of a mother's love. Why not show her how much you love her with the perfect Mother's Day Gift?
16. "A mother's love for her child is like nothing else in the world. It knows no law, no pity, it dates all things and crushes down remorselessly all that stands in its path." — Agatha Christie
17. "I would say that my mother is the single biggest role model in my life, but that term doesn't seem to encompass enough when I use it about her. She was the love of my life." — Mindy Kaling
👉🏽 RELATED POST: Empowering Feminist Quotes for Women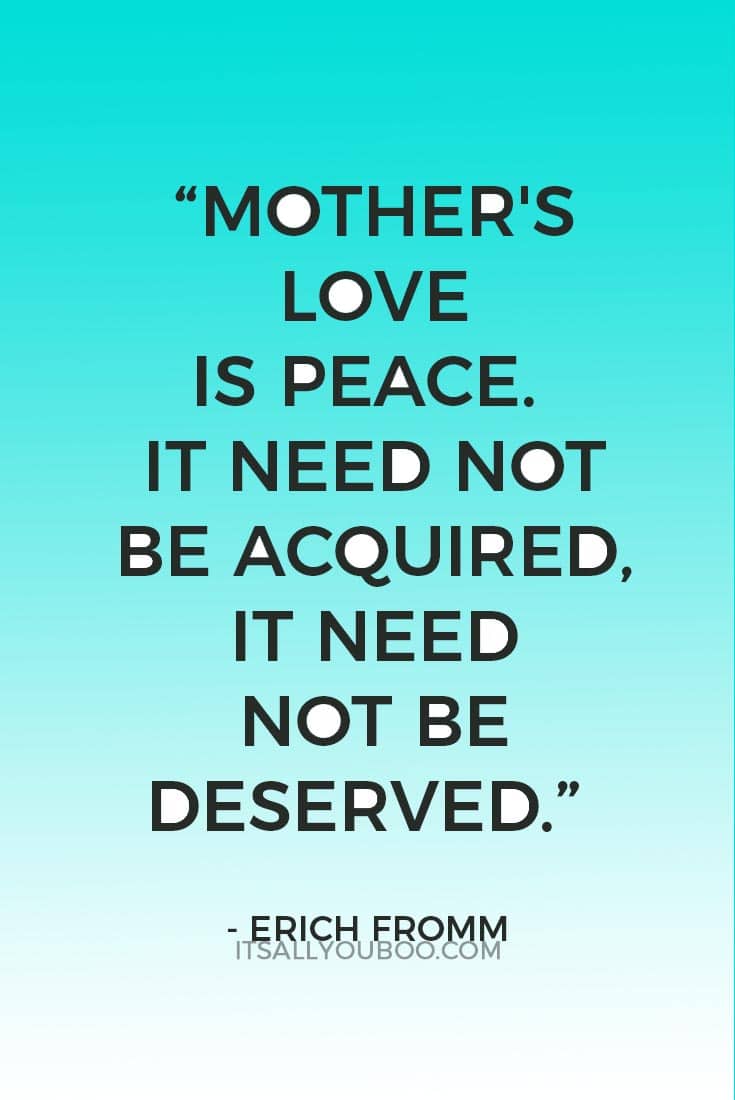 18. "Mother's love is peace. It need not be acquired, it need not be deserved." — Erich Fromm
"When you are looking at your mother, you are looking at the purest love you will ever know." — Charley Benetto
20. "Whatever else is unsure in this stinking dunghill of a world, a mother's love is not." – James Joyce

So We Can Thrive Without Her Mother's Day Quotes
She raised us, guided us, loved us, and taught us everything we know, so we can thrive without her. She poured all that she is into us, so one day we can live without her. This collection of the Best Happy Mother's Day Quotes reminds us to not forget our Mothers. Who raised us, to do without them?
"A good mother loves fiercely but ultimately brings up her children to thrive without her." — Erin Kelly
22. "A mother is not a person to lean on, but a person to make leaning unnecessary." — Dorothy Canfield Fisher
👉🏽 RELATED POST: Work-Life Balance for Moms
"Mothers hold their children's hands for a short while, but their hearts forever." — Unknown
24. "Kids don't stay with you if you do it right. It's the one job where, the better you are, the more surely you won't be needed in the long run." – Barbara Kingsolver
We Become Our Mother's Day Quotes
No matter what we do, we often grow up to be just like her! She was our first role model, our hero. Why wouldn't we though, mom's hard-working, dedicated, and loving? This selection of Happy Mother's Day quotes is perfect for her daughter (or son). An extra special message of love to all the motherless daughters and sons on Mother's Day. I hope these quotes bring you fond memories.
25. "But behind all your stories is always your mother's story, because hers is where yours begins." — Mitch Albom
👉🏽 RELATED POST: 48 Happy International Women's Day Quotes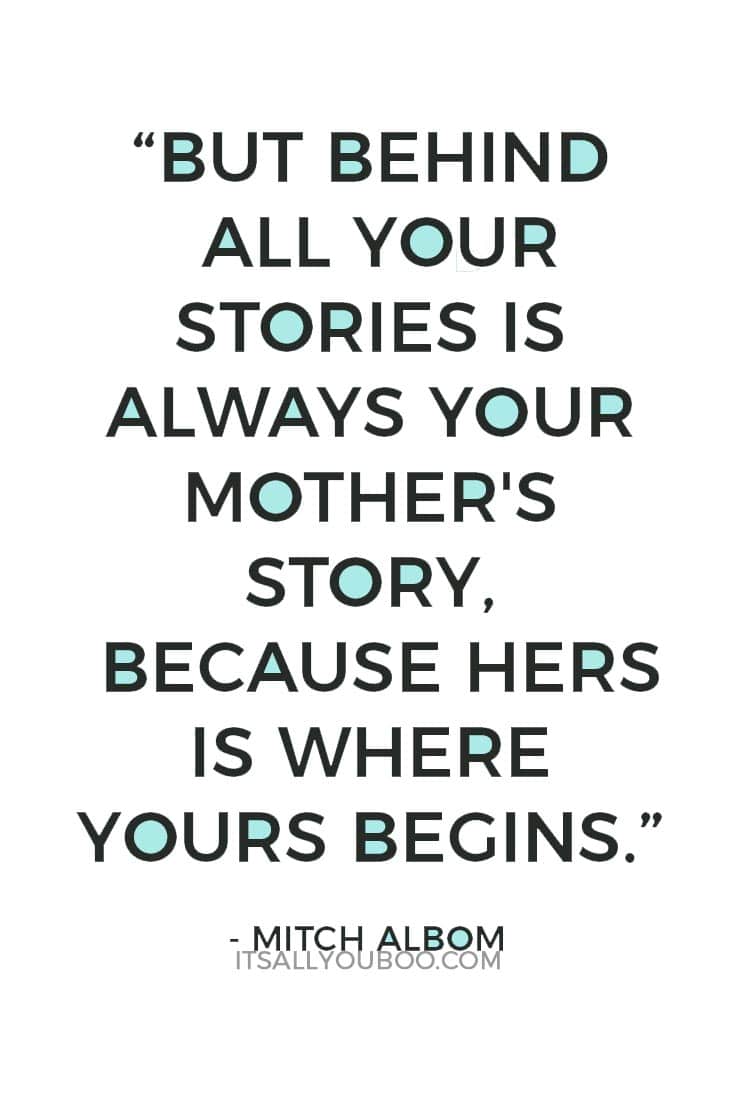 26. "My mother… she is beautiful, softened at the edges and tempered with a spine of steel. I want to grow old and be like her." ― Jodi Picoult
27. "As is the mother, so is her daughter."— Ezekiel 16:4
"By the time a woman realizes her mother was right, she has a daughter who thinks she's wrong." — Unknown
Shareable Self-Love Quotes
Mother's Day is all about love and appreciation! We sometimes forget that we deserve the same love and affection we give so easily to others, and moms are no exception.
I've created 10 beautiful designed shareworthy, self-love quotes for you to use on your blog or social media. This download comes with high-resolution graphic quotes formatted just right for Instagram (square) AND Facebook/Twitter (landscape).
Share the self-love on Mother's Day!
Attribution is not required, but of course, appreciated (@nadaliebardo). If you love these images, all I ask is that you share this post.
Be sure to tell your mom, grandmother, aunties, and every woman who made you who are you just how much you love and appreciate them.
Want to make this Mother's Day special? Click here for 28 of the best Happy Mother's Day Quotes and Sayings to send your mom or add to a gift. #MothersDay #MothersDay2023 #MothersDayGiftGuide #MothersDayGift

What's the best Happy Mother's Day Quote?
Last Updated on May 10, 2023
✕
Get Your Self-Love Quotes
+ get weekly tips to help you slay your goals.