How long does it take to break a bad habit? It is 21 days or more?
What's the secret to changing a bad habit for good?

Goodnight, it's frustrating.
You've tried countless times to shake your bad habit, to leave it whimpering in the dust as you become the best person you know you can become.
A few times, you've been able to stop… maybe for a week or a month. Once or twice, you even though you'd conquered it. Unfortunately, it — cigarettes, food, alcohol, anger, whatever — is still a dear, spiteful friend.
And even the little "bad habits" like staying up late watching Netflix, drinking too much coffee, spending too much time on your phone, or eating out too much.
Now, you're ready to give it up, like really ready.
But you've tried and failed so many times before… how do you know this time will be any different?
Well, this time, you're going to have a tried-and-proven strategy. In fact, I'm going to give you the exact 3-step method I use to break stubborn habits.
But first…

How Long Does it Take to Break a Bad Habit?
Before I show you my 3-step method for how to break a bad habit, let's discuss how long you should expect it'll take you to be truly free of unbidden urges that threaten to place you right back where you started.
Some research suggests it takes 21 days to break a bad habit. Other research indicates that it can take anywhere from 18 to 254 days depending on the person and the severity of their addiction.
So… it depends.
But try not to worry about how long it's going to take. Becoming the best that you can be is a life-long, never-ending process. Creating new habits, setting goals, achieving those goals, and breaking bad habits… it's a process. More importantly, it's your process.
👉🏽 RELATED POST: How To Make a Habit Stick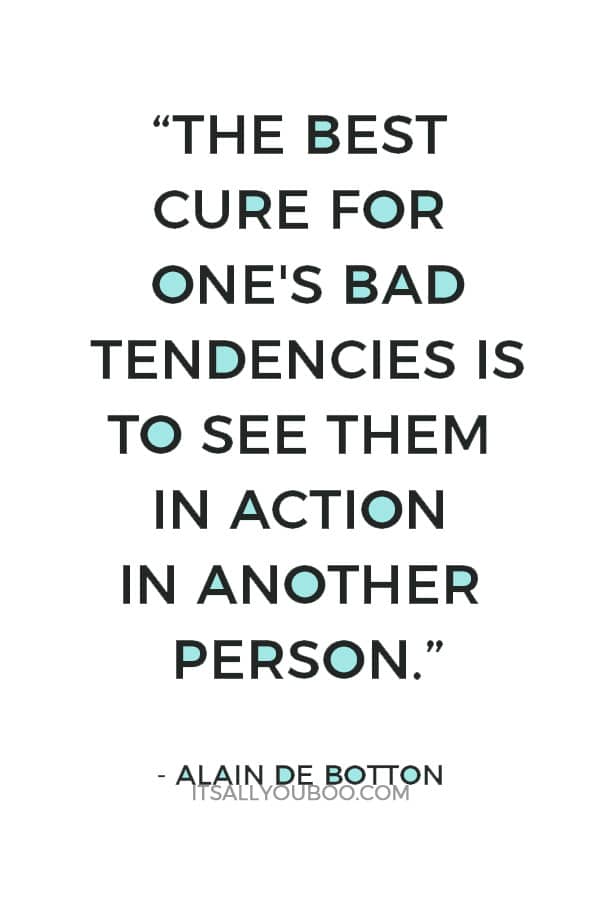 There is no hard-and-fast rule for how long it should take you to break a bad habit — all we know for sure is that the longer you don't engage with your bad habit, the easier it will get to resist future urges. Even a rocky start with lots of ups and downs can represent real progress toward sobriety.

And after 21 or 60 or 200 days, your urges will diminish and you'll think less about engaging those bad habits, but when urges do come (and they will) you must still choose to say 'No.' And if you can't, if you do break your promise to yourself, then you must get back up, you must not discount your previous progress, and you must realize that one screw-up does not equate to a life-time of screw-ups. Then you must choose to start again.
Why You Should Only Quit One Habit at a Time
It's tempting when you want to quit one bad habit, to stack on all your other bad habits as well. You want to stop stress-eating, so you might as well stop drinking caffeine, consuming carbs, and drinking soda, too… or so the thinking goes.
But I recommend focusing on one habit at a time or else the changes can feel overwhelming and you'll be less likely to succeed.
👉🏽 RELATED POST: Top 10 Bad Habits to Unlearn
You might think that that means it'll take you an extremely long time to break all of your bad habits (if we estimate about 60-days per habit), but that isn't true. In fact, breaking one bad habit or adding one healthy habit will often automatically impact the rest of your daily behaviors.
Charless Duhigg calls these keystone habits. For example…
"Typically, people who exercise start eating better and becoming more productive at work. They smoke less and show more patience with colleagues and family. They use their credit cards less frequently and say they feel less stressed. Exercise is a keystone habit that triggers widespread change."
In other words, changing one habit can have a massive impact on all your other behaviors… without you having to exert any extra effort.
Pretty neat, huh?
Whether you're in the midst of quitting a bad habit or just getting started, you can use the below 3 steps to make the process, no matter how long it takes, just a little bit easier.

3 Simple Steps to Breaking a Bad Habit
Step #1: Write Down Why You Want to Quit
This is the most important step to quitting. If you don't know why you want to quit, then you probably aren't going to quit.
And I'm not talking about saying "I want to quit eating so much because I'll feel better" or "I want to stop smoking because it's gross." I'm talking about writing down, in bullet-point format, all of the excruciatingly detailed reasons that you want to quit.
For instance, I want to quit smoking because…
I don't want to die of lung cancer before my kids grow up.
I don't want other people to think I'm undisciplined.
I don't want to miss out on opportunities at work because I'm busy smoking outback.
I don't want my skin to make me look like I'm 70 when I'm only 40.
The goal here isn't to make yourself feel terrible, but to start intentionally associating pain with your bad habits, because the more pain you associate with doing them, the easier it'll be to say 'No' when urges come up.
👉🏽 RELATED POST: Healthy Lifestyle Excuses You Need to Stop Making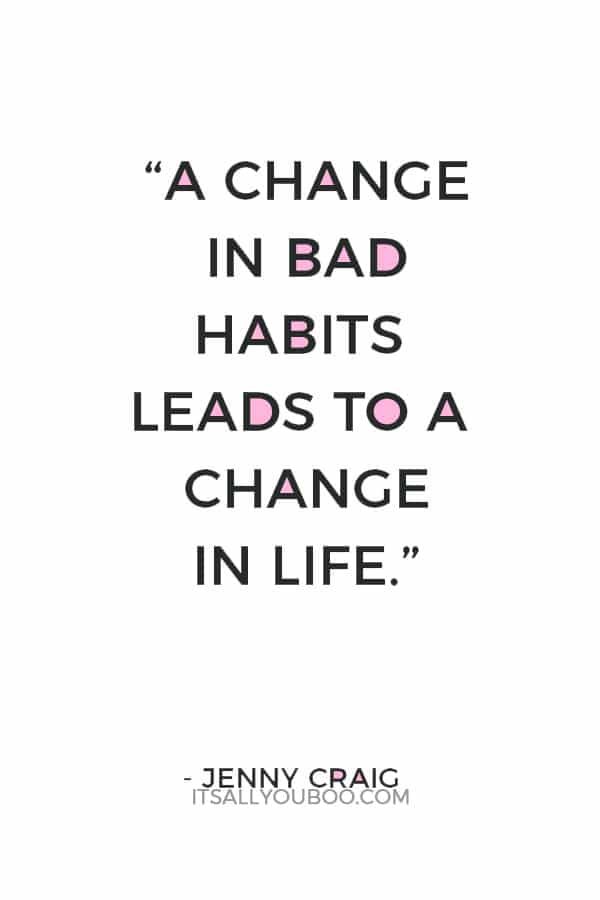 This means you have to get crystal clear about why you want to quit — the good, the bad, and especially the ugly. Write it all down. Then read through it, allow it to resonate with you emotionally, and revisit it whenever you feel like relapsing.
You'll be shocked at how much easier it is to stay sober when you have a clear-headed, motivating why.
Step #2:
Choose a Replacement Habit
When you quit a bad habit, you create a gap — where you used to have a triggered response to a certain situation, now… well, you don't.
Maybe you smoke or eat when you're stressed. Maybe you get grumpy after a long day's work. Or maybe you drink alcohol every evening. When you quit doing that, you'll be left feeling a little empty, like you don't know what to do with yourself.
And that's totally normal. Over the years of engaging your bad habit, you've reinforced neural pathways that make it extremely difficult to not take a certain action when you get triggered. In fact, Charles Duhigg — the author of The Power of Habit — says that the golden rule of habit change is, "You can't extinguish a bad habit, you can only change it."
That is, you can't change the trigger or the reward associated with your habit loop, you can only change the behavior — which is fine, 'cause that's what you're wanting to change anyways.
Replace Your Bad Habit with a Good One
But that means you need a replacement behavior. You need a new habit that has the same trigger and the same reward.
This is kind of like hijacking your bad habit's neural pathway and using it for good rather than evil. You leave the trigger and the reward but change the behavior.
For example, social media might become time with friends, television might become reading, smoking might become chewing gum, and drinking might become non-alcoholic beer.
👉🏽 RELATED POST: 10 Habits that Teach You How to Be Successful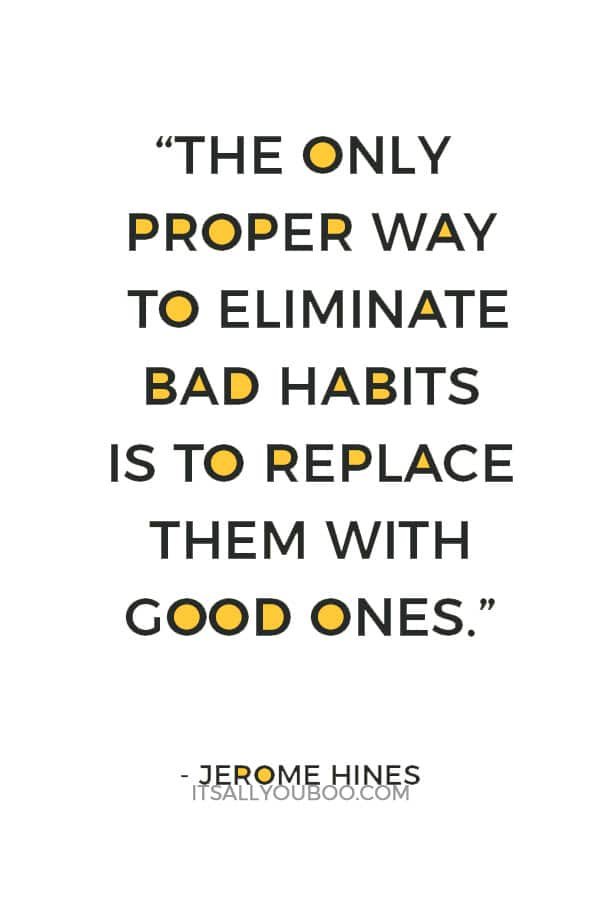 Ideally, the new behavior should happen at the same time of day as your old behavior and it should be triggered in the same way and have a similar reward.

Write down what habit is going to replace your bad habit and commit to engaging the new behavior whenever you feel triggered for the next 30 days… which brings us to step #3.
Step #3:
Take The 30-Consecutive-Day Challenge
You know why you want to quit, you've written down your reasons, and you've allowed those reasons to resonate with you on a deep, emotional level. You've also chosen a replacement habit that you'll engage whenever you feel triggered.
But… what next?
Next is the 30-consecutive-day challenge I created. This challenge has helped me and others break bad habits like clockwork. Here's the challenge…
For 30 consecutive days, you commit to not engaging your bad habit.
If you fail at any point during those 30 days, then you must restart the 30-day commitment.
That's it.
Here's why this challenge is so effective at breaking bad habits. First, how many times have you tried to break a bad habit, messed up after one week, and then went right back to where you started?
Yeah… we all have.
👉🏽 RELATED POST: Healthy Habits For Students To Be Successful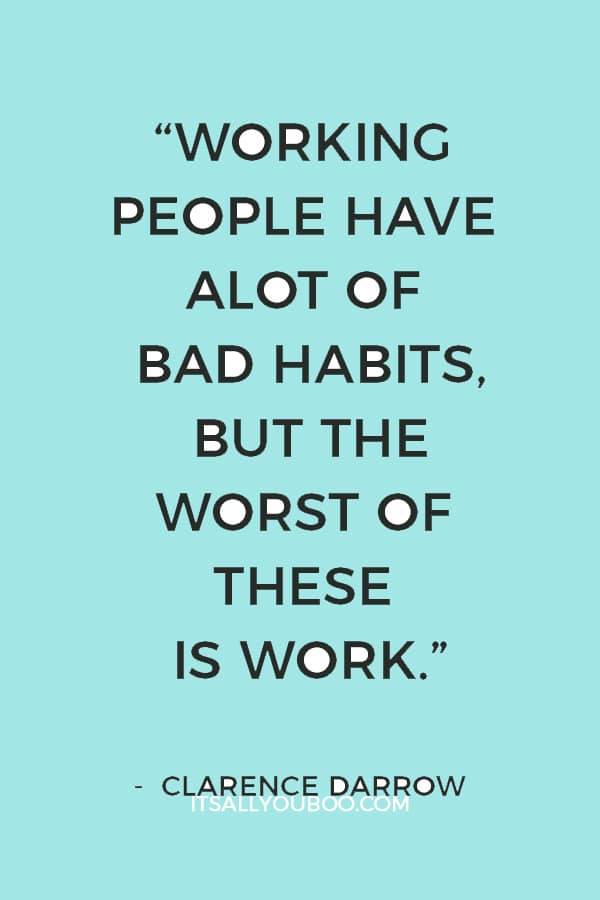 If You Mess Up, You Restart
With this challenge, you have a plan for if you mess up… simply restart the 30 days. This is exactly the mindset you need in order to break your bad habit for good; keep getting up, over and over again, until you've accomplished what you set out to accomplish.
Second, by the end of the 30 consecutive days, you will have done a pretty serious number on the neural pathways that reinforce your bad behavior. 30 days is enough time to make your urges start to diminish but not so much time that it feels like an ambiguously long commitment.
And if 30 days wasn't enough, do another 30-day set and another until you're completely free of your bad habit.
Or, if you don't want to quit cold turkey, then consider a 30-consecutive-day commitment that looks something like this…
Week one — You only cheat on the weekend.
Week two — You only cheat on Sunday.
Week three — You only cheat for a few hours on Sunday.
Week four — You don't cheat at all.
And then the same rules apply.
So what do you say…
You Now Know How to Break Any Bad Habit!

Here's the good news; breaking your bad habits is really simple — stop engaging with the behavior, and the longer that you don't engage, the easier it'll get.
Get Your Printable Habit Trackers
Ready to change a bad habit and break it for good? Sign up below to get your printable habit tracker templates, with spreads for 30 and 31 days. Pick a habit to break and replace, and make it stick with these trackers.
And with the above 3 steps, you can break any bad habit for good. Just find your why, choose a replacement habit, and then follow the 30-consecutive-day challenge.
Let me know how it goes!
Tired of your bad habits ruining your life? Here's how to break a bad habit in 3 steps, including the psychology of changing a bad habit for good by @Mike_R_Blanke. #Habit #Habits #Behaviour #BadHabit

Ready to break a bad habit for good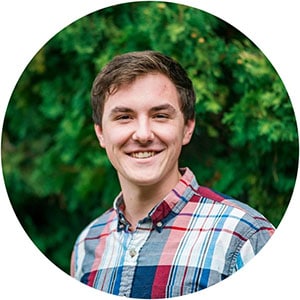 More About Guest Contributor
Mike is the founder of Get Your Gusto Back, where he helps the every-day person reignite their inner fire. He's also a writer for SUCCESS, AdWeek, and Addicted2Success. And he's been quoted on Forbes and Entrepreneur for his expertise in marketing and personal development.
Last Updated on December 12, 2021
✕
Get Your Habit Trackers
+ weekly tips to help you slay your goals.