What are the top bad habits you need to unlearn?
What are some common bad habits to get rid of?
Bad habits; we all have them, and whether we know them or not, they tend to affect a lot of aspects of our lives.
You're already thinking of them, all the little things you do that drain your energy, hurt your health, or even toxic habits that impact your relationships and friendships.
Bad habits that keep you poor, bad habits that show a lack of self-esteem, or bad habits that make it hard to be productive and present.
Soon enough bad habits become a part of your daily routine, adding a layer of unnecessary stress to your daily life. You are probably asking yourself, can you unlearn a behavior? And the good news is that you can.
Read on to learn what habits you should unlearn and how to do it!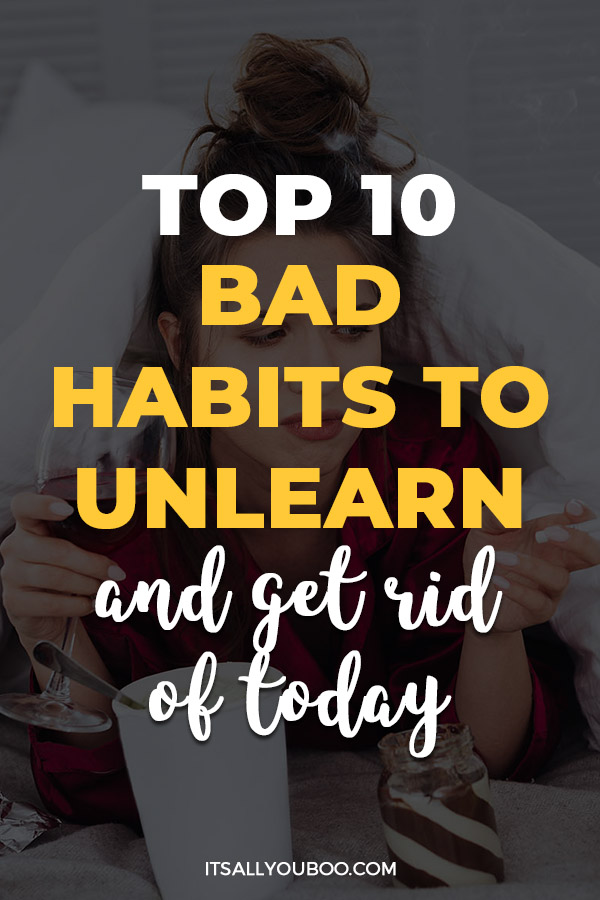 Top 10 Bad Habits To Get Rid Of
Bad Habit #1:
Skipping Breakfast
Although you might be tempted to skip your first meal of the day, and go for something easy like an iced coffee or banana, skipping breakfast can be linked to weight gain, heart disease, irritability or mood swings, and other harmful effects.
Although tempting, you can't solely rely on coffee and a piece of fruit to get you through the day. If you're struggling to incorporate breakfast into your morning routine, then start by asking yourself why.
Make An Easy Breakfast
Figuring out what difficulties you have when it comes to eating can help you better understand any triggers, and ease into eating.
Start with something light and easy for your first meal of the day; a protein shake or hard-boiled eggs with fruit on the sides are nutrient-packed foods that are easy to digest. If you're someone who struggles with time management in the morning, then try breaking your breakfast meal into breakfast snacks throughout your morning or making breakfast the night before so you can grab and eat the next morning.
You don't have to eat your entire breakfast at once. Save the bulk of your breakfast for when you get to work, and have time to enjoy. If typical breakfast foods aren't your thing then try having your leftover dinner for breakfast.
Remember, as long as you are including healthy choices and eating at a reasonable hour, then use breakfast to reflect and give your system time to re-energize and refresh for the day.
👉🏽  RELATED POST:  21 Healthy Habits For Students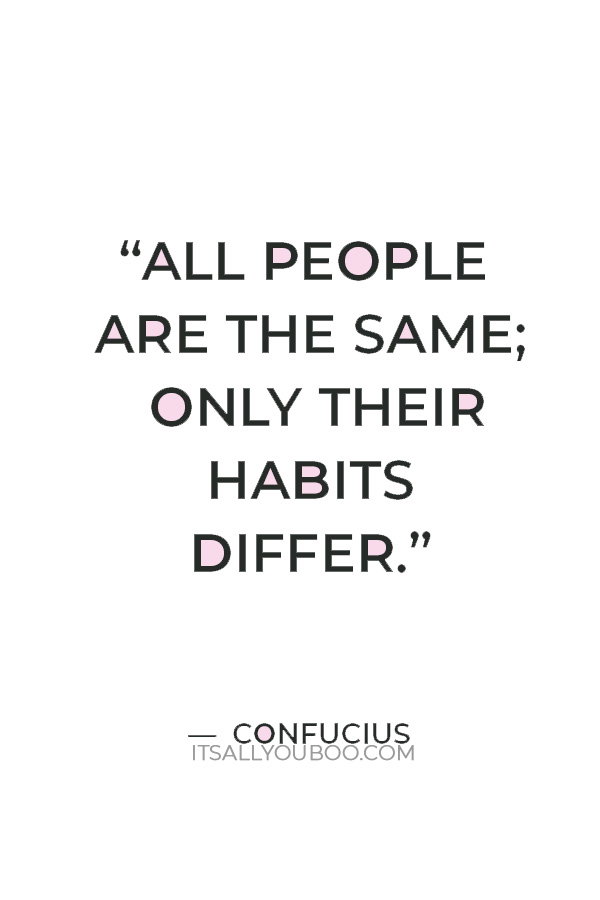 Bad Habit #2:
Oversleeping
Who doesn't love to sleep in every once in a while? Especially after a stressful week of work or school, it may come as a relief and necessary recovery. Sleeping in may help you recoup, however, be wary if this becomes part of your sleep routine.
Too much sleep can have a negative effect on your mental and physical health, just like a lack of sleep. According to current research from the National Sleep Foundation, anywhere between seven to nine hours of sleep is the gold standard for adults. To improve your sleep quality, you first have to identify your poor sleep habits.
Regulate Your Sleep Patterns
A simple yet effective way to start is by getting into a routine that works for you. Setting a bedtime and wake-up time will help your body regulate and establish a schedule. Find ways to relax and calm your body before bed that don't involve a screen.
Limiting your screen time before bed can also help you create an ideal sleep schedule. Blue light emitted by your cell phone or tablet can make it more difficult to fall asleep because it limits the production of melatonin.
Try placing your phone in another room or at least three feet away from your bed to limit temptation and exposure. Oversleeping may seem harmless, but can have lasting effects on your health. so set an alarm and practice good sleep habits.
👉🏽  RELATED POST:  12 Morning Routine Habits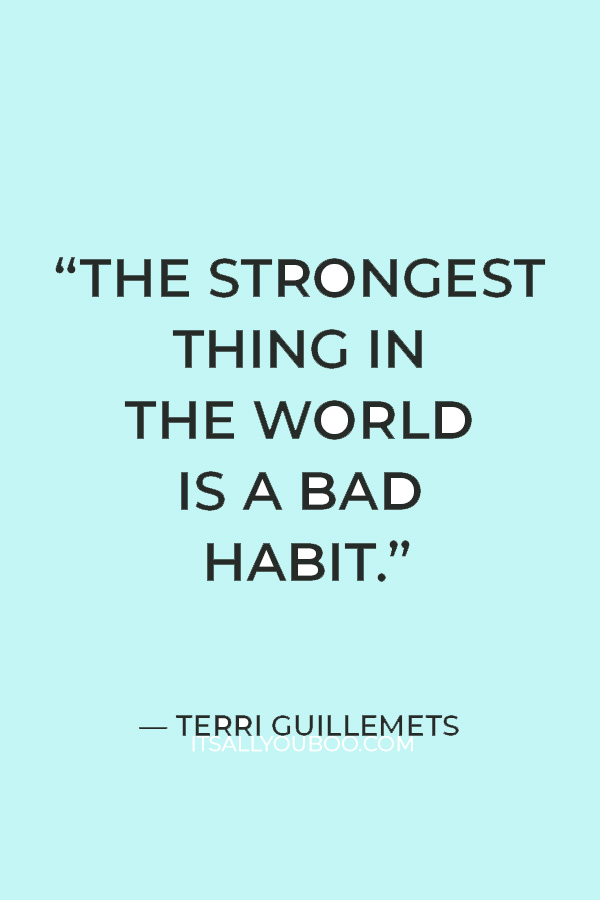 #3.
Spending Too Much Time On Your Phone
There are some unhealthy habits that you may not realize you are practicing, especially bad habits that drain your energy. Spending too much time on your phone is one of them. If you struggle with a lack of productivity, anxiety, or insomnia, it may be time to limit your screen time.
Spending too much time on your device can have lasting effects on your overall health. If your smartphone or tablet is the first and last thing you see every day, that can initiate unhealthy habits.
Leave Your Phone Behind
Unlearning bad habits can be tough, but making simple changes can go a long way. Leaving your phone behind when you go for a walk or grab coffee might seem impossible, but it will allow you to disconnect in small fragments. Consider tracking your screen time; this will give you a better insight into how much time you're spending on your phone, and allow you to set limits for yourself.
There is also a multitude of apps that help you manage and limit your time for your apps. If you notice you're spending a majority of your time scrolling through Instagram, apps like AppDetox, will help you set limits and create a schedule.
Do Something Offline
Lastly, pick up a hobby that will help you cure your boredom and direct your attention away from your phone. Reading a book, knitting, or painting doesn't require any screen time and will help you establish healthy habits while regulating bad ones.
👉🏽  RELATED POST:  How To Break a Bad Habit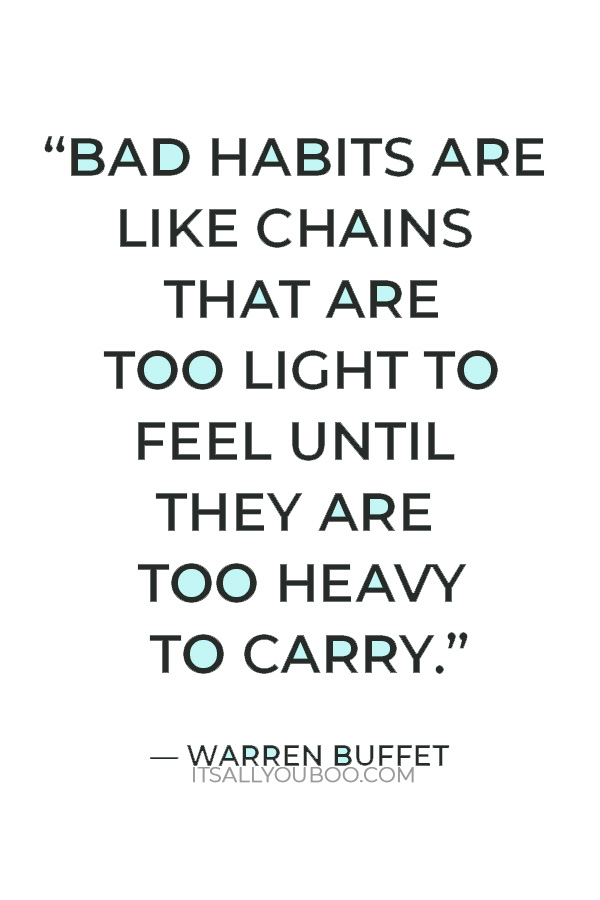 Bad Habit #4.
Not Drinking Enough Water
A bad habit that drains your energy that might go unnoticed is dehydration. Water plays a huge part in helping maintain our body's health through lubricating joints, promoting cell health, and much more. The human body is about 60% water, and in order to stay hydrated to help fuel your brain and body, you need to be drinking enough water.
However, depending on your sweat rates and activity levels, you may not be able to notice any signs of dehydration. Signs you're struggling with dehydration are more common than you think, ranging from dry mouth, skin, and eyes to overindulging in salty foods.
Keep Water On Hand
If you're looking to up your water intake, then set daily goals that meet your fluid needs. Typically, health experts recommend eight 8-ounce glasses, but this can vary for a number of reasons. An easy way to up your water intake is by sipping on water throughout the day.
Regardless of thirst, your body will thank you for replenishing it throughout the day. You can also try keeping a reusable water bottle with you throughout the day. A water bottle is a visual reminder you might need to help you get up and drink more water.
Swap your daily soft drinks whenever you get thirsty. This is a great way to reduce unhealthy added sugars from your diet with something that will boost your energy and health naturally.
👉🏽  RELATED POST:  Habits to Be Successful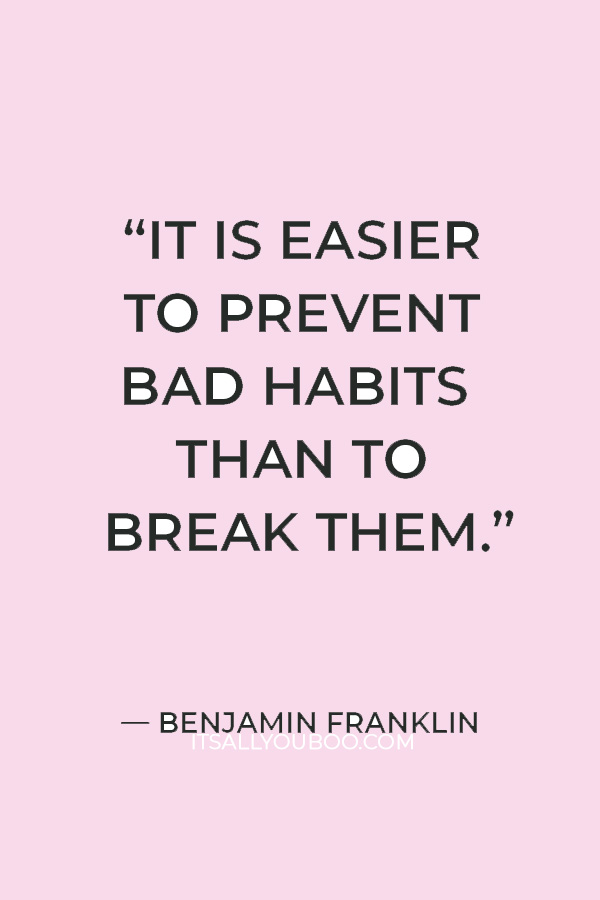 #5.
Ignoring Your Mental Health
Neglecting your mental health is one of the worst things you can do to yourself as your mental wellness affects how you think, feel, and act. When you neglect your mental wellness, you might find yourself falling down a rabbit hole of toxic behavior and thoughts.
Unlearning bad habits for your mental health starts with acknowledging those bad habits. This can include keeping quiet about your problems, isolating yourself, or overlooking self-reflection. This will also give you a better understanding of your core issues and how you tend to deal with them.
Find What Works for You
When it comes to your mental health you want to look after it by making simple changes and reflecting. Like most things, mental health is not one-size-fits-all, so don't be afraid to experiment. If you tend to feel anxious in the morning, then start your day by practicing mindfulness or meditation to help center you for your day.
If you feel burnout affects your mood by the end of the day, then try talking to a family member or friend to help or exercising as an outlet for any stress.
However, if you find yourself still struggling to maintain a healthy mindset, then consider online counseling to help you better understand your emotions and the tools needed with the help of a licensed professional. Ignoring your mental health can have lasting effects on how you view yourself and the world, so take care of it.

Bad Habit #6:
Lack Of Movement
Finding the motivation to get up and get active is challenging, especially if you have been working remotely or spending a lot of time as a couch potato. Regular exercise is extremely crucial to maintaining your mental and physical health and helps you become more disciplined and focused in your day-to-day life.
Lack of physical activity is a bad habit that can cause a lack of self-esteem, so don't fall victim to your own insecurities and make some changes.
👉🏽  RELATED POST: Healthy Habits List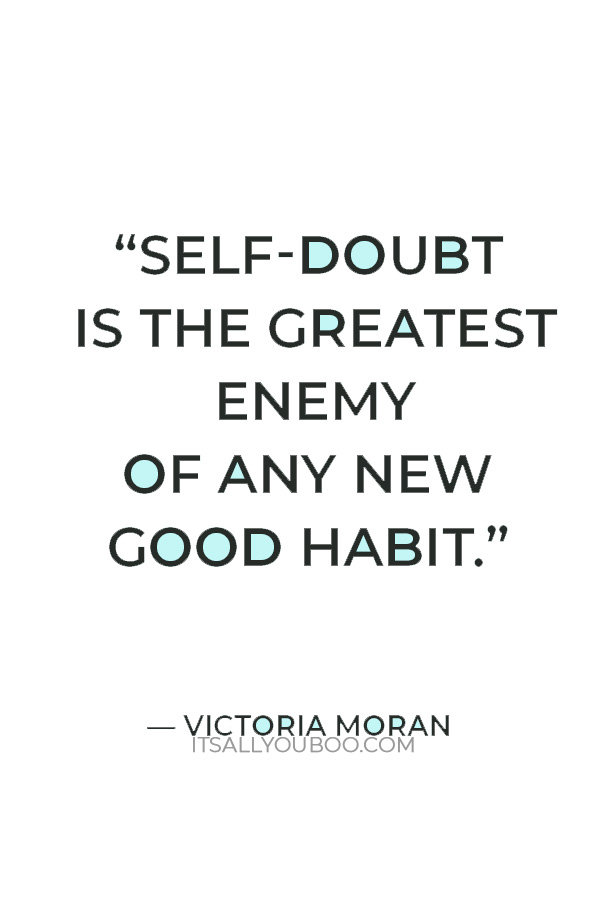 Start Working Out
Breakaway from this bad habit and create a workout routine that works for you. Start at your own pace, and do what feels comfortable to you. Going to the gym can be scary enough, but feeling the added pressure to jump into a routine might hinder your confidence.
Create fitness SMART goals that fit your personality, and motivate you to go. Find ways to fit in physical activity to your everyday life, whether that means taking the stairs over the elevator or going for a walk during your lunch break. Making small changes will help you unlearn bad habits.
#7:
Saying Yes Constantly
When you ask yourself, what are common bad habits, you rarely think about how often you are saying yes to the people around you. Well, of course, you want to please and help the people in your life, regardless of whether you actually mean it or not.
However, when it comes to toxic habits to give up, how often you're saying yes should definitely be at the top of your list. Like most things in life, saying yes can be seen as learned behavior. If you struggled with people-pleasing as a child, then more than likely you still struggle with it to this day.
Although it's important to be there for the people around you, if you find that you have little to no time for yourself or are starting to resent people asking for favors, then it's time to take a step back.
Try Saying No Next Time
Learning to say no, is a vital part of setting boundaries for yourself and learning to put yourself first rather than others. There is no right or wrong way to say no, so take the pressure off and remember that your time is important too.
You don't need an explanation as to why you're setting a boundary. Saying no more also gives you the room to fit more of your hobbies or interests into your daily life. When you spread yourself too thin, you're just enabling bad habits that drain your energy, so converse it as much as possible.
👉🏽  RELATED POST: 14 Healthy Lifestyle Changes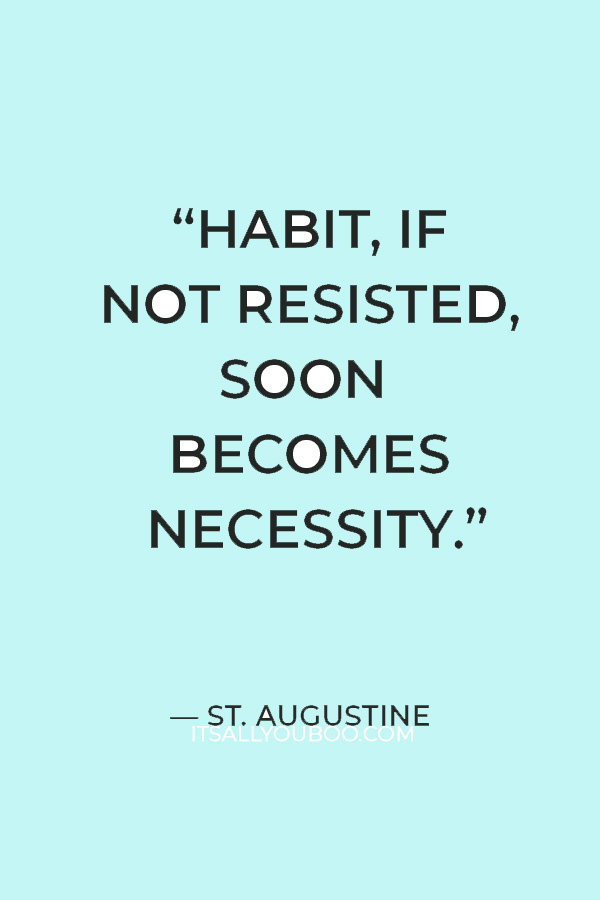 Bad Habit #8:
Zoning Out
Ever catch yourself mindlessly scrolling on your phone? Or not even paying attention during a conversation? Not being consciously aware of your day, what you're doing, or even consuming a major bad habit you need to break. With social media, non-stop entertainment, you could spend your entire day zoned out.
When you're zoned out, your mind is running entirely on auto-pilot. This is good and helpful when completing an activity or task you've mastered, like brushing your teeth or driving to work. However, it could also be a sign that you've been overwhelmed, over-exhausted and overextended.
Become More Present
With simple mindfulness techniques, you can learn to clue into what happening around you. Take a moment to feel your surroundings, enjoy your food, appreciate these sights and smells, and engage in this present moment.
Finding something you appreciate or admire about this moment in time is another way to wake your brain up to what's actually happening. Life can rush you if you're not careful. Lack of awareness can also lead you to feel like you're stuck on the hamster wheel, repeating the same day over and over.
The next time you find yourself zoning out, take a break, get up and stretch, look at something with fresh eyes, take a different way home, talk to someone new. Just do something that wakes you up.
#9:
Lacking Self-Care
You constantly hear about the importance of self-care, but are you really making an effort to prioritize your self-care routine? Self-care is all about you, and it says a lot about yourself and what you need to live a happier and more fulfilled life.
Oftentimes people neglect self-care because of work or personal matters, but it can help relieve some of the pressure you feel in your daily life. Engaging in self-care has been proven to reduce stress, anxiety, and depression while also improving energy and concentration.
Enjoy Some You Time
If you find yourself spending little to no time on yourself, then it's time to think about creating a self-care routine. There are many ways to personalize your self-care routine, so start by asking yourself what are some activities you love to do but have little to no time.
If you love baking but rarely have time to experiment in the kitchen, then carve out some uninterrupted time to focus on cooking. Self-care can also look like this:
Self-care is essential for everyone, as prioritizing self-care in your everyday life will enhance your health and wellbeing, leading to a happier life.
👉🏽  RELATED POST: Daily Mental Health Activities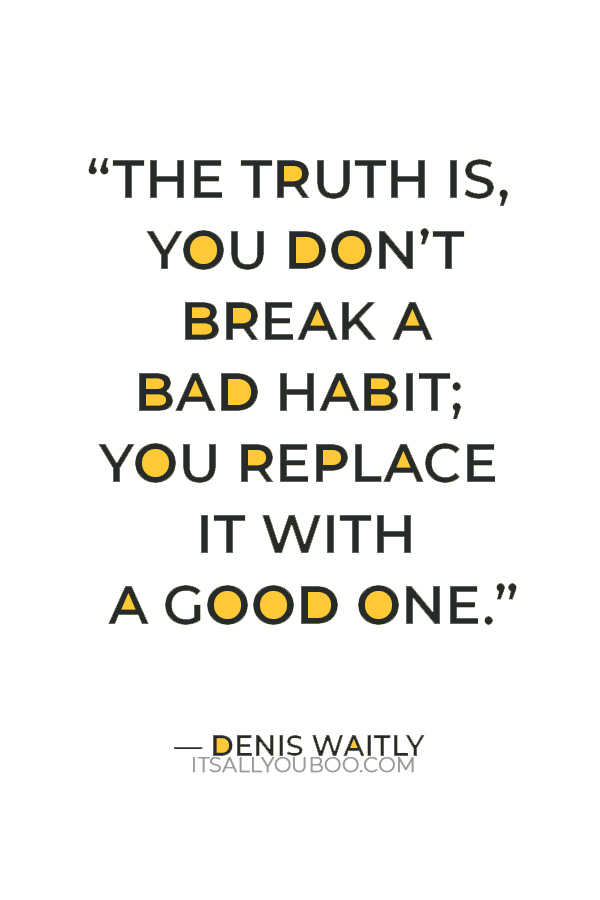 Bad Habit #10:
Emotional Spending
Is your spending out of control? Are you a shopaholic? Emotional spending doesn't just look like being thousands in credit card debt, it also includes buying things you don't need without thinking.
When you're an emotional spender, you let your feelings drive your purchases. Instead of sticking with your budget, you buy whatever you want, whenever you want it.
This is one of those bad habits you need to unlearn because it is keeping you poor! Rather than investing in retirement, saving an emergency fund, or investing your money, you squander every dollar and likely live paycheck to paycheck.
Break the cycle of emotional spending by setting a few rules for purchases:
Wait 24 hours or more before making a purchase,
Meal plan and prep to cut down on take out ordering,
Save up for big buys, instead of using a credit card,
Try going cash or debit card only
This is one of those sneaky bad habits that can be challenging to unlearn. But it all starts with making smarter choices and planning ahead. Focusing on improving your emotional wellness, can also protect you from overspending to feel better.
Break Bad Habits One By One
Unlearning bad habits is no walk in the park; like most things in life, it takes time and dedication to overcome toxic habits.
Whether you are just starting your journey to creating better habits or are in the middle of trying to regulate yourself, don't let that become an added stressor.
Get Your Printable Habit Trackers
Ready to break your bad habits and create better ones? Sign up below to get your printable habit tracker templates, with spreads for 30 and 31 days.
Ask yourself what are common bad habits in your life? And go from there; before you know it your new habits will feel just as natural as your old habits.
Get started today with one of these top bad habits and use the above tips to start unlearning it.
Take it one at a time, replacing each with a better habit.
What are some bad habits to get rid of? What habits are toxic and bad for you? Click here for the top ten bad habits to unlearn today. #Habit #Habits #Behaviour #BadHabit

Which top 10 bad habits do you need to unlearn?
---
Last Updated on January 8, 2022
✕
Get Your Habit Trackers
+ weekly tips to help you slay your goals.