How do you feel safe at home when you live alone?
What to do when you don't feel safe in your own home?
Living all alone can be exciting. You'll have the freedom to play whatever music you want, control the TV all the time, and lots of flexibility on things.
But living alone can have its drawbacks, as well. One of them is ensuring your safety. Without anyone around, you don't have extra eyes, ears (or fists) to deter the intruders.
No one can knock some common-sense and reminders to you.
So, how to feel safe at home? How do you feel secure at night, when you're the only one home?
Well, in this article, we'll walk you through a couple of tips to keep yourself safe, especially if you're living alone.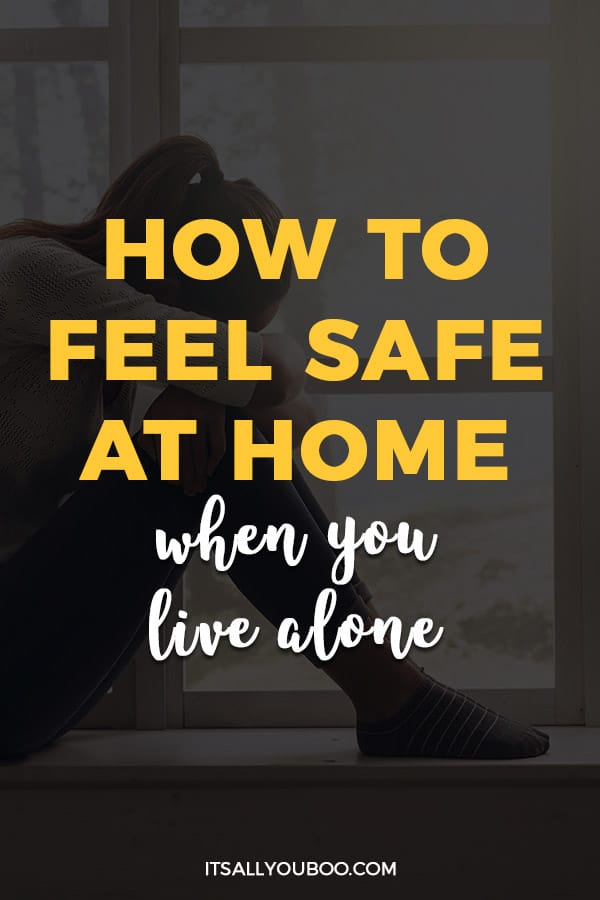 How do you feel safe and secure?
Are you wondering how to feel safe or how to protect your home from invasion?
We'll be listing down a couple of points to keep yourself safe and secure if you're living alone:
#1.
Meet Your Neighbors
One of the first things you can do if you want to know how to feel safe at home is meeting your neighbors.
In this age of social media and smartphones, most of us aren't close to the people who live next door. However, you'll feel much safer in general, especially if you know that you can count on your neighbors.
Not only this allows you to identify people better, but you can enlist their help to keep an eye on the neighborhood if there's something suspicious.
That's why the next time you pass by your neighbor, say a friendly hello. It never hurts that you have an extra pair of eyes watching for you, especially if you're living alone.
Still, it's a great idea to be cautious on your end in giving out personal information up until you know your neighbors well.
👉🏽 RELATED POST: Have No Friends?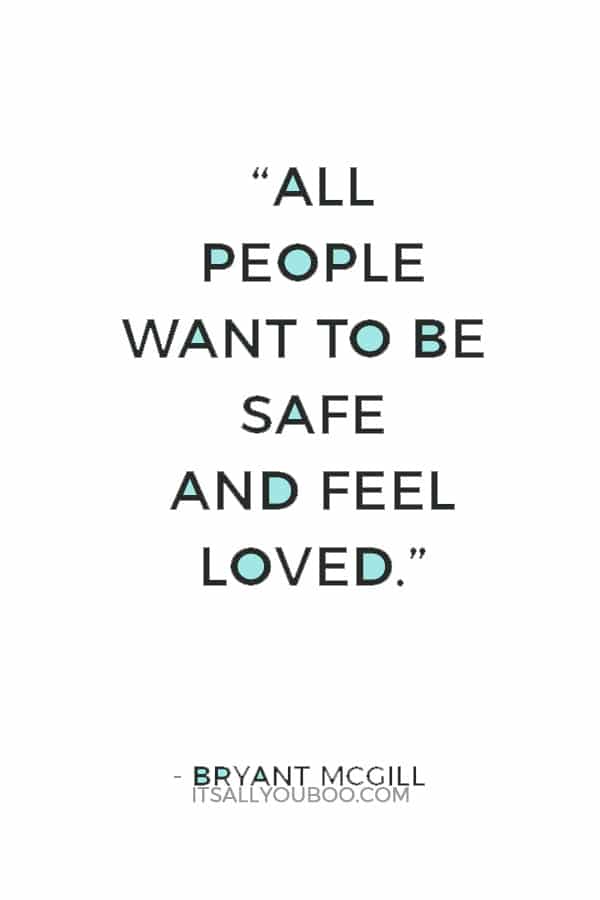 #2.
Get a Dog
For centuries, dogs have had the reputation to be a "man's best friend."
They can also be a great companion for anyone living on their own. If you're feeling unsafe in your own home, dogs generally tend to have a remarkable intuition if there's any trouble at bay. For instance, dogs usually bark if they sense that there's a potential intruder.
Now, with that being said, having a dog does have its benefits. However, they shouldn't be used as a replacement for a security system. If you live in an apartment, you also need to get an okay signal from your landlord if your furry buddy can stay in your place.
👉🏽 RELATED POST: How to Deal with Loneliness
#3.
Think Before You Post Online
If you're wondering how to feel safe at home, another tip is to be mindful of what you post online.
Yes, it might be tempting to post your whereabouts immediately, especially if you left for some exotic tropical getaway. But you should think twice before posting anything online.
By posting your current whereabouts, you're letting the internet know that your place is empty and easy for thieves to break-in, as it's an easy target.
If you're looking for tips on how to feel safe at home, never disclose if you're going on a vacation.
👉🏽  RELATED POST: The Benefits of Solo Travel
As much as you can, don't leave out any clues that you're going away for the weekend or out of town if you live alone.
Or you're going away to spend the night at a friend's house. Why? Because you never really know who's going to see these kinds of information online.
You can still post those beach pics once you get back from your holiday.

#4.
Don't Open the Door for Strangers
If you have no idea who is on the other door, don't open the door for strangers. It's vital that you still put your safety first.
If you're expecting someone, then for your safety, it's best to check who is at the door first before deciding to open it.
Plus, with door cameras easily accessible, you can add an added layer of security for an affordable price. So, the next time the door rings, check your cameras before answering.
These types of door cameras also add a layer of protection for any deliveries and packages left at your front door.
👉🏽 RELATED POST: How to Make New Friends
What to do when you don't feel safe in your own home?
If you don't feel safe at your own home, and you want to know how to feel safe living alone, here are some of the things that you can do:
#5.
Increase the Lighting
A great tip on how to feel safe at home is to increase your lighting.
One of the fastest ways to deter potential intruders is to turn on the lights. That means that someone is at home.
For instance, motion detecting lights are relatively inexpensive. These work to set the spotlight on intruders and would-be burglars.
Also, by installing lighting on your home's entrances, it's easy to add another line of defense to your property. The best part is that you're not spending a lot of time and money.
👉🏽 RELATED POST: Dealing with Loneliness During the Pandemic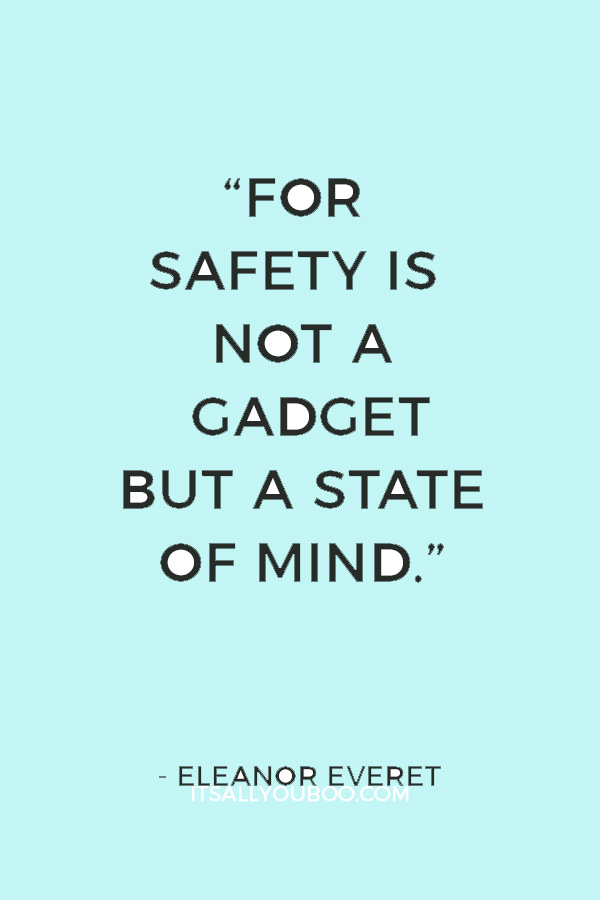 You can also make use of smart devices and apps so that you'll be able to put the lights of your home's interior on timers. Let's say you're planning to go away for the weekend or leave for a couple of nights. Putting timers on your lights could easily make it look like someone is at home and awake.
Moreover, placing nightlights on the halls, kitchen, and bathroom makes you feel safe without running up the electric bills.
#6.
Keep Doors and Windows Locked
This safety step might come off as a bit of common sense, but it's one of the surest ways to secure your home.
It would help if you locked your door each time you go out or come in. That way, no one comes into your property without anyone knowing about it.
Moreover, every door you have outside should have a storm door or sliding screen equipped with a lock. The same thing applies to windows as well, especially if you have it on the ground level.
Keep these windows locked and close them securely when they aren't open. If you continuously leave a window open, see that it's first closed and locked every time you leave the house.
#7.
Install a Camera Doorbell
Having video doorbells have become more and more popular since they allow people to feel a lot safer at all times.
Many burglaries still happen during the day, especially if the intruder thinks that no one is at home, or so they believe.
Fortunately, thanks to video doorbells, it's easy to keep an eye on your property at all times. You don't have to worry so much about opening the door to a stranger you hardly know.
Moreover, even if you're away from your home, you'll feel a lot more comfortable knowing that you've been alerted that someone is at your door.
👉🏽 RELATED POST: How to Find Yourself When You Are Lost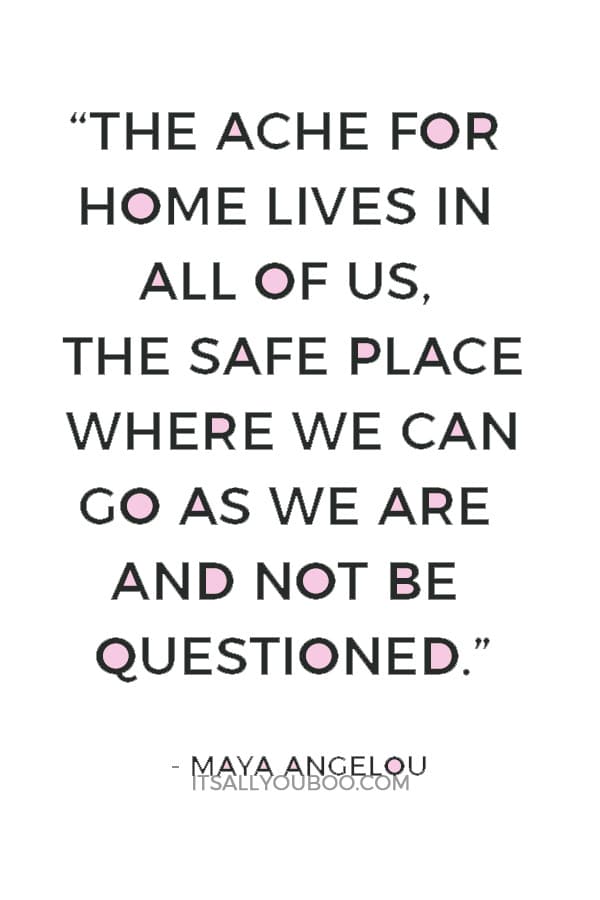 #8.
Get an Alarm System
If you want to know how to feel safe home alone at night, an alarm or a security system can be costly, complicated, and even hard to set up.
Fortunately, there are central security alarm monitoring systems that are easy to set up and a lot more affordable at the same time.
Whether you want to use your smartphone to monitor your place, there's no reason why you should be leaving your home unprotected.
Having a security system makes it easier to detect motion, record your home, and even let the authorities know if you are in trouble.
That's why getting an alarm system is an investment in itself. Don't think that security systems can be a bit too pricey or too complicated. It's also best to do your research to find the perfect security system tailored to your needs.
#9.
Create an Exit Plan
If you're living alone, then you need to know how to feel safe at home.
Always remember that the only person who can help you plan these kinds of emergencies is you.
So, make sure that you have an exit strategy in mind if you're planning to get out of your home or apartment if an intruder breaks in.
This can be as simple as outfitting your windows upstairs with an emergency ladder or trace your path so that you can quickly get to the back door.
Go through a couple of scenarios and think of ways how you can get out of your place as quickly and quietly as possible.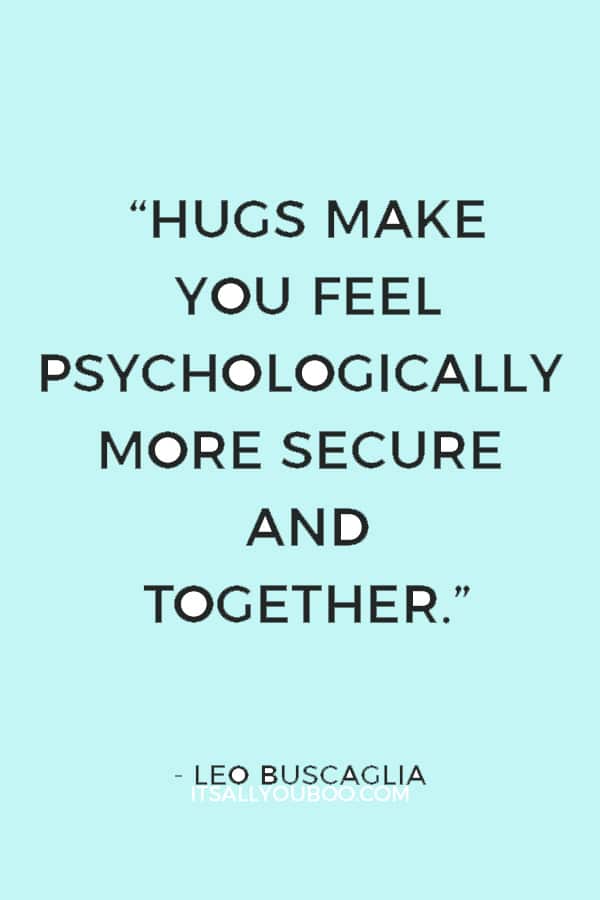 #10.
Use a Personal Security App
Whether you're heading out to meet your friends or walking from your apartment to your vehicle, downloading a security app is a great move. More so, if you live alone.
Various security apps available online. Several of them are free. Apart from load alarm systems that will activate, some apps offer GPS tracking as well.
If you're wondering how to feel safe at home using a personal security app, all you need to do is set it in tracking mode.
If you can't quickly get to your destination, then your emergency contacts will be immediately alerted.
👉🏽 RELATED POST: How to Be Comfortable With Yourself
#11.
Report Suspicious Activity
If you're living alone, you need to be extra aware of your surroundings, and more importantly, you need to trust your gut.
If an individual makes you uneasy and feels that you're in a suspicious situation, immediately call the authorities.
In the same way, you may want to alert your landlord or inform your neighbors as well.

#12.
Think as if You're an Intruder
Another way how to feel safe at home is to think like an intruder.
It's one of the best ways to feel safe. You might want to head outside and start looking at your place or apartment from across the street.
Are there shrubs near your doorway that make excellent hiding places? Can you see high-value items (that are considered big-ticket items) from across the street?
Once you learn how to think like an intruder, you'll gather insights on what makes your home an easy target from thieves and burglars.
Make sure that you make regular check-ins with your friends and family as well, so that someone will immediately notice if you go MIA.
If you have some work done over the house, like dealing with repair professionals and contractors that you've never met, then you might want to consider inviting a pal over for extra security.
#13.
Secure Your Garage
Another entry point that most people commonly overlook when it comes to security is the garage.
Most seasoned criminals know this, and most of them also know how they can hack your garage door opener.
So make sure that you don't leave this area in your home vulnerable. You might want to upgrade your garage by adding automation. It allows you to open or close your garage door even if you're across town and see if it is indeed closed.
If you're going away for a business trip or a vacation, make sure to disable your garage door, and then add a manual lock for extra security.
👉🏽  RELATED POST: How to Be Happy Alone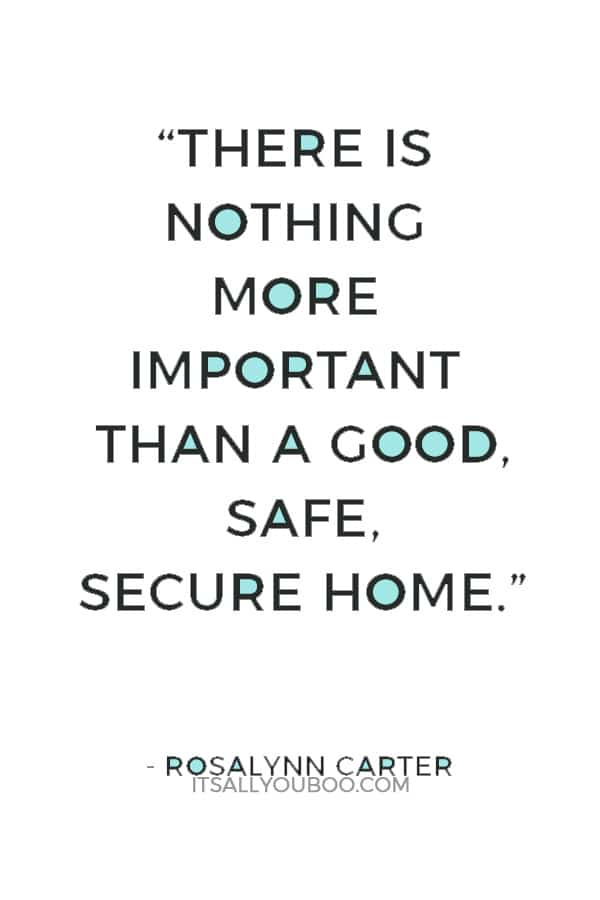 #14.
Think About Your Landscaping
Having tall shrubs and trees and your home gives burglars a hiding space, so it's also a good idea that you get rid of them.
You might want to replace them with flowers or much smaller greenery instead. That way, you can still have an appealing property without compromising your safety.
It enhances the sense of security that you'll feel as you eliminate some of the things you're particularly afraid of.
While adding these can make your property attractive, it offers a source of ingress and egress for burglars and animals in the vicinity.
How Do You Feel Safe at Home?
How to feel safe at home? The best way to do that to improve your safety, especially if you're living alone, keeps your surroundings safe and secure.
You may also consider getting pepper spray, a flashlight, and a whistle, making it accessible to you at all times. You'll never know when you'll need these the most.
Get Your Printable Self-Love Quotes
Ready to be more comfortable being alone at home? Your journey starts with self-love and self-discovery. Get these 10 beautifully designed, printable self-love quotes.
This download comes with high-resolution, graphic quotes ready to print and post in your home or office.
Yes, living alone can be exciting, but this is something that you shouldn't take lightly, especially if your safety is on the line. You may want to enjoy your house or apartment.
But do yourself a favor, consider doing these safety precautions, and take heart these tips for living alone.
Do you live alone? Do you feel unsafe in your own home? Click here for 14 tips to help you feel safe at home when you live alone, including home security. #Lonely #Safety #HomeSatefy #HomeSecurity #StayAtHome

How do you feel safe at home alone?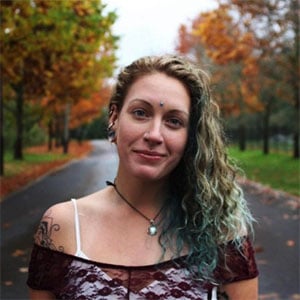 More About Guest Contributor
Geraldine Mills works as an Outreach Community Specialist. She was once a resident of South Africa, then flew to Australia for a change of scenery. When she's not working, she's at home sipping the best local wine while reading travel itineraries for more adventures.
Last Updated on July 11, 2021
✕
Get Your Self Love & Care Quotes
+ get weekly tips to help you slay your goals.