Is it possible to be happy alone?
How can you be happy being single?

We all fear loneliness. On some level, we're all afraid of being by ourselves.
But what do you do when you are faced with spending life alone? When you're struggling to accept it, be content with it or even happy?
Every story has a beginning and I can pinpoint to you the exact moment where it all began. I was 13 years old and I'd just been told my mother had died. There. That's when my issues with loneliness began.
Wind forward a little bit and we get to the next step in the story. The part where a father and stepmother can't cope with a bereaved teenager and ask her to leave the house.

And the cherry on the cake? When a step-father, the one remaining constant, disappears. And voila, here we have the perfect recipe for abandonment issues. Abandonment issues so severe, that 13 years later, after overlapping one relationship after another, I marry a man who I am no longer in love with. Just for fear of being alone.
You may be wondering now what on earth qualifies someone like this to be explaining how to be happy alone? Well, this same person (yes, that is me by the way), left that man she was no longer in love with and set out in search of someone she never thought she wanted to know. Herself.
And now, after many months of solo travel and dealing with loneliness on the road, I can honestly say I know how to be happy alone. I want to share that with all of you dealing with loneliness, alone, and suffering.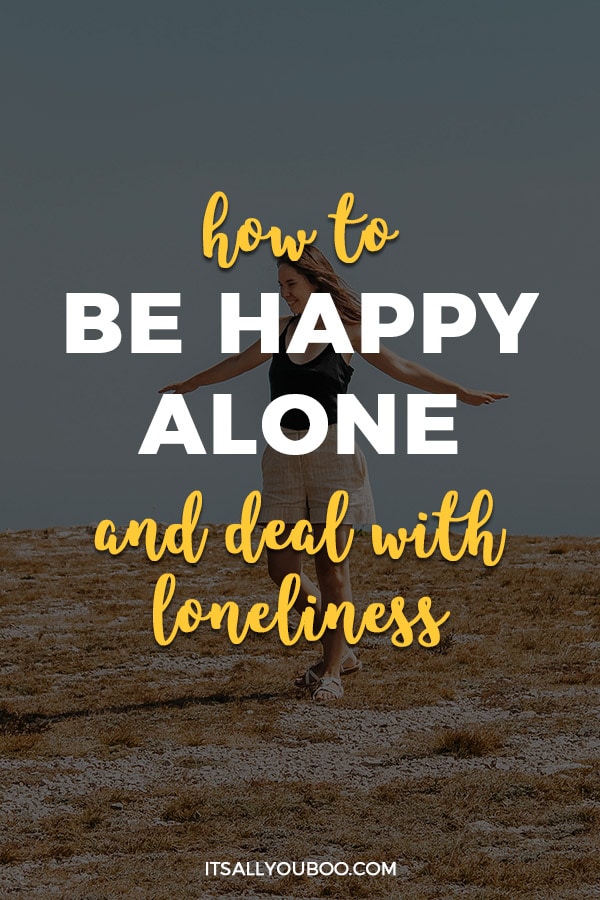 How Do You Enjoy Being Single?
This was the first step to discovering how to be happy alone for me. When I left my husband to travel the world, this was the first time I had been single for longer than a week for 13 years. It was a shock to the system. I had no idea who I was without being somebody's partner. But eventually, I found being single was so refreshing.
Here are the top five things I found helped me come to terms with and enjoy being single:
#1.
Have a Night of Pampering
Pampering nights were a great first step for me when I found myself single, alone and dealing with loneliness, learning how to be happy alone for the first time in my life. I found this to be one of my favorite ways to enjoy being single.
Taking time for self-pampering at home is the first step to showing yourself some love and you can spend the whole night being self-indulgent with no one around to judge!
Get that bath bomb, light those candles, listen to that song, *scratch that* belt out that song at the top of your lungs.
Give yourself a face mask, scrub yourself clean and moisturize your whole body.
Take some time in front of the mirror and learn to love yourself.
You gotta learn to love yourself as nobody else can. There's a song that I like to listen to during these pamper self-love sessions that helped me to love myself: Perfect by Anna Marie. Give it a listen and you'll see why.
👉🏽 RELATED POST: 12 Cheap and East Self-Care Ideas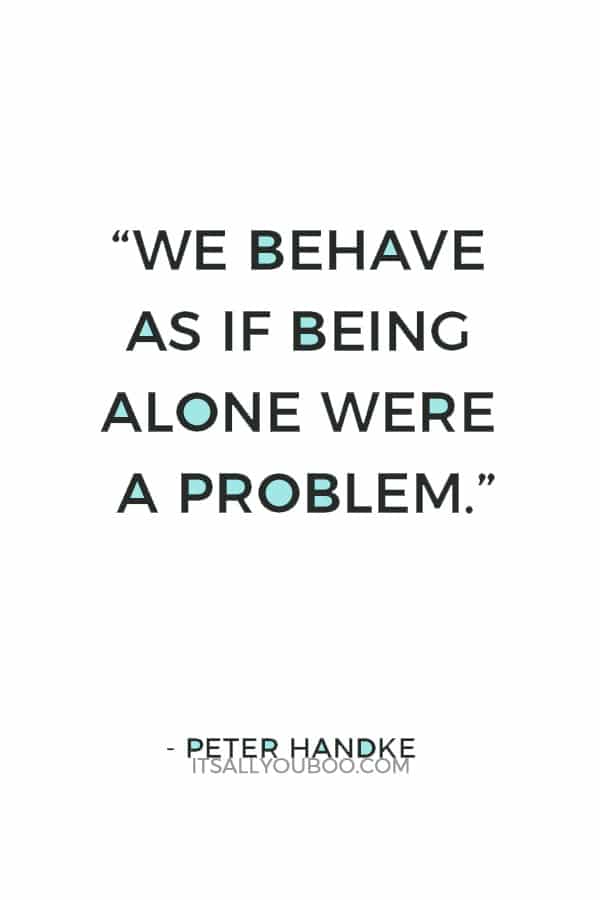 #2.
Get a New Haircut
When you're in a relationship, so much of yourself is often lost in wanting to be attractive to the other person. So getting a new hairstyle is an amazing way to enjoy being single and getting on the right track to learning how to be happy alone.
Try that look your partner would have hated but you've always wanted! It might seem like a silly thing but getting a haircut has a psychological impact that you can't deny. Plus you have nobody else to consider right now and that's so refreshing.
👉🏽 RELATED POST: How to Not Lose yourself in a relationship
#3.
Go Out with Friends
That leads us on nicely to one of my favorite ways to enjoy being single: Going out with friends. Often we get wrapped up so much in our relationships that it's hard to find the time to go out and have fun with friends. Now is the perfect opportunity!
You're all pampered and looking fresh with that new haircut. Enjoy that fabulous feeling and spend some long-overdue quality time with old friends.
#4.
Meet New People
If friends are an issue and you need to know how to be happy without friends, then get out there and meet some new people. Meeting new people is a great way to enjoy being single. Make new friends and discover something new about yourself at the same time.
There are so many ways to put yourself out there and meet new people:
Get out there the old fashioned way and strike up a conversation
Start a new hobby and join a class
Use hangout apps
I've used the hangouts option on the Couchsurfing app many times to find someone to go grab a coffee with or to explore a new area. You can download the Couchsurfing app here.
👉🏽 RELATED POST: How to Find Yourself When You Are Lost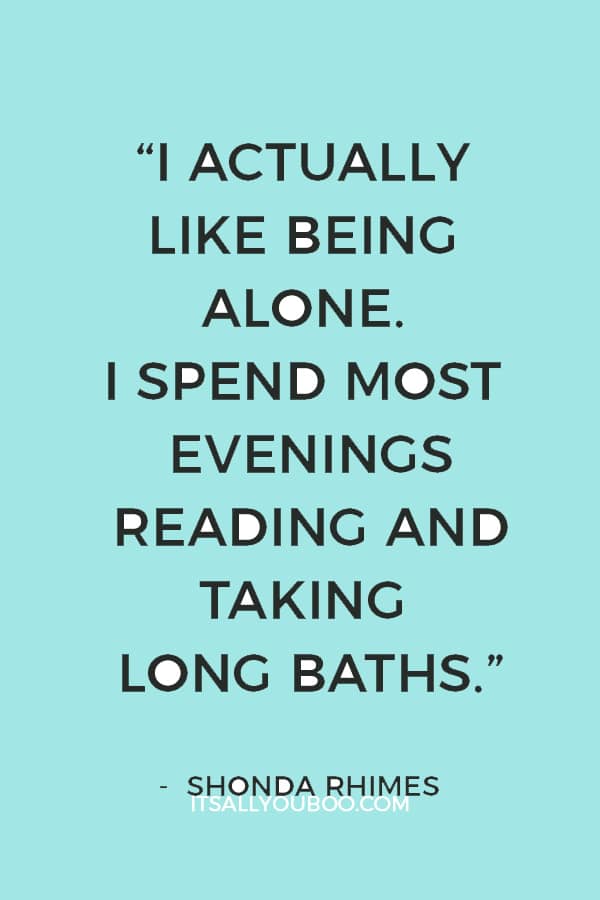 #5.
Travel and Explore the World
And now you're single? Get on that flight to that country you've always wanted to visit. Traveling is an amazing thing to do and more and more people are taking vacations and trips on their own.
I can honestly say that traveling has helped me to discover who I am as a person, without being a part of somebody else. Thailand is a great place to start if you're unsure of where to go. Check out this post on island-hopping in Thailand.
How Can I Be Content On My Own?
So you've mastered how to enjoy being single. The next step is learning how to be happy alone. This takes time. It takes time to learn to enjoy your own company.
Solo travel is a fantastic way to start to be happy alone. It puts you in a situation where there are so many beautiful things to see and do to distract yourself. To begin with, it might feel strange going to the beach alone or going to grab dinner for one, but practice makes perfect.
Here are some tips for if you're feeling self-conscious in these situations:
#1.
Take a Book
Reading a book is a great way to look comfortable in solo situations. It engages you in an activity and distracts you from the issue of being by yourself. If you're anything like me, you'll get engrossed in the story and before you know it you've been sat for two hours, your coffee's gone cold and you couldn't care less whether you're alone or not. And bonus points to you for looking all intellectual.
👉🏽 RELATED POST: 100 best Personal Development Books
#2.
Listen to Music or a Podcast
Listening to music is another great way to distract yourself. Having headphones on also allows you an excuse not to interact with others if you're not feeling like having a conversation with someone. Music is a great way to help while away a morning or afternoon lazing on the beach or in a beautiful garden.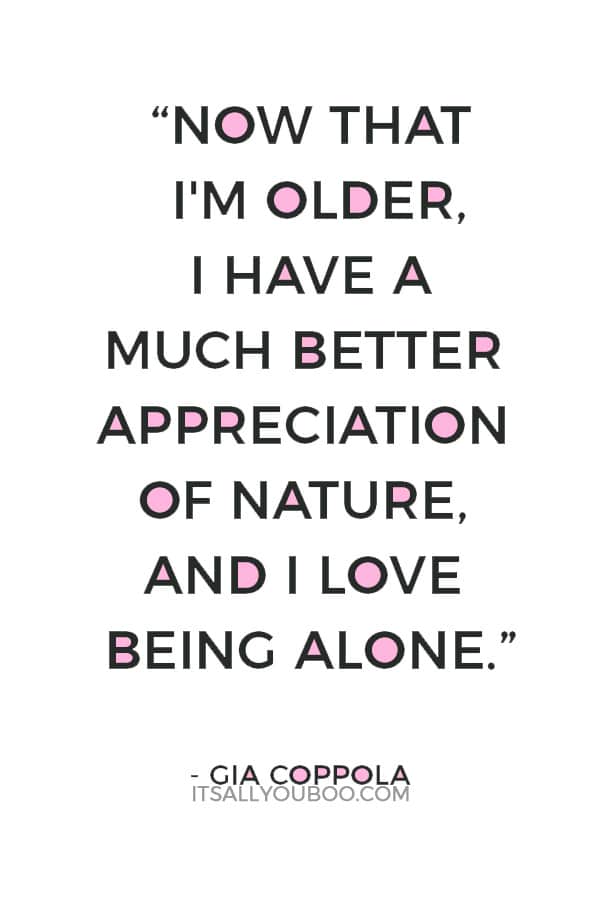 #3.
Write in a Journal
Journalling is a great reflection activity that will also help you learn how to be happy alone. Collect your thoughts and get them down on paper. You might be surprised how therapeutic it feels. It's also a great thing to do in public alone so that you have something to do.
👉🏽 RELATED POST: How to Start a Daily Journal
These are just a few ways to feel comfortable on your own in public, find a way that works for you and puts you at ease.
The more often you do these things, the less conscious you feel about being alone and you start to realize the benefits of traveling solo and enjoying your own company. There really is nothing like a multi-day hike, through the valleys and mountains, surrounded by beauty, to clear your thoughts and allow yourself to really connect to nature and yourself.
And the benefits of solo travel are massive:
You make your own itinerary so you don't have to wait around for anyone or rush for anyone.
You get lost in your own thoughts as you wander through the woods or lie on the beach.
And most importantly, you start to realize that your own company is a wonderful thing.

Nobody knows you better than you, right? You know exactly what makes you happy and no one is holding you back!
Why Do I Prefer Being Alone?
Now, after years of being on the road, I prefer being alone. It may sound selfish but the reason why I prefer being alone is simple. What I say goes. I can go where I want, when I want and eat what I want when I want it.
👉🏽 RELATED POST: How to Do What You Love Today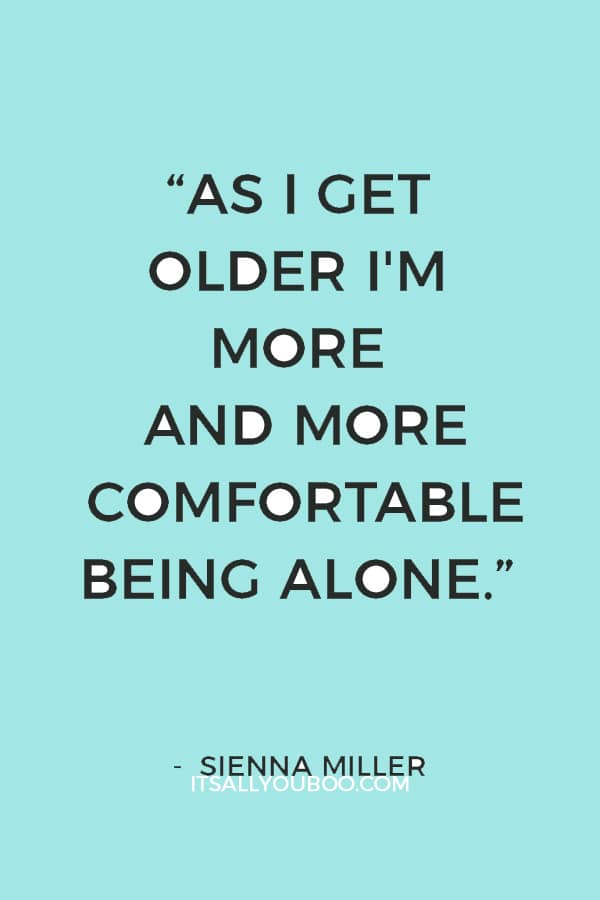 There are times of course during solo travel when dealing with loneliness becomes an issue. But the best thing is you're only really alone when you want to be. It's so easy to meet other people that when you're craving some social interaction it's right here for you.
Just head to a bar and strike up a conversation, or jump on Couchsurfing to find someone to explore with. Even when I'm not traveling, I now treasure the time I have to myself. I can't believe that me, the person who spent her teenage and early adulthood, petrified of being alone, now prefers to be alone!
And once you've learned how to be happy alone, dealing with loneliness becomes less and less of an issue. There's no need to be lonely when you enjoy your own company. Did you know there are actually so many benefits of being alone?
How Do You Live Alone in Life?
Now that you've learned how to be happy alone it's time to come to terms with living alone.
Living alone has so many benefits. When you learn how to be happy alone you start to see how lucky you are and you begin to cherish your own space. Your home is your sanctuary and your own little corner of the world where you can be completely and utterly yourself. You can decorate it exactly how you want it and let it be a reflection of your personality.
👉🏽 RELATED POST: How to Date Yourself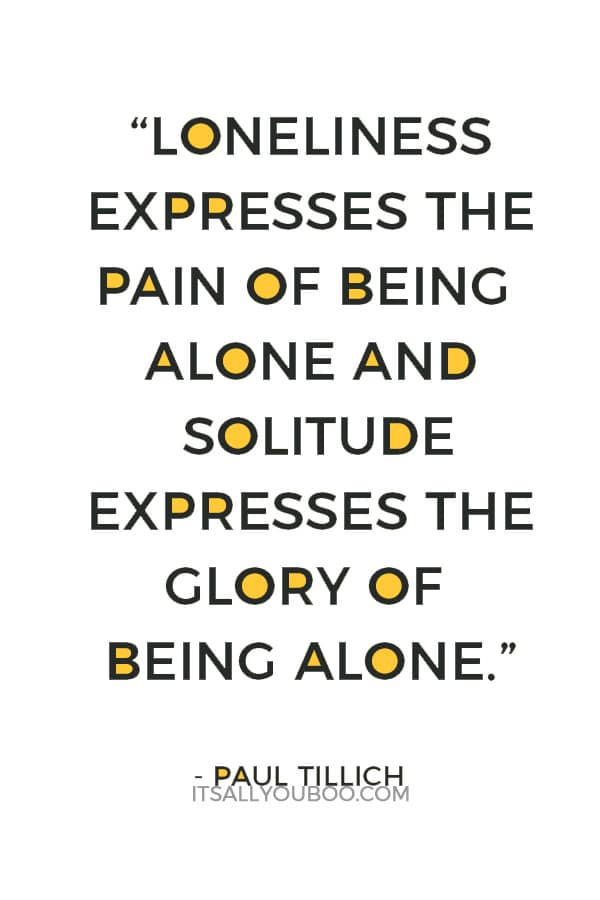 Of course, living alone also brings up some issues; dealing with loneliness being one and cooking for one being another. I do find that cooking for one is something that I have always struggled with. It's hard to find the joy in cooking for just yourself. Batch cooking is a great way to combat this. Cook up some tasty meals on the weekend and freeze them. Et voila, when you get home from work and can't find the energy or motivation to cook for yourself, whip out a meal you made earlier and bon appetit.
How to Truly Be Happy Alone
So to summarise, the path to learning how to be happy alone starts with you. Get to know yourself, learn to love yourself and never worry about dealing with loneliness again. It's a long and arduous journey of self-discovery but the destination is more than worth it.
👉🏽 RELATED POST: How to Be Comfortable With Yourself
Get Your Printable Self-Love Quotes
Ready to be happy alone? Your journey starts with self-love and self-discovery. Get these 10 beautifully designed, printable self-love quotes.
This download comes with high-resolution, graphic quotes ready to print and post in your home or office.
I look back at myself over the past 16 years and I see a person with little to no self-esteem, in serious denial about my mental health and the impact it was having on my life and others around me.
Today, I look in the mirror and looking back at me is this comfortable, confident woman who needs no one. I see an independent woman who is happy and content.
And I'm so proud that she's me.
Tired of being alone in life? Want to know how to be happy even if you are alone? Here's the truth about how to be happy alone and dealing with loneliness. #Lonely #HappyAlone #Happinesss #BeingSingle

How do you become happy alone? How do you deal with loneliness?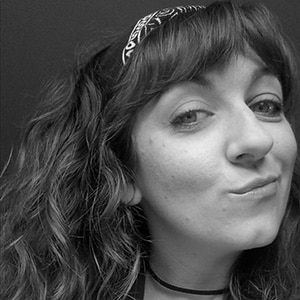 More About Guest Contributor
Hi. I'm Cati. In 2017, in full swing of a quarter-life crisis, I quit my permanent teaching job to travel South East Asia and go on a working holiday to Australia. Well here we are, 3 years later and I'm still on the road! Connect with me at Quater Life Crisis Travelling.
Last Updated on July 11, 2021
✕
Get Your Self Love & Care Quotes
+ get weekly tips to help you slay your goals.