Wish you could start decluttering when overwhelmed?
Drowning in too much stuff and a completely cluttered home?
Clutter just seems to accumulate, doesn't it? Items that used to be sentimental and used to matter, somehow start to take up so much space.
Everywhere you look, from your bedroom closet to your kitchen countertops, is full of too much stuff. You know you need to declutter your home, but the thought of it is just overwhelming you.
But, with so much emphasis on spring cleaning you know you're finally ready to tackle the clutter and start the decluttering and organizing process.
Whether you live alone or with others, decluttering can feel like a big job you'd rather not start, but you can! If you're ready to reclaim your space and start loving your home again, this is the post for you.
This post will share with you ten tips on how to declutter your home when you have too much stuff to clean.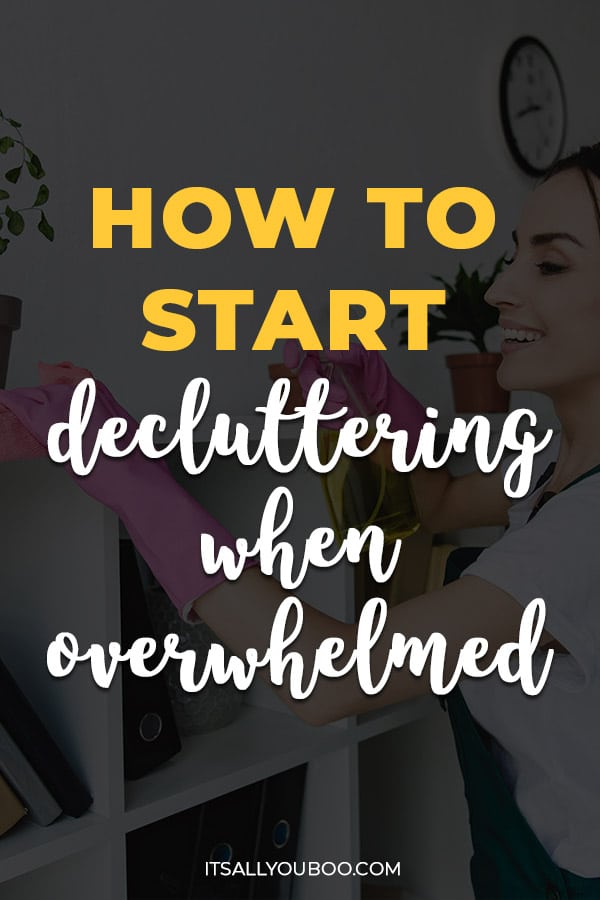 How to Start Decluttering When Overwhelmed by Too Much Stuff
#1. Decide Which Area to Work First
Knowing where and how to begin is integral in learning how to start decluttering when overwhelmed.
That said, we suggest that you pick an area or category that is less overwhelming for you. It can be your bedroom or your journaling tools.
Focusing on a specific area feels a lot more manageable than when you're thinking of all the cleaning tasks you have to do around the house. If even cleaning a single room overwhelms you, you can focus on one part of the room instead. For example, you can focus on organizing the inside of your closet.
This step should help you start chipping away at what seems like an impossible task until you find that it's not so unbelievable after all.
👉🏽  RELATED POST: 75 Marie Kondo Quotes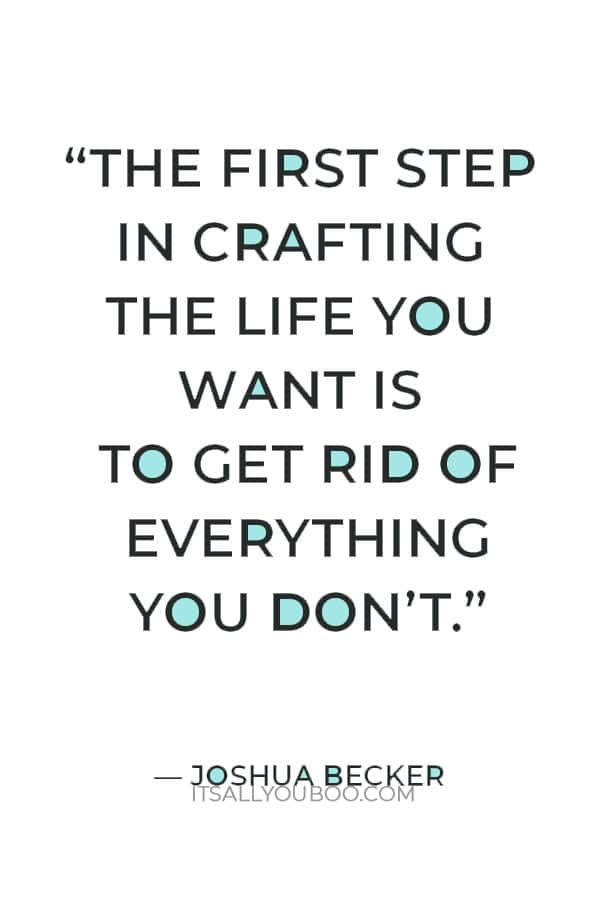 #2. Start Small
Speaking of starting with the little things, you can also opt to begin with simple cleaning tasks. This can be something like sorting out your paper clutter.
Such cleaning tasks won't stress you out, nor would it require the most minute effort on your part. There are plenty of them that should be lying around the house.
One example would be to clear out your bedside table. A bedside table is usually small, and there shouldn't be anything too harsh for you to handle when making sure to clear the bedside table. After that, you can start expanding your efforts to the rest of your bedroom.
The key is to do tasks that don't require you to do a secondary step to accomplish like if you need to replace your sheets, you have to wash them first. This small step can help give you the energy to lead up to doing these more complex tasks.
👉🏽  RELATED POST: 7 Benefits of Minimalist Living 
#3. Have a Decluttering Plan
To better figure out how to start decluttering when overwhelmed, you can sit down and plan out how you will tackle this issue. When you set your mind to start decluttering your space, you don't need to start taking things away immediately.
There's nothing wrong with taking a pause and planning things out first.
What's great about a decluttering plan is that it helps you save some brainpower. It eliminates the need to guess which area or category you should declutter next.
All you need to do is tick off your checklist, and you are ready to move on to the next area or category.

#4.
Discard Large Items Next
Once you have more energy to deal with and face your clutter, the next step is to deal with larger items. Mind you; this step is integral in knowing how to start decluttering when overwhelmed.
The ones that take up space or are in the way of the natural footpaths around your house are the first items you should eliminate.
At first, it can feel like discarding these larger items is a tough job. But it makes every other decluttering process go by a lot easier once you take away these huge items taking up a lot of space.
#5. Have a Sorting System in Place
When you're decluttering the smaller items, you should have a sorting system in place first. That way, you don't have to go out of the room you're cleaning all the time to organize the types of clutter that you have at home.
All you might need to do is get four cardboard boxes to store these items in and categorize them based on what you do with the things in them. There should be four boxes, one for:
Throwing away items
Giving away items
Items you plan on selling
Items you plan on keeping
Having a sorting system in place makes declutter straightforward. That's because it allows you to pare down your belongings and ensure that you have items to put away.
👉🏽  RELATED POST: How to Clean Out Your Closet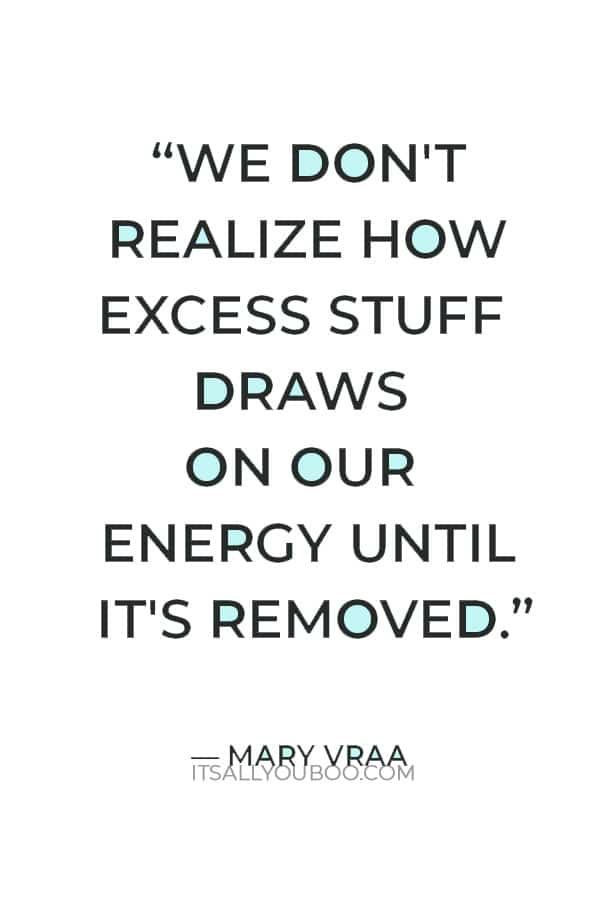 #6. Set a Timer
If you are wondering how to start decluttering when overwhelmed, consider setting a time. It should motivate you enough to grab and dispose of an unused item.
Get a trash bag and set a 10-minute timer. Until the timer runs out, go around your entire house, grab everything you don't want or need to have in the house anymore, and chuck it in the trash bag.
When you have to keep your mind on the timer, you'll find that having to decide between keeping and throwing away items goes by a lot faster. You'll also discover that your trash bag can fill up quickly that way since it only took you ten minutes to do.
👉🏽  RELATED POST: How to Get Organized in the Cloud
#7. Declutter Based on Categories
One of the best ways to clean a room is to declutter based on categories. That way, you don't have to root through your decluttered items to find the ones you have to give away or sell from the ones you plan to throw away.
Some categories to consider are:
Kitchen items
Office supplies
Books
Decorations
Mementos
Winter
You get the idea, think about whatever categories can help you manage your sorted clutter.
It's a simple system, but it's beneficial in keeping your decluttering process have some sense of order in them without much effort on your part. When doing this, though, make sure that you put labels on your bags so that there's no confusion around them.
👉🏽  RELATED POST: How to Create a Capsule Wardrobe

#8. Set a Reward for Yourself
Rewarding yourself can help motivate you while you're wondering how to start decluttering when overwhelmed.
Think carefully about what reward you want to get for yourself. The only rule is that it cannot lead to more clutter, so no shopping at a dollar or thrift store allowed.
Some simple ways to reward yourself could be a trip to your favorite coffee shop, watching an episode of a show you like, or ordering takeout. You could also enjoy something like a podcast or audiobook while decluttering.
After all, you want to be reasonable with yourself. You can base your reward system on finishing the entirety of your decluttering.
Still, you can also do mini rewards when you accomplish milestones, such as clearing out an entire room.
#9. Make it a Habit
Everyone isn't born with good habits. It requires a bit of time to develop, so you shouldn't expect yourself to start being a "responsible" adult who can stick to a cleaning schedule all the time.
A clean house is a result of making cleaning a habit. This is something that Cleaning Exec House Cleaning NYC always likes to point out.
Although it requires you to commit, you're going to appreciate it when there's too much going on. More so, if you want to know how to start decluttering when overwhelmed.
To create your new decluttering habit, set a schedule for keeping things tidy. Whether a time or part of your day or week. Such as a ten-minute tidy-up before going to bed every night, or a deep clean every Sunday afternoon.
That's because even if you feel too overwhelmed, the habit is going to make your body go on auto-pilot. A pattern requires less brainpower for you because your mind and body are so used to you doing it.
Therefore, if you make decluttering a habit means doing it every day. Eventually, you will find yourself on autopilot whenever you see clutter.
👉🏽  RELATED POST: How to Make a Habit Stick by Science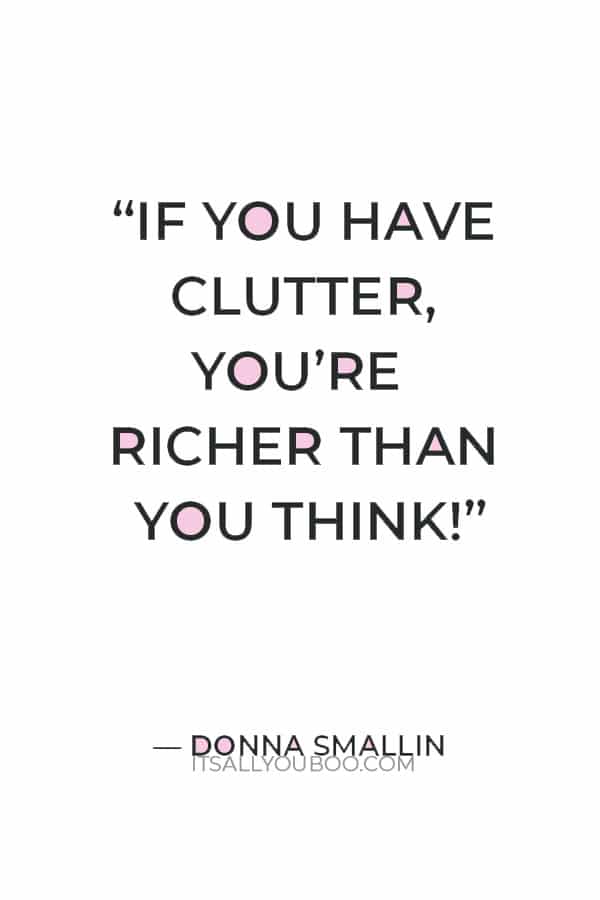 #10. Organize What's Left
After you figure out how to start decluttering when overwhelmed, the work doesn't and shouldn't stop there. You're in the last lap.
It is best to take the time to organize the space and whatever's left after decluttering. Otherwise, you'll be getting back in your old ways in no time.
Once you start organizing everything left in the house, that's when you'll see how better off your home looks after all that decluttering.
How Do I Stop Accumulating Too Many Things?
To avoid worrying about how to start decluttering when overwhelmed, you should focus on not accumulating too many things. However, those impulses are demanding by themselves, so how do you stop collecting too many things?
How do you address the signs you have too much stuff in the house? Well, here are a few suggestions that you can try out for yourself.
Learn to Deal with Temptation
If you've ever said to yourself, "I have too much stuff and not enough space," then you should learn how to deal with your impulse buys.
Mind you, knowing how to start decluttering when overwhelmed is more affordable and less time-consuming than moving to a bigger space. That's why you should practice self-control and learn to deal with temptation.
To deal with the temptation, you first have to figure out which ones affect and tempt you the most. Ask yourself what the most significant sources of temptations there are in your life.
Are you receiving emails of sales and discounts from your favorite stores? Consider unsubscribing to these emails. Avoid the home shopping network if you know that it will give you the impulse to buy things you don't need.
👉🏽  RELATED POST: Overcome Shiny Object Syndrome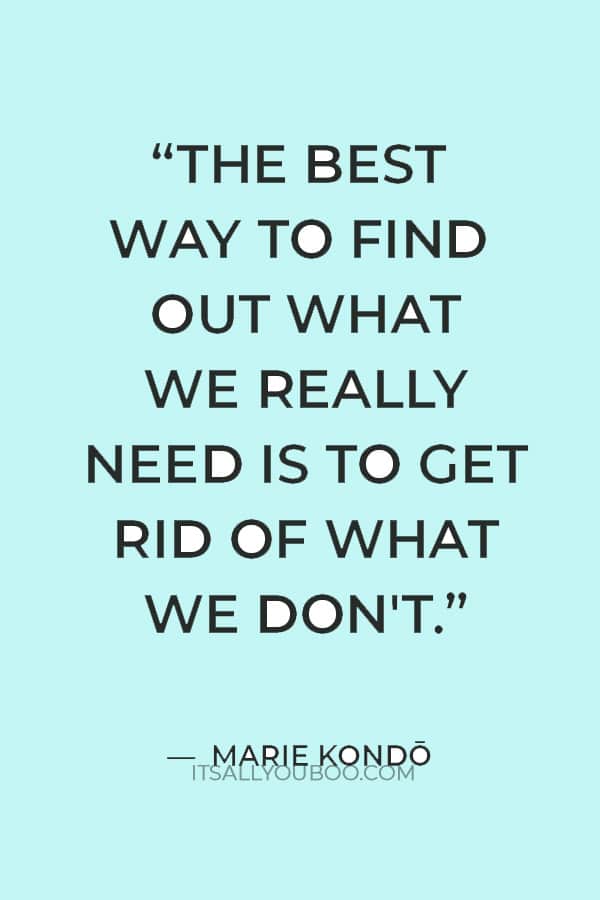 Play the Waiting Game
There's a very high likelihood that the reason why you have all these items cluttering your home is that you get them on impulse. Therefore, you want to address that impulse to avoid getting more things and hoarding various items in your house.
With that said, if you find an item that you have a compulsion to buy, don't buy it just yet. Step away and give yourself at least 24 hours before deciding whether you should pursue the purchase or not.
Ask yourself whether you need it or not and other things more important than you could save up for instead of that item. After the waiting game, you might find that it's not that big of a deal that you don't have that item after all.
Choose Quality Over Quantity
Learn to choose quality over quantity for your items. Cheaper items might seem like you're cheating the system and getting a deal, but in the long run, it's going to end up as junk sooner than you'd think.
With quality items, they'll last you a long time, so you don't have to let them clutter your home because they still work.
👉🏽  RELATED POST: How to Save Money on a Tight Budget
Have a Shopping List
If you are curious how to start decluttering when overwhelmed, the key is to limit what you buy.
When going out shopping, make sure that you have a shopping list beforehand. Stick to that list only.
Aside from that, try to avoid shopping in more prominent shopping malls or large grocery stores. If you can, support small businesses.
They will have fewer items present that might tempt you. You will not only save money, but you also don't end up buying things that will clutter up the space that you don't even need.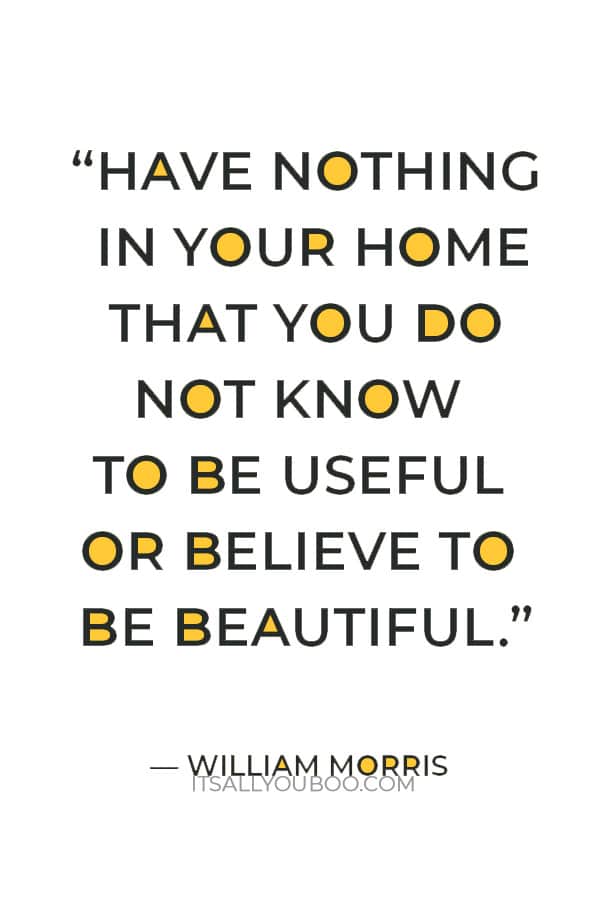 Ask Questions Before You Buy
Make it a habit to ask yourself some preliminary questions before buying something. Don't live your life on impulse and for a constant chase of that short moment of joy that comes with having something new.
Ask yourself how you will use an item. If you cannot answer, it is less likely that you need it. So, there is no need to buy that item.
Final Thoughts on Decluttering
Listed above are the decluttering tips for hoarders and those with clutter stress syndrome. Following these tips can help you start cleaning even when you feel overwhelmed.
This includes dealing with all the clutter you have accumulated, paring them down, and not getting back to your old ways.
But the key here is to be intentional with what items you bring to your house. That way, you will not be accumulating more stuff than you needed.
Spring Clean Your Mind Checklist
Don't just declutter your home, declutter your mind too! Get your FREE Printable Spring Clean Your Mind Checklist with 12 ways to refresh your mental health this spring.
Got way too much stuff cluttering your home? Feeling overwhelmed about decluttering? Click here for tips that can help you deal with a cluttered home by @geraldinewalks. #Declutter #Decluttering

How do you start decluttering when overwhelmed?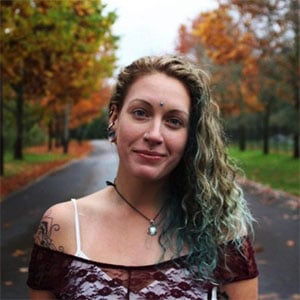 More About Guest Contributor
Geraldine Mills works as an Outreach Community Specialist. She was once a resident of South Africa, then flew to Australia for a change of scenery. When she's not working, she's at home sipping the best local wine while reading travel itineraries for more adventures.
Last Updated on July 11, 2021
✕
Get the Checklist!
+ weekly tips to help you slay your goals.