Do you have too much stuff and need to clean out your closet?
Is your closet overflowing with old clothes you need to declutter?
Need to spring clean out your closet? It's time to get your wardrobe organized. Here's how! #springcleaning #organized #lifehack
Perhaps, you wish you had a capsule wardrobe, but you're not sure what to get rid of?
With the arrival of Spring, it is the perfect time to clean out the clothing that you once loved, but no longer leaves the hanger.
I know what you're thinking, "spring cleaning? Maybe next year!" Clearing out your wardrobe is not the most enjoyable task and often gets put on the bottom of the to-do list week after week until it is forgotten about.
Cleaning out your closet is something that should be done once per year as a minimum and recommended after each season throughout the year. If you procrastinate, over time, you'll end up buying more and more items that will continue to pile up until you're drowning in last year's fads and your closet looks like outdated issues of Vogue.
Table of Contents:
From season to season and year to year, your personal style evolves and changes with time. What you loved in 2012 is typically not what you would wear in 2019. This is the nature of fashion.
Too much chaos in your closet can often leave you feeling overwhelmed. Several years' worth of old clothes causes your personal style to appear disorganized and in disarray.
Instead, when you look into your closet, you should feel inspired. Your wardrobe should make heart emojis dance in your eyes and cause you to fall in love with your style over and over again.
Start the year off fresh and fashionably by eliminating items in your closet that you haven't worn in months…maybe even years. This is how to clean out your closet and declutter your wardrobe, including what to keep, what to donate and what to trash. It's time to tidy up Marie Kondo style!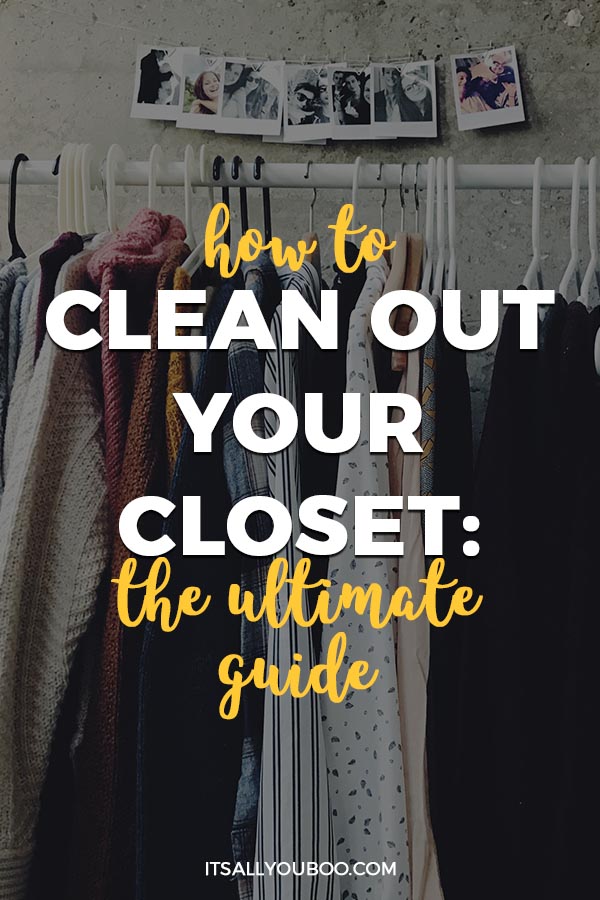 3 Simple Steps to Cleaning Out Your Closet
#1. Take all of your clothing out of your closet, drawers, and boxes.
Don't forget to check under your bed for any items that may have gotten lost or misplaced over time. This includes accessories, shoes, and bags. Lay everything out on your bed or the floor, forcing yourself to actually get it done and checked off your list before you can go to sleep.
#2. Pick each item up one-by-one, trying it on to see how it fits.
The best way to decide whether or not to keep a piece of clothing is to try it on your body and actually see what it looks like. Often times, it doesn't look the way you were envisioning it or how you remembered it looking.
#3. Sort each piece of clothing into piles to keep, donate, sell, or throw away.
Go through each item and put it in the pile that it best fits. Here are some guidelines to determine which pile it should go in.
To Keep:
Does it fit?
Is it flattering?
Is it in good condition?
Do I see myself wearing it again?
Is it of sentimental value?
Have I worn it within the last 12 months?
Is it outdated or a trend that has fallen out of style?
If I saw it in the store today, would I still purchase it?
Can it be altered or fixed to make it more flattering?
If it meets the criteria for keeping, you should continue to rock it well into 2019. But, if not, take the next step in decluttering by deciding whether it should be donated, sold, or thrown away.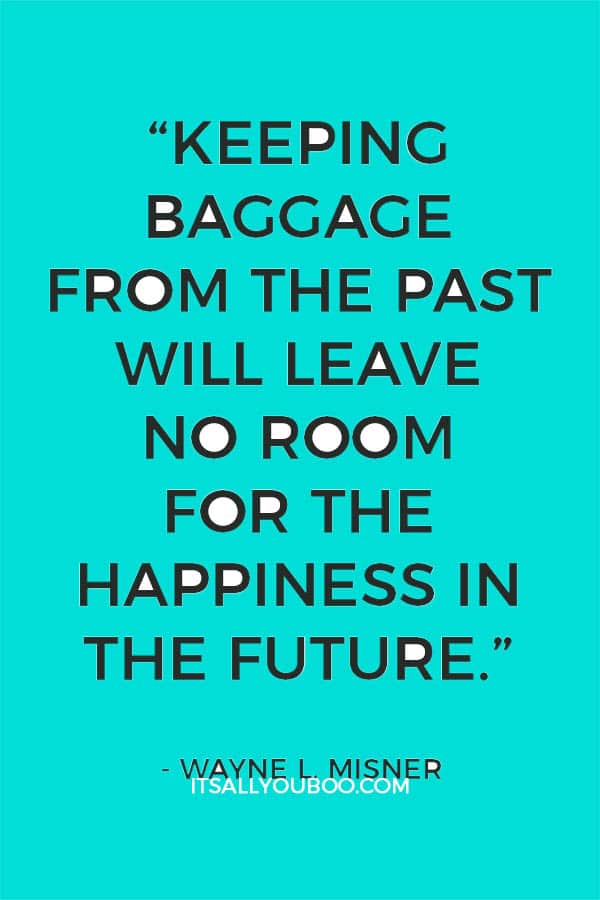 To Sell:
Is it too small, too big, stretched out, unflattering, or out of style?
Is it in good condition? (Are there any holes, discoloration, tears, missing buttons, etc.?)
Has it been lightly worn?
Is it a name brand/designer piece?
If the piece of clothing is lightly worn, in good condition, and is a name brand, you should consider selling it online on sites like eBay or Poshmark to try to make some money back on it.
To Donate:
Is it too small, too big, stretched out, unflattering, or out of style?
Is it in good condition? (Are there any holes, discoloration, tears, missing buttons, etc.?)
Can it be not altered or fixed?
If the item is still in good condition but cannot be altered and is not a name brand, you should donate it for someone else to use and wear.
To Throw Away:
Is it discolored?
Is it heavily worn?
Does it have a hole or tear?
If the garment answers "yes" to any of these questions, it should be thrown away. You have no use for it if it's not worth keeping, donating, or selling.
Tips for Overcoming the 5 Stages of Clothing Grief
As soon as you begin decluttering your wardrobe and placing clothes into distinct piles, there are times when sentimental pieces of clothing can bring the entire detox process to a halt. Everyone can relate to the feeling of sifting through old clothing and suddenly being bombarded with many emotions all at once.
This is known as the 5 stage of grief from cleaning out your closet. There are many emotions that you are likely to feel, but can be easily overcome with the right techniques to keep the cleaning a positive experience.
Stage 1. Denial
In the first stage, you're cleaning out your closet when you come across a garment you haven't worn in years. You try and convince yourself:
"I don't need to throw it away… I can always wear it as a pajama shirt."
"I'm sure it hasn't been that long since I last wore it."
"High-low hemlines are totally going to come back into style in a few years."
Tip #1: Be honest with yourself. If you have a tiny feeling of doubt in the back of your mind, you're most likely not going to wear it again.
Stage 2. Anger
In the next stage, you begin to feel angry and frustrated about getting rid of clothing that you aren't quite ready to part with.
"Why doesn't it fit anymore; I just bought it recently?"
"If I have to get rid of this garment, I'm not getting rid of anything else!"
"I won't have anything left in my closet to wear!"
Tip #2: Allow yourself to feel anger or frustration and accept that these feelings are all part of the process. Take a small break and come back to that item again later after you've given yourself plenty of time to think. With a clear mind, you are likely to have an easier time coming to a decision.
Stage 3. Bargaining
After the anger begins to fade, you try to strike up a deal with yourself by offering up other garments in exchange for keeping this one.
"I will trade that top if I can keep this one instead."
"What if the perfect occasion to wear this skirt comes up and I need it, but instead I gave it away?"
"I promise I will wear it!"
Tip #3: The fashion is an industry of commerce and a bit of bargaining is understandable. Remember, though, that you might be able to add that skirt to the "sell" pile. Is an old skirt today worth that cute, trendy top tomorrow?
👉🏽 RELATED POST: 12 Easy Ways to Spring Clean Your Mind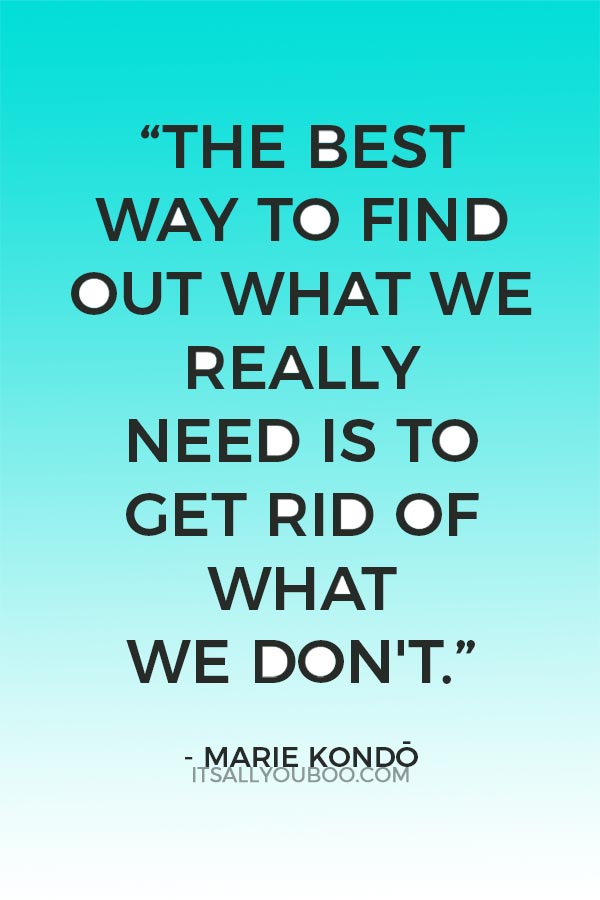 Stage 4. Depression
Once you realize that you're likely getting rid of it, you begin to reflect back on when you bought it, what you wore it to, and how many years you have had it. You're suddenly plagued with sadness over this old piece of clothing you don't wear anymore. It's as if you're giving away a piece of yourself with this item.
"I'm sad I won't be able to wear it anymore."
"I used to feel really happy and confident when I was wearing that."
"I remember wearing that on a date with (insert ex's name here)"
Tip #4: Instead of being sad and depressed about giving away something that you once loved, remember all of the good memories that you made while wearing it. Think about how it can help someone else and all the memories the next person will create when wearing it. It won't do any good sitting in your closet as a memento collecting dust.
Stage 5. Acceptance
Finally, you make it to the last stage of acceptance. You finally realize that you're going to be okay and you're actually better off without it hanging in your closet.
"I will have more space in my closet if I let it go."
"If I get rid of it, I would be able to buy a few more trendy pieces to add to my wardrobe."
Tip #5: You have a realization that if you get rid of it, you can replace it with something new and shiny. Be able to have the clarity that it is has served its purpose and is no longer serving you. It is not something that you need to hold onto.
Declutter Your Closet and Your Life
After deciding what to purge from your wardrobe and overcoming clothing grief, bag up all of the clothing in your sell, donate, and throw away piles. Remove them from the room and from your sight. This will help you to keep moving forward instead of looking back.
Next, neatly hang the clothing that is left in your keep pile back up in the closet.
Top 4 tips for organizing your closet like a stylish pro:
1. Organize your entire closet
After de-cluttering, organize garments and items with new hangers, storage bins, and a shoe rack. Create plenty to storage options throughout your closet.
2. Hang garments so that they are all facing the same direction
This will create a sense of cohesion throughout your space and look visually appealing. Items that are hanging in front of you are easily visible and are more likely to be worn.
👉🏽 RELATED POST:  How to Build Your First Capsule Wardrobe + Examples
3. Color code
Hang items in your closet with like-colors together. For example, all red, burgundy and maroon items should be jointly placed.
4. Organize clothing by silhouette
Skirts should be placed with other skirts and tops with other tops, all within the same color scheme. This will making finding garments in your closet a breeze.
Phew! What a relief to have your closet organized. Less stuff means less to clean, arrange, wash, and store.
Unfortunately, this feeling of accomplishment that comes after clearing out and organizing your wardrobe will likely be gone within a few weeks. After cleaning out your closet and getting rid of old styles, the excitement for new clothing begins to build. It is a vicious circle that happens year after year because there is always room for more clothes, jewelry, shoes, and accessories. There is always going to be a new sale going on or a new trend that you are dying to try each season. It will be tempting to rush out and buy new clothes to fill in the gaps you just created.
Avoid succumbing to old habits and quickly re-stocking your newly condensed wardrobe. Here are some tips to keep your closet decluttered month after month and save yourself some agony the next time spring cleaning rolls around.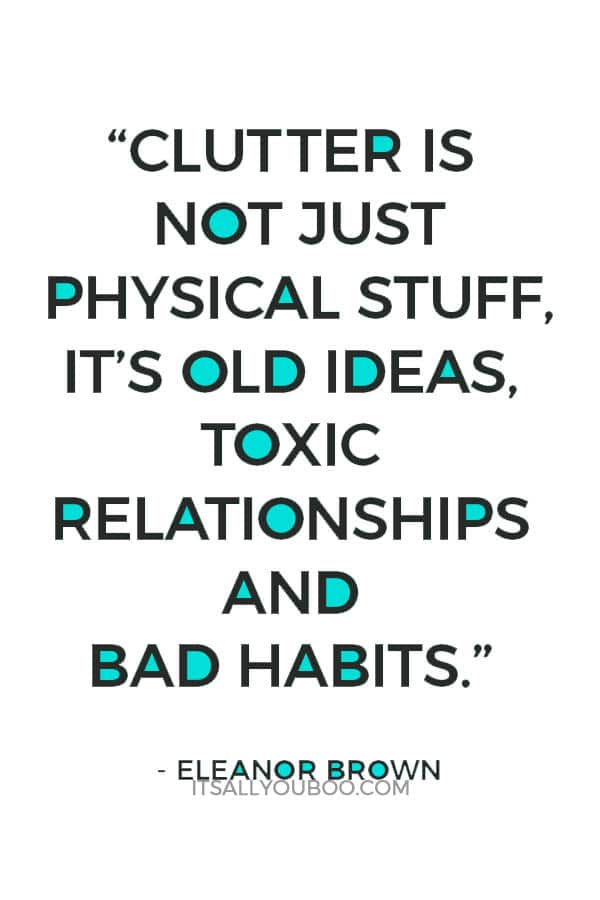 How to Keep Your Closet Decluttered
1. First, wait three months before shopping.
This will allow you ample time to wear what you already have hanging right in front of you and discover what gaps need to be filled if any.
2. Only allow yourself to buy 1-2 new pieces per month.
After the three month waiting period has passed, this technique will force you to consider what you truly need in your closet. It will help you avoid purchasing impulse items that are likely to sit in the closet, untouched, only to be thrown out next year.
3. When shopping, add new colors.
Look for colors that you don't already own to ensure that the garments you're bringing into your closet are worthwhile. If you already have 3 coral colored shirts, you probably don't need another one.
4. Look for new silhouettes.
Shop for garments that are not already hanging in your closet. Instead of buying another asymmetrical moto-cross leather jacket, buy a versatile trench coat. Things that are too similar create competition and each will get fewer wears.
5. Get rid of items in exchange for new ones.
Each time you purchase new clothing, be ready to eliminate some of your current clothing to make room for it. Instead of buying more and more items that clutter your closet, challenge yourself to clean and de-clutter as you go. Each time you buy a new piece, get rid of at least one piece hanging in your closet.
Spring Clean Your Mind Checklist
Don't just stop with cleaning out your closet and decluttering your wardrobe, spring clean your mind and your life too.

Are you ready to clean out your closet?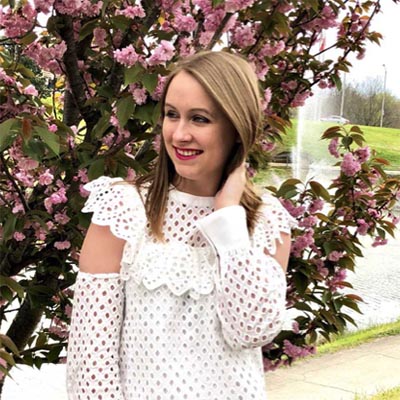 More About Guest Contributor
Hello, I'm Nicole Limpert, the creator of
Limpert in Leopard
. I am a fashion obsessed, seamstress by day – fearless, fashion designer by night. I earned my bachelor's degree in fashion design and merchandising in 2015. Limpert in Leopard is a blog that was created as a platform to share my passion for fashion and a knack for sewing with the world. With this blog, my mission is to help women find their personal style and feel confident in everything they wear.
Last Updated on February 22, 2022
✕
Get the Checklist!
+ weekly tips to help you slay your goals.