Looking for easy ways to spring clean your life?
Do you need to deep cleanse, declutter or detox your life?
Ah, springtime.
The birds are out, the flowers are blooming, and the sun is coming out to shine on all the dust and dirt that's been gathering all winter. Yuck!
Grab the mop and broom and dig in for some spring cleaning!
While you're cleaning out your closet consider cleaning your lifestyle, your thoughts, and your mind, too.
We can collect and keep way more than we should and we need to regularly cleanse our lives of negativity.
The truth is you can't move forward or grow when you're still holding onto the past and let go of excess emotional or physical baggage.
It's time to spark joy in your life by tidying up Marie Kondo style.
We have eight tips here to help you spring clean your life and cleanse yourself of the winter blues.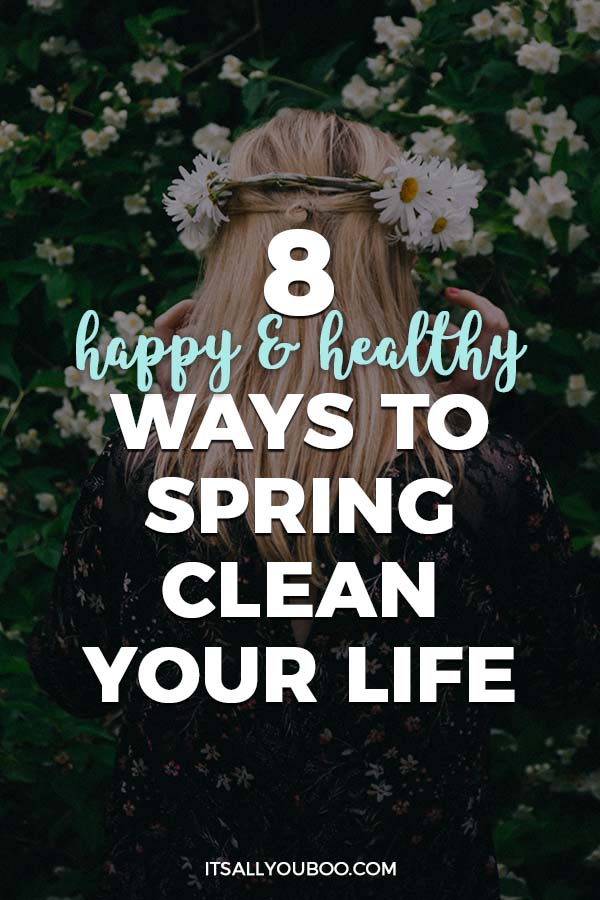 8 Ways to Spring Clean Your Life
#1.
Check Out of Social Media
For months you've been seeing Becky from the fourth grade posting about how she doesn't like her job, hinting about unhappiness in her marriage in an attempt for attention, and so on, and it's bringing you down. Spring clean your life by cleansing your social media accounts.
Instead of just rolling your eyes and scrolling down, try getting it off your newsfeed in a more permanent way. If you haven't talked to Becky since the fourth grade, maybe now is the time to stop kidding yourself and just unfriend her; if there's a reason to keep her around, or you're just not up for the complete cut-out, visit her profile and click your "follow" status over to "unfollow". Yay! No more bothersome Becky!
Keep up this people-junk cleaning spree by leaving groups you're not active in, unfollowing people you don't like or that never post anyway, and finally deleting that ex that's listed in your phone as "Do Not Call". Just get him out already!
👉🏽 RELATED POST: Inspirational Spring Cleaning Quotes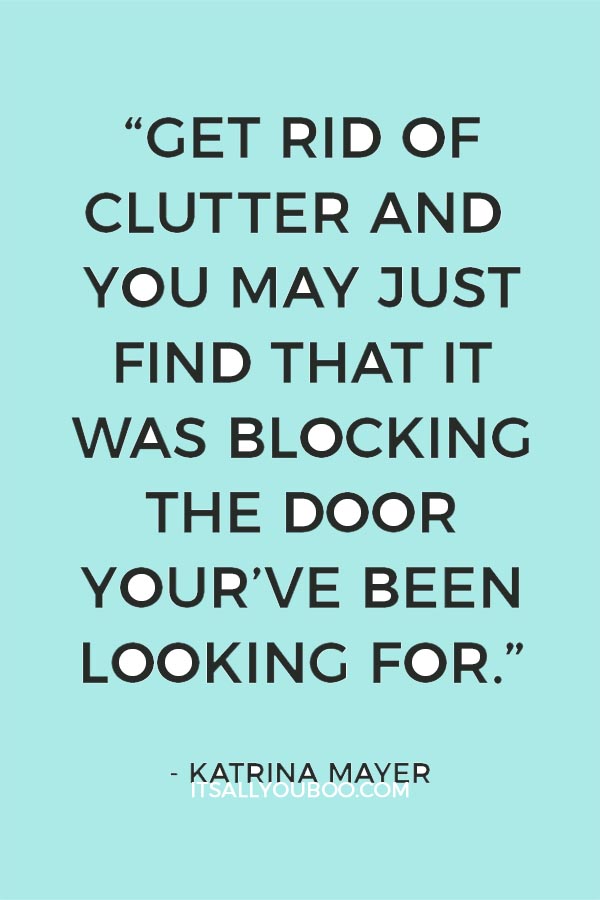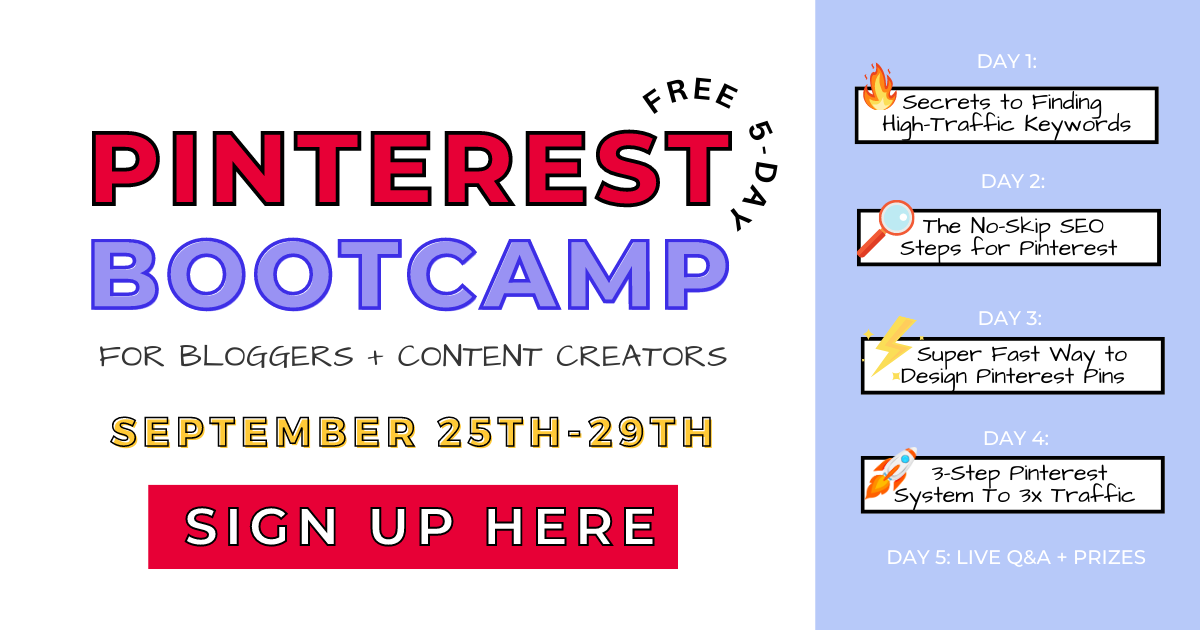 #2.
In With the Good, Out with the Bad
We want to talk about people, here. Winter can be a tricky time for friends and relationships and coworkers: it's cold out, so date nights and friend nights turn into watching Netflix under the covers, and coworkers bond over the mutterings of "it's cold out" and "can you believe Tim tracked mud all through the office?"
Maybe you craved an outing and accepted an invite to happy hour from that old college "friend" that really gets on your nerves, but you couldn't stay in the house one more minute. Some relationships get ruined, others you have to just move on from.
Spring is a time for growth, and you can't do that with weeds all around you (forgive the obvious and overdone metaphor here, but it works).
👉🏽 RELATED POST: 8 Reasons Why an Entourage Can Help You

Be honest with yourself about what you want in life–professionally, personally, romantically, whatevs–and look at the people in your life to see if they're helping or hindering you.
Surround yourself with the good people, and cut back or cut out the bad people. Have an honest heart-to-heart with your BFF or BF or GF or whoever is in your life about what you want and how they can help. Be with the people that make you smile, rather than the ones that have thorns. When you spring clean your lifestyle, you've got to keep the positive, and only the positive.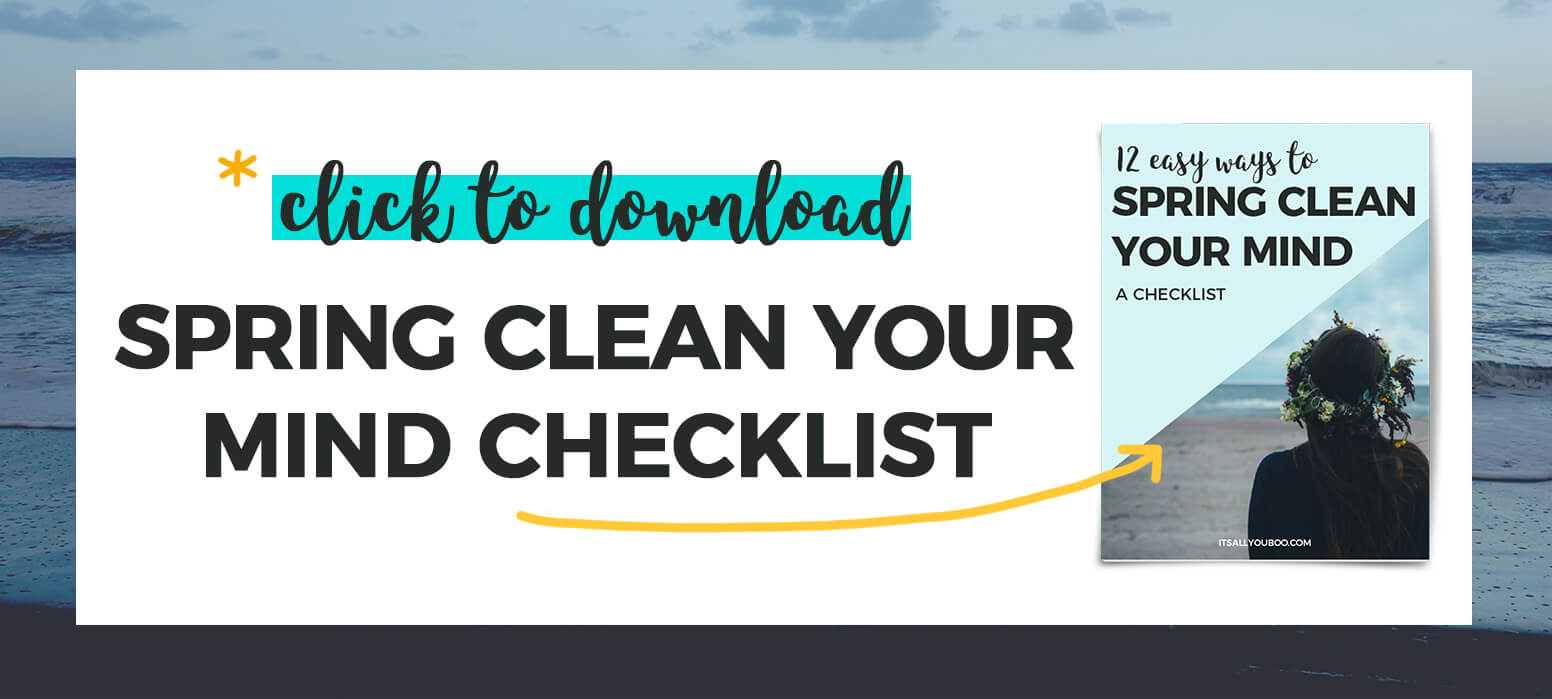 #3.
The Good-For-You Diet Plan
If you're anything like us, then your winter was filled with hearty soups, lots of cookies, and an overabundance of pasta. Feeling a bit heavy and sluggish? Do you have a suspicion that the fridge smells because of those fresh fruits and veggies you got in January but never got around to eating?
It's time for a full kitchen clean-out and a new grocery list.
When you're doing your spring-cleaning kitchen work of dusting the cabinets and scrubbing the stove, add the task of throwing out all the expired food and condiments from your pantry and fridge.
👉🏽 RELATED POST: Healthy Habits List: 10 Easy Changes with Big Results 
And then add one more step: evaluate the food you do have.
Does everything come in a box or a take-out container?
Are the shelves lined with sweets and salty-craving foods?
Is there anything that makes you feel good in a healthy way, not just in a taste-buds way?
Once everything is out and it's time to restock, don't go back to your bad habits of soda pop and queso dip: get some fresh food and eat it!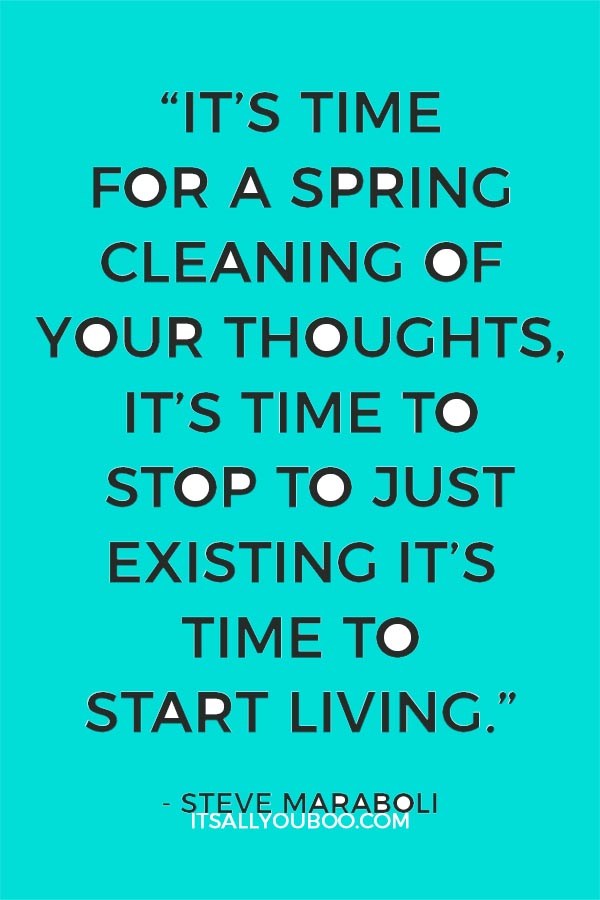 Not only will this cleanout be good for your kitchen, but it will also be good for you. All that processed food weighs you down and can carry some nasty toxins, so by switching up your diet to something fresher and greener and healthier, you're cleaning out your body, too!
No more healthy lifestyle excuses that you're too busy, or that it's too hard. Eating healthy starts with cleaning out the junk.
Keeping with our theme of "cleaning", why not look into clean eating?
#4.
Hustle for that Muscle
Keep the body cleanse going by hitting the gym. Now the time to work on your health and fitness goals!
Exercise is good for you: it strengthens your muscles and joints, gives you more energy, makes you feel better about the way you look, and releases happy chemicals in your brain. Elle Woods said it best: "Exercise gives you endorphins; endorphins make you happy and happy people just don't shoot their husbands!"
The best part is that you don't have to go whole-ham: just 20 minutes a day of whatever activity you like is enough.
We're personally partial to yoga because of the body and mind benefits, but some people like running while others prefer the weight room. It doesn't even have to be an actual workout at a gym: it could be a walk around the neighborhood!
The goal is to not stew about and gather dust, but to get things moving through and out of your body and giving you a chance to unplug from a busy day.
#5.
Dump the Junk
Whether it's the pile of unopened mail on your desk or an overstuffed closet, it's time to pay your overstock some attention. This doesn't have to be about going minimalist, but it is about freeing up some space to let some peace-of-mind in.
Let's take a look at your closet: are there pieces in there that you've hardly worn or haven't worn in forever?
Stop kidding yourself with the "one day I might need it" and just haul it out. Got a pair of panties that are still technically good, but have a bunch of holes in the lace? Have several pairs like that? In the trash, they go. Holding onto solo socks in hopes you find their matching partners, but it's been two months and they're still single? Into the bin.
Give yourself space to easily see and access the wardrobe pieces that you do wear. Take this even further by building a capsule wardrobe that you love.
👉🏽 RELATED POST: How to Clean Out Your Closet: The Ultimate Guide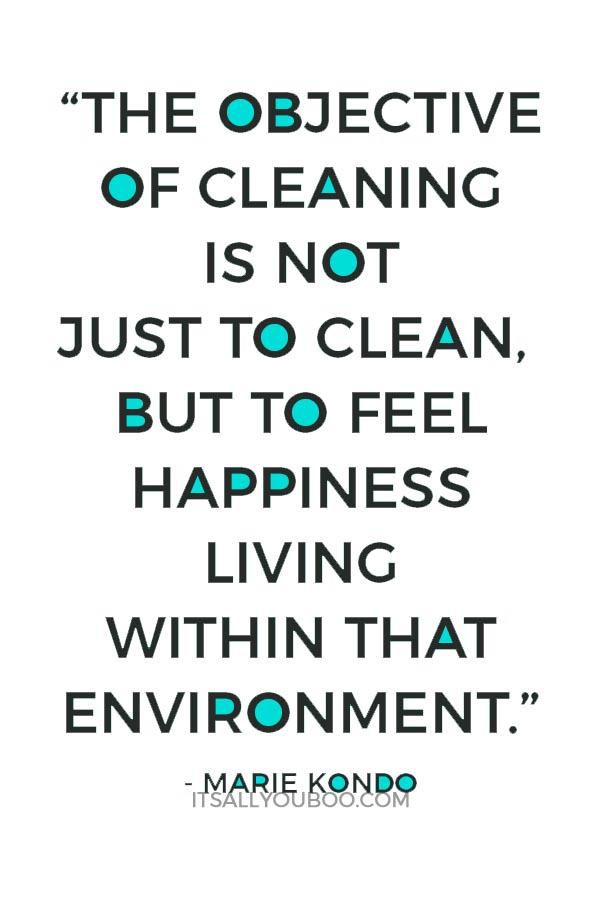 Try this out in other areas of your house. If you get a bit frustrated by sorting through seven different cooking pans when you've only ever used three of them, maybe it's time to dump the other four. Too many eyeshadow palettes that you don't use?
Dump the excess. That annoying boyfriend that is way too clingy? Dump him. You get the idea.
Spring clean your life by dropping the physical, emotional, and mental clutter. Let go, you'll feel so much better!
#6.
So Fresh and So Clean Car
The more clutter there is around you, the more stressed you feel. We don't like having trash, clothes, water bottles, or other random accessories in our cars: we like to have it cleared out and clean, so we're less distracted. If you can't clear it out, at least organize it.
Rather than letting necessary emergency equipment–jumper cables, windshield-wiper fluid, ice scraper, etc.–clunk around in your trunk, stash it all in a basket or bin back there. Vacuuming out the interior makes your car feel (nearly) new again, which makes you feel better about driving it. Wipe down the steering wheel with a Clorox wipe (think of how many people have touched a gas pump) as well as the dash and cup holders that gather dust and crumbs.
The exterior matters just as much as the interior. A car wash can be as cheap as $5 if you do it yourself. Get all the backsplash from the roads off and make sure your windows are streak-free so you can see out of them clearly without a sun glare.
Having a clean and germ-free interior and exterior will change the feel of your car and create one less mess to distract you.

#7.
Shed Your Winter Skin
Is your favorite winter style is a messy bun or a knit cap, you might not have noticed that your haircut lost its shape long ago.
There's something rejuvenating about getting a new haircut, regardless of if its a trim or a whole new style. Show the world, and yourself, that you mean business about being fresh and clean this spring by cutting off those dead ends!
While you're at it, pamper yourself with a good face and body scrub to relieve yourself of that dead skin buildup. Maybe you can spring for (hah, get it?) some other spa or body care treatments to detoxify yourself and feel good about the new season.

#8.
Return to Your Goals & Resolutions
There are goals that can take a long time to tackle. A lot of times, we push these on the back burner of our minds, only thinking about them occasionally. Let's bring those goals back into focus.
Remember that reading list of 20 books you wanted to read this year and have only read two? Or how about dropping off your donations to the Salvation Army instead of having the pile grow in the corner of the dining room? Don't let those goals get stale in the back of your mind, causing you to stress from time to time.
👉🏽 RELATED POST: 6 Simple Secrets to Setting Achievable Goals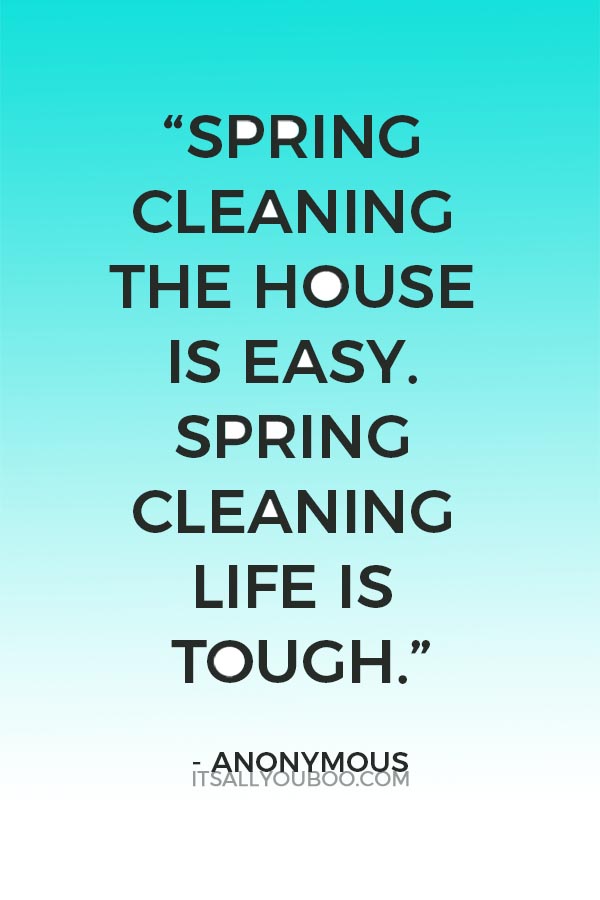 Create a checklist of what you want to achieve, no matter how easy or difficult they are. Have a date you want to have that task completed by and cross it off once you're finished. Our minds love lists: checking off things or crossing them out gives us a sense of accomplishment. So bring back all those goals you had, write them out on paper, set dates, and get your mind organized.
It's also a great time to check in with your New Year's resolutions (or mantras, in our case) to see if you're on track. If you're not, it's time to refocus and figure out a plan to make it happen because there's still time to succeed!
If you are miraculously on course, congrats to you and please tell us your secrets.
Spring Clean Your Mind Checklist
Your mind is an important part of spring cleaning your life! Get your Printable Spring Clean Your Mind Checklist.
Do you feel like your life needs a good spring cleaning? Ready to cleanse your life of the winter blues? Here are 8 ways to spring clean your life by @TwoFeelsWrite #springcleaning #mindfulness

What's your favorite way to spring clean your life?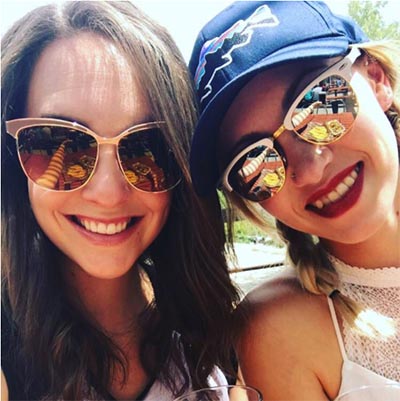 More About Guest Contributor
Originally, Belle and Elena were little more than neighbors in the university freshman dorms. It wasn't until they shared two classes their senior year that they became an inseparable duo of sass, laughter, and dreams. Now, at 24 and 25 and finally, beyond their college town, the two have decided to use those lovely English degrees of theirs to maintain and share their passions for books, travel, and the ever-irritating Millennial lifestyle. They co-author the blog TwoFeelsWrite in the hope to inspire and connect with others, while also keeping their own lives on track
Last Updated on February 22, 2022
✕
Get the Checklist!
+ weekly tips to help you slay your goals.