Do you love planning your goals and dreams?
Is it easy to plan, but hard to take action?
Are you a planner or a do-er? Planning every detail sure is tempting, but is it the right choice? Click here to learn the truth about planning. #PlannerLove #PlannerGirl #PlannerAddict
Plans, plans, plans. I got plans, you got plans (maybe, maybe not).
Ever spend a crazy amount of time researching and planning for something?
Or maybe on the flip side, you decide to just do it and planning be damned.
"I don't need to plan, I got this." (Ain't nobody got time for plans!)
Intro here…
Table of Contents:
I'm sure psychologists say that there are two types of people, those who plan and those who do not. Maybe it's a personality thing, maybe it's a practical thing, but either way, I'm sure you relate more to one of these approaches.
I've been reflecting a lot on the history of my own plans this week. Mostly I've been taking a step back and charting my last four months of plans and how they have turned, shifted, grown, shrunk, changed back again and just about every other transformational describing word you can think of.
But more importantly, I've been reflecting on how my very approach to the idea of planning has also gone through a similar metamorphosis. Spoiler alert, even though I'm totally a planner and super (like frighteningly so) into "doing my research" by nature, I'm definitely now leaning (pun totally intended) towards less pre-planning, more doing. And I'll explain why.

Planning to Fail or Failing to Plan?
What's with this week, the internet breaks (not that that outage actually affected me) and now as I sit here mid-word, thinking about the flow of this blog post I lose power? (Thanks, as if the ridiculous prices for electricity weren't bad enough, now it's unreliable too).
Start the clock, I've got 4 hours and 54 minutes of battery power (apparently, I swear it always lies) to write, add photos, edit, publish and send this out before I'm plunged into the dark ages, blogging by candlelight, for who knows how long.
Oh no, and the only 46% of iPhone battery I have left that I'll need to tether to get this baby online. Going dark, I am officially disconnected (scary, so scary without an active connection, hello, oh wait you can't hear me).
I'm sorry, I know this is a bit off point (and I'm really trying to keep my posts on point), but it so proves my point.
All I wanted (I mean planned) to do today was write my new blog post, do some bookkeeping and sit back and enjoy (and by enjoy I mean scream my way through) the season premiere of The Walking Dead.
👉🏽 RELATED POST: How to Use Time-Blocking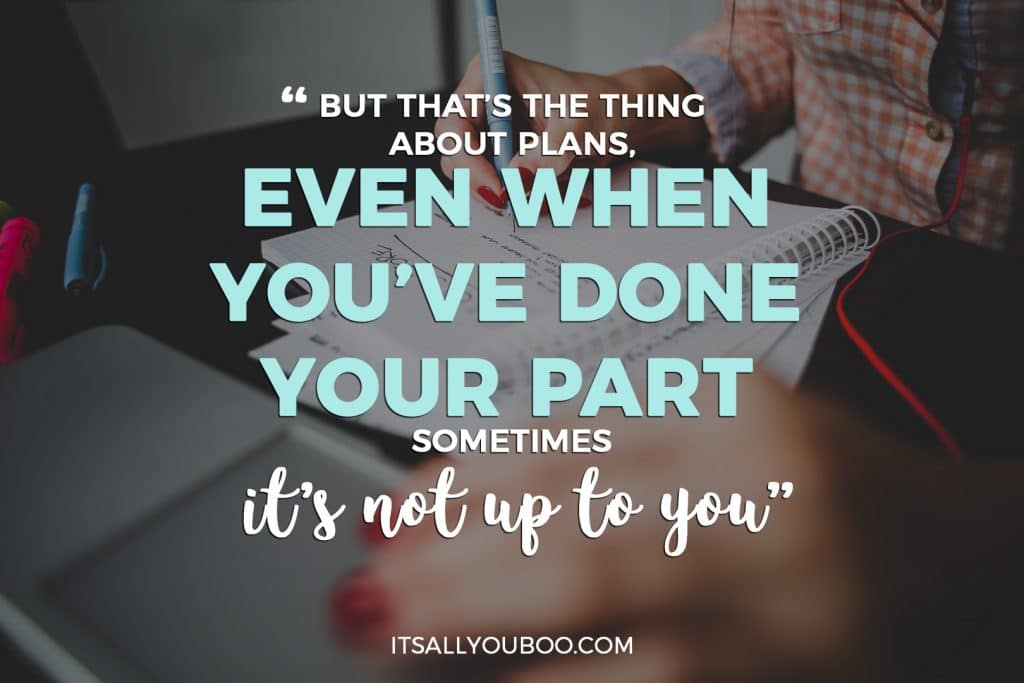 But that's the thing about plans, even when you've done your part (or trying to as I am right now), sometimes it's not up to you, stuff breaks, things go wrong, scripts go off-book, but you just have to roll with it.
And you can never really know the challenges you'll face until you start the actual doing, as most are unforeseen and surprising to even the best planners.
*Sniffles*, I was just about to boil water to make a cup of well-needed coffee too.

Planning in Reverse
Since announcing that I'm creating my online course, I've had many opportunities to share my story as to how I landed on "online courses" as my next move.
Also, being in that pre-launch phase and having my course start date approaching fast (ahh! scarier than Negan, yet more dreamy than Jeffery Dean Morgan), I figured it's a great time to sit back and admire the journey so far.
Truthfully, it's also the perfect time to reassure me that no matter how this current plan goes, it's still just part of the journey. This plan may fail, it may go better than I hoped, but either way, it's just a turn around the board. It's not my first and it won't be my last. I will live to pass go many more times as long as I don't give up.
Just two years ago I thought I'd be an employee forever, and then about a year ago being fired I thought I was doomed. Look how quickly "plans" can change and continue to change daily.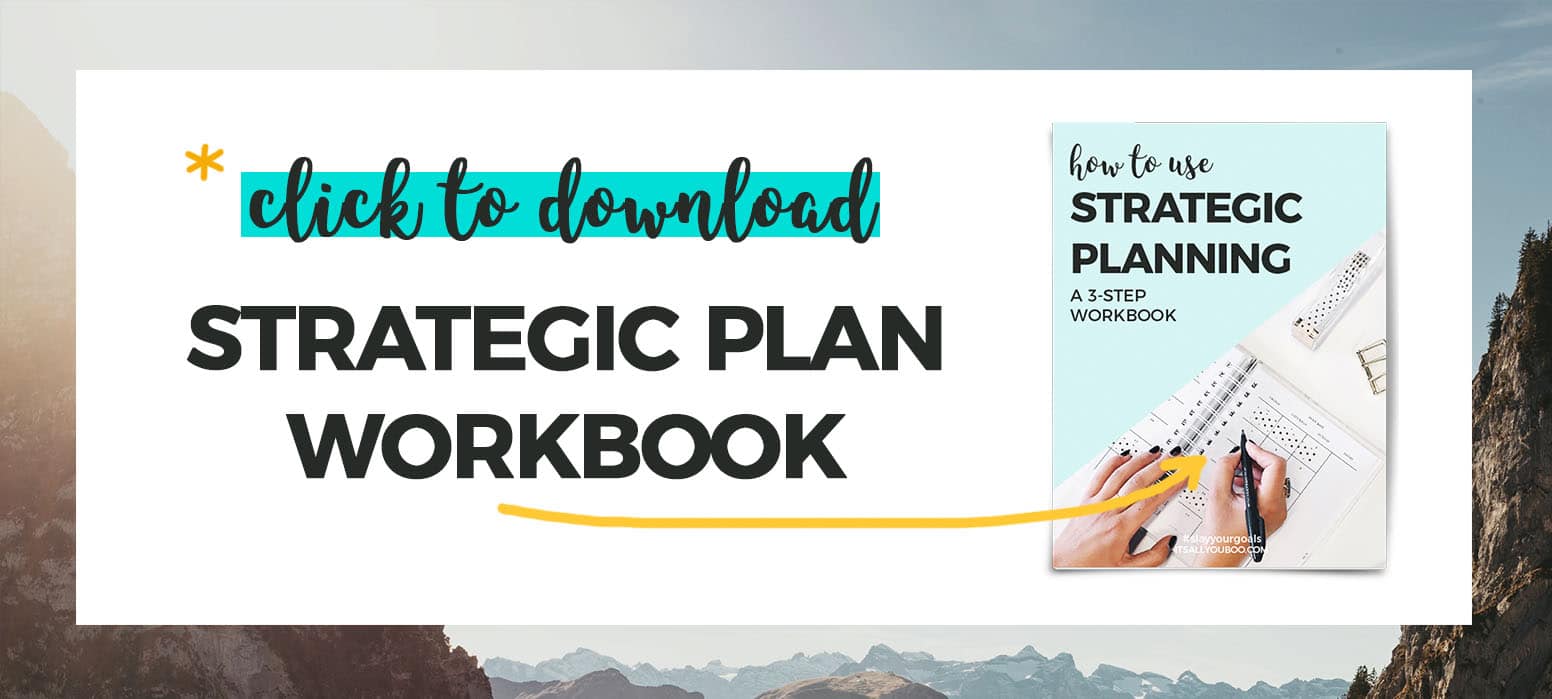 All the Plans So Far
Welcome to my planning graveyard, plans in storage on the right and plans decomposing on the left.
I've had so many ideas over the last year and nearly just as many plans for said ideas that I've abandoned. Some I've invested more in from price estimations and even created content, while others I was able to move past rather quickly, usually because my attention went elsewhere.
Some of those have either been ditched entirely and forgotten by my desk side or are in cold storage for possible future ventures when the timing is right.
👉🏽 RELATED POST: How to Create A Successful Blog Business Plan
Here's a brief recap of the plans that led me to where I am today:
WEBSITES:
"I could make websites for small businesses and entrepreneurs. Maybe make a website for websites?"
Current Status: Definitely not making a website dedicated to making websites, I already have too many websites. Realized having a website hasn't prevented me from landing web design clients. I enjoy keeping this more or less secret.
PHOTOGRAPHY:
"Yes, photography. I should work on a business plan for this for sure!"
Current Status: The business plan is half-way there, but not sure when I will finish it. I did realize as I was writing it that maybe one day I'd like to own my own studio. But for now, I have all I need to get clients – my reputation and my website.
NON-PROFIT:
"More photography, yes more! I so want to make a photography-related non-profit with my friend."
Current Status: On hold until 2017 (or for how long no one knows). We got caught up in planning, mostly because we weren't in a position to do much at the time. Or maybe we just believed we weren't?
👉🏽 RELATED POST: How to Overcome Your #1 Struggle as an Entrepreneur
PLANNERS:
"I could totally create planners for people who want to start dreaming or launching their ideas."
Current Status: I already planned out the content and pricing for printing these. Just flipped the order, I'll create my courses then launch the planner. This will happen people!
CONSULTANT:
"I can totally work one-on-one with people who have ideas and want to start businesses."
Current Status: This is who I am and I can't help but encourage others to pursue their dreams. Can't I do this from here?
BLOG:
"Should I blog? I have all these ideas and would like to just talk about all this stuff I'm facing with dreaming and launching my businesses."
Current Status: You're reading it! It's now live, but before this, I started by just emailing friends drafts for a few months.
COURSE:
"OMG, this is perfect. Yes, a course! Why I am just hearing that this is even a thing. The best way to motivate people to chase their dreams."
Current Status: Truth is I had a few false starts and got distracted a bit in 2016, but they're coming in 2017. I've got more ideas (no plans yet) than I have time to create.
No matter what the next year of my life has in store for me, this year has taught me a few (maybe not so accepted) truths about planning that will serve me well moving forward.
They may tell you that "those who fail to plan, plan to fail," well I say, "sure, said the one dude whose plan didn't go up in flames."
Because as you can see from above, as much as I create plans, I abandon them almost at the same rate.

Five Problems with Plans
#1.

An Excuse for NOT Taking Action
Guilty of this one for sure. "How can I get started on this idea when I'm still just planning? I'm not ready, I don't know everything about non-profits." It's way too easy to get stuck in the research phase when often the best way to learn the road ahead is to just get going.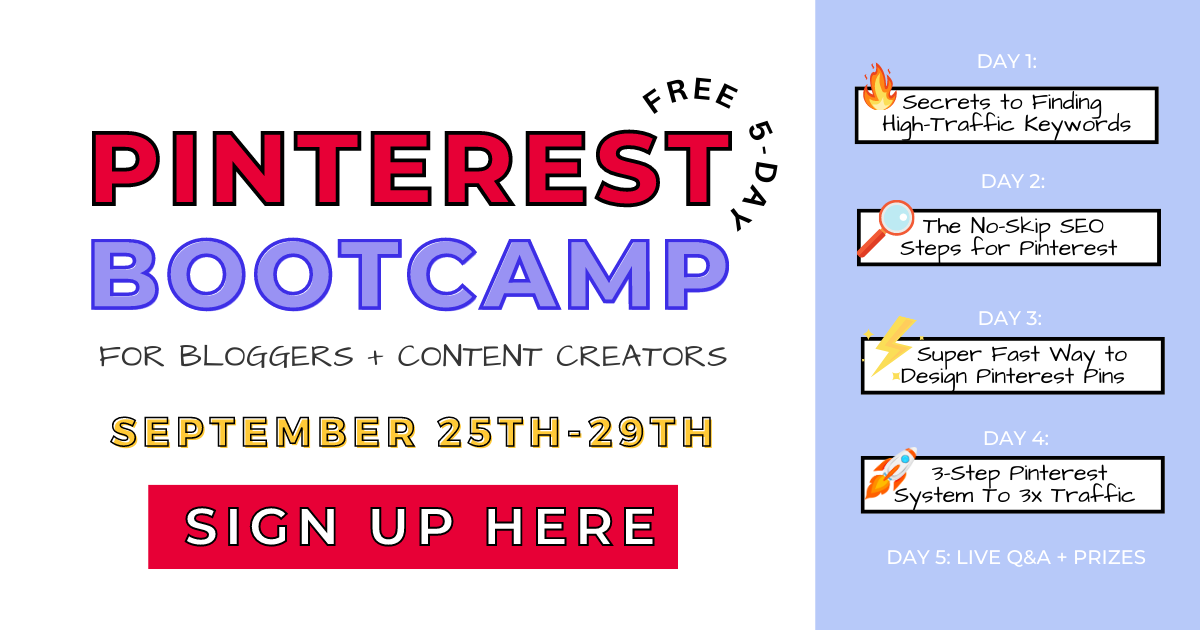 #2.

Takes A LOT of Time To Create
Ain't that the truth! Ever tried to make a blog business plan? Creating a detailed plan takes time. Also, if you're planning with others and require collaboration, input from others and/or approval(s), your timeline will be extended. Do you really need a business plan? Probably not yet!
#3.

May NOT Even Be Used
Nothing more wasteful than creating a plan that you end up having the throw out the window because you've discovered either you were wrong, or you're moving on. Your priority should be proof of concept and proof of viability more so than planning.
#4.
Hard To Let Go Of
Not having a plan, or having invested the time and energy into creating elaborate plans enabled me to shift from one concept to another without being "too invested" or mourning the death of my plan. Sometimes the hardest part is just letting go and then having to "start over." Although, it's never really starting over, it's starting from a better, more informed place.
👉🏽 RELATED POST: How to Plan Your Year in Advance 

#5.
Creates Anxiety Instead Of Action
My life became full of timelines, monthly plans, week breakdowns, daily plans to the point where I couldn't even look at them. They were giving me serious anxiety and made me feel as if the task ahead was too much to big to accomplish. Not to mention if I fell behind! I had to throw out the plans, literally delete them, and just get back to the simple actions I could do now. Sometimes the hardest part is taking action!

The Alternative
Simply the "plan as you go," plan. It's a plan, just without the 3 or 2-year investment that resembles your mobile plan. I plan in phases and keep my timelines loose and simple.
Literally, a month's plan could read: "October: pre-launch course." Then when October hits, I fill that out into actionable steps week to week and day to day, like "build the email list, create and send the survey, create a webinar, design webinar, invite peeps to webinar…"

By approaching planning in this reactionary, real-world way, I am able to prioritize my time and ultimately save energy, instead of worrying about figuring everything out on paper. I do not plan anything that doesn't need planning, right now.
👉🏽 RELATED POST: How to Take Action When You Can't Get Started
The plan is to keep moving and in my limited experience of half-written business plans and many deleted Evernote's titled "new plan," "newer plan," or "2016 plan," I've learned that instead of grounding my behavior, plans simply weigh me down.
The Promise of Plans
It's not all bad, there are definitely positive sides to planning and for me, that's the promise.
The promise that preparation counts for something, that the one who shows up prepared and ready has an edge over the one who doesn't.
The comfort that comes with knowing the financials and projections, particularly knowing how much you need and how much you're positioning yourself to make. You have to know where your finances stand and what your key numbers are before you plan anything. But in my book, that's less planning and just financial management and budgeting (we can talk about that some other time).
👉🏽 RELATED POST: 8 Simple Steps to Being Your Own Boss  
Another sure promise about plans is that once you start planning, one plan will inevitably lead to another and then another.

Either way, you'll accomplish what you set out to and move onto the next, or you'll shift and you got it, move onto the next. With either outcome, you're moving and if there's anything I know for sure, that should be your goal and the purpose of your plans anyways.
To just keep moving, keep trying, or as Dory would say, "just keep swimming."

The Fine Print

Hey, I'm not saying to not plan, just that you should know when to, and when it might not be the best course of action (if planning is even an action).
If you're opening a brick and mortar location or are reliant on financial investment, sorry friend you probably don't have a choice – you need a plan.
👉🏽 RELATED POST: How to Plan a Goal Setting Retreat
But, even before that plan, your goal should be to start as lean and simple as possible and get proof of concept before investing your time (yes, because your time is one of your greatest investments) and can save yourself from some of the problems with plans that I've mentioned above.
Printable Strategic Planning Workbook
Ready to create an action plan for success? Get the Printable Strategic Planning Workbook and let's make a simple plan for achieving your goals.
Remember, the point of planning is being able to take action, not to excuse it.
Beware of getting stuck in the planning phase. Just get started, you know enough.
Are you a planner or a do-er?
Last Updated on July 11, 2021
✕
Start Strategic Planning!
+ get weekly tips to help you slay your goals.