How do you achieve your goals?
What are the steps to achieve goals in life?
Do you wonder how do you really achieve your goals in life? Click here for the four steps between you and success by @ericsburdon #success #goalsetting
Whether you're going at this alone or a large organization, goals are essentially a cornerstone of your business. However, I believe most people are setting goals for the wrong reasons. That or the people below them are so disengaged from it.
In large corporations, a lot of people don't seem to enjoy their jobs. Although the list of reasons for job dissatisfaction is lengthy, I'd like to focus on one in particular: The disconnection between the vision of the corporation and it's employees.
Sometimes the reason could simply be the politics or you wanting to scream at your annoying and tyrannical manager. But I can imagine deep down some people question how they fit into this machine?
They know their job serves a purpose for the company in some way, but how does it help with the overall vision? Because if you don't know that, then you ask yourself "what's the point in this?"
Table of Contents:
Even for solo businesses, you can feel that way when you don't set goals properly when you lack a vision. I know for myself I've felt that way before. Not long ago, I was highly unmotivated and overall lazy. I talk a little about it here.
For nearly a year I was setting meaningless goals that didn't amount to much of anything. When I achieved them I felt unsatisfied and empty. When I didn't, I didn't really care all that much.
It sucked. But I'm glad I had that experience because that experience taught me how to set goals properly. It built me up so I could stop procrastinating, and in the end, it was all worth it! I went from some guy with a blog to calling myself a writer, an entrepreneur and started slowly building my confidence.
Mind you, it's still a work in process, but everything is a work in process when you think about it. Either way from this revelation, I'm able to explain some things about goals:
Firstly, how to achieve your goals.
Secondly, why it's so important to do that.
And thirdly, how we can trick our brains that our goals are amazing and worth doing.
Let's do this.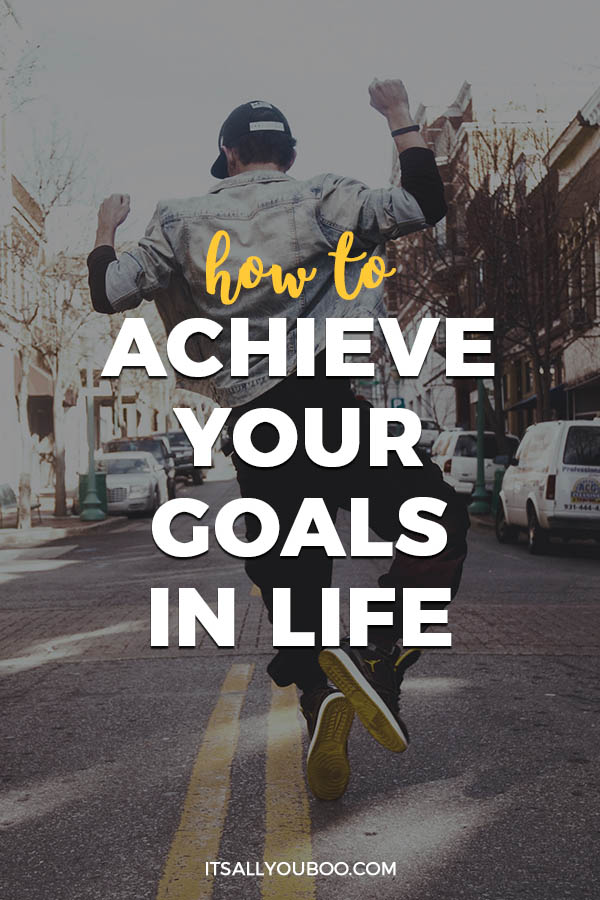 It's Not About The Goals, It's The Journey
When you learn how to achieve your goals, or at least when I realized it, I discovered something. The big discovery was this: It's not about the goal, but the journey.
These days, my goals are strict and don't provide many variations. Even though I go about goal setting completely differently now, this technique (along with another I've explained below) is honestly used to reprogram your brain.
Many people feel utterly disengaged with goals they don't bother pursuing it. Again we run into the same problem when employees and disconnected company visions. Instead, what this way of thinking is doing is shifting away from the overall end result of a company. Instead, when you focus on a journey, you are more invested in the process, rather than the end result.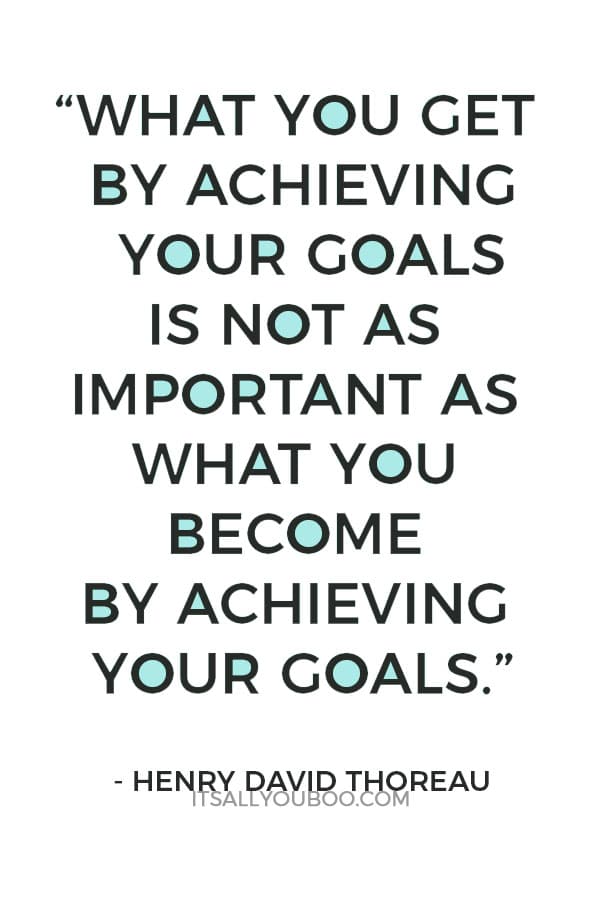 One of the goals that I announced is that I want to read a book every week this year. It's a massive endeavor. Although I do have a reason for setting that goal, I'm more interested in the journey. I'm looking forward to what book I'll pick up next and what I'll learn.
The thing is I'm more excited about reading the books I've picked up as opposed to focused on the satisfaction of reading 52 books in a year. The process is more intriguing to me because I convinced myself it is.
👉🏽 RELATED POST: How to Automate Your Success with Good Habits 
That's also why I don't give up when I fail to hit that goal. Sometimes I pick up a book that is nearly 400 pages long and takes me a week and a bit to digest. I don't give up on the dream, instead, I focus on the habit of routinely reading.
Because that is honestly what I'm focusing on here. The satisfaction from the reading 52 books is a bonus. So enjoy the process. It doesn't hurt you and can make a difference.
You Also Need Purpose
If you want to learn about achieving your dreams and goals, you need to have purpose too. I'll explain a technique for this below, but for now, know that purpose is also an element to keep in mind.
One thing that I've told people at times with goals is you need to sell yourself on those goals. If you push it off, it means you're not persuasive enough. Furthermore, you are letting your excuses get the better of you.
Again I have a tactic to make this easier, but when you have a purpose to do something, you use it as a strong selling point. When you lack purpose, you lack the ambition to do something. I remind you, I spent a year setting goals only to realize that I didn't care for them.
But once I made the shift, the goals became easier to persuade myself to do.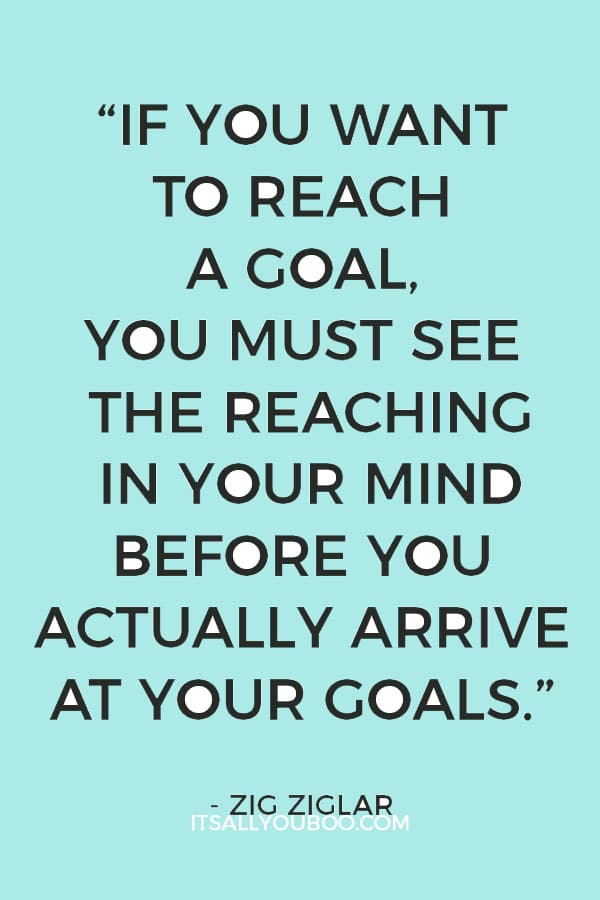 I'm writing this out for you to stress to you to not give up.
Yes, the techniques that I'll talk about in this post will help significantly on how to achieve your goals, but it's a work in progress. Again, enjoy the journey and have fun setting those goals until you find the goals that you really value and encourage you to develop a habit that'll help you.
How To Achieve Your Goals In 4 Steps
Any person can set any kind of goal they want. But what separates the mediocre and the great is the methods behind their goal setting. I don't know how Richard Branson or Oprah Winfrey set their goals, or if they set goals at all, but this framework I believe can help immensely for those on the bottom level.
Richard Branson and Oprah probably don't need it as they already have an agenda of things they want to complete. They've already learned what goal setting can teach us. So they don't need something as formal as what I'm about to explain. But for us who are still rather small to the scene, need this for a variety of reasons.
For one it drives home the meaning of purpose and also to enjoy the journey. So many people lack that and lack the patience to enjoy the process of growing. These steps will drive that home, but also to give you goals and a direction to move in.
Step #1:
Setting Goals Around A Reason
First I want to cover purpose. As I said above, we need a selling point to persuade us and encourage us. The best way to do that is to ask a simple question: Why?
It sounds simple, but it's harder than you think.
During that almost year of setting goals improperly, I spent a few months explaining my rationale, my why, for setting that goal. In the end, it met a predictable result, I didn't complete it.
Even when I had a reason to complete something, I didn't feel compelled. Perhaps it was sheer laziness, but it's also fair to say I felt like those other employees who didn't like their job. As soon as I started to make more persuasive points to myself I saw some changes:
Firstly I opened myself to guest posting and posting regularly on other sites outside of my own.
I started to tailor my workflow to something that made more sense.
I spent a lot of time hashing out the thoughts of what I wanted to do and where I wanted to go.
So this technique can vary from experience. When used improperly it's a waste of time. When used correctly it can provide a laser-precise focus that can recover and thrive your business. It's, for this reason, I praise this method, and also why others praise it as well.
Answering why can be challenging, but you can lean into that question by asking yourself other questions as well. Here are some questions you can ask yourself that I think are powerful to discovering your why:
What do you want to accomplish this year?
What compels you to do what you are doing right now?
Where do you see yourself in a few years from now?
What type of person do you want to be remembered as?
Asking those deep personal questions can be led up to finding a why. All in all a why is something deeply personal, so you can lead into why by asking many other deep personal questions.
Step #2:
Chunking
Perhaps your big struggle with how to achieve your goals is that they're too big. It's a common problem many people face despite the SMART acronym being drilled into our heads in school. As much as I admire overwhelming optimism and confidence, a lot of times it's not realistic (the R in the SMART goals).
Say you've found your why and that is to live a millionaire lifestyle. The first goal you set is to make $50,000 a year. That's a good goal, however, the reality (and for the sake of the example) is that you are only making $25,000 at your full-time day job.
In other words, you need to find something that'll help you make the other $25,000 within a year. For many people that occurrence can literally make the person's brain shut down and give up.
"How in the world will you make another $25,000?! Your day job takes up most of your time!"
That's your brain telling you to give up and in the end, you'll create an excuse to justify not pursuing that goal. But this is also where the next step is in how to achieve your goals.
That step is called chunking: a technique where you break a larger goal into a series of smaller goals. It's an effective technique that isn't commonly practiced. Instead, many people go the route of high optimism (like network marketers) and encourage us to dream of big houses, and large sums of cash. That isn't how to achieve your goals as I've mentioned above, massive shifts are things that your brain is scared of.
👉🏽 RELATED POST: How to Project Manage Reaching Your Goals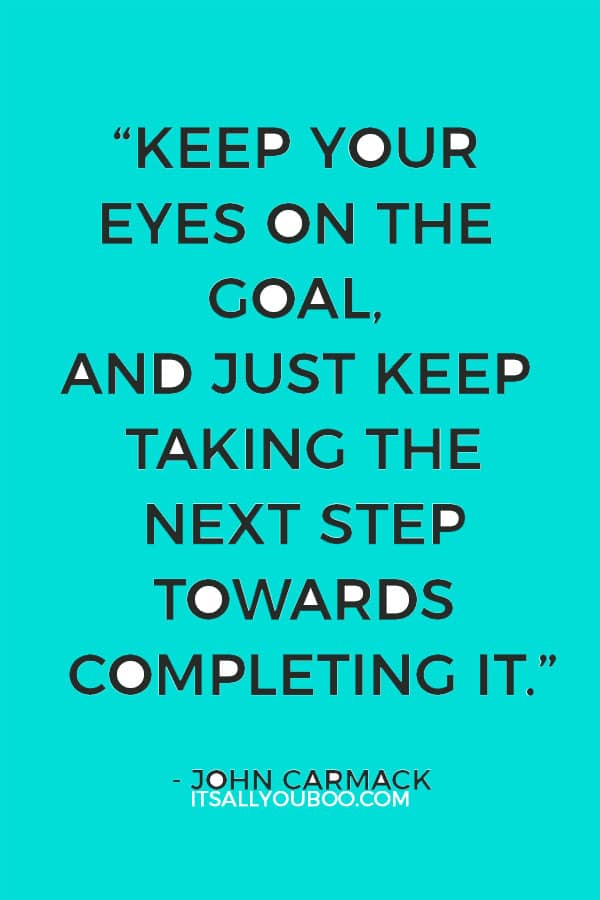 By all means, it's possible to live that lifestyle, I won't deny that. But the reality is that it can take years or one hell of a massive mindset shift to achieve that. The odds of that happening are slim. Instead, it's smarter to go the route of least resistance with how to achieve your goals. So go with chunking.
What chunking does for your goals is make the process easier for you. It also makes your brain calm down. Making bold statements is alright, but when we make bold statements our brain and ourselves will resist naturally. Once you understand this, you can manipulate your brain and persuade yourself to do anything.
All you have to do is break things down into smaller pieces. Going back to our example, a good way for chunking can go several ways:
First, you can go into more specific detail about how you'll make that money. Perhaps sell t-shirts through TeeSpring.
If you've already figured out how you'll make the extra cash, break things down into small portions. Perhaps set a goal to sell 10 t-shirts a week.
If that's not compelling enough, perhaps you need a secondary goal. Perhaps invest in marketing books, or set up a Facebook page advertising your t-shirts to pair it up with the Twitter or Instagram account you have.
There are many ways of chunking, but once you do that, you allow your brain to play a different tune. It'll start letting you try with no resistance at all.
Another alternative is setting smaller goals, that can help build up your belief and confidence. Chunking does the same thing, but there is nothing wrong with looking for options.
Thinking small, with smaller goals is the secret to big success.
👉🏽 RELATED POST: 6 Simple Secrets to Setting Achievable Goals
Step #3:
Making The Commitment
Now it's time to actually take action. It's how to achieve your goals. The first two steps at the beginning shouldn't take a lot of time. I'm a man of "plan a little, move a lot." The most time-consuming part is I'd say figuring out where you want to go in life. That's not something simple.
But this is also the step to make adjustments as need be. After all, a plan can sound and look great on paper, but terrible in the application. Furthermore, you can and probably will run into problems once you get the ball rolling. So don't be afraid to fall back to the other steps. I never said the tools to how to achieve your goals would be laughably easy in application.
But when things are going smoothly for you, you can see the glory of these steps in action. When you have a why, it will truly shine. If it's a good why, you can make the commitment and start asking more questions. Things like:
What can I do to ensure I follow through with my goals?
Can I break things down into smaller pieces?
What exactly isn't working and how can I fix it?
👉🏽 RELATED POST: The One Thing You Need to Focus and Follow Through
That's not there when you lack a vision. You tend to ask "what's the point?" In those instances.
Making commitments ensures that you care about yourself and the goals that are pushing you forward. Honestly, you'll be bouncing back and forth between the first three steps if something isn't working.
It can be exhausting, but when you make a commitment, this process, this journey, becomes fulfilling. This is the reason why you feel compelled and excited to continue repeating the process as this step serves as a check.
Remember, when you fail or make a mistake it's not an excuse to give up. It's proof that you are learning and growing. So don't be afraid to make mistakes.
I love it when I am proven wrong as I get the opportunity to learn something new.
Step #4:
Celebrate The Small Victories
Whether it was a small step towards your goal or the accomplishment of it, you want to be taking the time to celebrate your small victories. Amazing and purposeful goals are achieved by thinking that the small steps are indeed amazing.
The other steps prior to ensure that your goal is purposeful, at least to you. It's something that lifts you up and gives yourself value and you think it can give value to others. As such, it's a victory when you make a small advancement.
You don't need to go all out and buy stuff to celebrate. But a small pat on the back or a "Yes, I did it" can make it all the more satisfying.
Be willing to celebrate the small victories by giving yourself a burst of emotions or start working on the next target goal. A lot of times satisfaction stems from us focusing on the next part of the goal.
Like I said before, the process is more enjoyable, but the ending is satisfying too. So celebrate it.
Now that you understand the steps, you are better able to follow through with goals. But you are also better now at goal setting that gives you meaning and have a system that when used properly can ensure you meet success after success.
Yes, you will still make mistakes, but again it's all part of the process. When you set goals you are learning about yourself and transforming yourself into the person you want to be. That's significant. And it all stems from a willingness to follow through with goals that give your life and your work meaning.
To your growth!

How do you achieve your goals in life?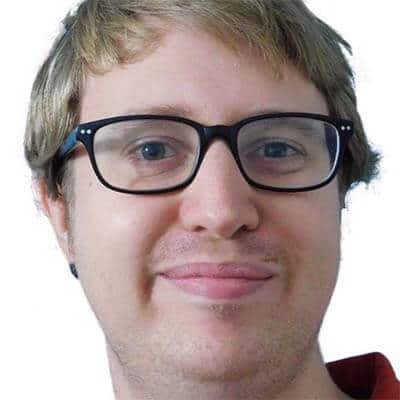 More About Guest Contributor
Eric S Burdon is a Self-Improvement Youtuber and Blogger focusing on building confidence and being positive. You can view more of Eric's work at Eric Scott Burdon and his Youtube channel.
Last Updated on July 11, 2021
✕
Get the Slay Your Goals Guide!
+ get weekly tips to help you slay your goals.