What's it like to being your own boss and a blogger?
How do some entrepreneurs get so much done in one day?
Want to run your own business and blog? Ever wondered how you can do it all? Meet @CSACHB, she's an incredible blogger, mom, boss and so much more. #Entrepreneur #BossBabe #Millennial #BloggersLife
You want to create your dream job and start a profitable business that you love. Maybe you even would like to have a successful blog too, but how do you it all?
What's the secret to balancing your dreams, jobs and family life?
If you've ever wondered how someone can do it all, then this interview is for you. Christina Polovich of Chrissy Adventures, is not only an amazing blogger but manages two companies daily, is a mom, wife and so much more.
Christina not only shares her life story and takes us hour by hour through her day, but also offers great advice on how to become an entrepreneur.
Let's get started.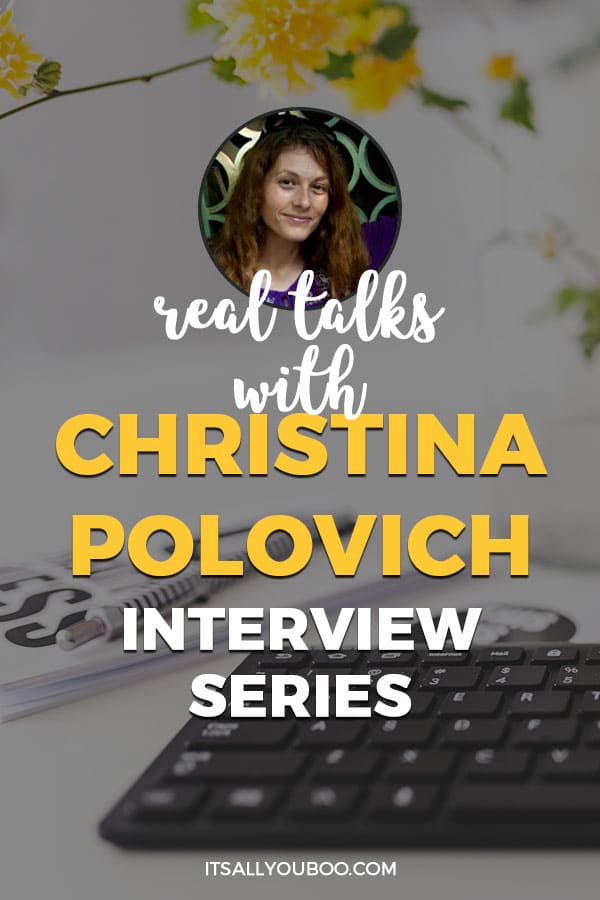 #1.
Who are you and what's your story?
Hi, my name is Christina Polovich. I am the author of ChrissyAdventures. That's my favorite way to define who I am.
I could tell you that I am a Mom, a Wife, business owner, and a Grandma… but really I am just Chrissy.
Before I began writing, life was pretty hum-drum. It was normal, average and I was so tired all the time.
You see, I worked in Corporate America for a bit over 10 years and all I knew was working 40-60 hours a week. I had forgotten what it was like to be a Mom and a Grandma.
In 2009, my whole life changed. My husband of 14 years died as I was attempting to resuscitate him… in front of the boys. I battled with the grief, anger, depression, and PTSD for a year (on my own) before I reached out for help.
My Blog Chrissy Adventures was Born
2010 was the birth of Chrissy Adventures; a way for me to express myself and cope through writing. I created a bucket list of items I wanted to accomplish. After all, I just said goodbye to a man who died with many regrets & I didn't want to live that way (or end that way).
I saw the world through different eyes. I began to really appreciate every day and began to look for the adventure of living. No adventure was too small to be noticed. I realized I wasn't the only one that had been through the issues I faced. I never thought anyone would read what I wrote for sure. Then, they came… readers started showing up. I still to this day am not sure why… but they do.
👉🏽 RELATED POST: When You Just Don't Feel Like It

#2.
What's your average day like?
Take us hour by hour
Routine? What is that? I've heard of this but never had it down pat. I have ADHD and I am lucky if I make it through each day. Ha!
Early morning:
Okay seriously, I start off my day around 5:30 each morning by briefly looking over my social network accounts: Facebook, Instagram, Pinterest, Twitter, etc. I spend about an hour on this while having my coffee. Then I go through my personal emails, blog related emails, and business emails. Each of these has separate accounts and this process takes about an hour.
Next, I watch the sun come up while I breathe deeply and thank God for giving me another day. This is like my morning break.
By 8 am I am working as an office manager of my husband's construction business.
Around 10 am I switch hats and work for the Business consulting LLCI manage.
At 11 am I take my dog for a walk around the neighborhood.
Afternoon:
At noon I go to my website and work on promotions and brand commitments.
Around 1 pm I am back at it, working as Office Manager for my husband's business. The business gets 2 hours for accounts receivable/accounts payable.
At 3 pm I follow up with all my social network accounts again as I walk the dog around the neighborhood again.
4 pm I am back on my website: Blog posts or photography, following up on comments and reading other people's blogs
Evening:
5 pm – my husband's business is closing up for the day so I finish up any remaining calls and/or paperwork
At 6 pm it is supper time! The dog needs a walk so she can poop before supper! Imagine that.
Around 7 pm we are stuffed to the brim and feeling lazy. My husband and I catch up on our day and watch a little TV.
By 8 pm I am sneaking some more social network time in…because I love it. I'll take the dog on another walk.
The day ends between 9-10pm usually and I am off to bed.
👉🏽 RELATED POST: 5 Essential Time Saving Tips For Working Moms
From 8-5 during the day Monday – Friday, I answer the office line for all calls. I multi-task all day and switch hats on a dime 😉
I wish I could say this was a typical day, but every day is different for me. Some days I will be able to spend 5 or 6 hours on my blog. Other days, I just squeeze it in for a bit.
#3.
How do you stay motivated? What or who inspires you?
My subscribers and followers inspire me. We are a community of survivors. We are either battling something huge in life or we have in the past and we stick together. I need them to pull me out of a funk if I slip into depression and I am here to pull them out if they start slipping away too.
Life inspires me. Life is but a blink and it's gone. We are not promised another day and it is by mere faith alone that we go to bed at night assuming we will wake up in the morning.
👉🏽 RELATED POST:  19 Powerful Quotes that Motivate You to Start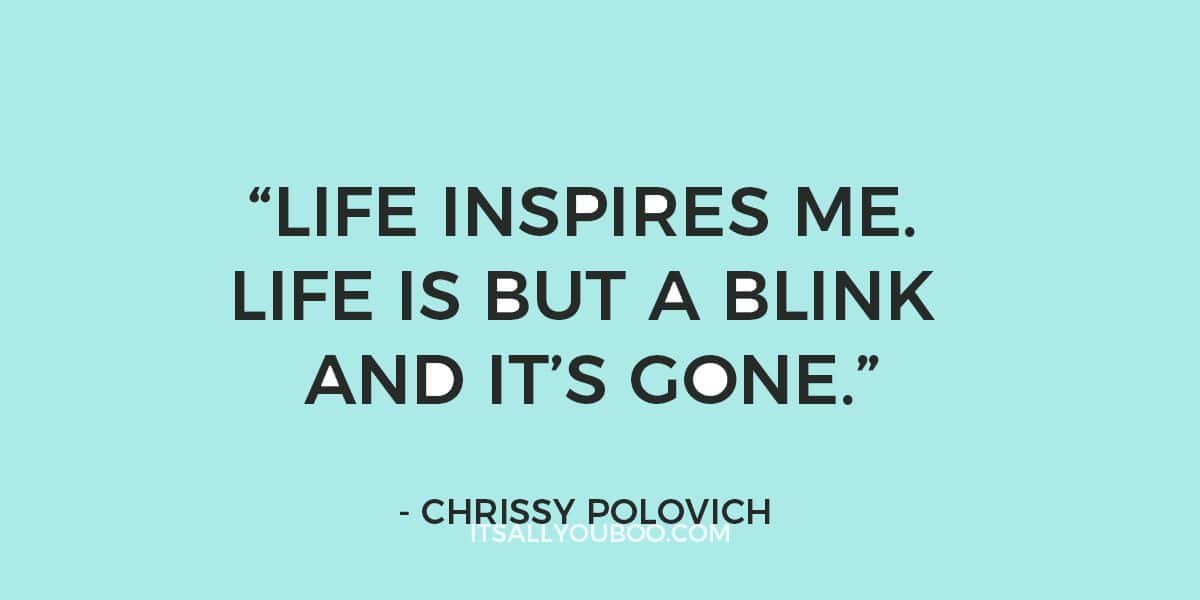 #4.
Let's talk about goals. How do you slay yours?
Goals? I love goals! That's where they throw the ball…into the goal 😉 Yeah, I am bad with goals, always have been. When I achieve a goal I feel like I am on top of the world.
The only way I can personally achieve a goal is to not feel overwhelmed. So I set small goals. This means I have more goals than the average person to accomplish something, but to me, it's more manageable this way.
👉🏽 RELATED POST:  6 Simple Secrets to Setting Achievable Goals
Example goal for me: If the main goal is to write a post, I break it out like this.
Research subject matter
Answer: am I still passionate about this? If yes, move to #3.
Write the first draft.
Edit, revise grammar/spell check draft.
Insert appropriate photos (this step can take hours). I prefer to use my own photos and I have thousands to go through before I pick one.
Preview post
Add Tags, Categories, and publish!
Other people I know will write this goal: Write a blog post. I am not that person.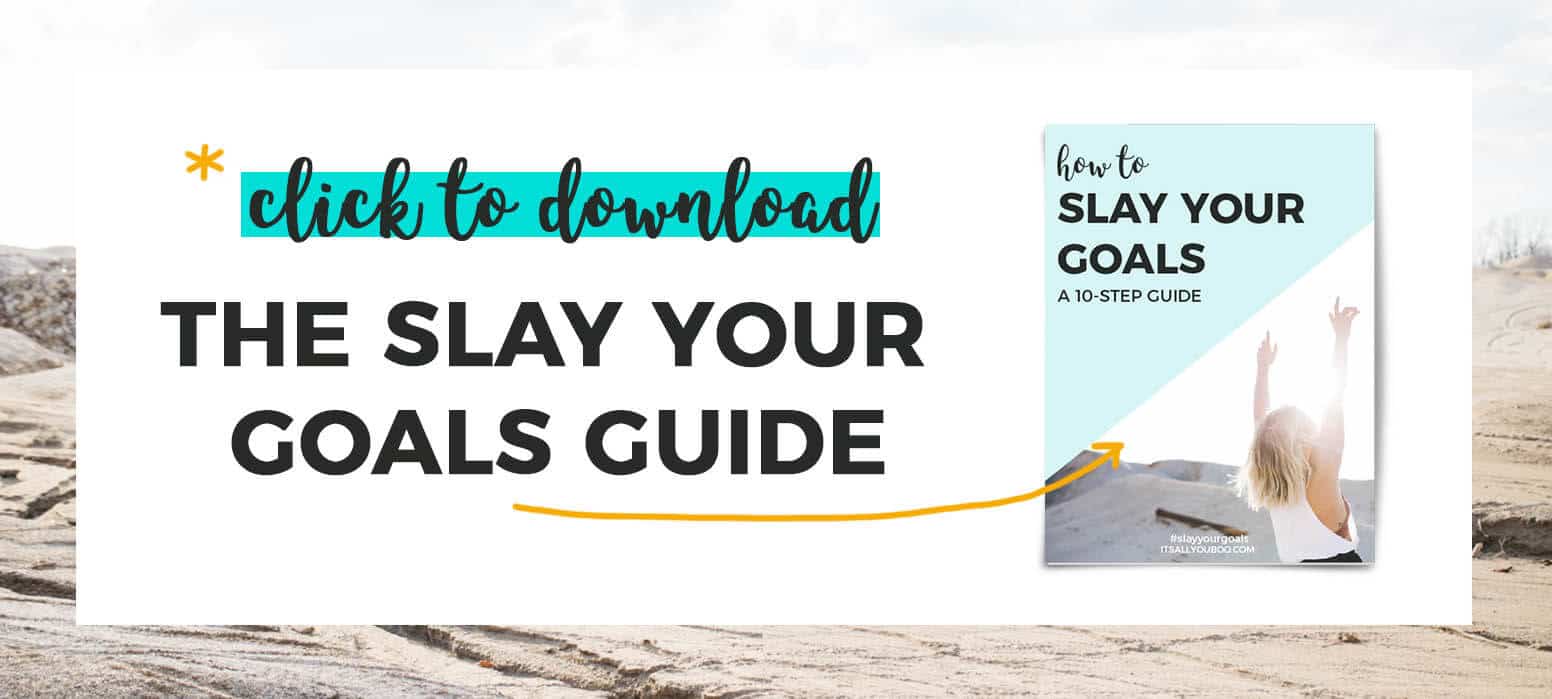 #5.
What's one app or tool that you can't do without?
I totally love IFTTT. This is the most useful app I have ever set up. It automates the post sharing and makes life so much easier. IFTTT is the name of the app "if this then that."
It is an app that will run automated processes for you such as sharing a post that you have written on your blog, or sharing social media across different networks if certain criteria are met, such as hashtags. It's one of the best tools for bloggers.
An example: If I post an article with the tag "Adventures" then share to my Pinterest board "Let's Pin Each Other". If I post on social media using hashtag "Chrissyadventures" shared on Twitter, my Facebook group, and Instagram, but not Pinterest.
👉🏽 RELATED POST:  The Best Essential Tech for Starting Your Business
#6.
What's your favorite and least favorite part of being an entrepreneur?
I have been self-employed since 2011 and I love it!
So, I simply love the freedoms we have to start or stop working whenever we want. I love that I get to travel with my husband & work. We get to enjoy life while we "work".
The only part I don't like is all the additional paperwork that goes into running your own business. Filing taxes is a super fun process now and usually, requires enough paperwork to fill up a plastic tote.
👉🏽 RELATED POST:  8 Simple Steps to Being Your Own Boss
#7.
What advice would you give to someone just starting out?
Being a business owner is not easy.
You can make it easy after you've got a good feel for it, but it's not going to be a bed of roses when you start.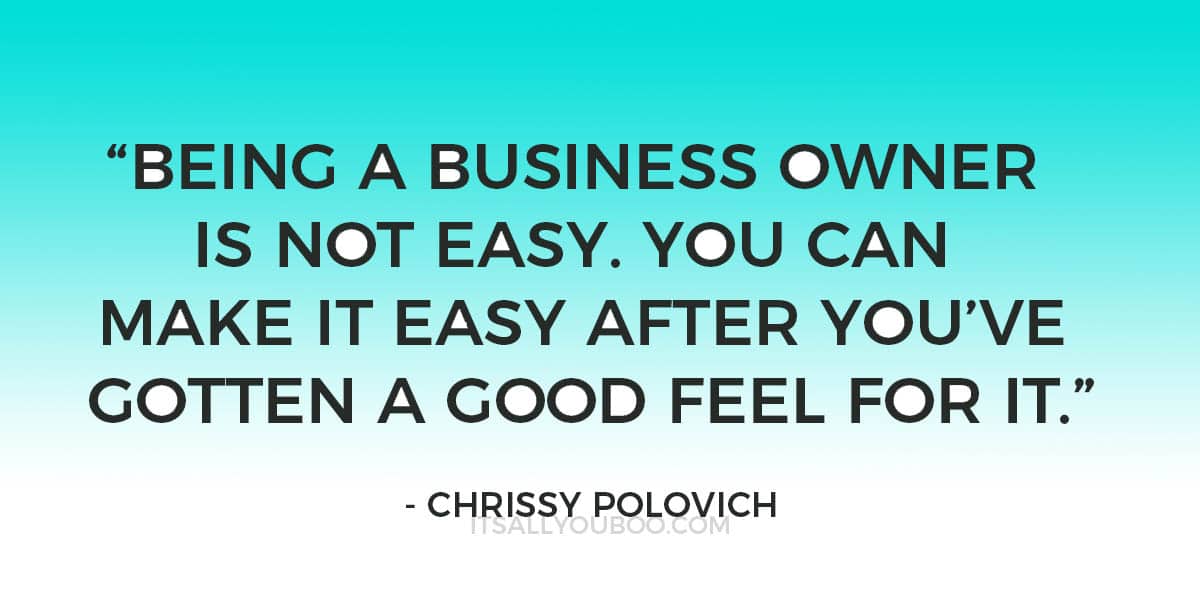 👉🏽 RELATED POST:  11 Reasons You'll Fail to Create your Dream Job
You have to treat it like any other job. That means you need a schedule and a focus. Allow time for your business to grow. It will not happen overnight.
It would be great if you start off with some money already put you back. Being self-employed is like feast or famine. When the money is rolling in it's great! But there will be lulls and slow times. Sock some money back to cover that.
Stay relevant. Know your customer base. Sometimes what you want to do is not beneficial for your customers.

Being a business owner is not easy. You can make it easy after you've got a good feel for it.' - @CSACHB Click to Tweet
Join some groups to learn from others before you pay a lot of money to take online courses from people who swear you can make $5000 in your first month (or any other exaggeration).
It takes time to build an online presence. Rely on your friends in the beginning. They will visit you out of curiosity.
Follow all the laws. Some people will tell you-you don't really need to do this or that but keep yourself legal by following all the local, state and federal guidelines. Also, make sure your website is legally protected.
#8.
What's the best business advice you've ever received?
Self-employment is feast or famine. Put money back for the slow times.
Never stop putting money back, even if it's a small amount.
👉🏽 RELATED POST: How to Overcome Your #1 Struggle as an Entrepreneur
Self-employment is feast or famine. Put money back for the slow times.'-@CSACHB
#9.
What books do you think every entrepreneur should read?
This may seem off-topic, but I believe every business owner should read The 5 Love Languages by Gary Chapman. I not promoting this book and it may not seem relative, but if you can trick your mind into understanding how others feel and think differently than you do, you have a better chance of marketing to your key audience.
How can you effectively market yourself, your image or brand if you only think like you?
Another book I love is Who Moved My Cheese? by Spencer Johnson and Kenneth Blanchard. Entrepreneurship requires adaptability and this short little read focuses on that. It's a cute book with a powerful message!
#10.
Do you have a favorite quote or saying?
Every day is an adventure. Embrace it!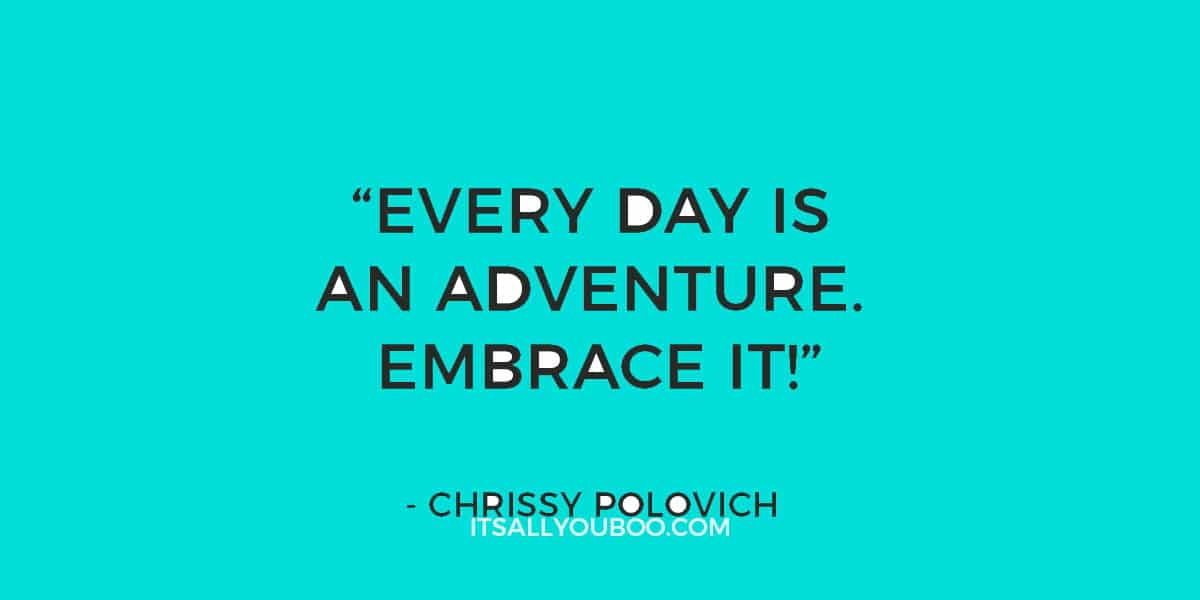 #11.
Can we talk about money?
How do you make yours? Did you save before you started?
My money comes in from the various businesses I run. We started the Construction business in 2013 and it has brought in its own income. It came out of the red about 18 months after opening.
The LLC I manage pays me an administrative management fee. It was only in the red for 3 months.
My blog is not a source of real or true income yet. It is a source of freebies and a never-ending line of merchants contacting me to promote their brands or products in exchange for a review. I have probably received over $10K in merchandise and services from it, but none of that could be put into the bank.
Going forward, I already anticipate my focus will shift away from the other 2 businesses in the near future. I am focused more on my blog now.
#12.
What's your strategy for finding clients or readers?
Honestly, I have never had a strategy.
I do consult the Google Search Console regularly to see what search terms are bringing readers in and I try to stay relevant as the times change. But, I will never sacrifice who I am and what I write just for traffic.

#13.
What role does social media play for you?
Do you have a favorite channel? Why?
I love social media. It's actually one of my more relaxing times during the day. I actually prefer to scroll through Instagram or Pinterest at my leisure.
Facebook is more stressful for me. I have so many family members and friends near and dear to my heart that comes up in my newsfeed. I hate to see all the political junk showing up. 3 or 4 years ago, Facebook uses to be my favorite. Now it's just a political platform that I don't care for much.
'Want to know what it's like to be a blogger who runs multiple businesses? Meet @CSACHB!'
#14.
How do you do it all?
To answer your question, I have ADHD. I've struggled with it most of my life. It actually controlled me until I had my kids in my early twenties.
I worried through my entire pregnancy how I would be able to keep up with a kid when I couldn't even keep up with my car keys or remember if I ate breakfast! I studied the Fine Art of multitasking.
The library was my teacher. I checked out many great books about multitasking in business. As I read, I assumed that those skills would more than apply in life. I realized the more things that I focused on, I was actually able to successfully complete each task. I'm sure it probably sounds crazy, but it's all true. I am self-taught through behavior modification. ☺
Bonus Questions!
Quickly tell us about yourself and what you're currently:
Watching? The Walking Dead, The Talking Dead, The Big Bang Theory
Listening to? Air1 radio
Eating? Chocolate
Obsessed with? Coffee
In Love with? My husband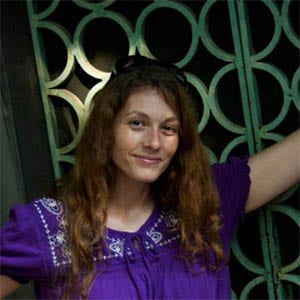 More About Guest Contributor
Chrissy is the queen author of ChrissyAdventures blog. A highly sheltered Tennessee girl that began traveling only a few years ago. She seeks inspiration in the small things. A coffee addict enthralled by daily adventure, she offers inspiration and support for depression, PTSD, and grief. Each day brings her a step closer to completing her modest bucket list. A mom, grandma, and wife – this ADHD overcomer is multi-tasking her way through life.
Last Updated on July 11, 2021
✕
Get the Slay Your Goals Guide!
+ get weekly tips to help you slay your goals.