How do you sleep well at night?
Do essential oils really help you sleep better?
Not again, you think. As you lay there, tossing and turning for what feels like hours (because it is). Another sleepless night. Bedtime is starting to give you serious anxiety.
Sometimes I wonder, what's worse, not being able to sleep at night, or not being able to stop thinking about not being able to fall asleep. It's exhausting.
Can you relate? Are you searching for natural sleep remedies too?
You've already tried everything, from black-out curtains, new foam pillows, weighted blankets to maybe even a humidifier, bedtime meditations, and a white noise machine.
Go to bed earlier, they say, don't eat five hours before bed, limit your caffeine and alcohol, avoid naps and stay off screens before your bedtime. Yes, yes we all know this already. None of this actually works does it?

This post is sponsored by Scentered Aromatherapy.
Click here for the full disclaimer statement.
---
Dealing with Daylight Losing Time
I've so been there, more times than I care to count. Insomnia, my old friend. The inability to fall asleep, the nightly struggle to fall asleep fast (or at all). And when the time changed thanks to Daylight Savings Time (or Daylight Losing Time as I like to call it), I was wrecked.
I think more than anything just the idea of "losing an hour" was giving me a slight panic attack and adding to my existing anxiety about sleeping well.
My body was fighting against it like a change in current. Being pushed and pulled into an alignment it could both not comprehend, nor understand. Time isn't even real, yet the effects of this one-hour shift are known the cause.
Daylight savings times studies have shown a decrease in wellness, a spike in workplace injuries and car accidents, increased risk of heart attacks, and of course sleeplessness.
So, what do you do? Sure, moving to a time zone that doesn't do DST might skip this bi-annual struggle, but it won't help you fall asleep faster, sleep better, or sleep through the night. That's still a nightly concern.
You turn to the simple natural remedies of aromatherapy and essential oils that help your body relax, quiets the mind so you can drift off to sleep. Not just any oils, no expensive or fancy essential oil sleep diffusers needed either.
After trying just about everything to help me sleep well (except sleeping pills and melatonin), I've found that Scentered SLEEP WELL Aromatherapy Balm and Candle help me sleep better, faster, and easier every night. Shockingly so!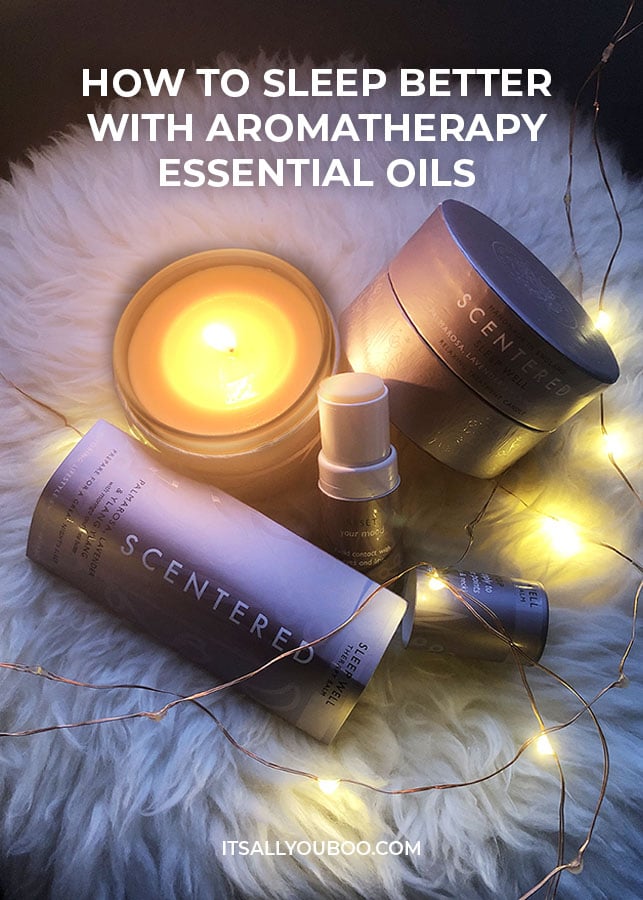 Aromatherapy for Sleep
What is aromatherapy? What aromatherapy helps you sleep? How do aromatherapy essential oils help you sleep better?
After my first solid night of sleep in weeks, maybe months, I had questions. I wondered why this stick of SLEEP WELL Aromatherapy Balm was able to put me to sleep when ten other gadgets and improvements to my bedroom couldn't.
It's been two weeks since I started using Scentered sleep products as part of my nightly routine and I can even break all the golden rules of good sleep. Midnight snack? Coffee at 8 pm? No sleep problems.
Simply put: aromatherapy is plant therapy. It's aromatic, delivering and deriving its benefits from scents and smells.
According to the National Association of Holistic Aromatherapy, "The practice of aromatherapy uses natural plant extracts, such as essential oils, hydrosols, and carrier oils, in a variety of ways to heal the body, mind and spirit."
Sounds lovely, doesn't it? A holistic approach to wellness that is just as much about the mind and spirit as the body. If you love practices like yoga, Tai Chi, or meditation, you'll likely love aromatherapy too.
Anyone who has had sleep problems knows that it's NOT just about your body, sleep is about overall wellness. Sure, readjusting to a time change can impact your body's internal clock, but not being able to stop overthinking or feeling emotionally drained can make it just as hard to sleep.
Aromatherapy can potentially check all those boxes for you if you're looking for natural remedies to sleep well at night. Adding essential oils, balms, candles or even a diffuser to your nighttime routine can help you sleep better.
How Essential Oils Help You Sleep Well
The "science" of essential oils is simple when you inhale the aromas of the oil, your body produces certain chemicals that benefit your wellbeing. Each essential oil creates a different reaction.
Here's an example: If the reason you can't fall asleep is that you're stressed, your body could be overproducing cortisol, the stress hormone. Elevated cortisol levels can lead to headaches, irritability, and high blood pressure which can make it hard to relax and sleep.
But, by smelling essential oils like lavender or rosemary, you can decrease cortisol. Which can then in turn help you sleep better and have a better quality of sleep.
Essential oils, like Ylang Ylang, when absorbed topically or inhaled, influence the limbic system, the area of your brain that controls memory and emotion. Fear, anger, sadness, and even your fight or flight responses reside in this region of your brain. These innate and instinctual behavioral responses can all lead to increased heart rate, blood pressure, breathing, sweating, and other physical reactions.
Think of essential oils as a way to send soothing, relaxing, calming, and quieting messages to your limbic system. As if each note, every subtle detail of the aromatic essential oil is telling your body and your brain that you are okay, that you are safe. When you feel safe, you can sleep.
Scentered's SLEEP WELL Aromatherapy line is perfectly balanced for a good night's sleep, all thanks to essential oils like Lavender and Ylang Ylang that are safe for sleep.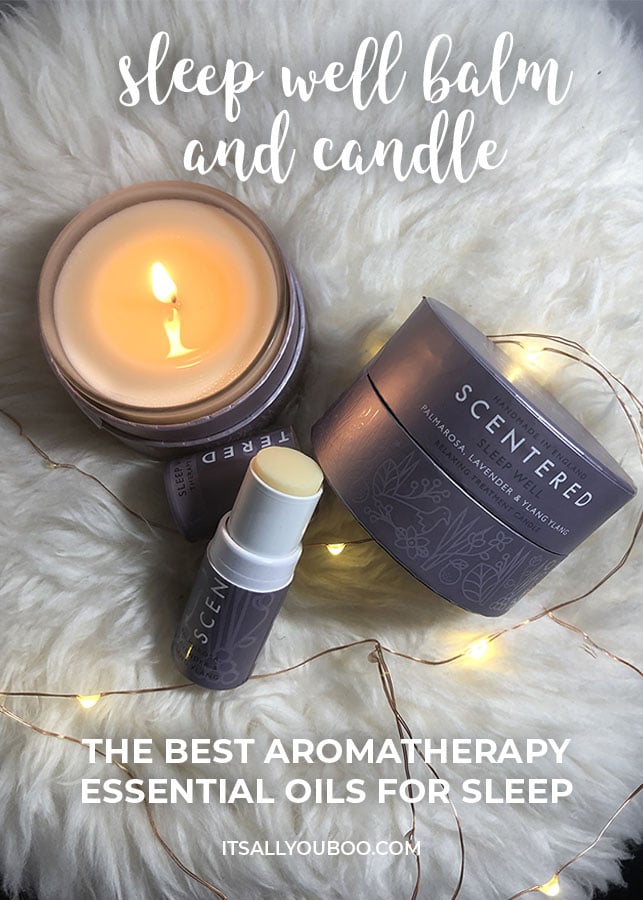 Best Essential Oils for Sleep
What essential oils are best for sleep? Do essential oils really help you sleep?
Essentials oils for sleeping like the ones found in Sleep Well Therapy Balm, help you to clear your head, quiet your mind and relax the body. Let's take a closer look at the best essential oils for sleep.
Palmarosa:
Known for soothing your emotions, palmarosa comes from tall grass native to India. It gets its name for its sweet similar aroma to roses. Palmarosa essential oil is great for sensitive skin, as well as soothing during emotional times. Your "stress, anxiety, grief, trauma, nervous exhaustion can be nurtured by this subtle, supportive and balancing oil."
Lavender:
The hero of bedtime helps you fall asleep faster and sleep better. Lavender is known for soothing anxiety, releasing stress, and promoting relaxation. This fragrant floral-scented oil, originating in the Mediterranean or Middle Eastern regions and is distilled from the purple flowers and stems of the plant. Its sedating effects help you fall asleep easier, get better quality sleep, and even have more energetic days.
Ylang Ylang:
With benefits that include lower blood pressure, increased calmness, and improved mood, Ylang Ylang is one of the best essential oils for sleep. Fruity and floral in scent, Ylang Ylang is harvested from the bright yellow flowers of Cananga odorata, a tropical plant native to India and grows throughout Oceania. Get a good night's sleep with this calming essential oil.
Chamomile:
A popular choice for a calming herbal tea, this small yellow centered with white-leaves flower resembles the daily. Used for centuries as a medicinal herb, Chamomile dates back to the ancient Greeks, Romans, and Egyptians. Chamomile oil not only soothes your upset stomach and ingestion, but oil relieves anxiety and promotes better sleep quality. One study even linked chamomile to a reduction in nightmares.
Ho Wood:
This sandalwood-smelling essential oil is unsurprisingly made from the wood of the ho tree native to China, Taiwan, and Japan. Rich in Linalool, Ho Wood is perfect for fostering a peaceful environment and helps you to feel relaxed. When inhaled, Ho Wood supports breathing and your respiratory system. Plus, it can also ease headaches and seasonal allergy symptoms. It's also known for its soothing and cooling effect when used topically like in Sleep Well Balm.
👉🏽   RELATED POST: How to Leave Work At Work
Although our sleep problems can feel very modern or as a side-effect of our busy 21st century lives, these natural remedies to sleep well are thousands of years old. I suppose no matter the year or your problems, there was always a need to sleep better.
Scentered uses each of these top essential oils for sleep in their SLEEP WELL Aromatherapy Balm and SLEEP WELL Aromatherapy Candle.

Use Sleep Well Aromatherapy Before Bed Time
Scentered recommends that you use essential oils an hour before bedtime. That's perfect timing for the start of your nighttime routine.
Whether you're doing yoga, journaling, or reading a book, light your candle and roll on the balm on your pulse points on your wrist, temples, or neck, and breathe in deeply. I like to turn down my bed, pull the curtains, fluff my pillows as I do this.
Then, an hour later, blow out your candle, and get into your inviting bed you can reapply as needed. My SLEEP WELL Aromatherapy Balm is right beside my bed, so I can reach for it if I want another deep inhale.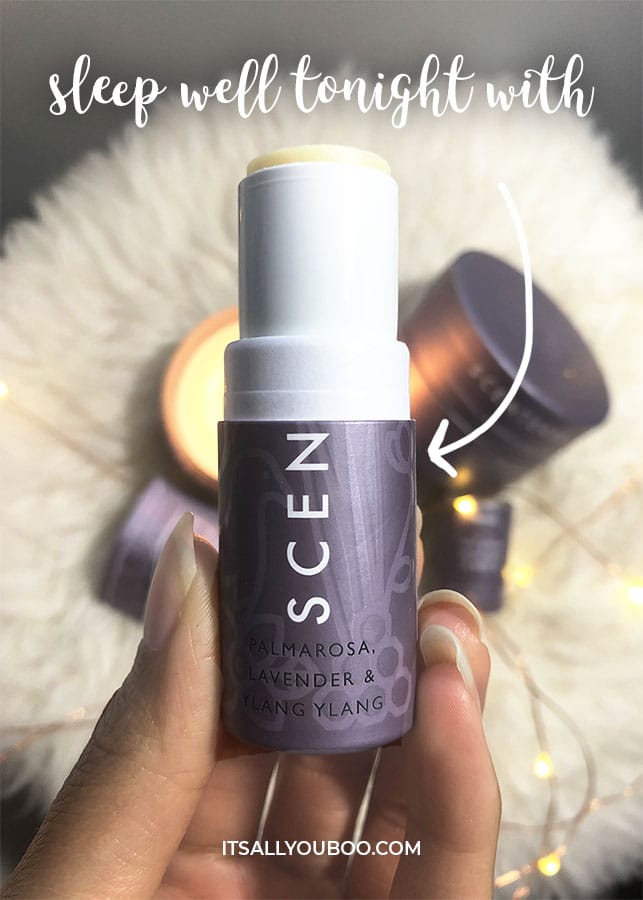 Eco-Conscious and Eco-Friendly Packaging
Looking for all natural, eco-conscious sleep remedies? You'll love Scentered products.
All of Scentered's Aromatherapy Balms, candles, and body care products are made from 100% natural essential oils. They are made for eco-conscious consumers like you!
What surprised me was the individual packaging of each product. Not only does the balm come in paper packaging that is biodegradable, but the beautiful candles come in reusable glass holders.
👉🏽   RELATED POST: How to Be More Eco-Friendly
Essential Oils Safety Tips
The number one rule of aromatherapy is to always use essential oils safely. That means external use only, and NOT overdoing it. Don't rub essential oils all over your body or ingest them orally.
You're likely safer avoiding things like diluting and mixing essential oils to sleep better and leaving that to the trained professional at Scentered. Using pre-mixed balms and candles like Sleep Well, you can rest easy that it's safe for topical use.
But, be sure to always patch test for allergies or reactions before using essential oils, and check with your healthcare professional (especially if you're pregnant, nursing, or using on young children). Be careful when using to avoid contact with your lips and eyes.
Start Sleeping Better With Sleep Well
You're ready to fall asleep faster and sleep better at night. I know I was, especially with that dreaded time change.
Two weeks after using Scentered SLEEP WELL Aromatherapy Balm every night, sleepless nights are a distant memory. Lighting the candle and rolling on essential oils for sleep, has me not only catching 8 hours of sleep but actually waking up ready to take on the day.
Stop waiting to have a good night's sleep. Stop rearranging your room, and buying the best gadgets for good sleep. No, you don't need silk sheets and sound machines, you just need Scentered SLEEP WELL Aromatherapy Balm and SLEEP WELL Aromatherapy Candle.
Trust me, I am naturally skeptical and was never a fan of essential oils. The only reason I agreed to test these essential oils for sleep products was that I was desperate to start sleeping again. I am so glad I said yes, as I am hooked and Scentered's Sleep Well Aromatherapy Balm is part of my nighttime routine.
The meaning of sleeping well is you're falling asleep easily and quickly, getting quality sleep, and waking up feeling refreshed. For me, SLEEP WELL by Scentered has delivered on its promise.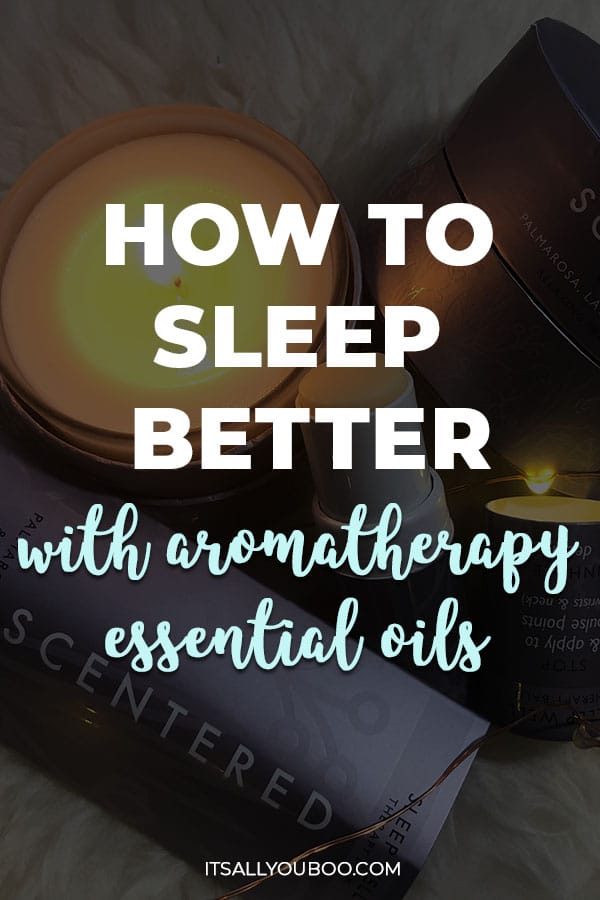 If you're ready to sleep better, click here to get your Scentered SLEEP WELL Aromatherapy Balm and Candle. Just imagine what good sleep will do for you.
Last Updated on September 4, 2021