Want to know how to start a daily journal?
Wondering how to journal for therapy? Or maybe you're trying to figure out how to stick with a journal?
Want to start a daily journal, but not sure you can stick with it? Click here for everything you need to start a daily journaling practice you love and stick with long-term by @lifebygrit #Journal #Journaling #Mindfulness
Daily journaling was a habit that I tried and failed to pick up half a dozen times before I finally managed to stick with it—but I'm so glad I figured it out!
Now that journaling is a part of my daily routine, I can't imagine letting the habit go.
And once I figured out how to write in a journal daily, it turned out to be way easier than I thought it would be.
Table of Contents:
Why Bother Learning How to Start a Daily Journal?
Journaling has a lot of benefits. Like, a lot of benefits.
It can help you cope with depression and manage anxiety. It can also strengthen self-discipline and self-confidence.
Journaling is great at helping you process and move on in life from negative emotions, such as anger, spite, and sadness.
It helps you to stay present, become more grateful, and mindful, which have been shown to increase happiness.
You can use a journal to write affirmations, helping you to achieve your goals, or to keep track of memories so that you can reflect back on how your life is going.
Journaling is also a useful tool to help you make decisions that have been clouded by emotions and realize when it's time to make a change because you've been writing the same thing day in and day out for weeks.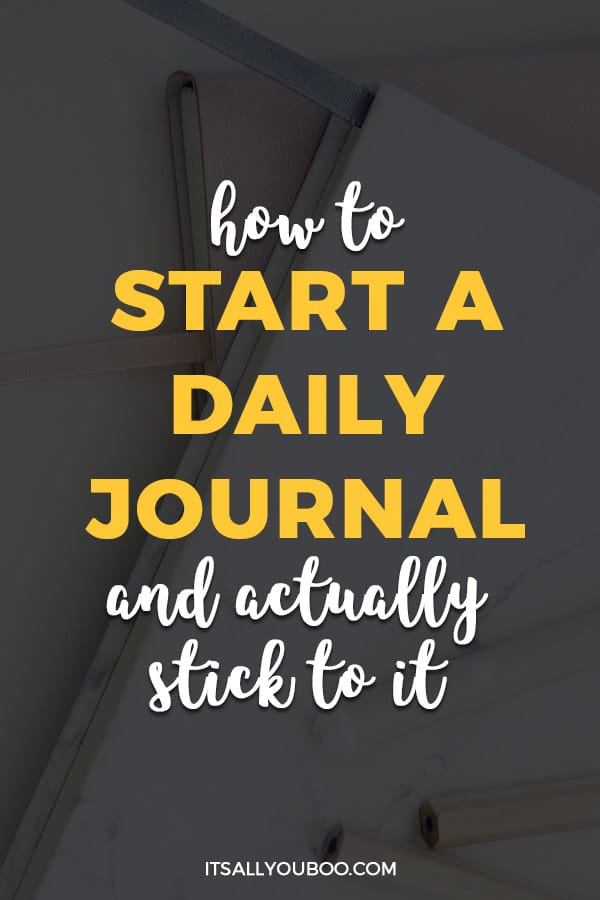 My favorite thing about journaling is it shows me that my worries aren't nearly as big as they seem. Taking time to write about my problems prevents me from blowing them out of proportion, and, more often than not, I find that the solution I need is right in front of my face when I take a moment to look for it instead of jumping straight to feeling overwhelmed and acting without thinking.
But don't let this giant list of benefits overwhelm you! When you start journaling, you'll find your own style that fits you and benefits you in the way that you need. Putting too much pressure on yourself to achieve something specific is the opposite of what you want to do when you start a daily journal.
In fact, let's dive into that!


How Do I Get Into Daily Journaling?

First, when learning how to start a daily journal, I want to tell you what not to do! I made this mistake time and time again and it so often became the reason that I stopped journaling:
Tip #1:
Don't Pressure Yourself!
Seriously, don't pressure yourself to write a certain number of pages. Don't pressure yourself to write about a certain topic. Don't pressure yourself to be perfect.
Every time that I picked up journaling and failed at it, I had gone into it with the wrong mindset. I felt that I had to write something "meaningful" every day, or that I had to fill a certain number of pages.
But journaling has no rules, and it isn't as glamorous as it sounds. Some days, there just won't be much to say. You'll eke out one very boring paragraph and have nothing at all left to write about.
👉🏽 RELATED POST: How to Start a Bullet Journal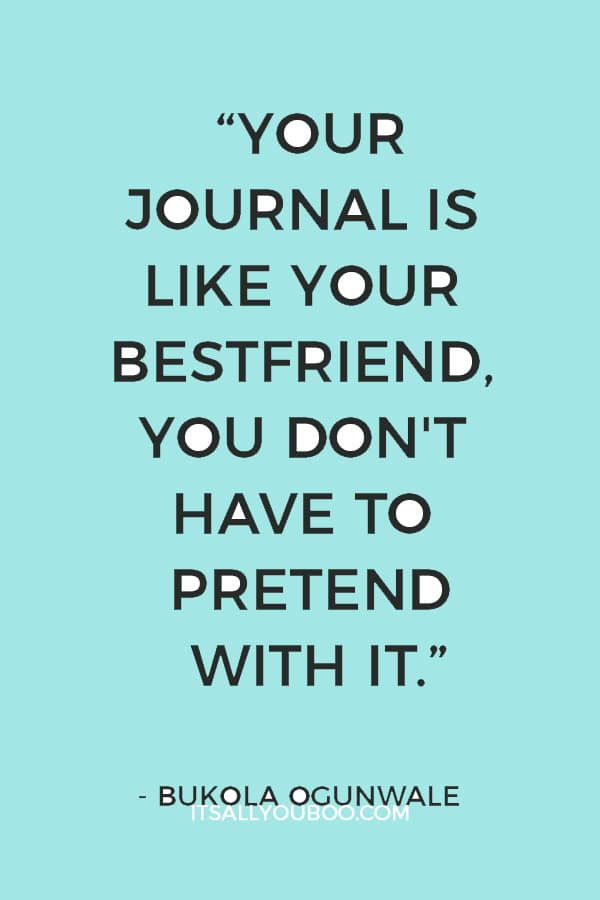 Just Write What You Feel Like Writing
There will be plenty of days where you come away without an epiphany or without feeling like you poured your heart into your journal. That's okay. Journal without pressure. Don't romanticize it.
Though journaling has lots of benefits and there will be plenty of days where you do have breakthroughs, real-life has ups and downs. Sometimes there just won't be much to write.
Going into journaling with high expectations makes you feel like you're doing it wrong when your entries aren't exciting, making you more likely to quit. Know that in real life, there will be days where all you do is write a sentence about what you had for lunch.
And as much as some people swear by Julia Cameron's Morning Pages (three stream-of-consciousness pages written every morning), don't force yourself to stick to a plan like this if it isn't working for you. I tried morning pages, and it just took way too long. I don't know about you, but I don't have 45 minutes to set aside for journaling every morning.
Tip #2:
Start with a Very Small Goal
As long as I write the date, the time, and at least one sentence, I count that as a successful day of journaling. Starting small is of the utmost importance when figuring out how to start a daily journal.
Daily journaling, like many other things in life, is only difficult until you've started. The date, time, and first sentence will usually be more difficult to write than the dozens of sentences that may follow. Once you've started, it's easy to keep going.
That's why my daily goal is just one sentence. I apply the same principle to my workouts: my daily goal is to go to the gym. I don't have to work out, I just have to show up. Showing up is the hardest part. Once I'm at the gym, it's exceedingly rare that I choose to skip my workout. (In fact, once I've made it to the gym, I've never skipped my workout.)
👉🏽 RELATED POST: How to Take Action When You Can't Get Started
Start Journalling Just One Line A Day
Even if you'd like to write several pages in your daily journal, start with a small goal. I recommend a goal of no more than one paragraph each day.
This helps you to build and strengthen the habit. You're free to write way more than your goal (and likely will write more 99% of the time), but having that small goal helps you to stick with it even on the bad days.
When setting a new goal and building a new habit, rather than thinking about the largest goal you could take on, consider how you feel on your worst days. What goal could you still hit even at your busiest, your most stressed out, or your lowest? That is your journaling goal.
Hitting your goal should feel easy. (And, again, this advice applies to way more aspects of life than just journaling.) This helps you to keep your journaling streak, motivating you to stick with it.
The smaller your goal, the easier it will be to pick up your journal each day and write—and that's exactly what we want! We want to make journaling as easy as possible.


Tip #3:
Fit Journaling into a Routine
You're much less likely to stick with daily journaling if you don't have a specific time set aside each day to do it. As Gretchen Rubin says, "Something that can be done at any time is often done at no time."
Personally, I think journaling is a perfect step to add to your morning routine. There are a plethora of ways that journaling sets you up for a good day: it encourages mindfulness, you can set intentions for the day, write affirmations, create a to-do list, or write down your goals. After all, people who write down their goals are 42% more likely to reach them.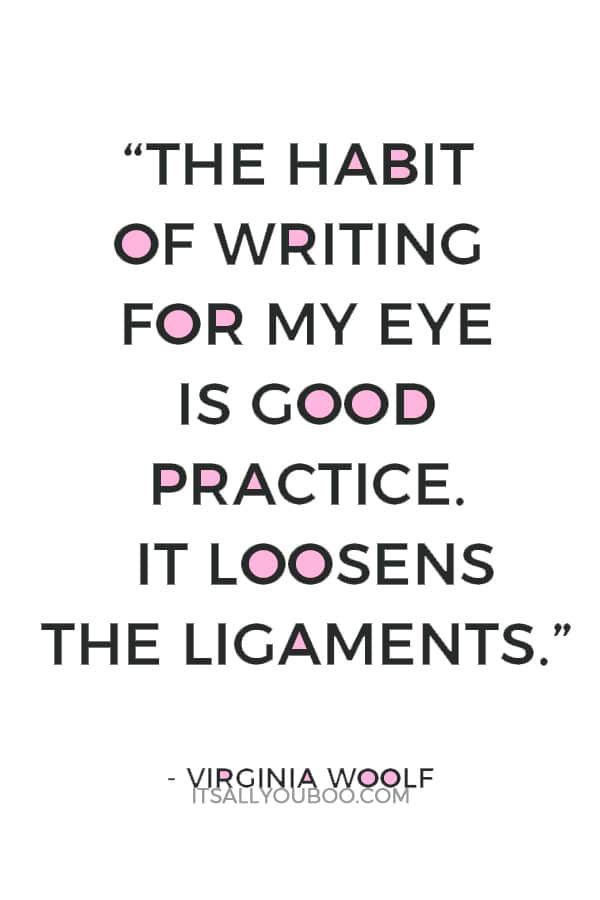 Journaling helps you sleep
If you just don't have time to fit journaling into your morning routine, it also makes perfect sense to add it to your evening routine. Journaling is a great way to reflect on and process the day's events, helping you to clear your mind and set yourself up for a peaceful night of sleep.
Often, our minds race with plans, ideas, and tasks to do as we're trying to fall asleep. Writing these things down gives you peace of mind because they won't be forgotten, and helps you to be mindful of your thoughts—and mindfulness helps you sleep.

There are plenty of other places in your day that you could plan to journal. Get creative! Use the last fifteen minutes of your lunch hour to write, journal on the subway to work every morning, or schedule a break every day at 3 p.m. and journal your way through your mid-afternoon slump so you can finish out the day full of inspiration and energy.
Tip #4:
Make Daily Journaling Convenient
One of the best things you can do to set yourself for success when figuring out how to start a daily journal (or build any other habit) is to make it as convenient as possible. We want to make this as easy as possible, and a crucial part of making it easy is making it convenient.
After you've decided when in your routine to start journaling, consider where you are and how you're feeling at that point in your day. Would it be easiest to journal on a laptop, in Evernote for example? In a notebook? On your phone? (Though know that most people are likely to write much shorter entries on a phone.)
Have Your Journalling Supplies With You
Set yourself up ahead of time so that you have everything you need to journal when you need it. If you don't have a pen ready, your chances of skipping your journaling session go way up. Plan it all out, and continue to plan ahead each day so that your journaling supplies are ready when you need them.
Personally, I journal each morning while sitting on the couch and drinking coffee, so my journal lives within reach of the couch. Once I sit down, I don't have to get up until I'm done. If my journal gets moved to a different room at any point throughout the day, I make sure to put it back beside the couch before I go to sleep each night.
Make it as easy as possible to journal every day.

Tip #5.
Create Daily Motivation
It's easy to say "I want to start a daily journal" without ever really thinking past that. But taking that statement a bit farther and finding a bit of specific motivation to keep yourself journaling can be the difference between failure and success.
How to create journaling motivation:
Step #1. Find your Why
I never start something new without first finding my Why. Your Why (aka your intrinsic motivation) is the strongest, longest-lasting source of motivation.
Write out a list of all the reasons why you want to start journaling every day. I listed a ton of the benefits of journaling back at the beginning of this post—they're a great place to start.
If you have any personal reasons that you want to start journaling, such as working through trauma or keeping a record of what you do each day, add these to the list as well. Keep going until you have a list of 5 to 10 reasons that you want to journal. Each reason should resonate deeply with you and be something that is a direct consequence of journaling.
👉🏽 RELATED POST: How to Set Your Intention
Whenever you're feeling unmotivated, revisit your list of Whys. Envision the life that you want to live—one where you journal daily—and how much you want that. Then know that nothing changes if nothing changes, and if you want that life, you have to journal.
Step #2. Create a habit pair
You already have plenty of habits whether you realize it or not. Take a moment to consider when in your day you've decided to journal and think about the other things that you do during that time.
Do you go to the kitchen to make some tea? Reading a personal development book? Have a snack? Sit back in your chair and stare at the ceiling?
Once you've determined what you already do at the time that you intend to journal, pair one of your pre-existing habits with your new journaling habits. The old habit could happen before, during, or after journaling—whatever makes the most sense.
You could do like I do and journal while drinking your morning coffee. You could journal before you evening reading session, using reading as a reward for journaling, or you could stare at the ceiling while you think about what you want to write and follow your staring session with some journaling.
Step #3. Reward yourself
Speaking of reading as a reward, though it can be a bit controversial, I personally have found rewarding myself to be a useful way to form a new habit that sticks.
(Some people feel you become too reliant on the rewards and quit the habit when the rewards disappear, but this hasn't been my experience. Rewarding myself in the early months of forming a new habit typically leads me to successfully establish the habit.)
Think of a treat that you want but wouldn't typically splurge on—if it's related to journaling (like a nice notebook or fancy pens) that's even better!
Then, set a goal. This goal could be filling a certain number of pages in your current notebook, writing for a certain number of days in a row, or something else specific that fits your life. Just make sure it's a measurable goal so that you'll know when you've met it. You can make it fun by using a printable habit tracker template.
👉🏽 RELATED POST: How to Create a Vision Board that Works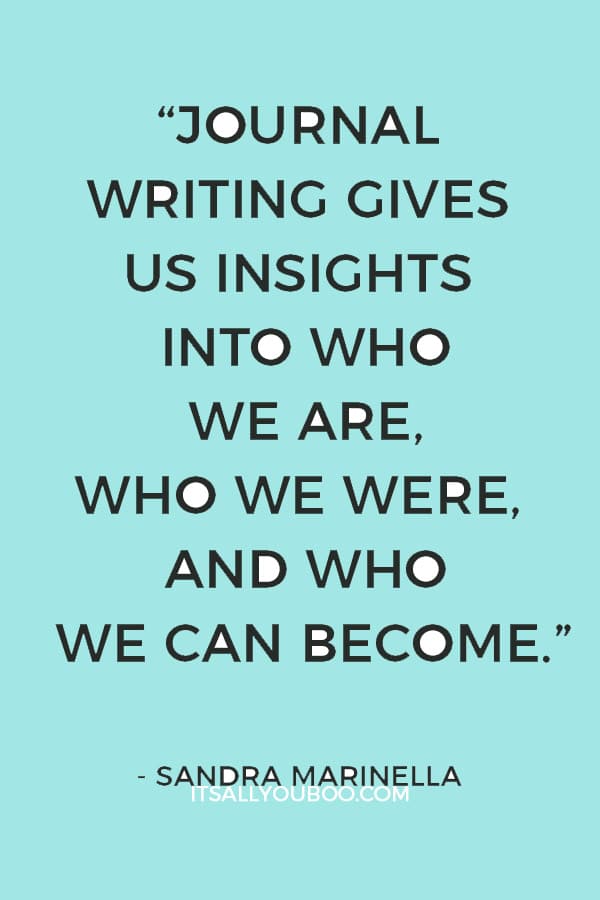 When you reach your goal, treat yourself!
To find long-term success using rewards and avoid the pitfall of quitting when there's no longer a reward waiting, I have two recommendations:
First, create a new reward before you've reached the first one. If your first goal is to write for thirty days in a row, on day twenty-eight or so, set your next goal and reward so that you have something new to work toward once you reach your first goal and don't quit on day thirty-one.
Second, as you're working toward your goal, take time to think about how your journaling is improving your life. If you find yourself feeling calmer, more centered, or more organized, make a note of that. As you find yourself experiencing the intrinsic rewards of journaling, it becomes easier to stick with it because you like it and it improves your life, not because you're working toward a reward.
(I use this in other areas of my life as well! When I started working out, I used rewards as motivation for the first few months. After a bit, I started noticing myself feeling stronger and more confident and kept working out because I liked that feeling, not because of the rewards!)
What Should I Write in a Journal?
Now that we've figured out when, where, and why you're going to journal, it's time to figure out what to write in a journal daily. At this point, you're well on your way to starting a daily journal!
There are a lot of options when it comes to what to write in a journal. It's easy to feel overwhelmed by the number of things that you could write.
To prevent this, rather than deciding ahead of time exactly what you intend to write, I recommend narrowing the options down to a handful of choices that resonate with you, and then when it comes time to write, choosing the one that best fits your mood.
Know that it's both normal and okay for your writing style to change often, even daily. Shoehorning yourself into one specific box or type of journaling will make it harder to stick with it if your life changes and that style no longer fits what you feel like writing.


How to Determine Your Journal Writing Format
When it comes to the format of your journal, I have one bit of advice: keep it simple.
My journal entries all start with the date and time, and then I just start writing whatever pops into my head.
Having a bit of structure to get you started with your entry is helpful, and depending on what you're trying to get of your journal, you could also make a note of your mood, something that you're grateful for, or a goal for the day.
Don't get too carried away though. The more time it takes to fill in all of the things that you're tracking, the less likely you are to stick with it consistently.
After the brief opening notes, you have the freedom to write anything you'd like. If you're journaling as a form of therapy, get introspective and write about how you've been feeling. Work through your emotions on paper and you'll often find insights you hadn't realized before.
Other options for what to write in a journal:
Stream of consciousness. This is how I journal. I just write whatever pops into my head as it arises.
Goal setting. Consider where you'd like to be in the future and what actions you need to take today to get there. Will your current habits lead you to your desired future, or does something need to change?
Intentions. This is similar to goal setting but less specific. One of my favorite intentions to set for the day is, "be kind to myself."
Problem-solving. Often the solutions to our problems are obvious when you take the time to consider the situation. Take time to brainstorm answers to the things that are bothering you.
Gratitude. Gratitude journaling has been linked to increased happiness and is a great way to end your day on a high note.
Recent events. Many, many journalers write about recent events in their lives when they journal. In fact, I suspect this is the first thing that pops into your head when someone mentions keeping a journal.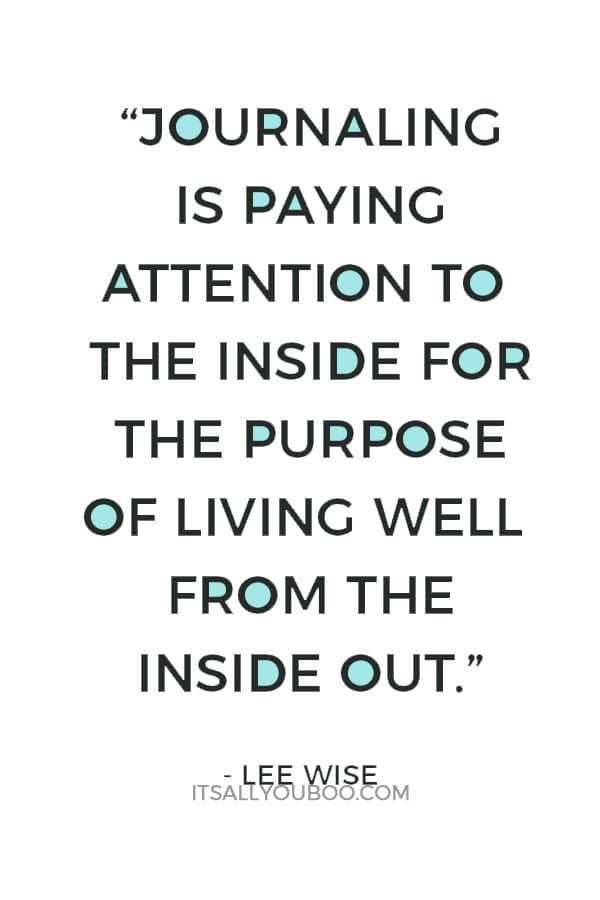 Make lists. You can write to-do lists, lists of actions that you want to stop, start, and continue, lists of wants and needs, lists of things that make you happy, or any other list you can think of. List making is a great way to find clarity quickly.
Reflection questions. If you're not sure what to write about you could always start by answering reflection and review questions. You never know what you'll discover about yourself.
Affirmations. If you're trying to shift your mindset and bring something specific into your life, your journal is a great place to write affirmations.
Journaling prompts. There are endless journaling prompts out there for every topic and goal that you can think of. Here is a list to get you started, but the possibilities are endless.
Get creative. There are plenty of ways to get creative with your journaling. For instance, I often check my horoscope or do a tarot reading before I journal to give me something to reflect on as I write. You could consider drawing or painting in your journal, or writing journal entries inspired by your favorite songs.
An Example of a Journal Entry
Often, the hardest part of learning how to start a journal is figuring out what exactly you're supposed to be writing. What do you write in a journal? To give you an idea of what journaling looks like in real life, here is what I would write if I were to write in my journal right now.
"8/10/2019, 10:44 a.m.
I love the way that the sun is streaming in through my window right now! It just feels so cozy and crisp and happy. Sunlight makes me feel so happy.
I'm not ready for the days to start getting shorter with fall. I love fall, and I'm excited for fall, and I love cozy blankets and fall foods and fall clothes, but ugh. I am just sooo not ready for shorter days. I love sunlight.
I can't believe that fall is right around the corner though! It seems like summer just started! It's soon time to set some goals for the fall. I also need to revisit my 2019 goals and make sure that I'm progressing toward those. I just realized that it's been way too long since I checked in on my 2019 goals. Oops…
Bennett left for his work trip early this morning and won't be home for a week 🙁 I'm definitely excited to enjoy my alone time and really be productive all week, but I know I'm going to miss him.
I really am excited for fall :)"
As you can see, the entry jumps around from topic to topic. It's pretty mundane, but it did make me realize that I need to check in on my goals soon. Most journal entries will look a lot like this. As much as you might want to have the world's most interesting journal, taking the pressure off and letting yourself write boring entries will make it easier to write consistently.
Don't expect life-changing revelations each time that you journal. Again, that's putting pressure on yourself, and you don't want that.
There will be plenty of times where you will work through an issue that's been bothering you for a long time or reach a breakthrough about yourself while journaling, but many entries will look like the one I wrote. That's okay. That's what journaling really looks like.
Get Your Printable Habit Tracker Templates
Want to start journaling and make it stick? Great, use these FREE printable habit tracker templates, with spreads for 30 and 31 days. Just download, print and check off each day you write in your journal and try to keep it up for an entire month.
There you have it! The why and how of starting (and sticking to) a journal!
Where in your daily routine are you going to fit this mindfulness-building, stress-reducing habit?

Are you ready to start a daily journal?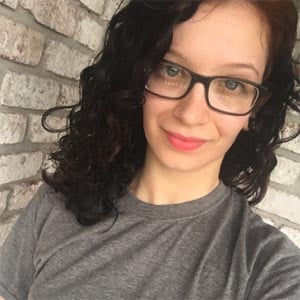 More About Guest Contributor
Abby Shope is a self-improvement junkie. She's spent the last several years figuring out all the best ways to create genuine happiness and stay productive without burning out and now wants to share them with the world. Abby is endlessly passionate about helping others love their lives and live their dreams through practical, actionable advice. She's quick to offer motivation and support to people going after their goals. When she isn't writing, Abby likes to get up early, drink tea, travel, and cook with her fiance.
Last Updated on July 12, 2021
✕
Get Your Habit Trackers
+ weekly tips to help you slay your goals.