Do you want to feel more energized?
Are you tired of feeling sleepy all the time?
Do you need to feel more awake? Ready to beat exhaustion? Click here for 7 ways to feel more energized, without coffee or nap time. #energy #lifehack #motivation
Your lifestyle choices affect how hard the afternoon slump hits you.
Whether or not you can make it through the day without three cups of coffee is determined by your habits.
Ready to change that? To finally feel more energized and make it through each day?
It's time to create habits that make you generally more energized and able to handle whatever comes your way — even a little drowsiness whenever the clock strikes 3 pm.
Table of Contents:
How to Feel More Energized:
Experiment with these 7 strategies and see which have the biggest impact on you. There are no one-size-fits-all tricks when it comes to Wellness and Nutrition. You have to become curious about your well-being and put different ideas to test.
Remember: the time you invest in creating a more vibrant lifestyle is also the time you're investing in your career, goals, and productivity. Increasing your energy levels will also help you achieve your health goals.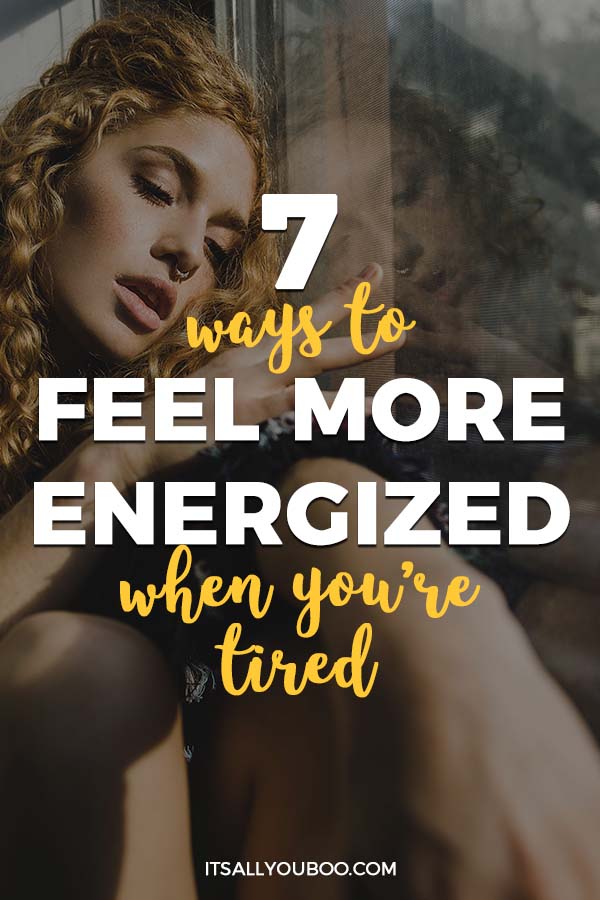 How to Feel More Energized
#1.
Become More Active
A more active lifestyle is one of the best ways to ensure you stay energized during the week. Exercise has the ability to boost your metabolism, which in turn is what boosts your energy levels and helps you avoid the feeling of sluggishness (not just in the afternoon!).
This doesn't mean that you need to spend hours at the gym every day. A lot of the benefits of exercising can be experienced by just creating a more active routine for yourself. Try to reduce the amount of time you spend sitting, be it at work or driving or watching TV.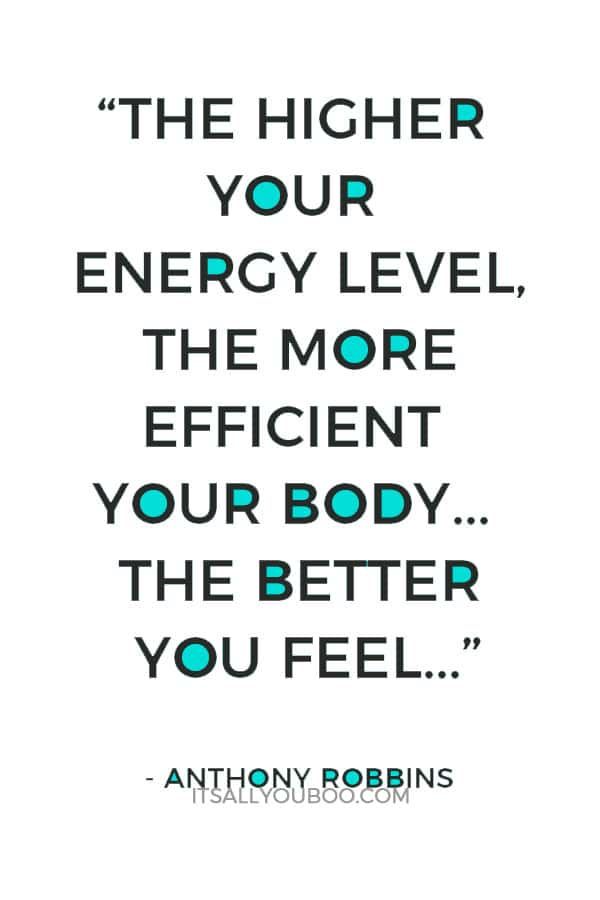 Change your habits so that you can walk more, stand up more, and stretch yourself more.
And, of course, do exercise too if you have the time and motivation right now! Consistent practice is great, but don't let that stand on the way of boosting your energy levels right away.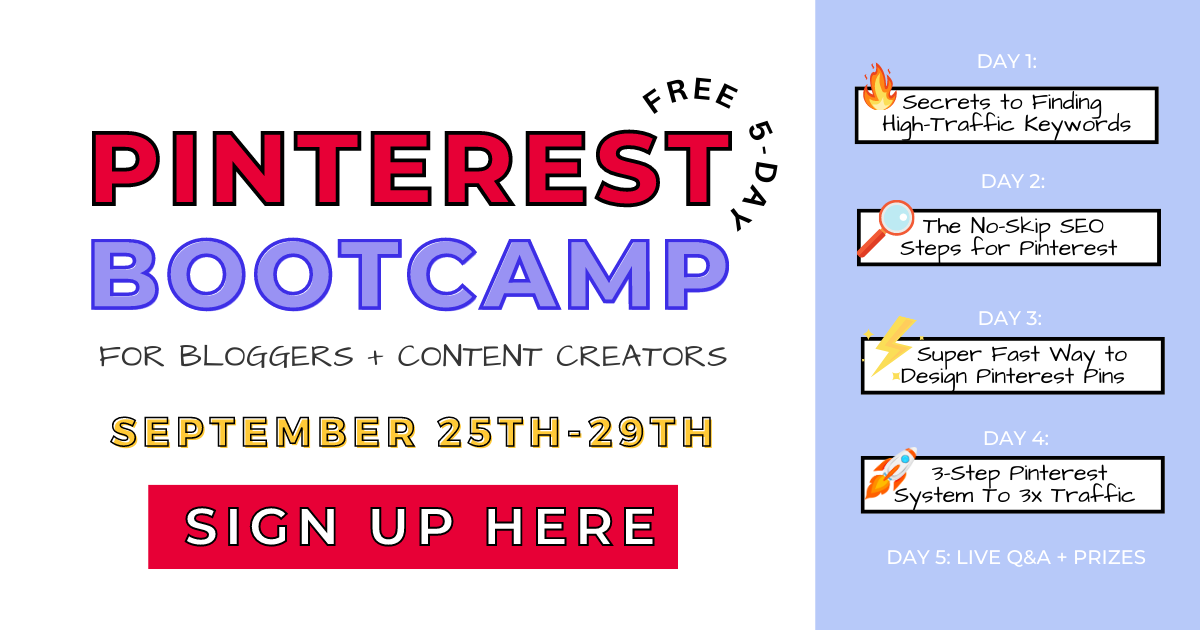 #2.

Fuel Properly on Breakfast
You've probably heard it several times that breakfast is the most important meal of the day. And it is!
A good and balanced breakfast will keep your energy up throughout your morning and set the tone for your day. Skipping breakfast or getting poor nutrition for it is a sure way to have your mood crash in the afternoon (or most likely much earlier!).
What does a balanced breakfast look like? If you're not attached to the idea of breakfast foods, dinner leftovers can be a great start to your day. Most of the time, that will ensure you get some protein and fat in to keep your blood sugar stable in the morning.
👉🏽 RELATED POST: How to Start Eating Healthy with a Busy Lifestyle Now
If your morning is usually a bit rushed, make yourself a good smoothie that can you drink as you walk around or commute. Add greens, nut butter or protein powder to it to make your drink a bit more robust.
In general, a combination of carbohydrates and protein is what you're looking after. This can be as simple as topping your bagel with an egg or some peanut butter or having some yogurt on the side.

#3.

Stay Hydrated
I mentioned this already, but proper hydration has a huge impact on your energy levels. Keep a bottle of water by your side at all times and create a habit of sipping on it throughout the day.
If you have a habit of drinking coffee or soda, water might feel a bit boring. You can make it more exciting by adding fresh suits to it or by having carbonated water instead. You can also bump your hydration by snacking on water-rich fruits and vegetables such as tomatoes, cucumber, celery, watermelon, and pineapples.
#4.

Snack During the Day
Aim to have something to eat every three to four hours to keep your blood sugar (and therefore your energy!) stable. This will also help you avoid overeating during your larger meals – overeating contributes to the feelings of drowsiness as your digestive system is playing catch-up.
Again, you want to make sure you're keeping your snacks well-balanced: some carbs, some healthy fats, some protein. A lot of times, aiming for variety will get you to balance without a lot of effort.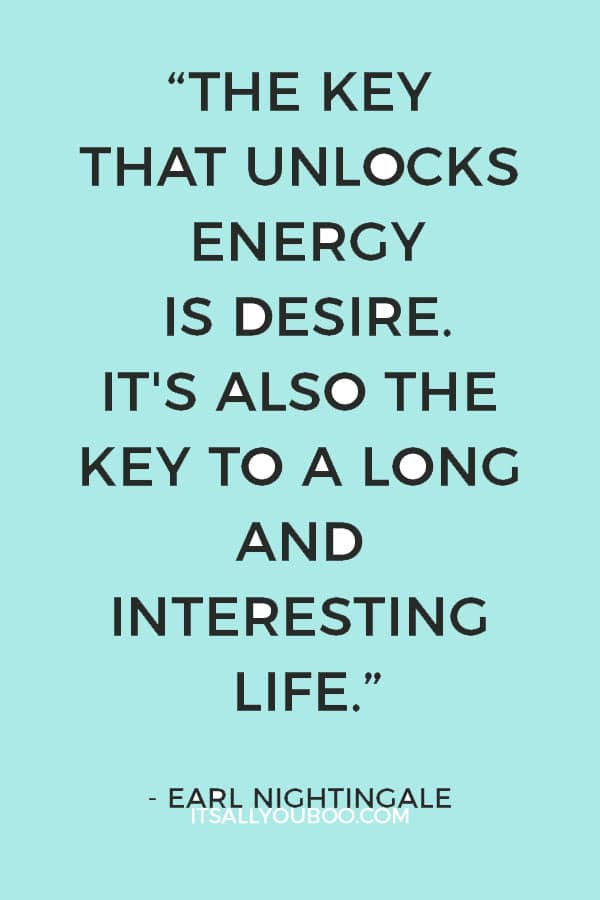 👉🏽 RELATED POST: How to Boost Your Energy and Beat The Afternoon Slump

Here are some ideas of things you can try for a snack:
Nuts (always nuts!) or trail mix
Baby carrots or celery stalks dipped in hummus or guacamole
Hard-boiled egg on a toast
Sliced apples with nut butter
Greek yogurt with berries.
#5.
Catch Some Sunlight

To a large extent, the brain relies on light to determine alertness and sleepiness cycles. That's one of the major forces determining behind how our circadian rhythm is regulated.
People who spend more time in the sun tend to feel more energized throughout the day. A well-regulated circadian rhythm will increase the quality of your sleep, and exposure to sunlight will raise your levels of Vitamin D — improving your mood and recovery.
#6.
Stop Relying on Sugar and Caffeine for Energy
Did you ever feel like matter how much coffee you drink, you constantly need more? Both sugar and caffeine tend to give you a temporary boost followed by a crash. If this sounds familiar to you, you know that this dip in energy is quite unforgiving and can ruin your focus and productivity.
It's important to cultivate stable energy levels through consistent healthy habits and nourishment instead of relying on quick fixes. Not only that but the more you use caffeine and sugar to remediate energy crashes, the harder it becomes to identify what are the components of your routine and diet that contribute to your constant feeling of tiredness.
👉🏽 RELATED POST: 6 Healthy Lifestyle Excuses You Need To Stop Making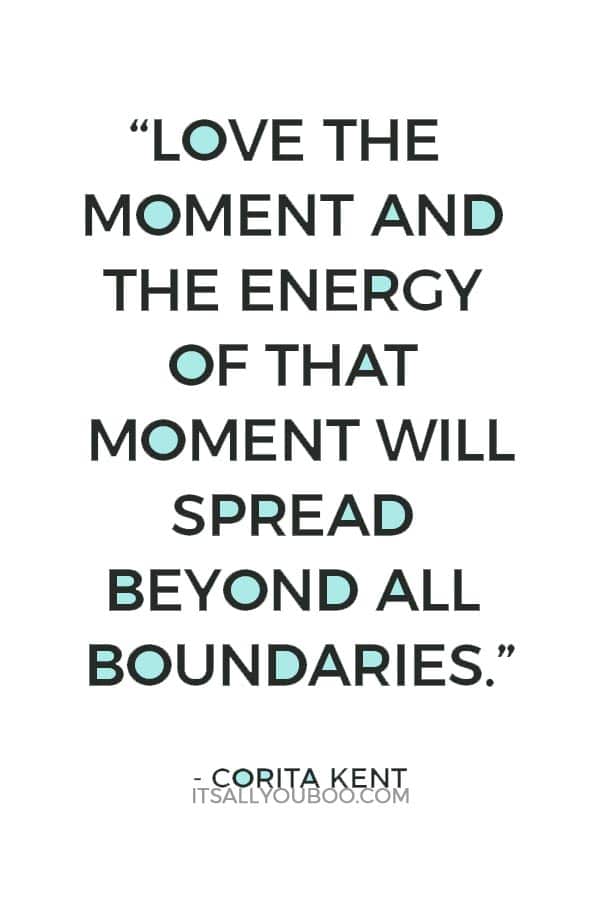 It can be difficult in the beginning, especially if your current habits make it really hard for you to cope with the afternoon slump, but sitting with your energy levels and noticing how it changes as you tweak your meals and habits can be very powerful. This sense of awareness if the first step in creating a vibrant lifestyle that truly supports you.
#7.
Get Some Sleep
This might sound a bit too obvious, but it's worth repeating. Getting enough sleep is key to staying energized during the day.
A lot of people overlook the importance of a good night of sleep and don't make it a priority to go to bed in time to get 7-9 hours of rest. If you're constantly feeling tired, make note of your sleeping habits. Do you get enough sleep? How do you feel when you wake up?
👉🏽 RELATED POST: Perfect Sleep: How to Create the Best Night Time Routine
Be constantly working on your sleeping habits and routines, so that you get adequate rest and can feel your best to slay your goals. That's the ultimate secret to boosting your energy.
Printable Habit Tracker Templates
Ready to feel more energized? Great! Pick a habit from above and let's make it stick. Sign up below to get the FREE Printable Habit Trackers, with pages for 30 and 31 days.
Which of these ideas can you put into practice today to improve your energy levels?
Remember: when you feel your best, you do your best.
Don't leave your wellness to chance. Be present with your body's wants and needs, listen to them, take action, experiment.
More importantly, let go of perfectionism. There's no right or wrong way to be healthy, it's a continuum!

How do you feel more energized?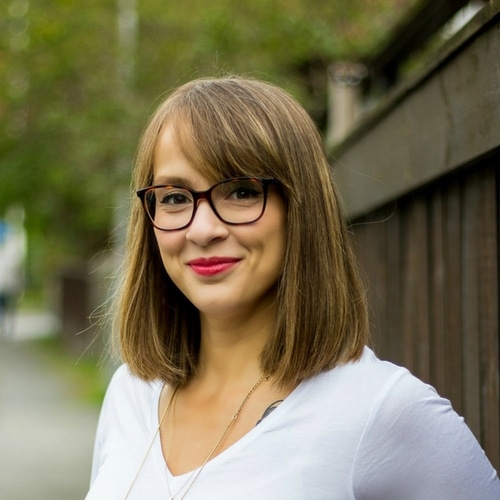 More About Guest Contributor
Fabiana Simões helps goal-getters be in charge of their health and overcome emotional eating. Her passion is to see women break free from diets, feel empowered by food, and be energized to slay their goals.
Last Updated on July 11, 2021
✕
Get Your Habit Trackers
+ weekly tips to help you slay your goals.