How do you actually achieve your goals in the new year?
Do you want to know how to set goals and achieve them?
These are some of the most-asked questions this time of year.
As everyone sets and breaks New Year's Resolutions, you're ready to make this year different.
The New Year brings new possibilities and opportunities to achieve your goals. For you, to set meaningful goals and finally follow through on them. To make your year!
Although It's All You Boo is ALL ABOUT goal slaying, I knew that sometimes to give the VERY BEST advice on how to achieve your goals, you need a little help from your friends.
So over the last few months, I've reached out to the goal-slaying experts whose wisdom and experience with achieving their own goals I admire and trust. It is with great pleasure that It's All You Boo features this collection of "achieving your goals" expert advice.
Collectively I know that it is our hope that 2022 is the year you really do achieve your goals. That you push beyond simple goal setting and New Year's Resolutions, past the day to day challenges of achieving your goals, into the success that comes with having a plan, aligning with your mission and values, setting fewer goals, staying focused on what's important, and the other amazing ways to achieve your goals you'll read below.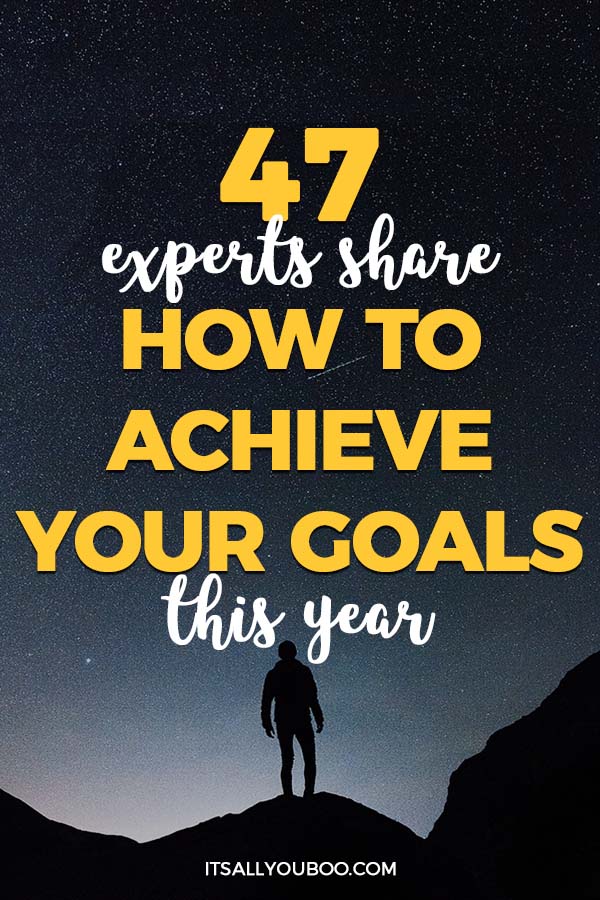 Achieve Your Goals By Planning & Writing Them Down
Achieve Your Goals by Aligning with Your Mission & Values
Achieve Your Goals by Setting Fewer & Smaller Goals
Achieve Your Goals by Setting SMART & Specific Goals
Achieve Your Goals by Staying Focused on What's Important
Achieve Your Goals with Self-Discipline and Commitment
Achieve Your Goals by Being Passionate & Compassionate
Achieve Your Goals With a Supportive Community & Accountability
'Want to actually achieve your goals in 2022? Here's epic #GoalSetting advice from 47 experts. #goals
Start Achieving Your Goals in 2022
What amazing advice from our 47 goal setting and slaying experts!
Now it's your turn to put their sage wisdom into practice in 2022. Take their advice with you in a convenient printable PDF that walks you through the steps of achieving your goals.
The Slay Your Goals Guide has the ten steps to actually achieving your goals this year. Like the advice of our experts, the ten steps include setting your intention for the year, breaking your big goal into "mini" goals, scheduling actionable tasks, staying motivated, focusing on what's important, building accountability, and more.
As a blogger, entrepreneur, and human, I know the internal challenges and external barriers to achieving your goals all too well. You're struggling to find balance, manage your time, to find the resources and finances to make it all happen, all while being a loving parent, partner or even child (shout out to my millennial friends).
You're fighting the internal doubts of, "will I even make it" and "can I really do this." *exhale doubt* breath in the *heck yeah I can do this!*
What I've learned however is, yes there will be struggles, but if you're faithful in the little things, your daily to-dos and tiny tasks, no matter how you feel or what's going on, it all adds up.
You will be surprised to stand back and see what they've added up to. And you never know which action will be your tipping point, that moment when you've achieved your goal.
Get started today by taking your first step, don't wait.
Ready to achieve your goals in 2022? 47 experts share their #1 tip for achieving your goals. Click here for EPIC advice. Plus, get your FREE Printable Slay Your Goals Guide. #GoalSetting #Goals2022 #AchieveYourGoals

How do you achieve your goals?
Last Updated on February 22, 2022