What are the best quotes about achieving dreams and goals?
Looking for motivational quotes about achieving goals and pursuing dreams?
How do you make your dreams and goals a reality?
It starts with a spark, a simple idea, a wish, maybe even a hope, that life can be better than this. That you can do more, achieve more, be more, and do more than you ever thought possible.
That seed of a dream is planted in your heart and soul and it starts to grow. Soon your mind is consumed with daydreams and visions of this future life where you're successful. Where maybe you've quit your 9 to 5 job, launched your own business, or have a successful blog. You're the boss you always knew you would be.
But then, you snap back to reality and realize the distance between where you are right now, and where you want is great.
If only it was that easy if only all it took were dreams and wishes. If that was true, everyone would pursue their dreams and make it happen. But don't let that stop you-you can do this!
To make your dreams come true, you'll have to transform it into a goal and set a deadline for yourself. You'll have to get motivated, be committed daily and believe in yourself like you never had to before. That's not all – you'll likely face challenges and failures, but you'll arise to overcome your fears and never give up.
For one simple reason, you know you were made for more than this.
If you're ready to get started on that life you've been dreaming about, here are 150 motivational quotes about achieving dreams and goals.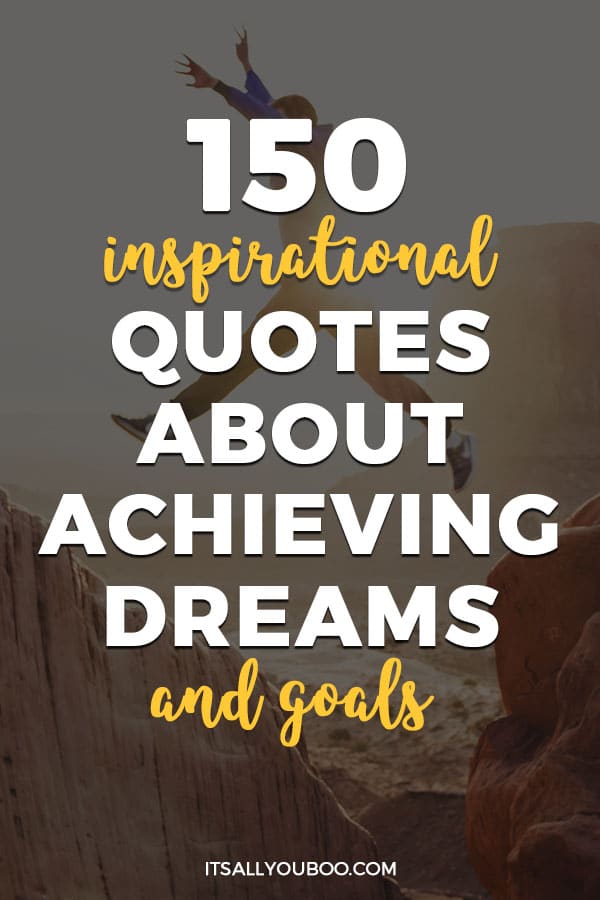 Believe in Your Dreams Quotes
Do you want to pursue your dreams? Can't stop thinking about achieving dreams in life? Your first step is simple: believe in your dreams. Don't let anyone tell you that you can't do it, that it's not possible. This collection of quotes about achieving dreams inspires you to not just dream but to claim your future and protect your dreams by believing in them.
"The future belongs to those who believe in the beauty of their dreams." – Eleanor Roosevelt
2. "The greatest achievement was at first, and for a time, but a dream." – Napoleon Hill
3. "Though we may have desires or bold goals, for whatever reason, most of us don't think we can achieve something beyond what we're qualified to achieve. Why, I ask, do we let reality interfere with our dreams?" – Simon Sinek
4. "Every great dream begins with a dreamer. Always remember, you have within you the strength, the patience, and the passion to reach for the stars to change the world." – Harriet Tudman
👉🏽 RELATED POST: 39 Amazing Quotes to Boost Your Confidence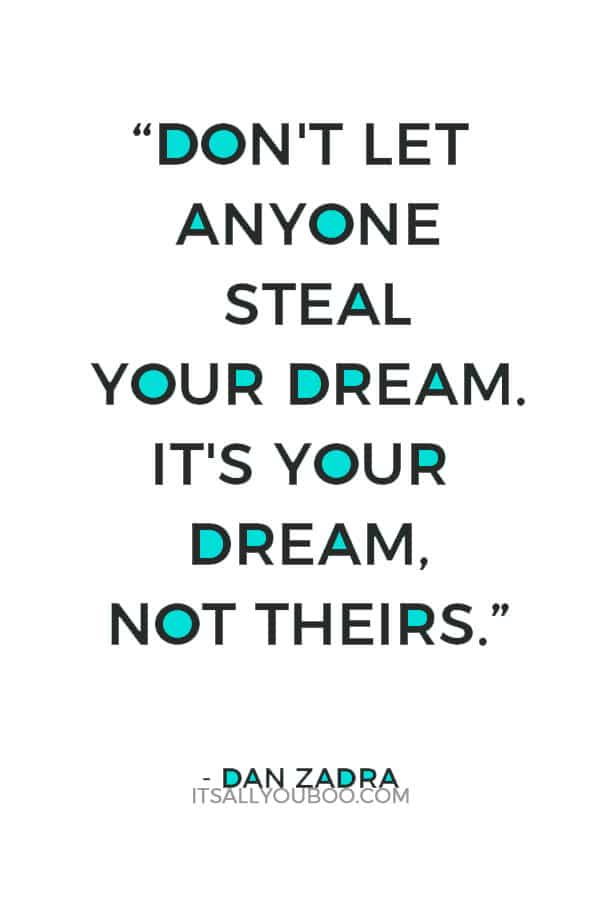 5. "Don't let anyone steal your dream. It's your dream, not theirs." – Dan Zadra
6. "No one has the power to shatter your dreams unless you give it to them." – Maeve Greyson
"Don't ever let someone tell you, you can't do something. Not even me. You got a dream, you got to protect it." – Steven Conrad
8. "Let your dreams outgrow the shoes of your expectations." – Ryunosuke Satoro
9. "If you take responsibility for yourself you will develop a hunger to accomplish your dreams." – Les Brown
Why You Should Pursue Your Dreams Quotes
We all say that we have big dreams for our future, but what exactly are dreams? Your dreams are precious, they are what make life worth living. The following quotes about pursuing your dreams, make us wonder, what would life be like without our dreams? Wake up, chase your dreams and find out.
"The biggest adventure you can ever take is to live the life of your dreams." – Oprah
11. "Dreams are little nudges from your soul." – Victoria Moran
12. "The best thing is being part of history and achieving something you've dreamed of." – Garbine Muguruza
13. "Hold fast to dreams, for if dreams die, life is a broken-winged bird that cannot fly." – Langston Hughes
👉🏽 RELATED POST: Should I Follow My Dreams or Be Realistic?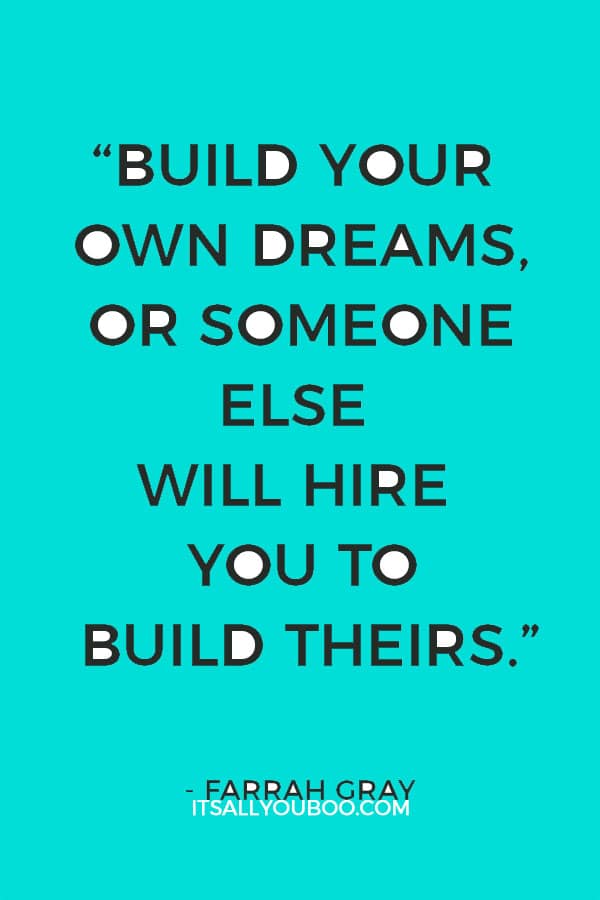 14. "Build your own dreams, or someone else will hire you to build theirs." – Farrah Gray
15. "When we can't dream any longer we die." – Emma Goldman
16. "When you cease to dream you cease to live." – Malcolm S. Forbes
"Life is short, fragile and does not wait for anyone. There will never be a perfect time to pursue your dreams and goals." – Unknown
18. "You can't stop dreaming just because the night never seems to end." – Curtis Tyrone Jones
19. "Our truest life is when we are in dreams awake." – Henry David Thoreau
Quotes About Going After Your Dreams
Tired of dreaming and ready to live your dreams in life? Enough dreaming about pursuing your dreams, and wake up and go after them. If you can dream it, you can not only go after it but reach it. This collection of quotes about achieving dreams inspires us to get up, be bold and go after our dreams with all we have. No one's going to give your dream life to you, you have to take it.
20. "Whatever you can do, or dream you can, begin it. Boldness has genius, magic, and power in it." – Johann Wolfgang Von Goethe
"It's up to you to make your life. Take what you have and stack it up like a tower of teetering blocks. Build your dream around that." – Cheryl Strayed
22. "We all have those dreams we've never let go of. But believe it or not, sometimes a job that we're not that keen on can help us achieve those dreams or goals." – John Rampton
👉🏽 RELATED POST:  19 Powerful Quotes that Motivate You to Start
23. "You can't just sit there and wait for people to give you that golden dream. You've got to get out there and make it happen for yourself." – Diana Ross
"If you can dream it, you can do it." – Walt Disney
25. "There are those who look at things the way they are, and ask why… I dream of things that never were, and ask why not?" – Robert Kennedy
26. "Stay focused, go after your dreams and keep moving toward your goals." – LL Cool J
"Go out and chase your dreams no matter how crazy it looks." – Shanice Williams
28. "Why should you continue going after your dreams? Because seeing the look on the faces of the people who said you couldn't… will be priceless." – Kevin Ngo
The Difference Between Dreams and Goals Quotes
Want to achieve your dreams? The key is to know the difference between dreams and goals. Don't just make a wish aka a dream, but set an achievable goal and take action towards reaching it. The following quotes about reaching your dreams explains the difference between dreams and goals. Get goal setting!
"Reach high, for stars lie hidden in you. Dream deep, for every dream precedes the goal." – Rabindranath Tagore
30. "Goals are dreams with deadlines." – Diana Scharf
31. "A goal without a timeline is just a dream." – Robert Herjavec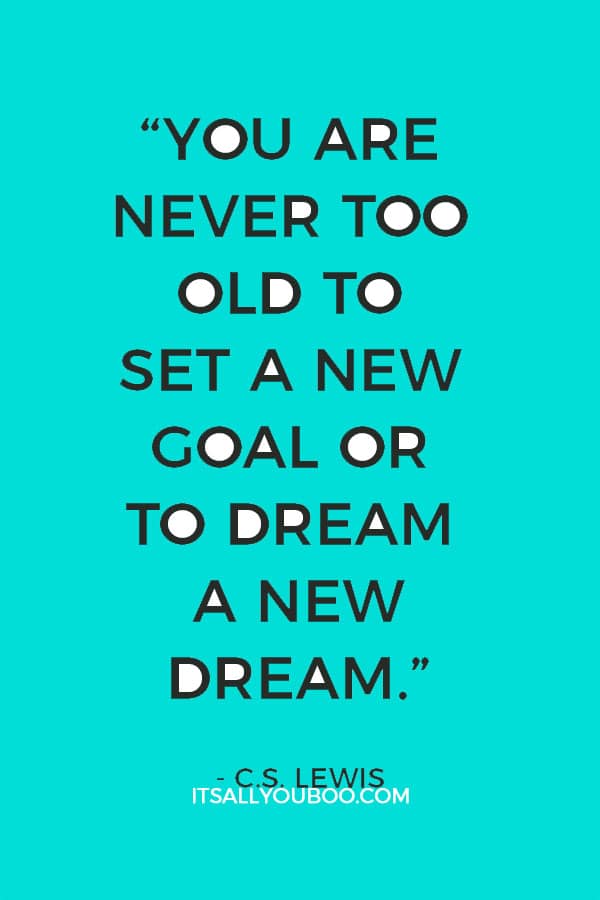 32. "You are never too old to set a new goal or to dream a new dream." – C.S. Lewis
"If you don't have daily objectives, you qualify as a dreamer." – Zig Ziglar
34. "A dream becomes a goal when action is taken toward its achievement." – Bo Bennett
35. "No wishes are silly, no dreams remain dreams, for those committed to clear and definitive goals." – Maximillian Degenerez
Write Your Goals and Dreams Down Quotes
How do you transform your dreams into achievable goals? It all starts by writing your goals and dreams down on paper. This collection of quotes about achieving dreams and goals teaches us that there's power in putting them on paper. Grab a pen, write your future!
36. "You control your future, your destiny. What you think about comes about. By recording your dreams and goals on paper, you set in motion the process of becoming the person you most want to be. Put your future in good hands—your own." — Mark Victor Hansen
"A dream written down with a date becomes a goal. A goal broken down into steps becomes a plan. A plan backed by action makes your dreams come true." – Greg S. Reid
👉🏽 RELATED POST: 41 Motivational Goal Setting Quotes & Sayings
38. "Review your goals twice every day in order to be focused on achieving them." – Les Brown
39. "I truly believe that if you put your goals in writing, speak them out loud and work for them, they will happen." – Ciara
Quotes about Visualizing Reaching Your Dreams
Want to focus on your dreams? To stay consistent and committed? A secret to achieving your dreams is to visualize them using the Law of Attraction. Don't just believe it in your mind or your heart, believe it in your spirit or your bones if you have to. The following quotes about achieving dreams inspire us to visualize success, creating vision boards, speaking mantras, and positive affirmations. You need vision, not just a dream!
"If you want to accomplish the goals of your life, you have to begin with the spirit." – Oprah Winfrey
41. "I believe that visualization is one of the most powerful means of achieving personal goals." – Harvey Mackay
👉🏽 RELATED POST:  How to Train Your Subconscious Mind for Success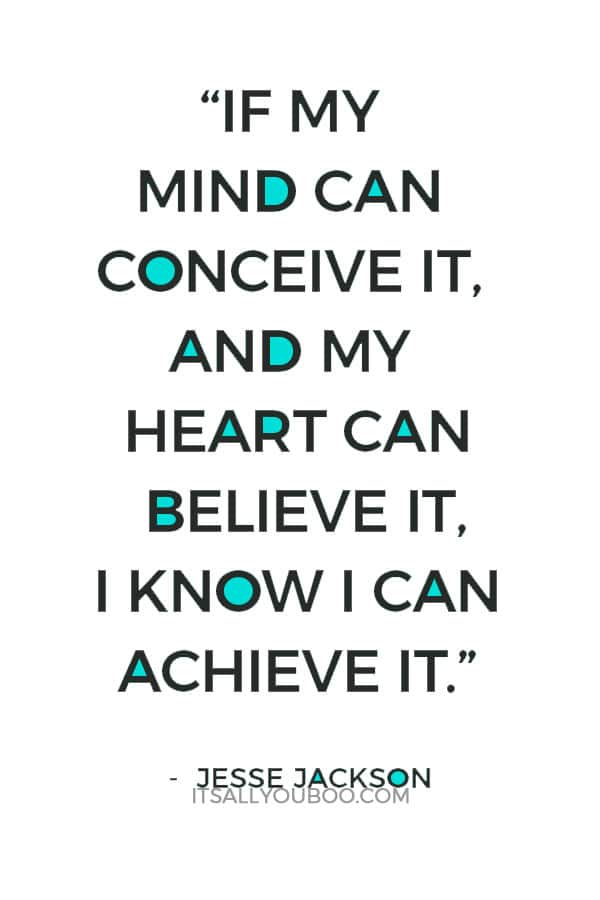 42. "If my mind can conceive it, and my heart can believe it, I know I can achieve it." – Jesse Jackson
"If you want to reach a goal, you must see the reaching in your mind before you actually arrive at your goals." – Zig Ziglar
44. "You can make a board for all the goals you want in your life with the pictures on it, and that's great, daydreaming is wonderful, but you can never plan your future." – Taylor Swift


45. "Clarity of vision is the key to achieving your objectives." – Tom Steyer
46. "Your vision will become clear only when you can look into your own heart. Who looks outside, dreams; who looks inside, awakes." – Carl Jung
47."Visions are worth fighting for. Why spend your life making someone else's dreams?" – Tim Burton
Why Goals Are Important In Life Quotes
Why are your dreams and goals so important? What's the point of setting goals in life? Dreams and goals may give us meaning, but it's about more than that. This selection of goal setting quotes illustrate how having a goal gives us purpose, happiness, hope, fulfillment, more energy and so much.
"It must be borne in mind that the tragedy of life doesn't lie in not reaching your goal. The tragedy lies in having no goals to reach." – Benjamin E. Mays
49. "If you're bored with life – you don't get up every morning with a burning desire to do things – you don't have enough goals." – Lou Holtz
50. "To live a fulfilled life, we need to keep creating the "what is next", of our lives. Without dreams and goals there is no living, only merely existing, and that is not why we are here." – Mark Twain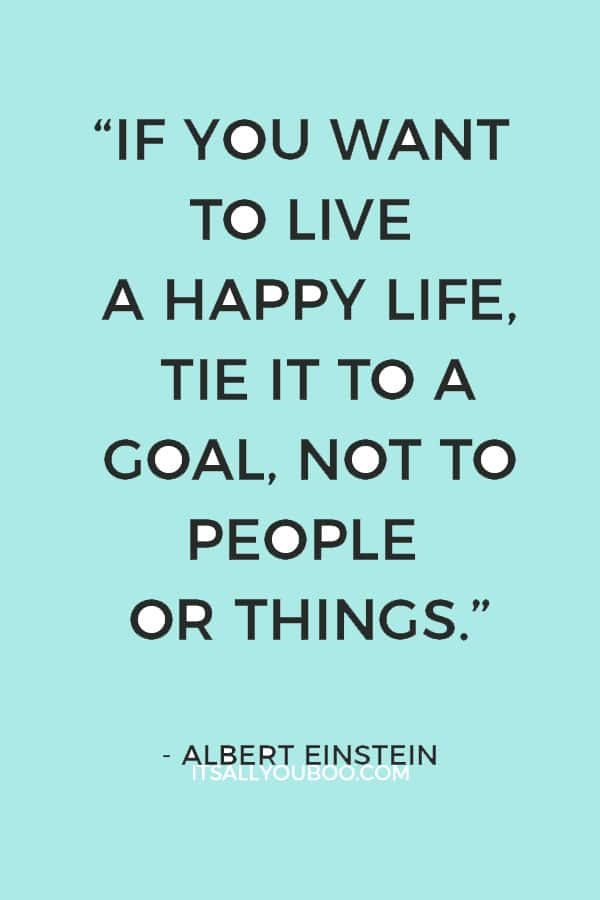 51. "If you want to live a happy life, tie it to a goal, not to people or things." – Albert Einstein
52. "A man is not old until regrets take the place of dreams." – John Barrymore
"If you want to be happy, set a goal that commands your thoughts, liberates your energy and inspires your hopes." – Andrew Carnegie
54. "Dreams are today's answers to tomorrow's questions." – Edgar Cayce
55. "Bending over backwards does not bring you the love and attention you crave, but having your own life, your own goals and a backbone will." – Sherry Argov
56. "Dream is not the thing you see in sleep but is that thing that doesn't let you sleep." – A.P.J. Abdul Kalam
Quotes about Big Dreams and Small Goals
Do you have big dreams and goals? Perhaps they're too big or not big enough? How do you know? The following quotes on dreams and goals show us how to make seemingly impossible dreams more realistic by setting smaller goals. Break your big dreams down into achievable goals that you can aim for. Think about setting SMART Goals for example.
57. "Dream small dreams. If you make them too big, you get overwhelmed and you don't do anything. If you make small goals and accomplish them, it gives you the confidence to go on to higher goals." – John H. Johnson
"You achieve long-term success step by step. Try to achieve your goals one at a time, like you do target practice." – Daniel Snyder
59. "All who have accomplished great things have had a great aim, have fixed their gaze on a goal which was high, one which sometimes seemed impossible." – Orison Swett Marden
60. "I believe in the saying, 'If you aim at nothing, you're going to hit nothing.' So if you don't set goals, then you have nowhere to go." – Taylor Lautner
61. "It is a paradoxical but profoundly true and important principle of life that the most likely way to reach a goal is to be aiming not at that goal itself but at some more ambitious goal beyond it." – Arnold Toynbee
62. "Having an aim is the key to achieving your best." – Henry J. Kaiser
"The greater danger for most of us lies not in setting our aim too high and falling short; but in setting our aim too low, and achieving our mark." – Michelangelo
64. "Before achieving a dream, you need to make very little steps… People don't understand that when you want to make a big dream you have a lot of fastidious little things you have to do." – Bertrand Piccard
65. "Dream big and dare to fail." – Norman Vaughan
Make a Plan for Reaching Your Dreams
How will you reach your dreams? Don't just write it down, visualize it, or break it down into smaller goals, but also create a plan for achieving them. This collection of quotes about reaching your dreams encourages us to make a step-by-step plan for our big impossible dreams in life. Setting goals is not enough! You need a plan too.
"Our goals can only be reached through a vehicle of a plan, in which we must fervently believe, and upon which we must vigorously act. There is no other route to success." – Pablo Picasso
67. "When defeat comes, accept it as a signal that your plans are not sound, rebuild those plans, and set sail once more toward your coveted goal." – Napoleon Hill
68. "Crystallize your goals. Make a plan for achieving them and set yourself a deadline. Then, with supreme confidence, determination and disregard for obstacles and other people's criticisms, carry out your plan." – Paul J. Meyer
👉🏽 RELATED POST:  The Best Planner You Need to Achieve Your Goals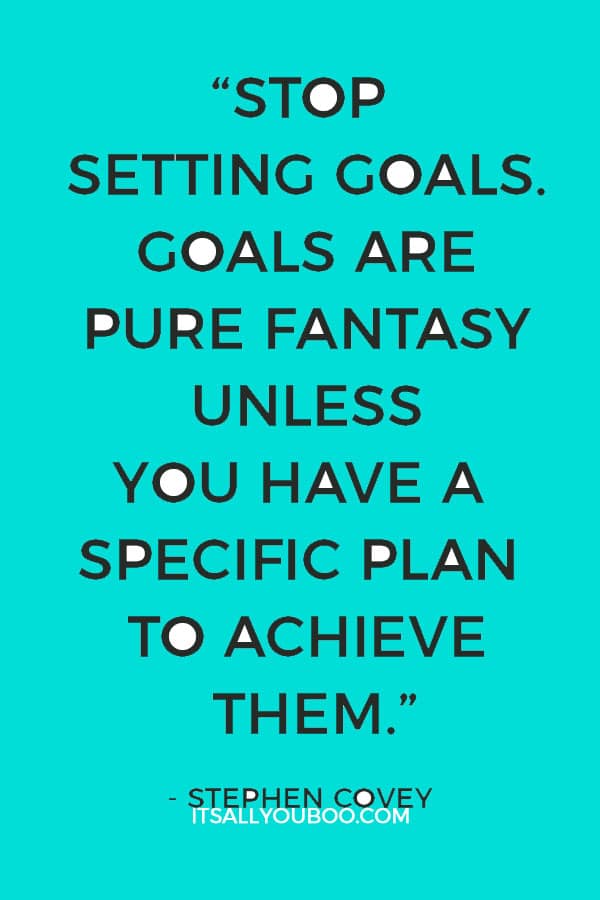 69. "Stop setting goals. Goals are pure fantasy unless you have a specific plan to achieve them." – Stephen Covey
70. "Although goals are important, having a plan of action is vital to the success of those goals. Having a goal with no plan of action is like wanting to travel to a new destination without having a map." – Steve Maraboli
"Be stubborn about your goals. And flexible about your methods." – Anonymous
72. "When it is obvious that the goals cannot be reached, don't adjust the goals, adjust the action steps." – Confucius
73. "If you go to work on your goals, your goals will go to work on you. If you go to work on your plan, your plan will go to work on you. Whatever good things we build end up building us." – Jim Rohn
You Have to Work to Achieve Your Goals Quotes
How do you become successful? How do you actually achieve dreams in life? You guessed it – you have to work hard for it. No one is going to give you your dream life, you have to take action to achieve them. Don't just plan, don't just learn, but get started. These inspirational quotes about achieving goals motivate us to work for our dreams. Are you willing to pay for your dreams?
"No matter how carefully you plan your goals they will never be more than pipe dreams unless you pursue them with gusto." – W. Clement Stone
75. "The only limit to the height of your achievements is the reach of your dreams and your willingness to work for them." – Michelle Obama
76. "If you have a dream, you can spend a lifetime studying, planning, and getting ready for it. What you should be doing is getting started." – Drew Houston
"I never dreamed about success, I worked for it." – Estee Lauder
👉🏽 RELATED POST: How to Take Action When You Can't Get Started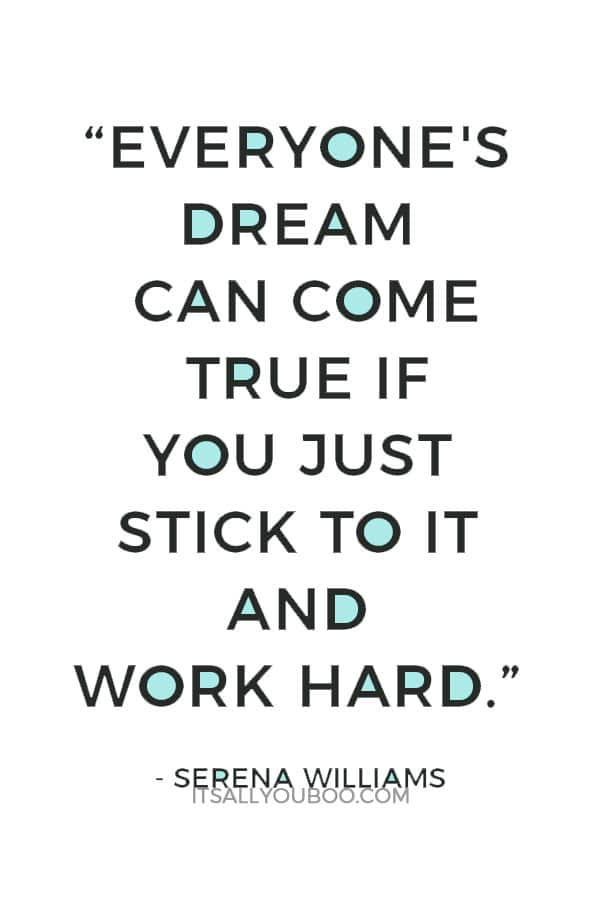 78. "Everyone's dream can come true if you just stick to it and work hard." – Serena Williams
79. "If you want to achieve what you dream of achieving, whatever it may be, you're going to have to earn it." – Miles D. White
80. "I have goals and aspirations, and I believe that you can go after your dreams, and it can work if you have someone there that's supporting you." – Tia Mowry
"Dreams are free. Goals have a cost. While you can daydream for free, goals don't come without a price. Time, Effort, Sacrifice, and Sweat. How will you pay for your goals?" – Usain Bolt
82. "A desire presupposes the possibility of action to achieve it; action presupposes a goal which is worth achieving." – Ayn Rand
83. "If you have a dream, don't just sit there. Gather courage to believe that you can succeed and leave no stone unturned to make it a reality." – Roopleen
Get Motivated about Achieving Dreams Quotes
And here's the magical ingredient – motivation! You simply cannot achieve any dream or goal with actually getting motivated. Are you? Do you want it badly enough to focus on your dreams and follow through? The following motivational quotes about achieving dreams inspire us to not just get motivated but to let our goals be our motivation. Do your goals motivate you? What about your dreams? And if they don't, then perhaps they're the wrong goals for you.
"Life takes on meaning when you become motivated, set goals and charge after them in an unstoppable manner." – Les Brown
85. "You don't have to be a fantastic hero to do certain things – to compete. You can be just an ordinary chap, sufficiently motivated to reach challenging goals." – Edmund Hillary
86. "Desire, burning desire, is basic to achieving anything beyond the ordinary." – Joseph B. Wirthlin
87. "The changing of the goals helps keep the motivation fresh." – Bradley Wiggins
👉🏽 RELATED POST:  54 Experts Share How to Get Motivated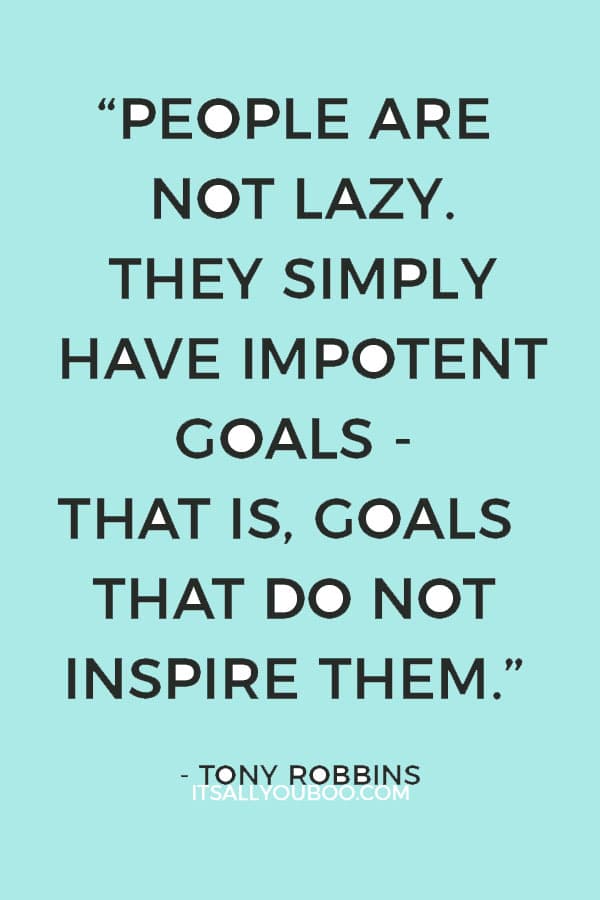 88. "People are not lazy. They simply have impotent goals – that is, goals that do not inspire them." – Tony Robbins
"There's nothing wrong with being driven. And there's nothing wrong with putting yourself first to reach your goals." – Shonda Rhimes
90. "Goals are not only absolutely necessary to motivate us. They are essential to really keep us alive." – Robert H. Schuller
91. "Goals provide the energy source that powers our lives. One of the best ways we can get the most from the energy we have is to focus it. That is what goals can do for us; concentrate our energy." – Denis Waitley
"Goals give you a mark to shoot for and keep you motivated when you face adversity." – Benjamin Watson
93. "What keeps me going is goals." – Muhammad Ali
Quotes about Committing Time Daily to Goals
Do you feel too busy to reach your dreams? No time in your busy life to achieve your goals? Think again. You need to prioritize your time and your energy in order to live the dream. This selection of motivational quotes about achieving dreams reminds of the necessity of committing time every single day to work towards our dream.
94. "Know what you want to do, hold the thought firmly, and do every day what should be done, and every sunset will see you that much nearer to your goal." – Elbert Hubbard
"If a goal is worth having, it's worth blocking out the time in your day-to-day life necessary to achieve it." – Jill Koenig
96. "Discipline is the bridge between goals and accomplishment." – Jim Rohn
97. "The discipline you learn and character you build from setting and achieving a goal can be more valuable than the achievement of the goal itself." – Bo Bennett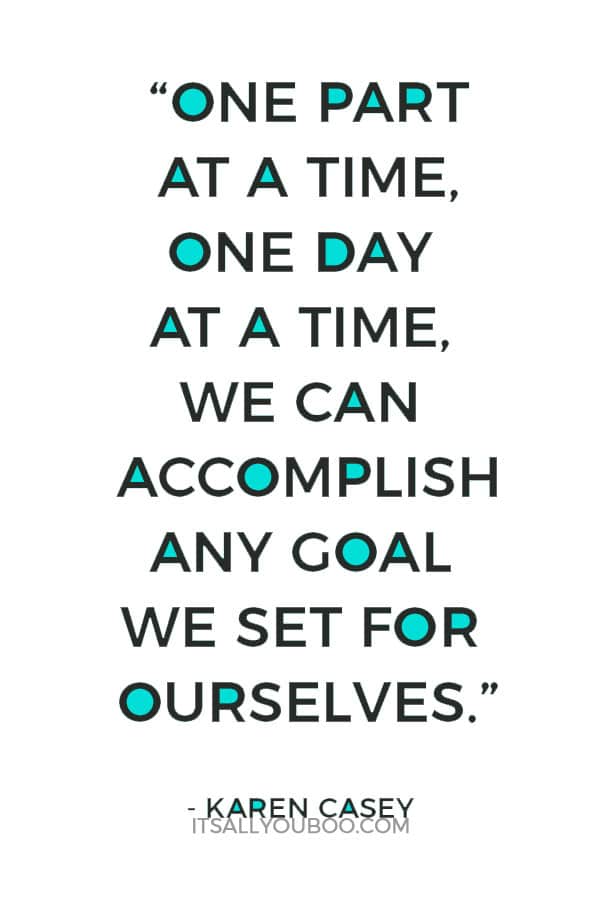 98. "One part at a time, one day at a time, we can accomplish any goal we set for ourselves." – Karen Casey
98. "Hustling is putting every minute and all your effort into achieving the goal at hand. Every minute needs to count." – Gary Vaynerchuk
"Make each day count by setting specific goals to succeed, then putting forth every effort to exceed your own expectations." – Les Brown
👉🏽 RELATED POST: Top Ten Productivity Tips and Tricks
101. "Time can be an ally or an enemy. What it becomes depends entirely upon you, your goals, and your determination to use every available minute." – Zig Ziglar
102. "Every minute you spend in your life is either spent bringing you closer to your goals or moving you away from your goals." – Bo Bennett
"If what you are doing is not moving you towards your goals, then it's moving you away from your goals." – Brian Tracy
104. "If you don't make the time to work on creating the life that you want, you're going to spend a lot of time dealing with a life you don't want." – Kevin Ngo
Believe In Yourself and Be Positive Quotes
You have to not only believe in your dreams and goals but believe in yourself. Your mental attitude, your mindset, all that you think about yourself and your goal is the deciding factor in achieving dreams in life. The following quotes about reaching your dreams are all about being positive, having the right mental attitude and not letting negativity, anxiety, stress or worry rob you of your dream.
105. "Nothing can stop the man with the right mental attitude from achieving his goal; nothing can help the man with the wrong mental attitude." – Thomas Jefferson
"Your goals, minus your doubts, equal your reality." – Ralph Marston
107. "Having the strength to tune out negativity and remain focused on what I want gives me the will and confidence to achieve my goals." –Gisele Bundchen
108. "If you are calm about your ambitions, you become confident of achieving what you set out to do. "– Shiv Nadar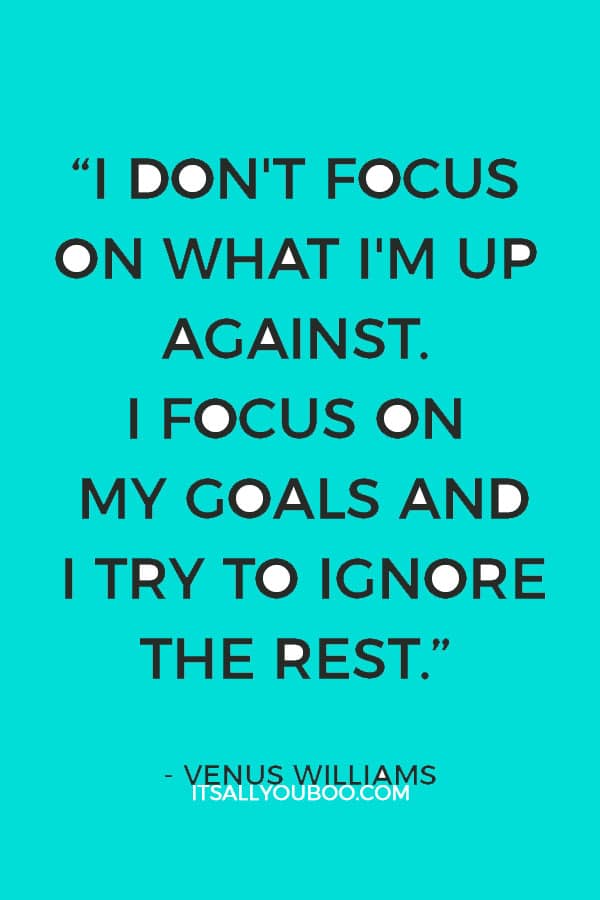 109. "I don't focus on what I'm up against. I focus on my goals and I try to ignore the rest." – Venus Williams
"You must not let your negative emotions distract you from achieving your goals." – Clay Clark
111. "Decide whether or not the goal is worth the risks involved. If it is, stop worrying." – Amelia Earhart
112." Develop an attitude of gratitude, and give thanks for everything that happens to you, knowing that every step forward is a step toward achieving something bigger and better than your current situation." – Brian Tracy
Defeat Your Fears to Achieve Your Dreams Quotes
Afraid of failure? Worried about the criticisms of others? You simply cannot let fear prevent you from pursuing your dreams. You have to want to live your dream life more than you want to be afraid. This collection of quotes about dreams and goals dares us to defy our fears and go for it anyways. Be brave!
"I feel liberated, empowered, inspired and motivated. Fear holds you back from achieving what you want in life." – Ricki-Lee Coulter
114. "There is only one thing that makes a dream impossible to achieve: the fear of failure." – Paulo Coelho
115. "But you have to do what you dream of doing even while you're afraid." – Arianna Huffington
👉🏽 RELATED POST: 50 Quotes About Being Criticized and How to Handle it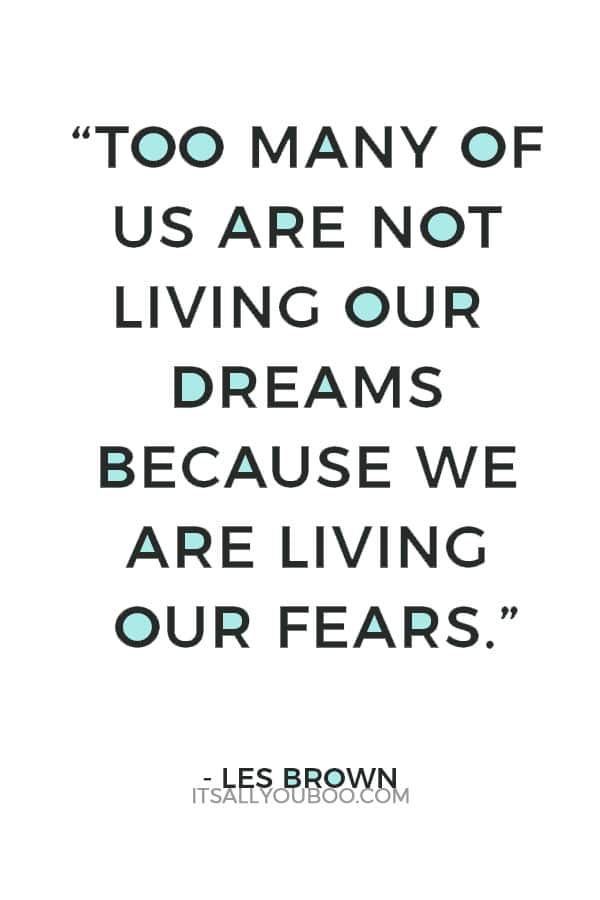 116. "Too many of us are not living our dreams because we are living our fears." – Les Brown
"A head full of fears has no space for dreams." – Unknown
118. "We must walk consciously only part way toward our goal and then leap in the dark to our success." – Henry David Thoreau
Quotes about Overcoming Obstacles to Dreams
Are you struggling to reach your dreams and goals? Is it hard and are there more challenges than you expected? That's how it is for everyone, but don't let the obstacles to success stop you. The following quotes about achieving dreams and goals encourages you to push on, to face your challenges and to win. The prize is your dream life after all. It's worth it!
119. "Direct your energy toward achieving a goal, and tackle the problems with an emphasis on edging closer to a successful result." – Harvey Mackay
120. "Circumstances may cause interruptions and delays, but never lose sight of your goal. Prepare yourself in every way you can by increasing your knowledge and adding to your experience, so that you can make the most of opportunity when it occurs." – Mario Andretti
"You need to overcome the tug of people against you as you reach for high goals." – George S. Patton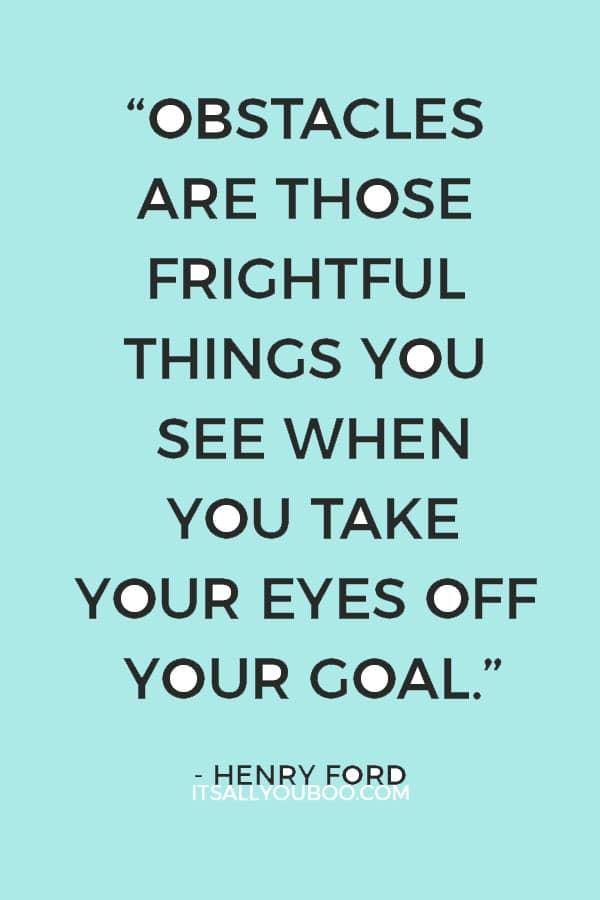 122. "Obstacles are those frightful things you see when you take your eyes off your goal." – Henry Ford
123. Recast your current problems into proactive goals." – Suze Orman
"The height of my goals will not hold me in awe, though I may stumble often before they are reached." – Og Mandino
125. "Greatness is not measured by what a man or woman accomplishes, but by the opposition he or she has overcome to reach his goals." – Dorothy Height
126. "You measure the size of the accomplishment by the obstacles you have to overcome to reach your goals." – Booker T. Washington
Never Give Up on Your Dreams Quotes
Do you feel like giving up? Want to quit on your dreams and goals? Don't! If it was easy everyone would do it. Stop making excuses for not achieving your goals, and get up and keep going. These quotes about achieving goals in life motivate us to never give in and to never give up on our dreams.
"The only thing standing between you and your goal is the bullshit story you keep telling yourself as to why you can't achieve it." – Jordan Belfort
128 . "Your complaints, your drama, your victim mentality, your whining, your blaming, and all of your excuses have never gotten you even a single step closer to your goals or dreams. Let go of your nonsense. Let go of the delusion that you deserve better and go earn it!" – Steve Maraboli
129. "If you begin feeling beaten, you will achieve nothing. If you fight, you will perhaps have a chance of achieving something." – Raymond Aubrac
"The difference between average people and achieving people is their perception of and response to failure." – John C. Maxwell
👉🏽 RELATED POST: 45 Uplifting Quotes for When You Feel Like Giving Up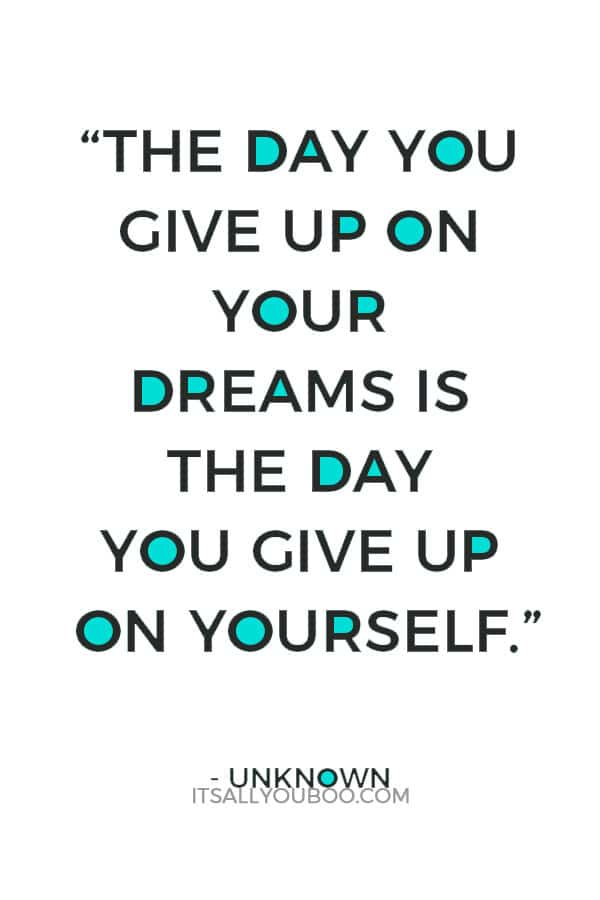 131. "The day you give up on your dreams is the day you give up on yourself." – Unknown
132. "Many people fail in life, not for lack of ability or brains or even courage but simply because they have never organized their energies around a goal." – Elbert Hubbard
"Goals seem impossible only when you are not heading toward them." – Mike Hawkins
134. "Never give up on what you really want to do. The person with big dreams is more powerful than the one with all the facts." – H. Jackson Brown, Jr.
135. "Never give up on a dream just because of the time it will take to accomplish it. The time will pass anyway." – Earl Nightingale
Quotes about Achieving Goals in Life
Why should you reach your goals? What are the benefits of achieving your dreams? It's not just for glory, it's for so much more. These inspirational quotes about achieving dreams open our eyes to the reason why we're pursuing our dreams in the first place. There's just no better feeling than knowing you're successful, that you did it. It's the meaning of life. It can give your life meaning.
"There's nothing better than achieving your goals, whatever they might be." – Paloma Faith
137. "No man or woman is an island. To exist just for yourself is meaningless. You can achieve the most satisfaction when you feel related to some greater purpose in life, something greater than yourself." – Denis Waitly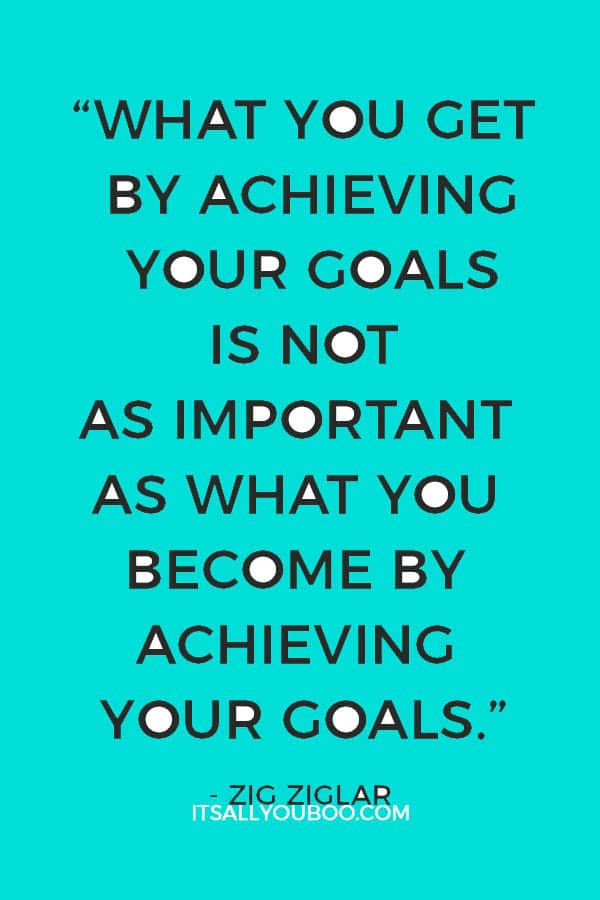 138. "What you get by achieving your goals is not as important as what you become by achieving your goals." – Zig Ziglar
139. "Generally, achieving goals… which in many cases means winning… is really the ultimate in this life we live in." – Tom Landry
"Goals are the fuel in the furnace of achievement." – Brian Tracy
141. "The reason most people never reach their goals is that they don't define them, or ever seriously consider them as believable or achievable. Winners can tell you where they are going, what they plan to do along the way, and who will be sharing the adventure with them." – Denis Waitley
142. "Focus, discipline, hard work, goal setting and, of course, the thrill of finally achieving your goals. These are all lessons in life." – Kristi Yamaguchi
143. "You should never worry too much about achieving your goals, because in the long run you might not find yourself too happy when you get there." – Chad Channing
Always Set New Goals and Dreams in Life
So, what's next? What do you do after you've achieved your goals and reached your dreams? That's simple, you dream new dreams and set new goals. You continue to pursue with new passion and renewed purpose. These final quotes about achieving dreams and goals remind us that goal setting and achieving goals is always a part of life.
144. "It's harder to stay on top than it is to make the climb. Continue to seek new goals." – Pat Summitt
"No matter how many goals you have achieved, you must set your sights on a higher one." – Jessica Savitch
146. "In between goals is a thing called life, that has to be lived and enjoyed." – Sid Caeser
147. "One way to keep momentum going is to have constantly greater goals." – Michael Korda
"Yesterday is but today's memory, and tomorrow is today's dream." – Khalil Gibran
149. "You can go slow. Allow your dreams and goals to change, but live an intentional life." – Kumail Nanjiani
150. "You will have many more goals in the years ahead. But do not confuse a goal with a purpose." – Ginni Rometty
Achieve Your Dreams and Goals Today
Ready to pursue your dreams and achieve your goals? Get your FREE printable Slay Your Goals Guide with the ten steps to reaching your goals, including how to set your intention, choose your #1 goal and setting mini-goals.
Don't just dream, don't just set goals, but achieve them!
Get motivated, and stay inspired each and every day.
Never give up, until your dream life is your reality! You can do this!
You can reach your goals! You can achieve your dreams! Click here for 150 inspirational quotes about achieving dreams and goals in life. #AchieveYourGoals #DreamLife #DreamsComeTrue

What's your favorite quote about achieving dreams and goals?
Last Updated on July 11, 2021
✕
Get the Slay Your Goals Guide!
+ get weekly tips to help you slay your goals.