How do you make a vision board that works?
Do vision boards really work to attract what you want?
What's a Vision Board?
A vision board is a powerful tool that helps you to accomplish your goals.
You could ask, "Why is it so powerful? It's just a board."
The beauty is that it is not just a board.
What is a vision board?
It is a visualization tool that helps you to lock your goals in your mind and activate your emotions and the law of attraction.
Creating a vision board is one of the most powerful steps you can take towards making your dreams a reality.
What's the Purpose of a Vision Board?
Whenever you look at your vision board, you start seeing yourself having or doing all the things that you put on your board. Over time, these images will go in your subconscious mind, and you will start attracting the resources you need to achieve your goals.
For example, if one of your goals is to have a new car, you put a picture on your board about the car you want. Whenever you look at the picture and you imagine driving your car, it will activate your emotions and your desires which will then help you to get motivated.
Once you become more positive, inspired and motivated, you will be more likely to take action to achieve your goals. These emotions will also activate the law of attraction, and you will start attracting the resources and circumstances you need.
For example, you may find a new job that pays better and you can save for your car. You may get some new customers, who will get your products or services. You may even win some cash or even the car.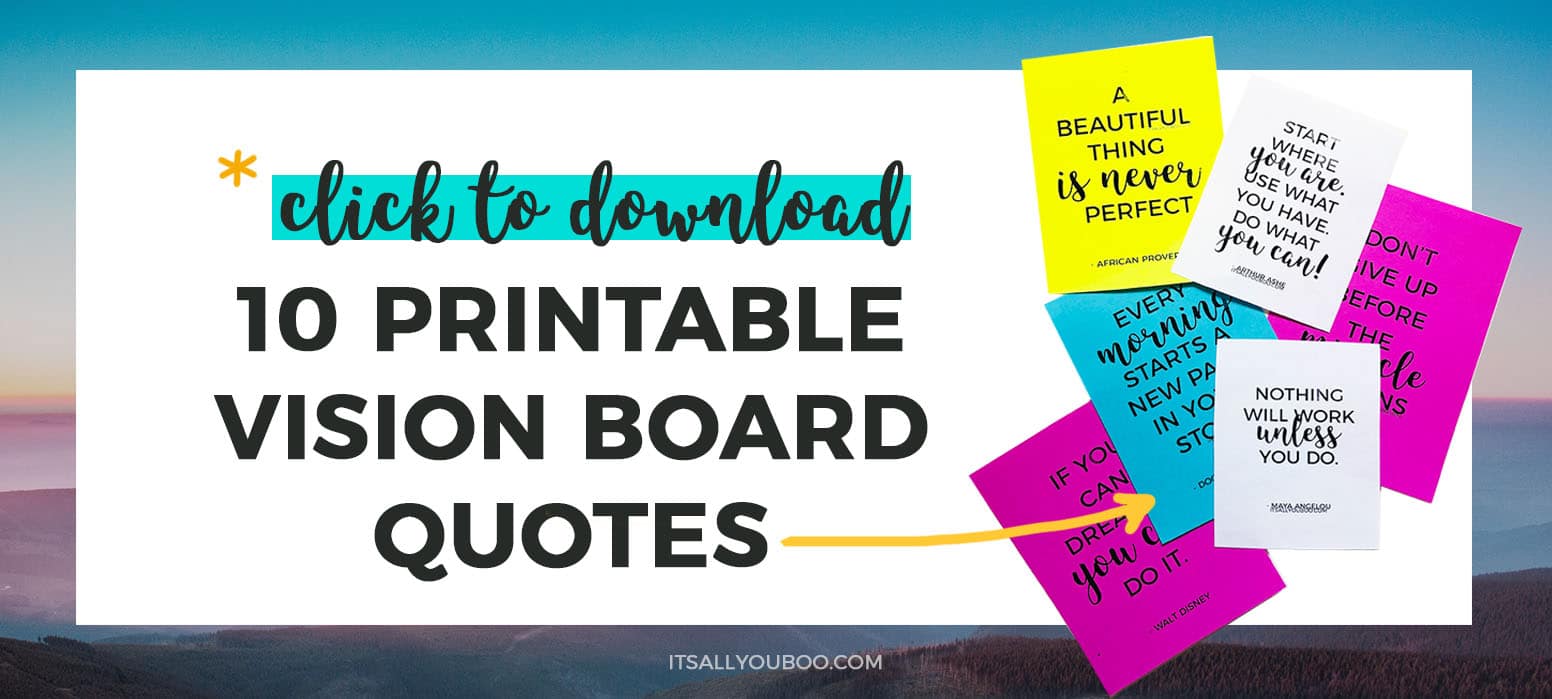 Be open to the possibilities and don't limit what the Universe can do for you. The Universe is always here to help us, but we need to ask first. If you write down your goals, and you put up the pictures on your vision board and visualize them, you are asking the Universe.
You still need to take action towards achieving your goals. You can't just sit on the sofa and visualize all day. Take action and surrender to the Universe to help you to speed up the process.
The same principles apply to any goals – financial goals, relationship goals, holiday goals or health-related goals. The law of attraction and the Universe delivers in any area of life.
👉🏽 RELATED POST: What is the Law of Attraction? How Does it Work?
You may say that all sounds good, but how do I make a perfect vision board that works?
I always say, the simpler the better. We don't need to complicate anything with a vision board.
So how can you make a vision board in only 6 steps? I will show you how to physically create a vision board and what supplies you will need.
6 Steps to Making a Vision Board that Works
Ready to create a vision board that works? That helps you manifest your desires and focus your intentions?
I will show you how to physically create a vision board and what supplies you will need.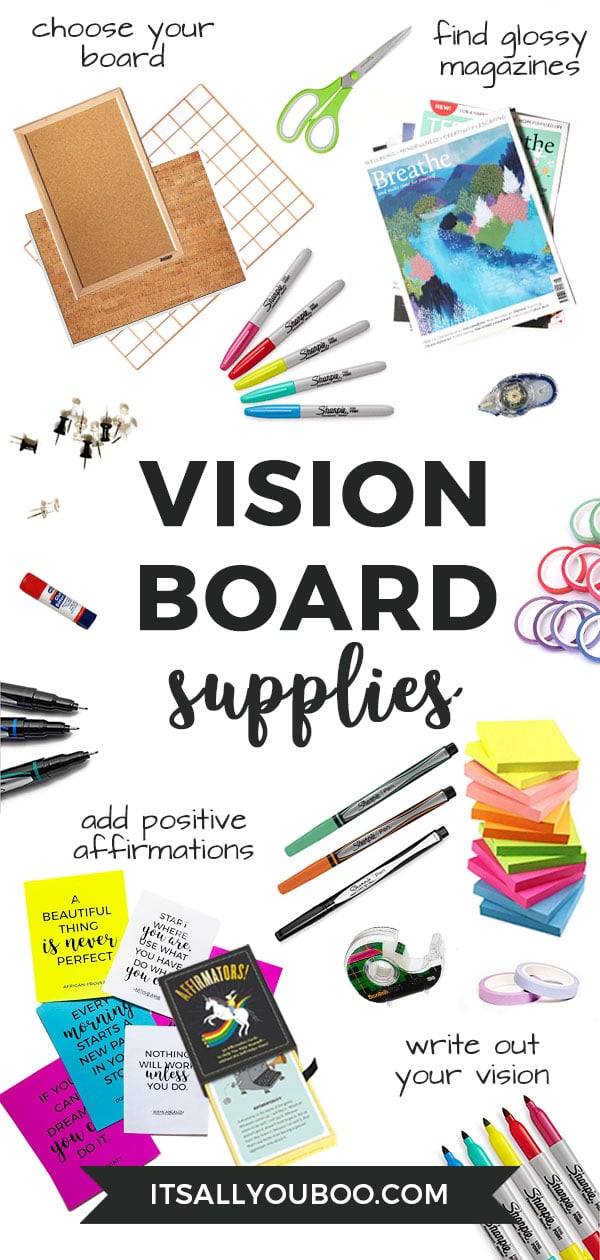 > SHOP THIS PIN <
Bulletin Board with Decorative Cork Veneer / Pulatree Wire Wall Grid Panel / Breathe Magazines / AmazonBasics Multipurpose Office Scissors / Sharpie Color Burst Permanent Markers / Sanford Sharpie Fine Point Pens / Early Buy 6 Bright Color Self-Stick Notes / Affirmators! 50 Affirmation Cards / Tosnail 60 Rolls Washi Tape / Ad-Tech Permanent Crafter's Tape / Avery Glue Stic White / Scotch Magic Tape
Step #1:
Know What You Want
It may sound obvious, but you need to know what you want before you start creating a vision board.
Do you have clear, written, measurable goals?
If you have no written goals, this is where you need to start. Grab a notebook and write down what you want to achieve in the next 12 months. Write down the exact date as well. When do you want to achieve your goal by?
For example, you could say "I want to lose 10 kg by 26th September 2019 at 3 pm." This is a measurable goal because you say how much you want to lose and by when.
👉🏽 RELATED POST: 6 Simple Secrets to Setting Achievable Goals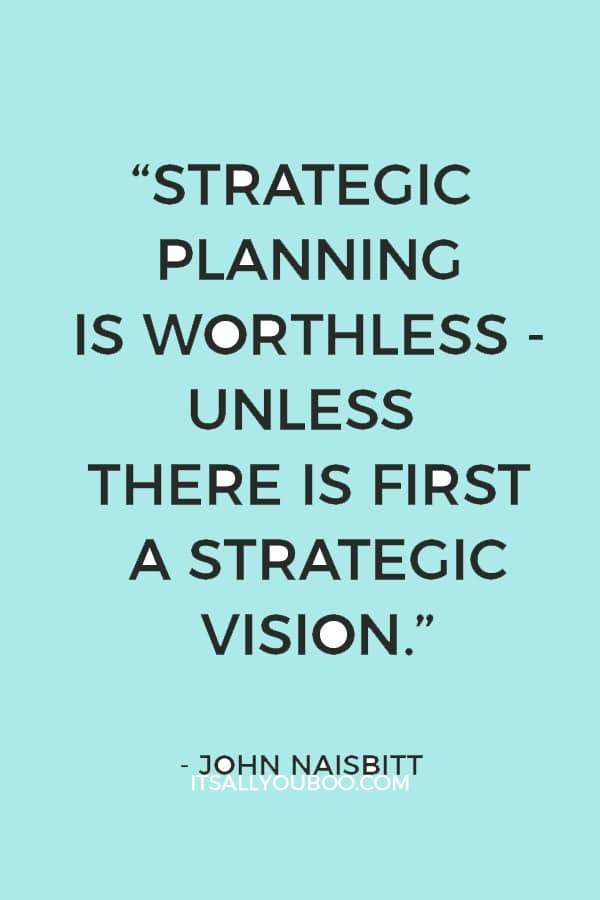 In order to visualize your goals, you need to know what you really want.
Don't limit yourself when you set your goals. Ask yourself – If you could do anything, what would you do? What would you have? Who would you become?
You will start expanding your belief system and what is possible for you when you no longer limit yourself.
There is a saying: "If you can believe it, you can achieve it."
If you don't believe in your dreams, if you don't believe that something you want is achievable for you, then you most certainly won't achieve it.
Your vision board will be effective if you are clear about what you want before you start creating a vision board.
Step #2:
Collect Nice, Old, Glossy Magazines
Do you have any old magazines sitting at the bottom of the drawer?
Good job you haven't chucked them out. Before you do your spring clean, use these magazines to create your vision board.
Go through the pages and have a look if you can find any nice pictures that support your goals.
For example, if your goal is to renovate your kitchen, let's see if you can find pictures of beautifully styled kitchens. If your goal was to lose 10kg, maybe you can find a picture of a person who has the shape that you want. You can change the face of the person by cutting out a picture of yourself.
If you don't have any magazines at home, don't worry too much. First ask your friends, family or neighbors if they have any that they don't need anymore.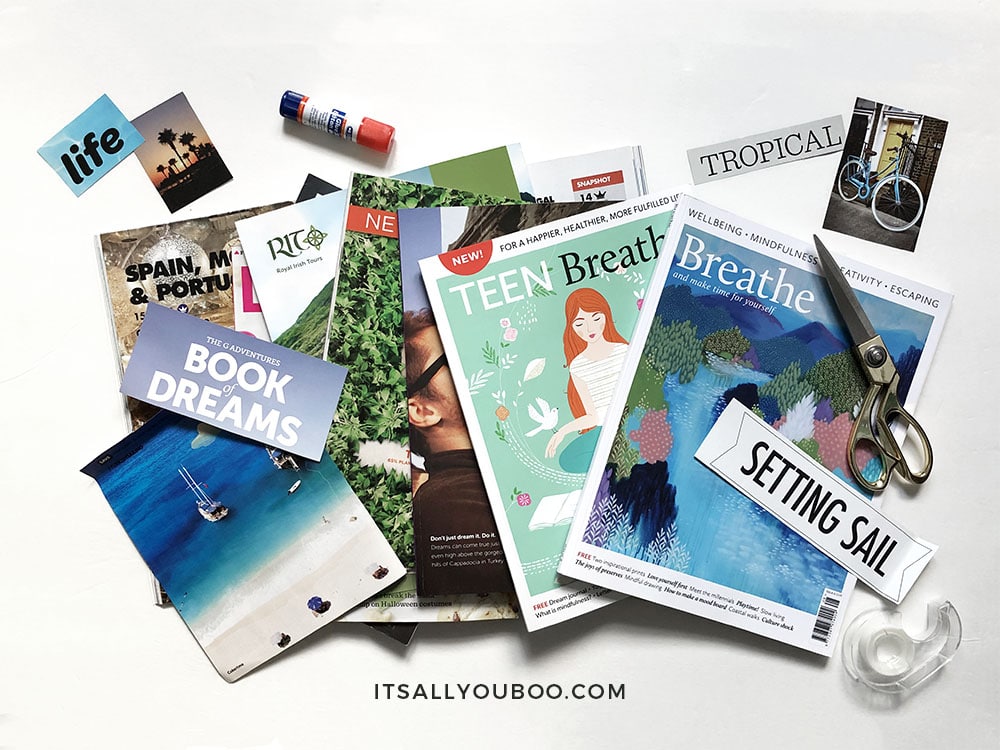 If they have, that's great. But if they don't have any, there are still other solutions. You can look around on eBay, at a garage sale or a flea market, depending on where you are.
Another option is to use the internet and print out pictures that you find. You can be very specific with your pictures here because you can find almost everything online. You can find the specific car, kitchen or holiday you're dreaming about.
Step #3:
Schedule A Few Hours for Yourself
This is the fun part!
Find a few hours per evening or weekend to create your vision board.
Put some nice music on, grab a pair of scissors and start cutting out the pictures from the magazines or from your prints.
You can ask, "How do I know what pictures I should go for?"
The answer is, look inside you and see how the picture makes you feel:
Do you get excited?
Are you feeling inspired?
Do you get motivated?
Are you happy and are you smiling?
This is the picture you should go for. When you find a picture and you say "Yes", that's the one.
Don't put up with pictures that just make you feel "Mehhhh". That won't be any good for your vision board. Be selective, but don't worry if you can't find a picture of your perfect car or your perfect dream house or your perfect relationship.
Maybe a picture of an ideal scene will be enough to inspire you. Maybe a picture that portrays love, or a couple hugging, or just a heart will be perfect.
The main point is how the picture makes you feel rather than the picture itself.
Step #4:
Make Your Own Vision Board
Your vision board can be a simple big cardboard, a cork board, a large piece of paper or a notebook.
It's up to you what you use; the magic is in using it. You need to use it in order to make it work.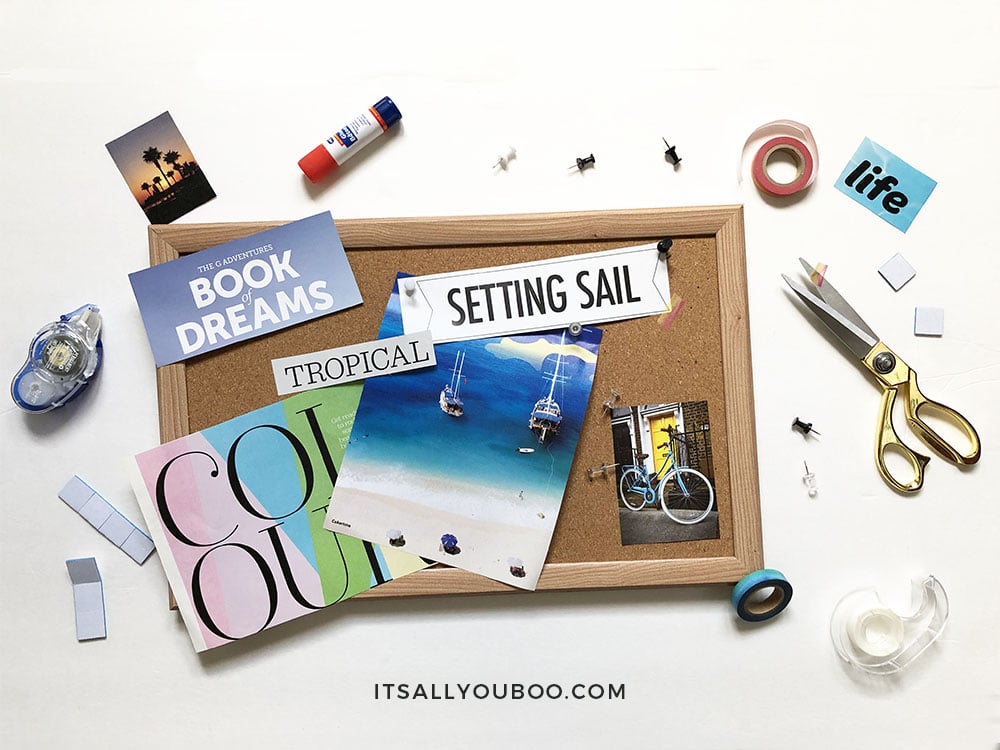 So you have cut out your pictures, the next thing is to fix them on your vision board in a way that looks nice.
You can use glue, tape or blue tack, it really depends on what vision board you use.
One more detail to keep in mind, don't clutter your board. Keep it simple and don't make it look overwhelming.
Step #5:
Add Affirmations and Inspirational Words
I understand that material things are at the center of our attention when we set our goals because we live in a material world. But, your ideal life and your vision board shouldn't be just about material stuff.
Think about how you want to feel in your ideal life as well.
Once you know how you want to feel, create your words that describe this, such as: "peaceful", "loved", "abundant", "committed", "healthy", "happy", "courageous", etc.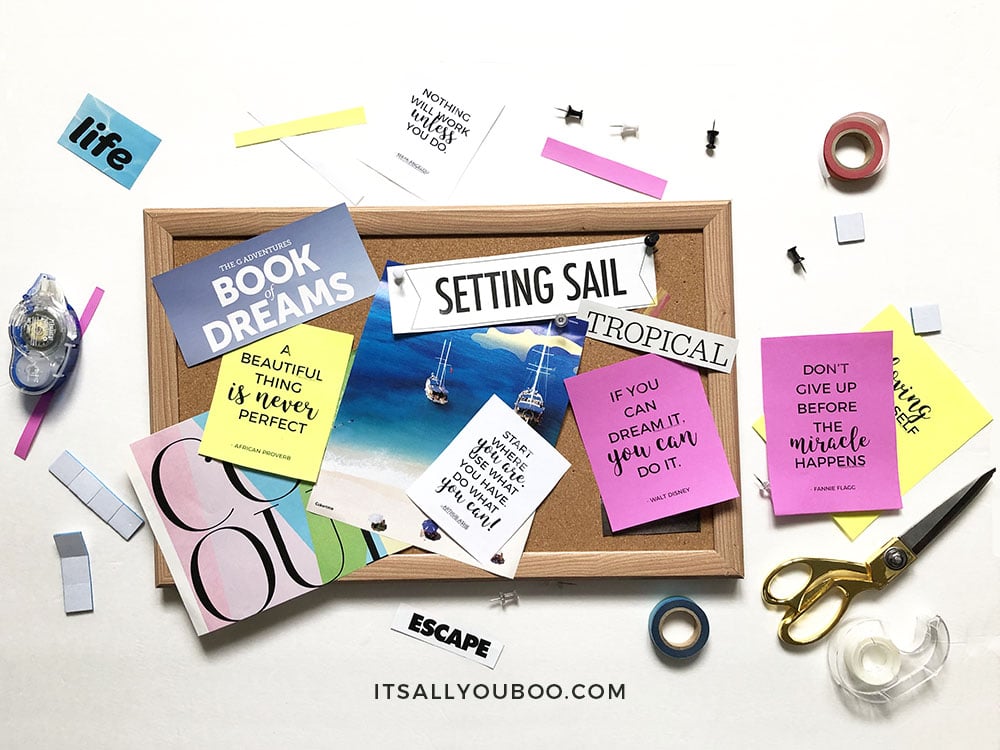 If you find your words in the magazines, you can cut them out but you can write them yourself as well and put them on your vision board.
You can also print out these FREE printable quotes and affirmations.
Step #6:
Use Your Vision Board Daily
The success of your vision board lies in the "using" your vision board.
If you created your beautiful vision board but you never use it, it is not going to work.
Put it somewhere you can use it every day. At least once or twice a day take a few minutes to look at it and visualize whatever you have already put on it.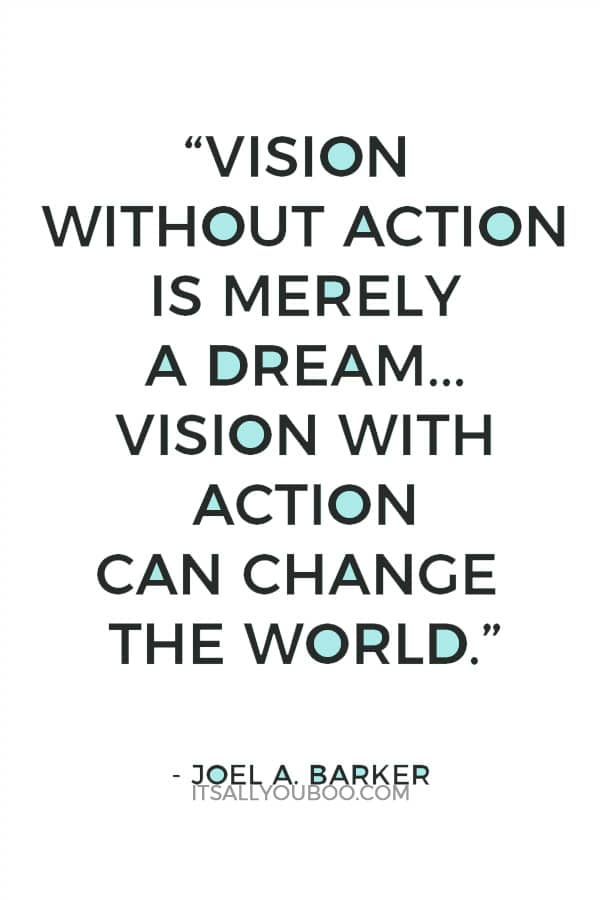 There are two "best times" in a day to use your vision board – in the morning after you wake up, and before you go to bed. Visualize your goals during your first cup of coffee, so your day will start by focusing on your goals.
Before you go to bed get your vision board out again so your subconscious mind can work on your goals while you are sleeping.
Printable Vision Board Quotes👇🏽
Create your vision board that works, with these beautifully designed printable quotes. Each design features brushed ink letter detailing and is the perfect addition to any vision board.
This download comes with 10 high-resolution, graphic quotes ready to be printed and displayed. To make them the perfect size for your vision board, print 4 or 6 per page. Add a pop of color by printing them on colored paper.
I am looking forward to hearing YOUR success stories!

Have you made a vision board that works?
Last Updated on September 4, 2021