Ready to learn how to trust your intuition? Wondering, what does trusting your intuition feel like?
Intuition is such a powerful, albeit, underutilized tool in our lives. How can you develop this sixth sense and use it in your life? How do you start listening to your unconscious mind?
Strong intuition can help you make life-altering decisions, avoid danger, and pursue your passions. Basically, intuition helps you take your survival instincts and turn them into a tool to help you thrive.
A good deal of societal conditioning teaches us to ignore our intuition though. Just the thought of trusting your intuition is enough to bring up feelings of discomfort and overwhelm for some people.
With some practice, you can learn how to trust your intuition and experience all the benefits that come with it. Use this guide to help you pay attention to your inner voice, and tune into your subconscious mind.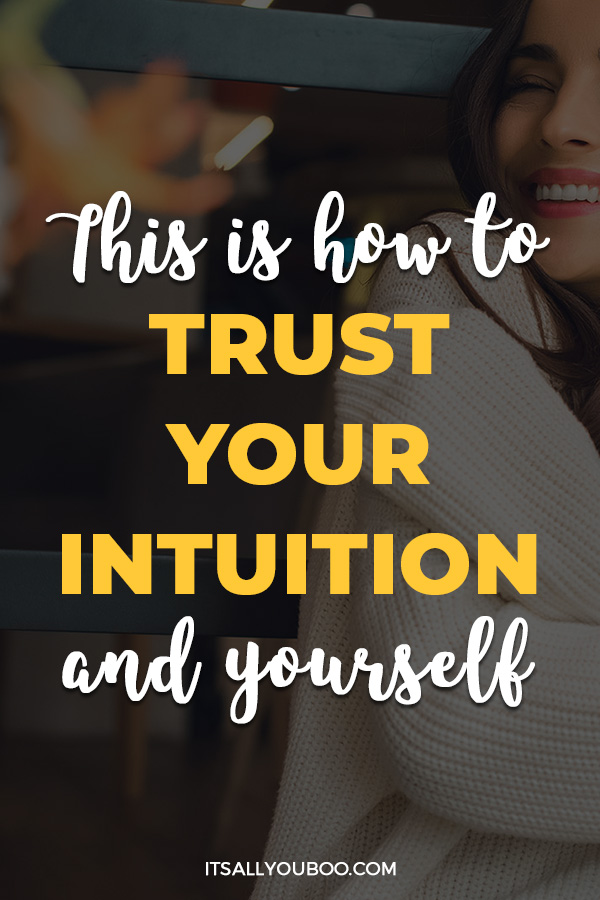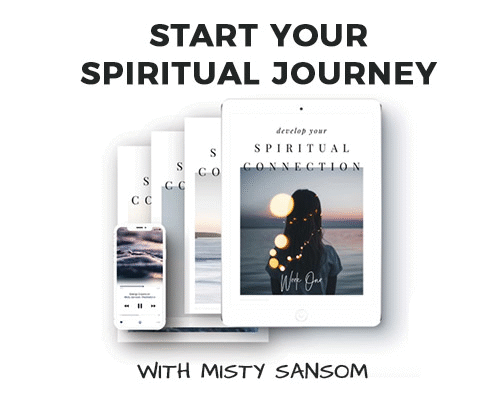 What Does it Mean to Trust Your Intuition?
"Following your intuition" is basically just a fancy way of saying you should "trust your gut."
Trusting your gut means that you are following subconscious emotional information from your brain or body.
What does that really mean? Trusting your intuition means you are tapping into instincts that can't be explained by conscious thinking. Your intuition may tell you something before your conscious mind is able to process it.
Sometimes your intuition may be going against your social or cultural influences as well. It can save you from danger, help you make big choices, and lead you to live a more fulfilling life.
The payoff for developing a strong relationship with your intuition can be huge, so it's worth understanding how intuitive knowing works.
Here are the three types of intuition to be aware of:
Coherence and Insight: This is the phenomenon of knowing something without understanding how that knowledge ended up in your brain.
Implicit Learning: This refers to learning that is done on a subconscious level. Your brain is able to pick up cognitive patterns without you exerting conscious effort (like how listening to music can make you a better musician).
Subjective Intuitive Abilities: Exploring intellectual curiosity with the conscious knowledge of using your intuition (like solving puzzles or riddles).
👉🏽  RELATED POST: How to Become More Spiritual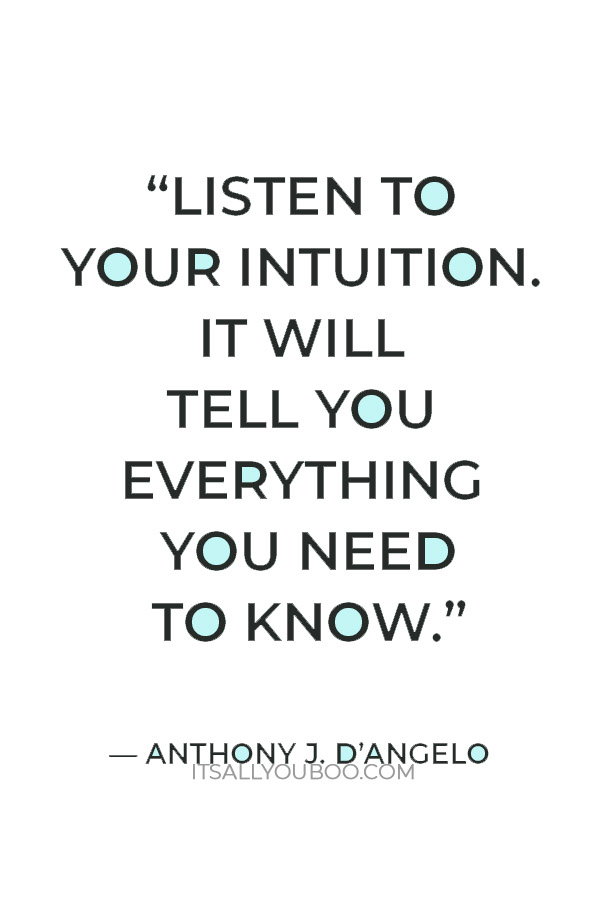 What Does Trusting Your Intuition Feel Like?
Everybody's intuitive signals may feel different, but there are certain physical signs of intuition to listen for.
It should be no surprise that the phrase "trusting your gut" comes from the physical feelings people experience when their intuition is trying to tell them something. These physical feelings are often something like:
Tension or tightening in your stomach
A "butterflies" feeling
Increased heart rate
Sweaty palms
A feeling of physical calmness
Even if you're not feeling like you're about to puke your guts out, your intuition can still be speaking to you. When faced with making a decision, learn to check-in and notice whether you have a feeling of peace, excitement, or nervousness about the options you are considering.
Understanding your physical feelings is the first frontier when learning how to trust your intuition.
Why is it so Hard to Trust Your Intuition?
So if intuition is such a powerful tool, why don't more people use it?
There are lots of reasons why we may have gotten out of tune with our intuition. For example, some social conditioning or past trauma may be responsible for the gap between our head and our gut.
A strong intuition demands for someone trust themselves. You have to be confident in making your own decisions and sticking by them.
When are we really taught to trust our own decisions though? Oftentimes, as kids and young adults, it's in the best interest to listen to the input of others. We may even rely on the influence of others to shape the course of our lives when it comes to choosing colleges, majors, career paths, and life experiences.
Relying on affirmation from others will only get you so far. Eventually, we have to learn how to trust our decisions.
👉🏽  RELATED POST: How to Stop Being Indecisive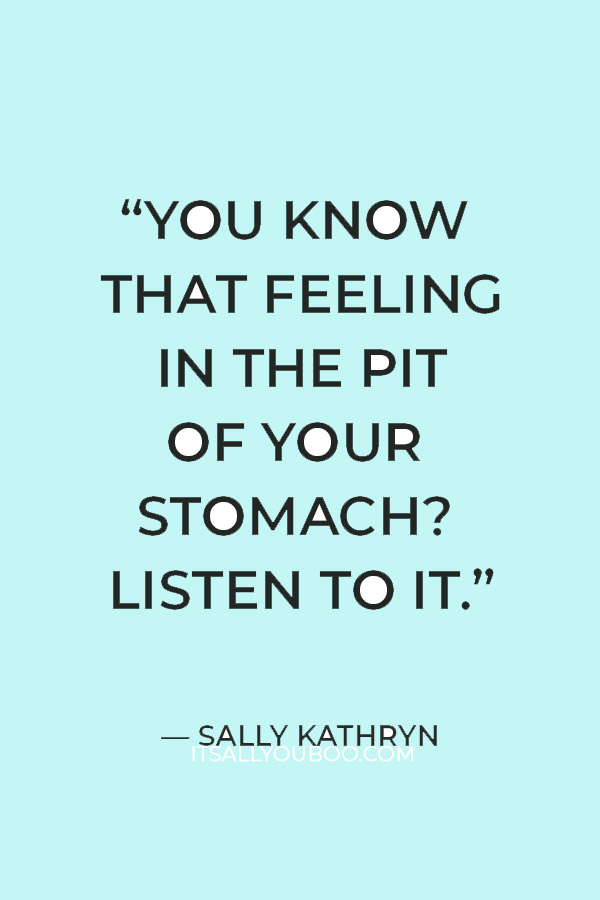 Some businesses or industries rely on people not trusting their intuition. For women especially, some people equate the diet or fitness industry with sabotaging your intuition.
Companies make money when you tell yourself you're not hungry, to buy their intense workouts, or try a diet that makes you feel awful. Other industries might want you to embrace a severely uncomfortable feeling as a sign you're doing something right, like making an investment or buying their "life-changing" product.
Religious beliefs can also be an inhibitor of intuition at times. Other people see some dating advice squashing intuition by saying "just give him a chance," even when you're not interested. Some authority figures benefit when you never learn how to trust your intuition.
Some people will benefit from you ignoring your intuition by manipulating you into making large, impulsive decisions. When you're trained to ignore your intuition, people can make you do whatever they want you to do.
How to Tell if You Are Out of Touch With Your Intuition
If you want to learn how to trust your intuition, but feel nervous about it, you're not alone. Most often, people are nervous about being deceived by their own feelings. How can you tell what is your intuition and what is anxiety, paranoia, or nerves?
Here are some of the signs to look for that might tell you if you are out of touch with your intuition:
You often feel nervous, anxious, or paranoid: Does your brain get stuck in thought loops about different scenarios? When you're out of touch with your intuition, it can feel like everything you do has extremely high stakes, causing you to overthink the consequences.
It's hard for you to make decisions: Decision-making is an essential tool that helps you take massive action and achieve your goals. If you find it especially hard to make decisions (as in, you agonize and procrastinate for long periods of time), you'll likely benefit immensely from learning to trust your intuition.
You get overwhelmed often: You may find you are unable to tune out details and focus on what's important in the moment. Intuition helps you sort out what's important from the rest of the information being thrown at you.
👉🏽  RELATED POST: How To Make The Right Choice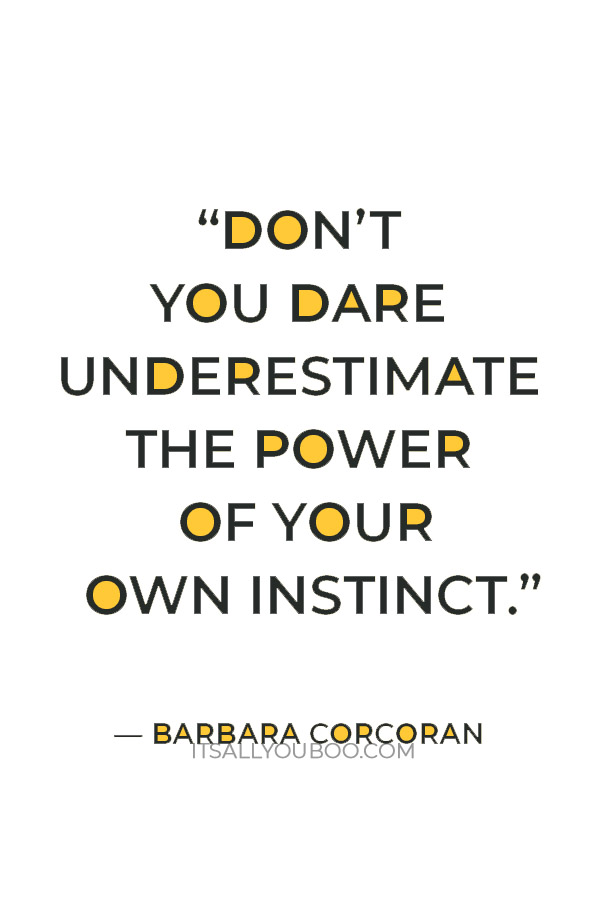 You're unable to be flexible: Departing from your regular routine and habits will cause a lot of stress if you're not used to using your intuition. Intuition can help you adapt quickly without much of an emotional cost. When you're out of touch with your intuition, you rely more on your routines than your ability to adapt to new information.
You often feel regret: Without the power of intuition, your choices become a lot more high stakes. If you think there is only one "right choice", it's easy to regret not making that choice, even if you've learned something along the way.
You believe you're crazy, irrational, or unintelligent: Intuition should be an authority in your life, but if you don't have that authority, you may mistake the signals from your intuition as nonsense.
You are easily persuaded by others into decisions: Without your intuition on your side, it's easy to be influenced by other people. It's tempting to trust that someone else has all the answers for you, but missing out on that intuitive filter may cause you to trust bad decisions that someone else has made for you.
Learning how to trust your intuition when you've lost touch with it can be difficult and awkward, but the benefits of having a strong intuition cannot be matched elsewhere. A life coach or a therapist can be a great resource to help improve your intuition.
6 Tips to Help You Learn How to Trust Your Intuition:
Now on to the good stuff!
Understandably, many people are nervous to start trusting their intuition. When you've been trained for years to ignore it, how do you even begin to tap into this magical sixth sense?
It's important to understand that intuition develops like a muscle. The more you use it, the stronger it will be. Your journey to a better relationship with your intuition will likely have many ups and downs but is well worth it in the end.
That being said, let's take a look at 6 ways to help you learn how to trust your intuition:
👉🏽  RELATED POST: How to Have a Spiritual Awakening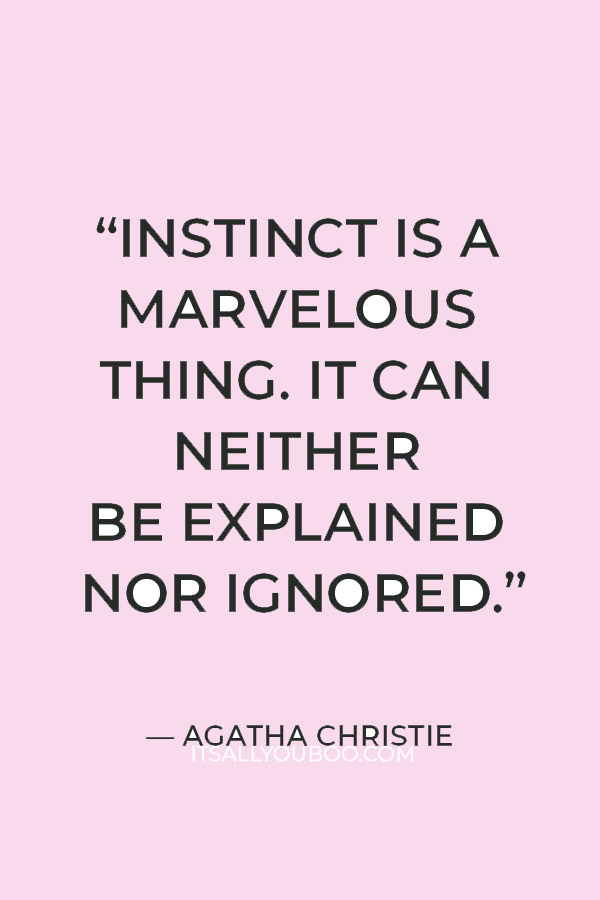 #1.

Be Dedicated to Observing Your Thoughts and Feelings:
Many people are not actually conscious of their thoughts and feelings, therefore they aren't able to tell what's anxiety and what's their intuition. When you are faced with a decision or new circumstances, ask yourself, "how do I really feel about this?"
Learn to identify where that feeling lives in your body. If you're experiencing tension, where do you feel it? Slow down to help yourself understand what that tension means.
Likewise, try to slow down to identify the thoughts that are in your mind. Trusting your intuition when you have anxiety can be hard, but slowing down your racing thoughts is a good start. Some of our thoughts only feed into our anxiety, so try to understand why you are having anxious thoughts and whether those thoughts are actually serving you.
The Role of Unconcious Bias
It is important to keep in mind that your unconscious mind particularly when it comes to people, can be influenced at times by your unconscious biases. For example, you could have negative perceptions of New Yorkers, or a particular group of people that can cloud your intuition.
You can unlearn these unconscious biases, to further free your intuition.
#2.

Ask Yourself What You Really Want:
You can't live by your intuition if you're living outside of integrity with yourself. For example: if you're working a job that is expressly against your values, your intuition might not be able to tell you how to be good at your job. It will be working too hard to try to get you out of a position where you're compromising your values!
So ask yourself what it is you really want, and then do your best to live accordingly. If you want it, chances are it's because it lines up with the values, interests, and passions your intuition is telling you to pursue more of.
👉🏽  RELATED POST: Ways to Find Purpose in Life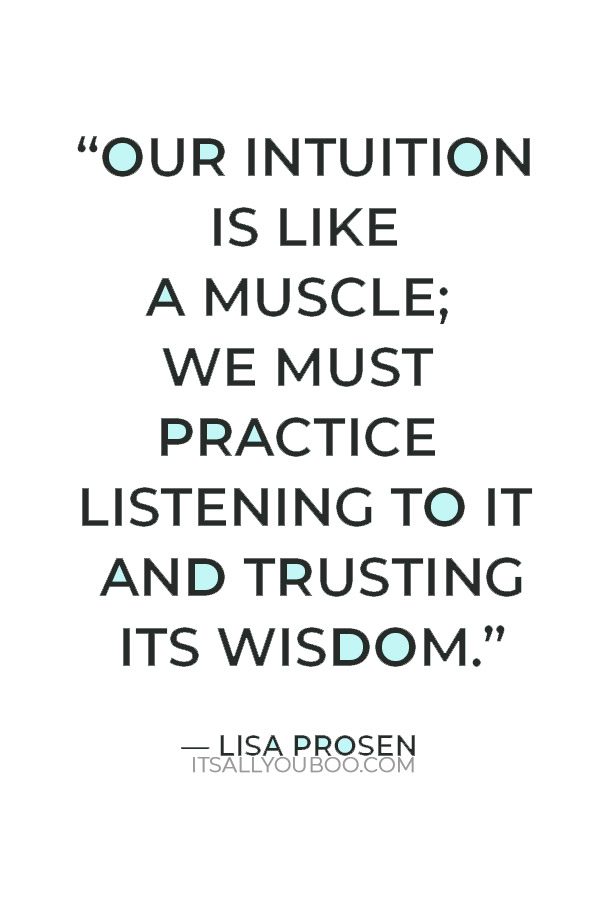 #3.

Do Things For Yourself:
Practice indulging in what you want, simply because you want it. Some people think this will cause them to go off the rails, eat all the ice cream, and blow through their savings, but this isn't quite true.
Maybe you can start by wearing a super bright lipstick that you absolutely love, simply because you want to wear it. Take a walk, simply to do something for yourself. Spend an hour coloring a picture, simply because you want to.
When the stakes are low, it can help train your brain to trust your own judgment. When nothing bad happens because you did something for yourself, it helps you become better friends with your intuition.
#4.

Commit To Your Decisions:
Indecision is painful. It leads to mental stress and can cause you to lose time, or even money. Quick, firm decisions aren't necessary for every choice you make, but they can sure come in handy during a crisis or time of great change.
When you make a decision from your intuition (from a gut check) be committed to it. This is how you achieve peace of mind with your decisions.
It is not more responsible for you to feel more anxiety than necessary. Sometimes we like to punish ourselves by agonizing over our choices. Taking the time to write out multiple "pros and cons" lists can often be solved with a simple gut check.
👉🏽  RELATED POST: Silencing Your Inner Critic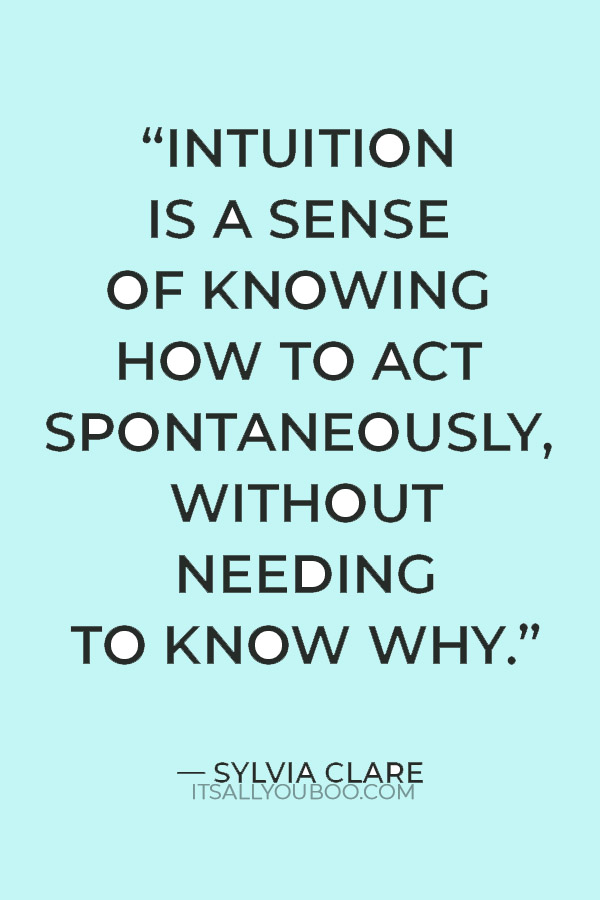 #5.

Give Yourself Space to Practice:
Sometimes, your intuition will still lead you to make mistakes. Instead of making mistakes mean your intuition is broken, simply see it as a learning opportunity.
Hold space for yourself to practice following your intuition. Don't lose faith in yourself.
Even the most intuitive person can be influenced by cognitive biases. These "blind spots" in our psyche are part of our survival instincts, but often wear out their benefits in the modern environment. Just give yourself space for your intuition to calibrate.
#6.

Practice Not Justifying Your Decisions:
Sometimes it's best to just go with your gut. This doesn't mean you need to rationalize your decisions to others. You don't need their approval, and you don't owe them an explanation.
If someone or something doesn't pass the "vibe check" in your opinion, that should be enough of a reason for you to pass over them. Other people don't have to accept it, and you certainly don't need to provide a further explanation for them.
👉🏽  RELATED POST: Quotes About Being Criticized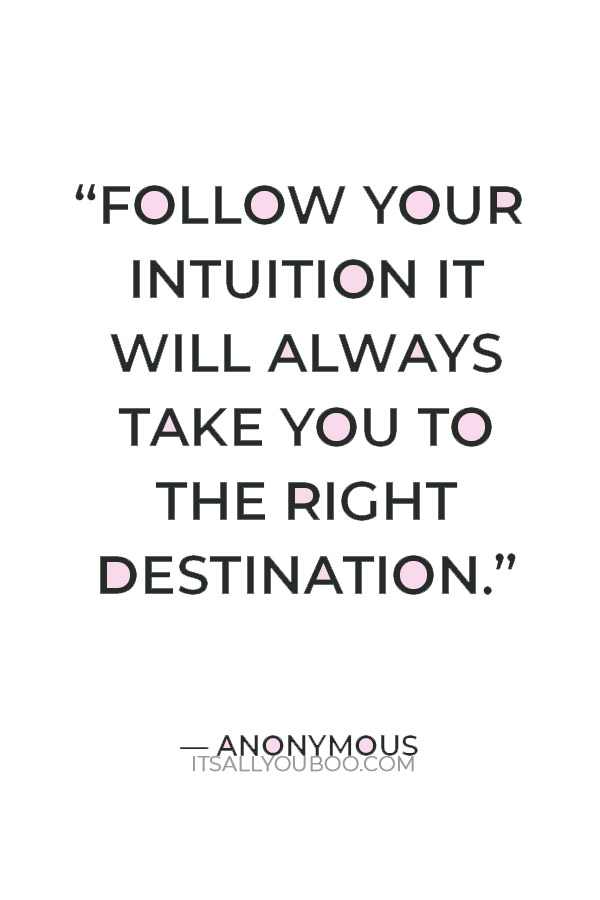 Why is it Good to Have a Strong Relationship With Your Intuition?
My own journey of learning to trust my intuition has been incredible. One of my good friends is a life coach, and we've had some great chats about this very topic. I wanted her to weigh in here and share her expertise on how to trust your intuition:
"Your intuition is your body and your heart's way of speaking to your mind. It is just as valid as your pro/con list and all the tangible facts of life… But it's intangible. It's experiential. Intuition carries wisdom that helps guide you to safety and fulfillment. When we disembody our intuition we're left with only one facet of our being to guide us. Not to discredit the power of our thinking, but it's only one part of you. Including your intuition makes you whole." — Lacey Simmons, Personality on Purpose
Tapping into your intuition helps you feel confident, make decisions easier, and helps you get full access to the wisdom that is within you. All in all, it's an essential part of yourself that leads to living a fulfilled, authentic life.
So tell me, have you learned how to trust your intuition? What have you learned from exploring your intuitive side more?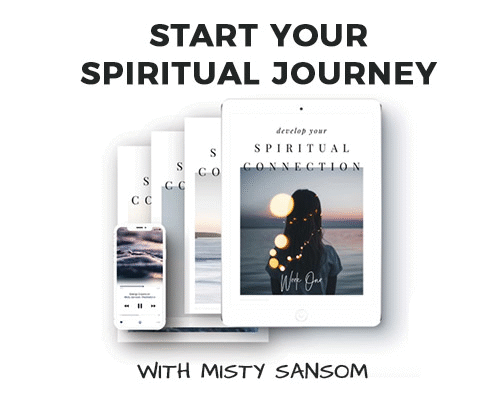 What does trusting your intuition feel like? What does it mean to trust your intuition? Click here to learn how to trust your intuition and yourself. #Sign #Intuition #Spiritual #SpiritualAwakening

How do you trust your intuition?
---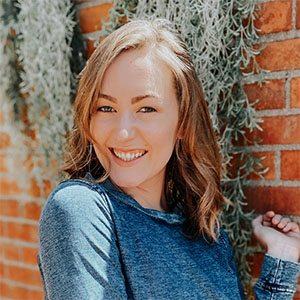 More About Guest Contributor
Delaney is a freelance writer who spends most of her time helping life coaches create amazing copy for their businesses. When she's not writing for her clients, she can usually be found reading and writing fiction or keeping her cat out of mischief. You can connect with her through her website, Definitelyish.com
Last Updated on August 25, 2022