How do you handle criticism?
What are the best responding to criticism quotes?
And how do you respond to criticism? Do you retreat, run or react?
You know what it's like. You're just living your life, doing your thing and then out of nowhere someone comes at you with very intense language scolding you.
"Say what now?"
For reals though, it's startling at first. Especially when the criticism comes from someone you don't even really know or is a complete stranger. Troll much?
"I did what, I am what?"
Where's the constructiveness in that?
And is it different, or should you feel differently when that criticism comes from someone you know and dare say love or are friends with? Should well-meaning criticism be well received?
Table of Contents:
How do you handle constructive criticism? Can criticism even really be anything but destructive?
Are you supposed to be all, "thank you, criticize me again please."
I'll be honest, I usually don't react well in either case. Maybe it's just been too many years since I've had a professor or TA red pen my papers so I'm just out of practice.
My initial reaction to criticism is usually not the best and I go straight to defense. "Why? No… It's not, I'm not." Fighting for my honor like I'm pleading in court.
What can I say other than this dream, this goal, this entrepreneurial life I'm pursuing can feel so fragile even on the best day. I'm tired, working SUPER hard to maintain my blog, create courses and dare I say make a living. It's a lot and the last thing I need is someone telling me how crappy I'm doing at it. *exhale*
Yikes, I'm even getting defensive about getting defensive. 🤦🏽‍♀️
So, to deal with my "criticism of criticism" issues and to learn how to take criticism I've collected 50 quotes about being criticised and how to handle criticism. And you can learn to deal with criticism more positively too.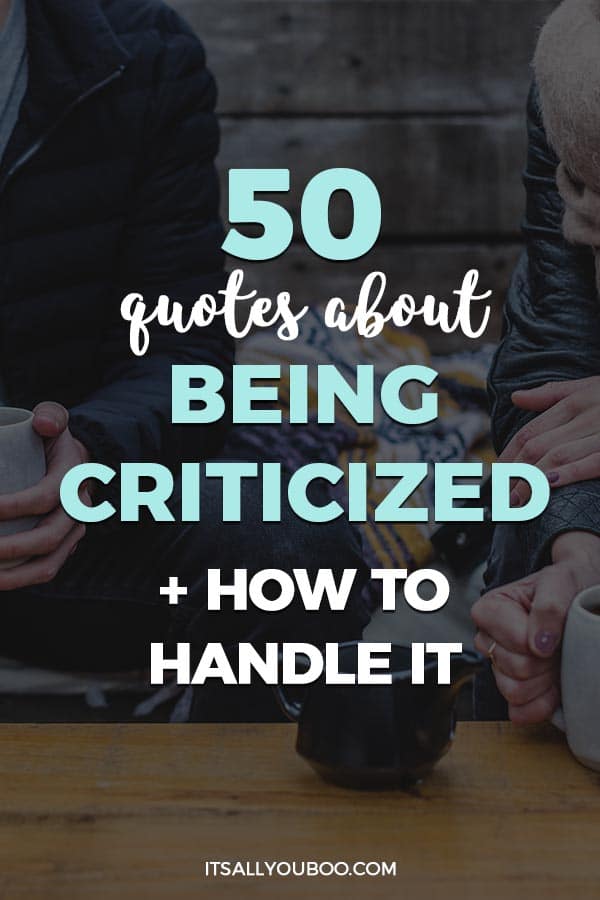 Criticism Will Happen Regardless
You can't avoid criticism. No matter what you do, someone is going to have an issue with you. You handle criticism by realizing it's not personal, it's just part of doing your thing. The only way to not receive criticism is to do nothing, never try and be no one.
"There is no defense against criticism except obscurity." ― Joseph Addison
2. "There is only one way to avoid criticism: do nothing, say nothing, and be nothing." ― Aristotle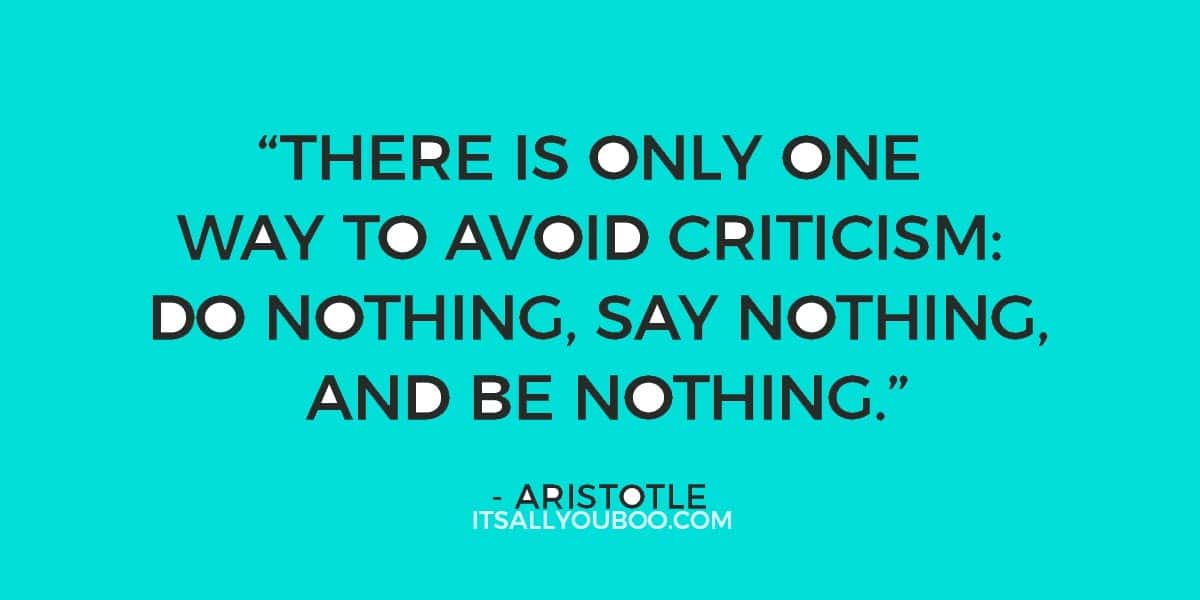 👉🏽 RELATED POST: 45 Uplifting Quotes for When You Feel Like Giving Up
3. "Do what you feel in your heart to be right – for you'll be criticized anyway. You'll be damned if you do, and damned if you don't." ― Eleanor Roosevelt
"Whatever course you decide upon, there is always someone to tell you that you are wrong. There are always difficulties arising which tempt you to believe that your critics are right. To map out a course of action and follow it to an end requires courage." ― Ralph Waldo Emerson
5. "You have enemies? Good. That means you've stood up for something sometime in your life." ― Winston Churchill
Just Ignore the Haters
Haters gonna hate, that's what they do! Expect it, and ignore it. Once you refuse to be offended by or even take notice of what they say you can't be hurt by it. Have confidence in yourself and don't let it taint your reality.
"Pay no attention to what the critics say. A statue has never been erected in honor of a critic." ― Jean Sibelius
7. "Nevermind what haters say, ignore them 'til they fade away" ― TI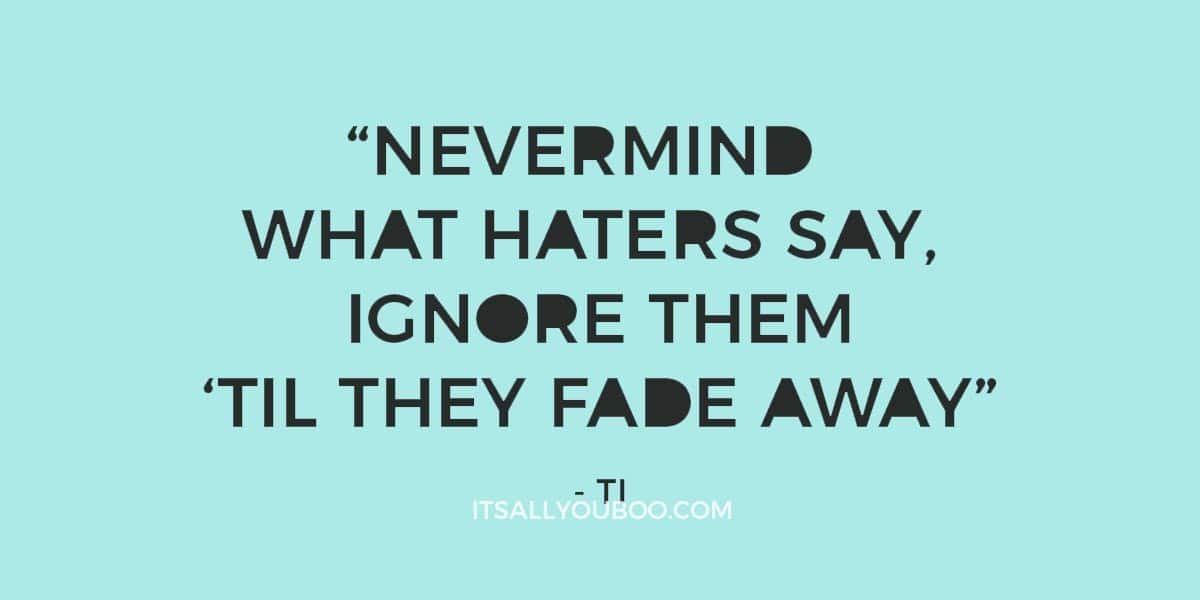 👉🏽 RELATED POST: How to Overcome Imposter Syndrome
8. "Why should we worry about what others think of us, do we have more confidence in their opinions than we do our own?" ― Brigham Young
"Don't be distracted by criticism. Remember, the only taste of success some people have is when they take a bite out of you." ― Zig Ziglar
10. "Someone else's opinion of you does not have to become your reality." ― Les Brown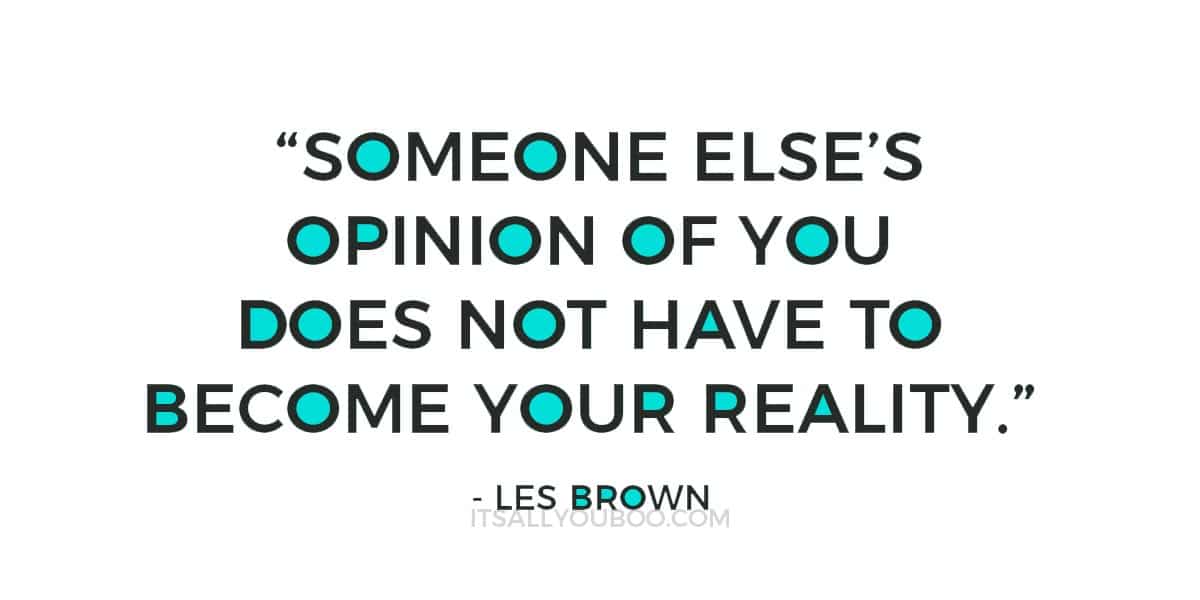 You Determine Your Value
True self-esteem and a strong sense of self-worth come from within, not without. Whether or not someone values you or thinks well of you or not, can't impact your value. Only you can do that.
11. "Well, we all know that self-esteem comes from what you think of you, not what other people think of you." ― Gloria Gaynor
12. "Once you embrace your value, talents and strengths, it neutralizes when others think less of you." ― Rob Liano
"Remember the world will judge you based on how you judge yourself." ― Vincent Mueller
👉🏽 RELATED POST: 26 Inspiring Self-Love Quotes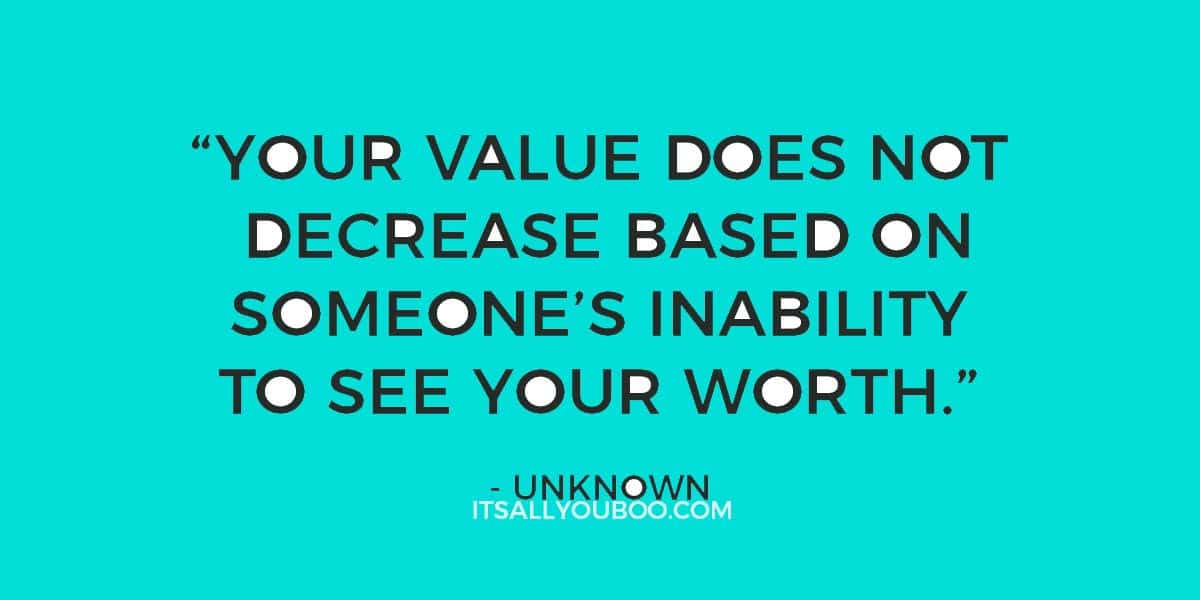 14. "Your value does not decrease based on someone's inability to see your worth." ― Unknown
15. "If you really put a small value upon yourself, rest assured that the world will not raise your price." ― Unknown

Tips on How to Respond to Criticism
Ouch, criticism can be harsh sometimes (even if it's "valid"), so how to take it? It's all about how you react and respond if you choose to. Give a compliment, smile, be kind, don't get defensive. Always consider who and why you're being criticized, and learn from it you can. If not carry on!
"If someone criticizes you, give them a compliment." ― Debasish Mridha
17. "Don't mind criticism. If it is untrue, disregard it; if unfair, keep from irritation; if it is ignorant, smile; if it is justified, it is not criticism, learn from it." ― Anonymous
18. "Never retreat, never explain, never apologize; get things done and let them howl." ― Nellie McClung
👉🏽 RELATED POST: 6 Steps to Staying Positive No Matter What Happens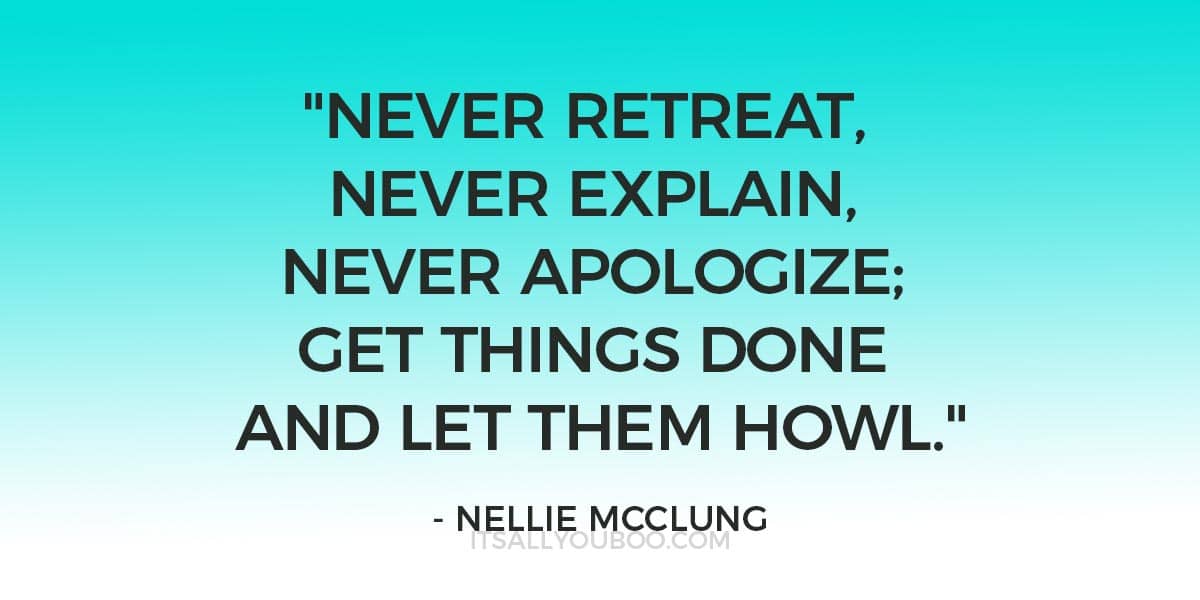 19. "Appreciate the constructive; ignore the destructive." ― John Douglas
"When criticized, consider the source."― Unknown
"The final proof of greatness lies in being able to endure criticism without resentment." ― Elbert Hubbard
22. "Kill them with kindness, slay them with a smile and murder them with a kiss." ― A.Giannoccaro
They Just Don't Get You
Everyone who has done anything in this world has been criticised or worse. Not everyone is going to get what you're trying to accomplish or be able to stand by you. Don't ask for permission and ignore their little minds and don't let it diminish you.
23. "Great spirits have always encountered violent opposition from mediocre minds." ― Albert Einstein
24. "All that was great in the past was ridiculed, condemned, combated, suppressed — only to emerge all the more powerfully, all the more triumphantly from the struggle." ― Nikola Tesla
25. "Never dull your shine for somebody else." ― Tyra Banks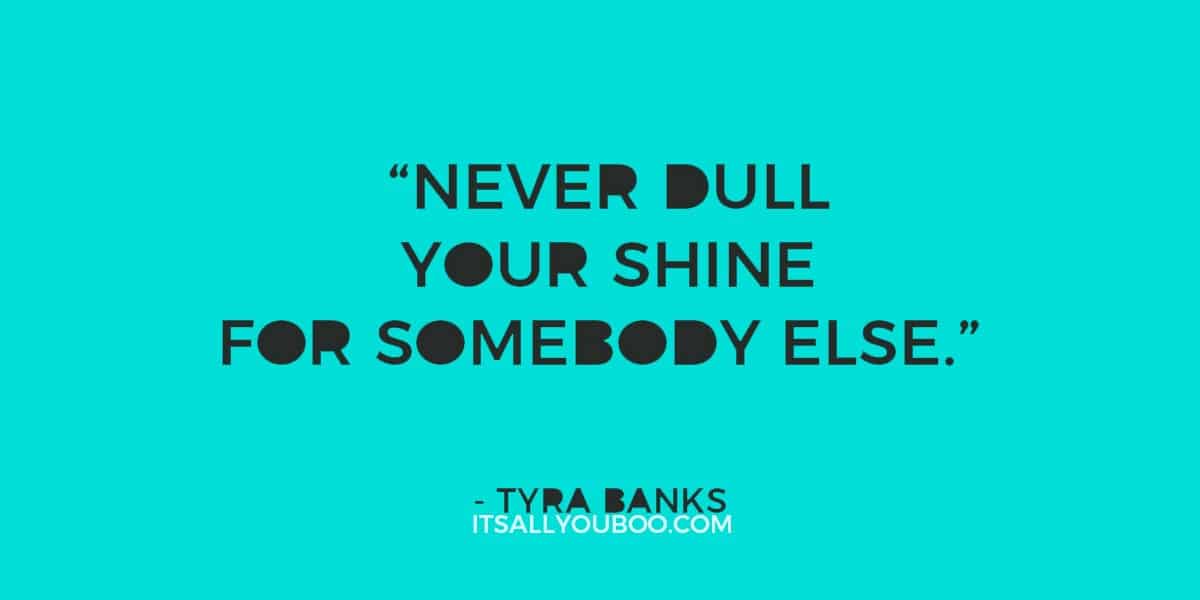 👉🏽 RELATED POST: 12 Ways to Always Be Happy
26. "You are not what others think you are. You are what God knows you are." ― Shannon L. Alder
"If you want to achieve greatness stop asking for permission." ― Unknown
28. "The question isn't who is going to let me; it's who is going to stop me." ― Ayn Rand
Praise or Criticism, Just Do You
Don't do it for praise or for criticism, do it for yourself. Praise and criticism are opposite sides of the same coin, either way, don't let it get to your head or your heart. Praise can sometimes be as harmful as criticism if you don't take it well.
29. "I pay no attention whatever to anybody's praise or blame. I simply follow my own feelings." ― Wolfgang Amadeus Mozart
30. "Don't waste your energy trying to change opinions … Do your thing, and don't care if they like it." ― Tina Fey
👉🏽 RELATED POST: 37 Inspirational Gratitude Quotes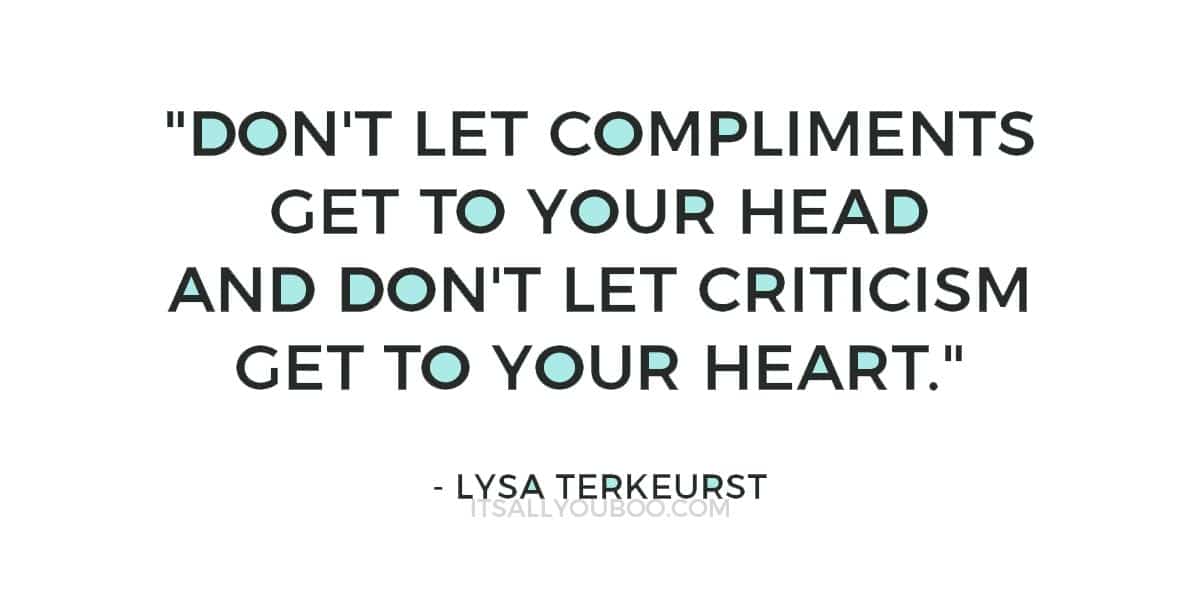 31. "Don't let compliments get to your head and don't let criticism get to your heart." ― Lysa TerKeurst
"You can't let praise or criticism get to you. It's a weakness to get caught up in either one." ― John Wooden
33. "I have already settled it for myself, so flattery and criticism go down the same drain and I am quite free." ― Georgia O'Keeffe
Criticism Can Be Constructive
Not all criticism is "bad" or harmful. Criticism can drive you to be better, stronger, but when delivered gently and with the aim of being constructive, not destructive.
"Criticism, like rain, should be gentle enough to nourish a man's growth without destroying his roots." ― Frank A. Clark
35. "Criticism may not be agreeable, but it is necessary. It fulfills the same function as pain in the human body. It calls attention to an unhealthy state of things." ― Winston Churchill
36. "Every human being is entitled to courtesy and consideration. Constructive criticism is not only to be expected but sought." ― Margaret Chase Smith
👉🏽 RELATED POST: Do You Need a Champion Mindset?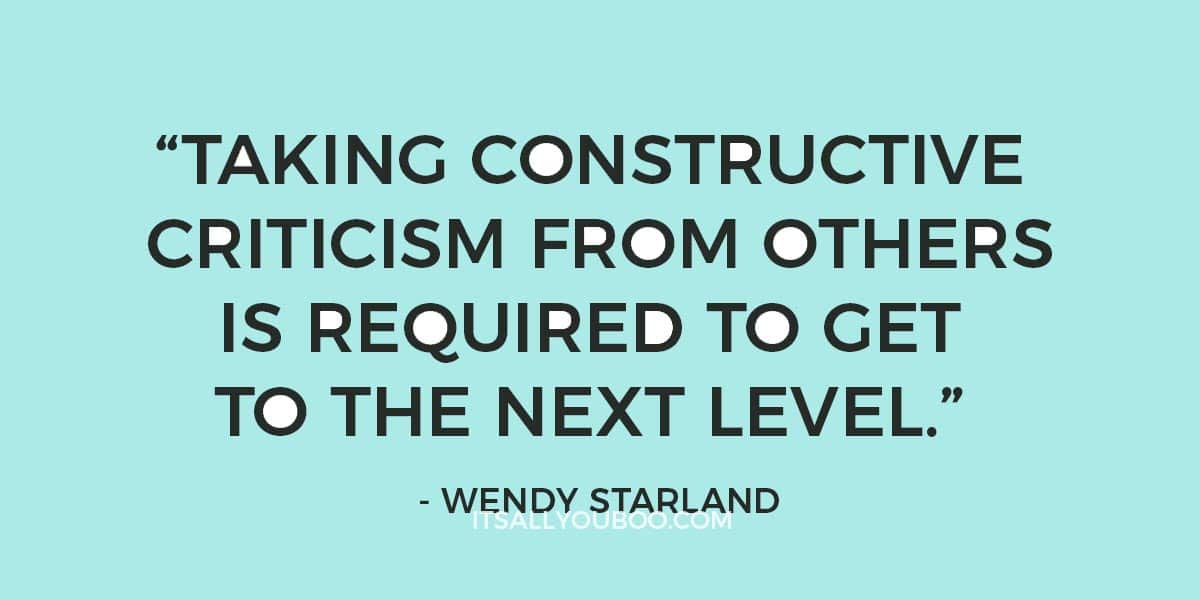 37. "Taking constructive criticism from others is required to get to the next level." ―Wendy Starland
"Learn to see the difference between constructive and destructive criticism." – Anonymous
39. "The trouble with most of us is that we would rather be ruined by praise than saved by criticism." ― Norman Vincent Peale
Advice on Giving Criticism
If you must criticize, be sure you're doing it with the right heart and with the intention of helping. Do not criticize what you do not understand or have no experience in. When giving constructive criticism, be sure to deliver with praise.
40. "When we judge or criticize another person, it says nothing about that person; it merely says something about our own need to be critical." ― Unknown
"It is much more valuable to look for the strength in others. You can gain nothing by criticizing their imperfections." ― Daisaku Ikeda
42. "One mustn't criticize other people on grounds where he can't stand perpendicular himself" ― Mark Twain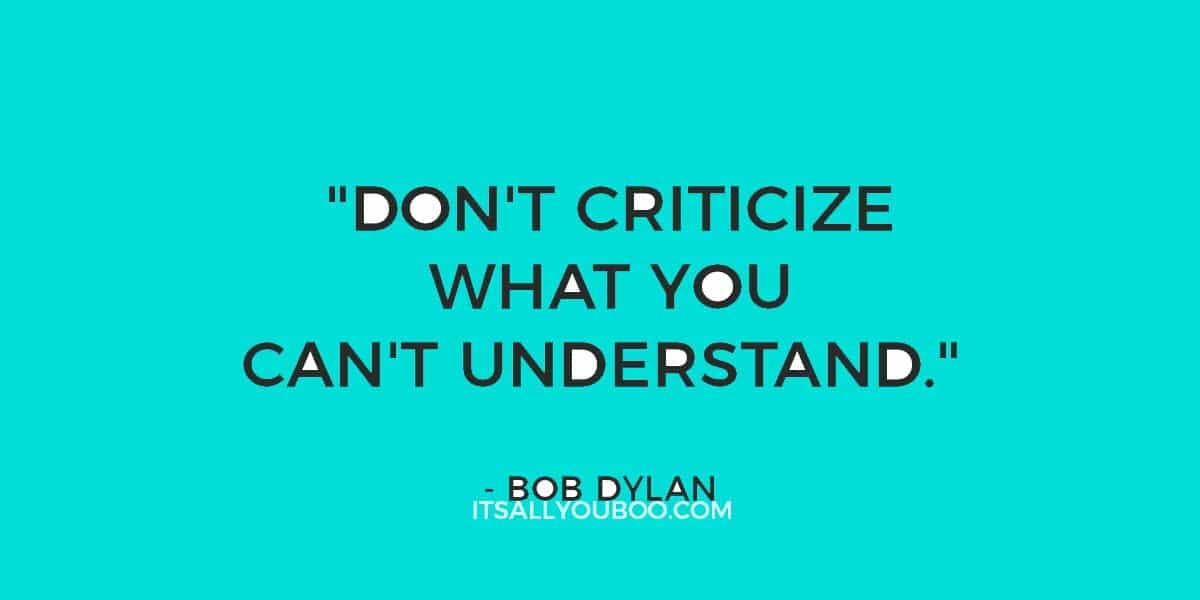 43. "Don't criticize what you can't understand." ― Bob Dylan
"He has a right to criticize, who has a heart to help." ― Abraham Lincoln
45. "If we are bold enough to point out problems, we must be brave enough to try to solve them." – Robert Alan Silverstein
46. "Sandwich criticism between two layers of praise." ― Mary Kay Ash
Encourage, Don't Criticize
Greater change and progress come from being encouraged than by being criticised. Surround yourself with those who encourage you and give encouragement rather than criticism to those in your life.
47. "I have yet to find the man, however exalted his station, who did not do better work and put forth greater effort under a spirit of approval than under a spirit of criticism." – Charles Schwab
👉🏽 RELATED POST: 39 Amazing Quotes to Boost Your Confidence Right Now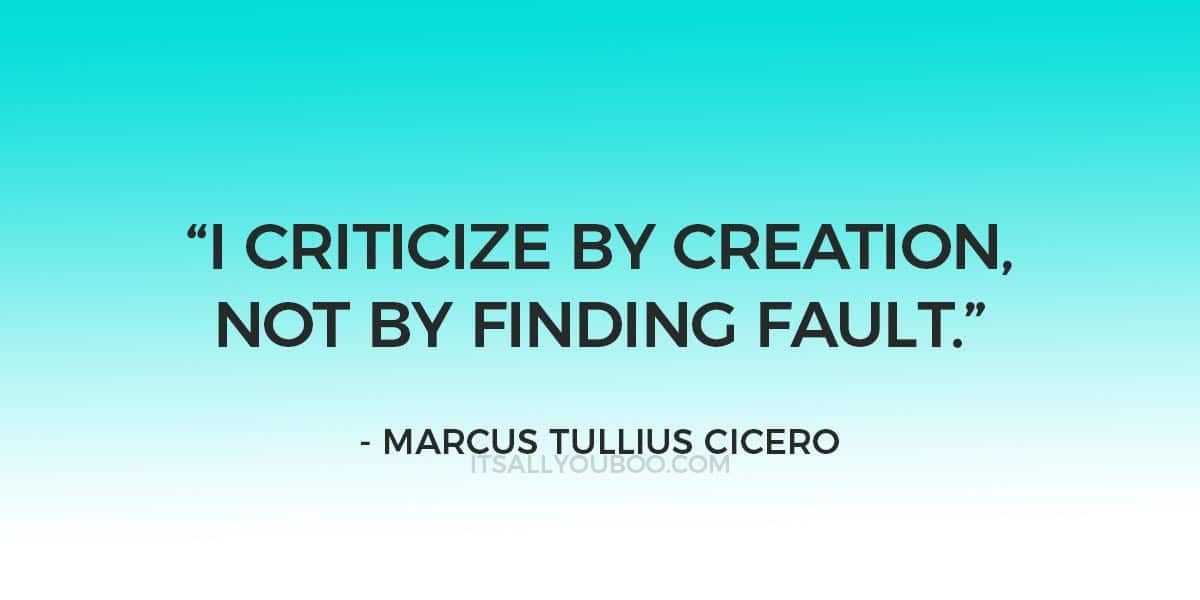 48. "I criticize by creation, not by finding fault." – Marcus Tullius Cicero
"Who do you spend time with? Criticizers or encouragers? Surround yourself with those who believe in you. Your life is too important for anything less." – Steve Goodier
50. "Flatter me, and I may not believe you. Criticize me, and I may not like you. Ignore me, and I may not forgive you. Encourage me, and I will not forget you. Love me and I may be forced to love you." – William Arthur Ward


How to Deal with Criticism Positively
Even if a criticism you receive is negative and destructive, it's how you handle the criticism that matters. No matter what criticism you receive or from whom, it's your reaction that counts.
You cannot control what anyone says to you, not a superior or boss at work, not a client or customer if you're an entrepreneur, and definitely not a stranger and internet trolls. But, you can control how you react, receive or return it and respond to criticism.
You can…
React positively and unphased by any criticism
Receive it as good advice or return it as not worth remembering
Respond with positivity and kindness
But, dealing with criticism positively is only possible if you're good with you, confident in what you're doing and going to keep on keeping on no matter what opposition, criticism and hate mail you receive.
Sign up below, plus get 12 Printable Affirmations to help you stay positive no matter what anyone says to you.
Mantras are an amazing way to train your mind to focus on the positive (or build up your "positivity instincts"). The more you say them and repeat them in your mind the more natural being positive, and reacting positively in the face of criticism becomes.
Just print, cut and keep these positive affirmations where you can see them. From on your office wall, as a bookmark, or taped to the side of your monitor or ever to your bathroom mirror.
Remember, it's all about your mindset and perspective, be good no matter what criticism you face.
When you're good with you, it doesn't matter what anyone says to you.
How do you handle criticism? Do you react, respond or retreat? Click here for 50 quotes about being criticized. Plus, get FREE Positive Affirmations. #Haters #BeYourself #PositiveVibesOnly

How to handle criticism?
Last Updated on July 11, 2021
✕
Get Your 20 Positive Affirmations
Subscribe to our VIP newsletter, plus get the free affirmations.