How do you mindfully drink coffee in the morning? Looking for ways to start a daily coffee meditation practice?
Mindfulness is a practice that has spread like wildfire worldwide, and coffee meditation may be one of the best ways to get started.
In coffee meditation, you take a break from your busy day to focus on your coffee drinking. Sure, nobody wants to get isolated if you're sharing your coffee with friends or having a pleasant chat.
But, when having a coffee break alone, a mindfulness exercise or meditation can be a great add-on. These routines can be better than checking your social media or rambling through your to-do list.
Coffee meditation aims not to improve your barista skills but to focus on the moment and be more mindful of your coffee drinking. Try it with your morning coffee or even break during your workday.
You may also want to notice the effects of caffeine on your body and mind. For instance, you may feel more alert and energized after drinking coffee. Let's kickstart your day with a coffee meditation!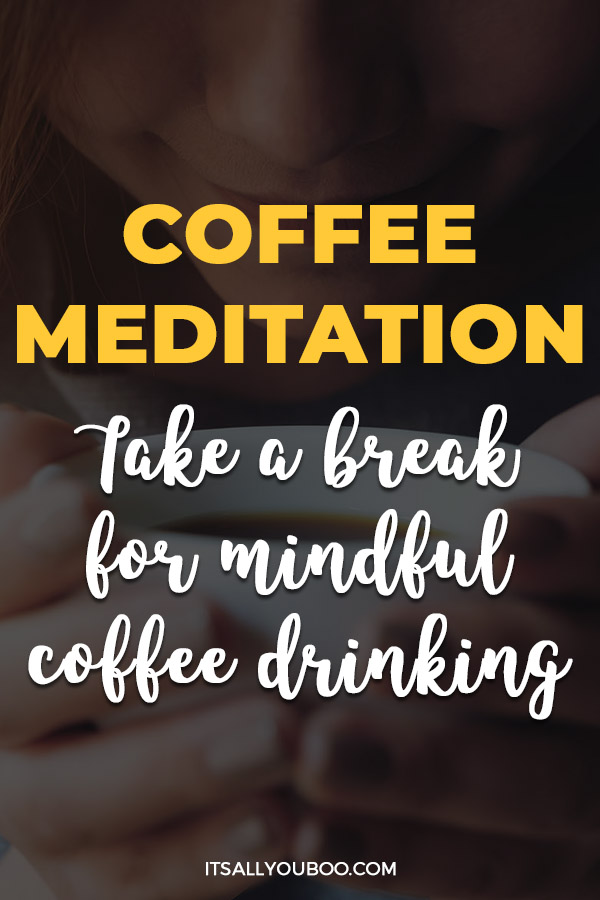 What is Mindfulness?
J. David Creswell, Carnegie Mellon's researcher and professor in Psychology, defines mindfulness as "a process of openly attending, with awareness, to one's experience in the present moment." Putting it simply, mindfulness is the state of being aware and present in the moment.
Mindfulness is an umbrella term that includes different practices, like meditation, breathing exercises, and mindful eating or drinking. The goal of mindfulness is to focus our attention on the present moment without judgment.
Mindfulness scientific research has grown significantly in the past couple of decades. The public interest in mindfulness has grown accordingly, with mindfulness meditation classes now offered at many community centers, hospitals, and wellness clinics.
Scientific evidence suggests that mindfulness helps with various physical, mental, and interpersonal well-being conditions. These conditions include anxiety, chronic pain, depression, eating disorders, cardiovascular risks, and sleep problems.
What is Coffee Meditation?
And how can it help you focus and relax?
We are used to abusing caffeine more than drinking coffee. So, although making minor tweaks is more manageable, it's better not to underestimate how challenging is to learn mindful coffee drinking.
Mindful coffee drinking can help you focus on the present moment and connect with your body and mind.
👉🏽  RELATED POST: 100 Mindfulness Meditation Quotes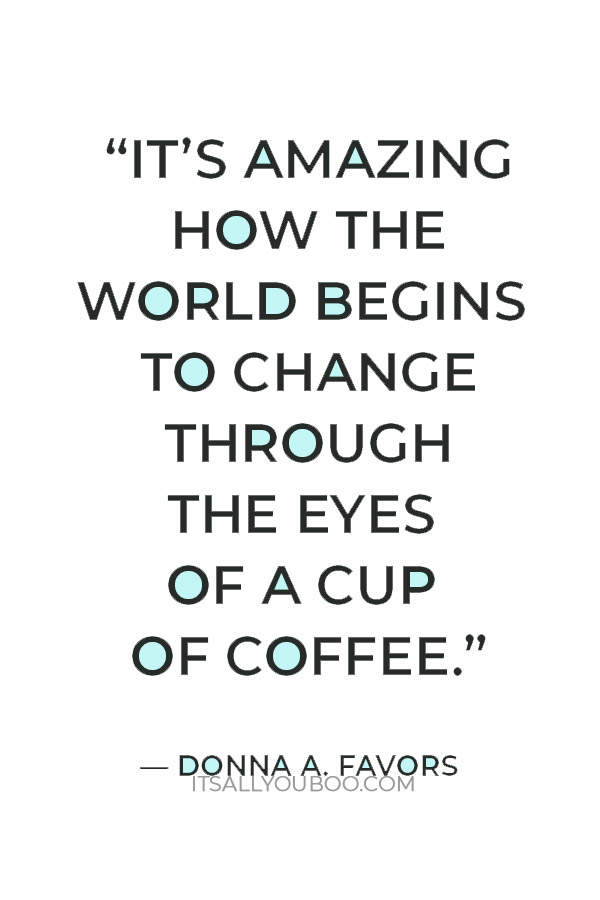 When you're mindful, you're aware of your thoughts, feelings, and surroundings. You focus on the here and now rather than letting the past or future stress you.
For instance, instead of watching a video online or reading the news, mindful coffee drinking consists of smelling the aroma, tasting the full range of flavors, appreciating the mouthfeel, and observing the color of the brewed coffee.
Brewing a pot of coffee can be a time for mindfulness. Pay attention to the smell and taste of the coffee and how the hot liquid warms your hands.
The Benefits of Mindful Coffee Drinking
Since early research on mindfulness started in the 1980s, evidence has grown about the positive effects of meditation and mindfulness exercises on different aspects of our lives.
Overall, mindful coffee drinking can improve our well-being, like every mindfulness exercise. The main differentiator of mindful coffee drinking and coffee meditation is that they are easily added to our daily routine.
Professor Creswell divides mindfulness benefits into three different types: physical health, mental health, and interpersonal well-being.
We can say that mindful coffee drinking can provide many benefits while adding up the potential benefits of a healthy daily intake of coffee, taking Creswell's work as a foundation.
👉🏽  RELATED POST:  How to Practice Mindfulness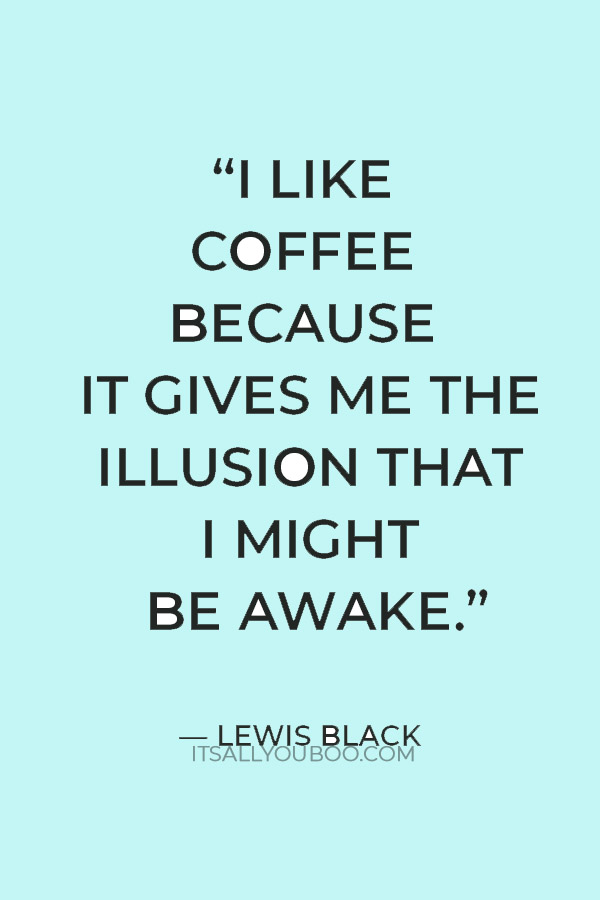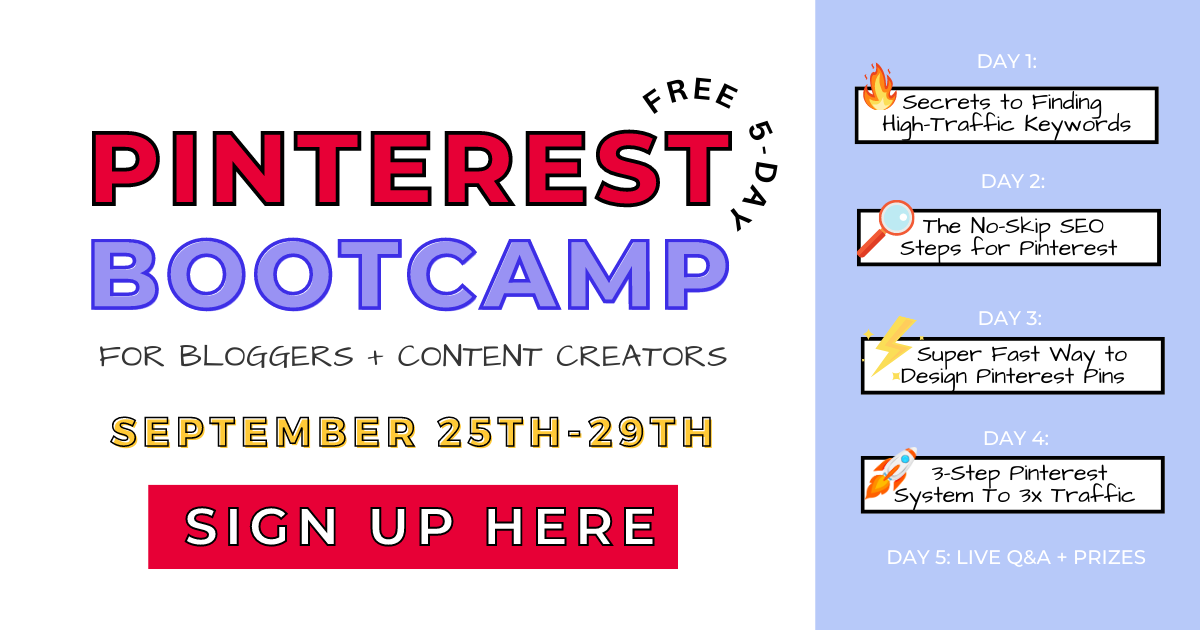 #1.

Physical Health Benefits of Mindfulness and Meditation
Some of the positive physical outcomes of practicing mindfulness are:
Boost the immune system
Reduce inflammation, reducing the risk of chronic illnesses
Lower blood pressure
Help with chronic pain management
#2.

Mental Health Benefits of Mindfulness and Meditation
We need to take mental health seriously. As well as the physical, there are also many mental benefits of being mindful. A few of these are:
Anxiety reduction
Depression relief
Stress reduction
Improved focus and attention
Cognitive performance enhancement
Improve craving management and fight addictions
#3.

Interpersonal Benefits of Mindfulness and Meditation
Mindfulness can improve the way we interact with others in several ways. Dozens of scientific studies have provided evidence in this regard, analyzing the potential of mindfulness for enhancing relationships, addressing conflict, and building more positive connections. Some of the main benefits found are:
More constructive responses
Higher relationship satisfaction
Better communication
Boost conflict management skills
Increase empathy
Higher social awareness and lower distress contagion
👉🏽  RELATED POST:  How to Meditate for Beginners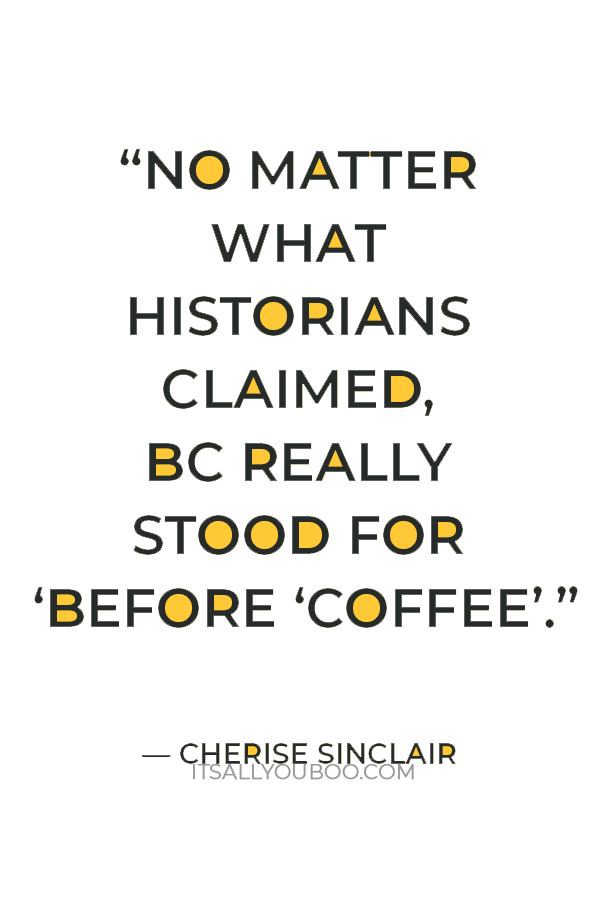 Benefits of Coffee Drinking
According to scientific research, mindful coffee drinking offers many positive effects. Most benefits rely on coffee's high antioxidant content, but many other benefits remain largely unexplained.
According to nutrition experts from John Hopkins University school of medicine, coffee drinking can provide many benefits like:
Reduce the chance of coronary heart disease, diabetes, and kidney disease
Lower risk of Parkinson's and Alzheimer's diseases
Boost liver health
Reduce colon cancer risk
Lower chance of stroke
The only downside to coffee is that caffeine is addictive. Many people abuse it instead of having a healthy intake. For this reason, the Dietary Guidelines for Americans recommend drinking no more than 400 milligrams of caffeine in a single day.
It isn't easy to calculate the caffeine intake of every drink, and they change considerably depending on the brewing method and coffee. Yet, bear in mind that a single espresso and an 8-oz mug have a similar amount of caffeine if prepared with the same dose and type of coffee.
Another critical aspect to consider is that you can get caffeine from other sources during the day like sodas, chocolate, energy drinks, and even tea. So, a healthy coffee drinking habit needs to account for all of these aspects, not only coffee.
Alertness vs. Awareness: Can We Have Both?
Alertness is a state of wakefulness characterized by a sense of focus and concentration. Suppose we put a score on our alertness levels. In that case, we usually are at our lowest when we're tired and sleepy and our highest when we're pumped up to compete, excited about a particular event, or deal with potential threats.
On the other hand, awareness is the ability to focus on the present moment and be aware of your surroundings. It's about being in the here and now, without judgment.
Albeit different, we can have both at the same time. The thing is, we usually focus more on one than the other.
Research suggests that meditation and mindfulness exercises can boost both mindfulness and awareness.
For example, when we're driving on a dark road, we usually focus on the road and our surroundings while being alert to potential threats. In other words, alertness helps us avoid accidents and other harmful events. However, when we're in a yoga class, we focus on the present moment and our body while being aware of our breath and the poses. We feel more energized and therefore more alert, as our body and mind are better prepared to react, although in a different way than when we're driving on a dark road.
We can say that we're more alert when we need to be and more aware when we want to be.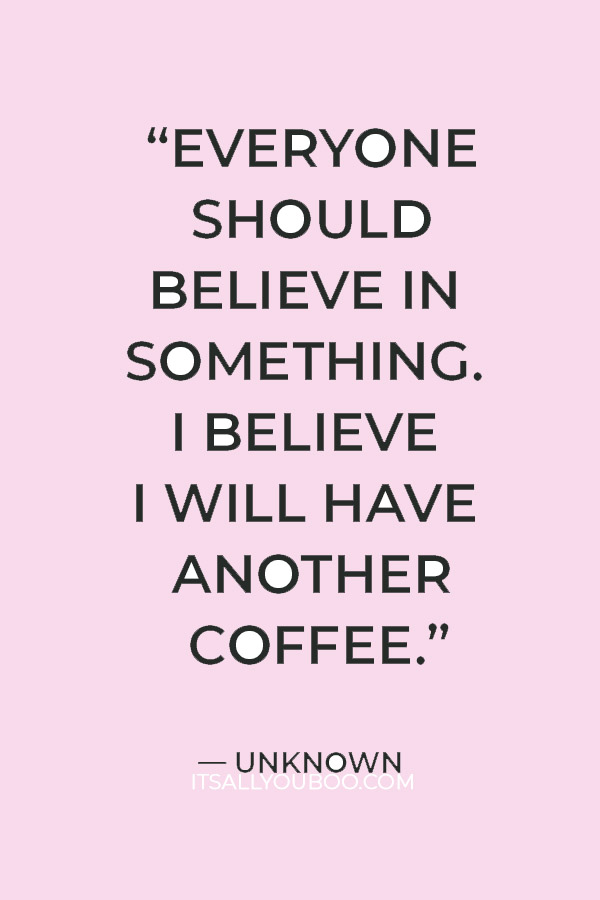 How to Practice Coffee Meditation
If you're like me, you can start your mindfulness exercise from the start. I take a few extra steps to make coffee at home because I grind my coffee beans fresh.
It's that too much for you, don't worry. Simply omit the first step in the exercise, and go straight to the second on coffee brewing.
A straightforward mindful coffee drinking exercise:
Measure your favorite dose of coffee beans. Look at the shape, color, and surface. Grab the beans and feel their texture. Grind the beans, and look at the coffee grounds. Do they look like sand? Powder? Coarse salt? What's the color? Reddish, brown, dark brown? Take a deep breath and enjoy the pleasant fragrance of freshly ground coffee.
Put the coffee grounds in your favorite coffee maker and start brewing. Listen to the sounds of coffee brewing, and pay attention to the new scents that come out when water touches the coffee grounds. Meanwhile, look how the coffee drips into the carafe.
Serve your coffee and look at the coffee's colors when going into the mug. Does it look darker in the cup? Can you notice the steam coming from it? How does it smell?
How do you like the flavors in your coffee? Grab your mug with both hands and enjoy the warmth it provides. Let it sit for a bit, and notice how the taste changes as it loses some heat. Does it taste more or less bitter after every sip? Is it zestier?
Finally, feel your body. Are you feeling slightly more alert? Is your body feeling better and more energetic? What is the aftertaste after drinking your cup of coffee? Was your last sip still hot? Or just warm?
Coffee Meditation: An Alternative Exercise
Practicing mindfulness for daily tasks is powerful and straightforward. On the other hand, coffee meditation is a new practice altogether, so it requires more preparation. Nonetheless, it's great if you manage to do it frequently.
An easy step-by-step guide to coffee meditation:
Brew your favorite cup of coffee and serve it in a thermal carafe or server. Place the server on the table, in front of your seat, and a small coffee cup.
Sit down and relax as much as you can. Loosen your back, shoulders, and elbows. Check your jaw, face, and hands, and loosen up.
Breath deeply and slowly. Close your eyes and take three deep and slow breaths. Keep relaxing your muscles as much as you can.
Watch the coffee flowing into the cup while listening to the liquid pouring. Then, hold your carafe and serve half of the cup carefully.
Keep breathing slowly and enjoy the pleasant aroma and the warmth coming out of the steamy cup.
Take a small sip of coffee and press your tongue against your palate. Now, pay attention to coffee's body and mouthfeel. Then, feel the warm liquid, the thick or light sensation around the mouth, the tongue, and the cheeks. Let the flavors sink in, enjoy all of them while you drink.
👉🏽  RELATED POST: Creating a Meditation Space At Home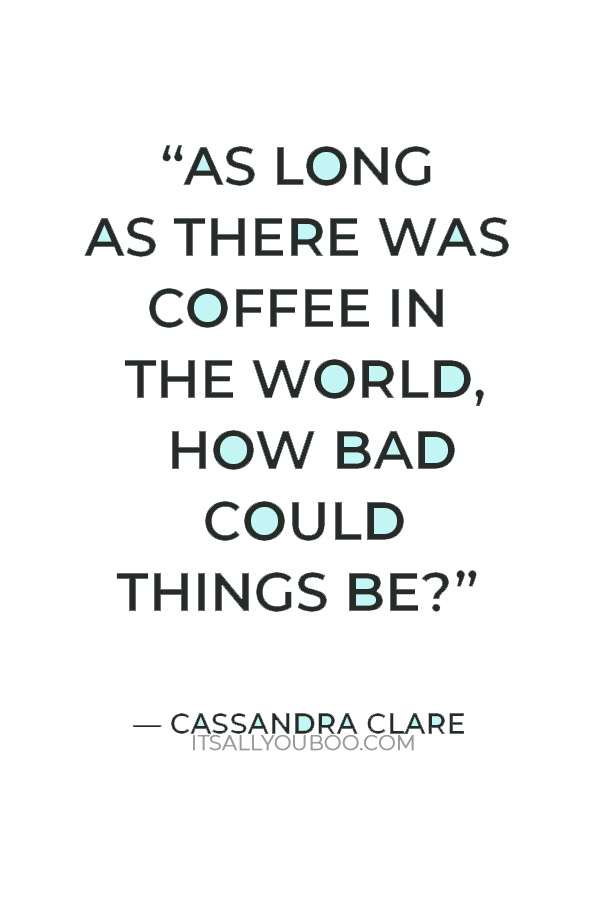 Pour again, filling only half of the cup. Raise it and hold the cup relaxed, below your chin level. Take a deep breath through your nose, feeling as many scents as possible—breath out through your mouth.
Look at the cup. Can you see any steam? Is the coffee liquid moving? Keep breathing slowly and place the cup on the table.
Keep drinking your coffee slowly, focusing on your breathing between each sip.
Get back to your normal breathing rhythm. Slowly and steadily change towards your regular breathing. Hold your hands together and stretch your arms and back, taking a deep breath.
Relax and close with gratitude for taking the time for coffee meditation. I like to close my meditations with a short and thankful prayer. Put this into practice, by your faith and preference.
Tips for Getting the Most Out of Your Coffee Meditation Practice
To get the most out of coffee meditation and mindfulness, I can suggest a few tips:
The most important thing here is a daily practice. Do it every day, at the same time. So, picking a time can help you achieve that goal. Once you get used to the routine, try to be mindful during your regular coffee breaks.
Avoid drinking coffee too late in the evening. Remember that caffeine remains for four hours in the body, so experts recommend drinking coffee for up to six hours before bed to prevent it from ruining your sleep.
Start with 1 minute and increase by 1-2 minutes each day until you reach 10 minutes. Once you hit 10 minutes of mindfulness during your coffee meditation, you can keep that as your goal.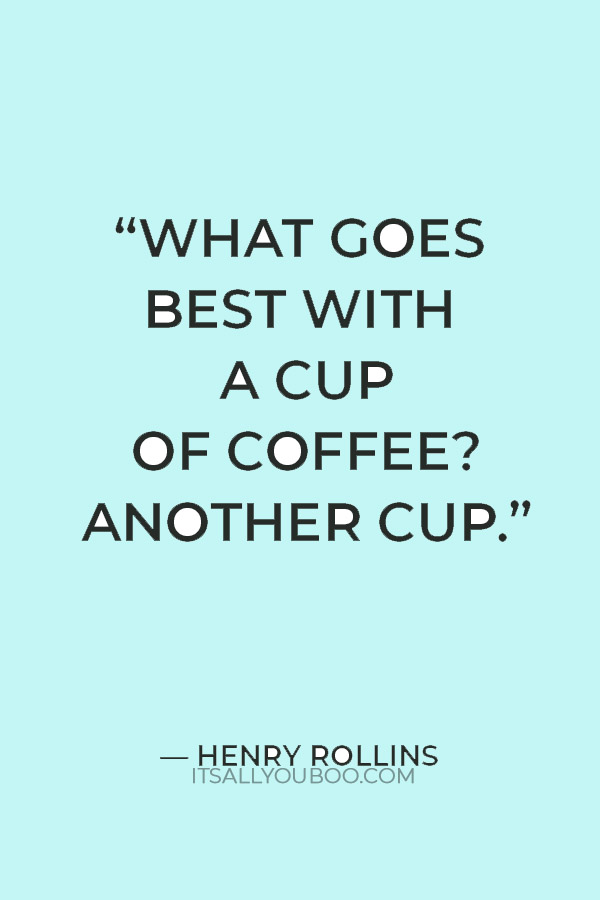 Focus on the sensations and enjoy them. Don't try to do anything else but be mindful of what you feel, see, smell, and taste.
If your mind wanders off, gently bring it back to the present moment. Don't worry too much about thoughts coming in. It's natural. The goal is not to think of anything. It's to focus on the present moment and the sensations around you.
Use a timer. Having a timer will help you focus on the meditation instead of the time passing by. You can use any timer on your phone or a simple kitchen timer.
What is the Best Time of Day to Enjoy a Cup of Coffee Mindfully?
Many of us drink coffee in the morning and take a couple of coffee breaks during the day.
Evidence suggests that coffee helps to delay fatigue and boosts muscle power. According to a Healthline analysis of recent findings on the best time for drinking coffee, we can get the best of our cup of coffee at specific times during the day:
30 to 60 minutes before working out, a sporting event, or any significant physical effort.
Avoid drinking coffee late in the evening. Caffeine can disrupt your rest, so it's better to drink up to six hours before sleeping.
Drink coffee in the mid-morning and early afternoon. Research suggests that our cortisol is lower in the mid-morning, so we can get a more powerful energy shot than when we wake up. However, we haven't enough evidence about the health benefits of delaying our morning cup of coffee.
Combining your coffee meditation with your pre-workout routine is safe, adding to your healthy habits list.
Another great moment to practice your mindful coffee break is early in the morning, before going to work, if you're used to drinking coffee before leaving.
👉🏽  RELATED POST: Qigong Meditation For Beginners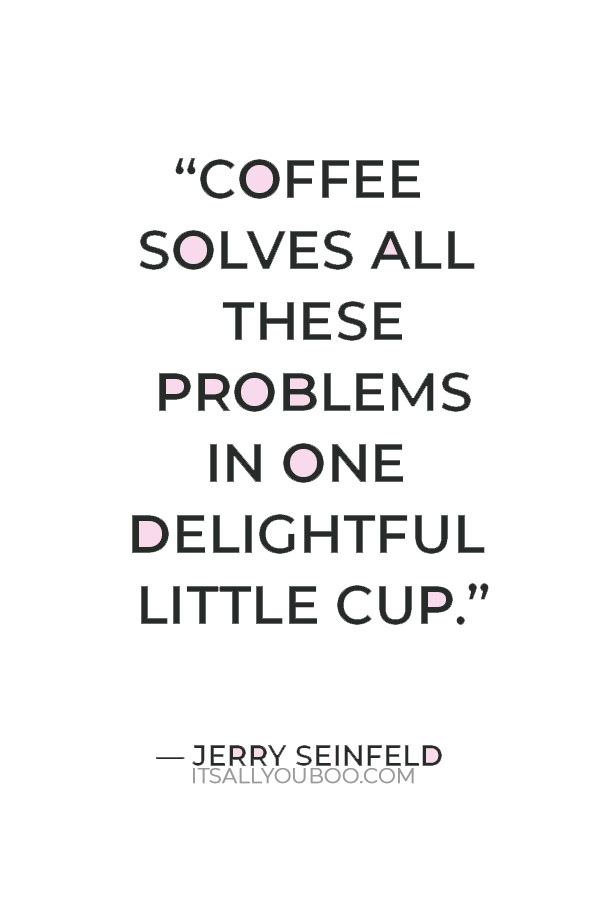 For remote workers and freelancers, or anyone having more control over their schedule, it can be a bit more complicated -paradoxically- to set a daily habit for this practice.
For this reason, I recommend adopting mindful coffee drinking as part of your daily coffee routine, as is. Then, you may try some tweaks to improve your results.
Begin Your Daily Coffee Meditation Today
Coffee meditation is a great way to enjoy coffee in the morning, during your coffee break at work, or before working out. It's also helpful for those trying to practice mindful living and who want to incorporate a helpful daily ritual into their lives.
Free Printable Mindfulness Mantras
Ready to start your daily coffee meditation? Get your 20 FREE Printable Mindfulness Mantra cards.
I hope that you can put these exercises into practice and let me know your experience with them. Are they helpful? Did you add your personal touch to improve them?
This simple coffee meditation is one of the easiest examples of mindfulness in everyday life. Try it!
Please share down below. I am looking forward to learning from your experience.
How do you mindfully drink coffee? What is coffee meditation? Click here for how to start a daily coffee meditation practice when drinking coffee. #Coffee #CoffeeTime #CoffeeLover #Mindfulness #Meditation

Do you practice mindful coffee meditation?
---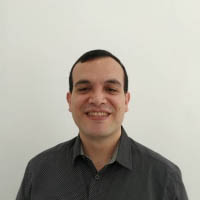 More About Guest Contributor
Yker Valerio (he/him) is a freelance content creator. After more than 10 years of working as a management consultant, he started the blog Bon Vivant Caffè to share his passion for specialty coffee and a snobbery-free and pleasant coffee experience.
Last Updated on May 28, 2023
✕
Get Your 20 Mindfulness Mantras
Subscribe to our VIP newsletter, plus get the free affirmations.