What are the best meditation quotes for stress and anxiety? Looking for mindfulness prayer and meditation quotes?
You're feeling a bit over the edge right now. You're stressed and feeling anxious.
Maybe things are spinning out of control, you're losing your grip.
The pressure is building and you need to find a way to calm down.
You're ready to invest in your emotional health and wellness and bring peace and serenity to your life.
When life becomes too much, and you need to take a pause, center yourself, and find peace, meditation is the solution. It helps you find the quiet, find yourself in the chaos. And you can do it anywhere.
Whether you're an expert at meditation or just starting meditation as a beginner, these quotes will breathe life into your meditation practice.
It will inspire you to seek clarity and calm in your daily life, as well as practice mindfulness throughout the day. To awaken a higher consciousness within yourself.
To inspire your daily meditation practice, here are 100 mindfulness meditation quotes for stress and anxiety. Plus, be sure to check out the FREE Buddhist meditation app – Plum Village which features guided teachings from world-renowned Zen Master Thich Nhat Hanh. It's life-changing!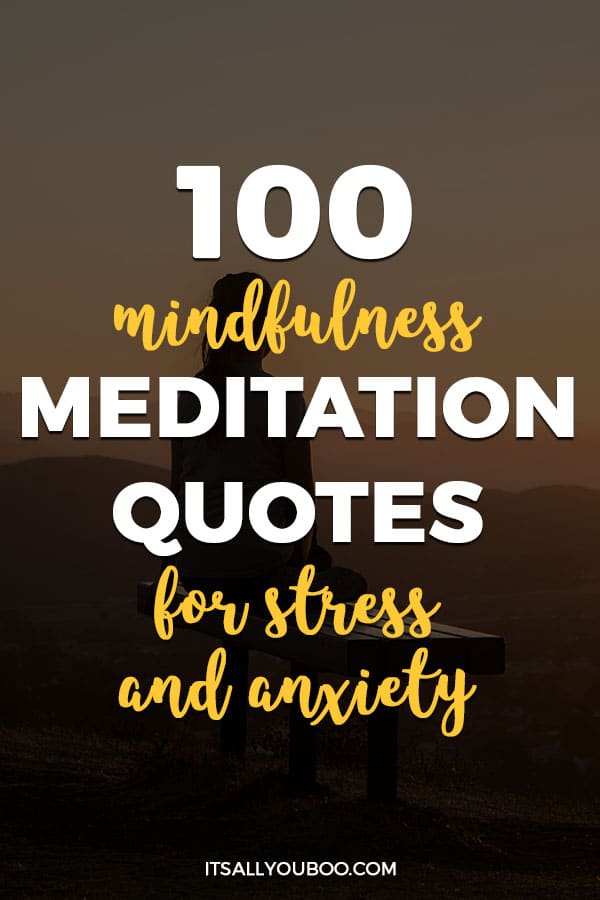 Meditation Is Quotes
What is meditation? What does meditation mean? This first collection of meditation quotes for stress and anxiety define this mysterious mindfulness practice. They seek to explain what the act of meditating is and what it means to meditate.
"Meditation is a vital way to purify and quiet the mind, thus rejuvenating the body." — Deepak Chopra
2. "Meditation is like a gym in which you develop the powerful mental muscles of calm and insight." — Ajahn Brahm
3. "The act of meditation is being spacious." — Sogyal Rinpoche
"Meditation is the life of the soul: Action, the soul of meditation; And honor the reward of action." — Frances Quarles
👉🏽 RELATED POST: How to Meditate for Beginners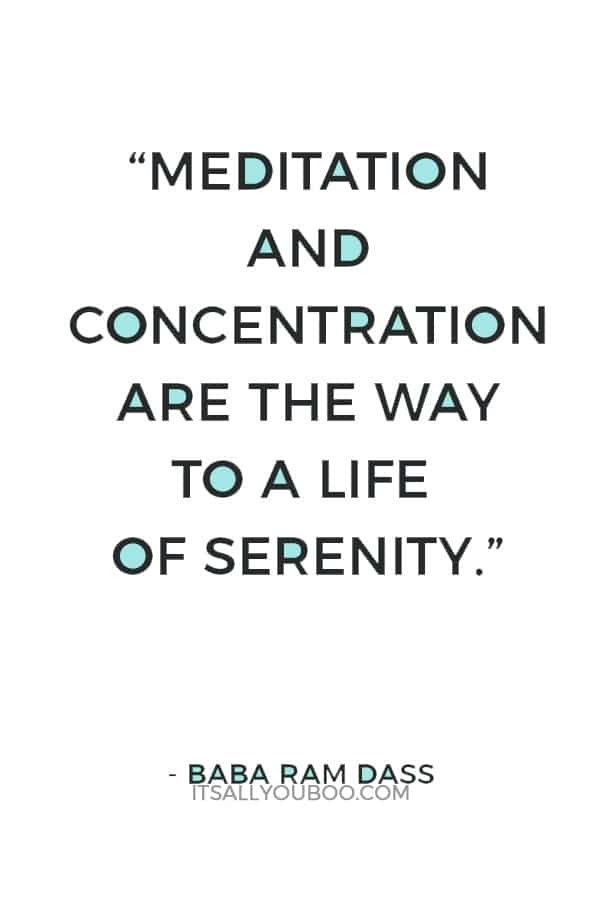 5. "Meditation and concentration are the way to a life of serenity." — Baba Ram Dass
6. "The purpose of meditation is personal transformation." — Henepola Gunaratana
"Meditation is the art of doing nothing." — Naval Ravikant
8. "Meditation is an essential aspect of my life." — Toni Collette
Quotes About the Meditating Mind
What happens when you meditate? How does meditation affect your brain? The following mindfulness meditation quotes depict the meditating mind. Meditation is a mental practice, some say it's making your mind quiet, while others say it's joining the quiet within.
"When meditation is mastered, the mind is unwavering like the flame of a candle in a windless place." ― Bhagavad Gita
10. "Even in the midst of disturbance, the stillness of the mind can offer sanctuary." ― Stephen Richards
👉🏽 RELATED POST: How to Practice Mindfulness Throughout the Day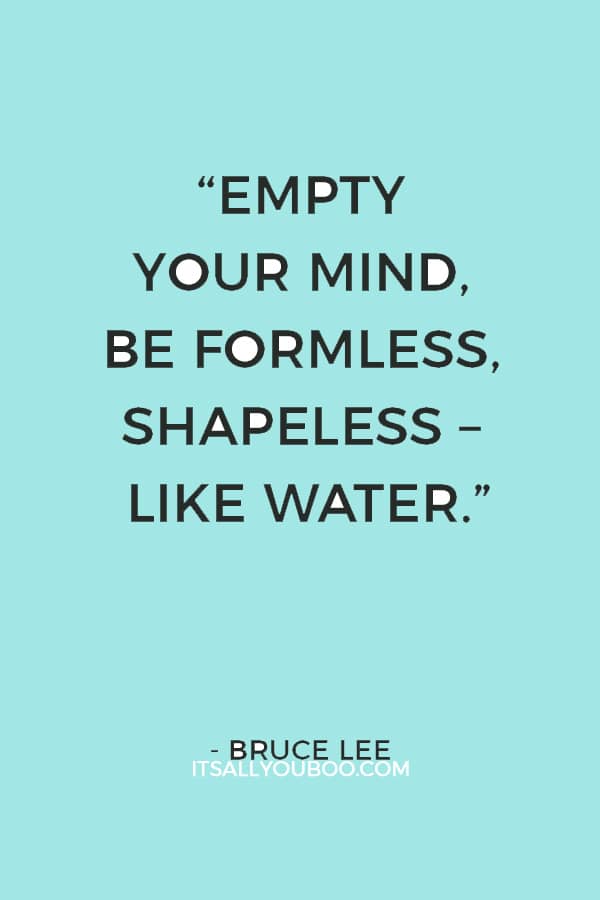 11. "Empty your mind, be formless, shapeless – like water. Now you put water into a cup, it becomes the cup, you put water into a bottle, it becomes the bottle, you put it in a teapot, it becomes the teapot. Now water can flow or it can crash. Be water, my friend." ― Bruce Lee
12."In zazen, leave your front door and your back door open. Let thoughts come and go. Just don't serve them tea." ― Shunryu Suzuki
"Sleeping is like meditation: it's good to rest the body but also to shut the mind down for a bit." ― Anthony Joshua
14. "Meditation is not a way of making your mind quiet. It is a way of entering into the quiet that is already there – buried under the 50,000 thoughts the average person thinks every day." ― Deepack Chopra
What Meditation is Not Quotes
Is meditation just clearing your mind and focusing? Is it a spiritual practice and prayer? Or does it mean clearing your mind? If you have questions about what meditation is and isn't, the following meditation quotes will help to clarify. As this simple practice is often confusing to beginners, they seek to explain what meditation is not.
15. "Meditation isn't necessarily this magical experience where we don't ever have thoughts." ― Gretchen Bleiler
"Meditation is not you going through thoughts – it's letting thoughts go through you." ―Naval Ravikant
👉🏽 RELATED POST: Qigong Meditation for Beginners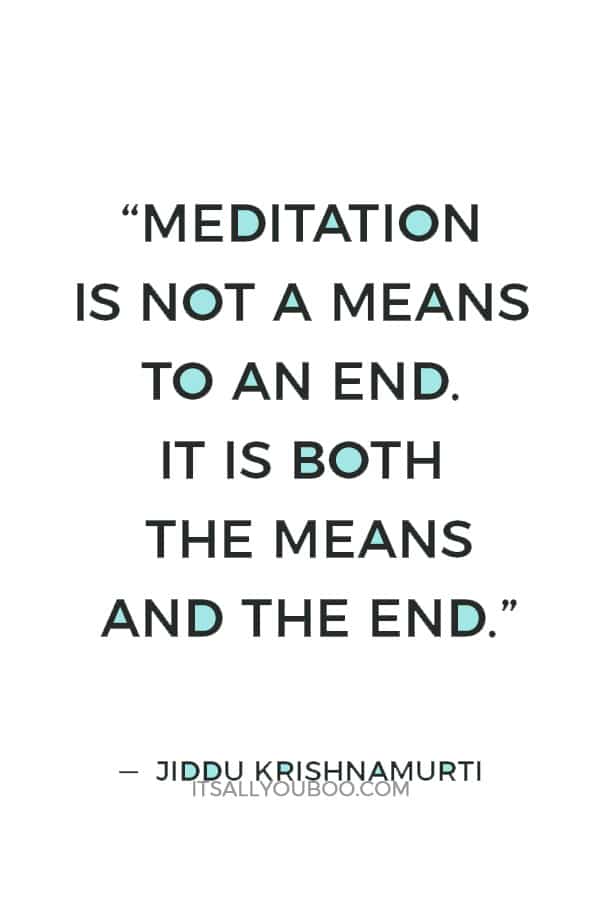 18. "Meditation is not a means to an end. It is both the means and the end." ― Jiddu Krishnamurti
"Meditation is not a withdrawal from life. Meditation is a process of understanding oneself." ― Jiddu Krishnamurti
20. "People think meditation is a huge undertaking. Don't think of it like that." ― Deepak Chopra
21. "Meditation is not growth of the ego, it is death of the ego." ― Bhagwan Shree Rajneesh


22. "Meditation is not evasion; it is a serene encounter with reality." ― Thich Nhat Hanh
Quotes About a Having a Stronger Mind
Is meditation a mental exercise? Does meditation make your mind stronger? The following mindfulness meditation quotes for stress and anxiety illustrate how meditation increases you mental capacity. How it can potentially improve your mental health.
"Meditation is the weight room for the mind." ― Ed Latimore
24. "The mind is definitely something that can be transformed, and meditation is a means to transform it." ― Dalai Lama
👉🏽 RELATED POST: How to Train Your Subconscious Mind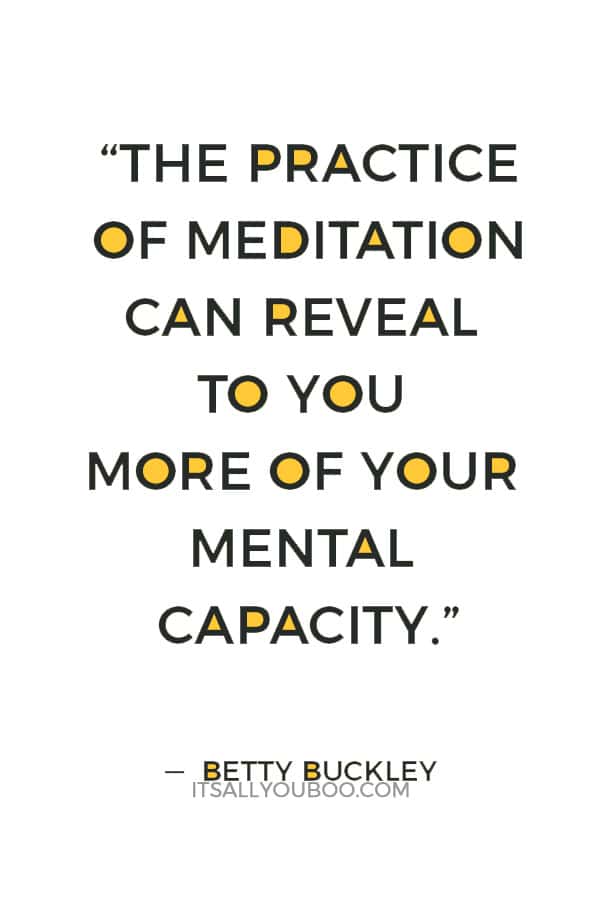 25. "The practice of meditation can reveal to you more of your mental capacity." ― Betty Buckley
26. "Meditation will bring you more and more intelligence, infinite intelligence, a radiant intelligence. Meditation will make you more alive and sensitive; your life will become richer." ― Osho
"Meditation can help us embrace our worries, our fear, our anger; and that is very healing. We let our own natural capacity of healing do the work." ― Thich Nhat Hanh
28. "Meditation brings wisdom; lack of meditation leaves ignorance. Know well what leads you forward and what holds you back, and choose the path that leads to wisdom." ― Buddha
Meditation is Mindfulness Quotes
What exactly is mindfulness? And is meditation the same as mindfulness? The following selection of mindfulness meditation quotes for stress and anxiety explores mindfulness. There is an element of being fully present, at the moment in meditation.
29. "Do not dwell in the past, do not dream of the future, concentrate the mind on the present moment." ― Buddha
"Our mind is accustomed to meditating on the future and the past, but we need to retrain it to come back to the present." ― Lodro Rinzler
31. "The real meditation practice is how we live our lives from moment to moment to moment." ― Jon Kabat-Zinn
👉🏽 RELATED POST: How to Live in the Moment and Enjoy the Present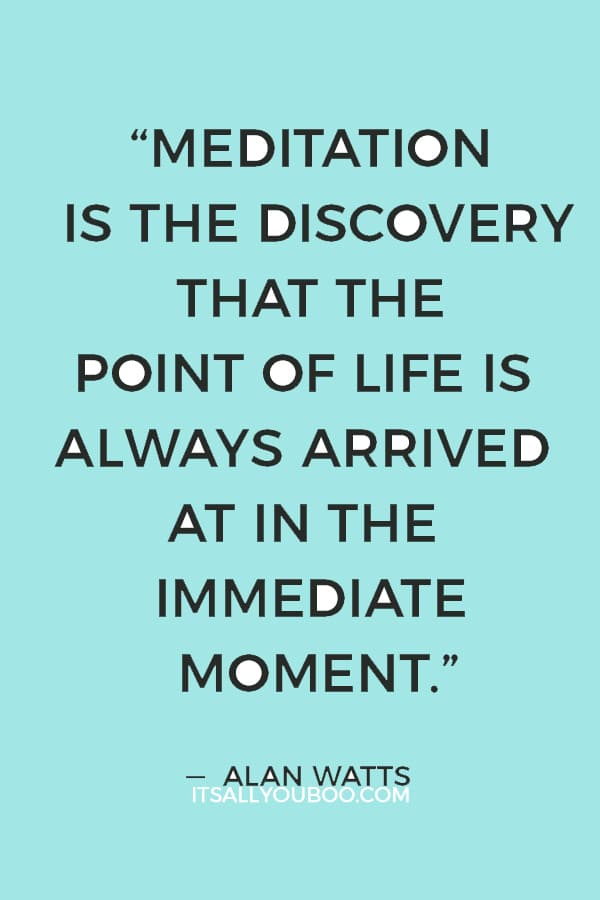 32. "Meditation is the discovery that the point of life is always arrived at in the immediate moment." ― Alan Watts
"Through meditation and by giving full attention to one thing at a time, we can learn to direct attention where we choose." ― Eknath Easwaran
34. "Meditation is to be aware of every thought and of every feeling, never to say it is right or wrong, but just to watch it and move with it. In that watching, you begin to understand the whole movement of thought and feeling. And out of this awareness comes silence." ― Jiddu Krishnamurti
Having Peace Inside and Out Quotes
Want to have peace on the inside? Wish there was world peace? This collection of mindfulness meditation quotes for stress and anxiety illustrates how meditation brings peace. How meditating can calm the chaos of our personal lives, but also the world. Meditation is one of the best ways to manage stress in the workplace as well.
"The more regularly and the more deeply you meditate, the sooner you will find yourself acting always from a center of peace." ― J. Donald Walters
36. "If every eight year old in the world is taught meditation, we will eliminate violence from the world within one generation." ― Dalai Lama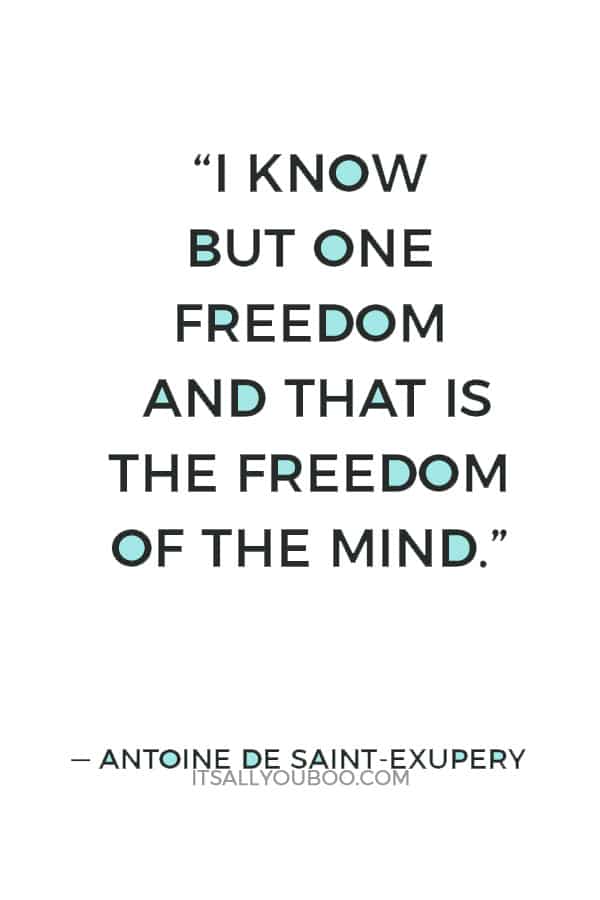 37. "I know but one freedom and that is the freedom of the mind." ― Antoine de Saint-Exupery
"Without inner peace, outer peace is impossible." ― Geshe Kelsang Gyatso
39. "If we can make just 1% of the population meditative, this world will be a different place." ― Sadhguru
40. "If a person's basic state of mind is serene and calm, then it is possible for this inner peace to overwhelm a painful physical experience." ― The Dalai Lama
"Peace comes from within. Do not seek it without." ― Buddha
42. "The more man meditates upon good thoughts, the better will be his world and the world at large." ― Confucius
Quieting Your Mind Meditation Quotes
What does it mean to "quiet your mind"? What's the purpose of meditation? These mindfulness meditation quotes for stress explore the results of the practice. From finding stillness and a quiet mind to other benefits of meditating like boosting your energy. What does meditation do for you?
43. "Sometimes you need to sit lonely on the floor in a quiet room in order to hear your own voice and not let it drown in the noise of others." ― Charlotte Eriksson
👉🏽 RELATED POST: How to Stop Overthinking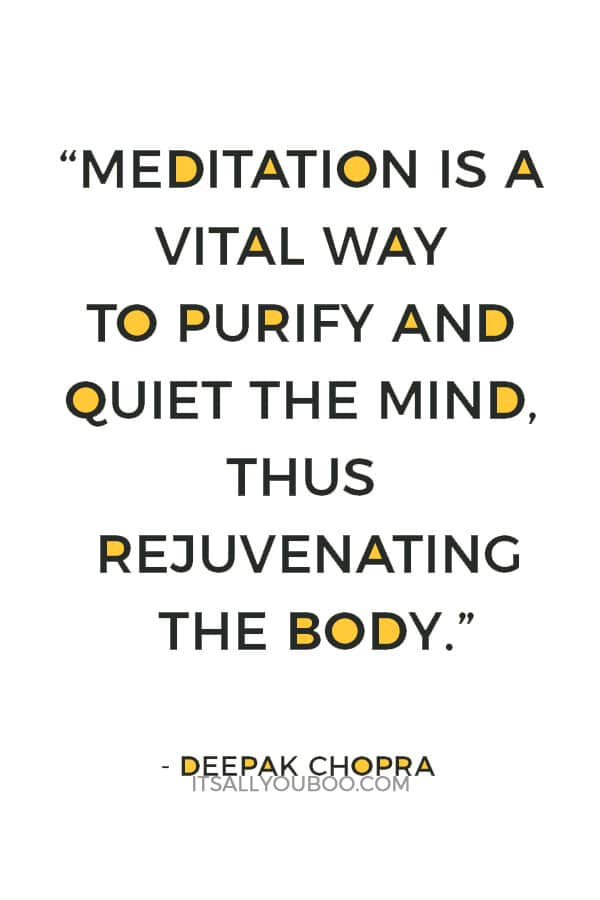 44. "Meditation is a vital way to purify and quiet the mind, thus rejuvenating the body." ― Deepak Chopra
"Meditation is silence, energising and fulfilling. Silent is the eloquent expression of the inexpressible." ― Sri Chinmoy
46. "That deep silence has a melody of its own, a sweetness unknown amid the harsh discords of the world's sounds." ― Paul Brunton
"Meditation needs no results. Meditation can have itself as an end, I meditate without words and on nothingness. What tangles my life is writing." ― Hélène Cixous
48. "To understand the immeasurable, the mind must be extraordinarily quiet, still." ― Jiddu Krishnamurti
Quotes About How to Meditate
How do you meditate? What do you do while meditating? If you're new to meditation, you probably have a lot of questions about the do's and don't. Use the following meditation quotes to help you understand how to meditate. As you read them, imagine what your own meditation practice could look like.
"Don't seek, don't search, don't ask, don't knock, don't demand – relax." ― Osho
50. "Respond; don't react. Listen; don't talk. Think; don't assume." ― Raji Lukkoor
👉🏽 RELATED POST: How to Manifest Gratitude from the Universe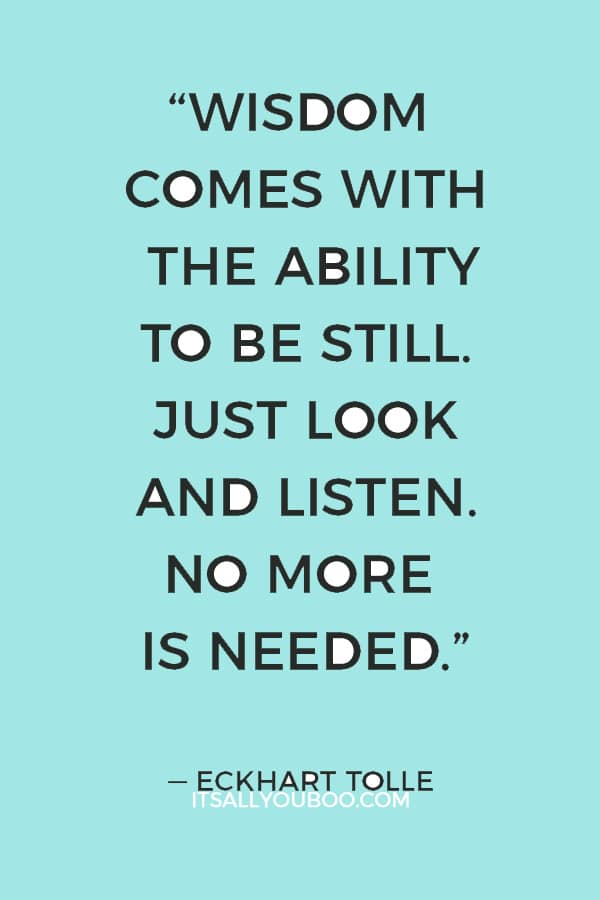 51. "Wisdom comes with the ability to be still. Just look and listen. No more is needed." ― Eckhart Tolle
"If you are quiet enough, you will hear the flow of the universe. You will feel its rhythm. Go with this flow. Happiness lies ahead. Meditation is key." ― Buddha
53. "Quiet the mind, and the soul will speak." ― Ma Jaya Sati Bhagavati
"Praying is talking to the Universe. Meditation is listening to it." ― Paulo Coelho
55. "Watching birds has become part of my daily meditation affirming my connection to the earth body." ― Carol P. Christ


56. "Meditation is the ultimate mobile device; you can use it anywhere, anytime, unobtrusively." ― Sharon Salzberg
How Long Do You Meditate Quotes
How much time do you need to meditate daily? Not sure how long you should meditate? You're not the only one. The next selection of meditation quotes for stress and anxiety explores how long you should meditate. Here's a hint: it's all up to what works for you. These are great examples of mindfulness in everyday life.
"Practice meditation regularly. Meditation leads to eternal bliss. Therefore meditate, meditate." ― Swami Sivananda
58. "Half an hour's meditation each day is essential, except when you are busy. Then a full hour is needed." ― Saint Francis de Sales
59. "Meditation has been very, very helpful. You know, even if it's just 5 minutes a day." ― Noah Centineo
👉🏽 RELATED POST: How to Spend a Mental Health Day
60. "Doing a three-minute meditation every day may change your life: It is the gateway drug to slowing down." ― Anne Lamott
"Just as you wouldn't leave the house without taking a shower, you shouldn't start the day without at least 10 minutes of sacred practice: prayer, meditation, inspirational reading." ― Marianne Williamson
62. "One hour's meditation on the work of the Creator is better than seventy years of prayer." – Muhammad
Meditation is All About Breathing Quotes
How do you start meditating? What's the first thing you do? This collection of mindfulness meditation quotes for stress and anxiety talks about the importance of breath and breathing. Focus on your breath, in and out, that's the foundation of meditation.
"Let the breath lead the way." ― Sharon Salzberg
👉🏽 RELATED POST: Benefits of Practicing Tai Chi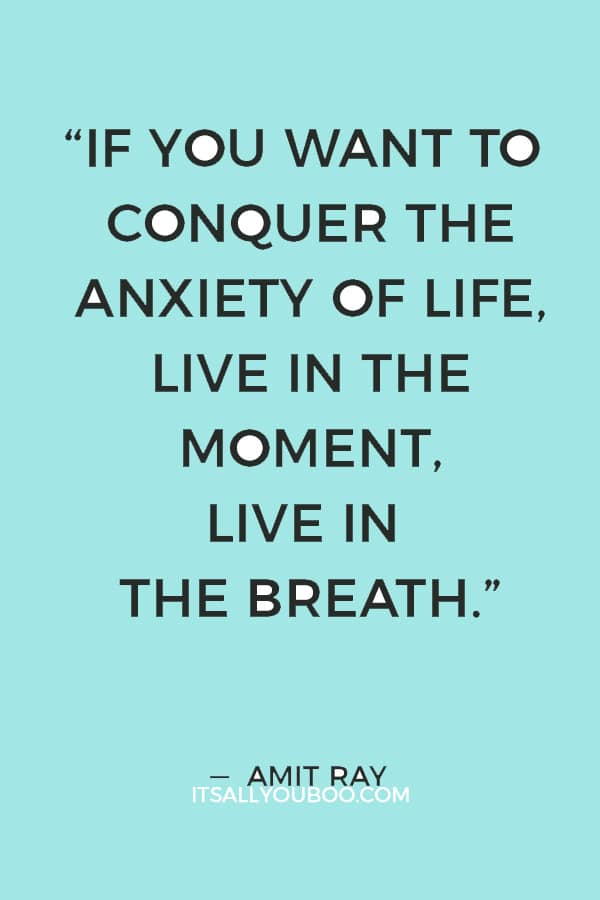 63. "If you want to conquer the anxiety of life, live in the moment, live in the breath." ― Amit Ray
"Be aware of your breathing. Notice how this takes attention away from your thinking and creates space." ― Eckhart Tolle
65. "Smile, breathe and go slowly." ― Thich Nhat Hanh
66. "Feelings come and go like clouds in a windy sky. Conscious breathing is my anchor." ― Amit Ray
"One conscious breath in and out is a meditation." ― Eckhart Tolle
68. "During meditation your metabolism and your breath rate go down to a level of rest, twice that of deep sleep." ― Mike Love
Prayer and Meditation Quotes
Is meditation a form of prayer? Is it a religious practice? No matter your religious or spiritual beliefs, the following mindfulness meditation quotes shed light on the connection of meditation to prayer. How it can be used to connect with God or whatever you personally believe in.
"Meditation is waiting on God." ― Mahatma Gandhi
71. "Perfect prayer does not consist in many words, silent remembering and pure intention raises the heart to that supreme Power." ― Amit Ray
72. "Jesus himself talked about prayer and meditation. Anything that brings you closer to the Lord, what's wrong with that?" ― Dennis Quaid
👉🏽  RELATED POST: Quotes About Calming Down When Angry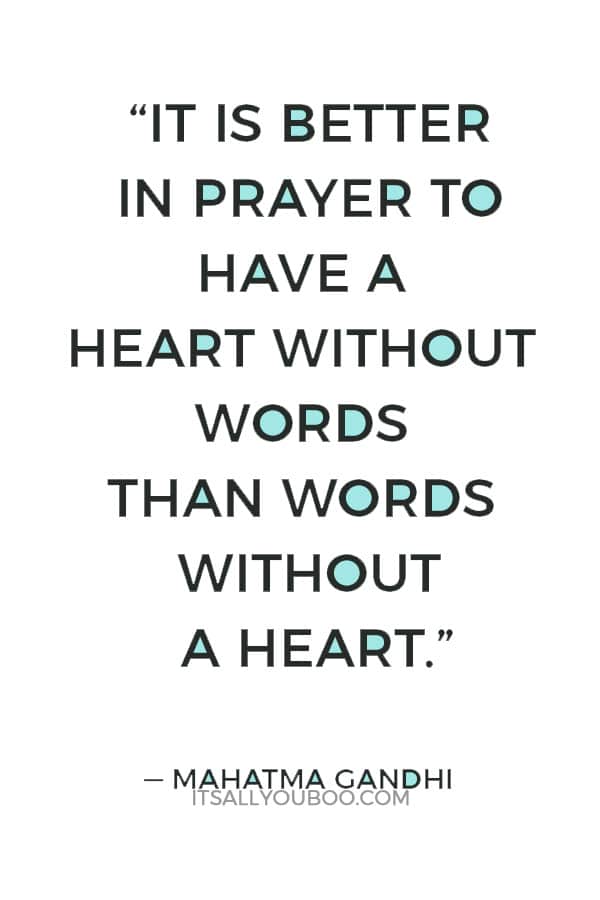 73. "It is better in prayer to have a heart without words than words without a heart." ― Mahatma Gandhi
"Prayer is when you talk to God; Meditation is when you listen to God." ― Diana Robinson
75. "Prayer is a form of meditation, isn't it? It's laws of attraction: whatever you put out into the universe is what it receives. It's just kind of putting your thoughts out into the universe." ― Anthony Joshua
76. "It is of great importance, when we begin to practise prayer, not to let ourselves be frightened by our own thoughts." ― Santa Teresa de Jesús
"If you want to find God, hang out in the space between your thoughts." ― Alan Cohen
78. "Prayer is more than meditation. In meditation the source of strength is one's self. When one prays he goes to a source of strength greater than his own." ― Chiang Kai-shek
Meditation and the Divine Quotes
Is meditation a spiritual practice? Does meditating make you a spiritual person? One cannot deny the spiritual component of meditation. This collection of mindfulness meditation quotes for stress and anxiety explores the divine, spirit, and soul connection.
79. "When you enter a place of stillness, you awaken the divinity within you." ― Peggy Sealfon
"Meditation is listening to the Divine within." ― Edgar Cayce
81. "Meditation is a way for nourishing and blossoming the divinity within you." ― Amit Ray
👉🏽 RELATED POST: How to Become More Spiritual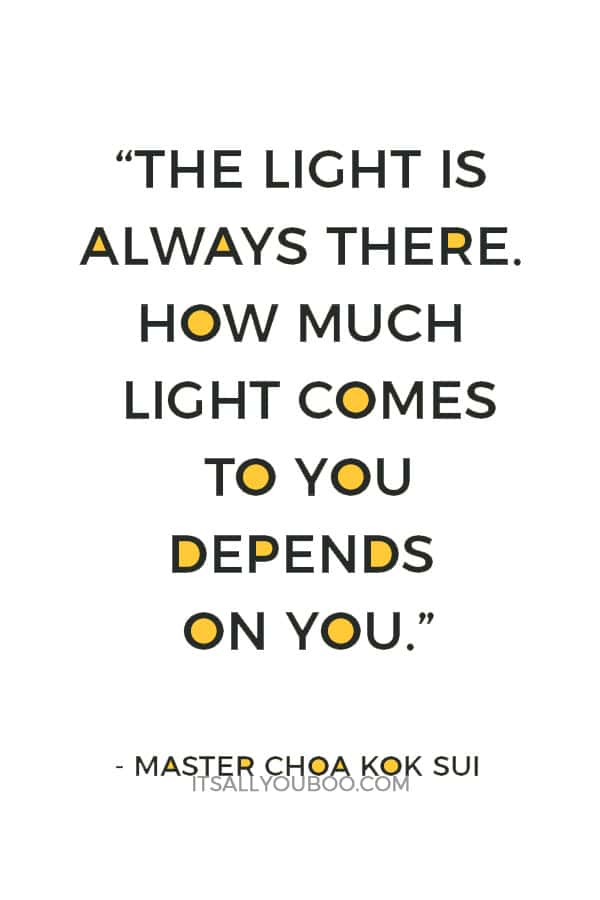 82. "The Light is always there. How much light comes to you depends on you." ― Master Choa Kok Sui
83. "An awake heart is like a sky that pours light." ― Hafiz
"Meditation is the soul's perspective glass." ― Owen Feltham
85. "You are a cosmic flower. Om chanting is the process of opening the psychic petals of that flower." ― Amit Ray
86. "Meditation is the tongue of the soul and the language of our spirit." ― Jeremy Taylor
"Meditation is the secret of all growth in spiritual life and knowledge." ― James Allen
88. "Spirituality does not lie in meditating the body of an ex-master. Spirituality exists in mediating on your own inner body." ― Amit Ray
Achieve Higher Consciousness Quotes
What does "higher consciousness" mean? How do you reach it? The following meditation quotes explore how meditation raises your consciousness and awareness of your thoughts, thinking, and reality. It's about personal growth and development. Meditation helps you become your best self.
89. "Paradise is not a place, it's a state of consciousness." ― Sri Chinmo
"Meditation is a vital practice to access conscious contact with your highest self." ― Wayne Dyer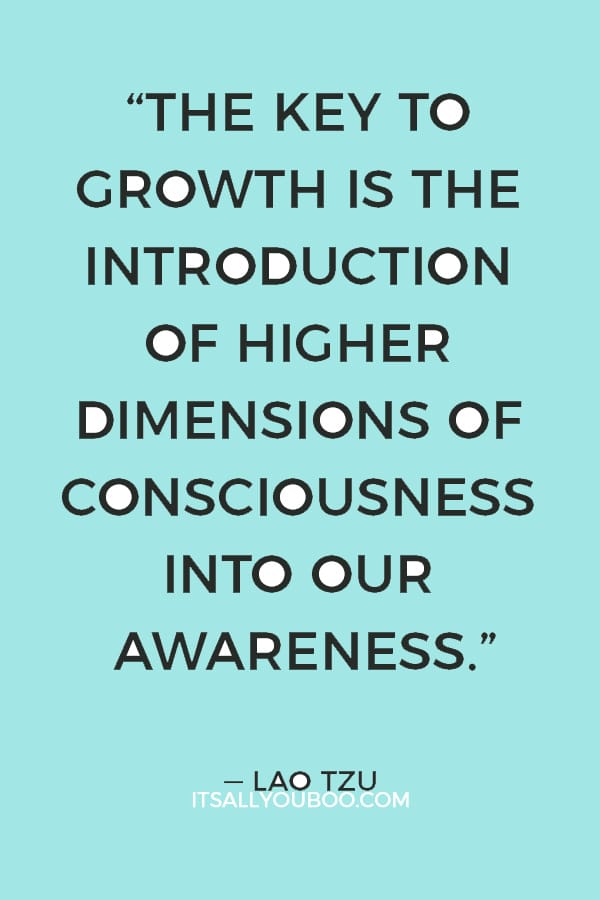 91. "The key to growth is the introduction of higher dimensions of consciousness into our awareness." ― Lao Tzu
92. "Whenever anyone has offended me, I try to raise my soul so high that the offense cannot reach it." ― Rene Descartes
"Meditation is the dissolution of thoughts in eternal awareness or Pure consciousness without objectification, knowing without thinking, merging finitude in infinity." ― Voltaire
94. "Through meditation, the higher self is experienced." ― Bhagavad Gita
95. "There is only one place to find real peace, real harmony. That place is within." ― S.N. Goenka
Quotes About the Benefits of Meditation
What are the benefits of meditation? Why should you start meditating today? if you're still not sure if meditation is right for you, this final collection of meditation quotes explores additional benefits. How can meditation change your life? Make you a better person? Or even help you understand yourself?
96. "An interval of meditation, serious and grateful, was the best corrective of everything dangerous." ― Jane Austen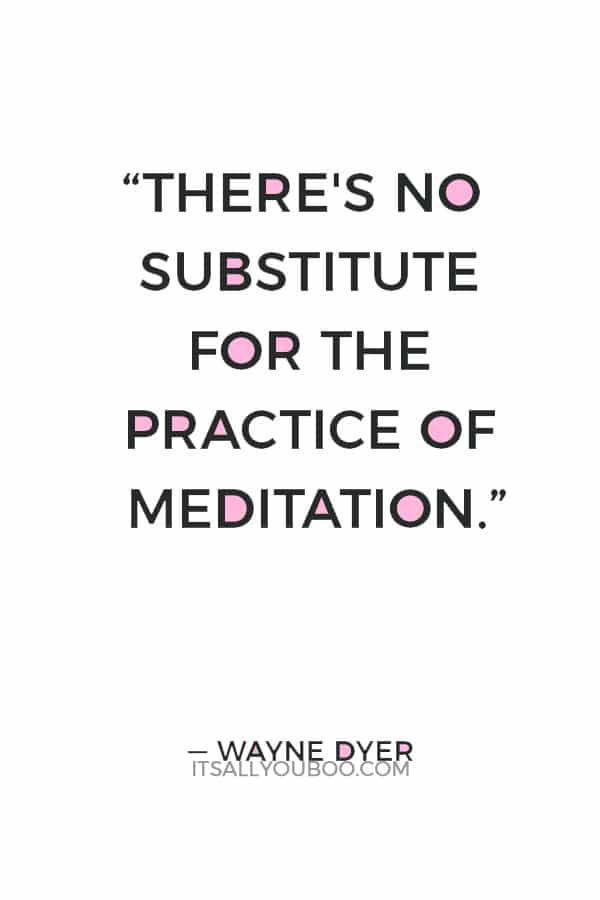 97. "There's no substitute for the practice of meditation." ― Wayne Dyer
"Exercise, prayer, and meditation are examples of calming rituals. They have been shown to induce a happier mood and provide a positive pathway through life's daily frustrations." ― Chuck Norris
99. "I can be stressed, or tired, and I can go into a meditation and it all just flows off of me. I'll come out of it refreshed and centered and that's how I'll feel and it'll carry through the day." ― Ray Dalio
100. "Meditation is painful in the beginning but it bestows immortal Bliss and supreme joy in the end." ― Swami Sivananda
Free Printable Mindfulness Mantras
Looking for more ways to deal with stress and anxiety in your daily life? Start taking time for daily mindfulness meditation. Get your 20 FREE Printable Mindfulness Mantra cards.
Now that you've explored all the sides of meditation, what do you think about it?
Can you see how it can help you deal with your stress and anxiety?
Meditation is one of the simplest and easy ways to bring peace, joy, and happiness to your life. It's completely free and doesn't require equipment or much time.
All you need is you, and a moment to find the space in your mind, the calm within.
Curious about meditation? Have questions about what it is, how it works, or the benefits? Here are 100 mindfulness meditation quotes for stress and anxiety. #Meditation #Mindfulness #InnerPeace

What are your favorite meditation quotes for stress?
Last Updated on May 28, 2023
✕
Get Your 20 Mindfulness Mantras
Subscribe to our VIP newsletter, plus get the free affirmations.