Is it worth buying the 2020 Ultimate Productivity Bundle?
What's included in this Ultimate Bundle's Productivity Bundle?
These were the same questions I had when a friend told me about Ultimate Bundles.
How could this be legit? So many products for such an insane discount?
I even wondered if it was a scam, if I should even buy it and if this was even real. But it was!
The first-ever Ultimate Bundle I purchased was the 2017 Genius Blogger's Toolkit. And wow, it was the right choice for me back then. Buying that bundle set my blog up for serious success in the coming years.
That Ultimate Bundle taught me a valuable lesson about investing in myself and my business, I didn't have to spend thousands, to get the quality resources and courses I needed. And neither do you!
Table of Contents:
Since my very first bundle, my relationship with Ultimate Bundles has grown! I've not only purchased Genius Blogger's Toolkits but the Ultimate Productivity Bundles too! I've gone from a happy customer to an affiliate and a three-time contributor.
I'm so pleased to let you know that the 2020 Ultimate Productivity bundle is EVEN better than the last. It's grown from 46 products valued at $1506.90 to 74 products valued at $2837.06! It's on sale right now for just $47!
Yes, you read that right! You can get 74 resources including courses, ebooks, printables, workbooks, planners, and more for just $67.
Since I've had access to this bundle for a month, I've listened, read, and tested every resource included and have picked my favorites. I want you to feel confident in choosing this bundle and deciding if it's right for you!
Keep reading for my full and honest review of the 2020 Ultimate Productivity Bundle, plus find out how you can claim an exclusive bonus when you buy.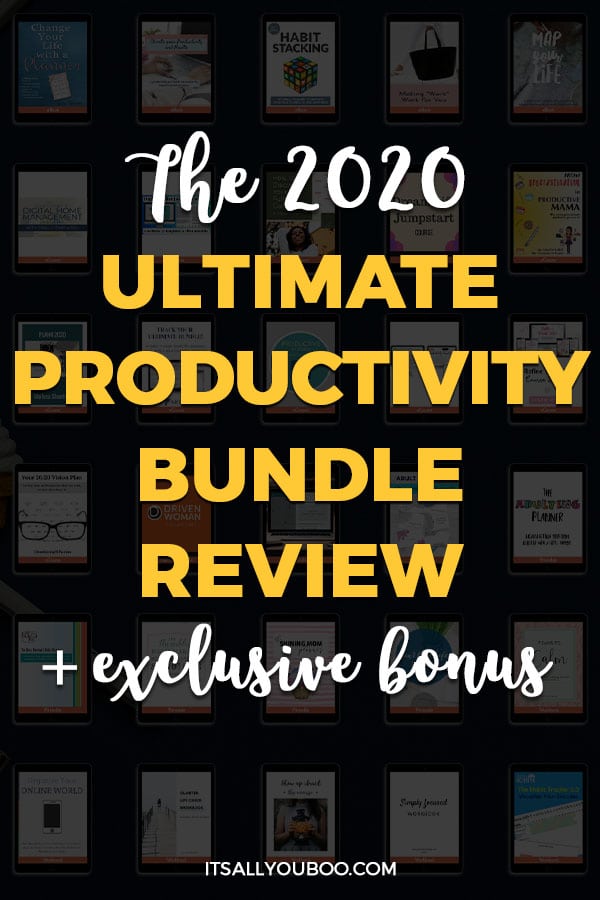 Is the Ultimate Productivity Bundle Worth it?
I know what you're thinking, with 74 resources it's easy to get overwhelmed with this bundle. Is it worth it? Should you buy it?
Don't worry, I had the same questions myself, even with this bundle.
The best way to answer this question for yourself is to decide WHY you need it.
Questions to ask yourself before buying:
Do you need to increase your productivity?
Want to set goals you'll actually achieve?
Struggling to create new habits?
Is your home life chaotic and a real mess?
Ready for better daily routines?
Do you want to be more confident in yourself?
Love reading ebooks and taking courses?
Want to focus on your self-growth and development?
If you answered yes to more than these questions odds are you'll LOVE the 2020 Ultimate Productivity Bundle. I must confess, that the name is a bit misleading, yes it will help you become more productive, but it will also help you with so many other areas of your life too.
You will get the most out of the course if there's someone you need help with RIGHT NOW. Don't buy it for maybe, possibly later, buy it because you need it now. Most courses are sold on their own for more than the entire bundle, so if there's a course you will take NOW, it's worth it.
Claim Your Exclusive Free Course with Purchase
I want you to get the most out of the 2020 Ultimate Productivity Bundle! And to celebrate being a part of it for two years in a row, I've got a special bonus just for you. Follow the steps below to claim your free copy of my Goal Setting 101 eCourse, a $49 value.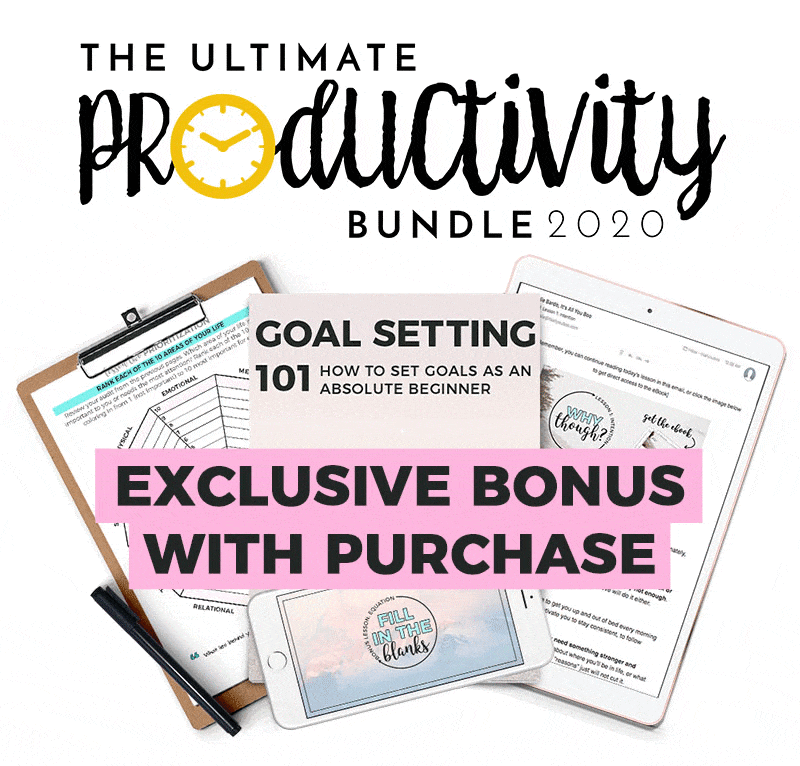 How to Claim Your FREE Course
Click here to purchase the 2020 Ultimate Productivity Bundle with my affiliate link (you have to click and buy immediately, do not click anyone else's link)
Then, find your Order ID number in your receipt from Ultimate Bundles.
Send me an email info@itsallyouboo.com, with your Order ID.
I'll confirm your purchase is listed among my sales and send you a FREE Copy of Goal Setting 101.
What if I already have Goal Setting 101?

No worries, if you already have it, I'm happy to send you a copy of my 2020 Yearly Planner instead. It's simply perfect, with monthly, weekly and daily planner pages for the entire year. Plus, inspirational quotes to keep you motivated.
What's included in the Ultimate Productivity Bundle?
The 2020 Ultimate Productivity Bundle is a collection of 74 resources created by the best productivity and personal development experts. They know what they're teaching, they've used these tips and techniques to change their own lives.
It's not just about productivity, there are resources on getting organized, time management, shifting your mindset, overcoming obstacles and more!
Each product is unique and offers a different way to help you make this your best year ever. The hardest part about buying this bundle is knowing where to start, which is why I've shared my top picks and a quick preview of all 74 resources below.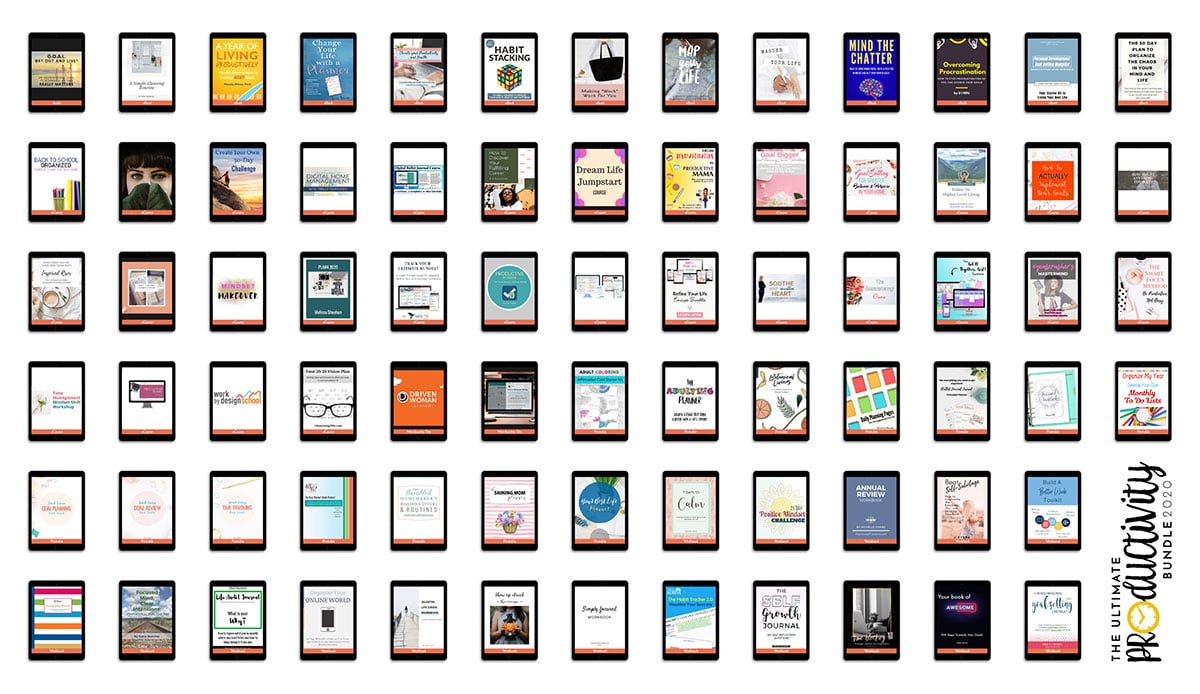 It's simply the best way to be more productive and achieve your goals in 2020!
Quick Facts about The 2020 Ultimate Productivity Bundle:
Contents: 12 eBooks, 30 eCourses, 29 workbooks & printables and 2 membership sites
Value: $2837.06 (not including bonuses!)
Price: $47.00 + $10.00 cheat sheets
The 2020 Ultimate Productivity Bundle Product Breakdown
Want to take a detailed look at all the 74 resources included in the 2020 Ultimate Productivity Bundle? Here are all the courses, printables, planners, and more available to you for just $47.00.
As I've had access to the bundle for over a month, this is my full product by product review. For every resource, I've provided a summary of how each product can help you and why you'll love it. Each ⭐️ means it's my top pick for a particular reason, like great for productivity, goal setting or planning.
The 74 products are organized into these categories:
Building Routines
(11 products worth $297.96)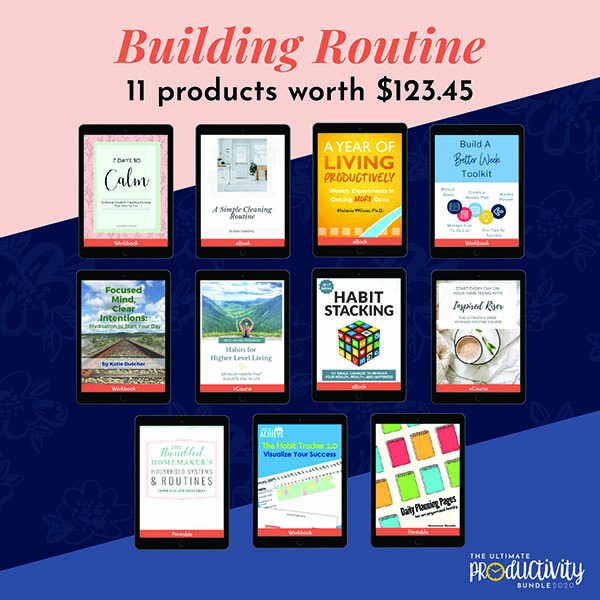 Getting Organized
(9 products worth $219.94)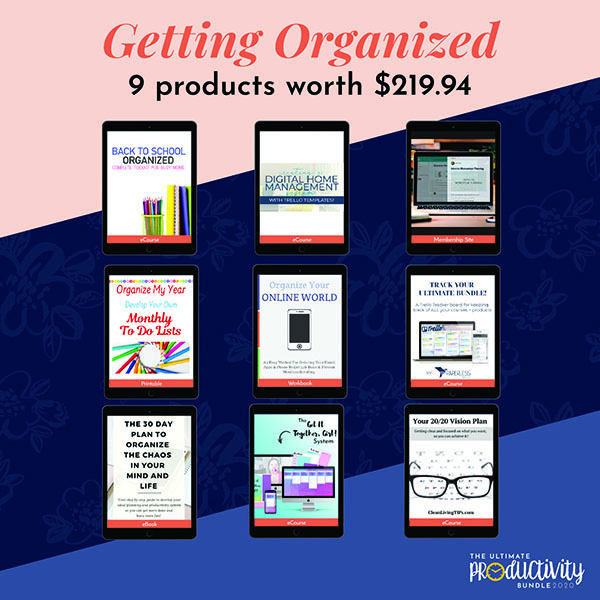 Click here to get Your Bundle Now
Goal Setting
(9 of products worth $358.95)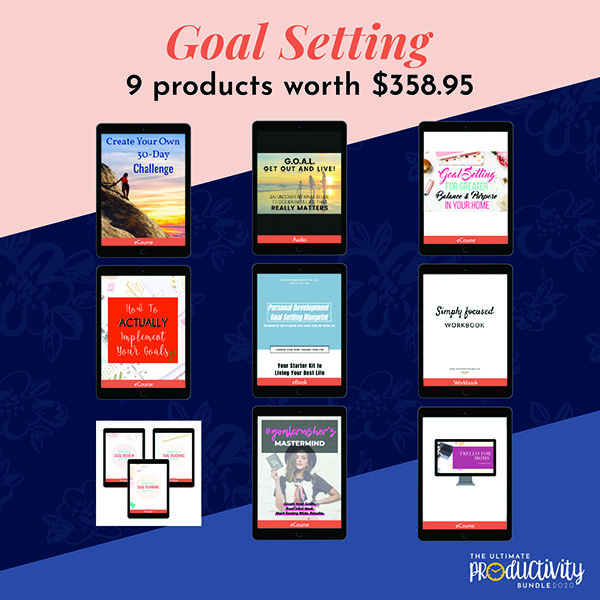 Click here to get Your Bundle Now
Overcoming Obstacles
(7 products worth $142.88)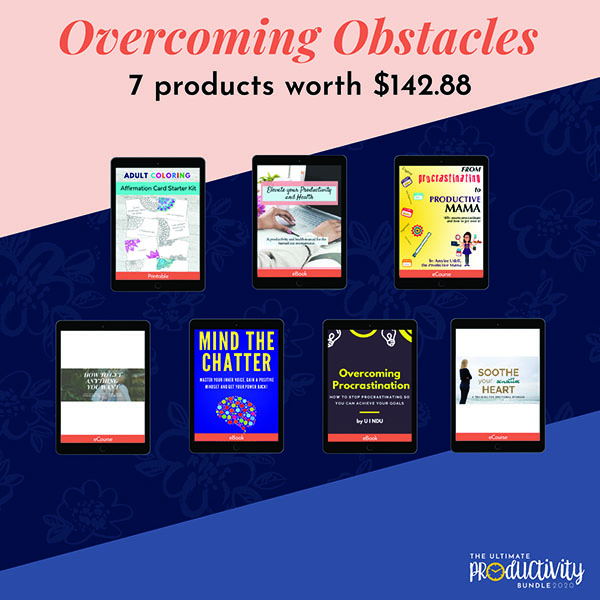 Click here to get Your Bundle Now
Planners
(10 products worth $217.95)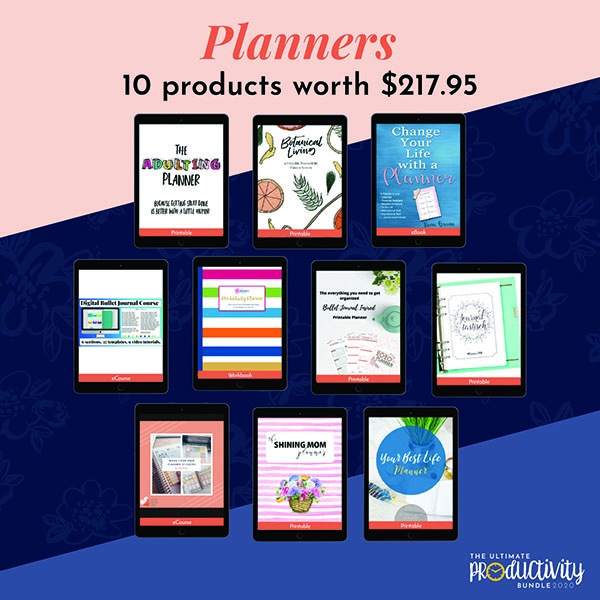 Review & Reflect
(10 products worth $258.98)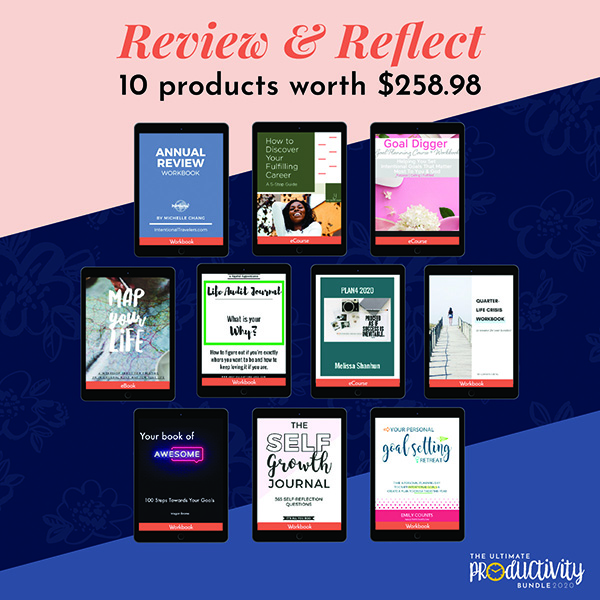 Click here to get the Ultimate Productivity Bundle
Shifting Mindsets
(12 products worth $687.41)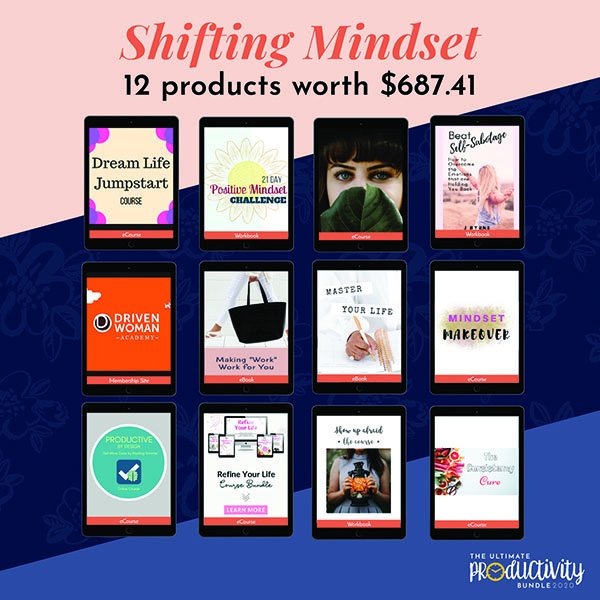 Click here to get Your Bundle Now
Time Management
(6 products worth $746.99)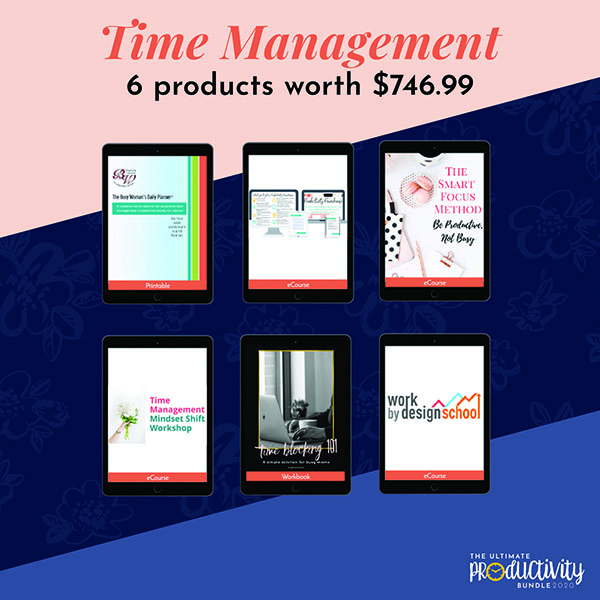 Click here to get Your Bundle Now
How Do I Buy the Ultimate Productivity Bundle?
I know you're excited to dive into these 74 resources, so here's how to get your very own 2020 Ultimate Productivity Bundle before it's too late.
Click here to visit the sales page, then, click the "get my copy now!" button in the top right and corner.
If you want to avoid getting overwhelmed, add the cheat sheets for $10 extra dollars. They summarize the best tips and tricks in each product. Thus, helping you save time.
Fill out the payment form and check out securely with a credit card or with PayPal.
The instant you've checked out, you'll see this confirmation page. Then, click the "access bundle" link to be taken right to the bundle page to access all the products.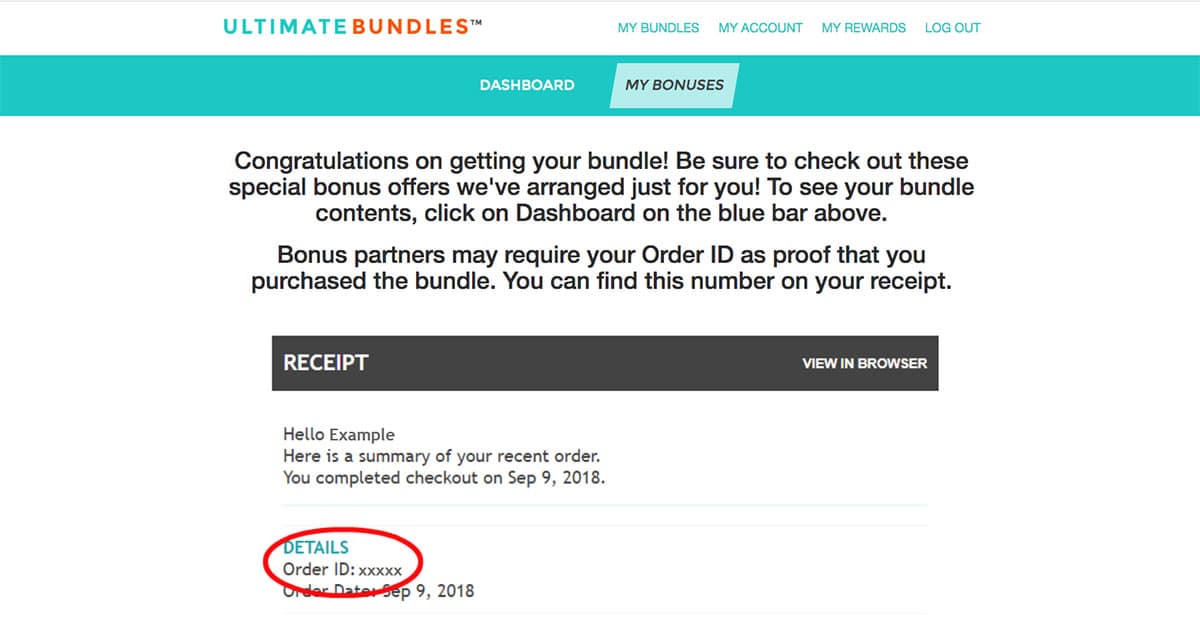 You'll also receive an order confirmation email immediately after checkout with instructions.
Remember, if you use my affiliate link you can claim your FREE copy of my Goal Setting 101 eCourse, just send me your order ID number.
And that's it, you're well on your way to making 2020 your most productive year yet.
Should you buy the Ultimate Productivity Bundle? Is it legit? Worth it? Click here for my honest product review of all 74 products on sale for $47. #Productivity
Click To Tweet