What are the best free printables to live your best life?
Looking for the best free courses and challenges for 2022?
With so many amazing freebies available to you, you can absolutely have your best year ever… without paying a dime!
Do you want to take goal setting and planning more seriously this year?
Or perhaps to finally start making a meal plan, self-care, mental health, or fitness plan?
Dare I say to even start journaling, using habit trackers, or even makeover your mindset?
No matter the aspect of your precious life you want to improve, there's no doubt the perfect freebie for you. If you can find it!
Table of Contents:
100+ Best Freebies, Printables, and Courses:
It's exhausting clicking endlessly, scrolling for days on Pinterest, trying to find the best freebie that'll help you achieve what you want. Or to click and see it's NOT actually a freebie.
Those 100+ freebies are exceptional, better than most, more helpful than the rest, created by someone who cares and wants you to succeed. I will warn you that seeing as I'm the creator of over 25 epic freebies, I've sprinkled mines in here as well.
For all my free printables, guides and challenge, if you want to skip the scroll and endless signing up, you can click right here to join my FREE VIP resource library and get access to all my freebies in one place.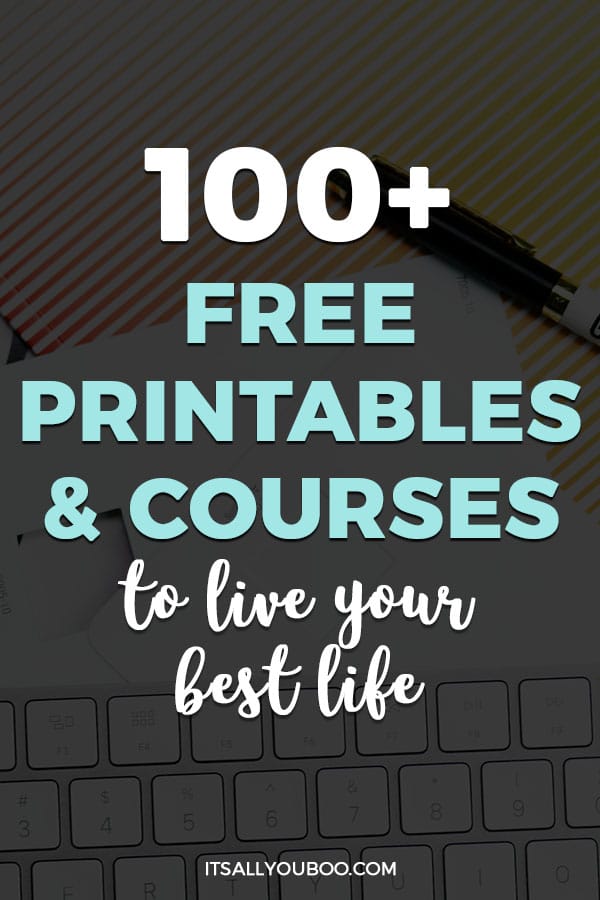 100+ Best Free Printables and Free Courses
#1.
Free Goal Setting Quiz, Printables, and Guides
Ready to set goals, but not sure where to start? This collection of free goal setting freebies meets all your goal setting and achieving your goals needs. Plus, if you're struggling to take action, check out my FREE #GoalSlayer Masterclass.
The Ultimate Guide: 350+ Goals Ideas by It's All You Boo. Want to set goals, but not sure where to start? With this free 12-page guide you'll have a list of goals for every area of your life, from your finances and career to personal life and fitness.
The Budding Goal-Setter E-Guide by The Budding Optimist (see below). This 19-page e-guide focuses on how to achieve goals and dreams with the marginal gains method. The e-guide will help you come up with values-based goals, break them down into small but concrete action items, develop a personalized growth plan, and brainstorm strategies to overcome obstacles.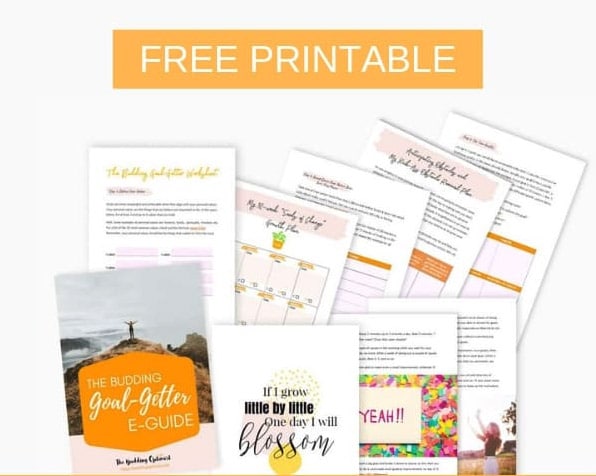 Free What Should Your Goal Be? Quiz by It's All You Boo. It's hard to know what goals to set, so why not let this free quiz help you. With your results, you'll discover which of the ten areas of your life you should focus on, plus get a bonus guide with goal examples and expert advice.
SMART Goals Workbook by It's All You Boo. You've heard of SMART goals but how do you set them? This printable worksheet helps you transform any goal into an ironclad SMART goal, plus with relatable examples, it's even easier.
Free SMART Goals Workbook by I Dream of Simple (see below). This S.M.A.R.T. Goals Worksheet will take the guesswork out of what a S.M.A.R.T. goal is and how to use them in your everyday life. Download the free worksheet now and start achieving your biggest goals!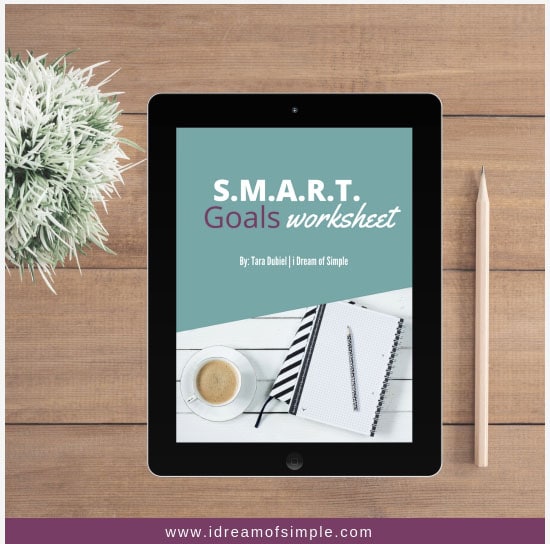 Printable Slay Your Goals Guide by It's All You Boo. Don't just set goals, but slay them! There's so much more to achieving your goals than just writing them down. This ten-step guide shares the honest truth about slaying your goals.
Get My Free Goal Success Ebook & Checklist by QuickBooost. If you want to achieve your goals there are eight things you need to do. Learn them in this free eBook. Plus, get a checklist to help you move your goals forward.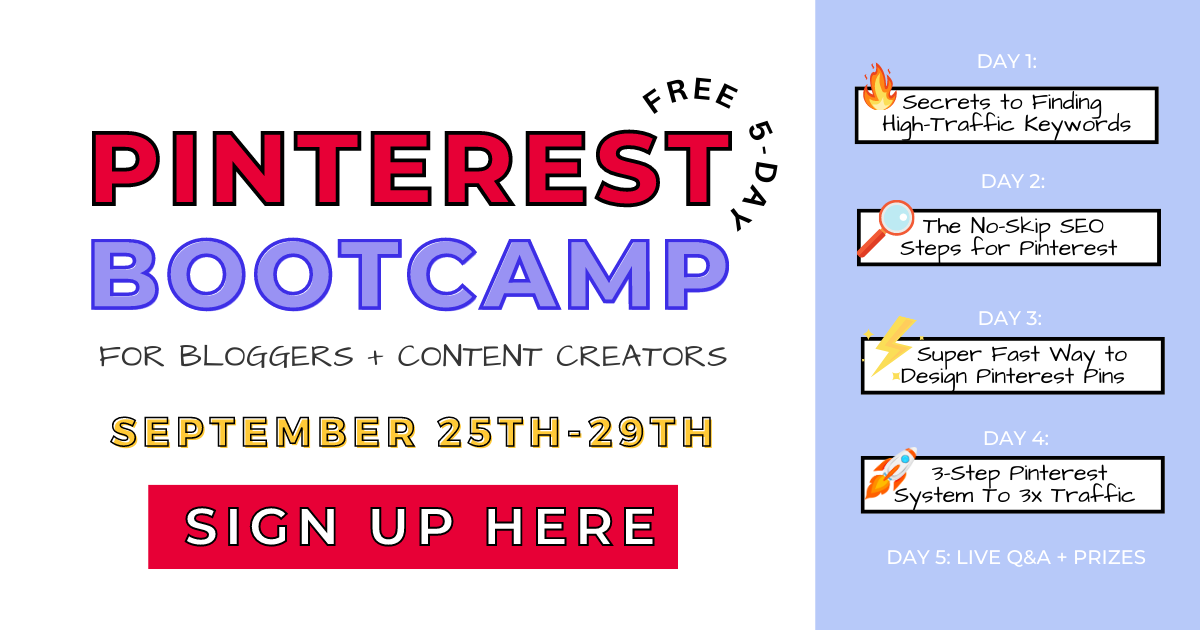 #2.
Find Your Purpose Freebies, Quizzes, and Course
Do you feel disconnected? Suck in life and looking for a way forward? It's time to discover your life's purpose and these quizzes, printables, and courses are perfect to help you find your way.
Discover Your Purpose Profile Quiz by Misty Sansom (see below). What's your purpose? With this free quiz, you'll get an insight into your personality, strengths, and gifts, and discover how you can impact the world. Plus, check out her other freebies too.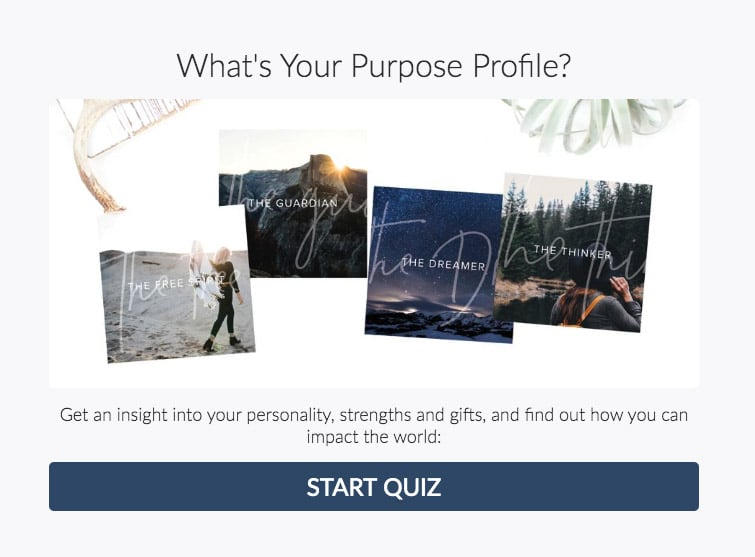 Creating a Daily Practice by Pookie. In need of a deep connection with yourself, your intuition, and something greater than you? This free online course offers a collection of videos, readings, and activities to help you build your own daily practice.
Create Crystal Clear Purpose by The Happiness Agreement (see below). This FREE e-guide shows you how to get clear and align your goals for incredible success! Easy to print, with the 10 questions you need to gain clarity around purpose.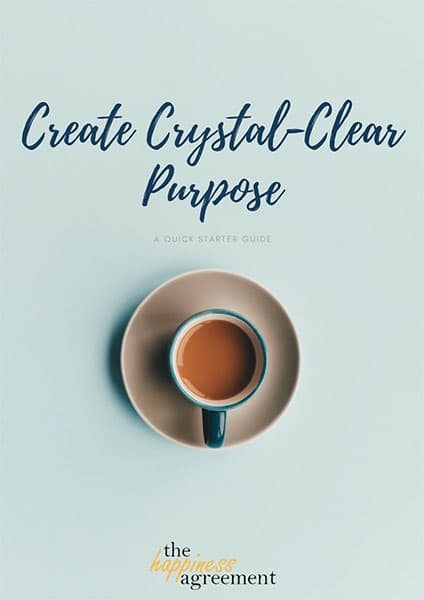 30 Days to CALM Mini-Course by A Life in Progress. 30 days is a perfect amount of time to jumpstart you to living with greater calm, clarity, and confidence. The CALM mini-course will take you through topics like Living with purpose, Mood Balancing Nutrition, clearing clutter and unhealthy habits, and stress-reducing practices.

Life Evaluation Quiz by Simple on Purpose. Not sure what area of your life needs the most attention right now? This free quiz helps you decide and provides practical actions and mindfulness prompts.
#3.
Personal Growth and Development Freebies
It's so important to invest in yourself! And there's no better way to do that than with your own personal growth and development. Each of these freebies is here to help you get to know yourself and create a life you love.
Personal Growth Combo by Nandyz Soulshine (see below). If you want to unleash your hidden potential then this is the freebie for you. This personal growth combo (guide + plan + template) will show you the exact actionable steps for giving your best every single day.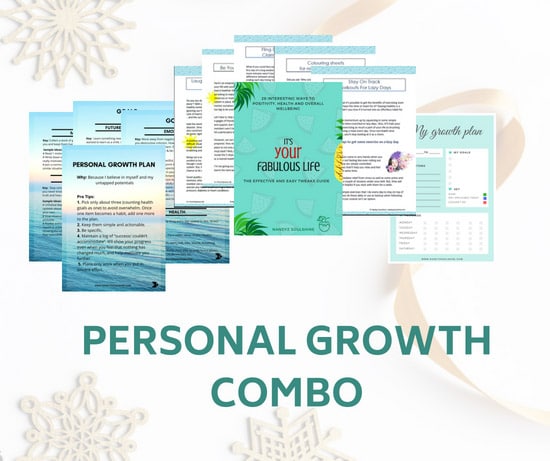 Create a Life You Live eBook by A Simple and Contented Life (see below). Want to make a change for the better but don't know where to start? This FREE eBook is packed with practical tips to help you find more balance. It has everything you need to kick-start creating a life you love.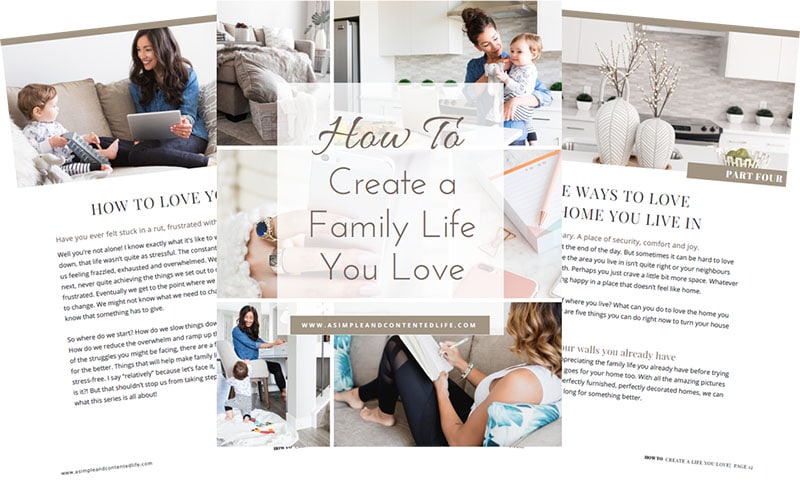 Superpower Discovery Guide by It's All You Boo. What are your strengths and passions? Your superpower is what makes you incredibly unique. This printable shares 20 ways to find your superpower.
Core Values Printable by Personal Development Zone (see below). What REALLY matters to you? What makes you happy? Discover your core values TODAY!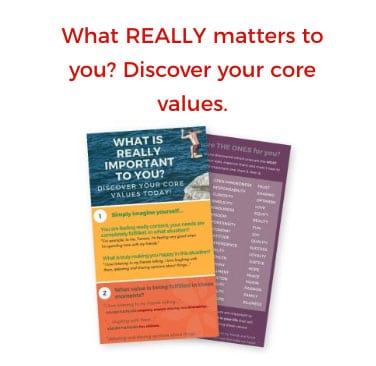 New Year Challenge by It's All You Boo. It's a new year and a new you! Kickstart your new year with this free 1-week challenge. With daily videos and printables, you'll set goals, get motivated, and take action.
#4.
New Year's Resolutions Quiz and Printables
The beginning of the new year is a traditional time for focusing on yourself. The following freebies are here to help you make the best new year's resolution that's right for you.
New Year's Goals and Resolutions Free Printable by Glitter and Caffeine (see below). Excited about the new year and want to get started? This planner is simply elegant and makes planning ahead easy. Don't miss out on all the amazing resources Audrey has too.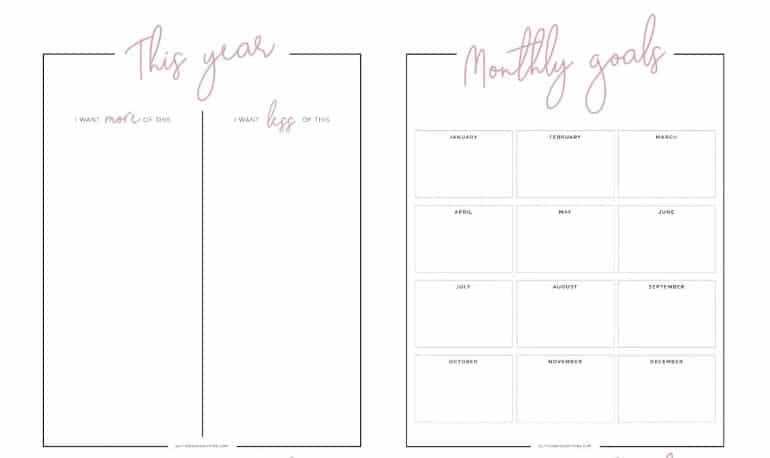 New Year's Resolution Printable by It's All You Boo. What to write the perfect New Year's Resolution? This 6-page printable helps you make a resolution that actually matters to you.
New Year's Resolution Quiz + Guide by It's All You Boo (see below). What should your New Year's Resolution be? Take this Free 10-question Quiz to find out what area of your life you should focus on, plus get specific resolution ideas just for you.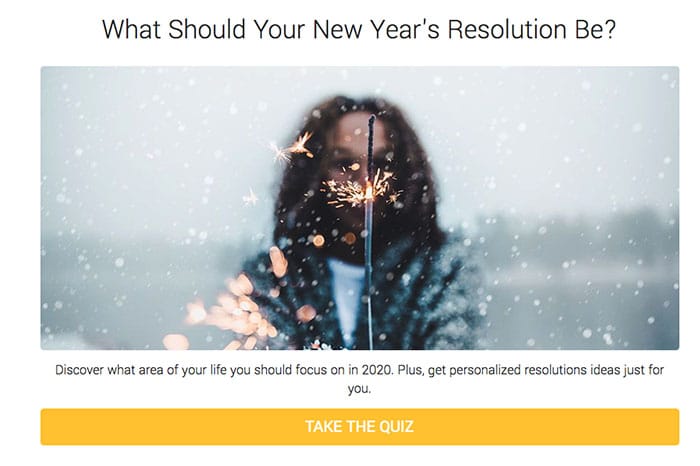 #5.
Plan Your Year with Free Printables and Planners
Ready to plan your year in advance? Here are the best freebies to help with yearly planning, including some simply stunning printable planners.
Free #ProPlanner Masterclass featuring Yes to Tech and Jennifer Winsor. Want to plan your year in just one hour? You can with this free Masterclass that teaches you the 6Ds to successfully planning your year.
Over 200 Free Planner Printables by Mom Envy (see below). With over 250 printable planners, you do not want to miss out on this. Laura has created all the printables you'll ever need. Get access to them all when you join her resource library.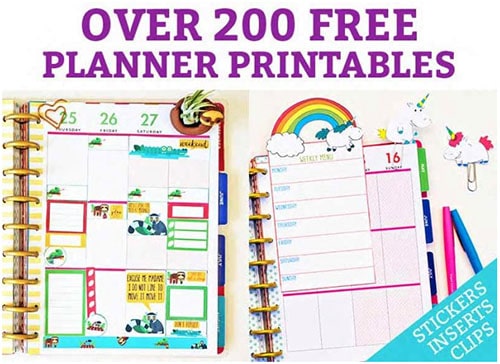 Printable Adult Coloring Calendar for 2020 by The Navage Patch. If you love coloring this is the 2020 yearly planner for you. With beautiful, book-quality coloring pages, it's the perfect way to plan your year.
Happy Life Planner by Home Printables. This brightly colored planner is available for instant download. Plan your year, set goals, track activities, thoughts and even set your budget. Super fun planner!
12-Month Best Year Yet Planner by It's All You Boo (see below). Want to have your best year ever? It starts by creating a plan! Get your FREE 25+ Page Planner, with goal setting and yearly planning pages. Plus, stay on track with monthly progress and habit trackers.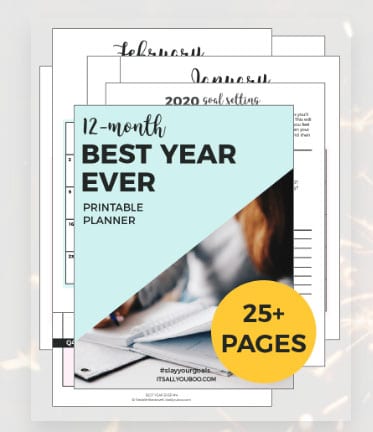 Strategic Planning Workbook by It's All You Boo. Do you need to create a step-by-step plan for this year? This 3-step workbook helps you create a realistic plan for your goals, as well as brainstorm solutions to potential obstacles to success.
#6.
Productivity and Time Management Freebies and Printables
Want to increase your productivity? Ready to improve your time management? Get the following free printables, challenges, cheat sheets, and planners to help you do just that.
3-Day Productivity Challenge by It's All You Boo (see below). Want to be more productive? You can if you know how to maximize your productivity. Each day of the challenge, you'll receive a new video and printable to help you get clear, make a plan, and get motivated.

5 Ways To Supercharge Your Productivity Cheat Sheet by Yes To Tech. This cheat sheet is for bloggers, online entrepreneurs, and small business owners who want to learn how to get their priorities straight, cut out useless tasks, and actually conquer what they set out to achieve.
Daily and Weekly Printable Planner by It's All You Boo. Need a simple plan for your week? Get the perfect printable to plan your days and weeks. It's also perfect for time-blocking.
7 Days to Peaceful Productivity by Vibrance & Bliss (see below). Are you ready to TRANSFORM feelings of stress and overwhelm into an intentional goal-achieving plan? Over 7 days, you'll learn how to conquer your to-do list, revolutionize your schedule, and make time to achieve your goals.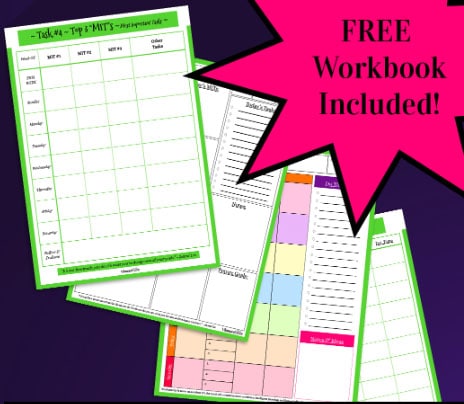 4-Part Time Management Challenge by It's All You Boo. Want to manage your time better but not sure how? With videos and printables, this free challenge helps you audit your time, set priorities, and manage your energy levels, so you can get more done in less time.
Free Weekly Planning Guide by Organizational Toast. Use this guide and template to organize your week and manage your time better. The planning guide includes Weekly Master To-Do List, Daily To-Do List, Meal Plan, Weekly Calendar Template, and Monthly Calendar Template.
Free Productivity Guide for Busy Moms by Mom Succeeds (see below). Are you a busy mom who needs to be more productive? This free guide comes with 35 productivity tips to help you achieve more every day.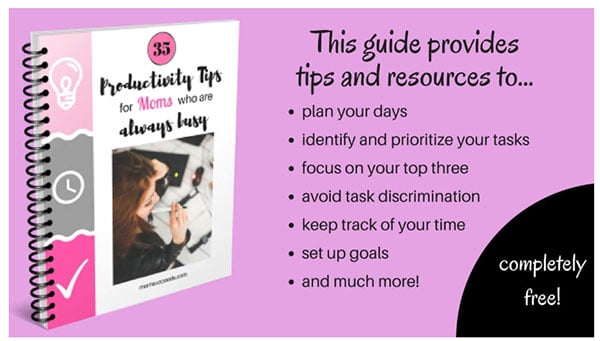 Crush Your To-Dos Workbook by It's All You Boo. Tired of your endless to-do list? It's time to take control, set your priorities and finally get things done. With FREE Workbook you'll brain dump ideas, sort them into priorities and figure out what's most important and urgent.
27 Productivity Hacks' Guide by Personal Growth Lab. Unlock your superhuman productivity like working smarter to get better results and how to stop procrastinating.
#7.
Free Habit Tracker Printables and Spreadsheets
Want to form a new habit that sticks? Get started with these free habit tracker printables and free spreadsheets.
11 Free Habit Tracker by Natasha from The Artisan Life (see below). From stunning flower mandalas to track your new habit to 365-day habit trackers, these printable habit trackers are a must.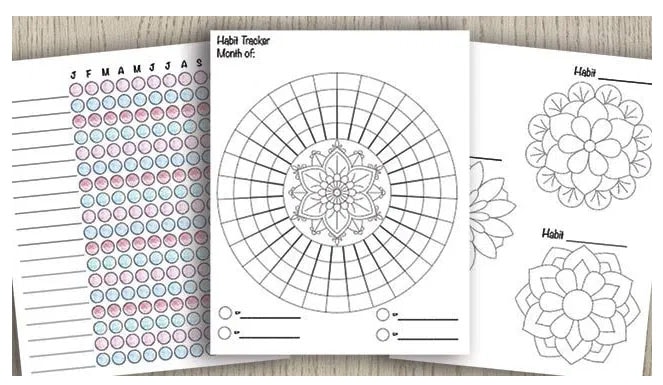 Habit Tracker Ideas list by Kim & Kalee (see below). Not sure what habits to track? If you've got a bullet journal, this list of 75+ habits to track and handy printables are perfect to get you started.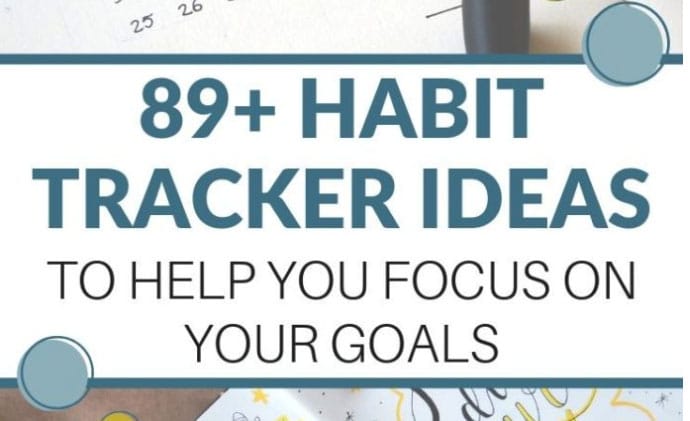 5 Mini Habit Trackers by Petite Planner (see below). Want to add habit trackers to your bullet journal or planner? With these super cute and tiny habit trackers, you can cut and add to any planner. My favorite is the rose.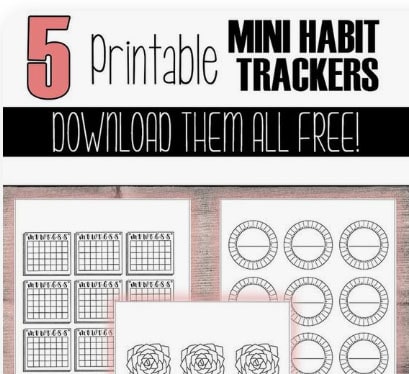 Habit Tracker Spreadsheet by The Spreadsheet Wiz. Looking for a digital habit tracker? This habit tracker spreadsheet helps you set habit targets, track them, and shows lots of useful data about your results. It's compatible with Google sheets.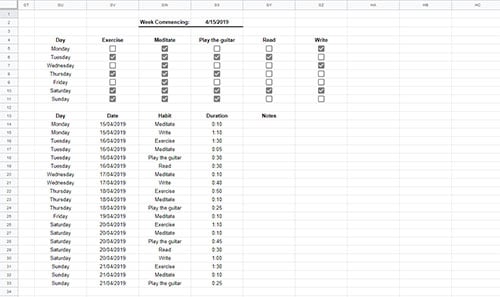 Habit Tracker Templates by It's All You Boo. Ready to form new habits that stick? A habit tracker is a powerful tool to help you not only make a habit but actually keep it. This printable includes 3 types of habit trackers for 30 and 31 days.
#8.
Routines and Self-Care Free Printables
Ready to focus on yourself more? To have time for self-care and you? Create the best routines with the following free guides, printables, and checklists.
The Ultimate Schedule Toolkit For Busy Women by Happy Is. Are you ready to create a schedule that truly works for you? Want a schedule centered around your needs? Want more time for yourself? This toolkit will transform your schedule and your life.
Self-Care Assessment by tend + mend (see below). An interactive two-page questionnaire to figure out where you're really at. Plus, it's NOT based on prescribed items that are/are not self-care — cause everyone does self-care differently.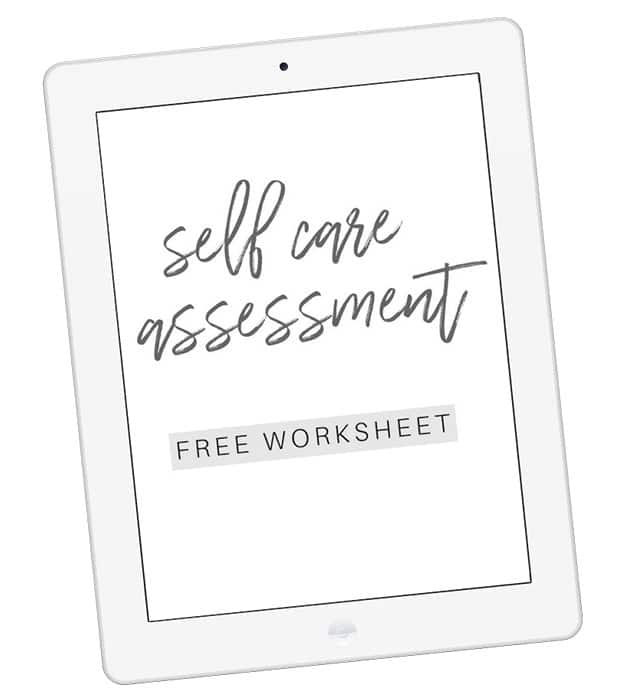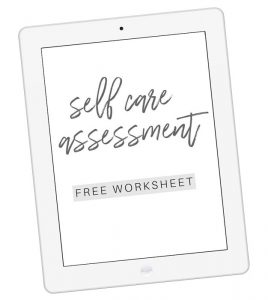 7 Days of Wellness eCourse by Four Wellness (see below). Need to add wellness to your daily routine? This Free 7-day course helps you create your wellness routine, with daily activities for health, fitness, relationships, mental health, and more.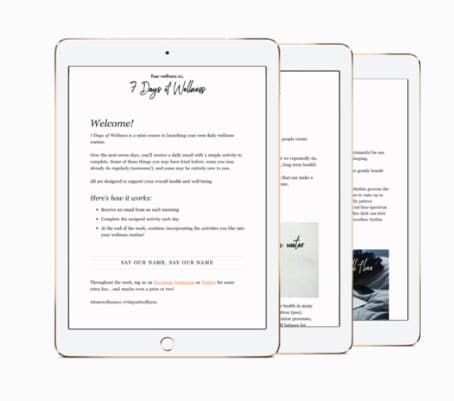 Free Guide to Daily Calm by Be Calm with Tati. Do you need to feel calmer? Are you stressed, overwhelmed, or anxious? This free guide includes simple steps to help you calm down, plus 50 positive coping skills for stress and anxiety.
Self-Care Journal and 50 Self-Care Ideas for Moms by Growing the Tuckers (see below). Are you a burnt-out mama, looking for ways to take care of yourself. This epic list of self-care ideas is just what you need.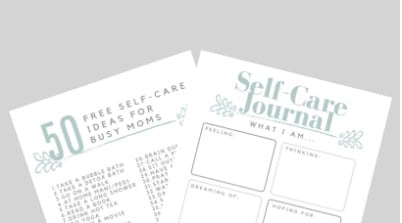 Self Care Checklists + Resource Library by Lovely Holistic Living. Do you need to put yourself first? You'll on your way to a year of you, with so many freebies to help you have a stress-free life without the overwhelm.

Ultimate Bedtime Routine by It's All You Boo. Are you tired of not sleeping at night? This free printable helps you create the perfect atmosphere and routine for better sleep.
#9.
Self-Reflection Freebies and Journaling Printables
Want to start journaling daily? Thinking about starting a bullet journal, but not sure how? Take time for daily self-reflection with these free journaling pages, guides, and printables.
100+ Free Spread Shop by Life by Whitney. Looking for printable bullet journal pages? With over 100 pages, this is by far the best resource of free printables for your bullet journal.
30-Day Gratitude Journal by It's All You Boo (see below). Want to be more thankful? With this Free 9-page printable journal, you'll put on an attitude of gratitude by answering daily gratitude reflection prompts.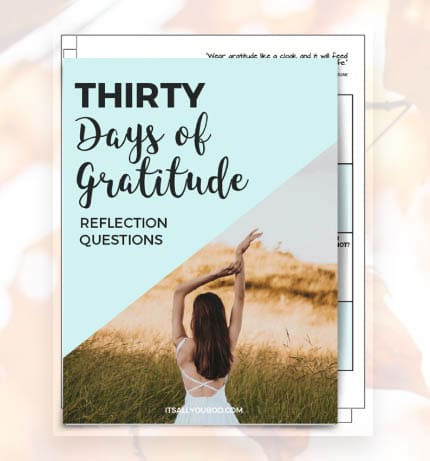 My Anxieties Journal by How to Social Worker (see below). Are you feeling anxious lately? This free journal comes with 9 prompts and 4 mindfulness activities to help you.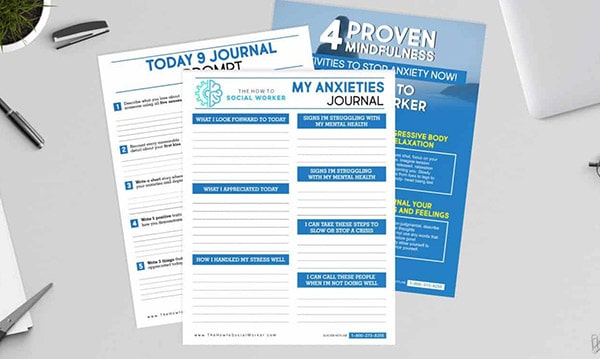 Review Your Year Workbook by It's All You Boo. Have you reviewed your year as yet? You need to know what works and what didn't in order to make this year even better. This free printable features the ten must-ask years in review questions.
#10.
Free Mindset and Mindfulness Freebies and Printables
Want to makeover your mindset? Ready to become more mindful every day? If you want to live a more mindful and peaceful life, then these are the printables for you.
Free Questing for Patience Course by Contentment Questing. If you feel like you need patience right now, this is the course for you. We all feel like we are lacking in patience from time to time, but this free course will not only show you why you need patience but share proven strategies for improving yours.
12 Ways to Overcome Self-Doubt by Personal Development Zone (see below). Enough with the self-doubt! From now on, you can trust yourself, your abilities, and your decisions! Discover 12 powerful ways to finally overcome self-doubt.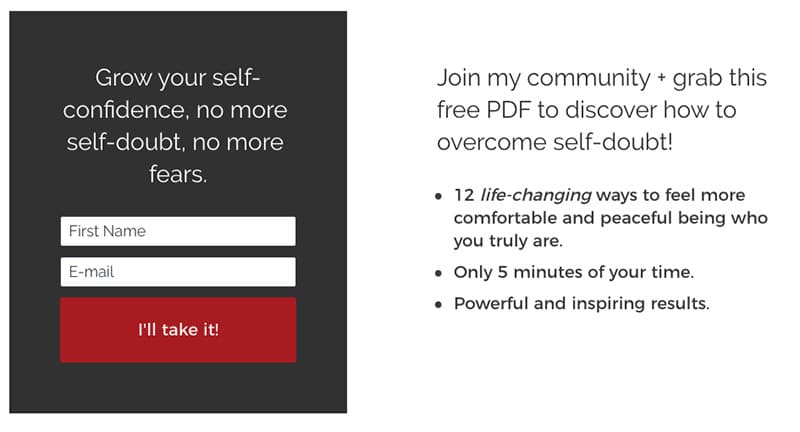 Kindness Calendars by FTB Design (see below). Need to be kinder this year? These 3 printable calendars are packed with activities and inspiration for each day of the month! To help you spread kindness all year long, these made these calendars customizable for every month of 2020!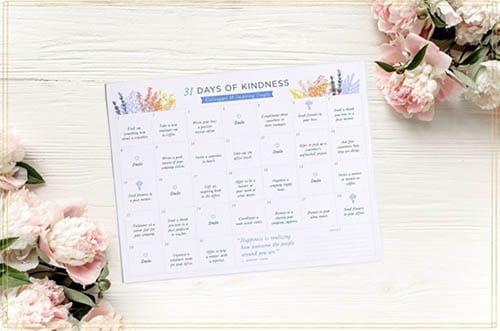 Transform Negative Emotions Guide by The Actually (see below). Struggling with negative feelings? This guide teaches you Cognitive Behavioral Therapy principles to help you beat stress and overwhelm.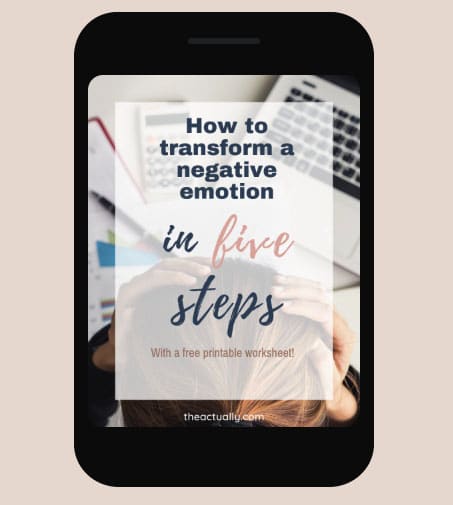 Champion Mindset Workbook by It's All You Boo. Are you struggling with confidence? Worried you can't actually achieve your goals? You need to makeover your mindset. Get your 10-question workbook to help you build up your champion spirit.
#11.
Abundance and Money Mindset Freebies and Printables
If you're struggling with your thoughts and beliefs surrounding money, you need to check out the following freebies and free courses.
Free Attracting Abundance Bundle by Jen Winsor of Waves and Willows (see below). This beautiful bundle includes video training, 22 Abundance Attracting Affirmations and activating journal prompts to raise your vibes and get the abundance flowing! These exact methods will bring you more joy, more opportunities, more energy, and more money into your life.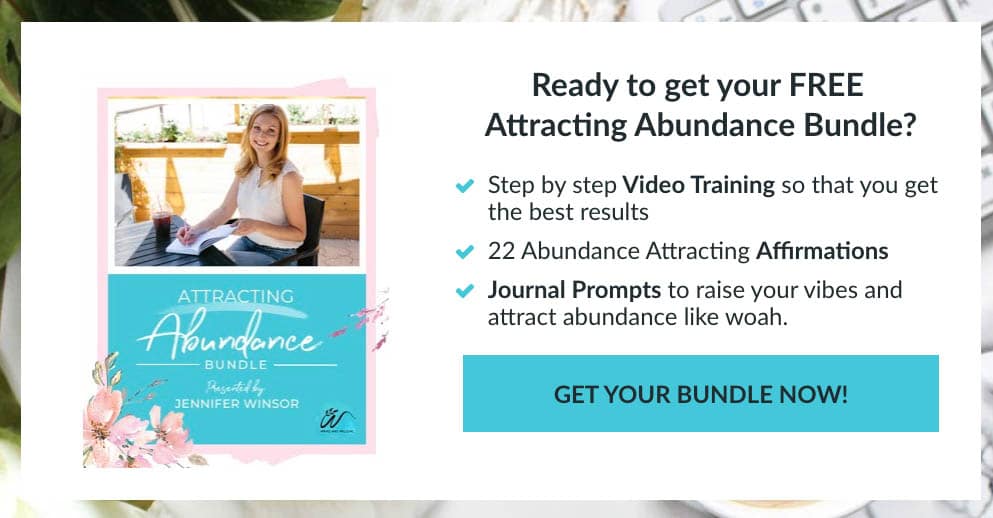 21 Free Printable Wealth Affirmation Coloring Pages by The Artisan Life. Want to improve your money mindset? Why not have fun at the same time with these beautiful coloring pages. Each features an affirmation about abundance and the money mindset.
5 Day Abundance Challenge by Sandra Francisco (see below). Whether you are looking to manifest something specific into your life or you are looking to increase your energy of abundance and joy, this is for you. It's easy to follow, simple to do and it will take only a few minutes each day. Sign up right on the homepage.

Money Mindset Course by Natalie Bacon. Ready to makeover your mindset? This free course will help you change your money beliefs, overcome the scarcity mindset and get results with your money.

5 Strategies to Transform Your Money Mindset Email Course by Goodbye to Broke. Are you tired of being stressed out about money? With this free email course, you'll feel empowered and confident about money.
#12.
Free Finances and Money Tracking Freebies
Do you need to create a financial plan? Ready to take control of your savings, retirement, and sinking funds? The following freebies and trackers are just what you need.
Free Simple Mini Financial Planner by Bethany Holt (see below). If your finances are a mess, take control with this free financial planner with monthly budgets and no spending challenges included.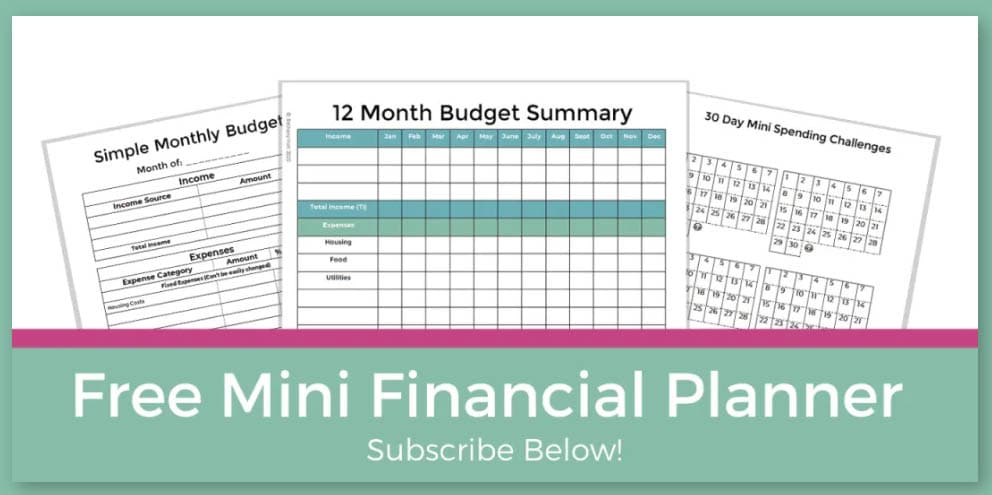 Free Launch Your Lineage Course. Subscribe to the Freedom Finance Journal to get your free 4-day course: Launch Your Lineage. Start your journey to raise money-smart kids.
2020 Money Savings Trackers by Hassle-Free Savings (see below). Get 7 fun to fill in savings challenge printables for 2020. Use the 52- week, 26-week printable or fill in your own savings goal.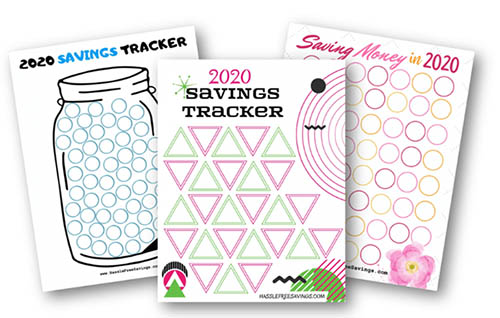 Free Retirement Checklist by Bethany Holt. Are you ready for retirement? Take stock of your finances and get ready for life after work.
Free Debt Repayment Printables by Debt Free Forties (see below). These printable trackers make paying off debt and savings fun! Why not color your way to an emergency fund or your next vacation?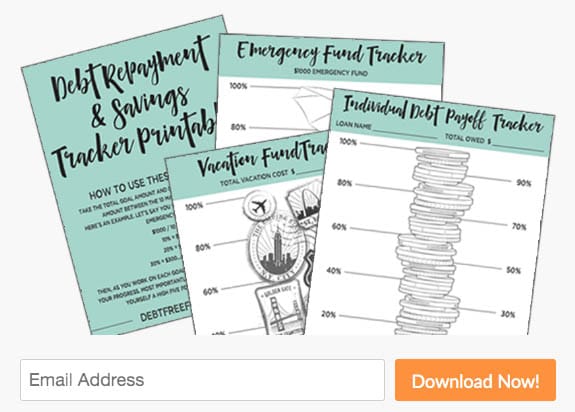 Sinking Funds Tracker by Pennies for Cents. Use these printables to budget with sinkings funds. Make Dave Ramsey proud by saving up for big future expenses.
#13.
The Best Free Budgeting Printables, Trackers, and Spreadsheets
Ready to create a budget, but not sure how to start? The following freebies are the best printable budgeting trackers and spreadsheets.
The Ultimate 2020 Budget Planner by Home Printables. Organize your financial goals and start budgeting with this beautifully colorful printable planner.
Simple Free Budget Printable by Simplified Motherhood (see below). Looking for a simple monthly budget printable? This free 2020 budget worksheet is perfect for organizing your household spending and setting savings goals.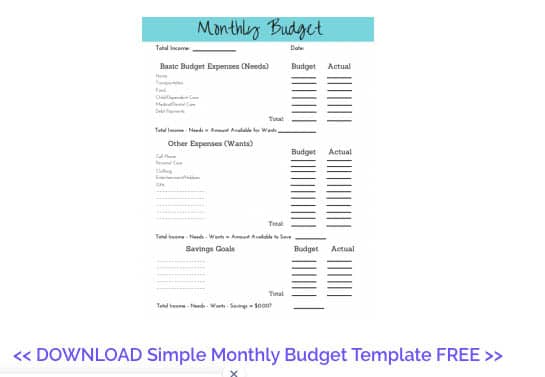 Free Budget Checklist by The Financial Freewill. Do you want to track your monthly expenses, but are not sure where to start? Get this complete list of 50+ budget items and save the overwhelm.
Simple Budget Spreadsheet by It's All You Boo and Bethany Holt. Do you have a budget? This simple budget spreadsheet is so easy to use and calculate your expenses. Compatible with Google Docs and Microsoft Excel. It also features a sheet to help you calculate when you can quit your 9-5.
#14.
Freebies to Start a Blog or Website
Do you want to start a blog or create a website? Getting started is hard, but these freebies are quite exceptional guides and courses to help you launch your website.
Free Legal Guide by A Self Guru. The number one question you need to ask about your blog or website is, "Is your blog legal?" This free guide shares three legal mistakes most entrepreneurs make.
30 Day Challenge Workbook to Start a Blog by Mom Blog From Home (see below). This 30-Day Challenge Workbook to start a blog! In this challenge, you will start your blog, create content, drive traffic, and grow your email list!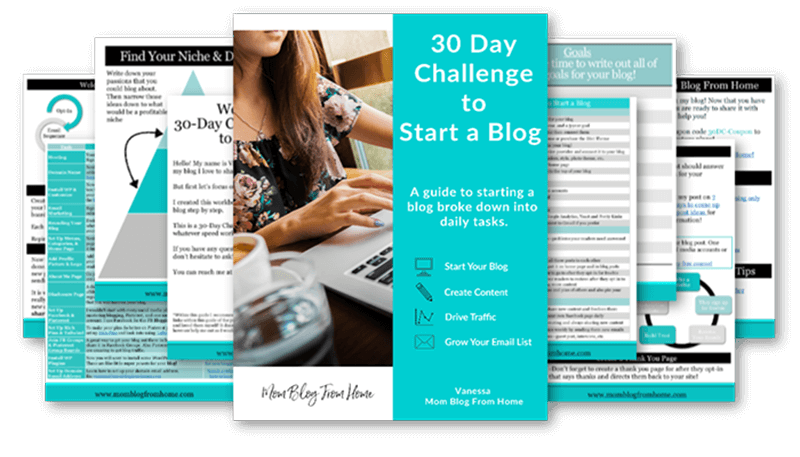 Free Find Your Voice eBook by Aspiring Journey. Not sure what to blog about? If you're struggling to find the right blogging niche for you, you'll love this free eBook. Start creating content that connects.
Website Content Planner by Jodi Neufeld (see below). Do you need help planning out the content for your website? What pages do you need and what exactly should you have on them? This website content planner has guidelines for all of the pages you need and a checklist for each page for what you need to create a website that creates the results you want.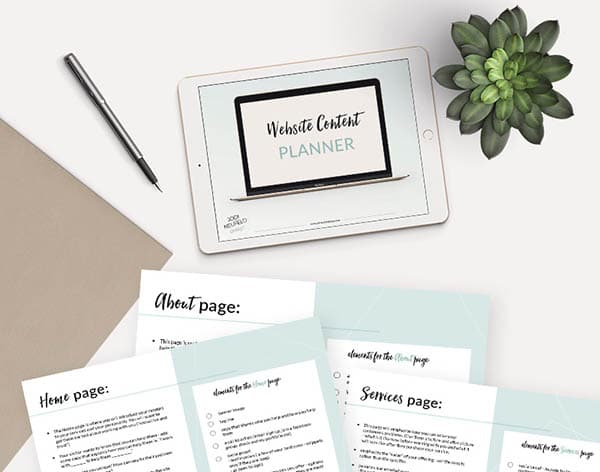 Free 7-Day Start a Blog Challenge by It's All You Boo (see below). Want to start a self-hosted WordPress blog, but not sure how? This free 7-day challenge includes a 20+ page step-by-step guide, daily videos and access to free tech training if you need it.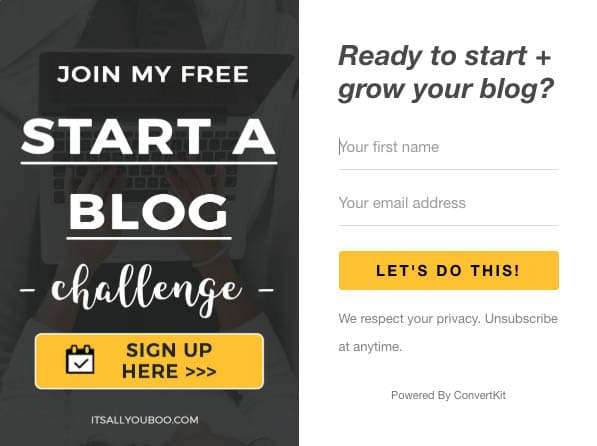 Blog Legal Checklist by Hey Crystallace. If you're unsure about if you're blogging legally or how to legally protect your blog, grab this free legal checklist from a lawyer!
12-Month Blog Planner by She Means Blogging (see below). Feeling overwhelmed with all the blogging tasks to get started and grow your new blog? Download this absolutely free 12 months blog planner to follow actionable steps every month. This blog planner shows all the steps you must do from the very beginning to grow your blog in the right direction.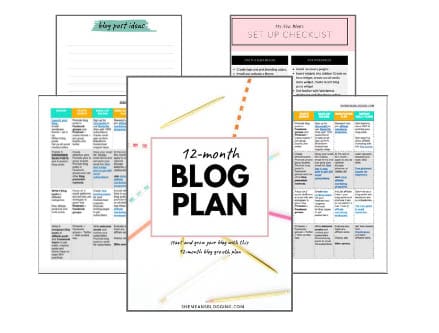 #15.
Best Free Resources to Blog Better
Want to get serious about blogging? Want to level up your online presence? The following freebies offer the best resources to help you blog better, from free blog business planners to SEO and email courses.
Free Business + Blog Planner by Andrea Bolder (see below). This 48-page printable is sure to help you run a successful business. With planning pages, tracking, social media, income and more you'll be able to level up your income and influence.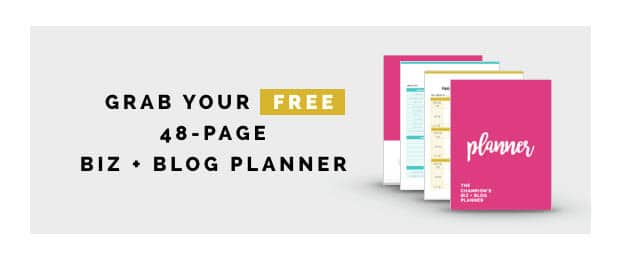 The Ultimate SEO Blog Post Checklist by Mariah Magazine (see below). This checklist outlines the exact steps you should take every single time to get search engines to love your blog posts. Read this before hitting publish again!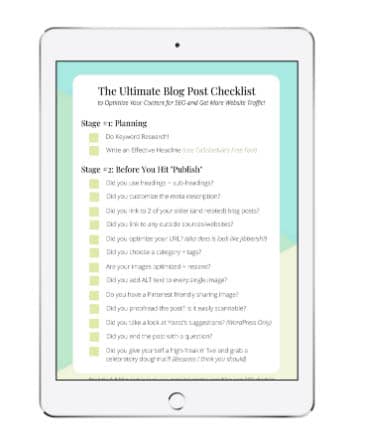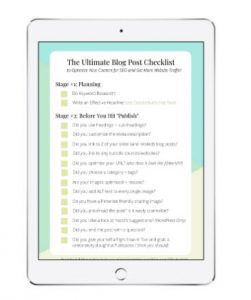 Accelerate Your Blog Growth Tips by She Means Blogging. Ready to accelerate your blog growth this year? Enroll in this 11 day blogging tips series! Get 11 bite-sized emails in 11 days. Receive a short blogging lesson every day to supercharge your blog. More than 3000+ bloggers have taken this series and learned so much with the short and sweet emails.
Design Library by Simplifying DIY Design (see below). Want to design better graphics for your blog or website? This free resource library has everything you need, from free Canva templates, tutorials to help them learn how to design social media images, products, and more.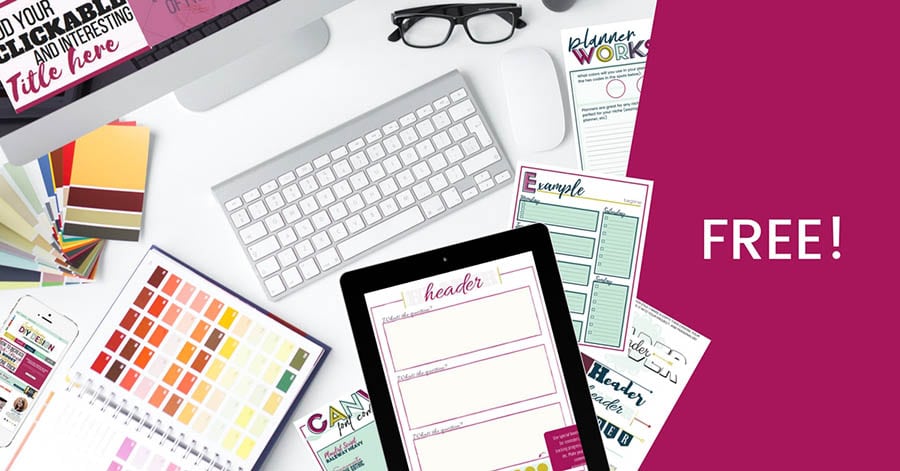 Free Email Lists for Newbies Course by Meera Kothand. Ready to start or grow an email list? Create an email marketing strategy that sticks with this free awesome email course.
#16.
Free Business Printables and Courses
Want to start an online business? Thinking of becoming an online coach? This collection of freebies, toolkits, and online courses will help you start and grow your business.
6-Figure Coaching Business Planner by Alessandra Braun. Want to start a coaching business, but not sure how? This free business planner will help you gain consistent clients and learn the foundations of a profitable coaching business.
Discover Your Audience Toolkit by yUXer (see below). Not sure who your dream client is? The toolkit includes an audience survey guide with 15+ sample questions, a client interview guide to dive deep into your client's behaviors, a template to define your client avatar, and access to the video guide to learn how to use the toolkit. Start to analyze your audience and discover the profile of your true dream client.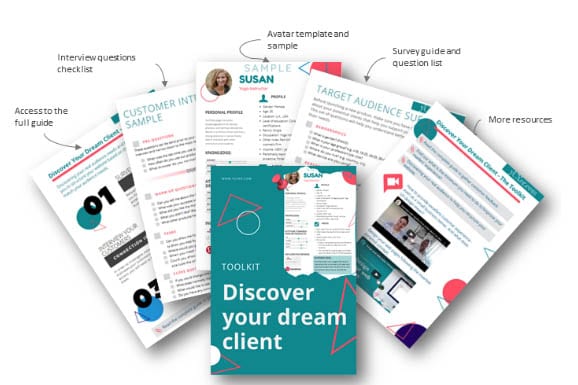 Free Online Business Course by Natalie Bacon. Want to start an online business that makes money right away? This five-lesson course, helps you get started with the best-kept secrets you need to know to be successful.
Free 30-Minute Consultation with Online Marketing Expert Alessandro Di Risco. Want to start or grow your online business? Why not speak directly with an expert who can help you gain exposure, build traction and increase your conversions.

25 Ways to Market Your Business Aside from Social Media by Simply Intergrated LLC. Did you start a business without knowing how to market it? This free PDF shares 25 ways to get the word out, aside from social media.
Learn How to Create Video Content That Sells by Morgan KG. In this video marketing guide, you learn how to plan video content and conduct video research using social listening, how to batch film content, how to select the right equipment, as well as how to edit and market your content! This guide is for anyone who is interested in taking their video marketing efforts to the next level.
#17.
Best Social Media Freebies and Training
Want to grow your social media? In serious need of a social media strategy? The following freebies are here to help you level up your online presence.
Social Media Starter Pack by Paula Sexton Hickey (see below). New to social media and not sure where to start? You'll get a weekly planner to help create consistent content, 30 days of Ready to Use Content so you can hit the ground running, and 21 Tips for automating your social media while keeping it true to your brand.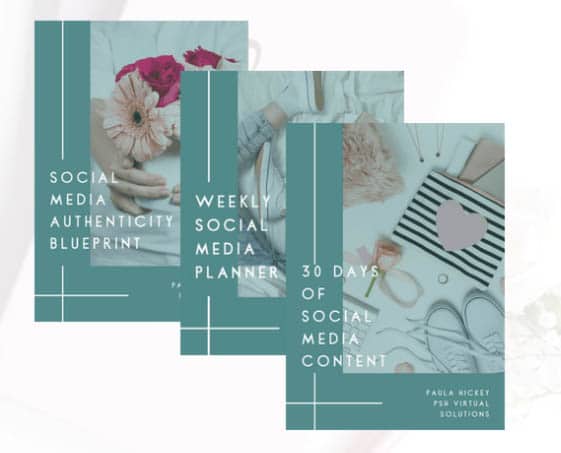 Social Media Simplification Planner by Solopreneur Diaries. Are you overwhelmed by social media? Stop trying to do everything and use this planner to create a strategy you can actually stick with.
10 Free Pinterest Templates for Canva by She Means Blogging. Want clickable Pinterest templates to design multiple pins? Click to get 10 free Canva pin templates to get more click-throughs.
Free PinPerfect Masterclass by Nadalie Bardo (see below). Struggling to figure out Pinterest? Sign up to discover the three major mistakes you're making on Pinterest. Plus, be sure to unlock the extra bonuses.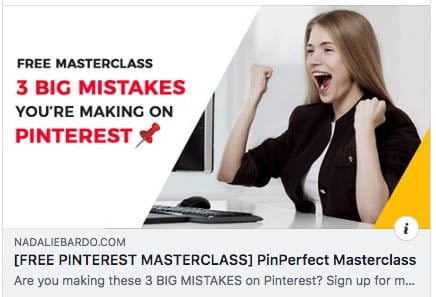 100 Best Facebook Groups for Bloggers by Yes To Tech. Looking for the best Facebook groups to grow your blog? This epic list of groups shares the best days for posting and daily threads to participate in.
#18.
Get Organized and Declutter Freebies
Looking for ways to get organized and declutter? Here are all the best organizing printables, freebies, and resources to help you embrace that minimalist life.
100+ Free Organizing Printables by Organized 31. If you need to organize any aspect of your life, these printables are just what you need. With over 100 printables to choose from, you'll find everything from to-do lists and college checklists, cleaning to moving checklists.
Detox, Declutter and Minimize with Get Green Be Well (see below). Want to detox your home and life? With so many freebies and free courses, Get Green Be well makes that easy. Grab your free 30 Day Declutter Checklist, take the Best Houseplants to Detox Your Home course and learn about non-toxic makeup all in one place.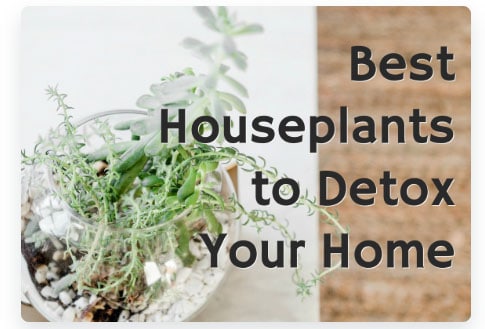 Mindful Decluttering Guide by Simply Fiercely (see below). Is decluttering your home a real struggle for you? This free 17-page guide teaches you how to think differently about your stuff. Once you change your mind, you can change your life.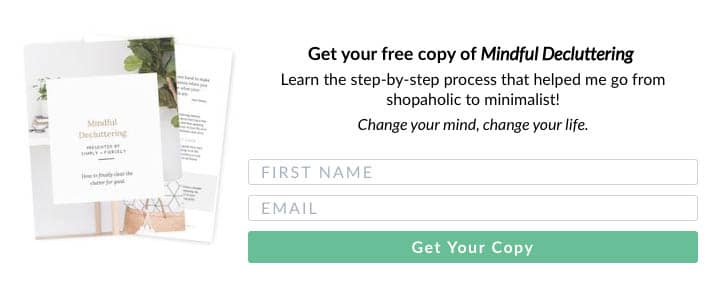 The Brain Dump Method Printable by Balance, Peace & Motivation (see below). Having trouble keeping track of everything you need to do? This simple printable is here to help you clear your mind so you can get organized.
50+ Free Organizing Printables by Just a Girl and Her Blog. This value of free organizing printables has everything you need to get organized. Check out the Free Home Binder, Student Binder and more.
Make Your Family Binder Printables by Just is a Four Letter Word (see below). Want to create a family binder to keep your home life organized? Get your Free printable chore chart, emergency contact list, meal planner and more. Don't miss out on Andrea's Free Guide to Stop Procrastinating too.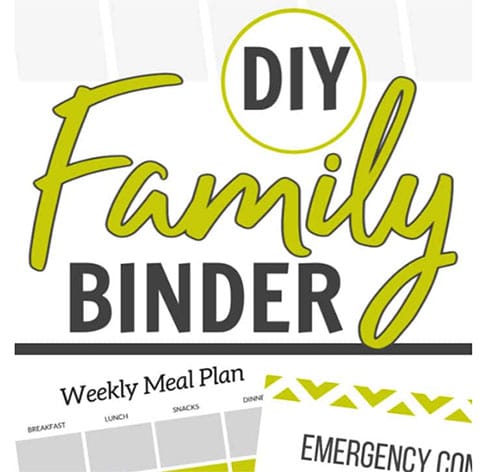 Spring Clean Your Mind Checklist by It's All You Boo. Do you need to declutter your mind of all the negativity? Use this printable checklist to help you refocus your mind with 12 simple daily activities.
#19.
Health and Fitness Freebies and Printables
Want to achieve health and fitness goals? Looking for ways to eat better, track your fitness, and live a healthier lifestyle? Here are the best freebies and printables to live your best healthy life.
Free Meal Planning Printables by Lemons and Lattes. Ready to start meal planning? These printables are simply perfect for organizing weekly and monthly meal schedules, recipes, and more.
Free Meal Planning Printables by The Cards We Drew. Tired of not knowing what to cook? You need a meal planner, with a grocery list, monthly meal planner and more, these templates will cure your cooking chaos.
Free 5-Day 80/20 Diet Meal Plan by Sorey Fitness (see below). Ready to change your diet but not sure how to start? Get this free simple 5 Day meal plan with simple recipes for every meal.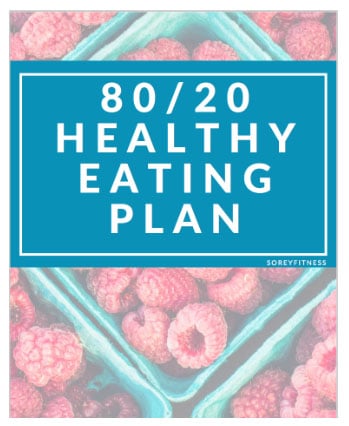 Fitness Planner by Ariel Shanelle. This fitness planner helps you to monitor your weight loss & figure out which exercises are best for you.
Health and Fitness Trackers by Wordsworth Planner. With everything from fitness goals, meal planners, and workout logs, to the grocery list and more, this collection of trackers is worth checking out.
Post-Run Stretch Recovery Guide by Keep it Simpelle (see below). This guide helps you prevent injury and promotes recovery with a simple 10-minute routine. Get yours.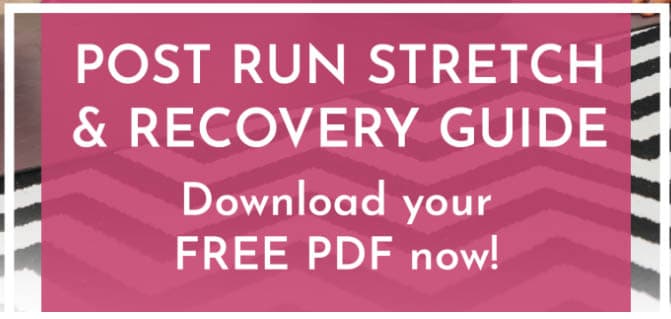 Consultation Call with Intuitive Eating Coach Renee Pletka. Do you need to make peace with food? Interested in individual coaching with an Eating Psychology Coach? Book a free consultation.
#20.
Hobbies and Trying New Things Freebies
Do you need to start putting yourself out there more? Looking for things to do and ways to be more social? Here are the best freebies for new hobbies and leaving your comfort zone.
Intentional Living Challenge by Curious Butterfly. Do you feel as if life is just racing by? Tired of living on autopilot? Take this 8-day intentional living challenge and start enjoying life.
Make More Friends eMail Course by Brazen Living (see below). Feeling lonely and want to make more friends? This free 5-day course is perfect for any who feels shy, is an introvert and wants to learn how to communicate better.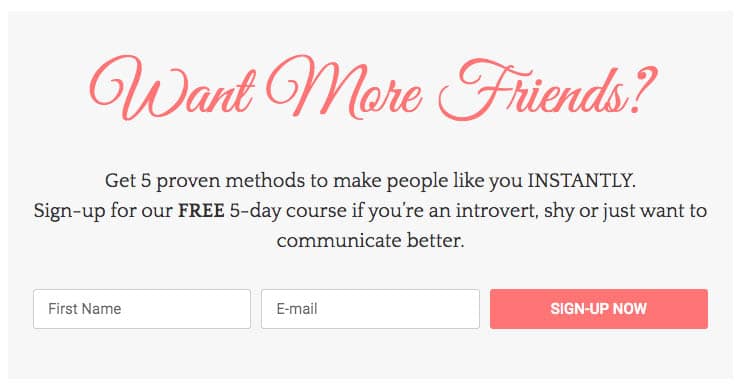 Travel the World for Free Resources by 52 Cities Blog (see below). Do you want to travel more? Know how to use points and miles to book free travel? 52 Cities Blog's resource library has all the best tip sheets and guides to help you see the world for free.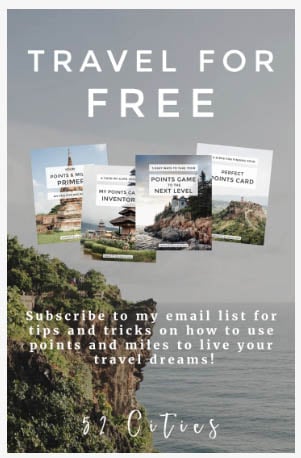 30 Days of Spencerian Script Style Worksheets. Want to practice your calligraphy and handwriting skills? This free challenge comes with 30 days of practice worksheets.
Organize Your Book in 10 Days by Capturing Your Confidence. Thinking of writing a book? This free course walks you through all the major beginning steps to outlining and starting to write a novel (or organizing one you already have in progress) with easy steps every day.
Free Gardening Printables by Gingham Gardens (see below). Have you always wanted to have a beautiful garden? With this 17-page printable you'll know exactly what to do when, from winter sowing and seed starting, to garden plans.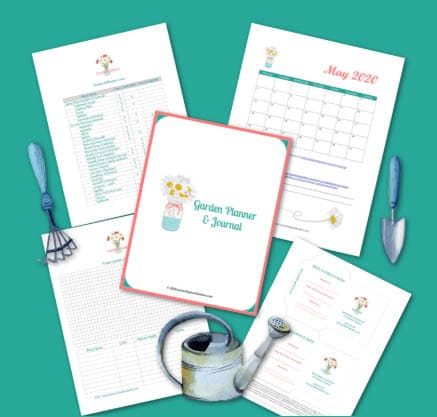 Free Crochet and Knitting Guide by Knit & Crochet Blog. Want to start crocheting and knitting? This free guide with examples will help you figure out exactly how many stitches you need.
#21.
Free Printable Quotes and Wall Art
Do you just love inspirational quotes? Looking for beautiful wall art quotes? Here are the best free printable quotes and wall art quotes the internet has to offer.
100 Inspiring Printables by Elegance And Enchantment (see below). Want access to motivational and inspirational quotes? This library is simply stunning with new quotes added weekly.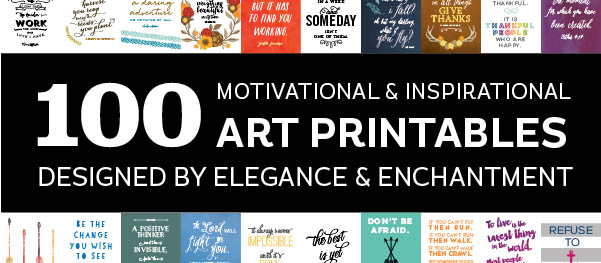 10 Printable Wall Art Quotes by it's All You Boo. Want to get inspired and motivated? Create the perfect environment with these 10 black and white printable wall art quotes.
20 Free Printable Gratitude Quotes by Filling the Jars (see below). Want to feel more grateful? This bundle of printable quotes is perfect to help you become more thankful.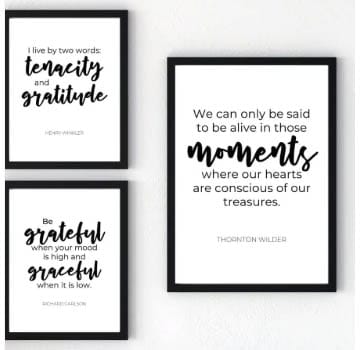 Shareable Never Give Up Quotes by It's All You Boo. Do you feel like giving up? Share the encouragement with these 10 beautifully designed, high-resolution quotes perfect for social media.
20 Inspirational Quotes by Chicfetti (see below). Who doesn't love cute quotes to decorate your home or office? This bundle is perfect and ready to print. Saving one of the best for last, Chicfetti has hundreds of amazing printables.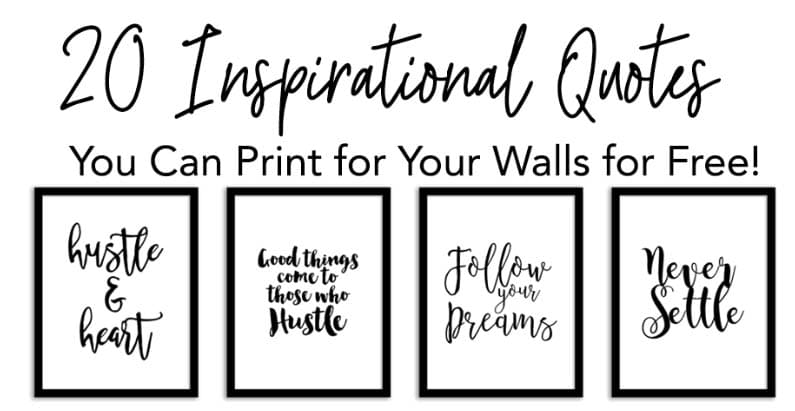 Be More Positive Affirmations by It's All You Boo. Want to become more positive? Tired of feeling so negative every day? Take it one positive affirmation at a time, with these free printables.
Share Your Best Freebie or Free Course
Wow, aren't all of these 100+ freebies amazing? It's mindblowing how many amazing content creators there are.
I've wanted to publish this post since back in 2017 and have been slowly curating all these freebies to share with you.
I just want to say thank you to everyone featured in this post for taking the time to create amazing free content for us.
If you have an exceptional freebie, please share it with us in the comments.
Do you love online freebies? Click here for 100+ of the best free printables, guides, quizzes, challenges, and courses to help you live your best life. #Freebie #Freebies #FreePrintable #FreeCourse #Free

What's your best freebie, printable, or course?
Last Updated on December 11, 2021