What are the best quotes to boost confidence?
How do you build self-confidence?
What's the secret to believing in yourself?
Do you have a dream or intimating goal you are seeking to achieve? Odds are if you have big (or even small) plans for yourself, you're going to need to constantly boost your confidence.
Before you can even put in the work or push yourself to achieve your goals, you must believe in yourself and have the confidence to succeed.
Having confidence in yourself and believing that you can is honestly half of the battle. We spend so much time doubting our abilities, worrying and wondering if we really can, stalled in stops of fear and failure and confronted by doubts and fear at every turn.
Table of Contents:
Does this sound like you?
What you need is a boost to your self-confidence. Your ability to achieve your goals and actually go after your dreams starts with believing in yourself and being confident.
A lot of the reasons why you can't accomplish something or be someone fade and lose their power when you are hyper-focused that you can, that it's possible, that you are able, that you deserve to and that you can and will make it.
Do you need to gain self-confidence? Maybe you've lost your mojo and need to get your confidence back?
Here are 39 confidence-boosting quotes to help you believe in yourself right now.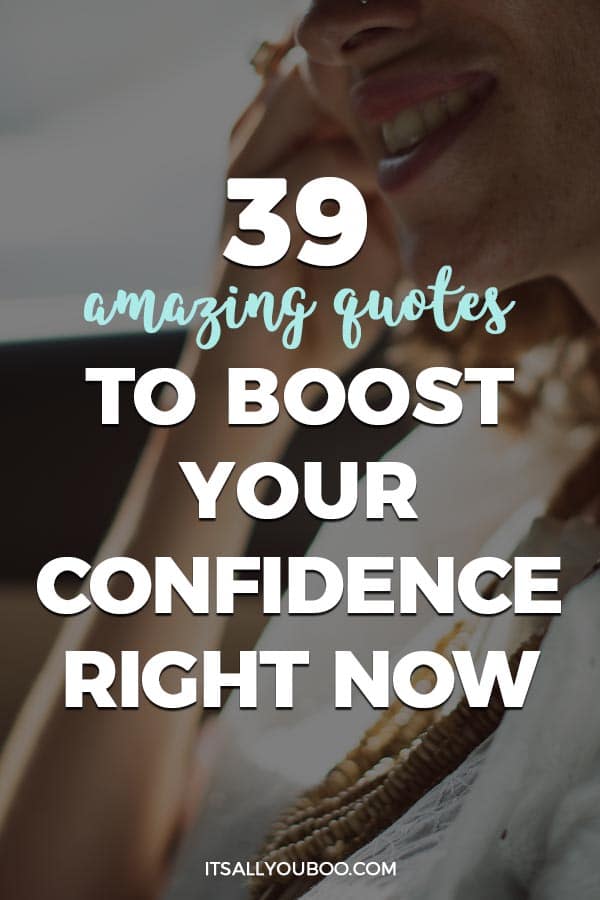 There are No Limitations
Expand your mind and destroy the boundaries of what you believe is possible. Your only true limitations are the ones you've created for yourself. Stop believing you can't! The following confidence quotes encourage you to train your subconscious mind to see no limitations. Start believing that there are no limits to achieving your goals and dreams.
"Limitations live only in our minds. But if we use our imaginations, our possibilities become limitless." ― Jamie Paolinetti
2. "You can have anything you want if you are willing to give up the belief that you can't have it." ― Dr. Robert Anthony
👉🏽 RELATED POST:  45 Uplifting Quotes for When You Feel Like Giving Up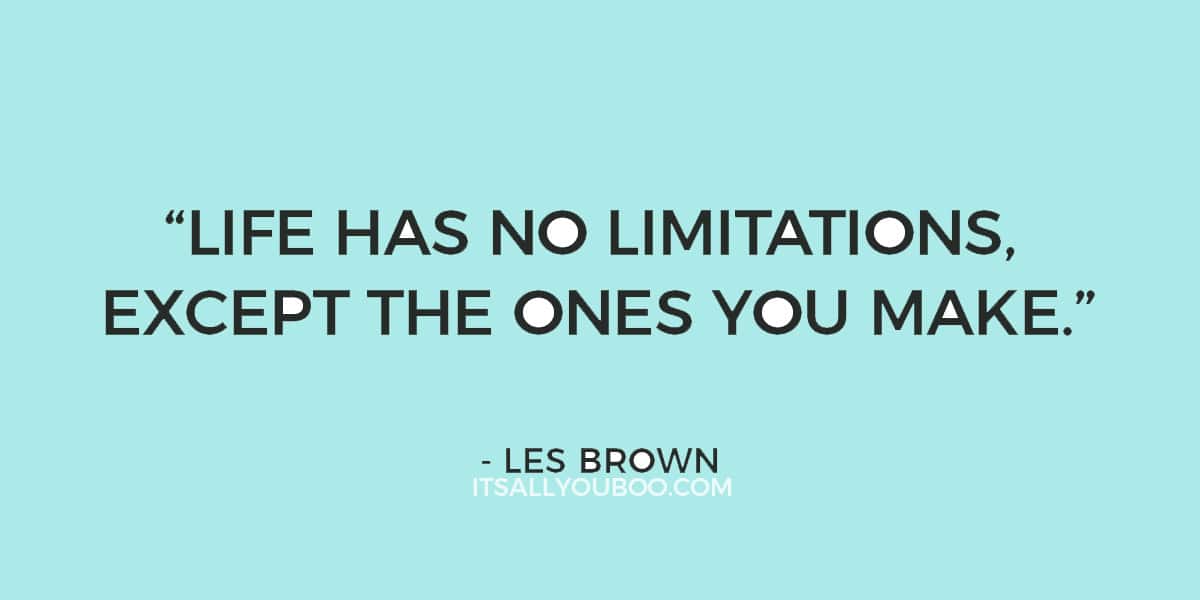 3. "Life has no limitations, except the ones you make." ― Les Brown
"If you think you can do a thing or think you can't do a thing, you're right." ― Henry Ford
5. "See the power of the mind is not a joke. Man, I said that I would do it and I did." ― Drake
Anything is Possible For You
All things are possible as long you are confident enough to try, to take action and get started! Nothing is too hard or too far away to the one who is confident that they are possible. Do you believe in yourself? That you can actually accomplish your goals? These confidence quotes encourage you to just go for it to believe in the impossible!
"There is nothing impossible to him who will try." ― Alexander the Great
👉🏽 RELATED POST: Quotes About Making Dreams Come True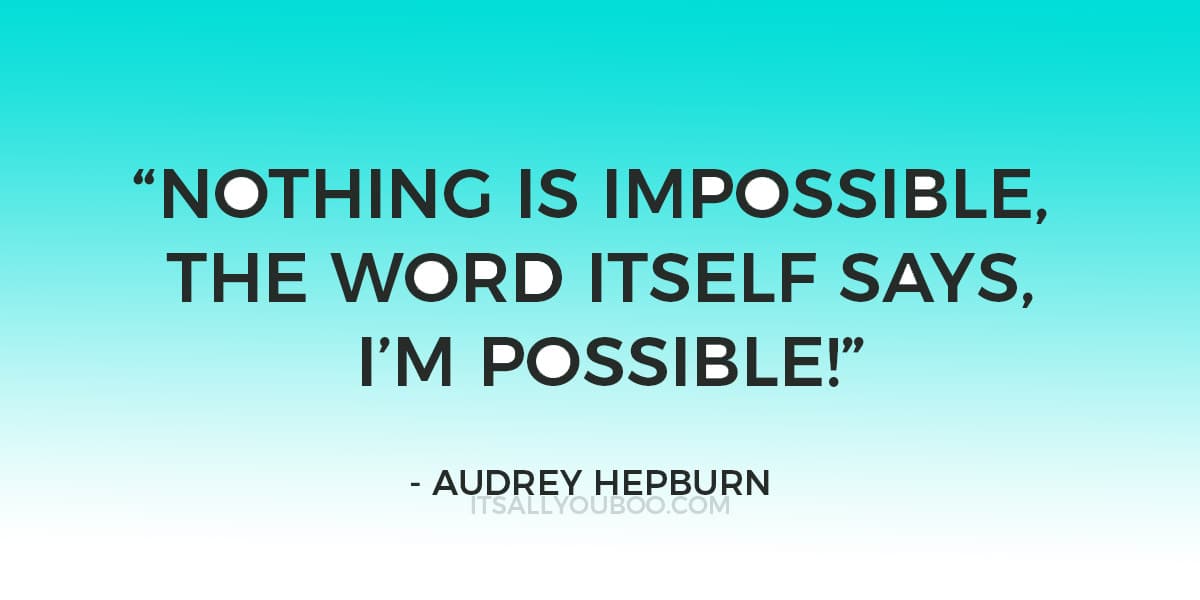 7. "Nothing is impossible, the word itself says, I'm possible!" ― Audrey Hepburn
"If you can dream it, you can do it." ― Walt Disney
9. "The strongest single factor in prosperity consciousness is self-esteem: believing you can do it, believing you deserve it, believing you will get it." ― Jerry Gillies
10. "If you believe in yourself and feel confident in yourself, you can do anything. I really believe that." ― Karlie Kloss
Just Believe in Yourself
You are worthy of success and everything you dream of. You have just enough right to it as anyone else, as long as you believe in yourself. Belief isn't just an idea, belief is action! If you want to be successful, think you are, act like you are. Don't just think confidently, go beyond thought.
11. "Your success depends mainly upon what you think of yourself and whether you believe in yourself." ― William J. H. Boetcker
"Believe in yourself and believe in magic." ― Theophilus London
👉🏽 RELATED POST: 26 Inspiring Self-Love Quotes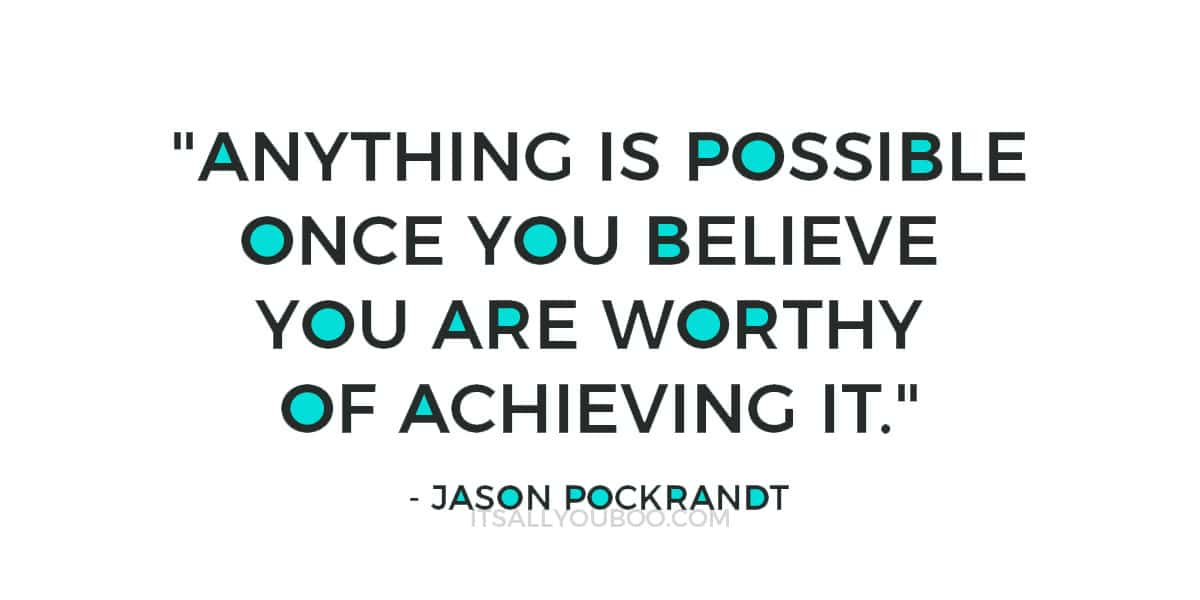 13. "Anything is possible once you believe you are worthy of achieving it." ― Jason Pockrandt
"Whatever you want in life, other people are going to want it too. Believe in yourself enough to accept the idea that you have an equal right to it." ― Diane Sawyer
15. "Don't doubt yourself, that's what haters are for." ― Turcois Ominek
Trust In Yourself and Your Abilities
You can do it! You are enough, right now just as you are. Trust in yourself and your abilities. You are extraordinary, believe that. Confidence comes from embracing yourself, your strength and your superpowers! You're a boss unicorn, there is no one else like you. You aren't lost, you aren't weak, you are capable and powerful!
16. "Believe in yourself! Have faith in your abilities! Without a humble but reasonable confidence in your own powers, you cannot be successful or happy." ― Norman Vincent Peale
"Believe in yourself, your abilities and your own potential. Never let self-doubt hold you captive. You are worthy of all that you dream of and hope for." ― Roy Bennett
👉🏽 RELATED POST: 50 Quotes About Being Criticized and How to Handle it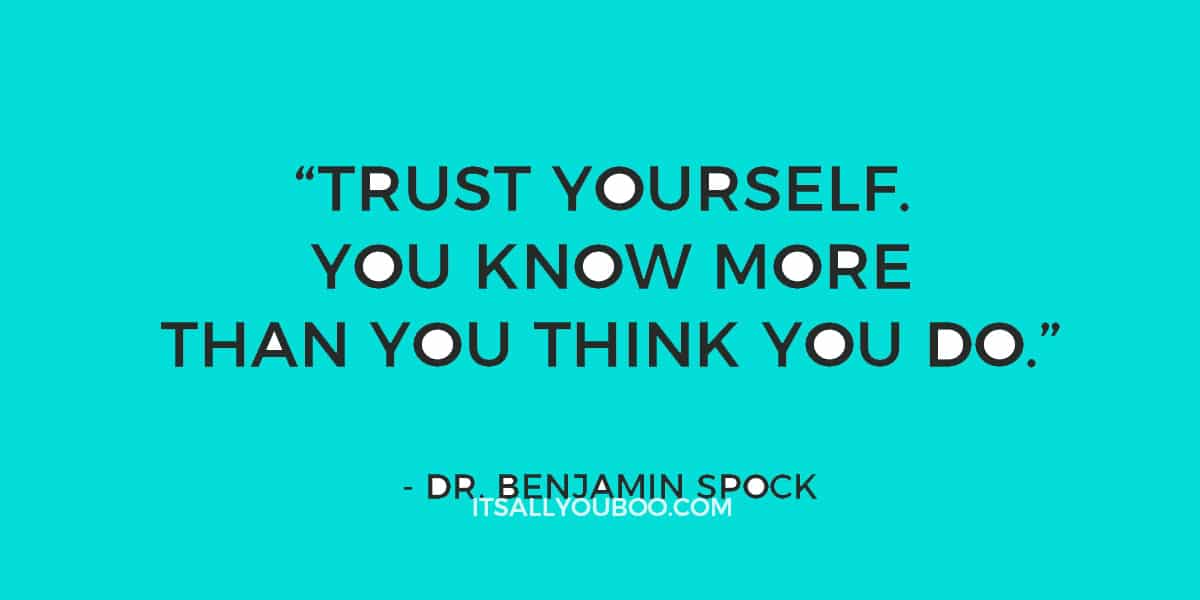 18. "Trust yourself. You know more than you think you do." ― Dr. Benjamin Spock
19. "Our deepest fear is not that we are inadequate. Our deepest fear is that we are powerful beyond measure. It is our light, not our darkness, that most frightens us. We ask ourselves, 'Who am I to be brilliant, gorgeous, talented, fabulous?' Actually, who are you not to be?" ― Marianne Williamson
"Always remember you are braver than you believe, stronger than you seem, and smarter than you think." ― Christopher Robin
21. "You are the only person on earth who can use your ability." ― Zig Ziglar
You Don't Need to Be "Special"
We're all just ordinary people, with average capabilities doing extraordinary things. It's never about being the best or the most talented. It's about being the most dedicated and having the desire to succeed. Even if you don't feel "special" you don't need to be! Even the most singular humans in history saw themselves are ordinary people – only people who were driven, confident and ready to seize their destiny.
22. "I have no special talent. I am only passionately curious." ― Einstein
"My powers are ordinary. Only my application brings me success." ― Issac Newton
24. "The successful warrior is the average man, with laserlike focus." ― Bruce Lee
25. "I am nothing but I must be everything." ― Karl Marx
👉🏽 RELATED POST: What's Your Superpower?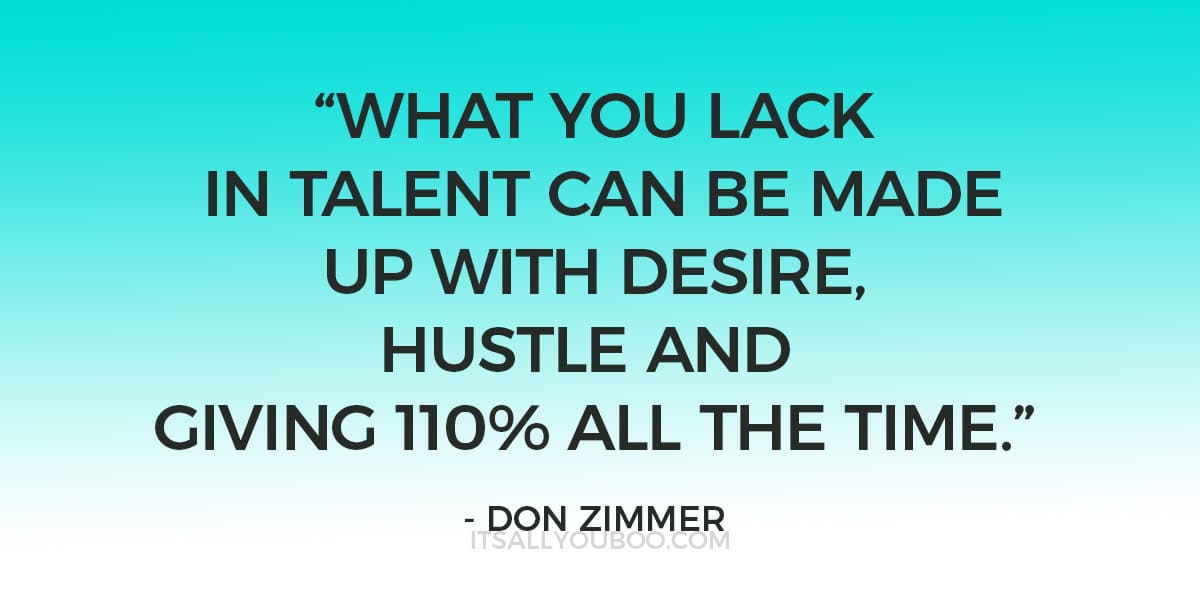 26. "What you lack in talent can be made up with desire, hustle and giving 110% all the time." ― Don Zimmer
"Hard work beats talent when talent doesn't work hard." ― Tim Notke
28. "There are no great men. Just great challenges which ordinary men, out of necessity, are forced by circumstance to meet." ― Admiral William Frederick Halsey Jr.
Remember Your Successes and Small Wins
Focus on your successes and forget any failures. Capture the small wins, so you are confident to succeed at greater things. Listen, you're going to fail, you're going to feel like giving up, and like you just can't do it. But don't let these emotions get you down. Have confidence enough to get up and keep going!
"To establish true self-esteem we must concentrate on our successes and forget about the failures and the negatives in our lives." ― Denis Waitley
👉🏽 RELATED POST: Inspirational Keep Moving Forward Quotes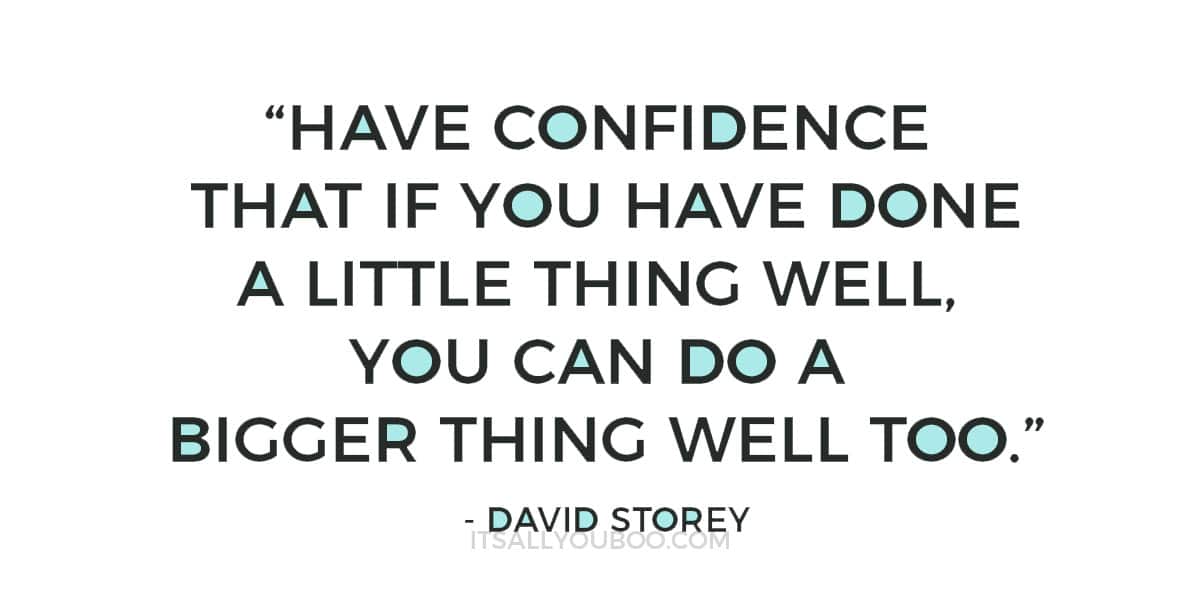 30. "Have confidence that if you have done a little thing well, you can do a bigger thing well too." ― David Storey
"Self-confidence is the memory of success." ― David Storey
32. "Great things are done by a series of small things brought together." ― Vincent van Gogh
Fake It Until You Make It
Not where you want to be in life? Don't feel as confident as you need to be? No problem, just fake it. If you act as if it is so, it will be. Faking it means basically "pretending" like you're as confident as you wish you were. Carry yourself with confidence, dress like how you want to feel and act as if you've already made it.
33. "Be as you wish to seem." ― Socrates
"If you're presenting yourself with confidence, you can pull off pretty much anything." ― Katy Perry
35. "All you need in this life is ignorance and confidence, and then success is sure." ― Mark Twain
👉🏽 RELATED POST:  How to Actually Fake It Until You Make It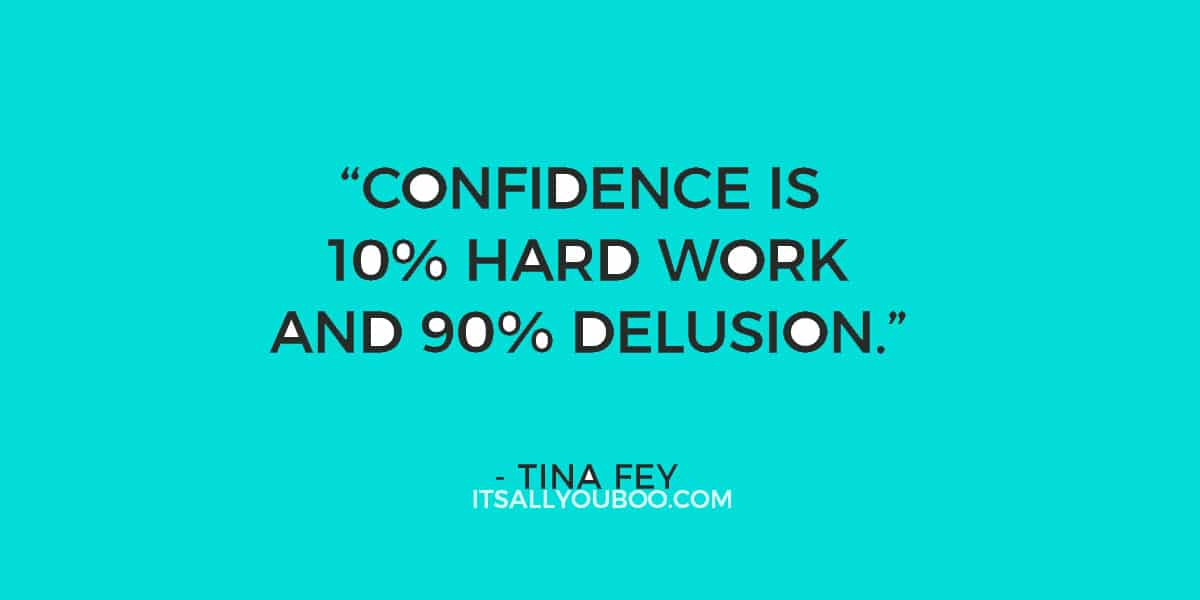 33. "Confidence is 10% hard work and 90% delusion." ― Tina Fey
"Be believing, be happy, don't get discouraged. Things will work out." ― Gordon B. Hinckley
38. "Fake it until you make it! Act as if you had all the confidence you require until it becomes your reality." ― Brian Tracy
39. "With confidence, you have won before you have started." ― Marcus Garvey

Printable Self-Confidence Quotes👇🏽
Stay confident with these beautifully designed printable quotes that are perfect for your office, bedroom, or wherever you need the reminder to believe in yourself.
This download comes with 10 high-resolution quotes ready to be printed and posted. Print and post these beautiful quotes anywhere you need to constantly remind yourself that you can.
How to Be Confident In Yourself
I know it's hard to be confident in yourself when things aren't going as well as you'd like, or you need to leave your comfort zone.
But, confidence has nothing to do with the reality of your situation or even how difficult or challenging the road ahead is for you.
Self-confidence is all about you and how you feel about yourself, not about your situation or any other person.
Confidence is won in your mind, and you are always in control of that. If you're confident, you can do it. You are as capable as how confident you are.
When you're feeling inadequate, unworthy or that you just cannot make it, or like too many things are going wrong and outside of your control, remember that:
There are no limits, except in your mind
Anything is possible for you
Just believe in yourself
Trust in yourself and your abilities
You don't need to be "special"
You've had success and go for the small win
Fake it until you make it
Be confident in yourself and what YOU have to offer. Focus on yourself, not on others or your circumstances.
Build your self-confidence and self-esteem! Believe in yourself.
It's easy to blame a lack of confidence in not being as good as, or as successful as someone else. Or even on how difficult or challenging your life is.
But the truth is, your self-confidence and ability to believe in yourself have nothing to do with anyone or anything else. It's not about what you can do, or how good you are in comparison to others.
It's about whether or not you are confident in yourself that you can.
Do you need a confidence boost today? Here are 39 amazing quotes to boost confidence and inspire you to believe in yourself. #Confidence #SelfEsteem #BelieveInYourself

What's your go-to confidence-boosting quote?
Last Updated on July 11, 2021
✕
Get Your Confidence Quotes
+ get weekly tips to help you slay your goals.