What are the best gratitude quotes? Looking for inspirational Thanksgiving quotes?
As we gather with friends and family to feast and fill our bellies with festive delights, one can't help but wonder about the gratitude of it all.
A common Thanksgiving tradition for many of us includes going around the table and saying what we're grateful and thankful for this year (or maybe that's just on television).
At that moment, when everyone turns to look at you and it's your turn to be thankful. For the sake of the holiday ritual, you push past the bad memories, the complaining, and the thoughts of everything that went wrong, and focus on the good.
You dust off your attitude of gratitude, slap on a smile, and express what you're most thankful for. By doing this you unleash the power of gratitude in your heart.
Perhaps that simple act is what makes it a Happy Thanksgiving. Despite Thanksgiving's heartbreaking history in the Americas, we continue to celebrate it. To look past tragedy and still see value in this tradition.
Thanksgiving is NOT about the stomach-stretching amounts of food, the decorations, the leaves changing, or any of the other frivolous festive features. Just you being thankful, and you don't need a holiday or even a turkey for that. Just a quiet moment to appreciate all you have.
I hope for you this year that this exercise in gratitude is genuine, and that it's not just a once-a-year practice for you, but a part of your daily routines.
As you'll see from these inspiring gratitude quotes, the simple act of practicing an attitude of gratitude, regardless of what's going on in your life, can change your life.
This Thanksgiving, instead of just saying Happy Thanksgiving, why not express gratitude instead? Here are 37 of the best gratitude quotes for a truly Happy Thanksgiving.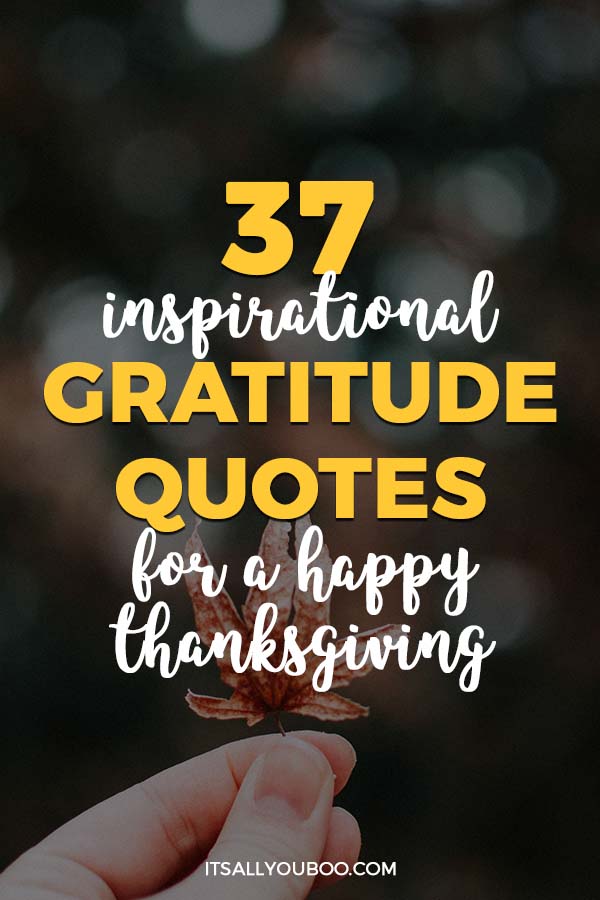 What is Gratitude Quotes
What exactly is gratitude? It is a feeling, a sensation, a Thanksgiving ritual, or something more? We say things like, "be grateful" or "be thankful," but what does it mean to have gratitude? From thankfulness to happiness, this collection of inspirational gratitude quotes will help you define and understand what gratitude really is this Thanksgiving.
1. "Gratitude is a powerful catalyst for happiness. It's the spark that lights a fire of joy in your soul." – Amy Collette
2. "I would maintain that thanks are the highest form of thought, and that gratitude is happiness doubled by wonder." — Gilbert K. Chesterton
3. "Gratitude is when memory is stored in the heart and not in the mind." – Lionel Hampton
"Gratitude is riches. Complaint is poverty." – Doris Day
5. "Gratitude for the present moment and the fullness of life now is the true prosperity." – Eckhart Tolle
6. "Gratitude is the fairest blossom which springs from the soul." – Henry Ward Beecher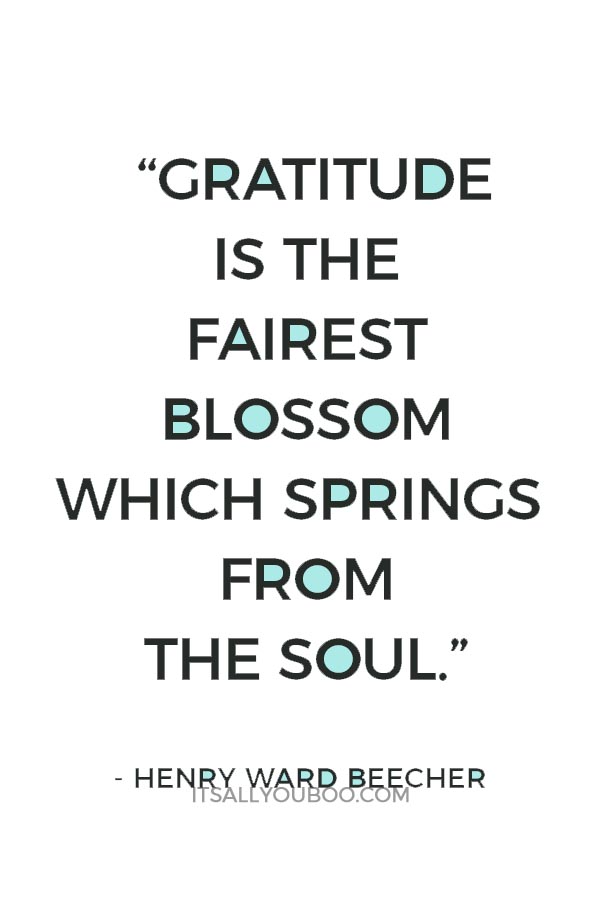 👉🏽 RELATED POST: 6 Steps to Staying Positive No Matter What
Why is Gratitude so Important Quotes
What's the reason for practicing gratitude on Thanksgiving or any day? Why is gratitude so important? Gratitude has the power to change everything for you – from your perspective on life to unlocking the bounds of joy and happiness. This collection of inspirational gratitude quotes can help you literally have a Happy Thanksgiving.
7. "Gratitude unlocks all that's blocking us from really feeling truthful, really feeling authentic and vulnerable and happy." — Gabrielle Bernstein
"Gratitude helps you to grow and expand; gratitude brings joy and laughter into your life and into the lives of all those around you."— Eileen Caddy
9. "Gratitude opens the door to the power, the wisdom, the creativity of the universe. You open the door through gratitude." — Deepak Chopra
👉🏽 RELATED POST: How to Manifest Gratitude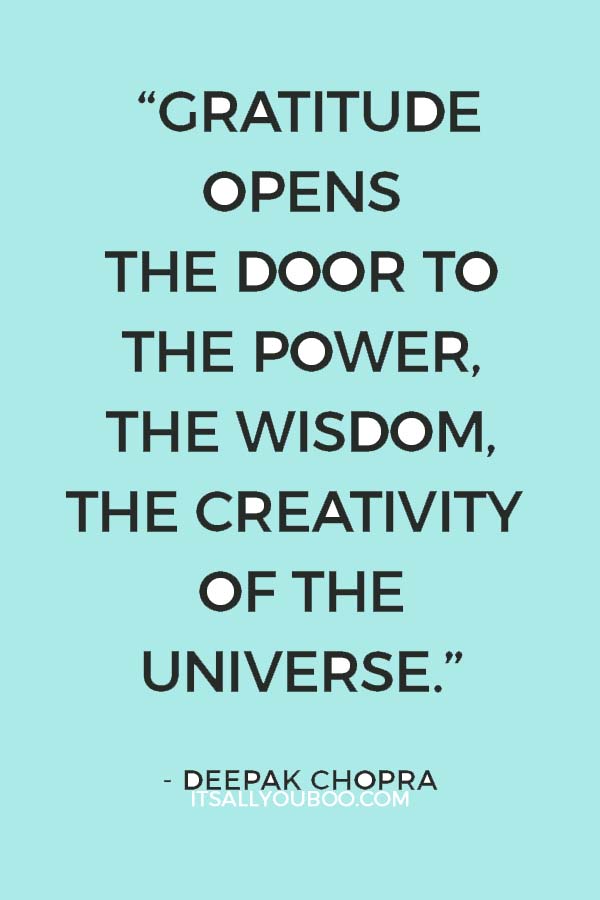 10. "Gratitude is an antidote to negative emotions, a neutralizer of envy, hostility, worry, and irritation. It is savoring; it is not taking things for granted; it is present-oriented." — Sonja Lyubomirsky

"When we focus on our gratitude, the tide of disappointment goes out and the tide of love rushes in." — Kristin Armstrong
12. "Gratitude makes sense of our past, brings peace for today, and creates a vision for tomorrow." — Melody Beattie
The Power of Gratitude Quotes
Now you know that gratitude is important, but what are the benefits to your life? We all talk about the power of positivity, but what's the power of gratitude? The following inspirational gratitude quotes reveal the power of practicing gratitude this Thanksgiving.
13. "Wear gratitude like a cloak and it will feed every corner of your life." — Rumi
14. "Gratitude unlocks the fullness of life. It turns what we have into enough, and more. It turns denial into acceptance, chaos to order, confusion to clarity. It can turn a meal into a feast, a house into a home, a stranger into a friend." ― Melody Beattie
"There is a calmness to a life lived in gratitude, a quiet joy." — Ralph H. Blum
16. "Those who have the ability to be grateful are the ones who have the ability to achieve greatness." ― Steve Maraboli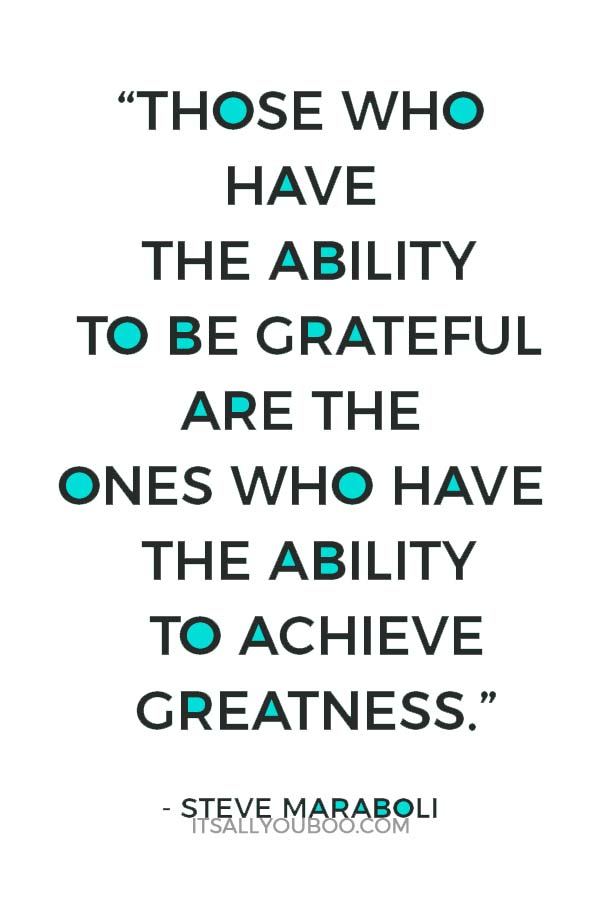 17. "Gratitude is the ability to experience life as a gift. It liberates us from the prison of self-preoccupation." ― John Ortberg


18. "When I started counting my blessings, my whole life turned around." — Willie Nelson
👉🏽 RELATED POST: Hello November Quotes
An Attitude of Daily Gratitude Quotes
We all know that we should practice daily gratitude, not just on Thanksgiving, but are we? It's easy to think about things like thankfulness, and an attitude for gratitude when presented with a feast, but what about every other day? This collection of inspiring gratitude quotes portray the benefits of a grateful heart for everyday life.
19. "Gratitude can transform common days into thanksgivings, turn routine jobs into joy, and change ordinary opportunities into blessings."– William Arthur Ward
20. "Some people grumble that roses have thorns; I am grateful that thorns have roses." — Alphonse Karr
"Be grateful for what you have and stop complaining–it bores everybody else, does you no good, and doesn't solve any problems." — Zig Ziglar
22. "If you concentrate on finding whatever is good in every situation, you will discover that your life will suddenly be filled with gratitude, a feeling that nurtures the soul." — Rabbi Harold Kushner
23. "When you are grateful, fear disappears and abundance appears." — Tony Robbins
24. "I don't have to chase extraordinary moments to find happiness – it's right in front of me if I'm paying attention and practicing gratitude." — Brene Brown

Gratitude Attracts Abundance Quotes
Being grateful doesn't only change your perspective of what you already have and make you more appreciative, it helps you attract even more. The secret to living life abundantly is to be grateful! That attracts more abundance to you. The following Thanksgiving gratitude quotes inspire you to not only be thankful but also embrace the abundance mindset.
25. "Learn to be thankful for what you already have, while you pursue all that you want." — Jim Rohn
26. "Develop an attitude of gratitude, and give thanks for everything that happens to you, knowing that every step forward is a step toward achieving something bigger and better than your current situation." — Brian Tracy
"Be thankful for what you have; you'll end up having more. If you concentrate on what you don't have, you will never, ever have enough." — Oprah Winfrey
28. "Whatever you appreciate and give thanks for will increase in your life." — Sanaya Roman
👉🏽 RELATED POST: Happy October Quotes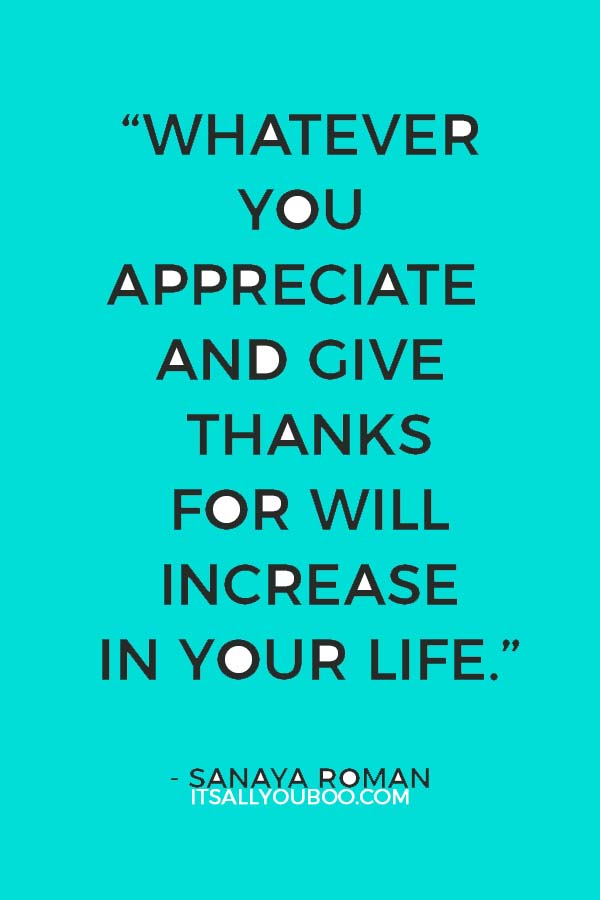 29. "Gratitude will shift you to a higher frequency, and you will attract much better things." – Rhonda Byrne
30. "Gratitude is the healthiest of all human emotions. The more you express gratitude for what you have, the more likely you will have even more to express gratitude for." — Zig Ziglar
👉🏽 RELATED POST: What is the Law of Attraction? How Does It Work?
Expressing and Practicing Gratitude Quotes
How can you practice gratitude? Do you say thank you, share your appreciation, or something more? Gratitude is not just words, it's actions. How can you act with gratitude? This final selection of inspirational gratitude quotes encourages you to live and act with gratitude, not just words this Thanksgiving. Gratitude is not for you alone, show gratitude to others!
31. "Feeling gratitude and not expressing it is like wrapping a present and not giving it." — William Arthur Ward
32. "Let gratitude be the pillow upon which you kneel to say your nightly prayer. And let faith be the bridge you build to overcome evil and welcome good." — Maya Angelou
"If the only prayer you said was thank you, that would be enough." — Meister Eckhart
34. "God gave you a gift of 84,600 seconds today. Have you used one of them to say thank you?" — William Arthur Ward
👉🏽 RELATED POST: Being Thankful Quotes and Sayings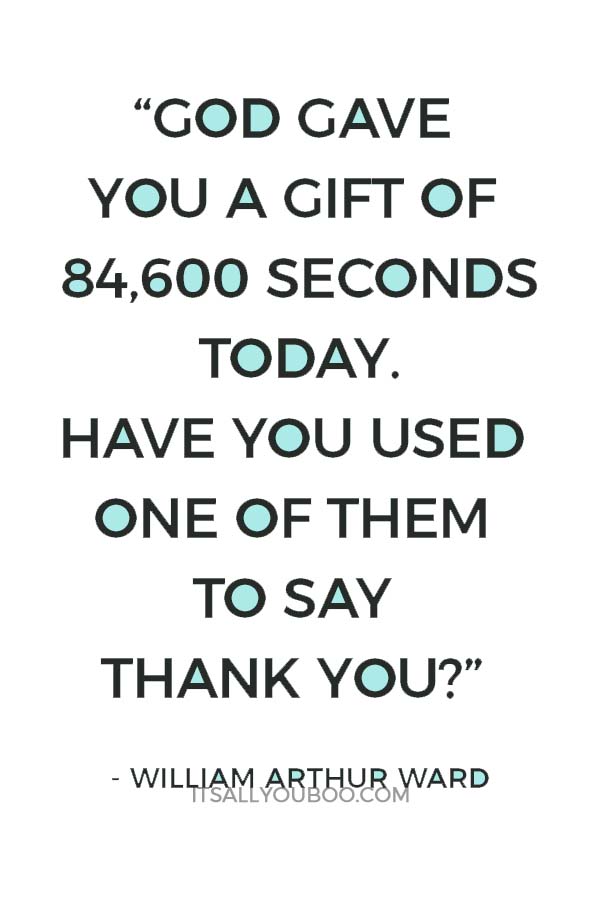 "Thankfulness is the beginning of gratitude. Gratitude is the completion of thankfulness. Thankfulness may consist merely of words. Gratitude is shown in acts." — Henri Frederic Amiel
36. "As we express our gratitude, we must never forget that the highest appreciation is not to utter words, but to live by them." — John F. Kennedy
37. "We should certainly count our blessings, but we should also make our blessings count." — Neal A. Maxwell
Free 30-Day Gratitude Journal
Want to be more thankful this Thanksgiving? Get your FREE Printable Gratitude Journal, with 30 days of self-reflection prompts.
Let gratitude be part of your everyday life, may you greet every challenge with a heart of thankfulness.
I know from experience that once I changed my perspective from what I don't have, to what I do, from what I haven't accomplished to what I have, everything changed.
Be grateful, be thankful, even if it feels disingenuine at first. Don't just do it once and say it doesn't work, but wake up the next day and practice daily gratitude again.
Close your eyes, say a prayer, write a note of Thanksgiving, or take a moment to appreciate something in your life.
There are no rules for practicing gratitude, just as long as you do.
Why say Happy Thanksgiving, when you can express your gratitude in so many other ways. Here are 37 inspirational gratitude quotes for a truly Happy Thanksgiving. #gratitude #thanksgiving #quotes

What's your favorite gratitude quote for Thanksgiving?
Last Updated on November 19, 2022