What are the financial things to consider before quitting your job?
Looking for a checklist before leaving a job?
You may be considering quitting your job to start your own business, find a higher-paying job, or just take a much-needed break from the 9-5 grind.
According to Forbes, more than half of Americans are unhappy with their jobs. With this heightened level of dissatisfaction among employees in corporate America, it is no wonder that many people choose to abruptly quit their jobs without a plan.
However poor planning before quitting a job can result in financial losses that could set you back thousands of dollars. These losses can, in fact, negate the increase in pay you might receive from a new job.
It may be hard to know if quitting your job is the right thing to do. However, one thing you absolutely should NOT do is leave money on the table. To minimize exit costs, there are certain financial things you should consider before quitting your job. Even if you anticipate a salary bump from a new job, you can still lose a lot of money if you don't adequately plan for your exit.
Before giving your two weeks' notice, make sure you thoroughly research the financial implications of leaving your job. Each job transition comes with some exit costs. If you have never left a job before, you may not know exactly what to look out for.
This is especially important if you're planning to quit your job to become your own boss, take a side-hustle full-time or start your business. One of the biggest mistakes a new entrepreneur can make is not being prepared for the financial pressures of being self-employed.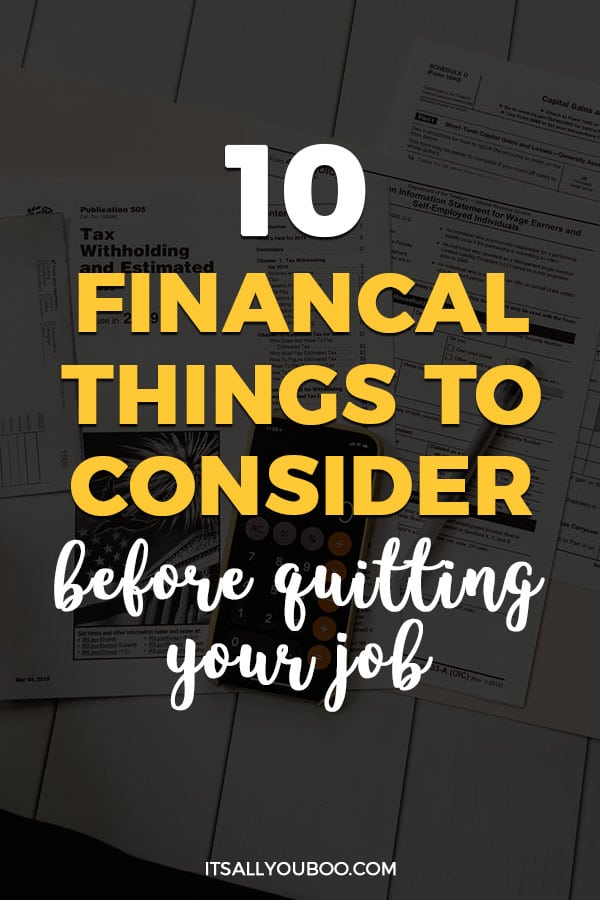 Top Financial Things to Consider Before Quitting Your Job
In this list, I cover the most important financial things to consider before quitting your job.
#1.
401k Company Contributions Vesting Schedule
Even though retirement may be in the far distance, consider the implications quitting will have on your 401K company match. Most companies have a vesting schedule of at least 1-2 years before you are entitled to your 401K's company contribution.
This information can usually be found in the Summary Plan document. If you leave the job before your 401k is fully vested, you are leaving free money on the table. Since most companies offer a match of 3-6%, this could amount to thousands of dollars in lost contributions and interest.
It may be worth staying in your job a few extra months to get the full company match benefit. The money received from a company match will make a huge difference in your ability to continue to build wealth, even while you are out of work. The more money you have in your 401K, the more you can take advantage of compound interest and accelerate your retirement savings.
👉🏽 RELATED POST: Ways to Save Money Fast on a Tight Budget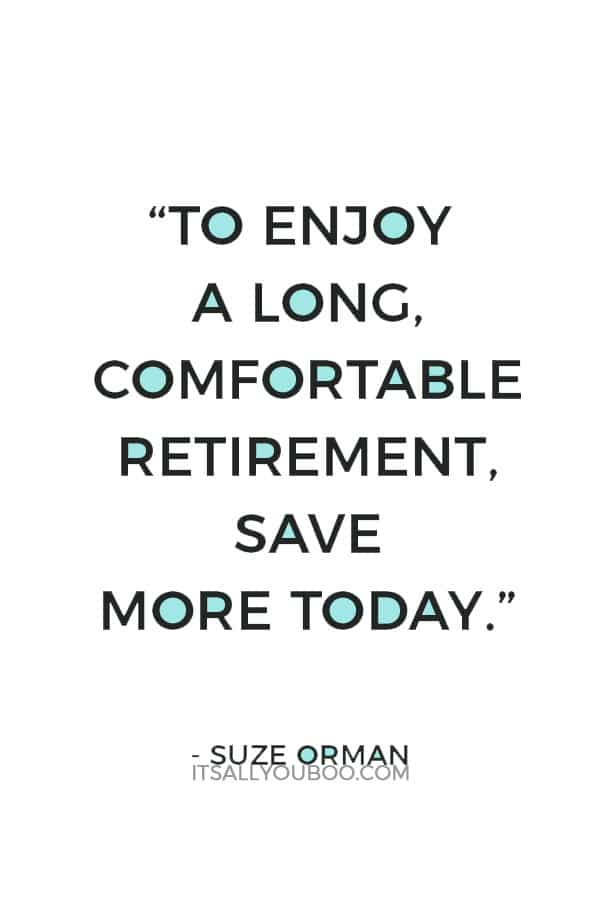 Also, take note of the company's matching schedule. The company may offer a 5% match on contributions, but only distribute the match quarterly. Thus, you may miss out on a portion of the company contributions if you quit before the company distributes its match for that quarter.
#2.
Repayment of Signing and Relocation Bonuses
When you initially signed your employment offer, you may have been very excited to receive a signing or relocation bonus. However, did you read the full details of the employment offer? While these financial incentives are great, they usually come with some stipulations.
There may be a requirement to pay back some or all of the signing or relocation bonus if you leave the company before a certain time frame. This typically ranges from 1-3 years depending on what the company outlined in the employment offer. These employment timeframes are typically given to protect the company's investment in you, which is certainly reasonable.
👉🏽 RELATED POST: How to Set Goals To Escape Your 9 to 5 Life
Do you have thousands of dollars lying around to pay your employer if you quit early? A sign-on bonus could range from $5,000-$20,000 or even more, depending on your industry and job level.
Review your employment offer carefully before you decide to leave your job to see if any such stipulations exist. If you do not think you can fulfill the commitment outlined in your contract, set up some time with HR to discuss what options are available to you.

#3.
Stock Options Vesting Schedule
Many companies offer company stock as part of their compensation package to employees. In fact, company stock can be one of the most lucrative parts of your compensation package.
Make sure you review your equity plan to understand the conditions under which you can vest and exercise your equity. For example, it may take up to 4 years for your stock to fully vest. Consider if it is worth leaving unvested stock options to switch companies or leave your job.
👉🏽 RELATED POST: Do You Need to Escape Your Toxic Workplace?

It is also important to take into account the tax implications associated with exercising stock options. Making the wrong decision could cost you thousands of dollars in tax liability. Thus, it is very important to consult with a financial advisor or tax professional when making decisions about your equity package.
#4.
Unused Vacation Days
Another important financial thing to consider before quitting your job is how your company treats unused PTO balances.
You may be entitled to a PTO payout if you have time left in your PTO bank. The amount received will depend on the time of the month you quit and your PTO accrual schedule.
For example, many companies do not provide a PTO payout for the month in which you quit. For example, if you quit on April 29th, you will not get any PTO payout for April despite working the entire month. Thus, it may be more advantageous to quit at the beginning of the month.
👉🏽 RELATED POST: How to Get Your Dream Job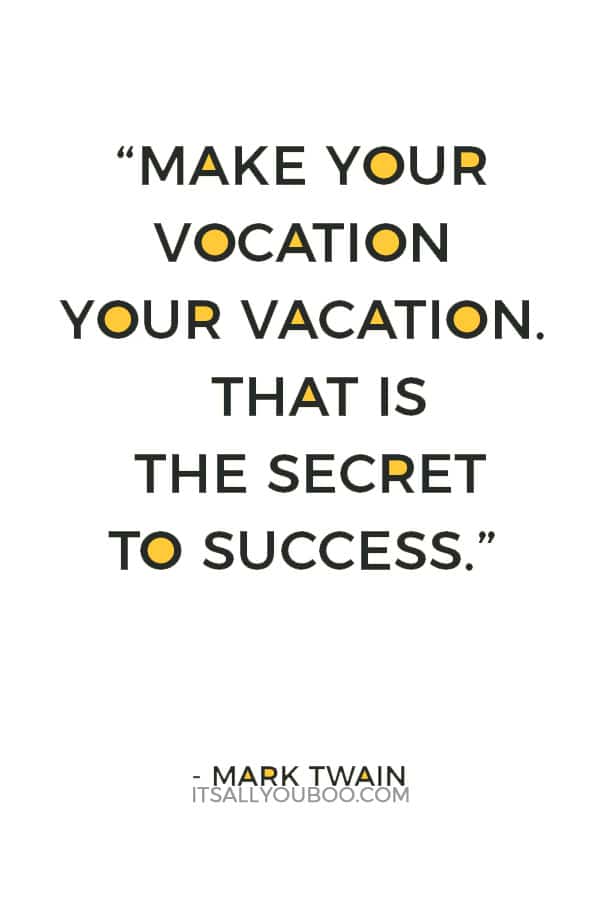 Many startups offer unlimited vacation time which is a great benefit while working at a company. However, if you choose to quit don't expect a PTO payout. Since there is no unused time to pay out, employers who offer unlimited PTO do not have to pay unused vacation time to employees.
#5.
Health Insurance Coverage
Review your employee handbook to understand how health insurance benefits are handled when employment ends. Medical and dental benefits typically terminate immediately or continue through the last day of the month in which you quit. For example, if you quit on February 1st, you will continue to have coverage until March 1st. Thus, it may be wise to plan your exit early in the month to maximize your coverage while you are unemployed.
If you are eligible to continue healthcare coverage, you can take advantage of health insurance benefits provided through the Consolidated Omnibus Budget Reconciliation Act (COBRA). COBRA can be very expensive since you will now have to cover the full cost of the premium once split with your former employer.
If COBRA healthcare premiums are not feasible in your budget, there are other health insurance options that may be more affordable for someone who is unemployed. Use sites like, eHealthInsurance.com, to shop around for health insurance options that fit your specific needs.
Another option for young adults is to obtain healthcare insurance through their parent's plans. The Affordable Care Act allows coverage for children up to the age of 26.
👉🏽 RELATED POST: Quotes About Quitting Your Job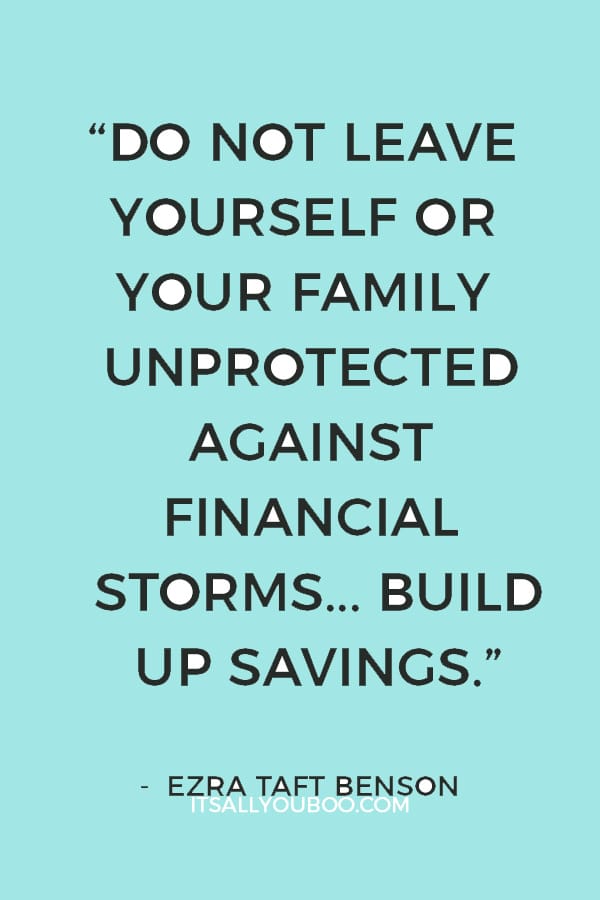 Many people often forget about contributions to a FSA (Flexible Spending Account), which is used to cover eligible health care costs. If you contributed to a FSA while you were working, you will most likely lose any unused contributions when you resign. Thus, it is best to use up your FSA money before quitting your job.
#6.
Education Reimbursement Guidelines
One of the best benefits offered by a corporate job is reimbursement for college costs. In fact, nearly 9 in 10 employers offer some form of educational reimbursement, according to CNBC. You may have used your employer's educational assistance benefit to cover the costs of an advanced degree or certification program.
While this is a great option to obtain a free education, a common requirement for reimbursement is that you stay with the company for a defined period of time after receiving the benefit, usually 1-2 years. Make sure you are not leaving the company before you fulfill this requirement or you will be on the hook to pay the company back, which could be crippling to your finances.
Financial Checklist Before Quitting Your Job

Now that you know the most important financial things to consider before quitting your job, follow this checklist to minimize exit costs before giving notice.
#1.
Eliminate Outstanding Debts
If you plan to leave your job before having another one lined up, it is best to pay off as much outstanding debt as possible before quitting. It may not be feasible to pay off large debts, like a mortgage or student loans, but at least get rid of all high-interest consumer debt, like credit cards.
👉🏽 RELATED POST: Can I Afford to Quit My Job? How to Know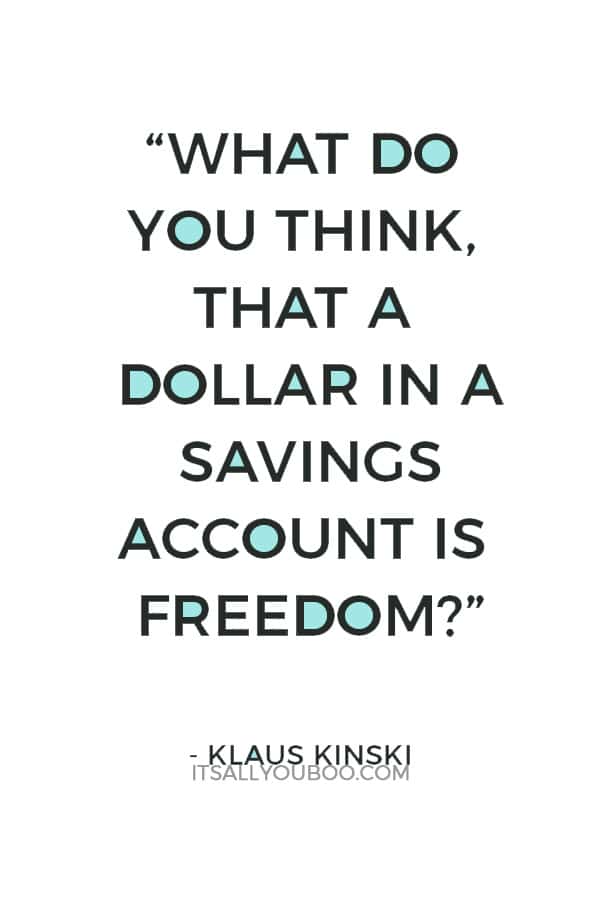 You may have to make some sacrifices while you are working to pay down your debt quickly, such as not eating out, downgrading your gym membership, or cutting back on travel. Reducing your debts will greatly minimize the stress of not having an income while you are unemployed.
#2.
Save an Emergency Fund
The general rule of thumb is to have at least 3-6 months of living expenses saved to cover living expenses while you are unemployed. During this time, your energy will be focused on other things, like job searching, starting a new job, or taking care of your kids full time. The last thing you want to worry about is how you will pay the bills each month.
Having a rainy day fund will help ease the transition during a time of lost income. If you want to play it even safer, aim to have up to 1 year of living expenses saved. The job search may take longer than anticipated or there may be unexpected expenses that arise. It's better to be safe than sorry when it comes to your finances.

One of the easiest ways to build an emergency fund is to establish a budget with sinking funds. That's how you budget like a boss and can save up to 40% of your income just like I did. This will allow you to gradually add to your emergency fund over time.
#3.
Research Company Policies
You now know the importance of thoroughly researching your company policies. Make sure you understand policies related to bonuses, vesting schedules, tenure, and other key benefits. Be sure to consult with HR to clarify anything you are unsure of.
👉🏽 RELATED POST: When You Hate Your Job But Can't Quit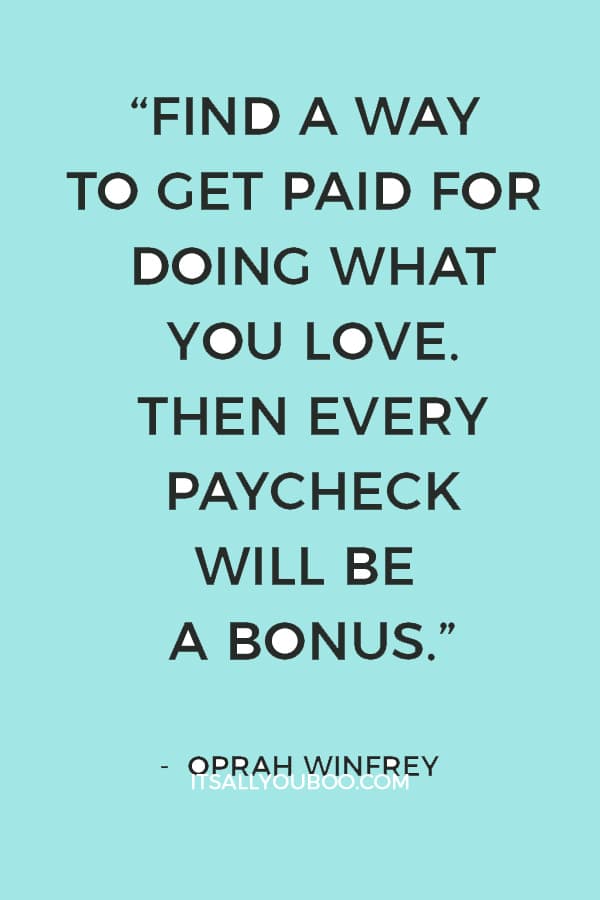 Complete this research well in advance of your notice date. You don't want to give your two-week notice and find out afterward that you are on the hook to repay thousands of dollars in relocation expenses.
#4.
Create an Exit Plan
As outlined, there are many financial things to consider before quitting your job. Therefore, it is very important to develop a clear plan of action to minimize the financial losses associated with quitting a job. Determine the specific steps you will take in the months leading up to your resignation, such as taking a vacation with unused PTO or cashing out your remaining FSA balance.
Perhaps you will need to work a few extra months to beef up your emergency savings to a point where you feel more comfortable. Having a clear plan of action will help you feel more at ease when resigning from your position.
Are You Ready to Quit Your Job?
Not taking these financial considerations into account before quitting your job could result in significant monetary losses. Even if you have another job lined up, you don't want to leave money on the table.
Get Your Quit the 9 to 5 Budget Spreadsheet
Need to get your finances in order before you quit? Get the Simple Budget Spreadsheet with a quit the job calculator, compatible with Google Docs and Microsoft Excel. Create your budget, track expenses and prepare to leave your job. Let's figure out how much money you need to quit your job, whether you can and how long to wait.
This does not mean you should never quit your job. In fact, these tips should hopefully help you feel more prepared to quit at the right time.
Do your homework and put a plan in place to make sure you don't have any regrets when you do decide to leave your job.
Want to quit your job so badly, but not sure if it's the right thing to do? Get your checklist. Click here for the top financial things to consider before quitting your job by @inspireddollar. #QuitYourJob

What financial things do you need to consider before quitting?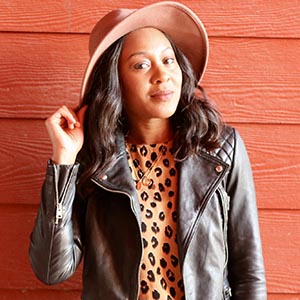 More About Guest Contributor
I'm Suezette, a millennial marketing professional with a passion for travel and personal finance. After being in debt for several years, I finally decided to take control of my finances. I hustled, got my MBA without loans, and paid off my $38,000 debt in 15 months. I also managed to travel to 4 countries while doing it. Through Inspired Dollar, I create a community for educated millennial professionals looking to level up their finances while still living their best lives.
Last Updated on December 10, 2021
✕
Create Your Simple Budget
+ get weekly tips to help you slay your goals.