Want to know how to save for college?
Ready to start your college fund?

So, maybe you're looking for ways to save for college.
Perhaps, you're in high school and want to set up a college fund for yourself. If not, you might be a parent who wants to save up for your kids' education plan.
No matter the situation you're in right now, there are several ways that can help you save up and pay student debts after graduation.
But before you implement a college savings plan, let's talk about how much you should save, and how to save for college in the first place:

How Much An Average Person Should You be Saving For College
As you might have guessed, the answer to that question is quite different for everyone.
A college education is pretty expensive. If you're wondering how to save for college, the costs will depend on factors like the type of school you'll be attending and academic merit.
On average, it will cost about $45,000 if you want to attend a private university in the US for a single year. Meanwhile, for in-state public schools, it will cost about $23,000 on average.
Also, note that expenses are increasing yearly. Let's say that prices increase by 5% every year. These would be the total cost for four years in college for an 18-year-old:
$237,000 for an in-state private university
$464,000 for a private college/university

Know the Cost of Attendance
The federal government of the US requires all colleges and universities to publish their annual cost of attendance (COA.) This would often include tuitions, fees, board and lodging, books and supplies, transportation, personal expenses, etc. This is helpful if you already have a couple of colleges or universities that you have in mind, as COA allows you to compare the costs.
These prices could indeed come off as intimidating. But keep in mind that not every family will have to pay this kind of amount to pay for school.
Students can avail of grants/scholarships, or parents and students can borrow from loans or get money from their income and savings.
Now that we're on that topic, we'll walk you through some helpful tips on how to save for college, and you can start a college fund:
👉🏽  RELATED POST: Smart Financial Goals for College Students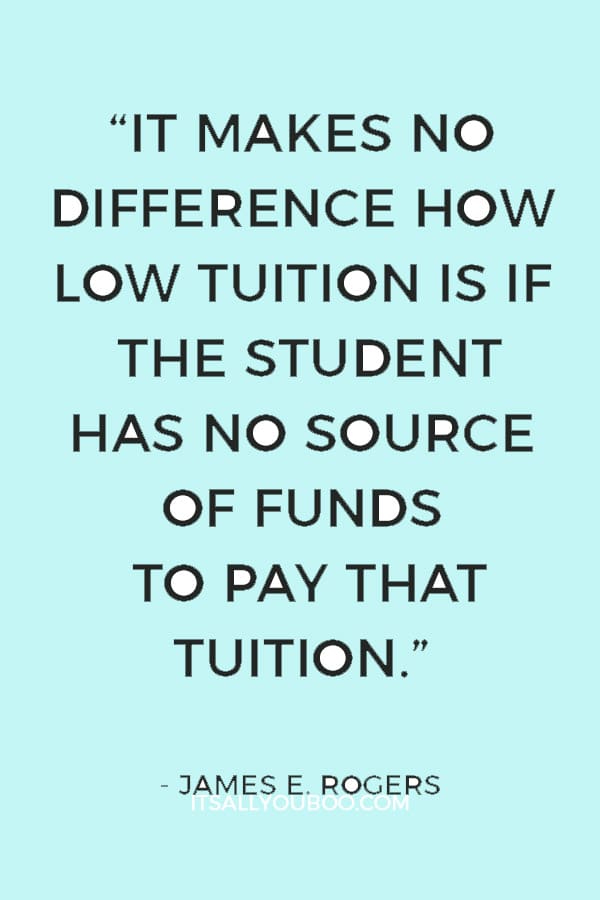 12 Ways to Save for College Tuition
#1.
Set Saving Goals
Before you start saving for your own or if you're a parent who's saving up for your kid's college funds, you need to set a clear plan with goals.
For instance, how much will be tuition by the time you (or your child) goes to college, considering the inflation? What schools should be included in your calculation, and so on.
You can start by at least figuring out the amount of money you need or saving up. Once you've decided on this amount, you need to determine how much you'll save up yearly.
Working on an established benchmark will be a lot easier for you to measure your progress as you go.
If you want to know how to save for college, you need to save up at least part of your money or income you can afford to save. Once you make keeping a habit, it will be a lot easier to do in the long run.
You can set up an education savings account for instance, or a 529 college savings plan.
👉🏽  RELATED POST: Financial Tips for College Students To Save
Is 529 The Best Way to Save For College?
In a nutshell, a 529 college savings plan is an investment account that can be set up for your (or your child's) education savings.
This is a great option if you want to save more for college education, or in some cases, you don't meet the income limits for the Education Savings Account (ESA.)
Here are some of its advantages:
Higher contribution rates. Through this varies per state, you'll be able to contribute up to $300,000.
Most of the time there are no limits on income unlike with the ESA. Or restrictions that are placed based on age.
This type of savings grows tax-free.
Some drawbacks:
There might be some restrictions if you're a parent, and planned to transfer 529 Plan funds to another child.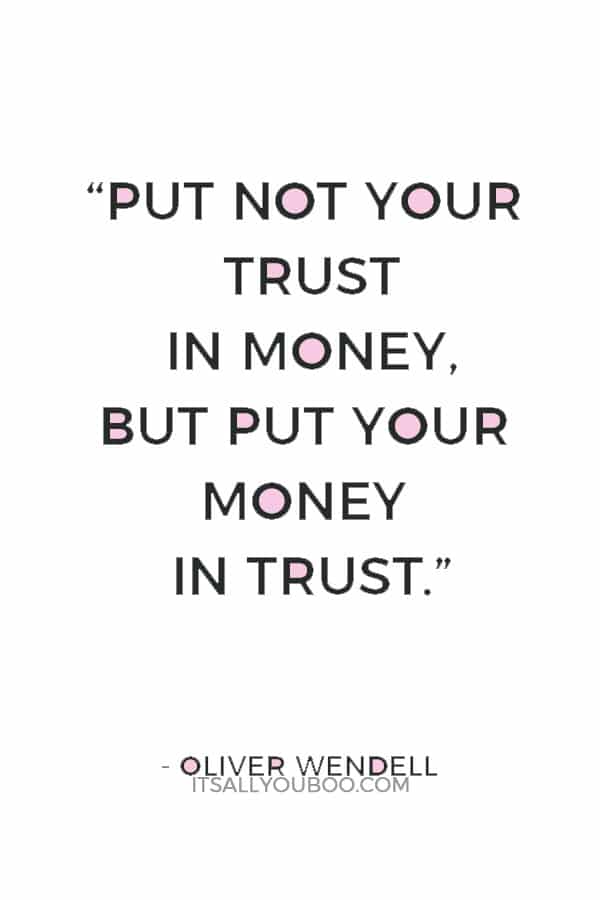 #2.
Adjust Your Spending Habits
Although there's no need to cut back on the essentials, you still need to make a thorough evaluation of your spending habits.
Over time, you might find out that there are some areas that you might need to cut back on. These can be sources of getting that extra cash.
At the same time, if you're thinking of ways how to save for college, you might also consider getting a part-time job and devote your paycheck to the college fund.
Making all these financial sacrifices now will eventually be worth it if you can save up enough college funds.
👉🏽  RELATED POST: 15 Ways to Cut Spending
#3.
Make a Budget and Stick to It
When you need to save money for something expensive, you might have to curb out your spending habits like a college education.
For starters, make a budget and stick to it. One of the best ways to do that is to avoid impulse buying. It also helps to list your income from all sources and make a separate list for your expenses.
Try to eliminate any opportunity to waste money under your nose. Rather than going to your favorite restaurant every weekend, you may want to cook homemade meals at home instead.
Instead of heading to the mall, you might look for free, fun activities that you can do, such as playing sports or just hanging out and watching movies at home.
It would help if you also encouraged yourself to save up and control your spending habits.
Also, if you've received any gift cards, vouchers, or coupons, you might want to take advantage of these before they expire. After all, this is about being smart with your purchases. You might also use a saving for college calculator to help manage your expenses as well.
👉🏽  RELATED POST: How to Budget with Sinking Funds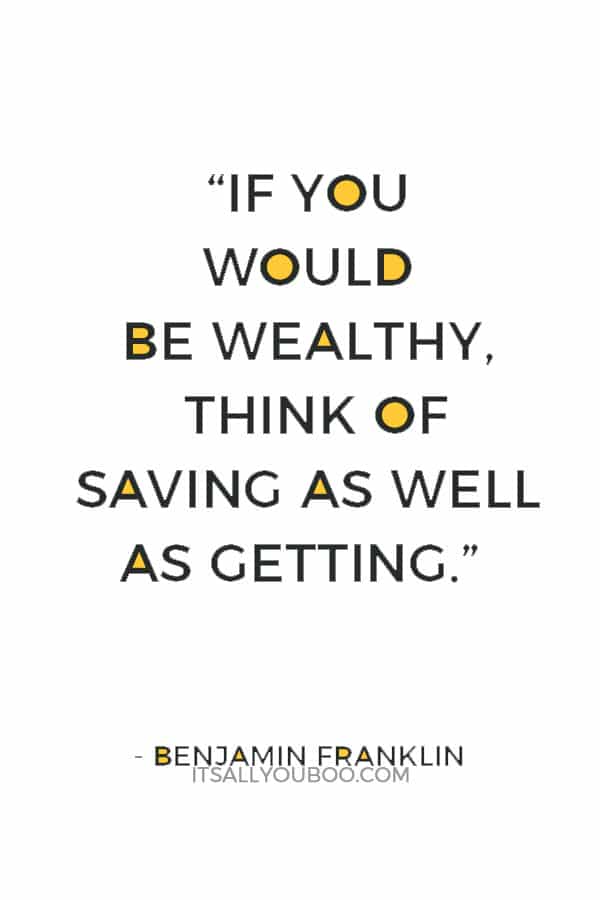 #4.
Pay Yourself First
Some people don't set aside a portion of their income as soon as they get it. As a result, they get to spend all of that money before setting aside portions of those funds.
Therefore, the only way to save up a portion of your money or income is to apportion it or set it aside before you get to do anything else with that money. For instance, you can set aside at least 5% or 10% of your money for college funds.
If you choose not to pay yourself first, you might not have anything else to save when that time finally happens.
Thus, it would be best to set aside a portion of your income first before moving on with your expenses. Paying yourself first also gets you into the mental habit of saving instead of spending that money.
This can pay off huge sums later if you always make it a habit to save.
👉🏽  RELATED POST: How to Acheive Your Financial Goals
#5.
Automate Your Savings
Another piece of advice on how to save for college is to automate your savings.
By automating your savings, you don't have to think so much about it. It usually just happens without you thinking so much about it.
You don't have to guess second that you made choices, back down from committing, or negotiating with yourself to postpone your savings.
If you're getting a regular paycheck, you might want to make auto-debit arrangements. Doing so allows you to automatically send a particular amount from your salary to your savings account.
In the same way, you can also set up automatic withdrawals from your checking account directly to your savings account. The automatic nature of this whole process requires no extra effort on your part. It also gets rid of the temptation to spend that money.
The old saying, "out of sight and out of mind," applies to automate your savings.

#6.
Stay on Your Parents' Insurance
In many cases, children can stay on their parent's insurance until they reach 26 years old.
So, another tip on how to save for college is that if you're a student, you can avoid paying for your insurance and stay in your parent's insurance instead.
This can help you save a lot of money, which you can apply to your college fund.
But keep in mind that not everyone could be able to take advantage of this option. It still mostly depends on the insurance program of your parents.
As long as you can avail of this legal benefit, then you definitely should.
👉🏽  RELATED POST: SMART Goals for College Students
#7.
Save and Invest
Although saving up and investing might seem challenging, putting away a couple of bucks per week can impact the long run.
Check your budget to see how much money you'll be able to place on your savings account.
If your employer is offering a 401(k) account, then the US News suggests that you decide how much of your total salary you'd like to contribute. After all, you can top it up when you can.
How Do You Save Up for College in 10 Years
Maybe you've never really thought about it since it might still be a decade away.
But taking up college loans might not be able to cover up all those college expenses.
But if you come up with a plan, and prepare for college sooner than you've expected, then you can potentially avoid a financial pinch.
Here are some tips:
Year 1: Assess and Set a College Savings Goal
Years 1-5: Start Saving Aggressively
Years 5-10: Continue Saving and Review Your Allocation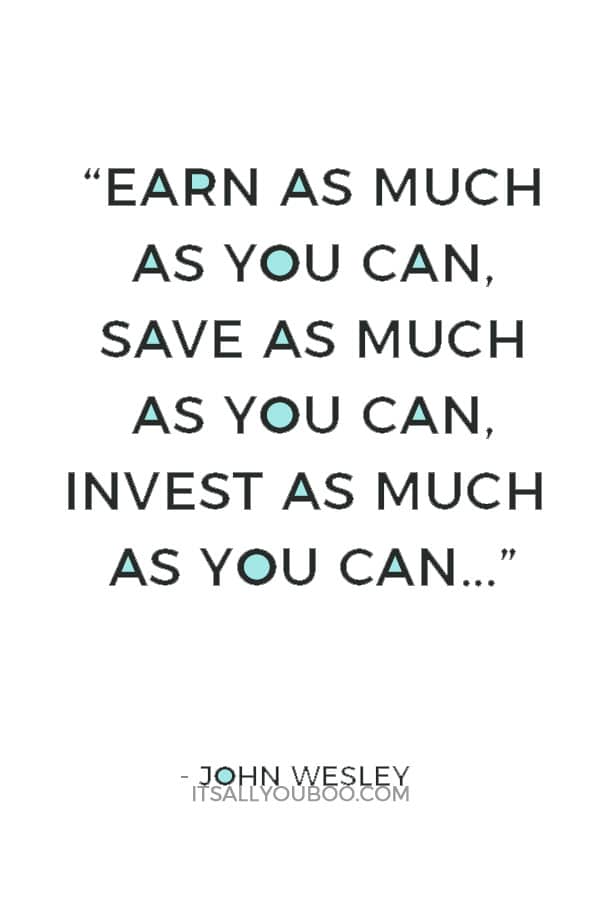 #8.
Pay Your Bills on Time
One way you can save money is to pay your bills on time. That way, you can avoid incurring late fees.
Another important reason why you should be paying bills on time is to keep your credit score high.
When you have a good credit score, then you'll become more eligible for various loans. The best part? You can get a loan for reasonable rates and terms.
This is another great tip on how to save for college.
#9.
Sell Items You Don't Need
How much stuff have you managed to accumulate over the years?
Are you going to need all of these, especially if you're a student heading off to college and leaving town?
Your 'junk' may also be somebody else's treasure.
There are many places and ways that you don't need anymore in exchange for extra cash that you can use for your college fund.
Here are some tips to help you get started:
A second-hand shop
A yard sale
eBay
Facebook Marketplace
Poshmark
Wish
👉🏽  RELATED POST: Financial Planning Principles for Wealth

#10.
Pay Off Debts and Shift Your Payments
If you're thinking of saving up for your future, you also need to be concerned about how you can pay off your debts. You need to take on a more aggressive approach to paying off your debts to be careful that your credit cards or debts will spiral out of control.
Another way to find the money for your college fund is to shift bills and loan payments to your savings accounts once you've managed to pay off your debts.
Once you'd made your final payment, you can choose to keep that money from your budget. You somehow managed to make ends meet without that money in the past, and then you know how it's done.
You can also gradually increase the total money that you save as you watch your funds grow. For instance, once you've finished paying a loan, don't place it in your personal or household budget. It would be best to divert your allocation to your college savings account.
👉🏽  RELATED POST: Should you pay off debts or save money?
#11.
Get a Part-time Job
If you're wondering how to save for college in high school, it could mean getting a summer job or a part-time job that you can keep for at least a year. What's important is that you get to earn an income and save it up to build a college fund.
If you're caught in a lot of extra-curricular, then search for other ways in which you can earn that money. For instance, you can try babysitting your neighbor's kids or mowing their lawn for a couple of bucks.
If you're looking for ways on how to save for college, remember that no job is too small if you're looking for ways to save up for your tuition and earn extra.
👉🏽  RELATED POST: Best Side-Hustles for College Students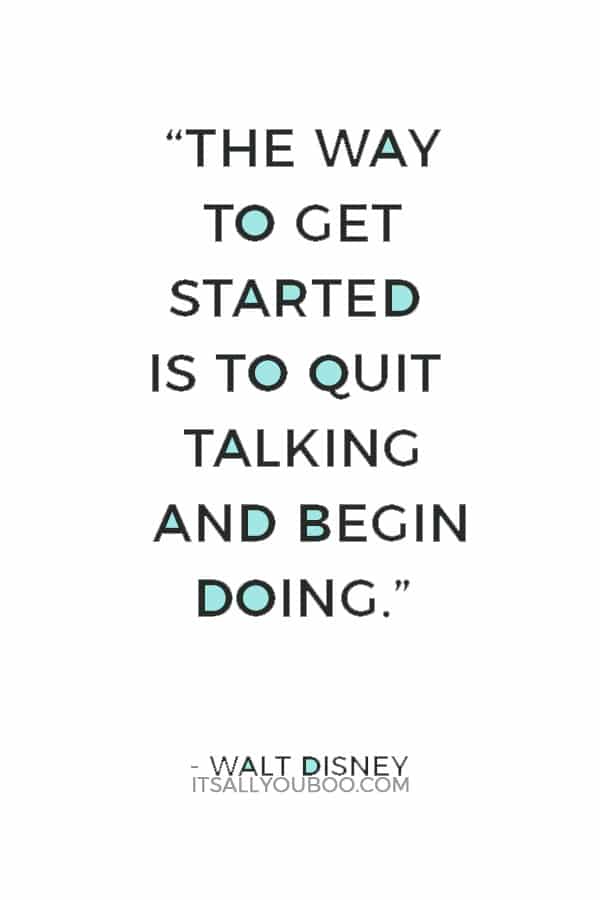 #12.
Live a Frugal Lifestyle
It would be best if you tried to adapt to frugal habits early on so that you'll be able to maximize your savings once you're in college. Doing so allows you to stretch those savings of yours as far as you could.
What is a Good Way to Save For College?
Here are some tips on great ways how to save up for college:
Choose to cook your meals instead of eating out.
Rather than buying brand new things, buy used items unless you have a reason not to.
Monitor your phone's usage to help lower your phone bills.
Trade your car for a bike or bus pass.
Get Your Simple Budget Spreadsheet
Ready to start saving up for college? Great, get the Simple Budget Spreadsheet, compatible with Google Docs and Microsoft Excel.
Saving up for college doesn't have to be complicated. It's best to figure out a method that works best for you, some up a personalized savings plan, and stick with it!
Need help saving for college tuition? Click here for exactly how to save for college in high school, including 12 tips for starting your college fund today. #StudentDebt #StudentLoans #CollegePrep #CollegeFund

How do you save for college?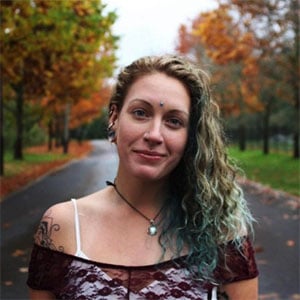 More About Guest Contributor
Geraldine Mills works as an Outreach Community Specialist. She was once a resident of South Africa, then flew to Australia for a change of scenery. When she's not working, she's at home sipping the best local wine while reading travel itineraries for more adventures.
Last Updated on July 24, 2022
✕
Create Your Simple Budget
+ get weekly tips to help you slay your goals.