How do you calmly and nicely tell someone no? How do you say no without hurting someone's feelings?
You've been here before, feeling used, yet again. Someone asks you to do something, and all you want to do is scream no, stop always asking me for help, but you don't. Maybe for you, it's that "friend" that always seems to need something or your teammate at work who keeps giving you tasks that aren't yours. Yet you say yes, and do it anyways.
When we talk about saying "no," what we really mean is setting boundaries. So when you are considering how to say no without hurting someone's feelings, what you are trying to do is set healthy boundaries for yourself in a way that is respectful to you and to the person you are setting boundaries with.
Of course, you cannot entirely control how someone reacts and how they feel. If you say no to someone and they get sad or angry, it is not your job to carry the burden of their feelings. That is part of learning how to set healthy boundaries.
However, you can control your delivery and how you tell someone no in a way that is mindful of the other person's feelings in an effort to avoid creating a negative situation.
Saying no is a natural part of having healthy relationships. And it's important to learn how to say no in a variety of situations, such as at work, with friends, with family, and with your partner.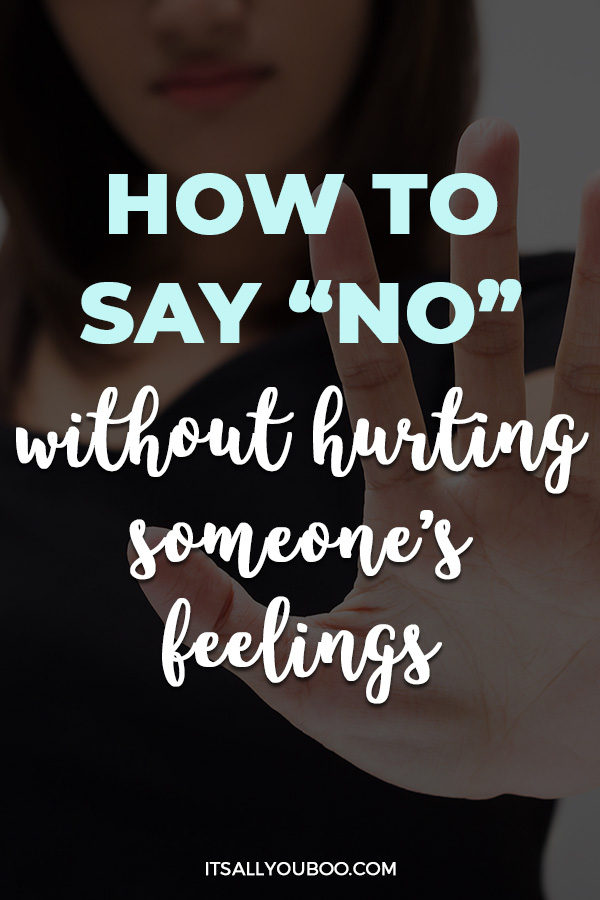 In this article, we'll dive deeper into the importance of healthy communication, boundary setting, and talk about specific ways to say no without feeling guilty, without being rude, and hopefully without hurting someone's feelings.
Healthy Communication is Key in Any Relationship
No matter what kind of relationship you are in, be it a romantic relationship, a friendship, or a work relationship — open, honest, and healthy communication is essential. If you want to have healthy relationships that last, you have to be willing to "come to the table" with an open mind and a vulnerability that allows you to openly communicate about your wants and needs.
The key elements of healthy communication are trust, respect, support, and boundaries. If you can't communicate openly, how can you expect the other person to trust you? If you can't communicate what you need, how can you expect the other person to support you? And if you can't communicate what you don't want, how can you expect the other person to respect your boundaries?
It's important to note as well that communication is not just what you say, but how you say it and what queues your body gives. So it is both verbal and non-verbal, which is important to keep in mind when you are trying to specifically learn how to set boundaries and how to say no without hurting someone's feelings.
👉🏽  RELATED POST: SMART Relationship Goals Examples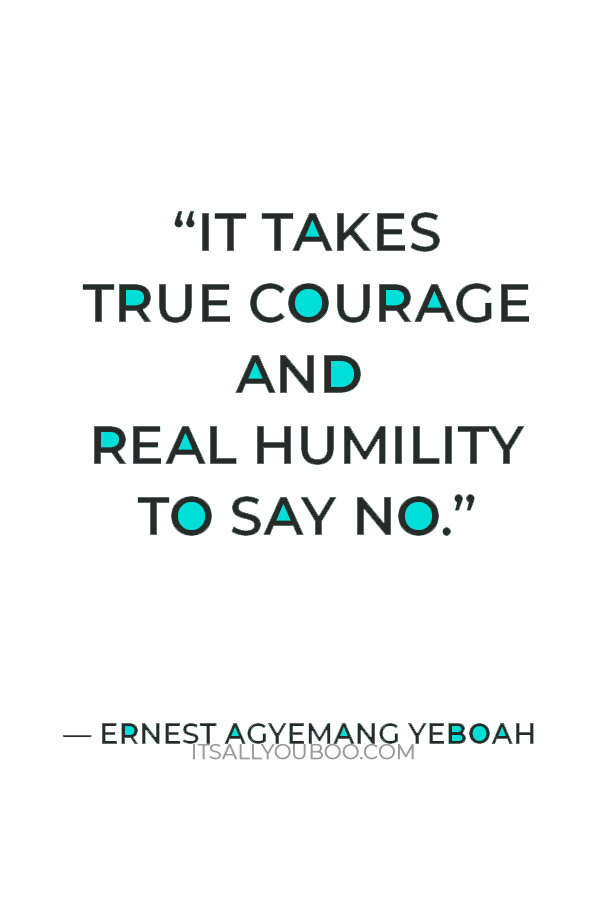 You Need Good Communication In All Areas of Your Life
Furthermore, it's important to understand how essential communication is throughout every part of your life. For example, if you can say no to a romantic partner, but you can't say no to a colleague or supervisor at work, your communication and your boundary setting are likely still lacking.
And if you don't have healthy communication at work, it can impact your mental health, which can then turn around and start affecting your personal relationships.
In the past, it was not as common for people to have healthy communication skills at work, but this is changing today as people have come to learn the importance of setting boundaries. So no matter what field you work in, be it sales, finance, or IT, building good communication skills and learning how to set boundaries and say no is crucial.
In general, poor communication and lack of boundaries in any area of your life can result in poor mental health that can impact all areas of your life. So just because you have good communication with loved ones does not mean you have healthy communication habits overall. If one area is lacking, all the other areas will be impacted as well.
What Are Boundaries and Why Do We Need Them?
So what are boundaries exactly, and why do we need them?
It's easy to talk about healthy communication and boundary setting in a general or abstract sense, but it's more difficult to fully understand what boundaries are exactly. But this is crucial when you start working towards setting boundaries and learning how to say no politely and effectively without hurting someone's feelings.
👉🏽  RELATED POST: Setting Healthy Boundaries in Relationships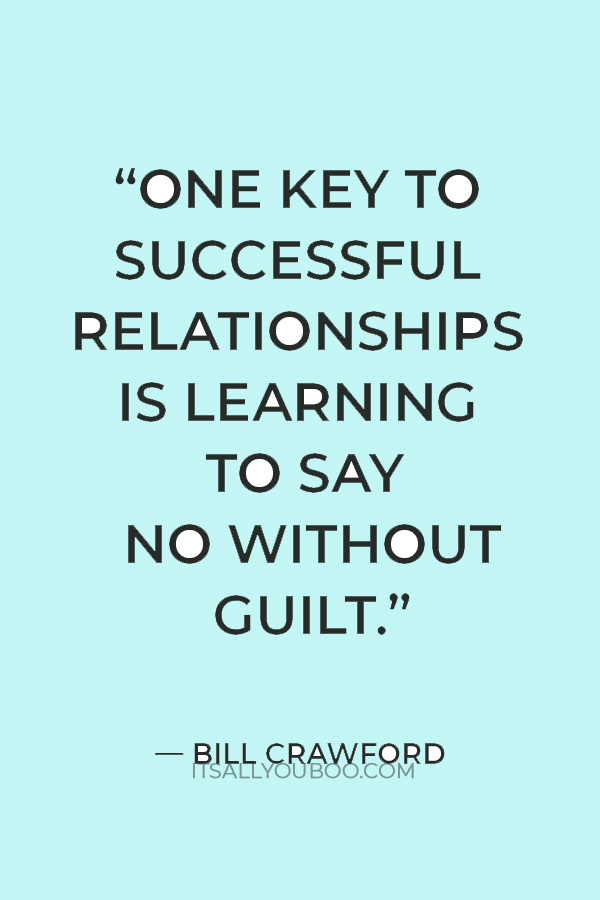 Boundaries are limits that we set in our personal and work lives that help us take control of our interactions with others and how others interact with and treat us. They are not meant to change a person but rather are about establishing rules or limits that enable us to feel comfortable and have healthy relationships.
And the key term is "healthy" boundaries. Because, yes, it is good to push yourself out of your comfort zone sometimes, as that is how we learn what we are capable of in order to grow. But as with everything in life, it's all about balance. So you want to set healthy boundaries that are well balanced and help you rather than hinder you.
Specifically, boundaries can be physical, mental, and social. This can include setting boundaries that
protect and meet your emotional needs,
respect and meet your physical needs,
support your financial needs, and
respect your personal time and need for space away from social settings.
Boundaries and saying no is important and needed because it helps us have a healthier relationship with people and the world around us, which is essential to maintaining our mental health and even our physical health. If you don't set physical boundaries, such as how someone physically treats you, for example, it could result in harm to your body and harm to your emotional state.
Thus, we need boundaries to protect ourselves but also to help us create spaces and relationships that we feel comfortable in to help us grow.
👉🏽  RELATED POST:  How To Deal With a Negative Person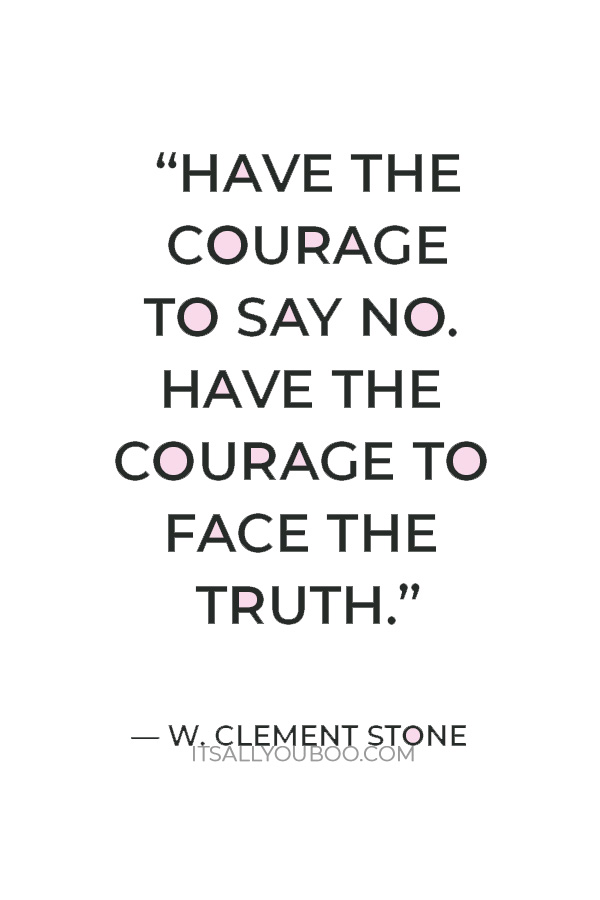 A hard boundary, for example, such as no hugging, could be a boundary you set to protect yourself as a result of past trauma. Whereas a soft boundary, such as only wanting to go out once a week, could be something that is open for compromise and could help occasionally push you out of your comfort zone to help you grow or to help your relationship grow.
By setting a healthy balance of hard and soft boundaries and learning how to say no without hurting someone's feelings, you will be able to establish more healthy relationships and behaviors that support your mental health and help you grow and better navigate your life.
How to Set Healthy Boundaries and Say No Without Hurting Someone's Feelings
Now that you understand what healthy communication and boundary setting are and why it's important, you can start to learn how to set better boundaries, and more specifically, how to say no without hurting someone's feelings or without being rude.
Boundary setting and saying no by nature is not mean, rude, or hurtful, but how you go about it can be, which is why it's helpful to learn not just what boundaries are but how exactly to set them politely.
When learning how to say no politely and how to set boundaries in general, keep the following tips and strategies in mind:
Listen to your body and your mind and understand your needs.
Understand that it's okay for other people to have different needs from you.
Communicate your needs and boundaries early before someone gets hurt.
Know when to set a hard boundary and when you set a soft boundary.
Be open and honest in your communication.
Use "I" statements — i.e., "I feel" as opposed to "you made me feel."
Use active listening
Take the other person's feelings into consideration
Watch your body language and tone of voice when saying no
Be respectful of differences of opinion and perspective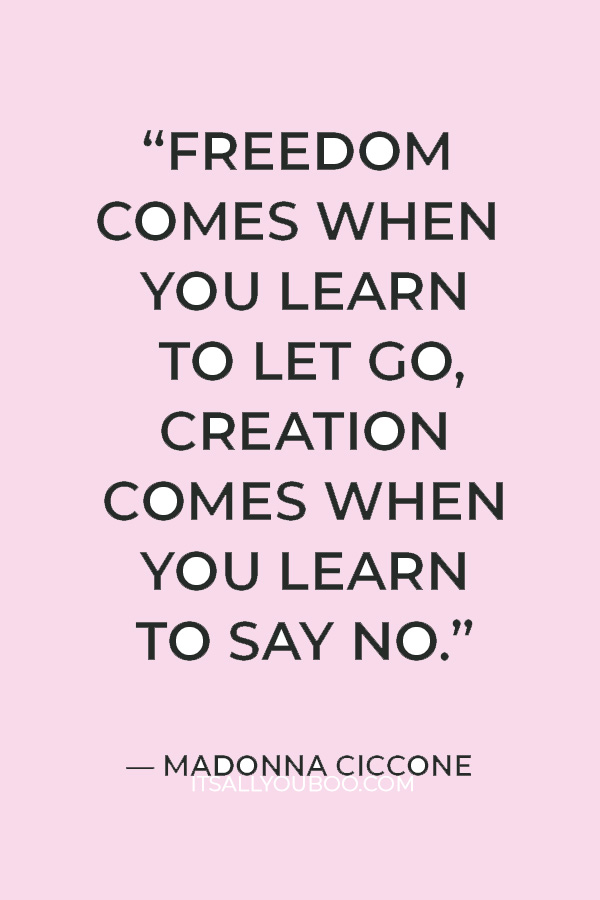 If you keep these things in mind when saying no or setting a boundary, you are more likely to have a positive outcome that avoids hurt feelings or anger. Still, remember that you can never entirely control how someone reacts or how they feel. So if someone is still hurt by what is said or lashes out, and you did everything you could to politely and respectfully set your boundary, it is not your responsibility to control or carry the burden of their reaction.
You can and should respect that the other person's feelings are valid and it's okay if they feel differently than you, but you should not let yourself carry the weight of their emotions as that defeats the purpose of setting a boundary. The goal is to support and respect the other person's feelings and needs while also respecting your own needs.
You are allowed to say no and set a boundary to protect yourself, and you should not have to feel bad or feel guilty for doing so. Part of setting boundaries is learning how to cope with uncomfortable feelings, and this applies to you as much as it does to the person you are communicating the boundary with.
Let's look at some specific examples of how to say no without hurting feelings in different settings or situations:

#1.
How to Say No at Work
Setting boundaries at work is hard for a lot of people, especially when it comes to saying no to a boss or a superior. But you are allowed to set boundaries to support your needs at work, it helps you avoid burning out at work. Just because it's your job does not mean you should be expected to work like an emotionless robot that has no needs.
So, for example, let's say your manager asks if you can stay an hour or two later for your shift for the day, but you cannot. You could respond by saying something like, "I'm sorry, but no, I cannot. I understand that we have a deadline to meet and that you are in a bind, but I have to be home by 5:30 today to take care of something. I can, however, stay later tomorrow or another day this week."
👉🏽  RELATED POST: How To Leave Work On Time Without Feeling Bad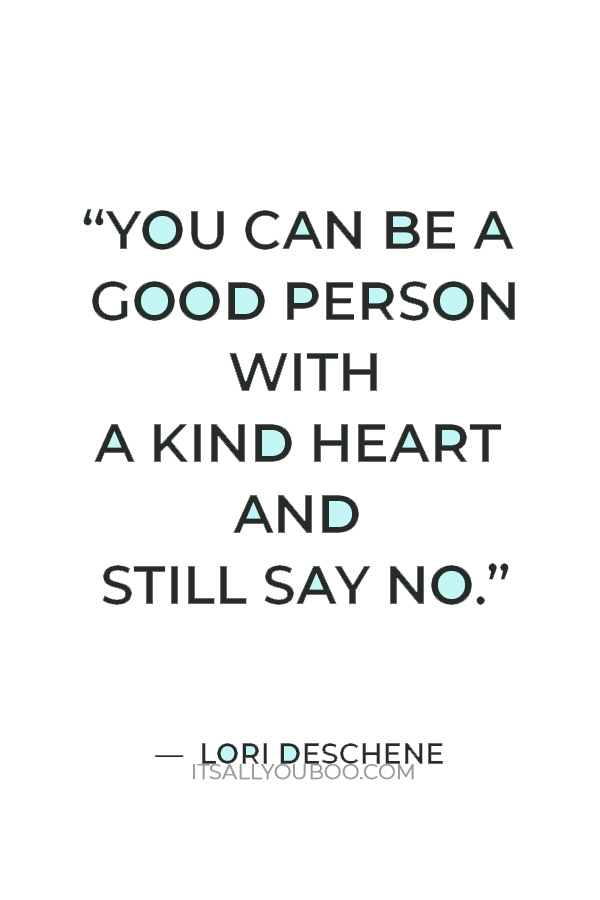 This shows your boss that you understand how they are feeling and that you are willing to compromise by staying later another day, while still setting the boundary your boundary for that specific day.
#2.
How to Say No to Someone You Love
Saying no to someone we love, such as a romantic partner, can also sometimes be challenging. Understandably you want to be there for them and support them, but they should also respect that you have needs as well that might differ from theirs.
So, how do you say no calmly and respectfully when a loved one is demanding something you can't give? For example, what if someone you are in a relationship with asks you to stay the night, but you don't want to or you can't?
You could respond by saying something like:
"I'm sorry, I can't tonight. I know I've been busy lately and you want more time with me, but I have to be up early tomorrow. Can I stay over another night instead?"
Or
"I'm happy you care about me and want more time with me, but I'm not ready to stay the night. Perhaps we could spend an extra day together this week instead of me staying the night?"
Both of these examples show that you see and respect their feelings and that you want to support their needs, but it also effectively communicates your own needs and boundaries and offers a compromise. Keep in mind, however, that you are also allowed to say no without offering a compromise if there is a hard boundary you need to set.
👉🏽  RELATED POST: How to Build Strong Relationships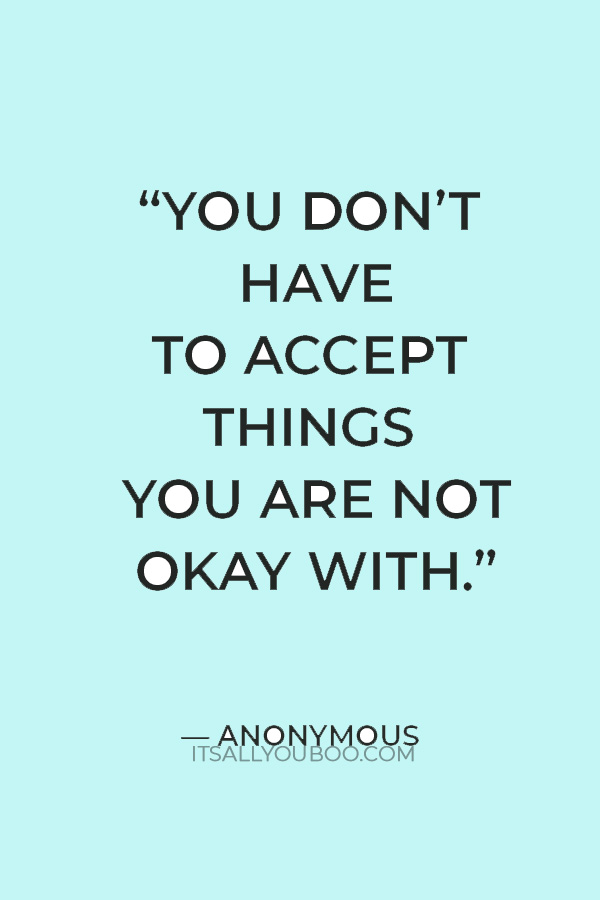 #3.
How to Say No to a Friend
Some people have a hard time saying no to friends, and others don't, but what can be hard either way is learning how to say no without hurting their feelings. Generally, if you are saying no, it's helpful to give a reason and respect the other person's feelings.
You are not required to give a reason, especially if you need to set a hard boundary, but giving a reason and showing that you understand where they are coming from can help to avoid hurt feelings or anger.
So if a friend asks you to come to their party tonight, but you can't or are feeling like you need some more personal time and less social time, you could say:
"I can't. I really need some me time tonight and am feeling burnt out. Yes, I know this party means a lot to you, and I'm sorry I can't make it, but maybe we can hang out another day next week?"
Again, this response sets your boundary but does so in a way that shows you still care about the other person, and it offers up an alternative.
👉🏽  RELATED POST:  How To Not Lose Yourself In A Relationship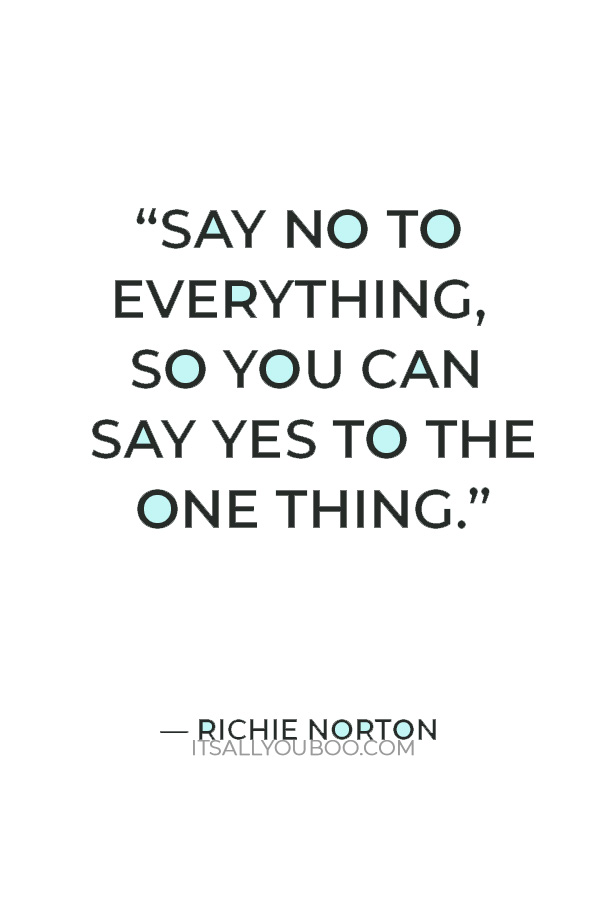 Try Saying No to Someone Today
In the end, there is no one right way to set a boundary or how to say no without hurting someone's feelings. Every person and every relationship is unique. The examples we provided are just for reference and are by no means a hard and fast rule for how to say now.
Get Your FREE Confidence Quotes
Need to courage and confidence to say no? Get your 10 FREE printable self-confidence quotes!
They're perfect for your office, home bedroom, or wherever you need to find inspiration daily. Each design is black and white and features brushed ink letter detailing.
This download comes with 10 high-resolution graphics ready to be printed and posted.
Learning how to set boundaries is not easy and can take time. It's all about diving deep to understand your individual needs and the needs of those you are speaking with, which is not something someone else can thoroughly give you advice on.
Only you know what is best for you. But the tips and information in this article can hopefully help as you learn to understand what healthy communication is and how to set healthy boundaries and say no respectfully.
Stressed out about saying no politely, nicely, and calmly? Click here for how to say no without hurting someone's feelings or feeling guilty. #SayNo #Boundaries #MentalHealthMatters #MentalHealth #RelationshipAdvice

So, how do you say no without hurting someone's feelings?
More About Guest Contributor
Luke Smith is a lifestyle and self-development writer who hopes to draw connections between our social, emotional, and physical well-being. When he isn't writing you can find him traveling or hiking with his dog.
Last Updated on October 9, 2022
✕
Get Your Confidence Quotes
+ get weekly tips to help you slay your goals.