How do you build strong relationships?
What are the keys to a good relationship?
Each and every one of our lives is characterized and often defined by our relationships.
We need each other. Whether that frightens or delights you, it's the truth.
From friends and family to romance and roommates, we all crave healthy relationships.
It's not just about love, but companionship and connection in the workplace or in life.
But at one time or another, we've all faced "broken" relationships. Maybe for you it was your parent's marriage, the loss of a best friend or a painful breakup.
Separations and splits, we've seen it, and of course, we want to be better. To be better friends, better partners, better parents, better children or siblings, better bosses, or even a better coworker.
Not one of us has a relationship that cannot be improved in some way. Tensions arise, friction happens, communication breaks down, these are just a few symptoms of a failing relationship.
So, how do we build strong, positive, healthy, and successful relationships? What even is relationship building?
I turned to 41 relationship experts, from therapists, psychologists, and psychiatrists, to love, sex, dating, and friendship experts asking just that. What is the #1 strategy for building strong relationships?
There's a wealth of relationships advice here, that you will undoubtedly find ways to apply to your own relationships. It's my hope that they have you breathe life into your friendships, romances, and families.
Let's start building stronger relationships. Be sure to click here to get your FREE Building Strong Relationships eBook!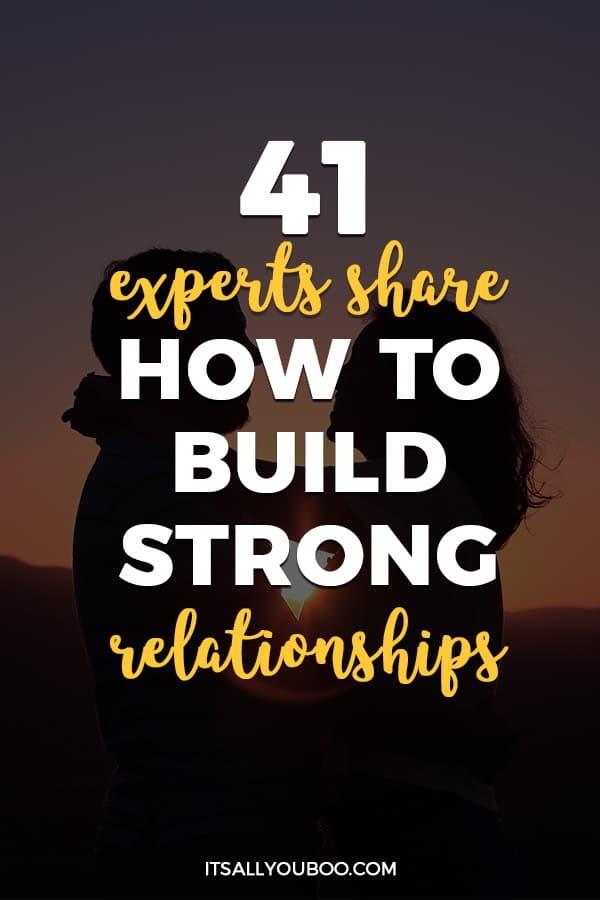 Show Love and Appreciation
How do you build strong relationships that last? What's the best way to show someone we care for them? To improve your relationships, whether romantic or platonic, start by letting the person know how much you appreciate them. How can you should someone how much they mean to you? In what ways can you express your love and appreciation?
#1.

Make them Feel Important and Valuable
#2.
Share Your Daily Appreciation
#3.
Praise Your Partner
#4.
Put in the Effort
#5.
Remember, Love Is An Action
#6.

Show Your Appreciation
#7.

Treat Your Friends Like Sweethearts
👉🏽 RELATED POST:  143 Inspirational Quotes about Love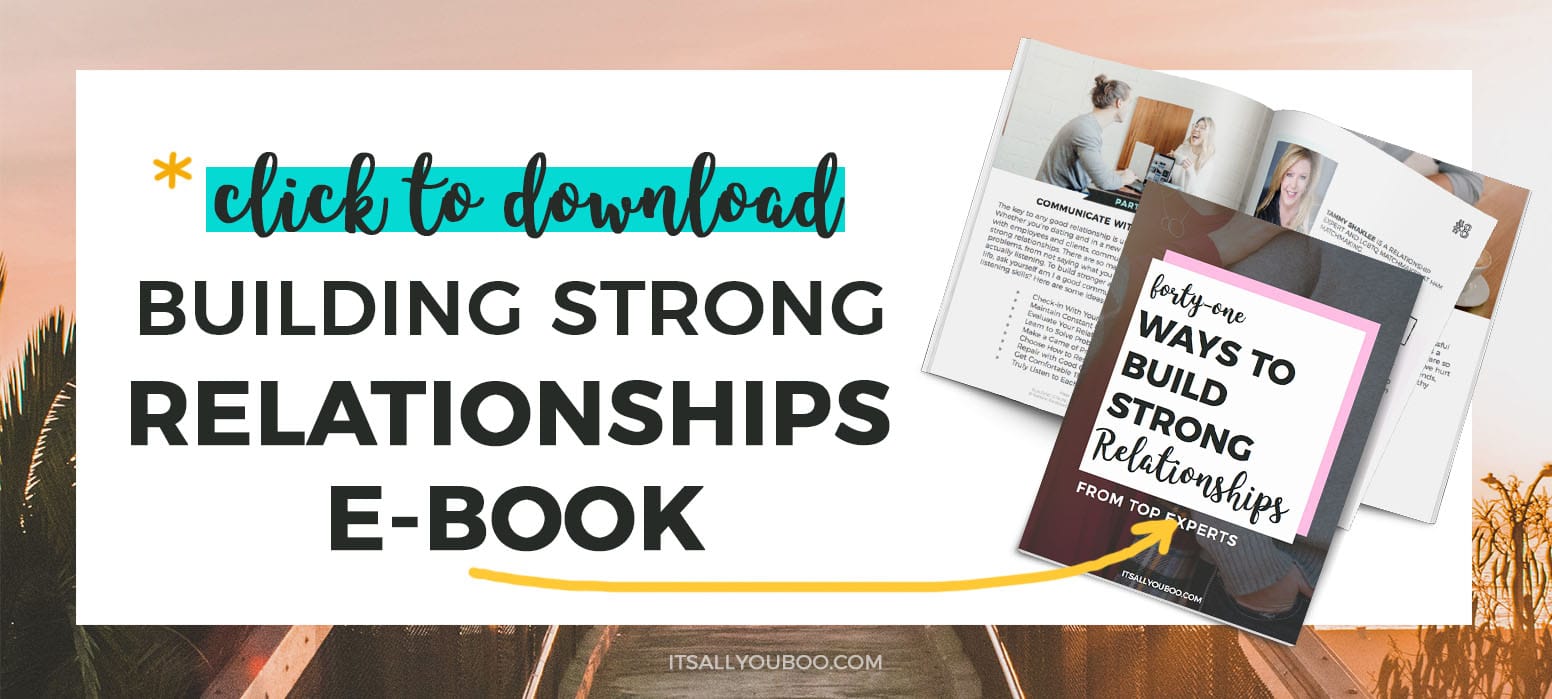 Communicate with Each Other
The key to any good relationship is undoubtedly communication. Whether you're dating and in a new relationship or working with employees and clients, communication is key to building strong relationships. There are so many common communication problems in relationships, from not saying what you mean all the way to not actually listening. To build stronger and better relationships in your life, ask yourself am I a good communicator? How can I improve my listening skills? The following relationships tips can help you with this.
#8. Check-in With Your Partner
#9.
Maintain Constant Communication
#10.
Evaluate Your Relationship Together
#11.
Learn to Solve Problems Together
#12.
Make a Game of Providing Feedback
#13.
Choose How to Respond
#14.
Repair with Good Communication
#15.
Get Comfortable Through Conversation
#16.
Truly Listen to Each Other
👉🏽 RELATED POST: Don't Let Your Goals Ruin Your Relationship 
Be Honest and Trust Worthy
Ask 100 people what they think the foundation of any successful relationship is and I guarantee you most will say trust. There's a reason for that. For must of us, trust and it's cousin, honesty, are so important. Every relationship takes time to build trust, and we hurt when it's broken. To build strong relationships with your friends, colleagues and loved ones, strive to be an honest, trust-worthy person. Not just with your words, but with your actions.
#17.
Always Keep Your Word
#18.
Have Integrity
#19.
Establish Trust and Respect
#20.
Stay Humble and Confident
#21.
Don't Be Sorry, Be Different
#22.
Practice Control Free Parenting
 👉🏽 RELATED POST: How To Not Lose Yourself In A Relationship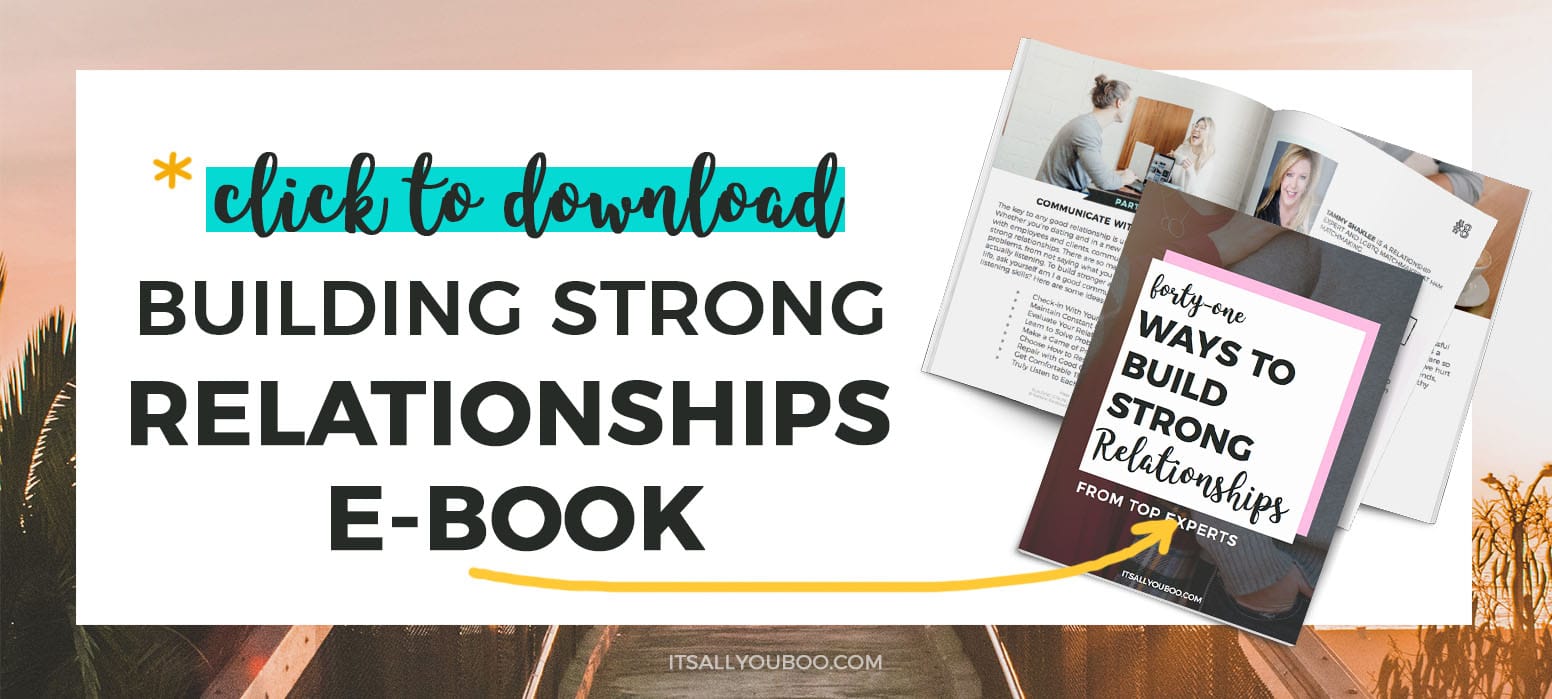 Be Your Best and Complete Self
Want to know one of the best-kept secrets to a successful relationship? It's so simple, you might not believe it. You need to be yourself, your most complete and best version of yourself. For the singles out there looking for love, that means focusing on yourself first. If you're looking to strengthen your existing relationships, continue to work on yourself. Be the best possible version of you. Your friends, colleagues, partners, children and everyone in your life deserve you at your best.
#23.
Know Who You Are
#24. Be Self-Confident
#25.
Be Your Authentic Self
#26.
Become More Self-Aware
#27.
Be Truly Vulnerable
#28.
Keep Learning About Yourself
#29.
Always Give it 100%
👉🏽 RELATED POST: How to Put Yourself Out There in Life and Love
Be More Understanding
How do you build stronger and deeper connections? Stretch and use your empathy and understanding abilities. Be more compassionate, be more understanding! This is especially important if you're prone to broken relationships, romantic or otherwise. Learn to see things their way, to be more in tune with what the other person is feeling, experiencing and facing. That's why to build strong relationships you need to be more understanding. Here's how:
#30.
Become a Great Listener
#31. Cultivate More Empathy
#32.
Recognize The Other's Perspective
#33.
Listen and Give Validation
#34.
Practice Healthy Communication
#35.
Stop Keeping Score
#36.
Face Problems Together
👉🏽 RELATED POST: How to Make New Friends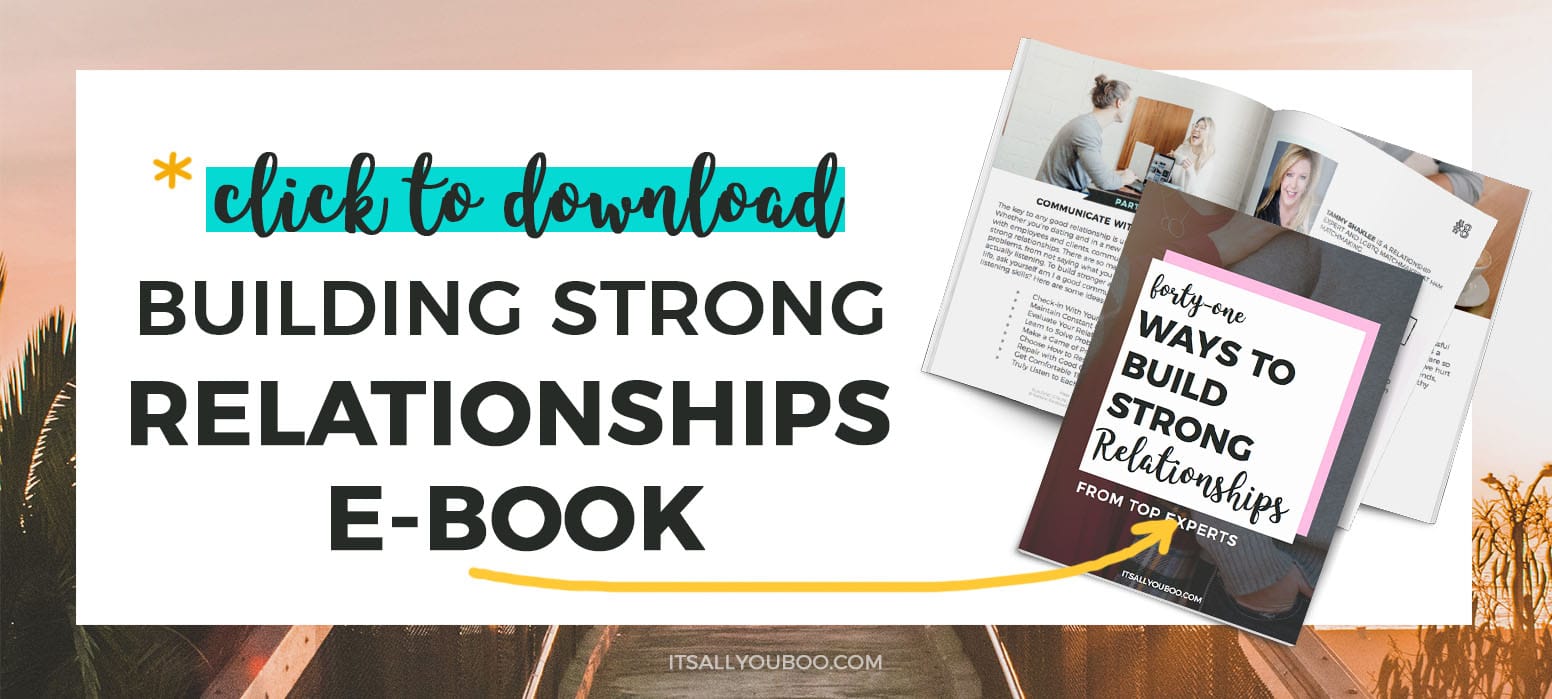 Spend Time Together
If you're ready to invest in your relationships and make them stronger, you need to actually spend time and energy with that person. Relationships don't thrive overnight, you need to put in the time, energy, and effort. It doesn't have to be hard either. Spending time together is easy when you're doing things you enjoy. Here are ways to nurture your relationships by spending time together:
#37. Spend Quality Time Together
#38. Maintain a Healthy Friendship
#39. Meditate Together Daily
#40. Travel Together
#41. Go On Outdoor Adventures
Start Building Strong, Healthy Relationships
What incredible tips for improving your relationships! A special thanks to each and every expert who shared their relationship-building tip with us. You are so appreciated!
If you're looking to work on your relationship and require help, don't be shy, click and connect with any of these relationship experts.
Things can't get better if you don't actually put in the effort and the energy. Relationships don't become successful overnight.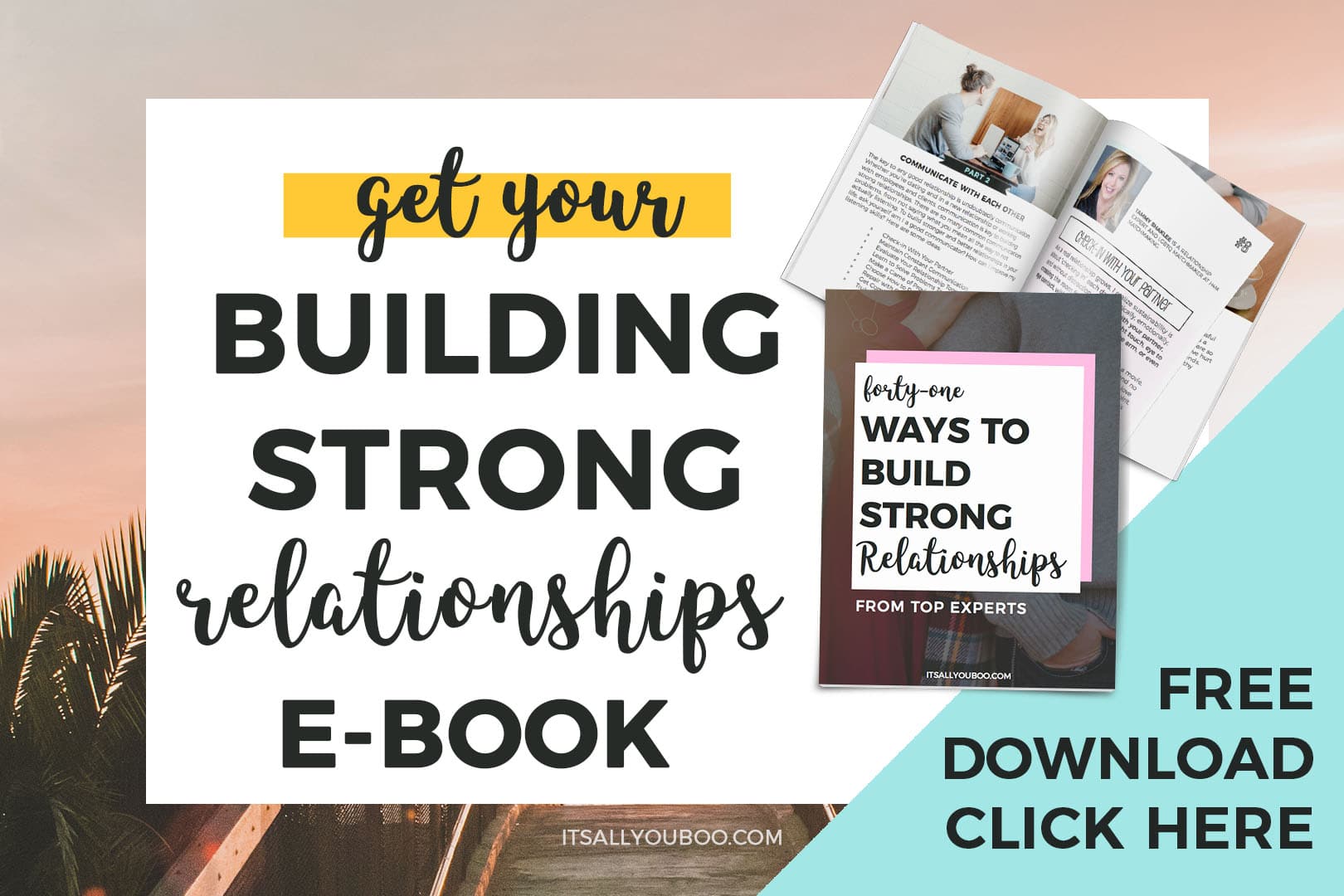 If you're missing an old friend, drifting apart from your loved ones, disconnected from your family, then reach out. Just say hello and go from there.
Start building healthy and happy relationships, at work, at home, and everywhere you go.
Life is beautiful when you have the right people at your side.
If you remember anything make it be this: communication is key in relationships. Start there!
Ready to improve your relationships? Want the keys to good relationships? Click here for how to build strong relationships from 41 relationship experts. #RelationshipGoals #RelationshipAdvice

How do you build strong relationships?
Last Updated on July 31, 2021