What does it mean to lose yourself in a relationship?
How do you develop individuality and improve yourself instead?

I know you have a lot of love in you that you just cannot wait to give to the world – or to the perfect partner.
But before you do that, ask yourself these: Do you love yourself?
Are you prepared to share a part of yourself with someone knowing that you will still feel whole, no matter the outcome?
People unconsciously start to lose their sense of identity or individuality whenever they enter a relationship. One of the main reasons? They have not learned how to fully love themselves.
If you have fully learned to love yourself, you are comfortable with yourself and in your own skin. You do not need constant validation from someone else. You do not need to depend on someone else to make you feel happy and loved.
By fully loving yourself, you do not lose track of who you are while being in a relationship.
But what does it mean to lose yourself in a relationship? And what are the symptoms or indicators to know if you are starting to lose your individuality?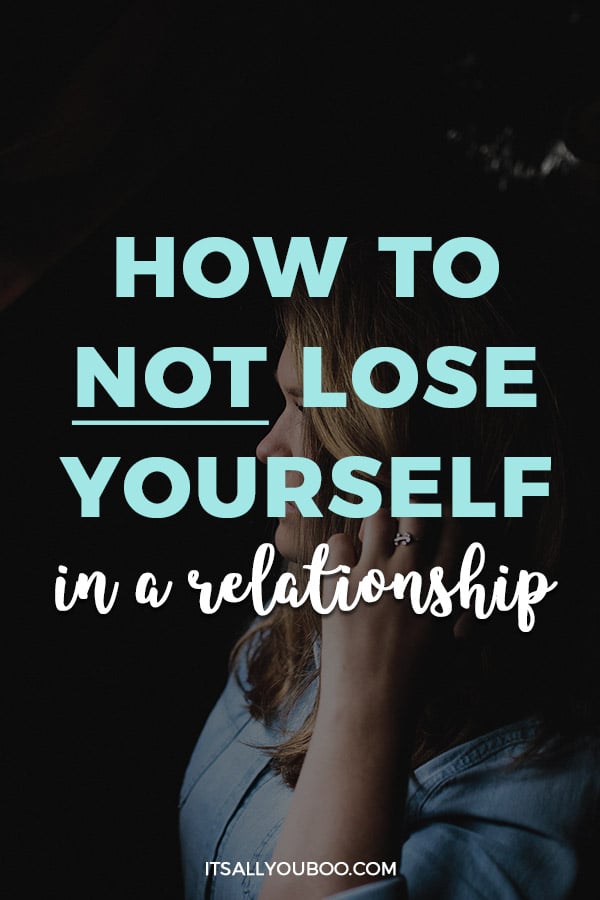 Losing Yourself In A Relationship: Common Symptoms and Indicators
Why do we even lose ourselves in a relationship? Is it even possible? Sad as it may sound, yes you can lose yourself while being in a relationship.
Listed are more top symptoms and indicators which reflects that you are starting to lose yourself and your individuality in a relationship:
#1.
Fear Consumes You
One of the most common factors on why we lose our identity in a relationship is because of fear.
According to Shelly Bullard, Marriage and Family Therapist, as well as Love Coach, that fear makes us doubtful, disoriented and fuels us to act in a way that is not truly us. Most of the time, being in love with someone is when all the doubts, insecurities, and fear come out – but that is only when you do not trust yourself and your partner.
👉🏽 RELATED POST: How to Overcome Your Fear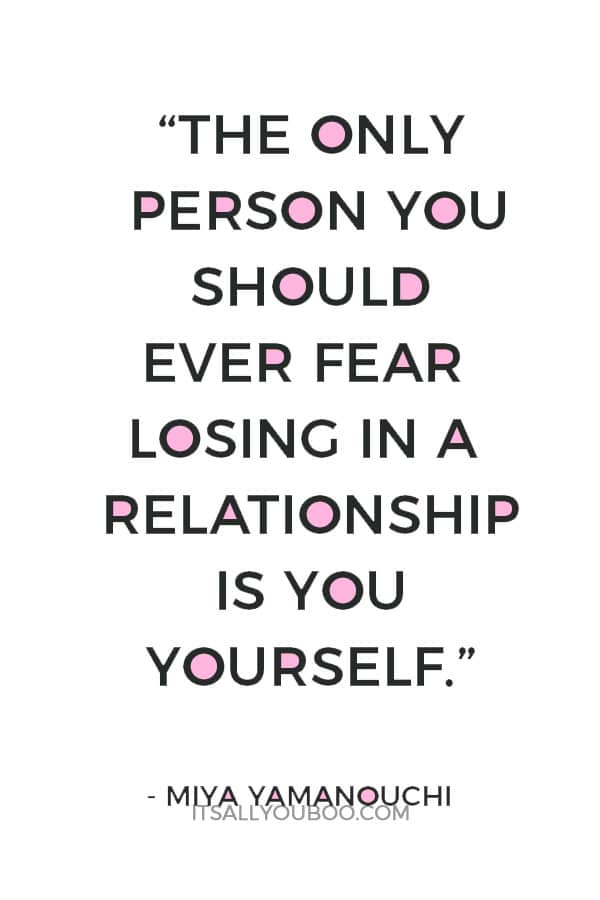 Fear comes out when you become too invested in someone that you start to overthink everything which puts you in an endless loop of negative thoughts and emotions. So be careful to not let your fear consume you and your relationship.
#2.
You're Sacrificing Too Much
If you are sacrificing too much of your time and your interests for your partner's happiness, then you are sacrificing too much of yourself. Have you ignored your hobbies and took up activities that do not interest you at all just to impress your partner? Are you trying to change the way you are just so you can feel validated?
There is a difference between "adjusting yourself" and completely "changing yourself" in a relationship. You entered a relationship because you want to share what you have to your partner – your knowledge, your interests, and your passions – and not conceal who you truly are.
👉🏽 RELATED POST: How to Not Let Your Ambition Ruin Your Relationship
#3.
You Neglect Your Goals and Passion
Remember when you were so full of hope with yourself because you have so many dreams to achieve and goals to conquer? What happened now? You keep on supporting your partner's dreams and goals but what about yours?
Why did you have to put your future on hold just for them? Why can't you achieve your goals together, instead?
If you have started to lose your goals and purpose in life, then do you still know who you truly are? Will your partner still know who you are? Or have you truly lost yourself somewhere in this relationship?

#4.
You Have Too Many "What-ifs"
The endless cycle of "What-ifs" is exhausting and stifling. If your "what-ifs" are usually negative thoughts and scenarios that stems out from your insecurities, then you are unconsciously allowing these thoughts to rule your life and your relationship.
"What if he is seeing someone else?", "What if I am not good enough for him?", "What if he does not love me?", "What if he will change his mind about me someday?", "What if…", "What if…". These thoughts are exactly the reason why relationships do not last. Mindsets like these do not only suffocate you but your partner as well.
Learn to trust your partner and learn to trust yourself enough that you are worthy of being loved just by who you are.
#5.
You are Losing Your Social Life
Oh no, another canceled plan? Are you ignoring your parents' calls again? When was the last time you actually made contact with another breathing human being?
If you think cutting ties with your friends and your family members is a way to establish a longer bond with your partner, then you are just turning your back on more people who love and appreciate you.
👉🏽 RELATED POST: How to Make New Friends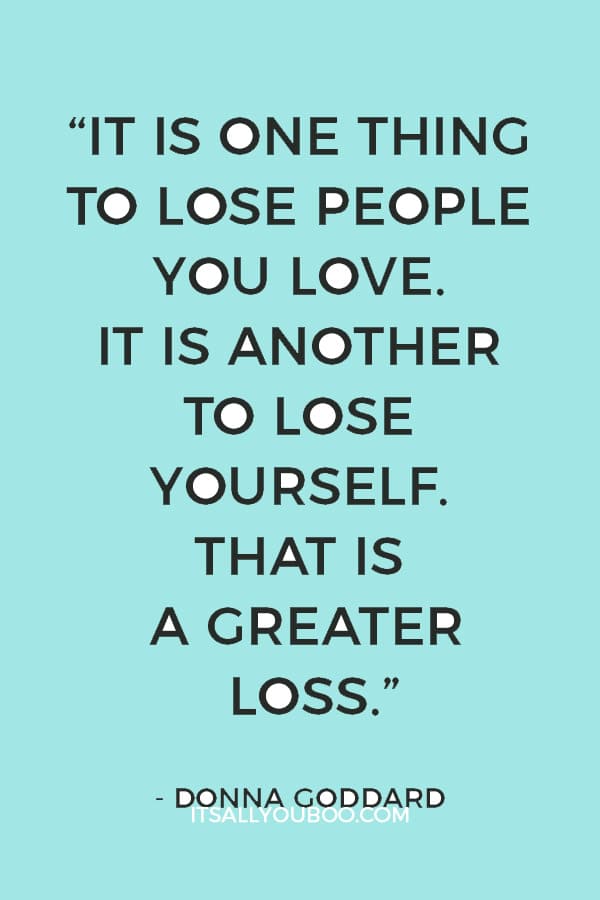 Remember that your relationship does not have to be limited to your partner.
Catching up with your friends is always a breath of fresh air and visiting your family will help you realize that you are being loved in more ways than one.
#6.
You are Losing Time for Yourself
When was the last time you pampered yourself? When was the last time you were truly alone with yourself? Are you actually comfortable enough by just being alone?
What were you before you got into the relationships? What were your interests? Your self-care routine? Are you so focused on your partner now that you are losing track of your wellbeing?
By losing time for yourself, you also slowly become a stranger to yourself. You suddenly do not know what you like or what you hate anymore. The worse thing that will happen? You will just let your partner (or anyone) treat you however they want because you do not know what is acceptable and what is not.
If you want to truly take care of your partner, then you have to take care of yourself first.
👉🏽 RELATED POST: 12 Cheap and Easy Self-Care Ideas
How To NOT Lose Yourself In A Relationship: Strategies and Reminders
Now that all the top symptoms of losing your identity in a relationship are laid out, it is time for you to know the ways and strategies to help you avoid losing yourself in a relationship.
Just establish these strategies within your mind or share this to your partner as well and you are on your way to a healthy relationship that does not require losing your individuality.
#1.
Set Boundaries
Do not let the word "boundaries" scare you off or intimidate you. Boundaries are not walls or any kind of blockage you are placing between you and your partner. These boundaries are just limitations that you will establish so that neither you nor your partner will lose track of yourselves.
These are reminders that you both are your own persons and you have your own preferences and way of living. Setting boundaries will help keep you in line so that you will not lose sight of who you are. These boundaries will help you become more comfortable in your own skin while being in a relationship.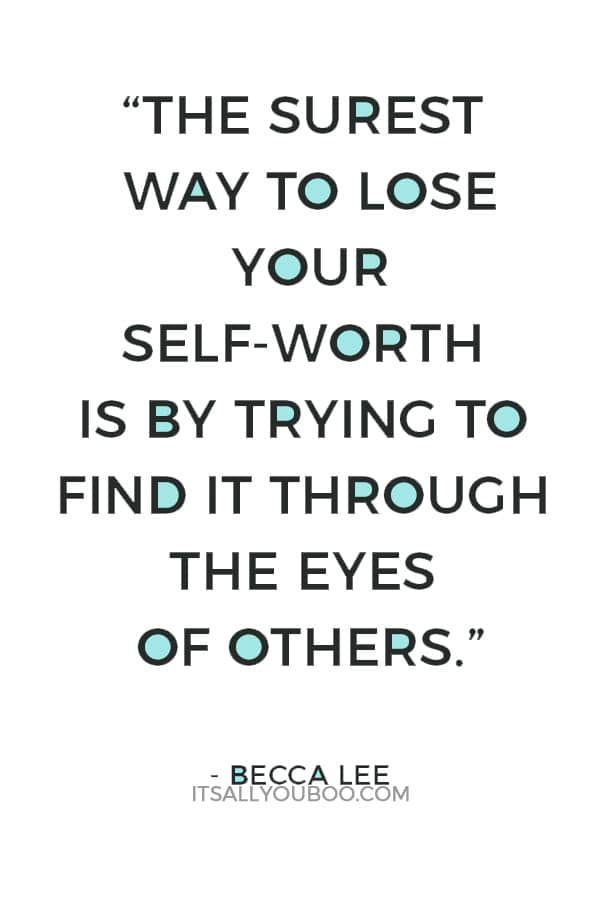 Some examples of simple relationship boundaries are:
Regular texting and calling, but not every minute
Giving space when you/your partner is at work
Avoid regular stalking on social media
Leaving private personal stuff (e.g, journal, text messages, etc.)
Establishing who gets to do the dishes, laundry, house chores per day/week
… and many more
👉🏽 RELATED POST: How to Be Okay with Being Single On Valentine's
#2.
Maintain Your Own Interests
This is a crucial reminder because once you neglect your interests and passion, you start to forget about who you are and what your purpose and goals are.
Lisa Firestone, a clinical psychologist, further supports this by stating that having distinct identities, interests, ideas, and individualities make partners remain interested with each other.
This just means that your partner chose to be with you because they saw something in you that is unique and attractive. So, do not change yourself. Maintaining your interests will help you know yourself more and will help your partner to get to know you more.

Being in a relationship is continuous learning about each other – a constant discovery about each other's interests, knowledge, views, and beliefs. This will help both of you be on your toes because there is so much to learn about each other. And isn't that what makes a relationship exciting?
#3.
Dedicate Time for Self-Care
Some people do not give that much importance to self-care because they think that they do not have "enough time". That itself is a wrong mindset to put on yourself. Self-care does not require you to sacrifice hours – even a few minutes is enough.
A few minutes to write in your journal is already a form of self-care. Reading a few chapters of your favorite book is already self-care. Cooking yourself a delicious meal, sparing some time to meditate, or cleaning your room are great ways to destress and care for your wellbeing.
👉🏽 RELATED POST: How to Spend a Mental Health Day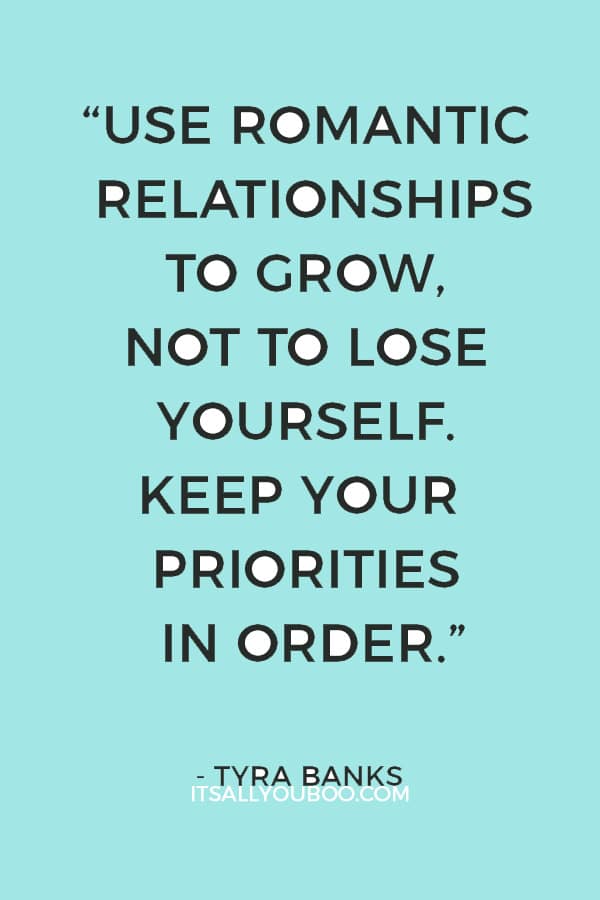 If you have more time to spare, then why not soak in the bathtub? Binge-watch a Netflix series? Or go out and treat yourself with a movie or a new dress? You deserve it.
You do not always have to be in the presence of your partner. You must learn to be comfortable with your own self because, at the end of the day, it is you who truly understand who you are, what you like, and how you feel.
Start Focusing on Yourself, Not Just Your Relationship
I hope the points laid out before you will help open your eyes on the importance of maintaining individuality in a relationship. That it will help you realize the importance of self-love.
May this be a reminder that you do not have to depend on anyone to give you happiness – let it come from yourself instead.
Get Your Free Relationships eBook
Ready to start building better relationships? Get your FREE 40+ page Relationships eBook, with the best relationships advice from top experts.
No sign up necessary, just click below to share this post and unlock your free eBook.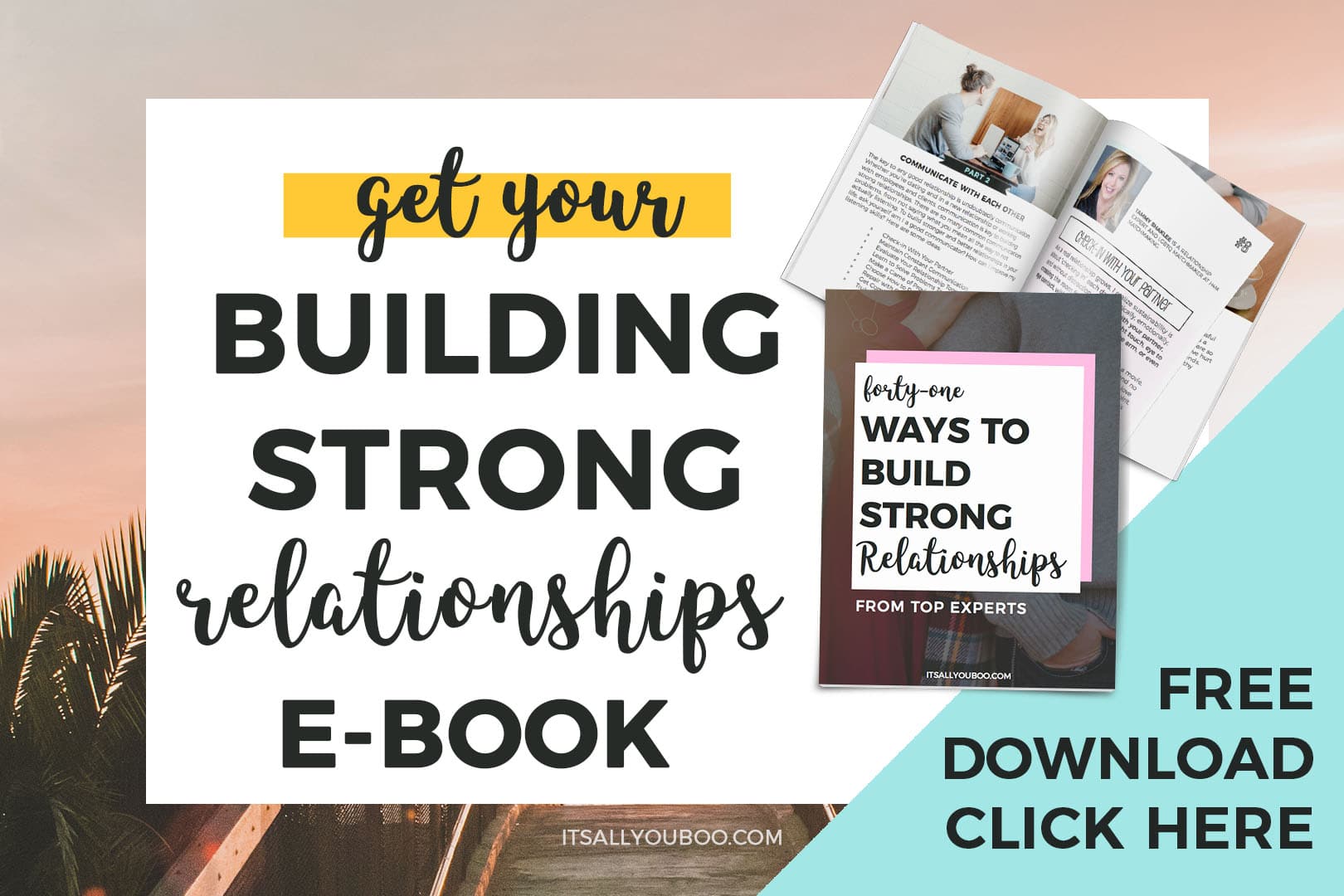 So, before you love someone else with a love that is burning, consuming, and beautiful, make sure you fully love yourself first. Make sure that you will always have someone to go back to when everyone has turned their backs on you.
Make sure that you are always ready to catch yourself, heal your wounds, and start again.
Because girl, no one will have your back more than you do!
Are you in love and losing your individuality? Click here for the warning signs and strategies to help you NOT lose yourself in a relationship. #RelationshipGoals #Relationships #Relationship #SelfLove

How do you NOT lose yourself in a relationship?
More About Guest Contributor
Krisy is a lifestyle and personal growth blogger who is passionate about empowering women, establishing equality, and inspiring people. She also loves petting random dogs and watching the sunset. Connect with her at Kronicles.
Last Updated on July 11, 2021