Is being an introvert a struggle for you? Do you want to know how to survive as an introvert in life?
The first thought that slaps you in the face in the morning is how to change yourself to fit in. You dread leaving the house and having to interact with others. Do you have to spend time in social situations and sweat it?
At the end of every day, you can't wait to go home and recharge… alone. Maybe you wish you could be less introverted and more outgoing. Perhaps being introverted feeds your social anxiety.
Your constant insecurity is who you are.
There's so much more to life than doubting yourself — that constant battle of analyzing everything you did wrong instead of living in the moment and appreciating everything you have.
If any or all of that hits you in the feels, know you're not alone!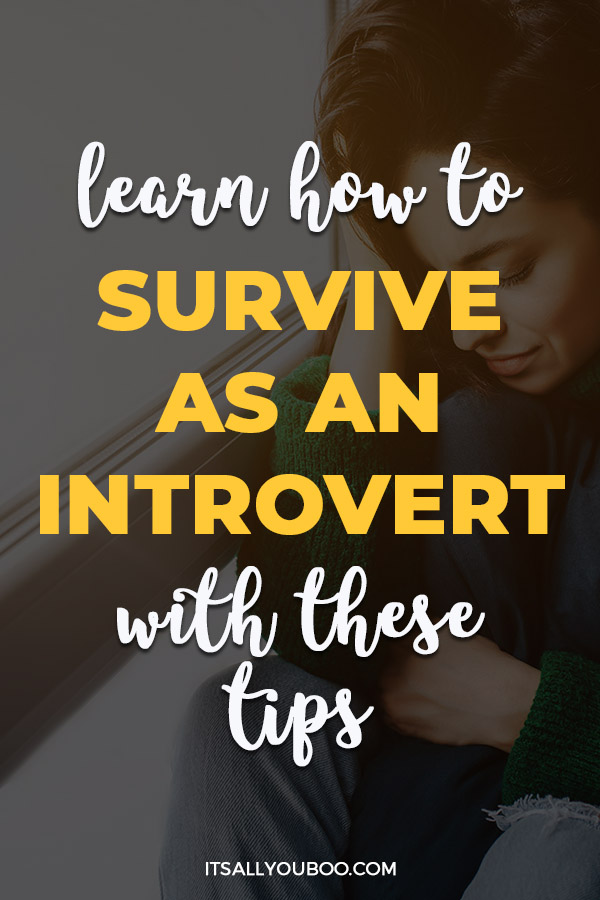 Practical Tips About How to Survive Life as an Introvert
#1.

Stop Apologizing for Being an Introvert
Being an introvert is a superpower most never harness. Heck, it took me YEARS before I realized that I'd lived my life trying to keep up with the extroverts. And, hey! Nothing wrong with that if that's what you really want. But I've always blended in (despite desperately wanting to stand out).
Being yourself is never a curse. It's one of the most beautiful parts of living. If you constantly feel the pressure to join in on the extroverts' noise that we introverts so ardently repel, you'll only get burned out. You'll feel more tempted to hide yourself from social events.
You don't need to 'compete' with extroverts for anything. Apologizing for being yourself is just silly — even if it feels easier to do at the moment.
#2.

Create or Know Your Comfort Zone
The comfort zone gets a bad rap. And I totally get why! But for introverts, this internal space sets us up for a ton of positive things we'll get to in just a bit.
If you're unsure about how to create yours, it all gets easier the more you know yourself. If you're anything like I was even two years ago, that can't happen until you accept who you are.
Comfort zones aren't a place where productivity or creativity go to die. Honestly, they can be a tool. They're familiar. They allow our inner nature to thrive within ourselves.
👉🏽  RELATED POST: Ways to Get Out Of Your Comfort Zone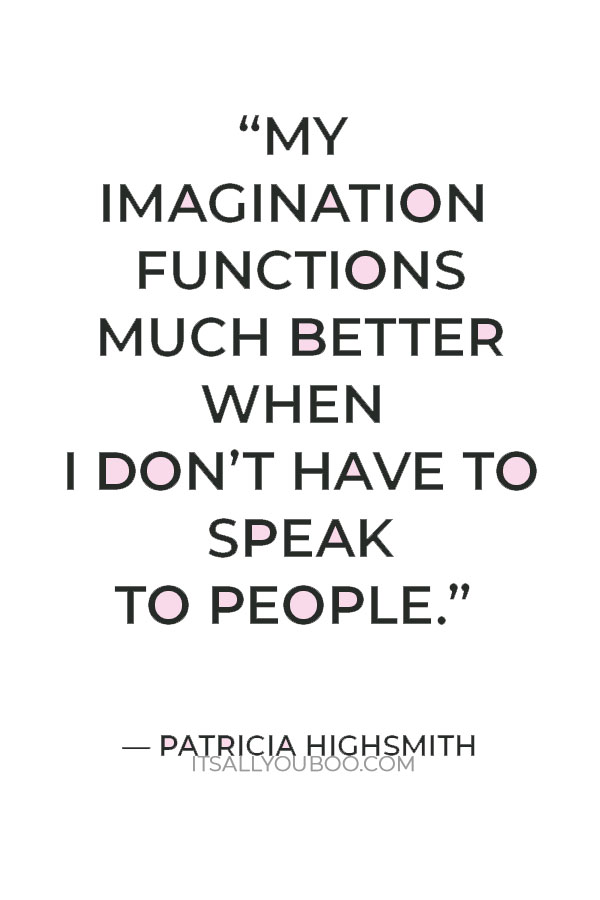 I hate to default to Dr. Google, but this WebMD article about the introverted personality goes beyond the stereotypes. Rachel Reiff Ellis (the article's author) mentions that we're reflective, thrive in creativity (or in our imaginations), and retreat within our minds to rest when overstimulated.
Your comfort zone can be your private space to unwind, decompress, dream, and thrive as a quiet human being. Because, unlike an extrovert's comfort zone, ours is anything but quiet!
#3.

Find Realistic Ways to Challenge that Comfort Zone
Just because you may like to stay inside that comfort zone doesn't mean you should avoid growing, spending time with others, or experiencing new things that might challenge you. I spent years deeply cocooned within mine — to the point it really threatened my mental health.
Just because comfort zones are a mostly positive tool for us to have doesn't make them all the world has to offer. Even introverts need that beautiful human interaction.
I'm not saying to book Madison Square Gardens for your big Mariah Carey special. But you should always find small ways to challenge your norm. You'll invite growth and learning into your life by actually living and exploring it.
#4.

Identify Your Personal Stressors
Introverts are so often slapped with the stereotype (which admittedly might be a bit of a dramatic word to use when referring to introverts) of hating people and never wanting to do things outside of their "comfy" place.
But personality isn't as simple. It's a beautiful, complex spectrum. I wish the extroverted world would stop pigeonholing an entire part of the human population into an introvert.
If you happen to actually hate people (or perhaps more specifically large crows), identifying your triggers can help you adapt, recover, and grow. That starts when you pay attention to how you feel.
👉🏽  RELATED POST: Dealing with Uncomfortable Feelings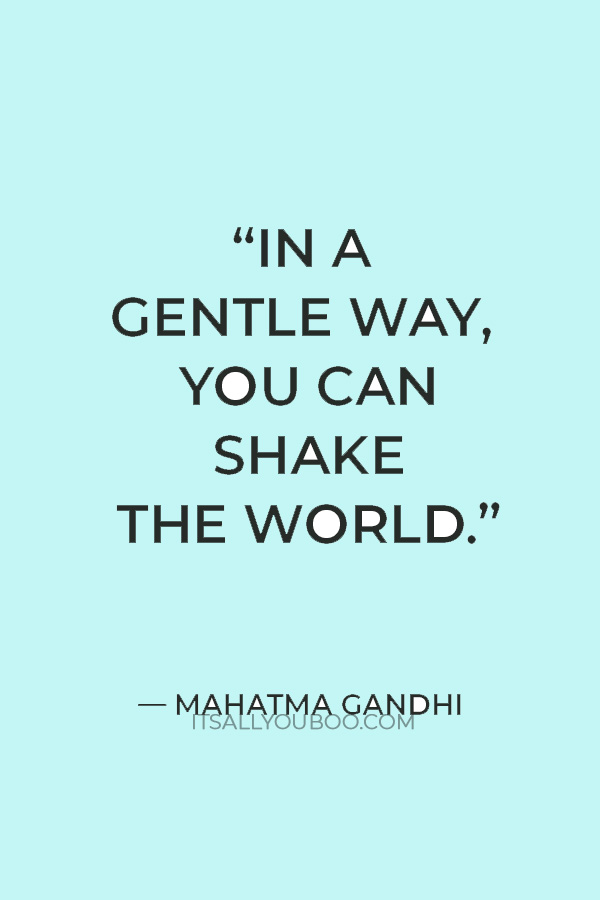 #5.

Practice Saying No More Without the Guilt
(I almost didn't include this one, but I'm going to call myself out here.)
Let's talk about saying the word 'no' more often. There's a Himayalan-sized knife in my achy heart right now. How's that for drama?
For me, I feel the guilt is buried in my DNA anytime I utter that single syllable. As an introvert, though, it's become almost like a safe word for my anxiety.
I tend to put myself in situations where I quickly get overloaded, burned out, and overwhelmed. My precious personal time evaporates when I say 'yes' too often.
Saying no really can be a precursor to positive things. Things like time to yourself, time to pursue your passions or interests, and even time to decompress when you need it most.
Taking yourself out of the equation every now and then doesn't make you a selfish person. It allows you the space you need to recharge.
#6.

Embrace Your Natural Strengths
Inside of you lies so much strength. But using them — even just seeing them as a strength — can be difficult. This article by Time really lays out most of my favorite natural ones we introverts have:
We know how to listen to others. So much of how humans communicate happens nonverbally. I've found that truly listening to others allows me to see (and receive) information that others can't.
We connect with people on a deeper level. We're not programmed to handle too many people because most of our relationships are intimate rather than shallow.
We're compassionate. We're naturally prone to lifting up our team members rather than taking the spotlight ourselves. We can see between the lines and perceive things that otherwise get missed.
👉🏽  RELATED POST: Want A More Confident Mindset?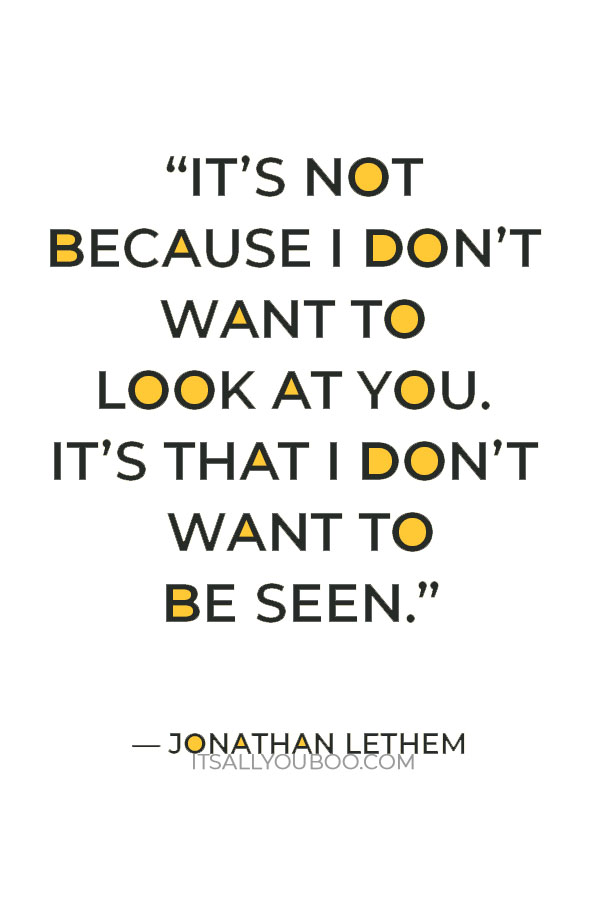 #7.

Don't Be Afraid to Ask for Help
There's a strong link between introverts and independence. We're a stubborn lot. And I think that can lead us to Trouble. (Yes the capital 't' is intentional.)
Asking for help isn't a sign of weakness. Actually, it's almost a blatant admission that we find it hard to trust others. In my case, that's true!
We endure quite a lot emotionally, mentally, and even physically. Help is how we can navigate those thoughts, feelings, and emotions in a healthy way. Help is a way you can honor yourself by honoring your time.
#8.

Use Social Media in Ways that Support Your Nature
You either LOVE social media, or you turn your nose up to it. I'm in Camp Hate It most days, but I do flip-flop between both sides.
Social media links you to the whole world. Inherently, that means you invite more eyes than you'd like onto you, your life, or your business. I'm a fan of taking intentional social media sabbaticals, personally.
I'm always active somewhere, but I'm never everywhere all at once. I've tried that strategy, and burnout is how that story ends. Being an introvert online doesn't have to be hard, though. There are several ways to market yourself as an introvert on social media, using it to your advantage.
#9.

Find Your People
Out of all the tips here, this one's the most important for how to survive as an introvert. You need to find your people! You might feel stuck when it comes to making genuine connections with strangers. Here are a few of my favorite ways to create authentic, meaningful friendships:
Start by joining communities online.
Join a new club focused on an interest of yours.
Volunteer for a cause you're passionate about.
Every single one of those scenarios has one thing in common: an icebreaker! For example, if you join a Spanish club to brush up on the language before your vacation across the pond, you'll instantly be surrounded by people interested in learning or practicing Spanish.
Despite being a natural at self-isolation and independence, having a supportive network is crucial for everyone. Having a friendly face in your vicinity is always a quick way to dispel overwhelm no matter where you're at.

👉🏽  RELATED POST: Best Apps to Make Friends Around the World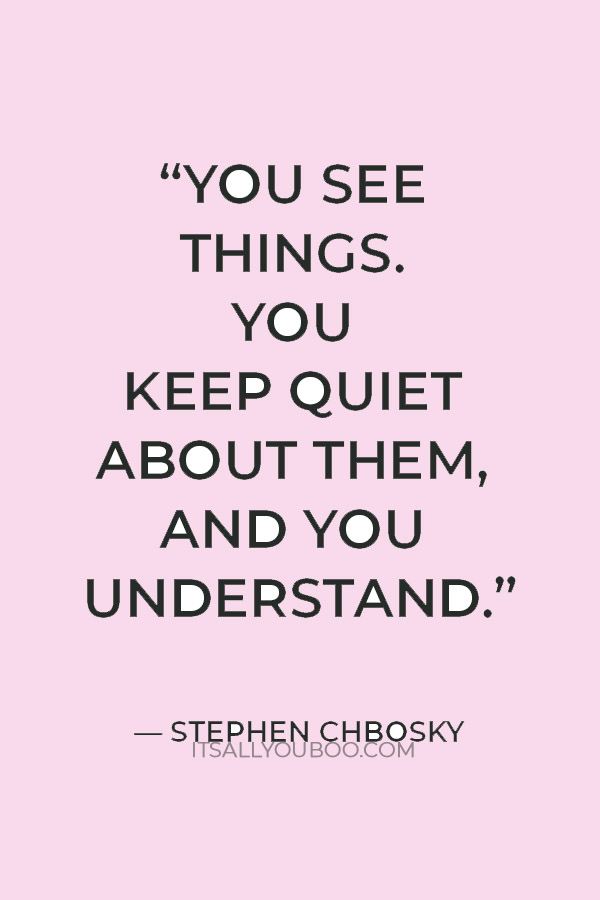 #10.

Speak Up and Express Yourself to Build Confidence
Part of building up your confidence is broadening your comfort zone. One way to do that is to speak up when you're in conversations. That might even mean expressing yourself depending on who you're with or what you're talking about.
Confidence as an introvert is like a warrior with armor on. Although it's not impenetrable, it helps that warrior race to battle knowing he's protected to some capacity.
Speaking your truth can also help attract your people. I won't tell you to get over being quieter around others. You just need to practice articulating yourself — be it your thoughts, feelings, or passions.
#11.
Plan Ahead for Things that Trigger Anxiety or Overwhelm
Lastly, planning ahead of time can definitely help improve or completely quell the onslaught of any anxiety large groups may bring you. Anxiety is a weight that won't ease for me.
If you know you need to make an appearance at a birthday party, a school dance, a work event, or even a weekend with your family, do as much planning as you possibly can.
Plan out your exit strategy when you begin to feel overwhelmed.
Find out who you know will also be there.
Learn the layout of the venue (if you can).
Strategize a couple of casual excuses to get out of an awkward situation.
As weird as it might seem, the better you plan, the better you'll feel in the moment. Planning is a tool you can use to your advantage. Part of this requires you to know your bigger social triggers, though. So if you haven't already, take the time you need to figure that out ahead of time.
👉🏽  RELATED POST: How to Put Yourself Out There in Life and Love
How to Be An Introvert in an Extrovert World
Most days it feels like we're trapped in an extrovert's world. But it doesn't have to! You can make small strides to carving out your place in the world outside of yourself or wherever you feel most comfortable and safe.
Here are a few more tips on how to survive as an introvert:

How to Survive as an Introvert at Work
The workplace rewards extroverts. After all, it's not called office politics for no reason. The most connected, vocal, and confident are usually the ones getting those promotions, special projects, and such. But those three traits aren't extrovert-exclusive.
If you're a little wary of starting conversations with people at work, one of the easiest ways I've found to make more than a few allies and friends at work is to decorate your desk with things you love or are passionate about.
For me, my desk is decked out in all things nerdy: Pokemon, Harry Potter, Marvel, etc. These items belong to very passionate (and popular) fandoms. Just having these things help others ask questions about them. They're my social icebreakers for the fellow nerds of the office as well as those who are just curious.
If you don't have a desk, wear a backpack with pins of your favorite movies, books, or TV shows. It doesn't have to be flashy.
Beyond expanding your pool of acquaintances, allies, or friends, you should always challenge yourself to let your talents shine. You might not be as loud as those extroverts are. You might not radiate their confidence, either. But your ideas are so beautiful. Let yourself shine in the work you do.

👉🏽  RELATED POST: Self-Care Goals Ideas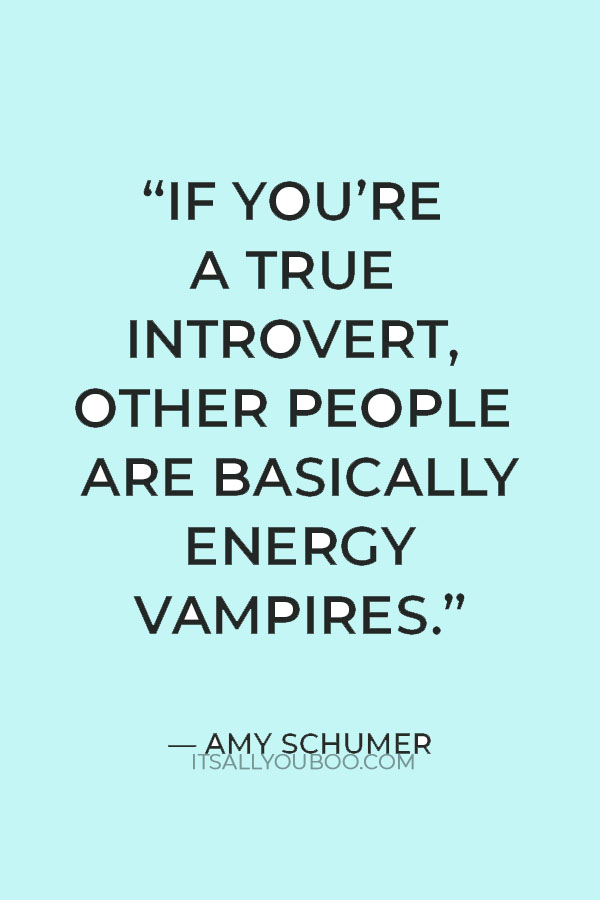 How Difficult is the Life of an Introvert?
Living life as an introvert can be difficult. It certainly poses its own unique challenges, curve balls, and awkward moments. Being an introvert isn't a curse or something you should feel the need to overcome.
There's nothing wrong with you.
But that doesn't mean it isn't frustrating to see everyone else so easily communicate, thrive in larger crowds, or be the center of attention. With the right tools, you can sidestep those sticky situations.
Get Your Self-Confidence Quotes
Ready to embrace being introverted? Get your 10 FREE printable self-confidence quotes!
They're perfect for your office, home bedroom, or wherever you need to find inspiration daily. Each design is black and white and features brushed ink letter detailing.
This download comes with 10 high-resolution graphics ready to be printed and posted.
One thing is certain, though. You'll be miserable if you try to keep up with the extroverts. They move at a different speed than us introverts. That's NOT to say that's good or bad. It's just what is. Introverts don't have to compete with anyone, focus on yourself!
If you choose to design an intentional life filled with people and things that bring you joy, life as an introverted person won't be as difficult as it can sometimes be.
Struggling to survive as an introvert? This is how to survive as an introvert in an extrovert world, including tips for work by @TheCopySloth. #Introvert #MeTime #MentalHealth

Any other tips on how to survive as an introvert?
More About Guest Contributor
Hey, introvert! You have so much to say. Let's get your voice heard online in a way that actually feels good + flows at your pace. I'm Aubrey McShan, a nerdy, thirty-ish, and thriving copywriting and content marketing nerd slash dad joke aficionado. I've written for clients ranging from multi-billion-dollar brands to small digital agencies over the past 9 years. These days, I run The Copy Sloth blog — your hub for all things introvert marketing and copywriting!
Last Updated on May 28, 2023
✕
Get Your Confidence Quotes
+ get weekly tips to help you slay your goals.