Looking for inspirational Happy Easter quotes?
Want the best happy spring sayings and wishes?
Spring has sprung and Easter arrives shortly after.
The world is literally abuzz with life. As cute creatures come out their holes and plants start to bud. The snow is almost gone and you almost smell the possibilities and opportunities of spring in the air.
There are an intangible excitement and happiness that comes with Spring's arrival. Can you feel it? Are you ready for rebirth, new life and all the best spring has to offer?
Whether you're the religious type or not, Easter still holds significance. Celebrated shortly after the Spring Equinox, everything about the history of Easter, even the bunnies and the chocolate eggs, symbolizes rebirth.
It's not hard to draw parallels between the earth's yearly cycle to our own lives. We have ups and downs, failures and successes. That is simply how things are. But Easter and spring remind us that no matter how bad things get, how hopeless and dead they may feel, life is just around the corner.
That even the dreams we have for our lives that are buried deep in our hearts may still come to pass and become reality. That's the power of springtime, that's the story of Easter for all of us.
So, to celebrate the season of hope and rebirth, here are 54 inspirational happy easter quotes and spring sayings. May your spring be glorious and filled with joy.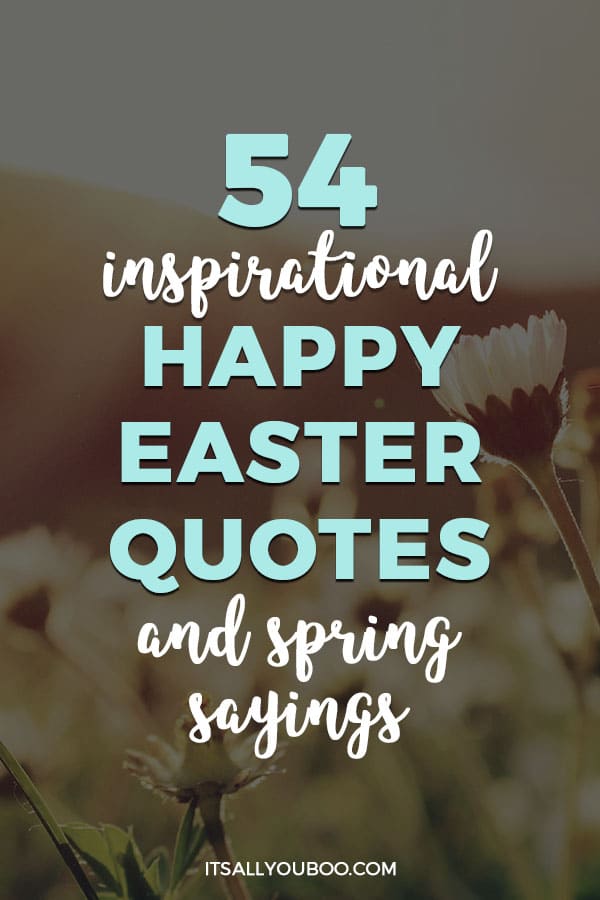 Inspirational Second Chance Easter Quotes
What is Easter all about if not second chances? No matter what you believe, spring and Easter mark a new season of rebirth and resurrection. The following inspirational Happy Easter quotes illustrate the promise and celebration of rebirth! How will you use this second chance?
"Spring is God's way of saying, 'One more time!'" ― Robert Orben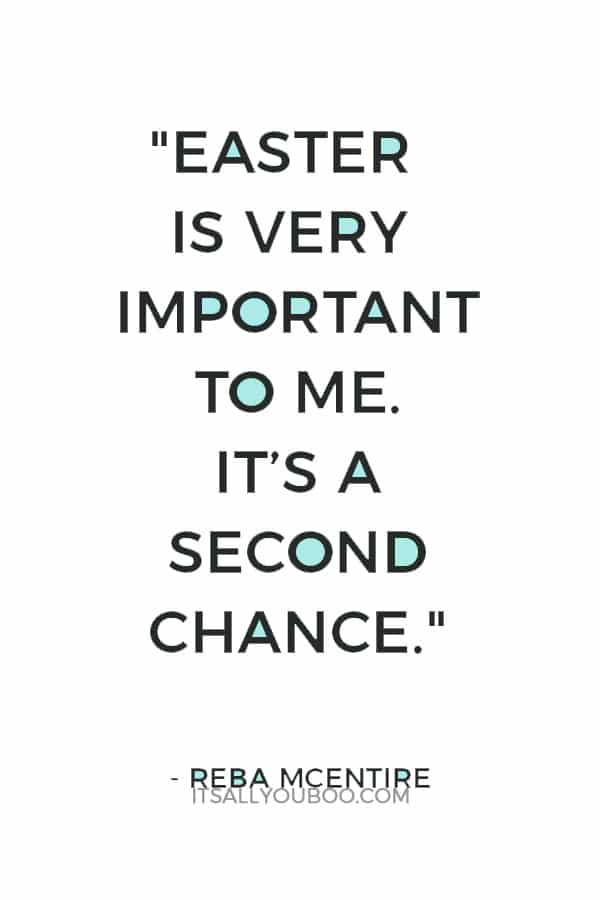 2. "Easter is very important to me. It's a second chance." ― Reba McEntire
3. "Our Lord has written the promise of the resurrection, not in books alone, but in every leaf in spring-time." ― Martin Luther
"Today we celebrate the gift of victory over every fall we have ever experienced." ― Jeffrey R. Holland
5. "Could life so end, half told; its school so fail? Soul, soul, there is a sequel to thy tale!" ― Robert Mowry Bell
Easter Quotes about New Life in Spring
Can you feel it? Life is coming awake all around you. Birds are literally chipping and new life stretches towards the sun. What was dead and dormant is now awake and alive. This collection of inspirational Easter quotes shares the story of new life and new creation in springtime. How will you embrace your new life this spring?
"A rebirth out of spiritual adversity causes us to become new creatures." ― James E. Faust
7. "Easter spells out beauty, the rare beauty of new life." ― S.D. Gordon
👉🏽 RELATED POST: 39 Amazing Quotes to Boost Your Confidence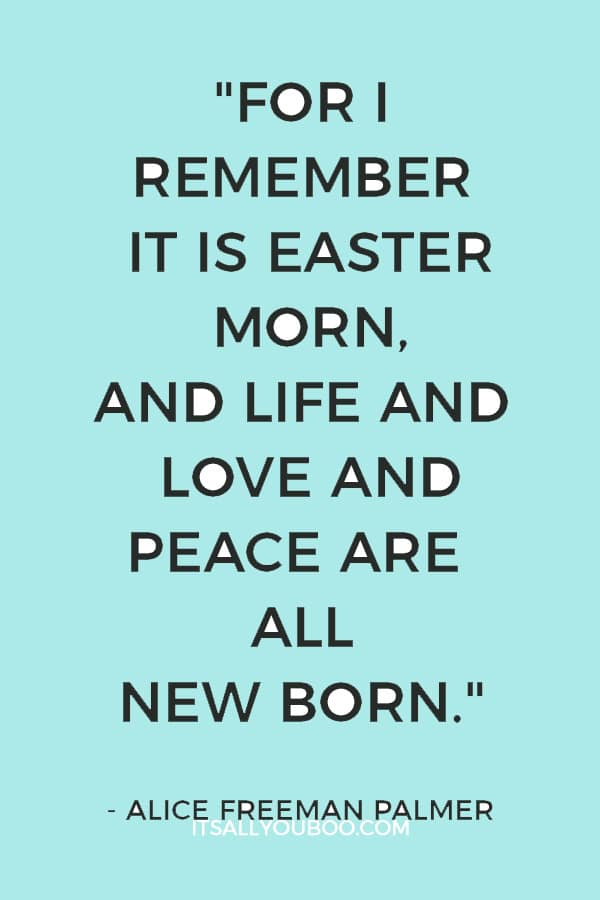 8. "For I remember it is Easter morn, and life and love and peace are all new born." ― Alice Freeman Palmer


9. "The Easter eggs symbolizes our ability to break out of the hardened, protective shell we've surrounded ourselves with that limits our thoughts and beliefs. As we break open our hearts and minds we discover a transformation to new, life enhancing thoughts and beliefs." ― Siobhan Shaw
10. "Oh, Spring! I want to go out and feel you and get inspiration. My old things seem dead. I want fresh contacts, more vital searching." ― Emily Carr
Spiritual Easter Quotes about Hope and Joy
Can you feel the hope and the joy of springtime? There is happiness in the air surrounding Easter. A sense of hope and renewal, a reason to just smile and be happy for your future. Easter reminds us to be positive no matter what. The following Happy Easter quotes remind us to have hope that life and love are eternal concepts. That life is eternal and endures no matter what.
"The day the Lord created hope was probably the same day He created spring." ― Bernard Williams
12. "Easter is meant to be a symbol of hope, renewal, and new life." ― Janine di Giovanni
👉🏽 RELATED POST: Motivational Spring Cleaning Quotes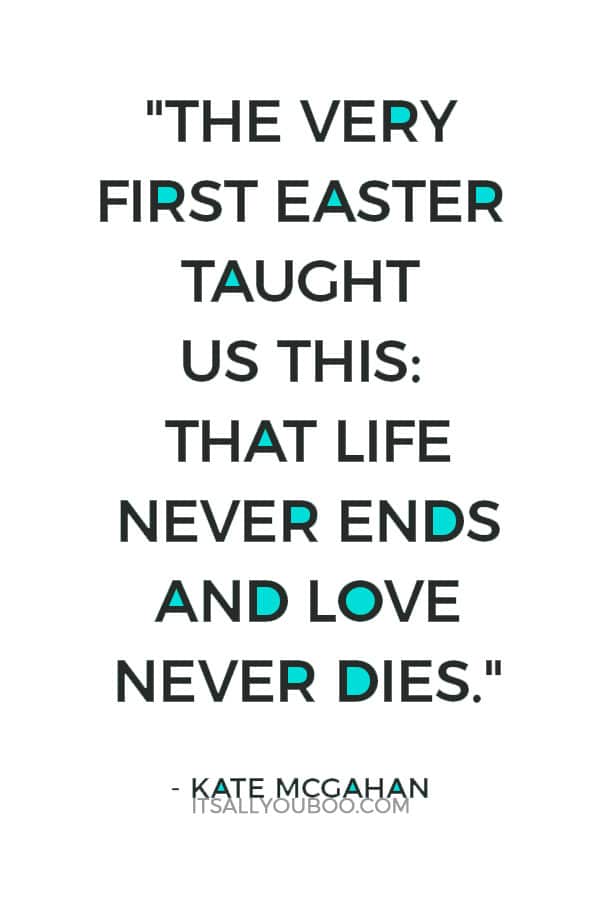 13. "The very first Easter taught us this: that life never ends and love never dies." ― Kate McGahan
14. "The great gift of Easter is hope." ― Basil C. Hume
15. "On Easter Day the veil between time and eternity thins to gossamer." ― Douglas Horton
"Faith makes all things possible… love makes all things easy." ― Jeffrey R. Holland
17. "Do not abandon yourselves to despair. We are the Easter people and hallelujah is our song." — Pope John Paul II
Cute and Funny Happy Easter Quotes
What are your Easter traditions? Do you eat too much chocolate, paint eggs, or perhaps share a giant meal with your family? No matter how you spend the day (in reverence or celebration), you'll appreciate the following funny Easter quotes and sayings. Each of them makes us smile at the memories of Easters past.
"Easter is the only time when it's perfectly safe to put all of your eggs in one basket." ― Evan Esar
19. "I still believe in Santa, the Easter Bunny, the Tooth Fairy and true love. Don't even try to tell me different." ― Dolly Parton
20. "My mom used to say that Greek Easter was later because then you get stuff cheaper." ― Amy Sedaris
21. "Here's the problem with Easter. The Catholic Church needs to pick a date because it keeps moving. And I think the reason they always have Easter moving to different dates is to catch us." ― Denis Leary
👉🏽 RELATED POST:  37 Inspirational Gratitude Quotes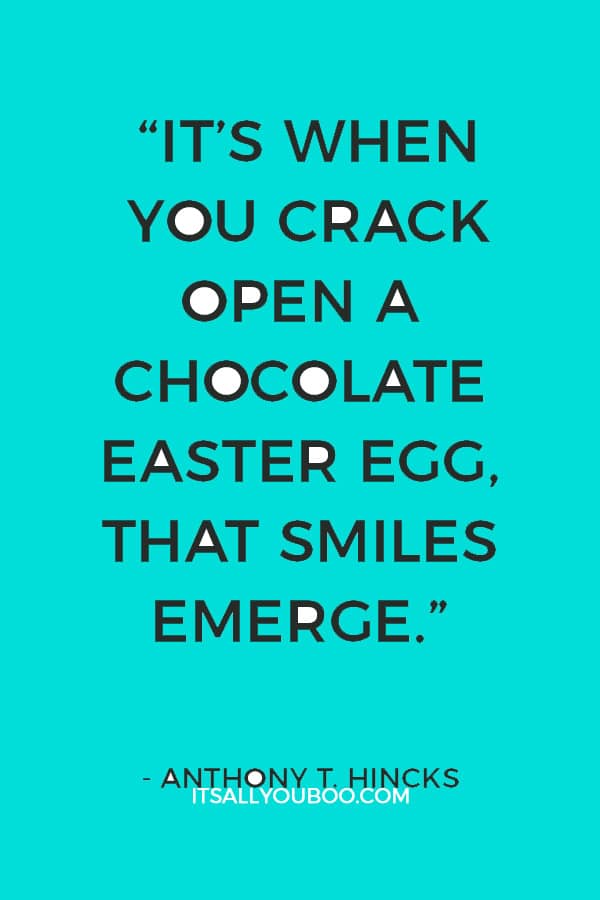 22. "It's when you crack open a chocolate Easter egg, that smiles emerge." ― Anthony T. Hincks
23. "Easter is one of my favorite holidays with the kids. They get to run loose, and we always have our family and loved ones all around us!" ―Camila Alves
"Easter is an arts and crafts moment where your whole family and friends can get involved." ― Alex Guarnaschelli
25. "Most people outside of America won't get it. It's the Easter bunny. It's another lie and I don't understand why we had to invent this character." ― Todd Rundgren
Happy Ressurection Sunday and Easter Quotes
Whether you're religious or not, you likely know the story of Easter. This celebration is all about death and rebirth. What died and was buried does not stay dead and nature illustrates this unending cycle. The following inspirational easter quotes share the message of Ressurection Sunday. How will you rise in rebirth this year?
"Easter says you can put truth in a grave, but it won't stay there." ― Clarence W. Hall
27. "Earth's saddest day and gladdest day were just three days apart." ― Susan Coolidge
👉🏽 RELATED POST: 45 Uplifting Quotes for When You Feel Like Giving Up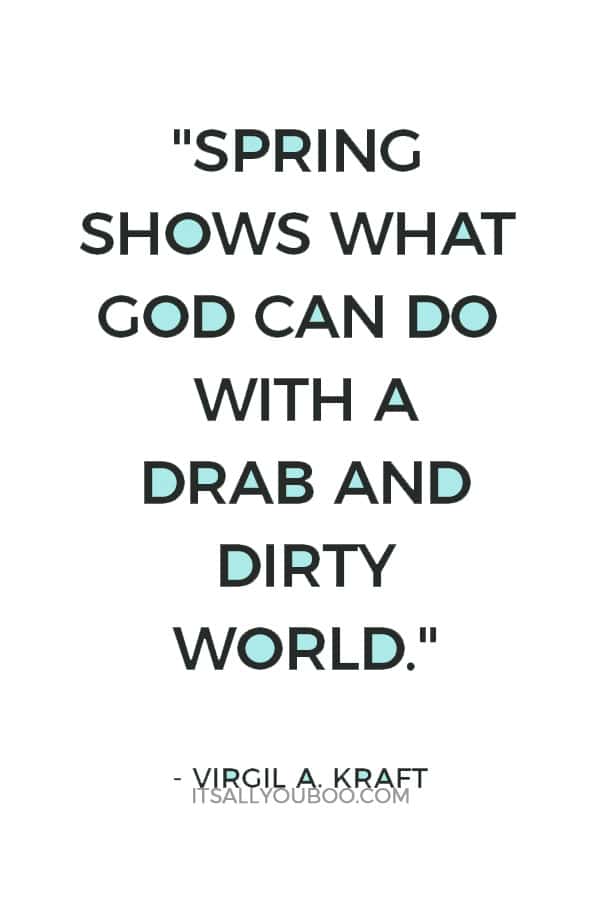 28. "Spring shows what God can do with a drab and dirty world." ― Virgil A. Kraft
29. "Easter is a time when God turned the inevitability of death into the invincibility of life." ― Craig D. Lounsbrough
"Easter is a time to rejoice, be thankful, be assured that all is forgiven so life extends beyond the soil of earth." ― Byron Pulsifer
31. "They say it's better to bury your sadness in a graveyard or garden that waits for the spring to wake from its sleep and burst into green." ― Conor Oberst
32. "In spring, the dead trees, roots, and animals come to life again exactly as they were, thus providing hundreds of thousands of examples, specimens, and proofs of the supreme resurrection." ― Said Nursi
33. "The madness of spring is so enticing. I love it when things are opening up and emerging from the ground. I also love the middle of summer when fruit is bursting forth, but I even love the garden in the winter when everything is resting." ― Ross Gay

Inspirational Quotes about Gardening and Planting
Tis' the season for rolling up your sleeves and getting into the dirt. Digging and planting, so we can sow and reap in the Autumn season. Springtime and Easter is a time for gardening, our gardens but also our lives. We spring clean our lives so we can experience personal growth. This collection of inspirational spring sayings encourage us to plant and garden.
"To plant a garden is to believe in tomorrow." ― Audrey Hepburn
35. "Gardening the fine art of soul to soil" ― Jan Bills
36. "We may think we are nurturing our garden, but of course it's our garden that is really nurturing us." ― Jenny Uglow
👉🏽 RELATED POST:  19 Powerful Quotes that Motivate You to Start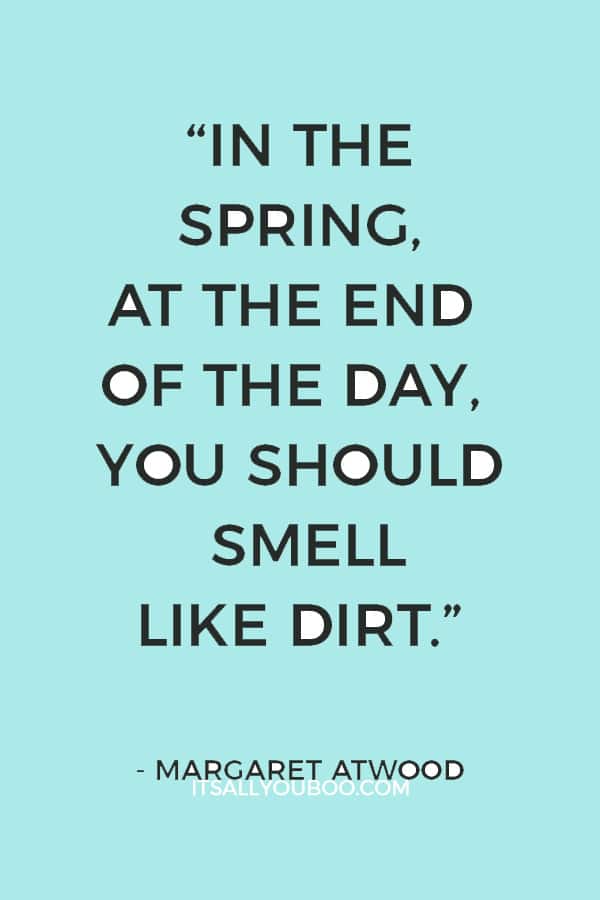 "In the spring, at the end of the day, you should smell like dirt." ― Margaret Atwood
38. "Spring is the time of plans and projects." ― Leo Tolstoy
"The garden of love is green without limit and yields many fruits other than sorrow or joy. Love is beyond either condition: without spring, without autumn, it is always fresh." ― Rumi
40. "I trust in nature for the stable laws of beauty and utility. Spring shall plant and autumn garner to the end of time." ― Robert Browning
"The deep roots never doubt spring will come." ― Marty Rubin
Short Springtime Sayings about Flowers
The world is in bloom in springtime and isn't it beautiful? From cherry blossoms to tulips, spring is a sensory season of warmth and beauty. The following inspirational easter quotes and spring sayings celebrate the return of flowers. Will you take time to smell the roses this spring?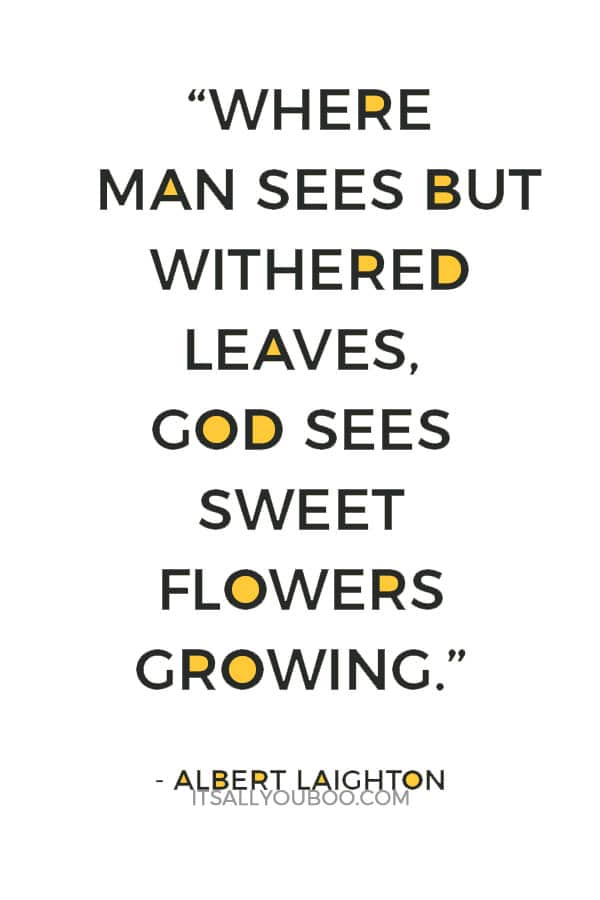 42. "Where man sees but withered leaves, God sees sweet flowers growing." ― Albert Laighton
"The earth laughs in flowers." ― Ralph Waldo Emerson
44. "Where flowers bloom, so does hope." ― Lady Bird Johnson
45. "I must have flowers, always and always." ― Claude Monet
"You can cut all the flowers but you cannot keep spring from coming." ― Pablo Neruda
47. "There are always flowers for those who want to see them." ― Henri Matisse
Spring Sayings to Welcome Springtime
As the snow melts and the temperatures rise, you know that spring is almost here. Is there a more exciting season than the arrival of spring after winter? This final collection of inspirational spring sayings welcome the changing seasons and the call of spring. Are you ready to be outside and open your windows to all the sunshine?
"Despite the forecast, live like it's spring." ― Lilly Pulitzer
49. "It is spring fever. That is what the name of it is. And when you've got it, you want–oh, you don't know quite what it is you do want, but it just fairly makes your heart ache, you want it so!" ― Mark Twain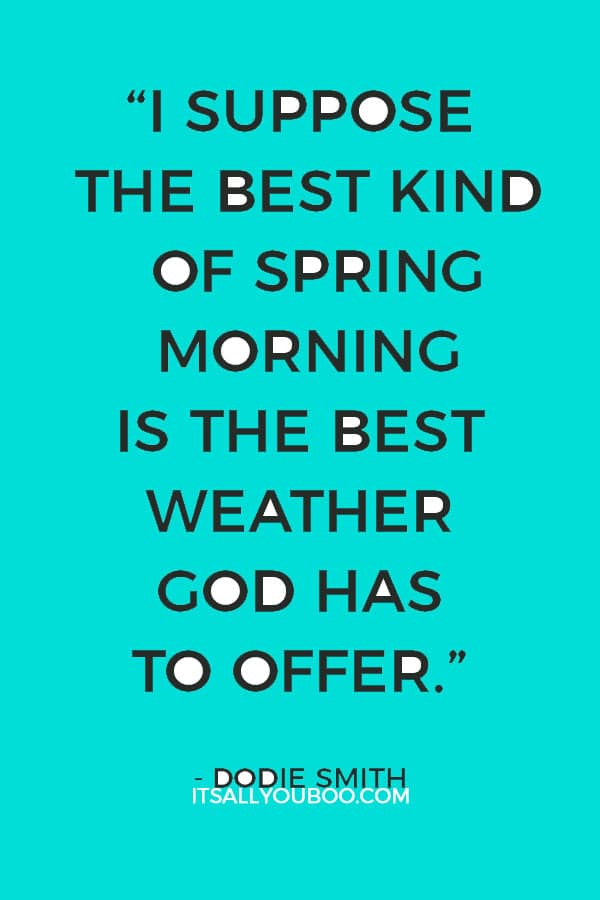 50. "I suppose the best kind of spring morning is the best weather God has to offer." ― Dodie Smith
"Spring is a true reconstructionist." ― Henry Timrod
52. "The beautiful spring came; and when Nature resumes her loveliness, the human soul is apt to revive also." ― Harriet Ann Jacobs
53. "Spring beckons! All things to the call respond; the trees are leaving and cashiers abscond." ― Ambrose Bierce
"Spring being a tough act to follow, God created June." ― Al Bernstein
Spring Clean Your Mind Checklist
This is the season for rebirth and second chances. Start your own journey this spring and Easter by cleansing your mind of negativity. Get your free Printable Spring Clean Your Mind Checklist.
Spring is also the season for tidying up our lives, to let go of the past and move forward. It's hard to enter a season of growth when you're trapped or buried under the weight of the past.
Be like a new seedling, bursting through the earth and reaching for the sun. Your past does not define you, your struggles or failures are not who you are. Believe in yourself, be confident and go forward into this new year ready to achieve more.
That's what Easter and spring mean to me. A chance to start over, to begin again.
Are you excited for springtime and Easter celebrations? Here are 54 inspirational Happy Easter Quotes and spring sayings. 🌸 🌼 #Easter #EasterSeason #Spring #Quotes

What inspirational Happy Easter quote do you love?
Last Updated on July 11, 2021
✕
Get the Checklist!
+ weekly tips to help you slay your goals.