Do you feel like giving up?
Does life have you down and does success just feel so impossible right now?
Is everything falling apart around you or constantly going wrong?
Are you having one of those days or even weeks where you want to scream, cry, or maybe even punch a wall? (Don't actually punch it, I did and my hand SERIOUSLY hurts.. #truestory).
Maybe you feel like you're always going from one challenge to the next and you're worried you can't keep going. Like, when will things get easier?
Table of Contents:
I've been there… screaming, crying, panicking about things going up in flames or wondering if I'm delusional and if I'm just drowning. Days where I feel like I'm drifting, losing my grip and "control" of things.
Do you ever go on what feels like a "losing streak"? Where life is just bouncing you from one challenge to yet another disappointment? You're beaten, you're down and you wonder if it's even worth it to get up again?
I know things are dark and dreary right now, and you're going through the thick, mud of it all, but keep going! You can do it, all you need is to believe you can and just wake up every day and do the best you can.
Here are 45 incredibly uplifting never give up quotes for when you feel like giving up.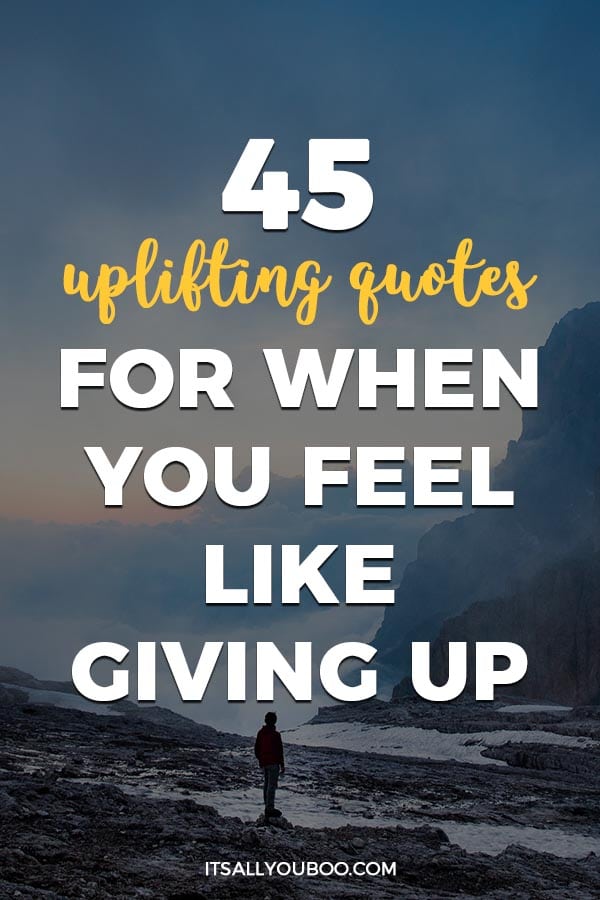 Hang on Tight and Don't Let Go!
Are you struggling to keep going right now? Considering giving up on your dreams or maybe even everything? Life is hard, it's filled with challenges. This first collection of feel like giving up quotes encourages you to hang on tight and don't let go. Just put one foot in front of the other, take it one day at a time.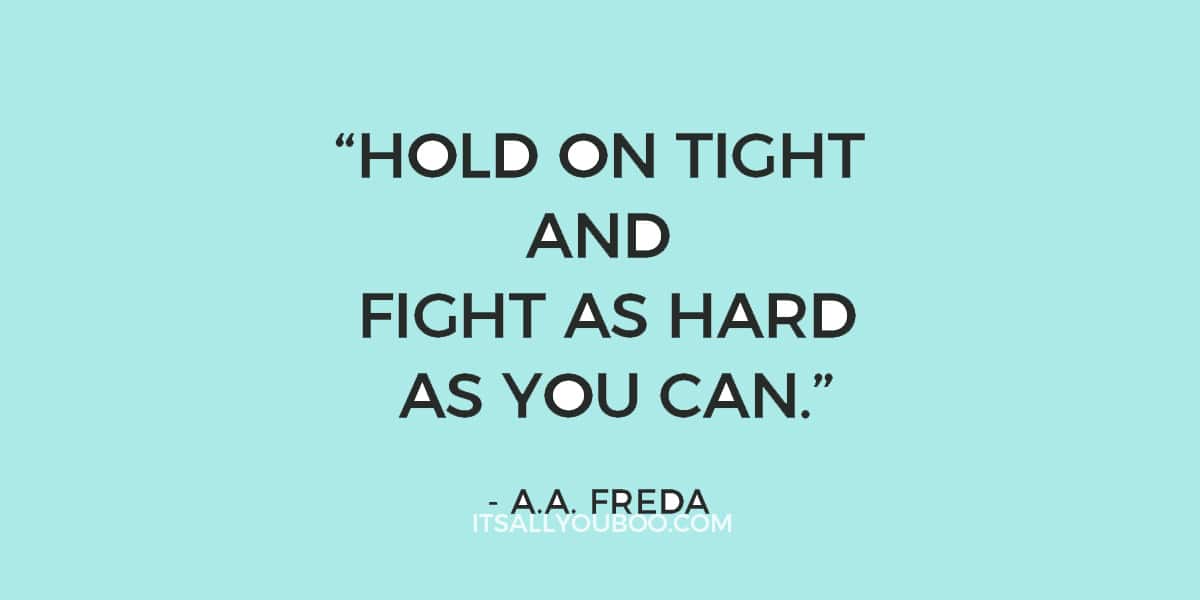 1. "Hold on tight and fight as hard as you can." – A.A. Freda
"When you come to the end of your rope, tie a knot and hang on." – Franklin D. Roosevelt
3. "Success seems to be largely a matter of hanging on after others have let go." – William Feather
4. "The longer you hang in there, the greater the chance that something will happen in your favor. No matter how hard it seems, the longer you persist, the more likely your success." – Jack Canfield
👉🏽 RELATED POST: Inspirational Keep Moving Forward Quotes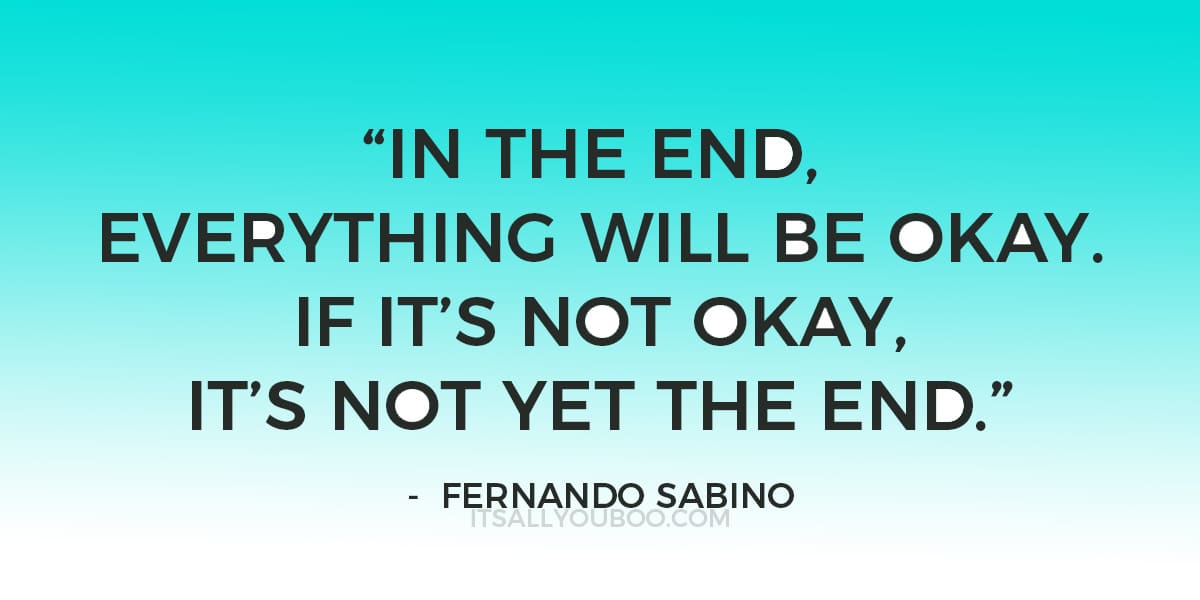 5. "In the end, everything will be okay. If it's not okay, it's not yet the end." – Fernando Sabino
"Sometimes you will think you can't take it another day. But if you hang in there, one step at a time, you will be able to accomplish more than you ever imagine." – Taya Kyle
7. "Don't stop when you're tired. STOP when you are DONE." – Unknown

When You Feel Beat Down
Feeling defeated right now? Are you knocked down and unable to get up? We've all had those days when it feels as if everything is going wrong, and you just can't seem the way forward. The following feel like giving up quotes offer motivational advice for when you feel beat down. It's not the end, this is not it for you.
8. "Sometimes life is going to hit you in the head with a brick. Don't lose faith." – Steve Jobs
"As I look back on my life, I realize that every time I thought I was being rejected from something good, I was actually being redirected to something better." – Dr. Steve Maraboli
10. "Remember that not getting what you want is sometimes a wonderful stroke of luck" – Dalai Lama
👉🏽 RELATED POST: Quotes about Change in Life and Moving On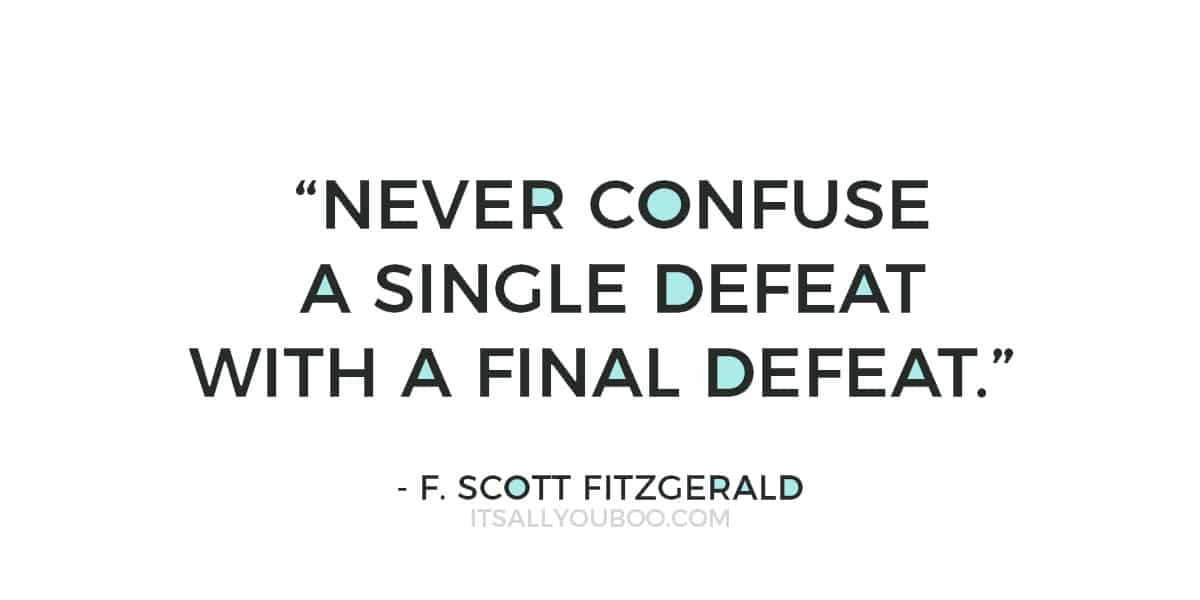 11. "Never confuse a single defeat with a final defeat." – F. Scott Fitzgerald
"When everything seems to be going against you, remember that the airplane takes off against the wind, not with it." – Henry Ford
You Can Overcome the Challenges
Facing some serious challenges right now? Is life throwing you too many curve balls? This selection of feel like giving up quotes shares amazing advice for overcoming challenges in your life. Everyone, no matter who they are or the life they live faces challenges. Never let a hard day convince you to give up.
13. "There will be obstacles. There will be doubters. There will be mistakes. But with hard work, there are no limits." – Michael Phelps
14. "Obstacles don't have to stop you. If you run into a wall, don't turn around and give up. Figure out how to climb it, go through it, or work around it." – Michael Jordan
"If we had no winter, the spring would not be so pleasant; if we did not sometimes taste of adversity, prosperity would not be so welcome." – Charlotte Bronte
👉🏽 RELATED POST: Dr. Martin Luther King Jr Quotes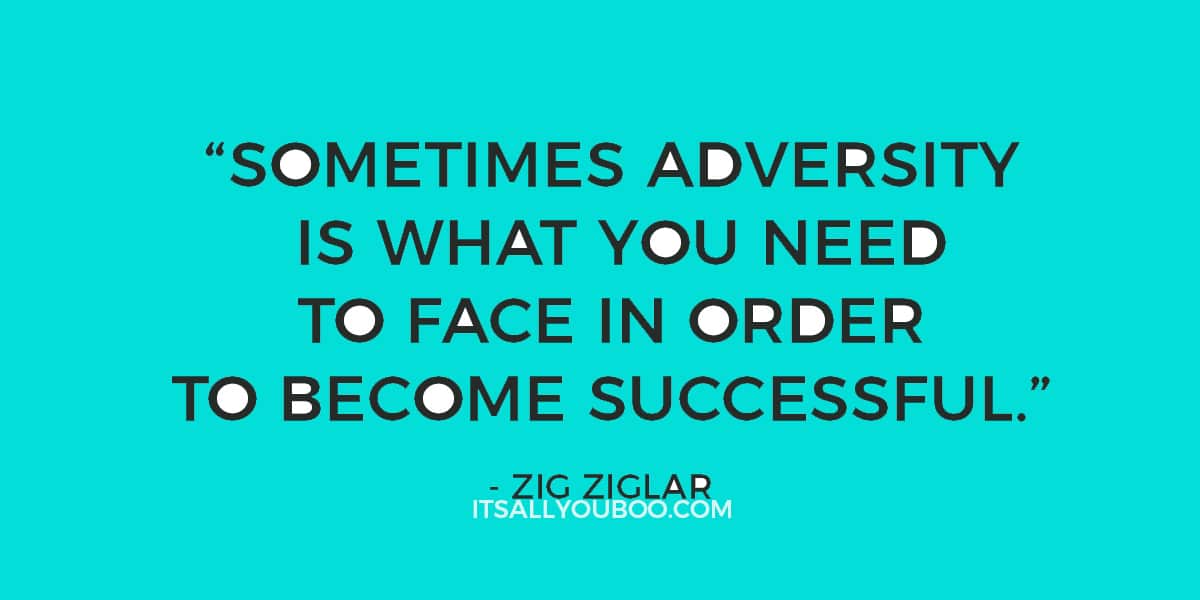 16. "Sometimes adversity is what you need to face in order to become successful." – Zig Ziglar
"Challenges are what make life interesting and overcoming them is what makes life meaningful." – Joshua J. Marine

Be Brave, Be Courageous
Do you wish you were stronger and braver? That you had the courage to never give up? The following collection of uplifting feel like giving up quotes encourages you to be positive, to see the bright side. To not shrink back when faced with challenges, but rather to rise to the occasion. Show up as you are, and never give up.
18. "People are like stained-glass windows. They sparkle and shine when the sun is out, but when the darkness sets in, their true beauty is revealed only if there is a light from within." – Elizabeth Kübler-Ross
"Life shrinks or expands in proportion to one's courage." – Anais Nin
20. "Courage doesn't always roar, sometimes it's the quiet voice at the end of the day whispering 'I will try again tomorrow'."– Mary Anne Radmacher
👉🏽 RELATED POST: How to Overcome Limiting Beliefs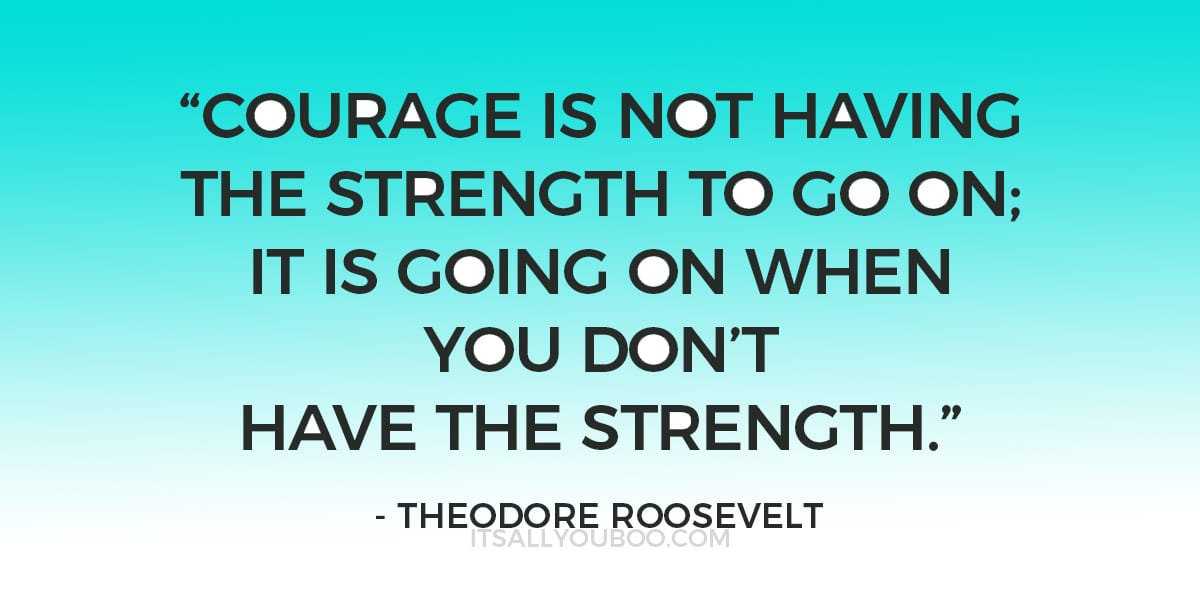 21. "Courage is not having the strength to go on; it is going on when you don't have the strength." – Theodore Roosevelt
"The only courage that matters is the kind that gets you from one moment to the next." – Mignon McLaughlin
Giving Up is the Only True Failure
Afraid of failure? Worried about making mistakes? Trying, doing your best and putting yourself out there even if it does go as planned, is never a mistake. As the following never give up quotes illustrate, the only true failure in life is giving up.
"There is no failure except in no longer trying." ― Elbert Hubbard
24. "Defeat is not the worst of failures. Not to have tried is the true failure." – George Edward Woodberry
👉🏽 RELATED POST:  50 Quotes About Being Criticized and How to Handle it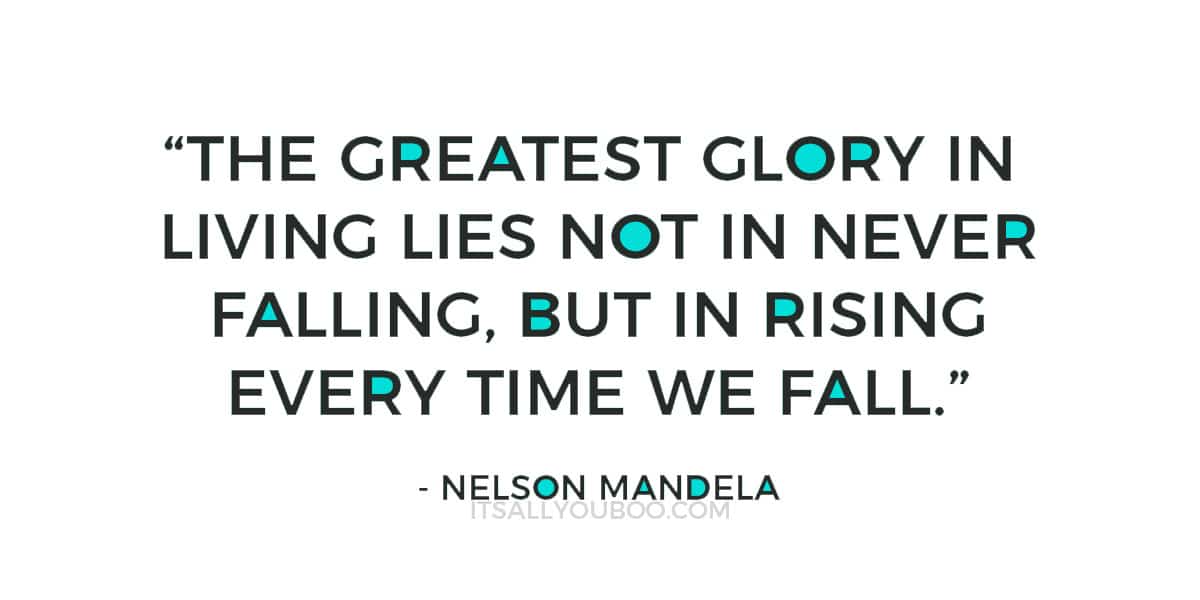 25. "The greatest glory in living lies not in never falling, but in rising every time we fall." – Nelson Mandela
"Failure is often that early morning hour of darkness which precedes the dawning of the day of success." – Leigh Mitchell Hodges

Success Is Closer than You Think
Does success in life feel so far away? Do you feel as if you just can't make it? Guess what, success could be closer than you think. This selection of never give up quotes tell us that success is never as far away as you think. With hard work and commitment, you will get there. Don't give up before you do!
27. "What I've learned from running is that the time to push hard is when you're hurting like crazy and you want to give up. Success is often just around the corner." – James Dyson
"The difference between a successful person and others is not a lack of strength, not a lack of knowledge, but rather a lack of will." – Vince Lombardi
👉🏽 RELATED POST: 39 Amazing Quotes to Boost Your Confidence Right Now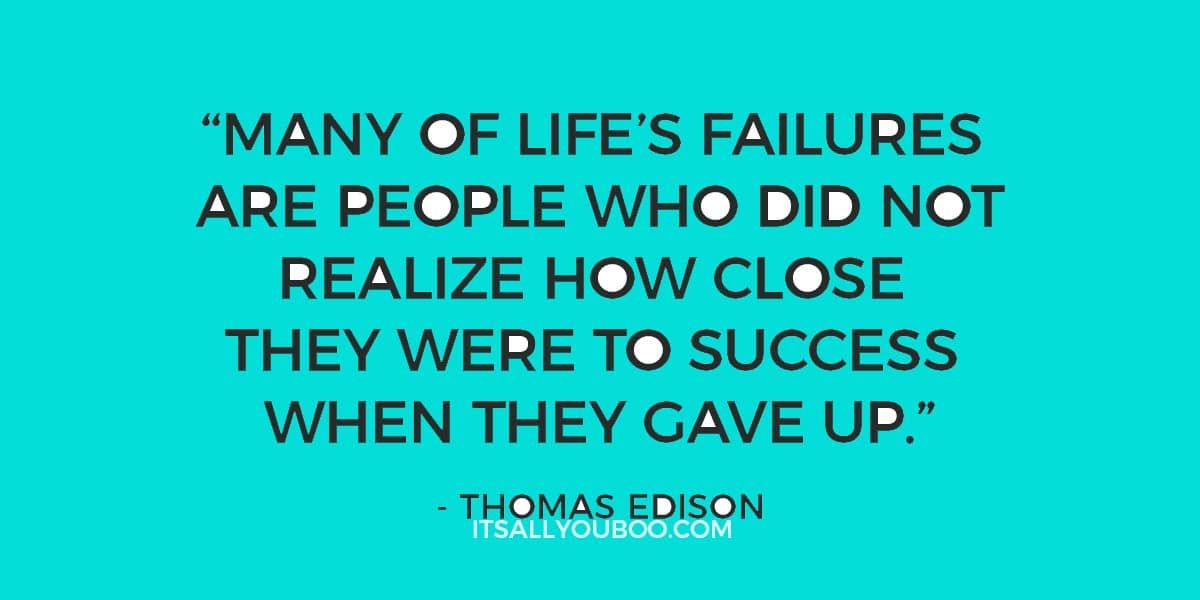 29. "Many of life's failures are people who did not realize how close they were to success when they gave up."– Thomas Edison
"Through perseverance many people win success out of what seemed destined to be certain failure" – Benjamin Disraeli
31. "Most of the important things in the world have been accomplished by people who have kept on trying when there seemed to be no help at all." – Dale Carnegie
Just Keep Going No Matter What
Need some encouragement to keep going? Looking for ways to stay positive no matter what happens? The only absolute you should have is to never give up. As the following collection of feel like giving up quotes share, you just have to keep going.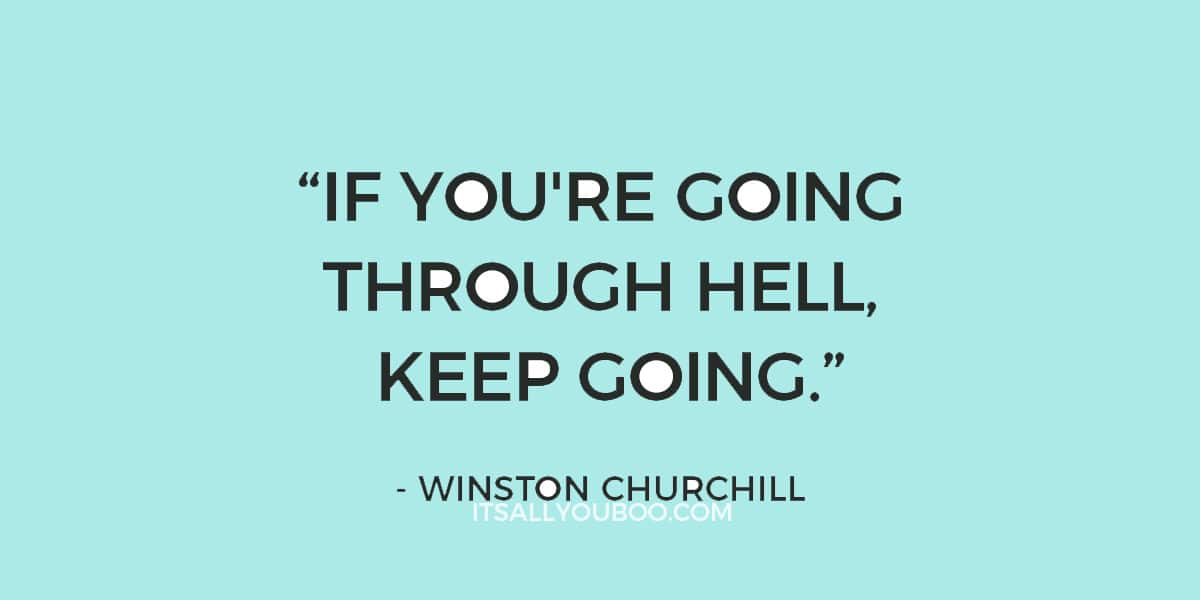 32. "If you're going through hell, keep going." – Winston Churchill
33. "The best way out is always through." – Robert Frost
"If you're walking down the right path and you're willing to keep walking, eventually you'll make progress." – Barack Obama
35. "Keep on going, and the chances are that you will stumble on something, perhaps when you are least expecting it. I never heard of anyone ever stumbling on something sitting down." – Charles F. Kettering


Never, Never Give Up!
Does success in life feel so far away? Do you feel as if you just can't make it? Guess what, success could be closer than you think. This selection of never give up quotes tell us that success is never as far away as you think. With hard work and commitment, you will get there. Don't give up before you do!
36. "Every great story on the planet happened when someone decided not to give up, but kept going no matter what." – Spryte Loriano
"Never give up on what you really want to do. The person with big dreams is more powerful than the one with all the facts."– H. Jackson Brown, Jr.
👉🏽 RELATED POST: Quotes about Working Hard to Achieve Success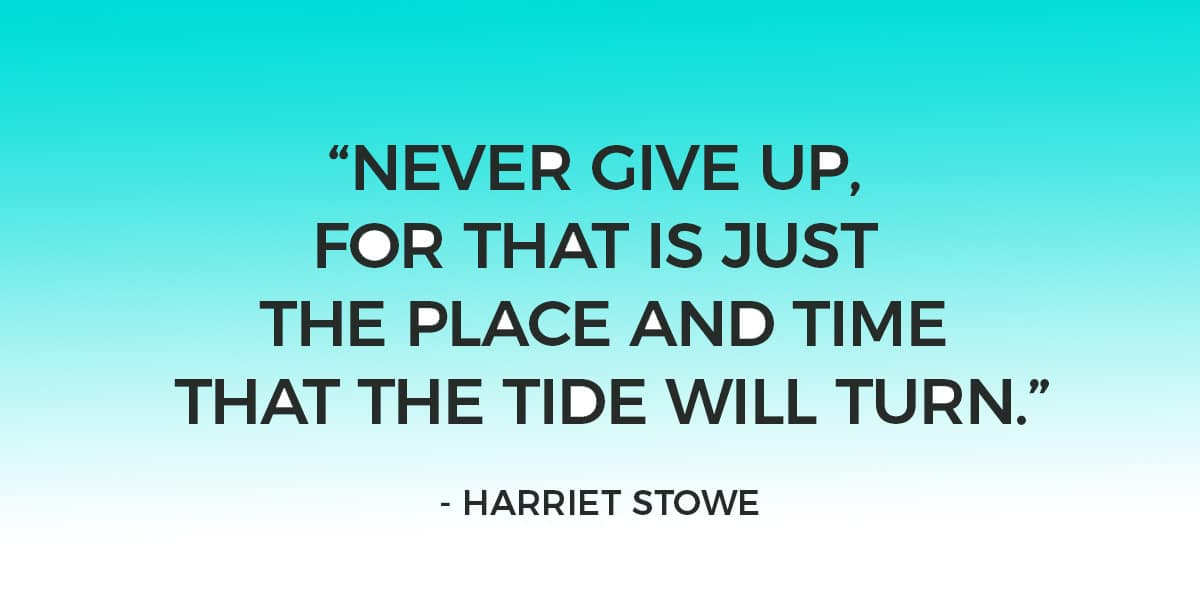 38. "Never give up, for that is just the place and time that the tide will turn." – Harriet Stowe
39. "Don't give up before the miracle happens." – Fannie Flagg
Let go of Yesterday and Start a New Today
Are you living in the past? Reliving letdowns, disappointments or past challenges? The past can influence our present state of mind. This final collection of uplifting feel like giving up quotes invite you to be more mindful, to just live in the now. You can't let the past define your future or today.
"If you fell down yesterday, stand up today." – H. G. Wells
41. "Don't let yesterday take up too much of today." – Will Rogers
42. "Every morning brings new potential, but if you dwell on the misfortunes of the day before, you tend to overlook tremendous opportunities." – Harvey Mackay
"Every morning starts a new page in your story"– Doc Zantamata
👉🏽 RELATED POST: 19 Powerful Quotes that Motivate You to Start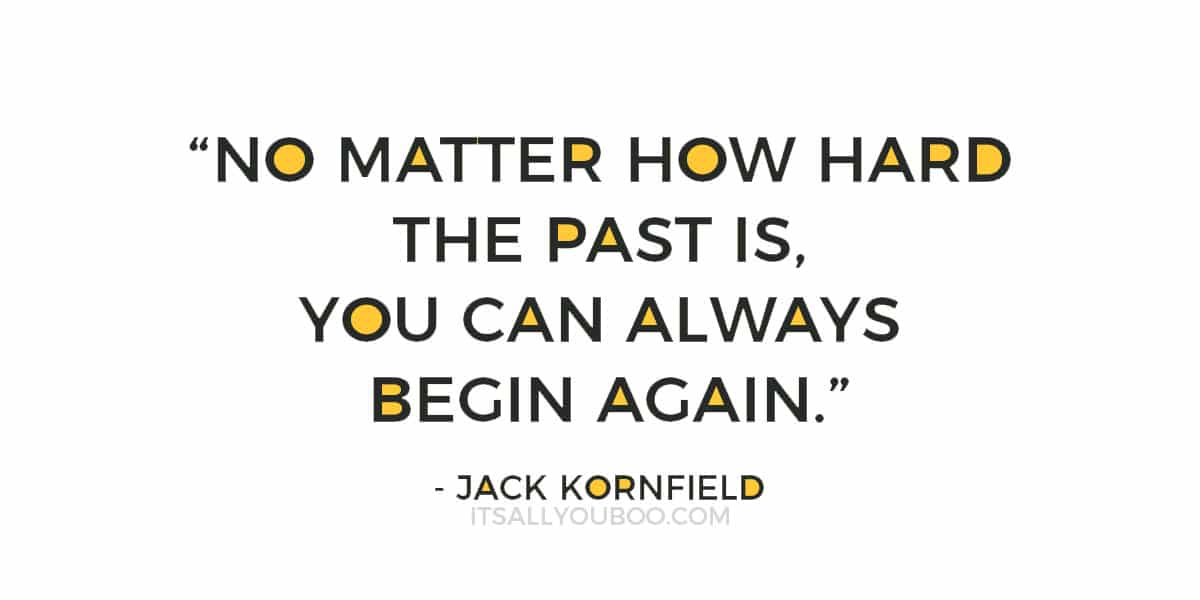 43. "No matter how hard the past is, you can always begin again." – Jack Kornfield
"I love the big fresh starts, the clean slates like birthdays and new years, but I also really like the idea that we can get up every morning and start over." – Kristin Armstrong
Printable Black & White Wall Art Quotes
Looking for motivational and inspirational quotes? Get your free printable black and white wall art quotes that are perfect for your home, office, bedroom, or wherever you need to find inspirational daily. Each design is black and white and features brushed ink letter detailing.
This download comes with 10 high-resolution graphics ready to be printed and posted.
These quotes are so uplifting and powerful that they deserve to be shared! Someone could really use the encouragement to keep going!
When You Want To Give Up
Do you have a massive goal or dream that you're trying with all your might to accomplish?
They always say no one ever said it would be easy. They sure didn't, but no one said it had to be hella difficult and nearly impossible either did they?
The reality of success is that everything always takes longer than you think, plans more often than not go wrong and success takes hard work and dedication. It requires you to get up when you feel beaten, to show up when you feel broken, to put yourself out there when you feel inadequate and to push yourself when you feel empty.
Achieving your dreams and goals is hard! And you will have days you feel so defeated and like you can't make it happen.
You'll have other days when you just don't feel like it or when you'll need to take a break from the magnitude of what you're trying to accomplish.
Entrepreneurship almost requires failure, results after defeat, calls for those who shouldn't, by all means, couldn't but do. And you can too!
Dig deep friends, this journey needs you to push harder than you ever have before, to be persistent, insistent, and consistent! Stop the negative self-talk and thoughts right now, and find the courage and bravery to push on. Perseverance is how you make your dreams a reality!
NEVER GIVE UP, the dream is still alive as long as you keep going and believe in yourself.
Do you feel like giving up? Is it just seem too impossible? If so, these are for you. Here are 45 uplifting quotes to help you keep going #NeverGiveUp #MotivationalQuote #DontGiveUp

How do you keep from giving up?
Last Updated on July 11, 2021
✕
Get Your Printable Quotes
+ get weekly tips to help you slay your goals.