What does it take to create your own brand and business?
How do you become a successful jewelry designer?
Want to create your own brand and business? Want to be a boss designer? Meet Cat Janiga, a Toronto-based jewelry designer who shares what it takes to build a successful brand. No bull shit! @catjaniga #JewelryDesign #BossBabe #Interview
You're no doubt a fan of all the beautiful brands you've discovered on Instagram. Perhaps you even follow some local, made in your home town, designers.
Maybe you even have a passion project and make money at home from a crafting, DIY or jewelry business.
You're curious about how to actually turn what you love into a profitable business. You want to be your own boss, set your own hours and make money doing what you love, just like they do.
But, how do you make it happen? How do you succeed?
If you're thinking about building your own brand or business, and what to know what it really takes to become successful, then this interview is for you. Cat of Cat Janiga Jewelry is a Toronto-based jewelry designer whose collections are stunning and sophisticated. She's a one-woman empire, from sketching gorgeous custom pieces and designing her own collection to working with one of Canada's top designers and hand-crafting her own pieces.
She knows what it takes to make it as a brand and a business. And she doesn't sugar coat that hard work and dedication it takes.
Keep reading as Cat shares her story of success from high school fashion program to creating fine jewelry, how she spends her days and her best advice for up and coming business owners.
Let's get started.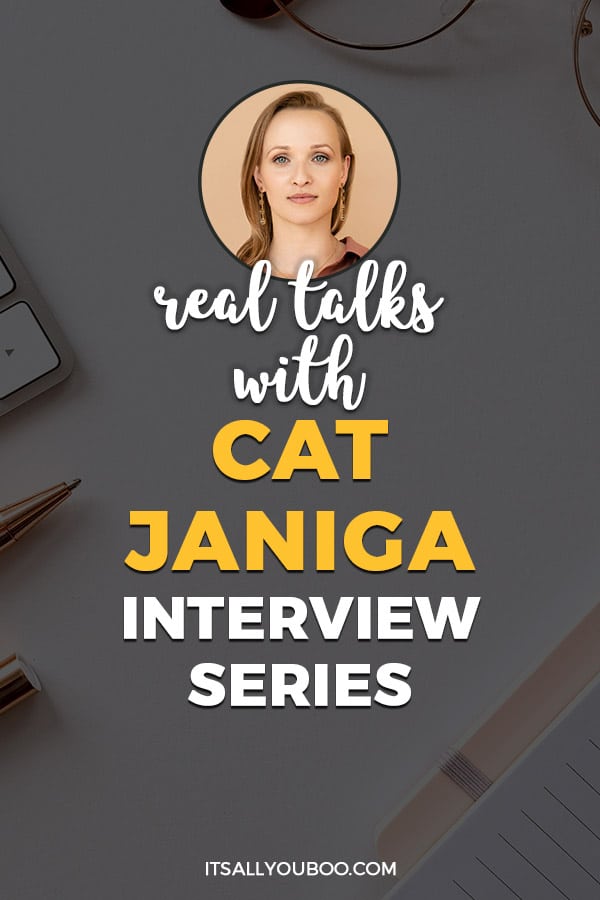 #1.
Who are you and what's your story?
I'm Cat, I make jewelry to inspire you to explore and experience the magic in the world around you.
I started silversmithing when I was about 16 and never stopped. I was pretty lucky because my high school offered it as part of their fashion program (Thanks Mrs. Fortura!). I was always super involved in art, painting, sculpting, drawing but it was hard for me to envision myself doing that as a career.
When I was introduced to silversmithing, it was like the stars aligned and I knew that was it for me and I never looked back. I then went to OCADU for their Material Art and Design Program majoring in jewelry design and silversmithing.
I then worked as a bench jeweler for a year with a fine jeweler. TBH it kinda sucked, I wasn't really learning anything new and I was doing the same repetitive mundane tasks every day. My employers were super nice, but I was just so unchallenged. But from that, I learned that I didn't want to be a bench jeweler and that I wanted to start my own line.
My Career Started with An Internship
Around that time I heard Dean Davidson was looking for interns. At the time he was an emerging designer and wasn't very well known and only in the business for about 3 years. But, I liked his aesthetic so I shot him an email. I was pretty honest about how I didn't want to be sitting at the bench all day everyday grinding out pieces but wanted to learn all aspects of the business because I eventually wanted to start my own line. He was super open to it and honestly, it was the best decision I ever made.
👉🏽 RELATED POST: How to Start a Business You Love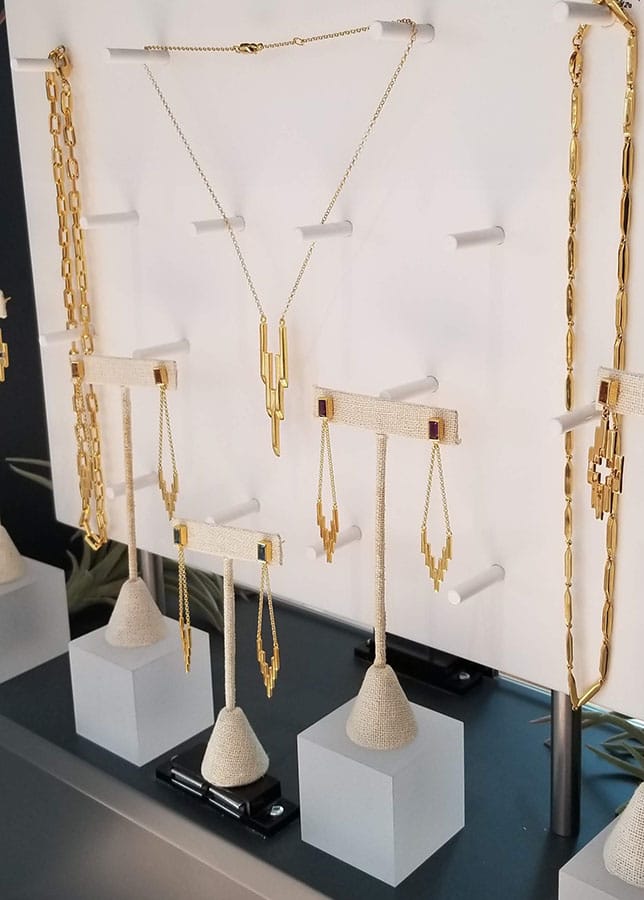 I was soon hired and 8 years later he's one of my closest friends and mentors. Not to say that it was an easy breezy time, far from it. He was basically just starting his business so there was so much to do, and I worked my ass off and in turn, gained a wealth of knowledge and experience from a what was basically a startup to the internationally recognized brand it is now.

Finally, at the tail end of 2014 I felt I had come into my own aesthetic, I knew the direction and message I wanted for my brand and I had enough experience under my belt to start my own company. Thus, Cat Janiga was launched. A contemporary line of chic, handcrafted, evocative jewelry for women who aspire to experience life and express themselves with authenticity.
#2.
What's your average day like?
Take us hour by hour
Ugh, Chaos usually. Lol
In general, I try to stretch in the morning, then shower-dress-get ready for the day. Then I check my agenda and schedule out or make adjustments to what needs to get done that day.
It really varies.
Some days I'm out running errands, seeing clients, sourcing materials, talking to/negotiating with my manufacturer.
Other days I'm on the bench cranking out pieces for 12 straight hours (seriously so bad for my body because I almost never take breaks.)
Or I'm just at the computer getting to emails, invoicing, working on the site, researching, reaching out to stores, calling stores to check how the line is doing.
👉🏽 RELATED POST:  Top Ten Productivity Tips and Tricks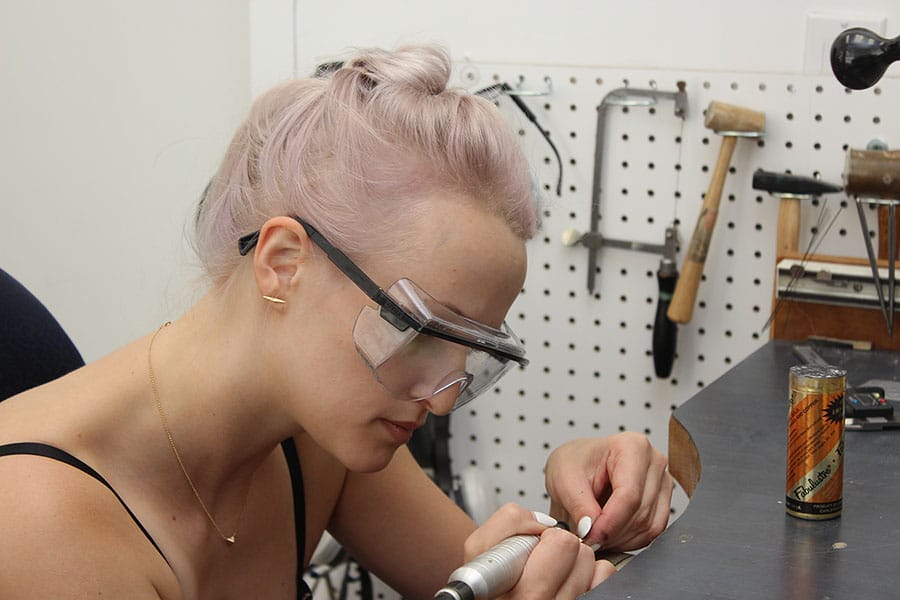 The best days are obviously design days. I wish I could just do that all day every day but sadly it's MAYBE like 10-20% of my time if that.
I work 60-100 hours a week depending on what time of year it is or what projects I have going on. If I have a lot of custom engagement rings on the go I'm nonexistent to the outside world.
I'm obsessive about how perfect they have to be since it's such a special moment, and won't be satisfied unless my client is absolutely freaking out.
#3.
How do you stay motivated? What or who inspires you?
Sometimes it's hard, on those days when I'm really just spinning my wheels I might take the day off because nothing is getting done anyways. I feel like it's my self-conscious telling me I need a break. Otherwise, I find going to yoga, or doing something active is a great reset.
I also love having work dates with my fellow entrepreneur friends. They're so talented and we're so supportive of each other that it easy to be motivated working together. Also, I have this "oh yeah?! Well, I'll show you!" attitude that really lights a fire under my ass.
I other than that I don't really need much motivation to do what I do because… I just really want to do it. I'm passionate about it.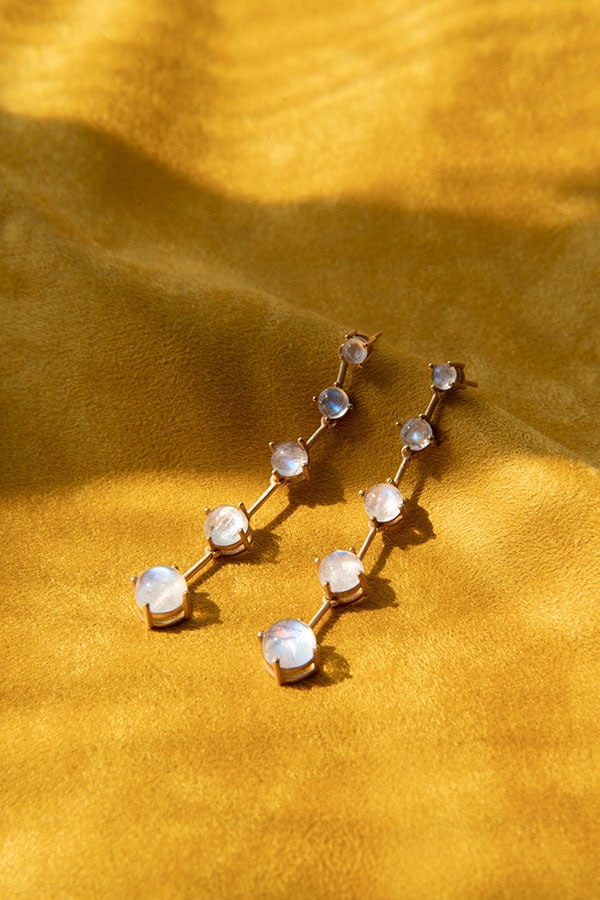 I love how excited my clients get when they try on their new pieces or see the new collection. It resonates with them and they totally get what I was going for or trying to express in that piece.
You can see that moment when they put a piece on and it's like "this has been EXACTLY what I was looking for'. Gets me every time.
#4.
Let's talk about goals. How do you slay yours?
I do a couple of things. Mostly, I like to tell people my goals, it helps me be more accountable to them instead of letting them fade away into the abyss.
I also project plan as much as possible more when it comes to work. So instead of just saying 'I'm going to make a limited edition holiday collection' but not have a set plan on how long that will take and all the components needed to accomplish that.
Then, I break down all the components I would need to make that happen, budget how much time each component takes and schedule out an appropriate competition date. I find when I don't do that there's a lot of, "uhhh soooo what am I doing now?"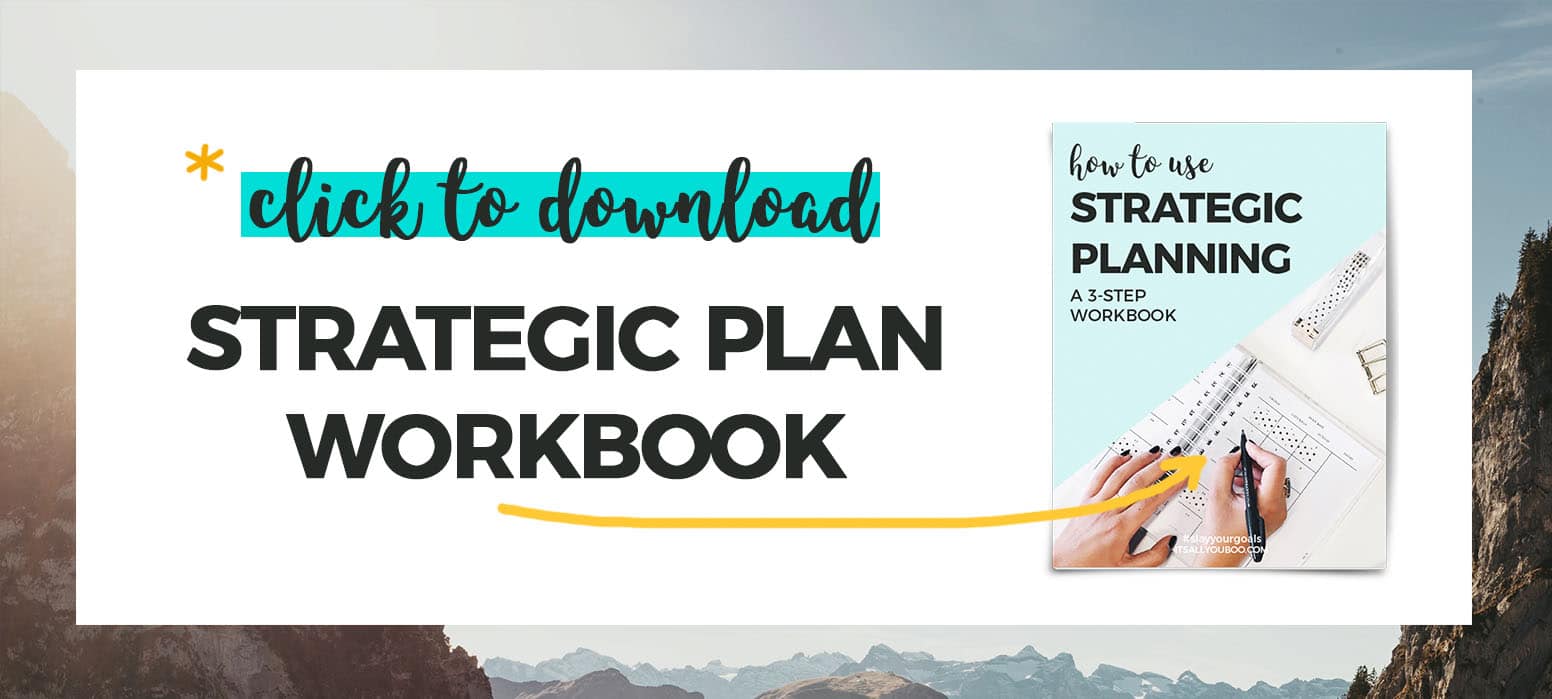 #5.
What's one app or tool that you can't do without?
My Calendar probably or notebook/bullet journal. If it's not in the calendar/book it doesn't get done.
#6.
What's your favorite and least favorite part of being an entrepreneur?
To answer both questions – That I work for myself.
When things go well I did that. And when they don't…..well… the same story…
👉🏽 RELATED POST: How to Be Your Own Boss
#7.
What advice would you give to someone just starting out?
Be tenacious as f*ck and don't take things personally. You don't have time to pout about someone not getting it or shitting on what you're trying to do.
Do your research in the industry you want to be in. I'm a huge supporter of internships. The experience I gained and the knowledge I learned from them was invaluable!
👉🏽 RELATED POST: How to Find an Amazing Business Idea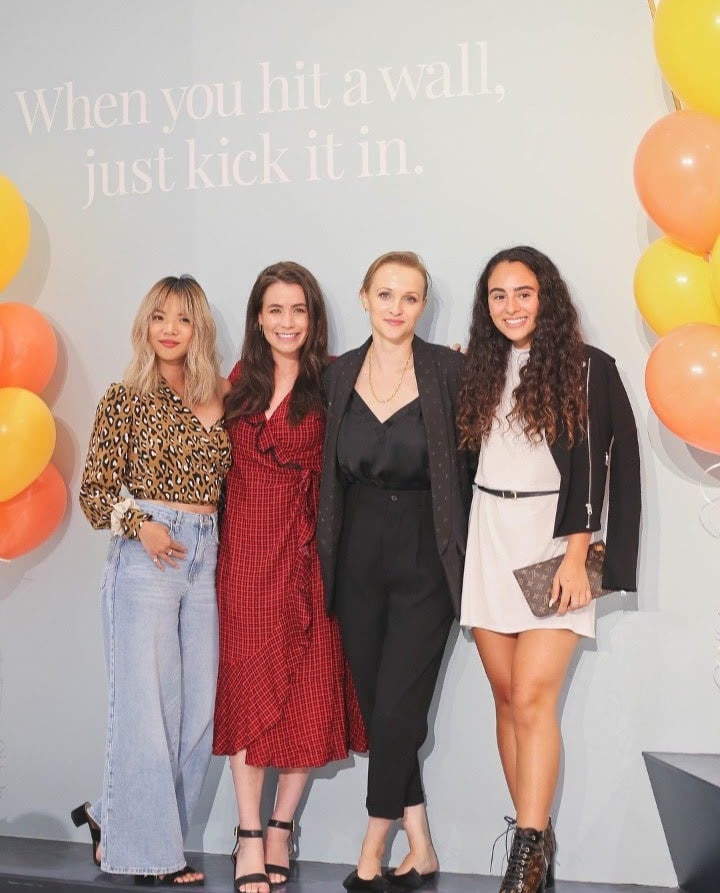 But keep in mind I'm not saying you're going to intern and they're going to shower you with information. You have to really involve yourself, ask questions all the time, ask to work on certain projects your interested in.
No one is going to hold your hand. I feel like a lot of people feel entitled like 'oh I went to school for this so I should get this'. Sometimes you have to eat shit. Deal with it.
#8.
What's the best business advice you've ever received?
Don't burn bridges!
Never act/say anything when you're mad/emotional. Even though it's your baby you can't be emotional when it comes to your business.
Nothing will ever be perfect so stop wasting time trying to make it 'perfect' because:
No one knows how you envision it in your mind and they're most likely gonna think it's fucking awesome anyways.
If you wait till you get it perfect you'll never get it done, or you'll have wasted too much time/resources doing so that it wasn't really worth doing.
It's probably not going to break your business if it's not 100% right.
#9.
What books do you think every entrepreneur should read?
I like enjoy Harvard Business Review. Hug Your Customers is a good one as well.
I think it kind of depends on what industry you're in/what your product/service is.
#10.
Do you have a favorite quote or saying?
Sometimes you have to eat shit.
My manta is "It'll be fine" and I say that over and over again like a total psycho when things are getting suuupppppeeerrr tense lol.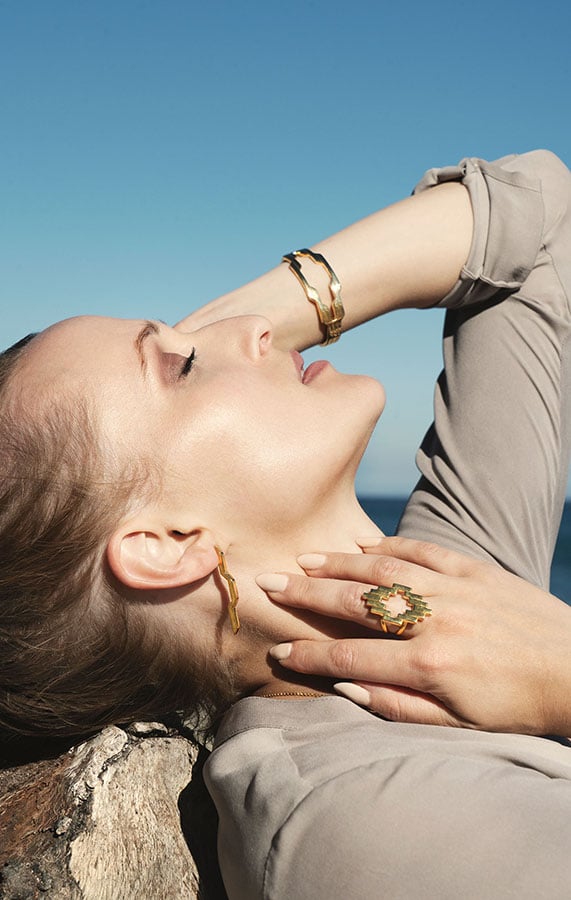 👉🏽 RELATED POST: How to "Make" it with a Powerful Brand Mantra
#11.
Can we talk about money?
Def saved up money. I also knew what I wanted to do for some time so I slowly bought equipment etc as I went so when I did make the decision to launch it wasn't so insane to start.
Also, I looked for grants to help finance. I go in and out of the red.. Financial budgeting for the year is a MUST.
Find a good accountant and bookkeeper!!
👉🏽 RELATED POST: How to Manage Your Money from Side-Hustle
#12.
What's your strategy for finding clients?

Word of mouth and recommendations.
I also reach out to stores, cold call and do tradeshows. Some social media and I try to network with my industry.
#13.
What role does social media play for you?
Instagram – I'm a visual person, it's easily consumable and I'm selling a physical product. I also like using stories to share a bit of the day-to-day.
#14.
Do you have a special offer you'd like us to know about?
You get 15% off sitewide at Cat Janiga Jewelry with the special "ITSALLYOU" promo code at check out.
Or click this link to auto-apply the discount at checkout.
Bonus Questions!
Quickly tell us about yourself and what you're currently:
Reading? Atomic Habits by James Clear
Watching? Game of Thrones (obvi)
Listening to? My Favorite Murder, Leikeli47
Eating? Everything in sight
Obsessed with? Bi-color gemstones, and skin care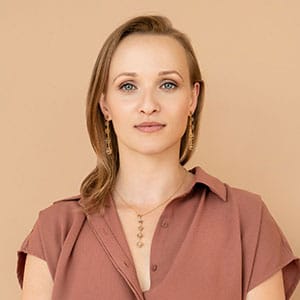 More About Guest Contributor
Cat Janiga is a Toronto-based jewelry designer creating contemporary, high-quality pieces for exceptional women. She began silversmithing over 15 years ago and received her Bachelor of Design from OCAD University, majoring in Metalsmithing and Jewellery Design. Before launching her eponymous collection in 2014, she apprenticed with a fine jewelry designer and has worked alongside her mentor Dean Davidson – one of Canada's leading contemporary fashion jewelry designers – for the past 7 years.
Last Updated on July 11, 2021
✕
Start Strategic Planning!
+ get weekly tips to help you slay your goals.