Should I buy the Ultimate Productivity Bundle?
What's included in the Ultimate Bundle? Is it worth it?
Should you buy the Ultimate Productivity Bundle? Want to know what's inside? Click here for my honest product review of all 46 products. #Productivity
Click To Tweet
That's exactly what I asking the first time I heard about Ultimate Bundles a few years ago.
I wondered, could this be legit? Was it a scam? How could so many products be available for such an affordable price?
Having purchased Ultimate Bundle's Genius Blogger Toolkit back in 2017, I discovered that indeed it was true.
With so many courses, ebooks, printables and more at my fingertips, it's a buffet of knowledge. It's the perfect way to sample many different topics and teaching styles for a fraction of the price.
Ultimate Bundles are available for a limited time only and are typically valued at over a $1000, but offer over 90% in savings costing you around $40.
Yup, you read that correctly.
The new 2019 Ultimate Productivity Bundle that's available right now and features 46 products productivity and goal-setting products valued at $1506.90, for just $49.97 USD!
As a contributor to this bundle, I purchased an advance copy a few weeks ago and decided to honestly review each and every product inside. If you're considering investing in the Ultimate Productivity Bundle I want you to not only be confident that it's the right choice for you but get the most out of if you do.
So, here's my "unboxing" of the 2019 Ultimate Productivity Bundle by Ultimate Bundles, with my impressions and thoughts about all 45 products. For each, I also share stats on the format of the product including the length of videos and the number of pages. Also, discover my recommendations and top five favorites to check out.
Let's get started with a few things you should know before purchasing an Ultimate Bundle.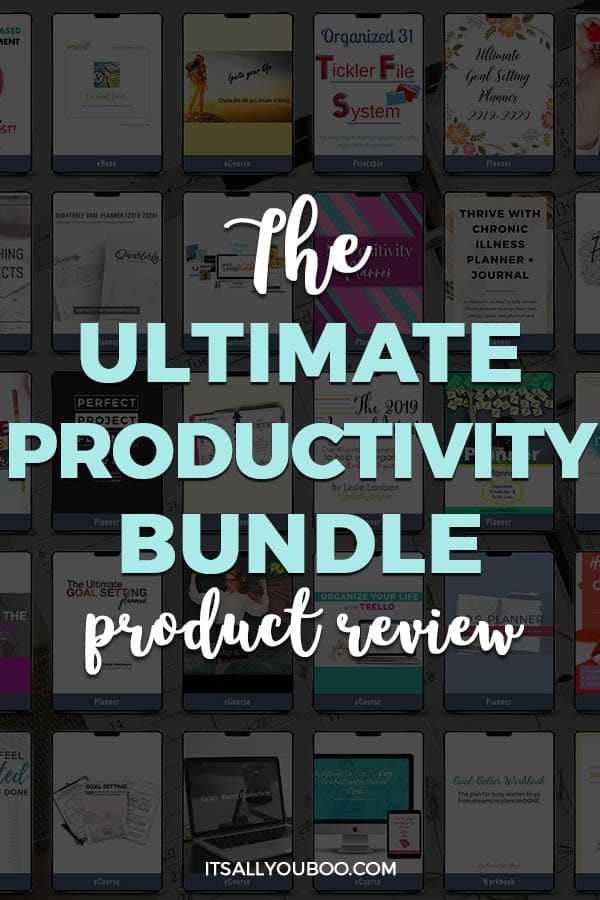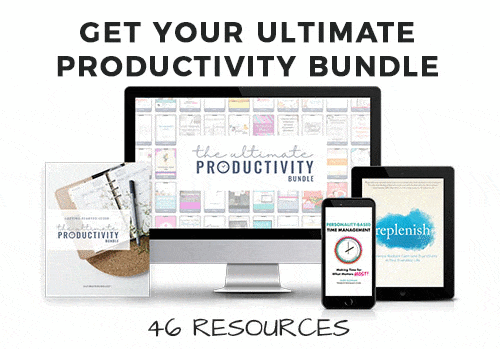 How to Get the Most Out of an Ultimate Bundle
Let's get right to it – there's nothing worse than purchasing a product, course or even a bundle and then not actually using it. Listen, shiny object syndrome is real with such a great deal, which is why you need to be wise going in it.
Before purchasing the Ultimate Productivity Bundle, here are some questions you need to ask yourself:
Are there 2 or 3 products you'll use immediately?
Do you need to improve certain skills the bundle teaches?
Is there a contributor you're excited to learn from?
Does this help me achieve your goals?
Would you buy any products on their own?
The reality is that you're not going to use everything in the bundle, but as long as there are a few you're highly interested in, it's definitely worth it!
As I mentioned, I purchased the 2017 Genius Blogger's Toolkit and what I learned in ONE eBook seriously changed the success of my blog. So, be prepared for a handle of products in this bundle to change your life… if you let them!
And if you put the time and energy into using them, as I have over the last few weeks, they seriously will.
What's included in the Ultimate Productivity Bundle?
The Ultimate Productivity Bundle is a collection of curated products from some of the most productive people on the planet. They aren't just "experts" at productivity, they're real people with responsibilities yet they're able to maximize their time.
Each product shares real-life, productivity tips and tricks for making more time each day, so they can be successful in life and business. It's all about helping you find that work, home, and life balance so you have time for what you love and those you love.
With 46 resources including eBooks, eCourses, and printables, the Ultimate Productivity Bundle is valued at $1506.90. But it's only it's just $49.97 USD! That's 96% OFF the entire bundle!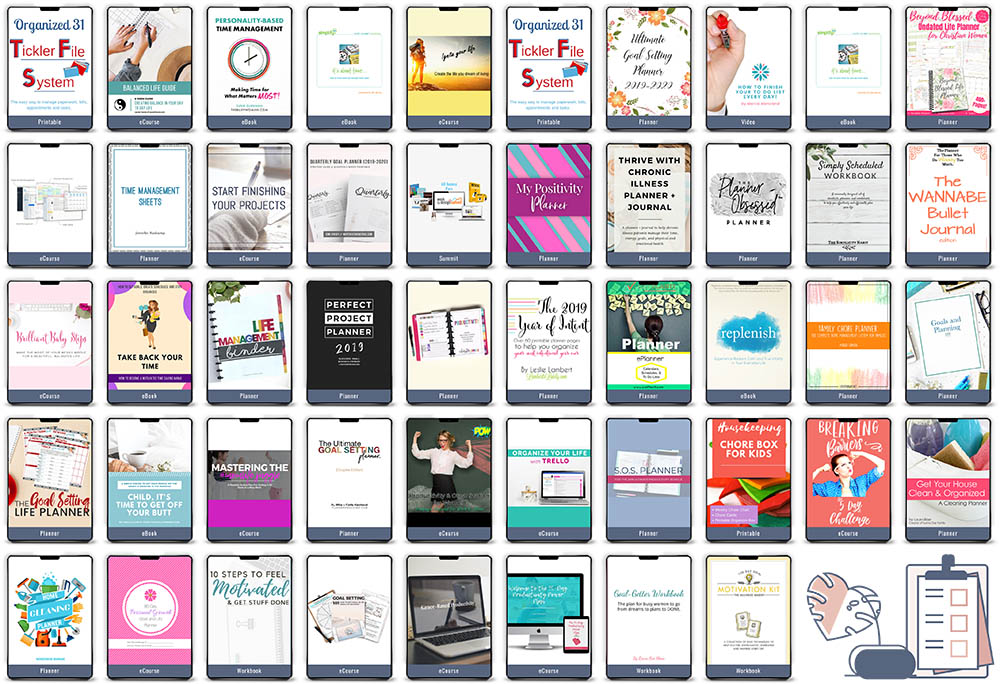 It's the ultimate tool kit for being more productive!
Quick Facts about The Ultimate Productivity Bundle:
Contents: 5 eBooks, 14 eCourses, 1 summit + 26 printables, planners & workbooks
Value: $1506.90
Price: $49.97
My Top 5 Picks and Favorite Products
There are so many amazing courses, ebooks, and printables in this bundle! It was not easy picking my favorites.
Having sampled and tested everything in this bundle over the last few weeks, it can get a bit overwhelming. To avoid spending loads of time trying to find what you're looking for in the bundle and downloading everything, be sure to upgrade for $10 at checkout to get the Bundle cheat sheets.
Also, here are my top five standout products in this bundle that I will definitely be using.
They're the ones I remember the most and am most excited about.
The key to having success with Ultimate Bundles is making sure there are specific products you're not only excited about using, but actually need in your life.
#1:

Motivation Kit

by Julia Bickerstaff 🏆
This workbook is next level! It's so creatively designed as a recipe book for getting motivated, with adorable graphics that remind me of my childhood books. As soon as I opened it I wanted to print it and cook up some motivation.
#2:

The 90-Day Personal Productivity Power Plan

by Lise Cartwright 🏆
I simply LOVE the idea of maximizing my next 90 days. As much as I love workbooks and working on them at my own pace, I really enjoyed Lise's video lessons. Since I'm all about creating plans both on paper and digitally I appreciated that this program tailored to both.
#3.

Perfect Project Planner

by Eve Tokens 🏆
There are so many planners in this bundle, but this one stands out to me because it feels like the only one really made for me. Made with bloggers and entrepreneurs in mind I'm super excited to start using this and tracking my blog-biz's growth this year. I also appreciate the simple black and white which will be kind to my printer.
#4.

Ignite Your Life

by Jess Stuart 🏆
I'm usually not one for watching videos, but there is an authenticity and genuineness to Jess's videos that encourages you to keep going. If you're feeling stuck and ready to ignite your life and get passionate again, I really believe this course is where you should start. There's just something so relatable about this course.
#5.

Success Designer Planner

by Khaye Mydette Macalinao 🏆
With so many planners it's really hard to pick a favorite and decide which one to print. But, for me, the Success Designer Planner is a great choice. It's not only adorably designed but at just 73 pages it isn't overwhelming. It's the perfect balance between setting goals and pages for planning your month. Since I don't need daily or weekly planner pages it's the perfect fit for me. I really enjoy the specific area of life pages and spaces for financial as well as travel goals.
Honorable Mentions

:
If I was a busy mom, I would be all over Mastering the #MomLife Juggle by Brianna Berner. With super short, easy to implement videos, any mom no matter how busy will be able to find time to complete this course. I appreciate that!
Also, I may be completely biased here since I created it, but Goal Setting 101 by Nadalie Bardo makes setting goals for your personal or professional life fun and easy. No matter who you are, a busy mom, student or hardworking entrepreneur, it helps you figure out your goals and break them down into actionable steps. It's the perfect place to start before using a planner.
Ultimate Productivity Bundle Product Breakdown
Here's a look at all the courses, ebooks and printables that are included in the Ultimate Productivity Bundle 2019!
Keep reading for my product by product breakdown, with my thoughts on each, of all that's included in the bundle, by category. Each ⭐️ means it's my top pick for something specific, like goal setting or time management.
The 46 products are broken down into the following topic categories:
Time Management
(5 of products worth $132.98)
Daily Planners
(9 products worth $169.99)
Click here to get Your Bundle Now
Goal Setting
(5 of products worth $406.98)
Click here to get Your Bundle Now
Goal Planners
(8 products worth $144.00)
Click here to get Your Bundle Now
Home Management
(3 products worth $123.00)
Click here to get the Ultimate Productivity Bundle
Home Management Planners & Printables
(7 products worth $82.96)
Click here to get Your Bundle Now
Mindset & Self-Care
(5 products worth $94.99)
Click here to get Your Bundle Now
Productivity at Work
(5 products worth $369.00)
Click here to get Your Bundle Now
How Do I Get the Ultimate Productivity Bundle?
It's super easy to get your Ultimate Productivity 2019 Bundle before it's gone!
Click here to visit the sales page, then, click the "get my copy now!" button in the top right corner. Fill out the payment form and check out securely with a credit card or with PayPal.
As soon as you've checked out, you'll see this confirmation page. Then, click the "access bundle" link to be taken right to the bundle page to access all the products.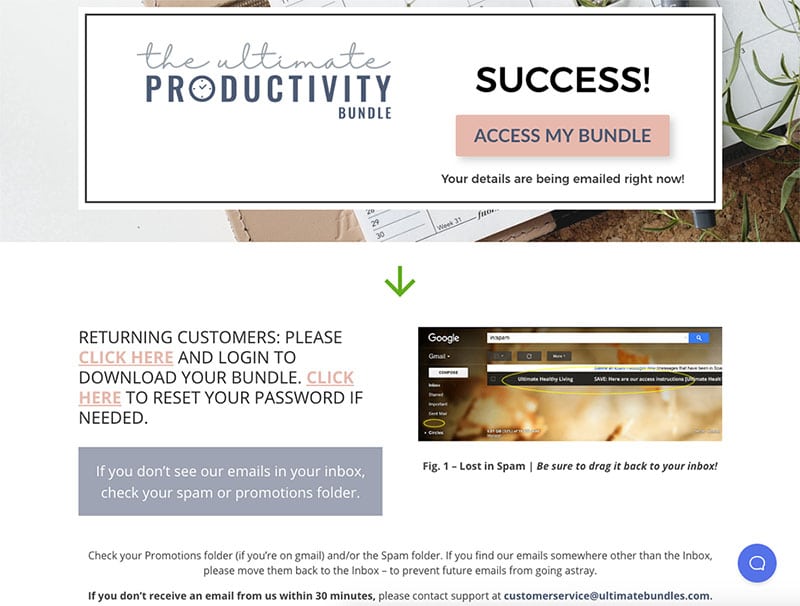 You'll also receive an order confirmation email immediately after checkout with instructions.
That's it!
There you have it – the ULTIMATE review of the Ultimate Productivity 2019 Bundle.