How can I make my face glow every day? Looking for a daily skin care routine for glowing skin?
Our skin is constantly exposed to various environmental factors such as pollution, UV rays, and harsh weather, leaving it looking dull, tired, and lifeless.
But no need to worry, as following a simple yet effective daily skincare routine can bring your skin back to life and unveil a brighter and more radiant complexion.
In today's article, we'll walk you through the essential steps of a daily skincare routine for glowing skin. From cleansing to moisturizing, we'll cover all the basics and give you some helpful tips and tricks along the way.
So, whether you have oily, dry, or combination skin, get ready to revamp your skincare routine with our detailed, step-by-step guide as well as advice on choosing the right products in each step. We will take you from face masks to fantastic! A fresh face can not only make you feel better about your appearance but your health as well.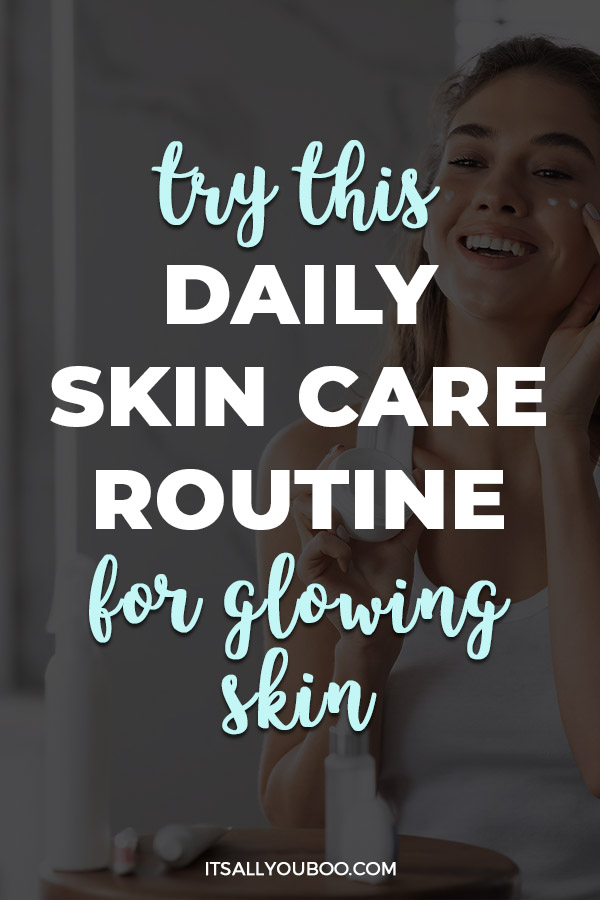 Why You Need A Skin Care Routine
We all know that we need to wash our faces for hygiene purposes. But an actual daily skincare routine is about more than cleanliness, especially if you want healthy, beautiful, and glowing skin at any age.
For starters, your skin is your body's largest organ and is your sensitive layer of protection for everything inside your body. Unfortunately through daily activities, our skin is often the most overlooked and mistreated. Especially when it comes to your face, which often is on the receiving end of external and internal stresses.
From air pollution to dirt and grim from daily activities to the oil, breakouts from heightened emotions or hormones. Your skin tells the story of everything you have been to, and it has a long memory.
You need to start taking care of it now, particularly if you want to age gracefully and have flawless skin in your later years. Let's get started on how you can clear your pores, prevent breakouts, remove impurities, and promote good skin health.
Daily Skin Care Routine for Glowing Skin: Step-by-Step Guide
The four basic steps in any skincare routine, regardless of your skin type and age, would be cleansing, moisturizing, and sun protection. So, if you were to do nothing else, these steps are the ones not to skip if you want to maintain your skin's health.
However, to get that youthful glow, we'd suggest adding an extra half an hour of daily care and including all the steps in between, in your morning and evening skincare routine.
So, here's a step-by-step guide to creating a daily skincare routine for glowing skin:
Step #1.
Cleanse (AM + PM)
Thorough but gentle cleansing should be the first step in your morning skincare routine. I like to begin by using a nice soft headband to get all the hair out of my face. Cleansing removes dirt, sweat, sebum, and makeup and prepares the skin for all the steps that follow, as clean skin better absorbs active ingredients in skincare products.
For evening cleansing, it would be best to do a double cleanse, especially if you have makeup on. –
First, remove your makeup with micellar water or oil-based cleanser, and wipe the excess with a damp washcloth.
And then, follow up with your regular cleanser.
👉🏽  RELATED POST: Skincare and Mental Health: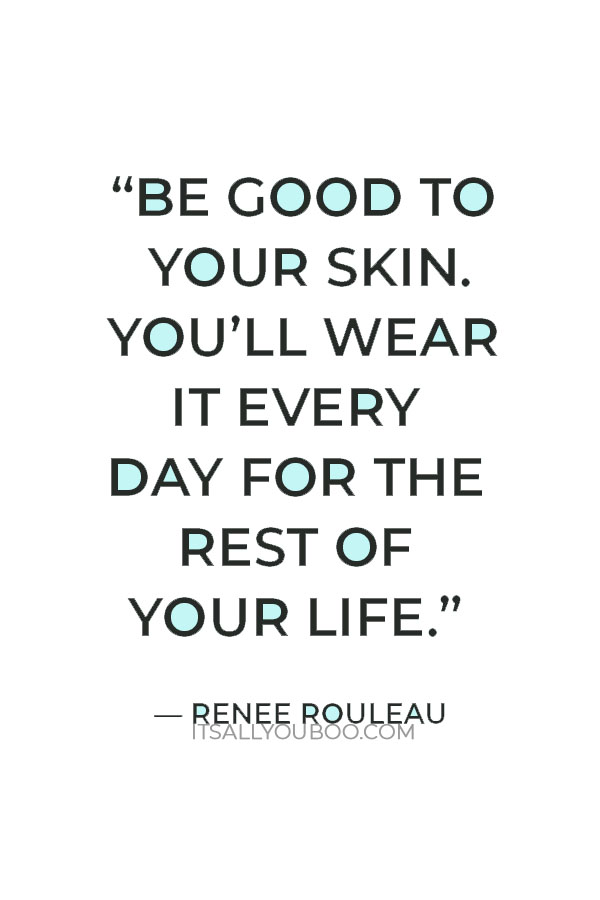 How to Choose the Right Face Cleanser
When it comes to choosing the right product, it's essential to go for those that are gentle on the skin. Frequent face washing with aggressive soaps or surfactants can weaken the skin barrier by:
Changing the skin's pH from its natural slightly acidic state of between 5.4 and 5.9 to a neutral or even basic pH reduces the skin's ability to fight bacteria.
Removing the skin's protective lipids (fats that bind the skin cells together in the epidermis, the outer layer of the skin).
So, pick a gentle cleanser that is suitable for your skin type.
For dry skin, opt for a creamy, hydrating cleanser.
In contrast, for oily, normal, and combination skin, choose a foaming or gel cleanser to help control excess oil production.
Step #2.
Exfoliate (AM or PM)
Exfoliating your skin will remove dead skin cells piled up on the surface layer of the skin. This will clear the path for the new and fresh skin cells from underneath and unclog pores, resulting in brighter, smoother, and clearer skin.
For best results, exfoliate your skin every morning or evening, and make sure to follow up with sunscreen to protect those newly exposed skin cells from sun damage.
However, if you're just starting out with your exfoliating routine, do it less frequently, once or twice a week, to avoid skin irritation and purging.

👉🏽  RELATED POST: Skin Care Routine For Stress Breakouts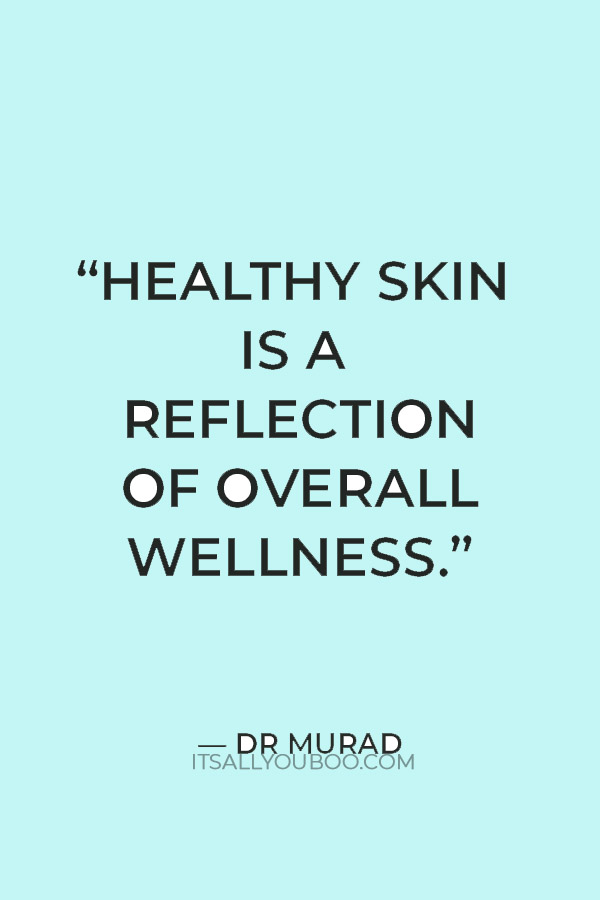 How to Choose the Right Exfoliator
There are two main types of exfoliators: exfoliating acids and scrubs. Even though it may not sound like it, exfoliating acids (such as AHAs and BHAs) are much gentler on the skin:
AHAs, like glycolic acid or mandelic acid, are perfect for normal, dry, and combination skin types.
On the other hand, people with oily and acne-prone skin can greatly benefit from BHAs, such as salicylic acid.
If your skin can handle mechanical exfoliation, you can go for face scrubs instead, containing sugar and other grainy compounds that physically remove dead skin cells. However, use them once a week or every two weeks, as frequent scrubbing can damage your natural skin barrier.
Step #3.
Tone (AM + PM)
Toning removes any last traces of dirt stuck in your pores after cleansing, hydrates, and refreshes the skin. At the same time, it restores the skin's natural pH value, which can be disrupted after cleansing and exfoliating. Face toners are best applied with a cotton pad, which is gently passed over the face.
How to Choose the Right Toner
First off, we'd recommend choosing alcohol-free toners for most skin types. Alcohol-based toners have a cooling effect but can strip the skin of its natural oils, causing your skin to produce more oil to overcompensate for the lost fat. Alcohol can also lead to dryness, flakiness, and irritation.
Therefore, if you have oily skin, go for plant-based astringents instead, containing witch hazel, for example. Otherwise, choose skin care products with soothing and hydrating ingredients, such as green tea extract, rose water, aloe vera, and hyaluronic acid.
👉🏽  RELATED POST: How to Prioritize Self Care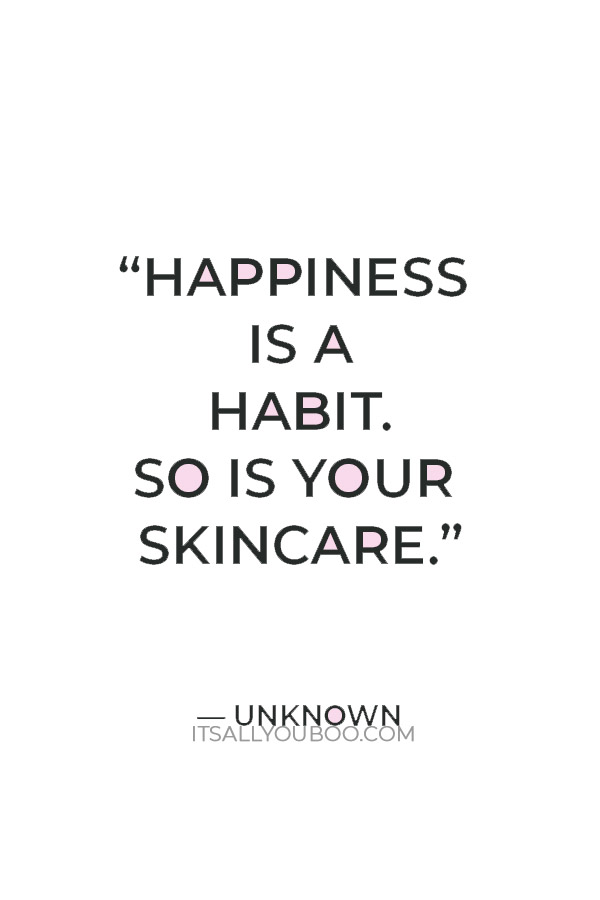 Step #4.
Treat (PM or AM)
Now it's time to target specific skin concerns and use skincare products with highly concentrated formulas. These products are usually meant for hydrating, nourishing, and renewing the skin.
Hydration not only increases the water content of the skin but also protects and encourages regular desquamation (the process in which the skin sheds dead cells), leaving it smooth, soft, and comfortable.
Other types of products used in this step can target and treat specific skin conditions, such as aging, hyperpigmentation, and acne. These are often used in the form of serums or boosters, which can be applied with a cotton pad or your fingers.
How to Choose the Right Serum
The active ingredients in your serum will depend on the skin concern you want to target, for example:
Vitamin C for brightening and protecting from pollutants and sun damage,
Hyaluronic acid for hydration,
Retinoids and peptides for anti-aging,
Niacinamide and chamomile extract for soothing irritation and skin repair,
Azelaic acid and Alpha Arbutin for hyperpigmentation.
Step #5.
Eye Cream (AM + PM)
The delicate skin around our eyes is prone to fine lines, wrinkles, and dark circles and needs special TLC. Applying an eye cream will nourish and protect this delicate area, hydrating and brightening it, and reducing the appearance of these signs of aging.
When applying your eye cream, you need to be very careful and gently dab it around your eye area with your ring finger. This ensures there's no aggressive tugging and pulling to avoid making these wrinkles even more prominent.
👉🏽  RELATED POST: Self-Care Tips for Parents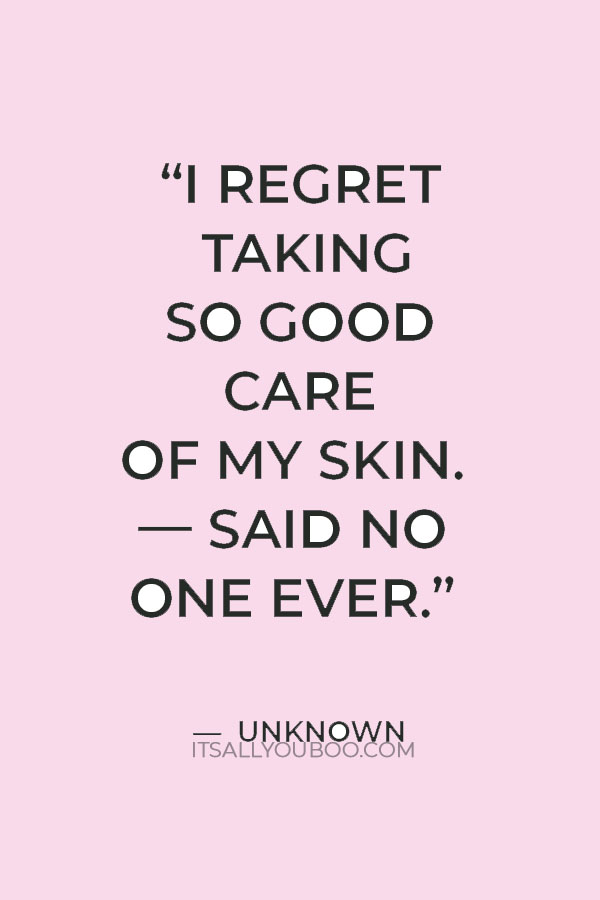 How to Choose the Right Eye Cream
Choosing the right eye cream can be a challenge, as there are so many options available in the market. Plus, eyes are very sensitive, and it may take a lot of trial and error to find a product that doesn't sting or burn.
So, opt for an eye cream that is gentle and free of fragrances and dyes that can cause irritation. Plus, you should think about the specific skin issues you want to focus on when choosing the eye cream.
For example, do you have dark circles? Fine lines and wrinkles? Puffy eyes? Choose a cream that specifically targets your concerns. If you have dark circles, look for an eye cream that contains ingredients like caffeine or vitamin K. If you have fine lines and wrinkles, choose an eye cream with retinol or peptides.
Step #6.
Moisturize (AM + PM)
Moisturizing your face, neck, and décolleté mornings and evenings is perhaps the most important step in a healthy skin care regimen, as it keeps your skin hydrated and protected. Here are just some of the reasons why moisturizing is the step you should never skip:

👉🏽  RELATED POST:  38 Self-Care Goals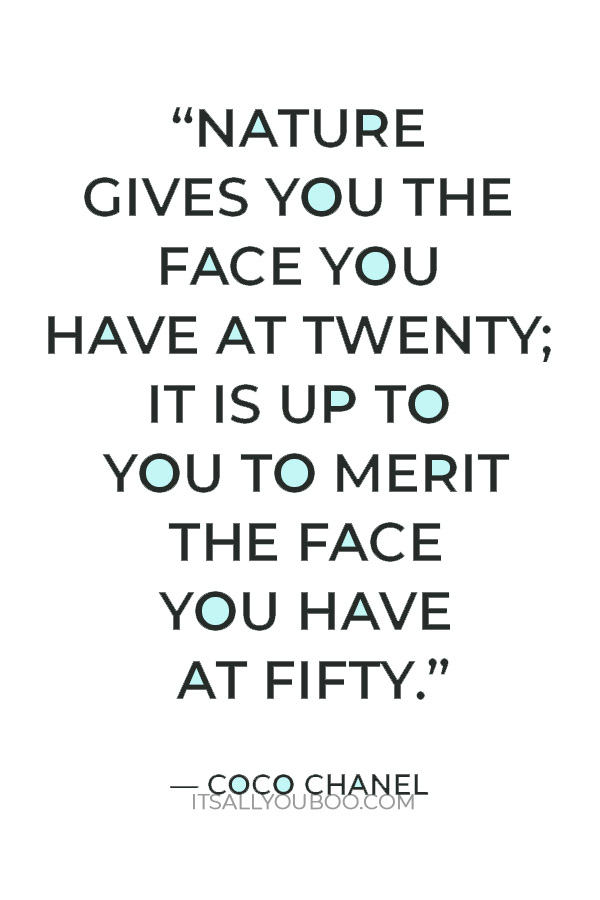 Prevents dryness: Moisturizing prevents dry, rough, flaky, and itchy skin. It will also make your skin less vulnerable to infections, as dry skin is more prone to cracking and breaking, which can lead to irritation and inflamed acne.
Maintains skin barrier: The skin has a natural barrier that protects it against environmental stressors and helps it retain moisture. Moisturizing strengthens this barrier, improving your skin's overall health and appearance.
Reduces signs of aging: Regular moisturizing will reduce the appearance of fine lines and wrinkles, as well as prevent the formation of new ones. This is because hydrated skin is more plump, elastic, and better able to protect itself from damage.
How to Choose the Right Moisturizer
Choose a moisturizer that is suitable for your skin type and condition.
For example, if you have oily skin, look for a lightweight, oil-free moisturizer.
On the other hand, if you have dry skin, choose thicker, more emollient formulas.
Your product choice may also depend on the season (e.g., many prefer lighter and liquid products in warm weather and richer creams during the winter months).
Step #7.
Protect (AM)
Effective sun protection is essential for maintaining skin health and should be considered an indispensable part of any skincare routine. This is especially important in the case of sensitive skin or, for example, acne-prone skin because it is more susceptible to sun damage.
While a few minutes a day in the sun helps us produce vitamin D, essential for health, some parts of our body, like our face, are often exposed to UV rays for several hours. This excessive exposure to UV rays is the leading cause of premature skin aging and sometimes skin cancer.
So, you need to protect the skin that will be exposed to the sun, like your face, ears, and the back of your hands, by applying sunscreens or sunblocks.

👉🏽  RELATED POST: How Much Should You Spend on Self-Care?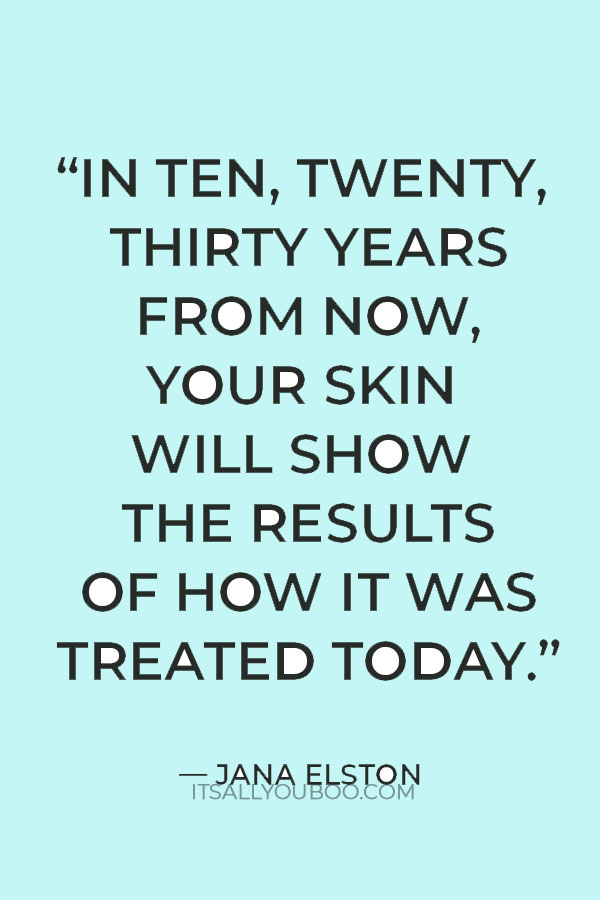 How to Choose the Right Sunscreen
The two main sunscreen categories are mineral sunscreens (or sunblocks) and chemical sunscreens, depending on the UV filter they contain. And so mineral sunscreens contain physical blockers, like zinc oxide or titanium dioxide, that reflect sun rays. Chemical sunscreens contain organic filters, like avobenzone, oxybenzone, and others, which absorb the damaging sun rays.
Minerals sunscreens tend to be more emollient and heavy in texture, making them a perfect choice for people with dry or normal skin types. On the other hand, chemical sunscreens are more lightweight and rarely leave a white cast on the skin, a preferred option among those with oily skin types and darker skin tones.
Like all skin care products, certain sunscreens will work better than others. Test and see which brands offer you the best feel and coverage, while protecting your skin.

Ready for Glowing Skin?
In sum, incorporating these steps into your daily skincare routine will help you achieve glowing, healthy skin. By following our guide, you can rest assured your skin will be protected from damage, nourished, and hydrated.
But remember that consistency is key, so make sure to follow your skincare routine every morning and night, as no product brings results overnight. You can achieve glowing skin, but it requires your commitment to having a daily skincare routine.
Get started today and remember all the steps:
Cleanse your face in the morning and night
Exfoliate in the morning and night
Use a toner twice daily
Treat any specific skin concerns (AM or PM)
Apply eye cream in the morning and at night
Moisturize twice daily
Protect from the sun in the morning
Altogether it only takes a few minutes each time, but over time your skin will become more radiant and brighter. This skincare routine will help to revitalize dry, dull, and tired-looking skin. And will keep your skin keeping hydrated and protected from the environment, especially the sun's rays.
Printable Self-Care Quotes
Good skincare is self-care! Get your 10 FREE printable self-care quotes, they are the perfect reminder to take care of yourself and your skin.
This download comes with high-resolution, graphic quotes that are ready to print and post in your home or office.
Test and Try New Skin Care Products
Take it one day at a time, and consistency is key to achieving glowing skin with your routine. Don't be afraid to try new products until you find the one that's right for you. Stores like Sephora or department store beauty departments often offer samples, so that's a great way to find the right products for your skin.
Be sure to spot-test new products on a small portion of your skin for a few days before applying them to your entire face. If you have a bad reaction or do not see results in a few weeks, you can try something new. There are so many skincare brands and products for different skin types. Especially if you have acne or breakout-prone skin.
However, if you have any concerns about your skin, like inflammation, cystic acne, or any other inflammatory skin condition, it's always best to consult a dermatologist to ensure that you're using the right products for your skin needs.
Don't be afraid to ask questions and see what the doctor says or recommends for your skin care routine. When you find a brand that works for you, experiment with some of their other products too. Consider how your overall beauty products, like makeup, could also be affecting your skin.
Finding the right combination of products for you will take some experimenting. So start testing, it makes starting a new nightly and morning skincare routine more exciting.
Tired of dull skin and ready to refresh your skin care routine? Try this daily skin care routine for glowing skin, with tips for morning and night by @allprettybits. #Skincare #Wellness #SkinCareRoutine #Beauty

What's your daily skin care routine for glowing skin?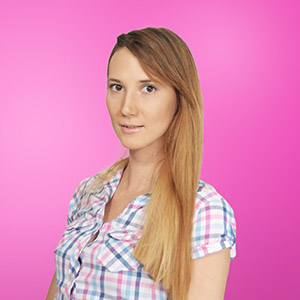 More About Guest Contributor
Sanja is the author/creator of allprettybits, a blog dedicated to all things pretty. The curiosity to know what's inside her new moisturizer set her on a mission to demystify skin-gredients. In her free time, she loves playing with her cat, watching documentaries, and making lip-smacking desserts.
Last Updated on May 28, 2023
✕
Get Your Self Love & Care Quotes
+ get weekly tips to help you slay your goals.