How do you develop new habits in life?
Why should I use a habit tracker template?
The secret to success is achieving your goals, one habit at a time! Take it day by day with an inspiring habit tracker template. Get yours here! @RLProOrganizer #habits #success
One of the most critical components of successful planning and goal-setting is writing things down.
Writing or illustrating our plans on paper sets a new level of expectation. We put things in writing to signify our commitment and belief that the events we write down will come to fruition.
Writing an event down signifies its importance to us. We write down birthdays, vacations, holidays, due dates, and appointments.
When we go food shopping, we make a list. Many of us also use writing as part of a more general goal-setting process.
But can writing make a difference in effecting a major behavioral modification?
Yes! In fact, people across the globe are discovering how to supercharge their self-improvement strategies by using a habit tracker.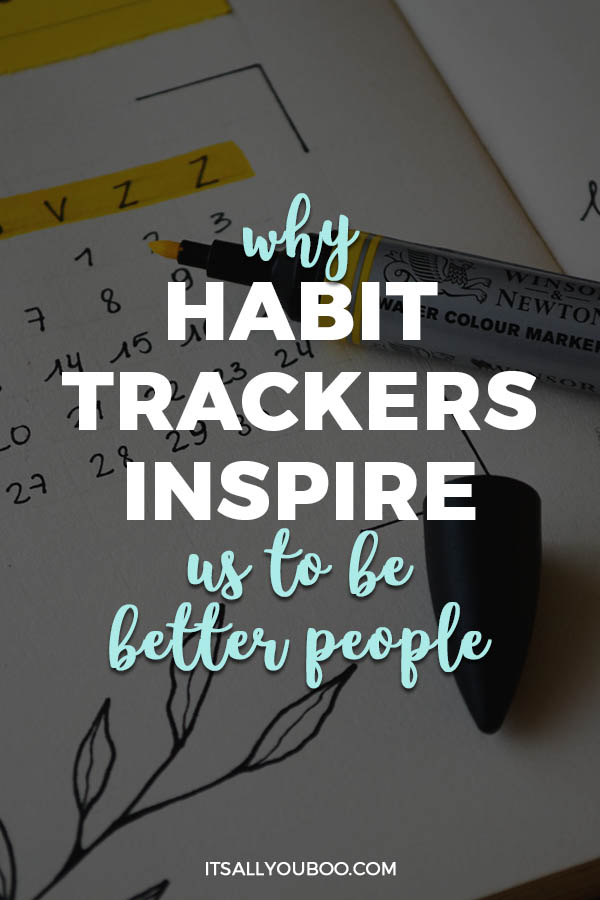 What is a Habit Tracker?

Habit trackers come in many forms. Most people who use this quintessential tool for habit modification typically purchase a habit tracking app, download a habit tracker that is printable, or design and draw their own habit tracker on paper.
Handmade habit trackers are especially popular in bullet journaling communities; however, the concept of maintaining a weekly habit tracker has even gained steam among those who prefer to use the latest technology over traditional paper.
One of the most popular examples of the tech industry's response to the growing demand for habit trackers is Momentum, an app that is based on comedian Jerry Seinfeld's "Don't Break the Chain" strategy.
For most people, drawing or downloading a printable habit tracker is the easiest way to begin exploring how to use a habit tracker.
Types of Printed and Hand-Drawn Habit Trackers
Hand-drawn habit trackers can range from very simple to extensively detailed. The classic weekly habit tracker is comprised of a grid of small squares. The horizontal rows correspond to each day of the week.
A simple tracker typically features a label that describes a single behavior or habit the user wishes to reinforce or modify. Each day the user completes the desired behavior, he or she will color in the square that corresponds to the weekday, forming a chain as the user continues the pattern of compliance.
More complicated versions of the classic tracker include vertical rows at the top of the grid for cases in which the user has multiple things to track in a habit tracker.

👉🏽 RELATED POST: How to Start a Bullet Journal: A Beginner's Guide
Negative Habit Trackers
The inverse of the classic habit tracker, which records instances of active compliance, is the negative habit tracker.
A negative habit tracker can be used to track occurrences of a bad habit. A negative habit tracker is comparable to the "swear jar," a tool many people use to curb their use of profanity. Negative habit trackers may also be used by individuals who are in the very early stages of habit modification and would like to assess the full extent of an undesirable habit.
A person who is attempting to consume less alcohol may decide to track the occasions on which he or she drinks alcohol within a week or month. Counting the occurrences of a negative behavior can provide compelling evidence that change is necessary by visually illustrating the level of frequency with which the person engages in the negative behavior.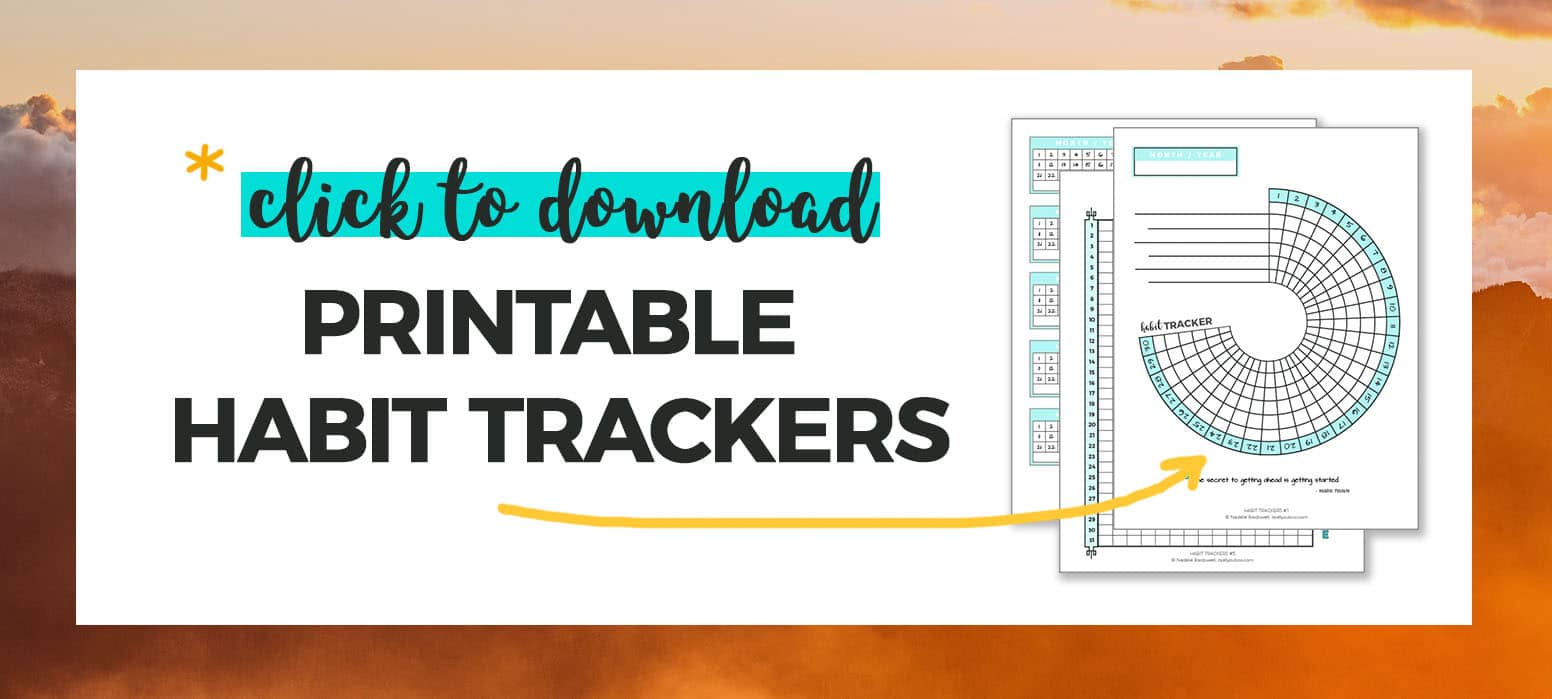 Beyond the Basics
The world of habit trackers extends well beyond classic weekly and monthly trackers. There is a vast assortment of much more creative, non-linear types of habit trackers, some of which incorporate game formats like Bingo and illustrated graphics that are filled in as the user nears the ultimate goal.
The sky is the limit when it comes to designing and customizing a habit tracker.

The Value of Habit Tracking
Despite beginning with honest intentions, most initial attempts to make major behavior modifications end in failure.
A simple study on New Year's resolutions provides evidence of this phenomenon. Business Insider reports that on average, an astonishing 80% of people abandon their resolutions within the first six weeks of the new year.
Our holiday resolutions are no different than the lifestyle goals we set throughout the year. Making a long-term behavioral change is a difficult process. However, we can improve our success rate by examining the reasons we fail and by strategizing accordingly.
👉🏽 RELATED POST: How to Automate Your Success with Good Habits
Don't give up, start by setting one habit a time. Track your progress every day with a habit tracker. Here's how! #habits
We Fail Because Change is Hard
The most common reason resolutions fail is lack of enjoyment.
A study published by the Personality Social Psychology Bulletin journal indicated that people are more likely to be successful at adopting healthy habits if they receive an immediate reward each time they practice the new habit.
In addition to lack of enjoyment, overestimating the degree of difficulty is another reason people often fail when attempting to develop a new, healthy habit.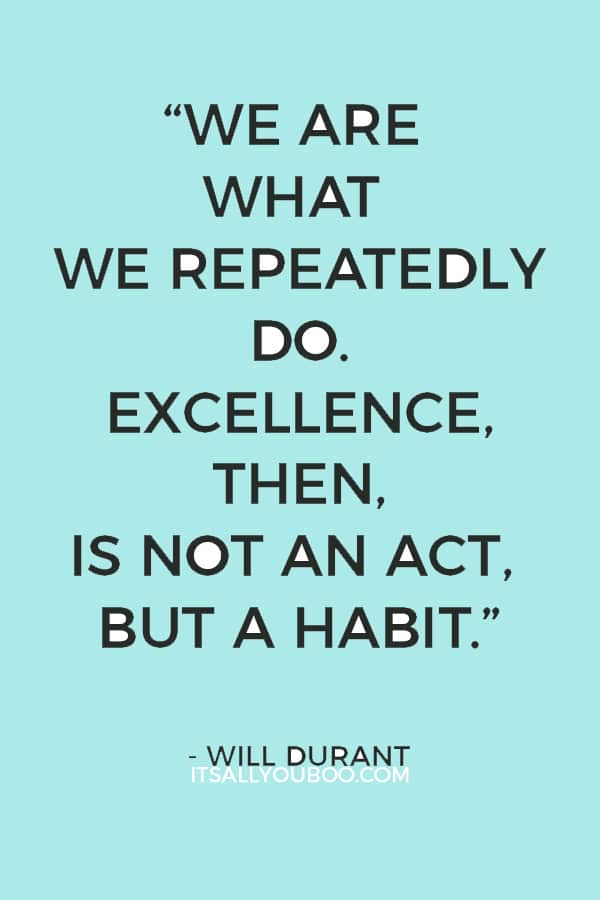 Due to the speed at which we travel in today's world, a busy lifestyle can often be a barrier to successful behavior modification. People are tired and more overstretched than ever. Therefore, the temptation to forego investing additional time and effort into preparing healthy meals at home, going to the gym, or meditating daily can be pretty strong.
This is where habit trackers enter the picture to help us remain persistent and ultimately achieve our goals.

👉🏽 RELATED POST: 6 Healthy Lifestyle Excuses You Need To Stop Making
We Fail Because We Crave Instant Gratification
Most of us have thought to ourselves, "Just one more cookie wouldn't hurt" or "I can skip today. I'll go tomorrow."
We often engage in similar dialogues when the mere thought of making the effort to keep the original plan seems less enjoyable than falling back on a less healthy plan B.
This happens in more subtle ways when we simply don't feel like practicing the new habit we are attempting to adopt.
Instead of being written off as a basic lack of motivation, this feeling can also be interpreted as an impulsive response to the absence of immediate results or an upfront reward.
For most of us, if we do not see an immediate benefit to choosing a certain action, we may simply avoid the action and seek something that appears to be more immediately rewarding, even if the alternative is not healthy for us.
Habit Trackers for the Win!
Maintaining a habit tracker delivers an immediate sense of satisfaction every time the user is able to visually indicate that he or she has met the daily goal of practicing the new habit.
Most people record these comparatively smaller, but critical daily successes on their habit tracker by coloring in one square that corresponds to each daily success or by placing a checkmark.
Most habit trackers incorporate an aesthetically-pleasing component that creates the visual reward of building a chain, adding a new color, or completing a small portion of a larger design each day the user practices the new habit and is able to add an entry to the tracker.
👉🏽 RELATED POST:  How to Make a Habit Stick, Based on Science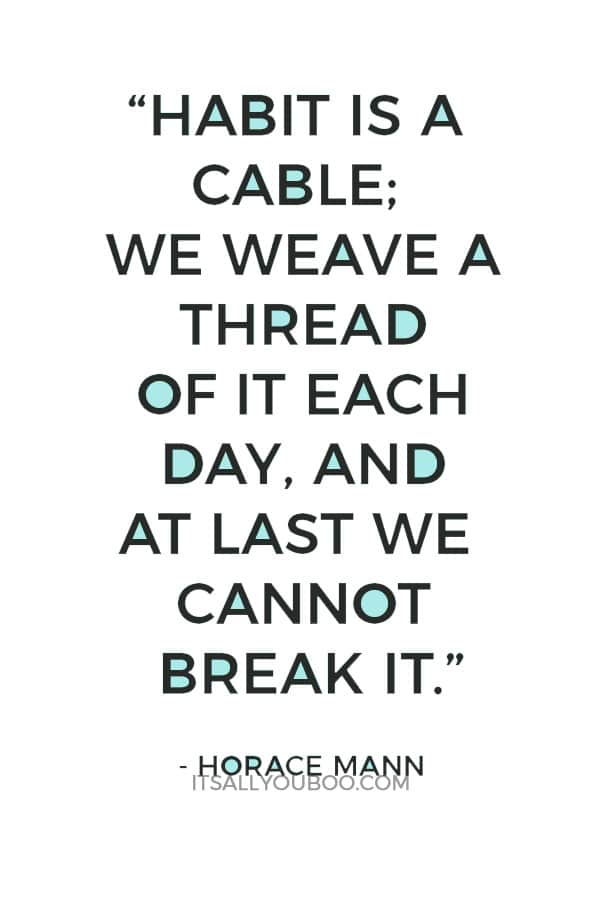 Start achieving your goals, one habit at a time and one day at a time, with a habit tracker template. Click here for yours! #habits #success Click to Tweet
Celebrating Small Victories
The presence of everyday triggers and temptations make habit tracking a necessity. In addition to helping us measure compliance, habit trackers also serve a general record-keeping function.
When the busyness of life sets in, we may legitimately forget to take our daily vitamin or that we have not yet had our eighth cup of water today.
Habit trackers provide a mile marker each day to remind us of where we are and what we need to do in the present to continue on the path of lasting self-improvement.
Getting Started with a Habit Tracker Template
For those of us who are new to tracking our habits on paper, it is advisable to begin by tracking a single habit in a basic weekly layout.
Large goals become more manageable when we break them down into smaller benchmarks. Pursuing a larger goal on a day-by-day basis reduces the temptation to fixate on the long road ahead, which most often leads many of us adrift down the river of discouragement that statistically flows into a sea of broken resolutions and unmet goals.
Starting small by focusing on practicing the new healthy habit one day at a time makes the process of getting through the initial resistance more manageable and the thought of making a major change less overwhelming.
Choose Form and Function

When choosing a format for a habit tracker, aesthetics are as important as functionality. A tracker that is too plain or that is visually unappealing is much more likely to go unused than one that has a design that is easy to use and visually stimulating.
Therefore, the user should choose carefully when considering layout, design, and colors. If necessary, a printed habit tracker templates can be personalized by adding stickers, hand-drawn details, and motivational quotes to make using the tracker an encouraging experience that is also visually rewarding.
After settling on a style, the next step is to draw or print the tracker template at least one day prior to the beginning of the tracking period. It is important to completely finish setting up and personalizing the tracker prior to beginning to use it. Attempting to use a tracker with a handmade design that is partially unfinished can easily detract from the overall aesthetic value and ease of use.
Finding Inspiration
The internet offers a wealth of information and design ideas for those of us who are beginners at habit tracking. People who enjoy bullet journaling have transformed habit tracking into an art form as new design ideas are shared daily among the millions who participate in online communities.
For those who are less artistically-inclined or who simply lack the time and desire to create their own weekly habit tracker by hand, downloadable templates are available to suit virtually every aesthetic preference.

Although habit modification takes work, the act of tracking improvement can be fun and therapeutic. For many people, habit tracking provides an artistic outlet, and for everyone who implements this self-improvement strategy, each daily entry signifies its own small victory along the road to greater success and better living.
Printable Habit Tracker Templates
Ready to make a new habit stick? Get your FREE printable habit tracker templates, with spreads for 30 and 31 days.

Do you use a habit tracker to make new habits stick?
More About Guest Contributor
Featured on the award-nominated productivity podcast, Beyond the To-Do List, Rolanda L. is a professional organizer and productivity coach in New York City. Nicknamed the "Holistic Home Organizer," Rolanda's comprehensive, wellness-centered approach to organizing and productivity has high profile executives, tech startups, and families across New York City optimize their lifestyles at home and at work.
Last Updated on July 11, 2021
✕
Get Your Habit Trackers
+ weekly tips to help you slay your goals.