Wish you know how to dress confidently as a woman?
Do you wonder, how dressing affects your attitude and confidence?
The clothing you wear and how you carry yourself definitely impacts your confidence level.
Have you ever looked at a high-stepping, power-dressing, confident woman and thought, "I can't dress like that, it's just not my style"?
Wearing leggings, baggy clothing, and sleepwear all day sure doesn't help do it? With more of us working from home, no wonder we just don't feel as confident as we should. With fewer reasons to go out, you lose touch with the style you once had (or maybe even never had).
We've got good news for you! Dressing confidently as a woman is not so much about what you have on. It's more about what you have inside. Hold on, we'll show you what we mean.
So, do not worry, you do not need to go get a makeover or splurge on a new capsule wardrobe, you can feel more confident within yourself.
The Science of How Clothes Affect Your Confidence
Does the way you dress affect your confidence?
It's not all about self-talk. We discovered that the New York Times actually talked about a scientific study about how what we wear changes how we act. They called it "enclothed cognition" or "embodied cognition." Those are just fancy words that mean it actually matters what we wear.
In the study, the scientists used a universal symbol of knowledge and confidence: a doctor's coat. They looked at how wearing a doctor's coat affected randomly chosen participants. Just wearing the coat, feeling the cloth on their skin, sharpened their memories and the way they acted. They associated confidence with the coat, and putting it on made them more confident.
Crazy, right? But it's true! The way we dress does affect our confidence.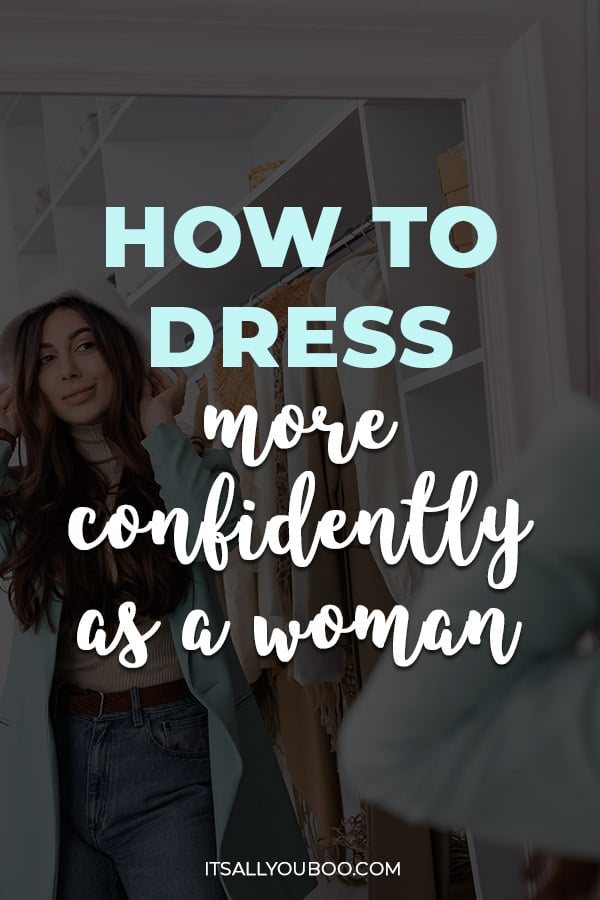 How do clothes affect your confidence and personality?
Clothes are really interesting for two reasons. First, we wear them, so the way we feel in our clothes changes how we act. Second, people see them, so the way we dress changes how people treat us.
When we know this, we can change how we act, and how people see us, just by changing the way we dress.
Maybe you're worried that power dressing "Just isn't me." Sometimes that's the point. If people always see you a certain way, then they know when you mean business through your clothes. But we'll tackle that question of confidence and dressing a little later.

How To Become More Confident as a Woman
Okay, let's be real for a moment.
Some of us would absolutely love to start our power-dressing journey and just get out there and kill it. But the truth is, sometimes you just can't get yourself to even have the confidence to wear what you want.
Here are seven tips to build up your confidence from the inside.
#1.

Change Your Internal Conversations
As we all know from experience, women can tend to overthink. A lot.
We take one look at the mirror and think, "Oh, that face won't look great today." And that internal conversation just follows us around. Change it up! Think, "You know what? This face will look wonderful. Let's get to work on that."
#2.

Try Saying "No" Once in a While
When is the last time you unapologetically said "no" to somebody? Not in an unkind way, of course. But without feeling any guilt. When you need to use it, when you really mean it, say "No" and let go of the guilt.
#3.

Try Saying "Yes" Without Explaining Yourself
Sometimes we want to dress up or do something fun but if we can't find a reason, we shut ourselves down. But why? Try saying "Yes" to something different and fun—you don't need a reason.
👉🏽  RELATED POST: 5 Wardrobe Must-Haves For Every Woman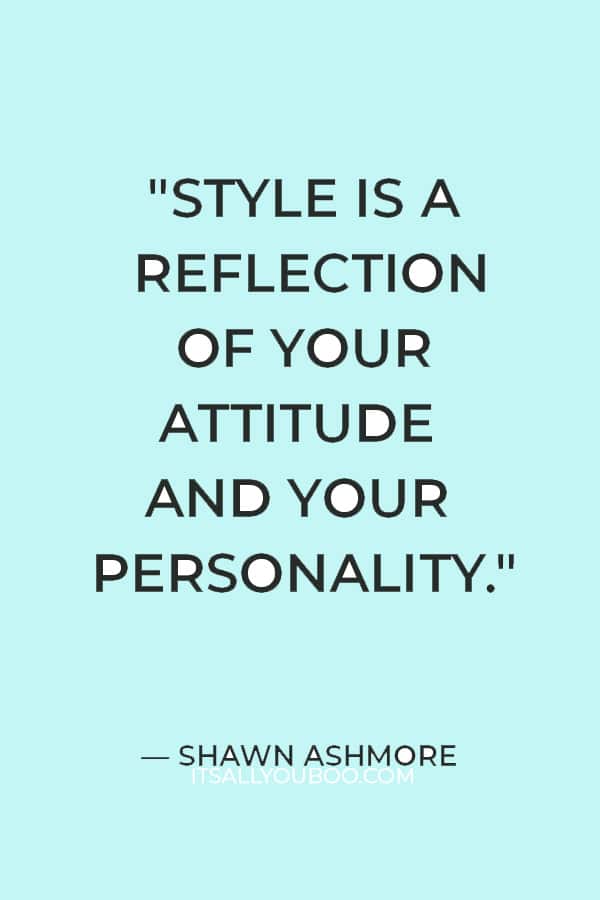 #4.

Be Honest with Your Emotions
Often, something that traps us into our emotions is, ironically, when we overthink our emotions. Try this instead. When you feel any kind of emotion, just acknowledge it. "I feel scared. Whew! Let's do this!"
#5.

Practice Your Posture
Maybe you've read about power postures or the correct way to stand or hold your head and that stressed you out. I mean, you don't want to look stiff! But at home, for a few seconds every day, hold a power posture.
Don't think about how it looks. Notice how it makes you feel. It will spill into the rest of your day. Plus, it helps you fake it until you make it!
#6.

Exercise for Health
If you've ever done a light workout or even shifted your diet to something healthier, I'm sure you noticed how it changes the way you see your body. Even just feeling better about yourself makes you want to show it off. That's confidence.
👉🏽  RELATED POST: How to Start Exercising After a Long Time
#7.

Dress for Yourself
Now, let's get back to clothing. Think back to that confident woman you saw striding around. Why does she look so confident? She probably feels comfortable and powerful in her own clothing. It is that air of confidence that gives the clothes their power, not the other way around.
Now that we've figured out how confidence, clothing, and our identities as women work together, let's get to the fun part.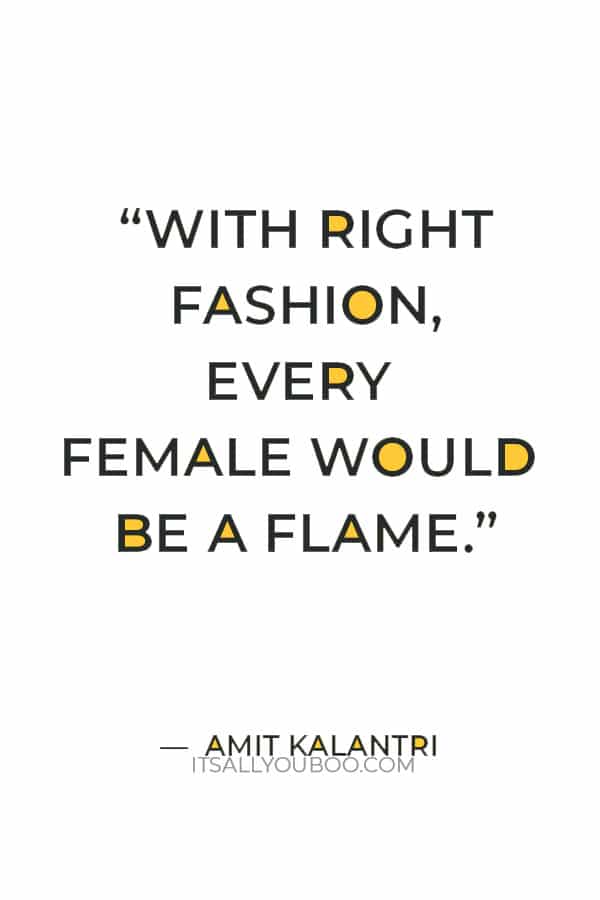 Dress Confidently As a Woman Through Power Dressing
How does power dressing work?
It's not just a term that coaches and mentors throw around casually. It really makes a difference in how you act. Remember what we said about "embodied cognition"? How you feel in your clothes changes the way you act. Because of that, it changes the way people see you.
#1.

Yes, Jeans Can Be Part of the Look
You might think that you need to completely lose comfort when you're dressing up. But that's not true! Here's a secret: looking good can stand in for looking formal. A tasteful blazer, jewelry, and sleek shoes can match those jeans for a relatable power outfit.
#2.

Yes, Statement Coats and Jackets Make the Cut
Don't be afraid you'll be too flashy. After all, isn't that the point? If there's a statement jacket that you love, if it really makes you feel comfortable in your own skin, go ahead and wear it. That comfort will shine as confidence no matter the situation.
#3.

Yes, Seek Comfort in Silks
Silks are no longer confined to loungewear. Silk blouses, pants, and coats are now part of the regular office and outside wear. It is practically its own style. If you find silks more comfortable and relaxing against your skin, by all means! Wear them!
👉🏽  RELATED POST: How to Become a More Confident Person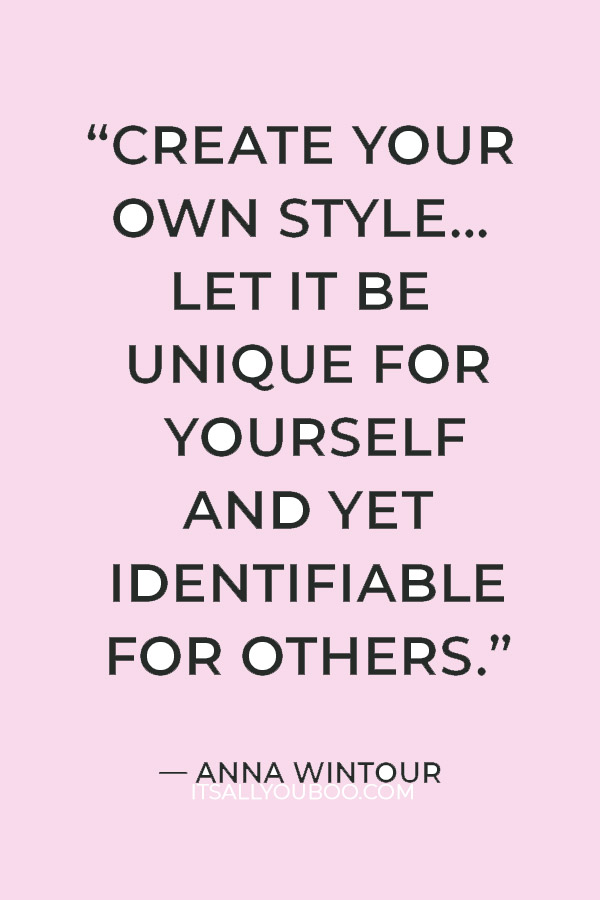 #4.

Yes, Lingerie is Part of Power Dressing
Don't believe me? When's the last time you dressed to impress? I'm sure you pulled out your best-fitting bra and admired your look even before pulling on a blouse or dress.
When you are building your confidence as a woman, don't end with self-talk. Work your way from the inside out.
#5.

Yes, Loose or Baggy Clothing Qualifies
What's your original idea of how to dress confidently as a woman? Is it 5-inch heels, a cinched waist, and tailored pants? That's fine. But if you're not comfortable in them, you won't be confident in them. If you can carry loose or baggy clothing with comfort and poise, you will automatically look confident.
Are you surprised by our approach? It seems like we just said yes to everything!
The answer to that is yes! Of course, we said yes to everything. Remember what we said earlier about how women want a reason for everything they do?
The trick to confidence is unapologetic joy in our own style. If we're dressing in our own style (talk about that later!), we show off how to feel confident in our clothes.
How to Dress Confidently With the Right Colors
Okay, here's the main thing you need to know: don't wear a power color just because someone else says it's a power color. If it doesn't look good on you, it's not a power color. Now that we've said that, let's take a look at how to dress confidently as a woman in your colors.
#1.

Know Your Colors
It would take too long to describe each palette here, and there are a lot of great sites out there that help you find the kind of colors that you look good in. We suggest sites like Color Me Beautiful, which looks at your palettes and gives you the best range for your skin and hair color. When you know your colors, you can work within a good range.
👉🏽  RELATED POST: How to Build a Capsule Wardrobe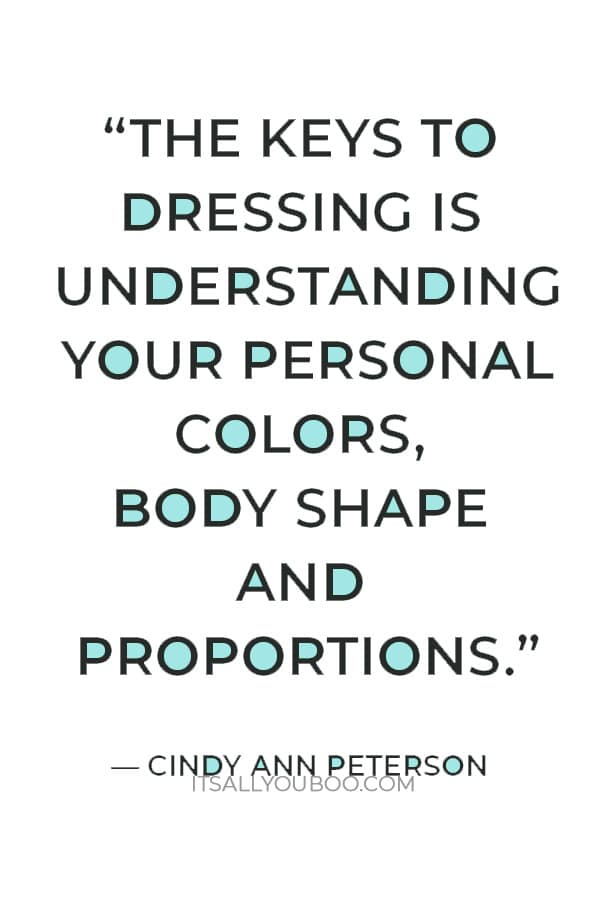 #2.
Choose the Right Color
Red As a Power Color
Red is automatically a conveyor of passion, enthusiasm, drive. A touch of your palette's red will add a certain thrill to your outfit. And yes, lipstick counts! Red lipstick, matching another accent color, will give you the effect you need.
Pink As a Power Color
Yes, really. Bright pink as an accent is its own statement, although you might want to use that one sparingly. Pale or dark pinks in large color blocks can be calming and soothing to the people around you, making you the influencer in the room.
Yellow as a power color
When used as an accent, yellows ranging from bright to mustard make your outfit stand out. Grays and neutrals blend well with yellow, meaning you can wear a classic power suit and then give it a twist with a bit of yellow.
The royal palette as power colors
We're talking about royal blue, battle green, royal purple as the classic power colors. You can wear them on their own in solid color blocks, or as intentional accents. However, if your personal palette has different shades of these colors, move with those instead. Don't forget: if they are your colors, they are power colors.
#3.
Accessorize with Your Power Colors
Is it starting to get confusing? Our suggestion is to spend some time picking out accessories in your power colors. Accessorizing even your bag handles is in style, so freely collect silk bandanas and tags in your colors.
Figure out the best way to merge them with your existing outfits. And, of course, match your makeup to your palette.
👉🏽  RELATED POST: 7 Tips for Improving Your Self-Confidence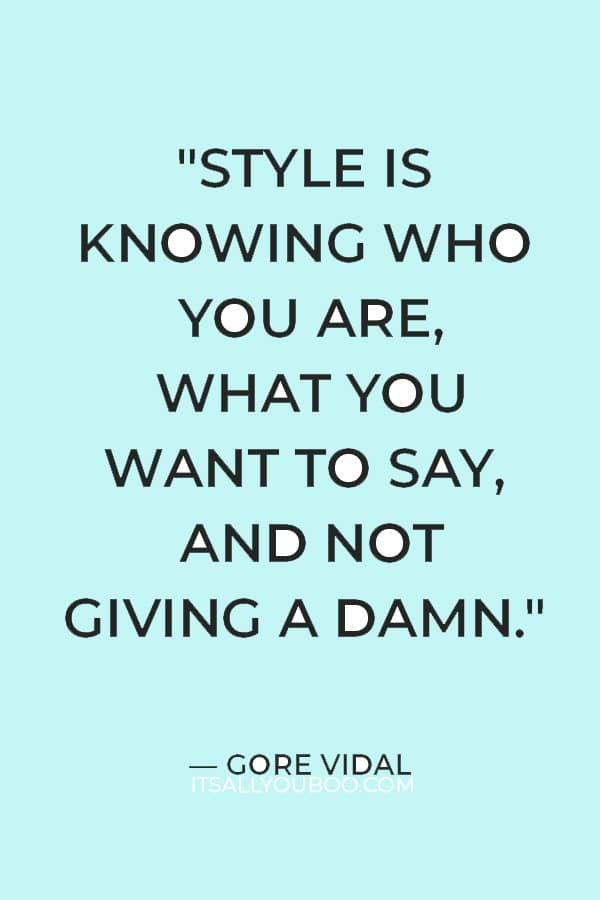 Dress Confidently No Matter Your Style or Shape
Personally, as a woman, it's important to dress confidently no matter what. It can sometimes take us a bit longer to gain respect, and confidence in ourselves goes a long way towards helping others have confidence in us. However, with all the body types and clothing styles in the world, we should know how to dress confidently as a woman—without even needing a reason.
Tip #1.

Figure Out Your Body Type
Don't expect to get it right the first time. Body type guides make it seem so simple, but the truth is, we have a hard time identifying our own body types.
First of all, our eyes are at the level of our heads, so our lower body will always look smaller when we look in a mirror.
Second, we know our own body shape too well. It would help to have a good friend or a stylist help us identify our body type.
Tip #2:
Dress Confidently No Matter Your Shape
NO matter your body shape, you are beautiful and can dress confidently as a woman. To key is to know what works for your body shape.
If you have an apple shape:
If you are wider in the bust and shoulders than you are in the hips, with a solid torso, then you might fall under the apple shape. Balance out your look with flaring skirts or pants, and deep v-necks to lengthen your torso.
With an hourglass body shape:
Supposedly this is the ideal look, but yes, you can dress wrong for this one too! Skip the baggy stuff. Go for figure-hugging and waist-cinching to make the most of your body type.
If you have a pear body shape:
The pear body shape is characterized by solid hips and thighs, but narrow shoulders. Pick outfits that enhance your shoulders, and you'll successfully pull off an hourglass look.
With a rectangle body shape:
If your shoulder width and hip width are connected by a solid torso, you'll want to create a definition for your waist. The fun part is that you get to pair ruffled or elaborate tops with printed or elaborate skirts or wider pants, to get that hourglass effect. You can be a natural standout with your outfit.
👉🏽  RELATED POST: How to Clean Out Your Closet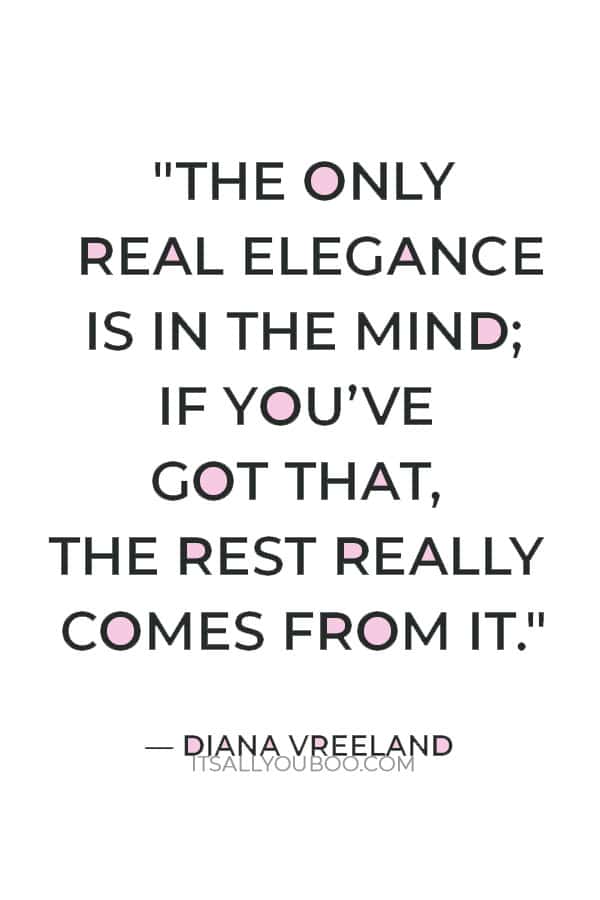 How Should I Dress for a Feminine Style?
Knowing how to dress confidently as a woman also means knowing how to bring the feminine side of your identity forward. Let's take a look at the best ways to do that.
Skirts and dresses bring the look. The flowing and curvy nature of skirts and dresses automatically make your outfit more feminine.
Florals and pastels are relaxing to the eye. Femininity is often associated with lighter, more comfortable colors and patterns. Mixing in florals and pastels will help your look.
Heels or at least sandals work to your advantage. Heels tend to be expected, especially paired with skirts and dresses. However, if you're not one for heels, strapped sandals do the trick just as nicely.
You Be Confident In Your Own Style
Still wondering, how can I be confident in my style? Own it!
You know that feeling when you worked hard all day and now you can just sit down and celebrate the amazing results? Yup, that's how it happens.
Discovering your style, your colors, what really makes you comfortable in your own skin, is hard work. Sometimes you'll think a pair of pants will work and then they just won't. Sometimes you'll try on a jacket on a whim and end up loving it.
Get Your Self-Confidence Quotes
Want a reminder to feel more confident and love your body? Get your 10 FREE printable self-confidence quotes!
They're perfect for your office, home bedroom, or wherever you need to find inspiration daily. Each design is black and white and features brushed ink letter detailing.
This download comes with 10 high-resolution graphics ready to be printed and posted.
Your confidence in your style comes from knowing that you put in the hard work, that you triumphed over all the trial and error, and that you finally came up with something uniquely you.
When something is uniquely you, and you are comfortable in your style, the confidence will come.
Want the confidence to wear what you want? To feel more confident in clothes? This is how to dress confidently as a woman no matter your style or shape with power dressing. #Confidence #SelfConfidence #Outfit

How do you dress confidently as a woman?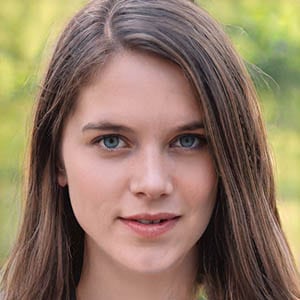 More About Guest Contributor
Mira Adora is a freelance writer from the US. She loves sharing knowledge and interests related to technology, business, and travel by making herself busy producing content. When not working, she binges Netflix.
Last Updated on July 11, 2021
✕
Get Your Confidence Quotes
+ get weekly tips to help you slay your goals.