Need tips for improving self-confidence?
Want to know how to gain confidence quickly?
Let's face it— we all have moments where we feel unsure of ourselves and our capabilities. Even the most self-assured people have their off days. This is why achieving a degree in self-confidence requires constant exercise and effort from all of us.
Now, you may be wondering, "How do I begin my journey to self-confidence?" Well, you're in luck! If you're ready to shine from within, follow these tips for improving your self-confidence!

How Do You Build Confidence?
A confident person typically resembles someone who is both secure with themselves and the things that they do. They aren't afraid to take on new opportunities to accomplish their goals and tend to exude positive energy in their day-to-day lives. Seems easy enough, right?
Sadly, becoming self-assured is much easier said than done as it requires you to take a deeper look into your psyche and tap into your emotions.
Step #1: Honestly Assess Your Skills & Abilities: Be honest with yourself and evaluate your strengths and weaknesses. Recognize where your talents, skills, and abilities differ from others and embrace those distinctions.
Step #2: Recognize Your Shortcomings/ Accept Failure: At the same time, it's also important to acknowledge where you fall short. Don't let your pride get in the way of finding your true purpose and reaching your full potential.
Step #3: Capitalize & Correct: Once you take your strengths and weaknesses into account, analyze which areas you want to improve on most in your life. Use these findings to fuel your energy as you take steps to further refine your self-image and achieve your life goals.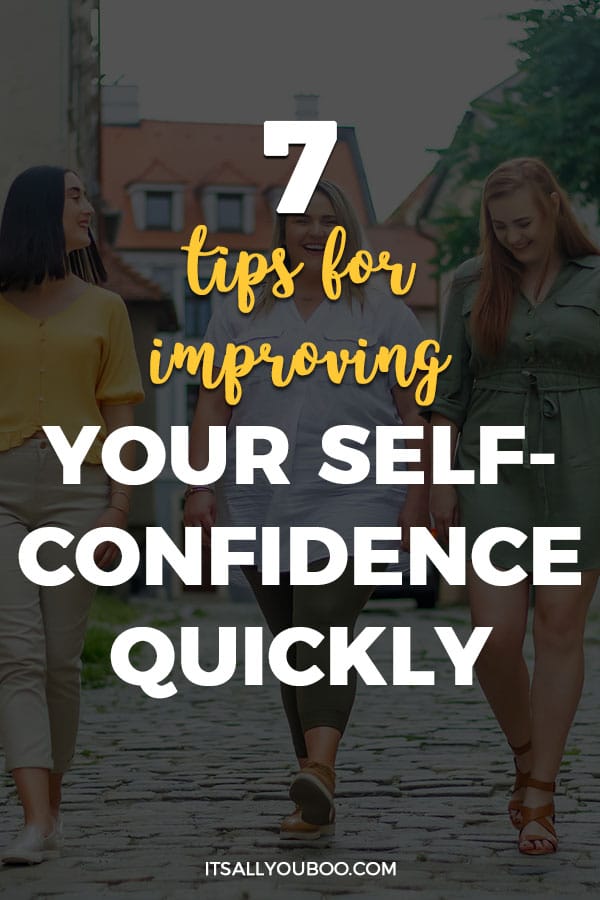 How to Gain Confidence Quickly:
Long-lasting self-assurance comes with consistent dedication, motivation, and perseverance, so get ready to embark on an everlasting journey to self-confidence. To get you started on the right track, follow these seven tips for gaining confidence quickly:
#1.
Follow The 3 Ps:
Regardless if it's for a school assignment or a freelance project you're working on, to feel self-assured, you must dedicate time to educate yourself and understand the matter at hand. That's why following the three P's— plan, prepare, and practice— is not up for negotiation when it comes to gaining confidence quickly.
Plan: Staying organized can only work in your benefit and allows you to be more in control of any situation, allowing for an instant confidence boost.
👉🏽  RELATED POST: Home Projects that Build Confidence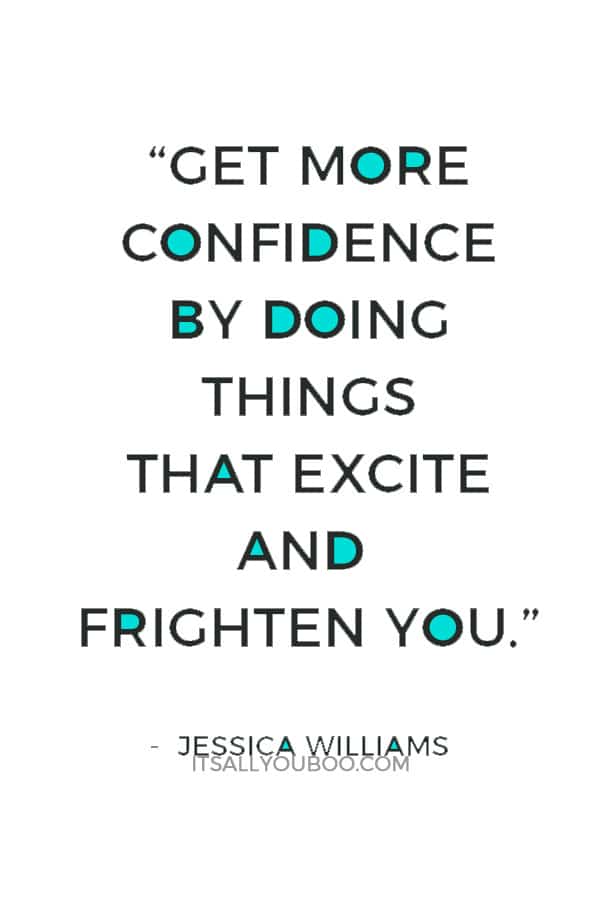 Prepare: Did you know that success is 80% preparation? The more time you invest in preparing for something, the more likely you are to feel equipped to tackle any tasks or challenges thrown your way.
Practice: When you're feeling uneasy or overcome with self-doubt, try playing out the situation with a family member or friend. A one-on-one interview, practice presentation, you name it— these confidence-building activities are a sure-fire way to guarantee you're prepped and primed for anything life throws at you.
Think about a challenge you're facing and how you can use the 3 Ps to improve your self-confidence.
#2.
Practice Positive Self-Talk
The conversations we have with others about ourselves, along with the inner conversations we have in our minds can influence our thoughts and emotions as it works to shape our worldly view and overall self-image. So while it may not seem impactful at first, try to practice positive self-talk every day to help foster your self-image.
Look for Silver Linings:
Believe it or not, all bad things come with some good, you just have to look hard enough! Dwelling on your worst moments isn't going to help boost your self-confidence, nor will it magically fix the situation. Rather than investing all your energy reflecting on the negative, try to look for the silver linings to direct your attention back to the positive.
👉🏽  RELATED POST: How to Be Positive no Matter What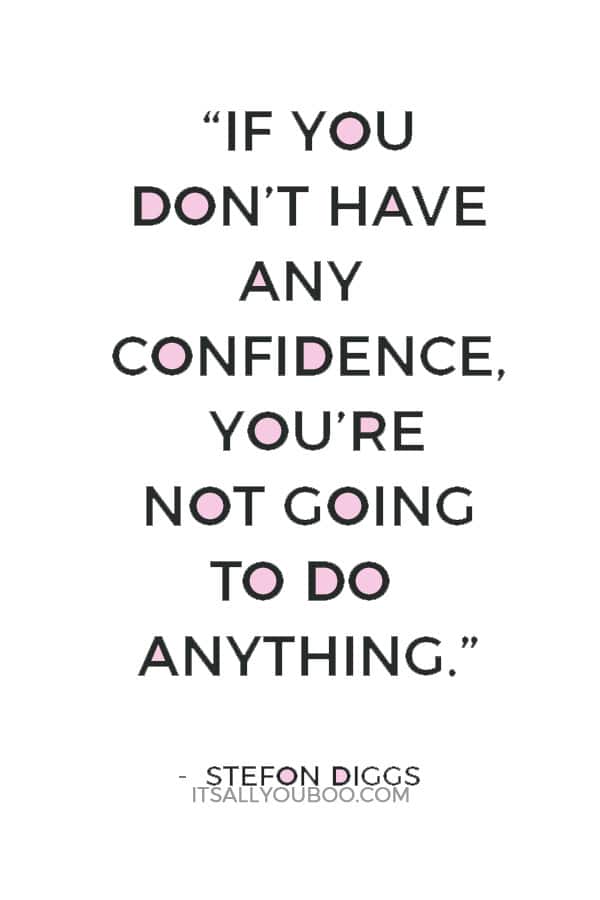 Perform Self-Affirmations:
Even if your self-esteem is low, speaking self-affirmations that align with your values and overarching goals can serve to support your self-confidence journey. Take it one mantra at a time! Practice saying things that you wish to happen or that you want to be true about yourself. A simple phrase like "I am greater than my negative thoughts and emotions" can work to manifest your deepest desires.
Keep Track of Your Compliments:
If you tend to brush off every nice thing someone else says about you, how can you ever expect to boost your self-esteem? Next time one of your peers has something nice to say about you, embrace it! Try keeping an ongoing list of compliments that made you feel special so that you can return to the positive energy when you're having a bad day and have a lack of self-confidence.
👉🏽  RELATED POST: 12 Ways to Always Be Happy
#3.
Utilize Your Nonverbal Cues
Faking it til you make it' can be easy with the utilization of nonverbal cues. Even if you're feeling insecure, honing in on your nonverbal communication can work to exude confidence as certain cues allow you to portray yourself in an entirely new light to the people you interact with. As a result, their positive feedback will give you the assurance you need to feel confident.
Here's how to use this tip for improving self-confidence:
Smile: Did you know that the muscles that work to produce your gorgeous smile can help transform your mindset? When you smile, your body releases "happy hormones," known as endorphins, making for an instinctive, positive shift in your overall attitude.
Eye Contact: Maintaining eye contact with people is huge for boosting confidence quickly as it projects self-esteem and assertiveness to others. This impression can give the right idea to others that you know what you're doing, in turn, feeds your ego to find its stride and build confidence instantly.
👉🏽  RELATED POST: How to Become Your Best Self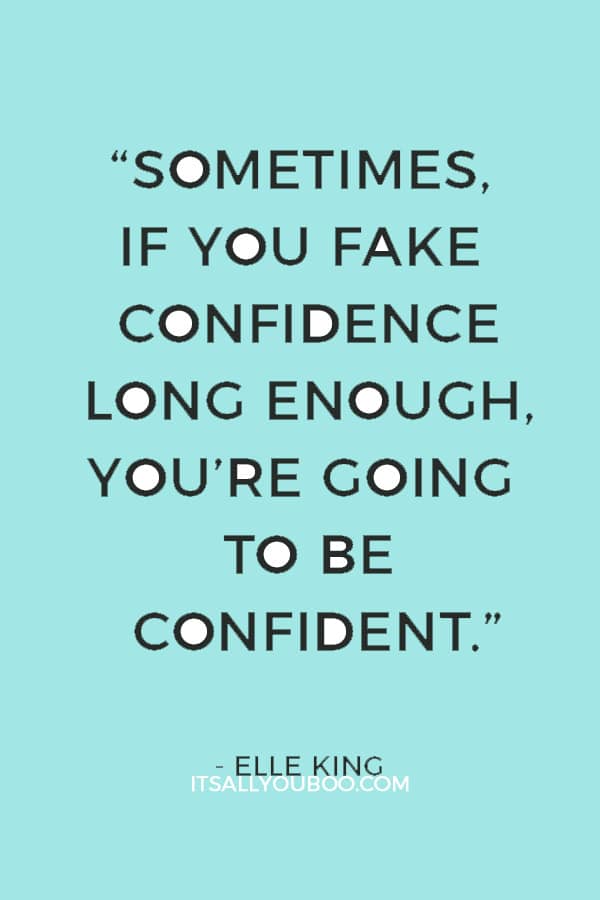 Posture: When in doubt, strike Superman's infamous power pose! Research shows that your posture acts as a breeding ground for self-confidence as it can alter your level of testosterone as well as other hormones, leading to a natural increase in confidence.
#4.
Take Pride in Your Appearance
Looking the part not only makes you look good, but it also makes you feel good, which is why it's a crucial component for improving confidence. So, whether you're preparing for a presentation at work, first date, or a professional networking event, you'll typically want to focus on three key areas of your outward appearance to help you gain confidence quickly:
Skincare:
Experiencing skin issues like acne can greatly impact your self-esteem. Because of the negative connotation society has attributed to acne, those of us who do share this common skincare concern tend to be more reluctant to join group outings and other social situations. For this reason, practicing good skin care is essential for boosting your self-image!
Unfortunately, however, achieving a clean, fresh face doesn't happen overnight. Treatment products with active ingredients like retinol require a few weeks of consistent use before visible results, so choosing the right skincare products from the get-go is vital, especially if you're already struggling with blemishes and breakouts.
To get desirable results fast, consider speaking with a dermatologist about your daily skin regimen. They can provide you with customized skincare advice and prescription treatment options for acne or any other skin concerns you may have, when applicable.
👉🏽  RELATED POST: Small Changes that Make a Big Difference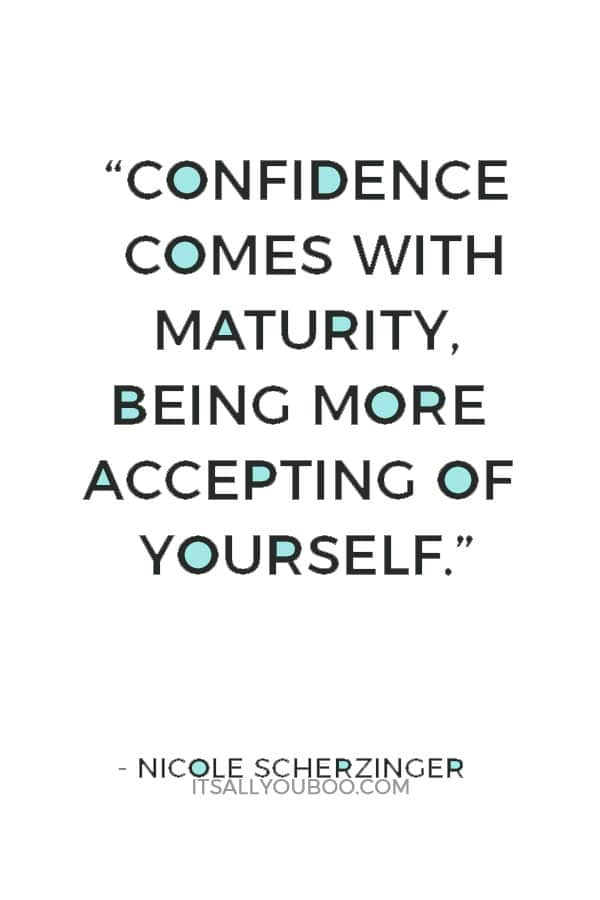 Haircare:
How you look after and style your hair plays a fundamental role in improving your self-esteem as it serves to support our identity by allowing us to define who we are. Everything from the cut, color, and style can contribute to boosting self-confidence, so why not take control of these haircare opportunities? Find what look makes you feel fierce and use your locks to empower your self-worth.
Everyone's hair grows at a different pace and while some may require more routine haircuts, others may only need to go once every few months. Those who are experiencing thinning hair may want to consider styles that will best flatter them. Men dealing with male pattern baldness may opt for these styles for thinning hair, while women experiencing female pattern baldness may find the styles shown here to be the most flattering.
Outfit:
Your sense of style is unique to who you are and can reveal a great deal about your mood and personality. The reflection it has on your inner self makes it easy to see how it can affect your self-esteem.
Aside from wearing clothes that match your trendy style, first think about the occasion you're dressing for. What you wear while giving a presentation will probably not be well-suited for your first romantic outing with that certain someone, so focus on finding the most appropriate fit before grabbing any ole outfit. Additionally, look for clothes that compliment your figure. To style yourself confidently, take this body type quiz!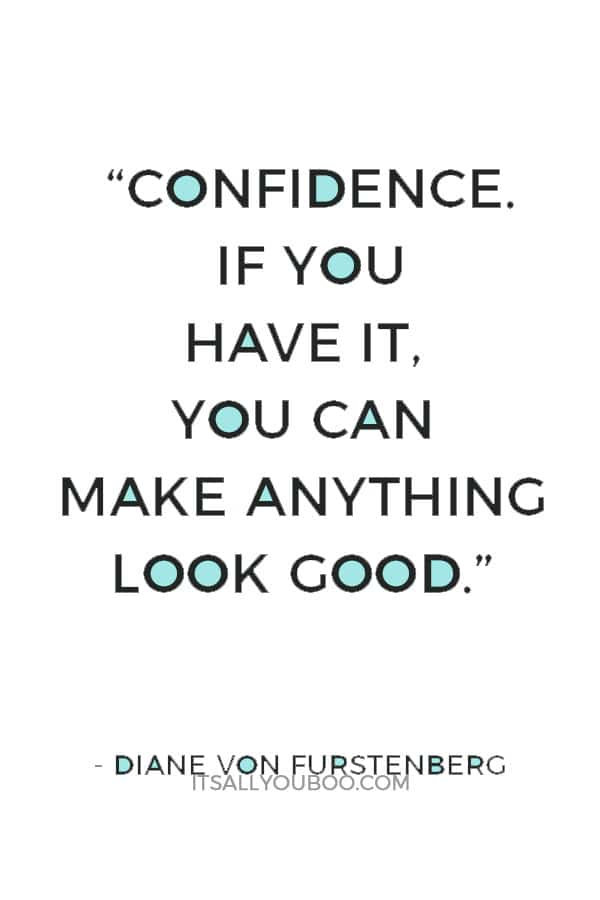 #5.
Surround Yourself With a Supportive Squad
While developing self-confidence does come from within, the people you surround yourself with also play a role in boosting self-esteem. Keeping this in mind, it's important to be conscientious of the people you welcome into your life. Surrounding yourself with a supportive squad can make a huge difference in the way you tackle hard situations. When deciding who you do and don't want to keep around, ask yourself:
Do They Applaud Your Victories? If your "friends" aren't happy for you when you encounter success, you may want to rethink who you're sharing your victories with. Your squad should be uplifting and supportive, not jealous, and judgemental.
Do They Offer Constructive Feedback? Those who are truly supportive of you will not be afraid to voice their opinion and offer constructive criticism when necessary. Still, be mindful of the difference between constructive and destructive criticism. If it sounds more like an insult than a genuine piece of advice then it probably is.
How Do They Encourage You? Just because your squad accepts you at your worst, doesn't mean they should be encouraging it. If your friend group encourages more bad behavior than good, they may be contributing more to your self-doubt than your self-confidence.
If this tip for improving self-confidence is hard for you, remember you can always make new friends.
👉🏽  RELATED POST: How to be Yourself Around others
#6.
Eliminate the Negativity
Beyond removing toxic people from your inner circle, you should also be taking other steps to further eliminate negativity in your life. The more positive energy you have around you, the more likely you are to project feel-good energy into the world. Unfollowing certain media accounts, quitting a job you hate, and/or cutting off communication from a bad relationship— are great ways to self-cleanse and make room for more positivity in your life. Other confidence-building activities to try include:
Gratitude Journaling:
The art of gratitude can make or break your level of self-appreciation. That's why investing in a gratitude journal can be extremely beneficial for improving self-confidence and overall quality of life. The simple approach to self-recognition makes it effortless to find silver linings in every situation and celebrate the small stuff for all that they are.
👉🏽  RELATED POST: Why Gratitude is Important
Deep Breathing Exercises:
Inhaling the good and exhaling the bad is a quick way to shake off your self-doubt any anxiety you may be experiencing. Deep breathing exercises give your body no choice but to relax, so in times of uncertainty, remember to breathe out the bad.
Limit Your Screen Time:
Social media can be fun, but it can also serve to skew your mindset of reality. Most people only share the good moments of their lives on their social media platforms, causing others to adopt unrealistic standards. Try to limit your screen time throughout the week. Replace the time you'd spend scrolling through your social accounts with good mental health activities like yoga or meditation.
#7.
Focus on Finding Solutions
One of the best tips for improving self-confidence relates to how secure you feel in yourself and what you do. Because of this, it's essential to focus your energy on finding solutions to things that'll aid in overcoming insecurity to become comfortable with yourself and the various roles you play in life.
Problem-Solve: More often than not, the only way to get through something, is to go through it. No matter how scary or intimidated you feel, it's important to face your fears head-on. Otherwise, you'll jeopardize any progress you've made on your self-confidence journey and hinder personal growth.
Stay Organized: Mapping out your weekly agenda, monthly objectives, and daily to-do's, can provide you some clarity when finding solutions. Set yourself up for success by keeping track of your responsibilities in a designated work notebook or goal-setting planner.
Talk to Someone: Sometimes, the best thing you can do to figure out your next move is to talk openly with someone else about it. It doesn't matter if it's with your boss, close friend, or even a therapist— when all else fails, branch out and use your connections and resources to find solutions.
Build Your Self-Confidence Today
Improving self-confidence can be tough, but by following these tips, you'll be able to shine from the inside out! You don't have to limit yourself to these tips, either.
Get Your Self-Confidence Quotes
Ready to start boosting your self-confidence today? Get your 10 FREE printable self-confidence quotes!
They're perfect for your office, home bedroom, or wherever you need to find inspiration daily. Each design is black and white and features brushed ink letter detailing.
This download comes with 10 high-resolution graphics ready to be printed and posted.
Looking for confidence-building activities? Want to build confidence and self-esteem? Click here for 7 tips for improving your self-confidence quickly. #Confidence #SelfConfidence #SelfLove

What tips for improving self-confidence do you like best?
Last Updated on July 11, 2021
✕
Get Your Confidence Quotes
+ get weekly tips to help you slay your goals.