Looking for wardrobe must-haves every woman needs?
What basic wardrobe essentials do you need?
Do you ever wonder, what should I do to boost my confidence?
Struggling with feeling like your best self when you wake up in the morning is something that everyone experiences, especially in these trying times.
As women, how we look and what we wear has the ability to boost our confidence, or tear it down, which begs the question:
Can clothes make you more confident? That's what we're hoping to dive a little deeper into today as we discuss the top wardrobe must-haves for every woman to boost her confidence.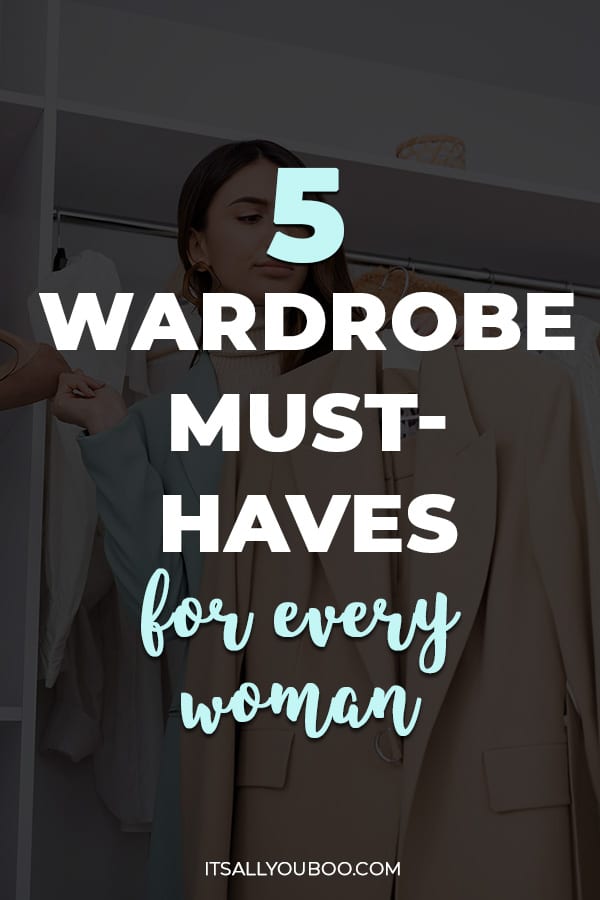 When you pick out an outfit that makes you feel confident from head to toe, there's a certain magic to it. Whether you're proud of your color coordination or you're showing off a top you just purchased, it's empowering to feel good about what you're wearing.
Unfortunately, many women have felt this magic wearing off during this season of isolation. This is in large part because there hasn't been a reason to dress up or look "nice" in general while staying home. If you're experiencing a lack of confidence in your sense of style because of the isolation blues, you're not alone.
The good news is, you can easily fix this with a few additions to your wardrobe!
Before diving into our list of wardrobe must-haves for every woman, let's first take a deeper look at dressing for confidence in general.

How To Dress Confidently as a Woman
Dressing confidently as a woman is something that takes time and practice. Plenty of articles will tell you that confidence in your clothes is about being bold and branching out of your comfort zone.
While there's nothing wrong with this advice there's a little bit more to it than that. Dressing confidently as a woman should instead be looked at through the lens of two things: self-acceptance, and personal preference.
If you're someone who wants to dress more confidently, it's in your best interest to start traveling down the path to unconditional self-acceptance. Put simply, this means that you are both proud of the positive parts of yourself, and at peace with the parts, you might not like.
👉🏽  RELATED POST: 7 Ways to Improve Self-Confidence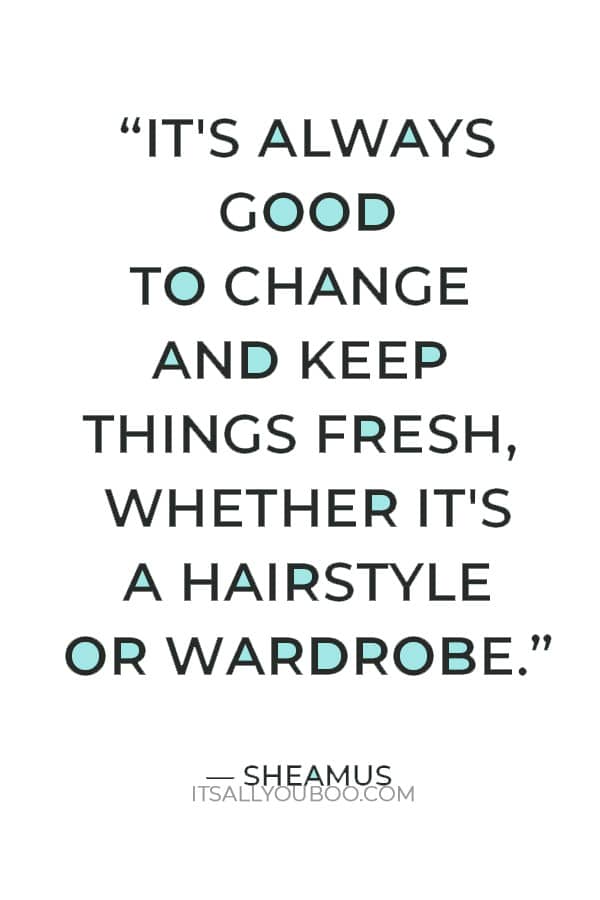 Confidence Starts with Self-Acceptance
Everyone has things they don't like about their body, and that's okay. The trick to feeling confident isn't forcing yourself to love your pain points but instead accepting them for what they are. As you work toward self-acceptance, the next step in the process of dressing confidently is embracing your personal preferences.
Don't just wear something because you were told it's trendy. Really try to ask yourself what you like about it. You can easily get a firm grasp on your preferences by spending some time going through the clothes you already own.
Identify commonalities between your favorite tops, pants, and dresses.
Do they share similar patterns and colors?
Do you tend to prefer tighter or looser clothing?
What fabrics and textures do you prefer?
Once you nail down what about your style makes you, you, and begin your journey to self-acceptance, you're ready to make some changes to your wardrobe.
And, there's no better place to start than with this list of the top wardrobe must-haves for every woman.
👉🏽  RELATED POST: 22 Ways to Become Your Best Self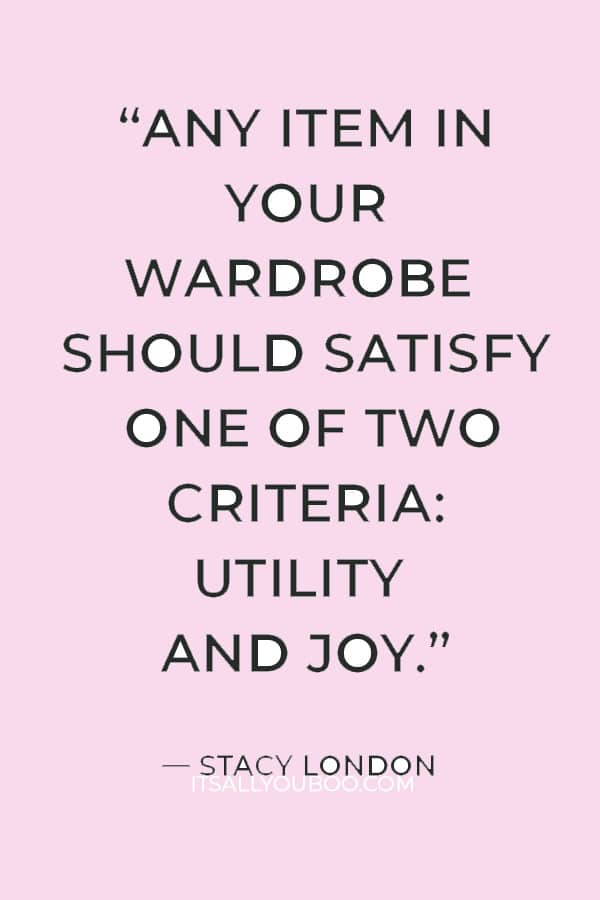 5 Wardrobe Must-Haves to be a Confident Woman
#1. Top-notch Underwear
First things first, high-quality underwear should be at the top of your list. Despite the fact that this closet essential is frequently overlooked and neglected, it's a vital wardrobe must-have for every woman.
Since we don't get to show it off as often, it's no wonder why underwear is such an easily forgotten essential. That being said, settling for underwear that's too tight or made of the wrong material can definitely impact your confidence. Instead, every woman should have a few go-to pairs of top-notch underwear in their dresser to turn to.
The last thing you want to worry about as you put on a killer outfit is bunching, uncomfortable undergarments, or showing lines where it shouldn't. So be sure to invest in high-end, long-lasting intimates that won't hold you back from self-acceptance!
When dressing confidently, it starts with your very first layer of clothing.
👉🏽  RELATED POST: How to Build a Capsule Wardrobe
#2. Perfect Fit Jeans
Denim has made a huge comeback in the fashion world over the last few years, which isn't surprising since it's a staple that's been around for decades. But, what constitutes "fashionable" jeans has changed several times over, and when this happens, it can be difficult to decipher what's "in" and what's "out".
Regardless, it's safe to say that having at least one pair of what you consider to be perfectly fitted jeans falls into the category of wardrobe must-haves for every woman.
So, how do you find this perfect fit? The answer is quite simple: by feeling out different styles of course! There are a few things you'll want to check for as you try on different styles of jeans, and these include the stretch, the pocket height, and the quality.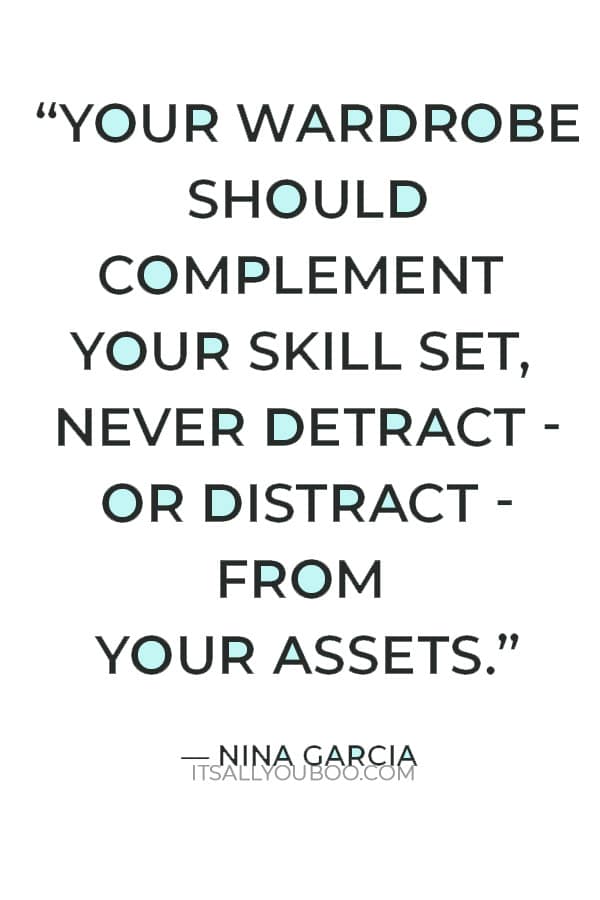 Choosing a Confident Pair of Jeans
The stretch of any given pair of jeans usually comes in one of three options: super stretch, comfort-stretch, or non-stretch–– since one type of stretch isn't better than the other, this is where your personal preferences come in.
If you like your jeans to mold to your body, a pair on the stretchier side is the way to go.
On the other hand, if you prefer your jeans to hold in place, you'll probably want to opt for ones that are non-stretch and cotton-based.
The next thing to consider is the height of the pockets on the jeans. The most flattering jeans have pockets that are wide and sit lower on your bottom. Of course, you don't have to ditch a pair of jeans you love just because the pocket height doesn't meet this rule. But, it's still something to keep in mind when looking for the perfect pair to add to your wardrobe basics.
Finally, if you truly are on the hunt for a pair of jeans that give you the perfect fit, don't skimp out on quality. A good pair of jeans should last you at least five years as real denim is meant to be durable. Even though you'll likely have to pay a little bit more than you usually do for quality jeans, think of it as a long-term investment.
A pair of jeans that fit your body perfectly is a wardrobe must-have for any woman who's looking to boost her confidence.
That being said, don't be so quick to settle for denim that's too tight or clunky just for the sake of convenience or cost, rather, spend some time finding the perfect fit. The right pair of jeans should highlight your figure in a way that makes you feel your absolute best.
👉🏽  RELATED POST: How to Be a More Confident Person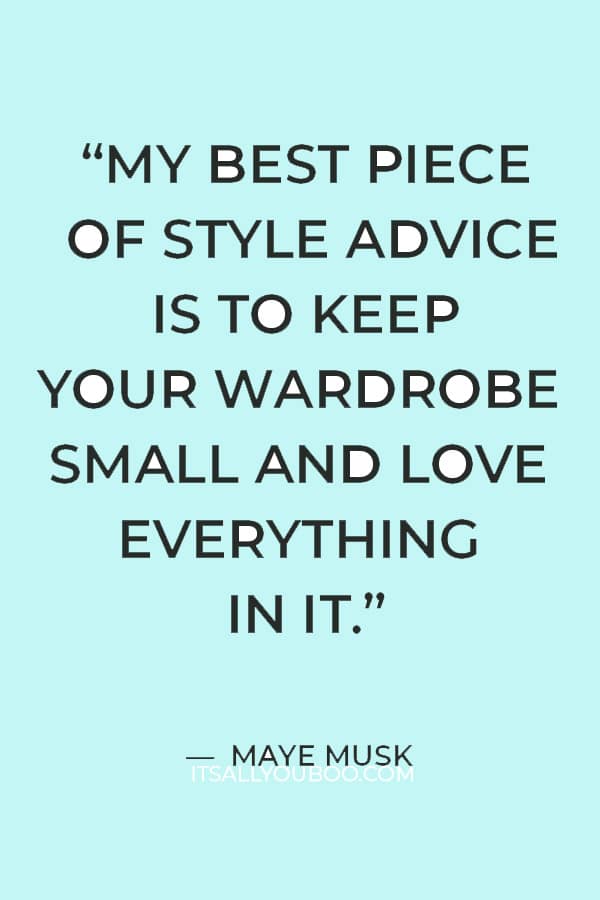 #3. A Signature Coat
Arguably one of the most necessary wardrobe must-haves for every woman is a signature coat. And no, we don't mean the one you wear when it's freezing outside. We mean a quality, fashion-forward coat. No pattern or color is too bold because again, it all depends on your preference!
Currently, longer coats are quite popular, making a basic tan trench coat the ultimate addition to any closet. By the same token, shorter cropped puffer jackets are also on the rise, however, these tend to be a bit harder to style, which is why longer coats may be a better option.
Since a signature coat is a necessary must-have that every woman should have in her closet, so make sure it's one you can wear for a while. Similar to jeans, a quality coat should also be looked at as a long-term investment, so try not to go for one on the cheaper side.
A coat that expresses your personality while making the rest of your outfit pop offers an equal combination of self-acceptance and personal preference. It's one of those wardrobe basics that can be as bold or as subtle as you want them to be, so have fun with the coat you choose and get creative with your fits!
👉🏽  RELATED POST: The Ultimate Skin Care Routine for Stress

#4. Gold Hoops
A pair of gold hoops have the ability to take any outfit from bland to beautiful. Don't believe me? Put some on with the outfit you're wearing right now, and ask yourself how you feel. Gold hoops are on the rise for this reason, so it's worth getting yourself a pair.
Even if you don't like the color gold or the style of a hoop, you can always find another earring that suits you. We're recommending gold hoops specifically because they've been trending as a top accessory for quite some time now.
Earrings are usually that one thing your outfit is missing to take it to the next level, making them an essential accessory for any woman at any age. The next time you're feeling like your look is lack-luster, add in a pair of gold hoops and see what they do for your confidence.
Believe it or not, there's even some science behind this trend that's known as hoop earring psychology. This theory claims that hoop earrings are more likely to grab people's attention, and increase confidence!
👉🏽  RELATED POST: How Much Should You Spend on Self-Care?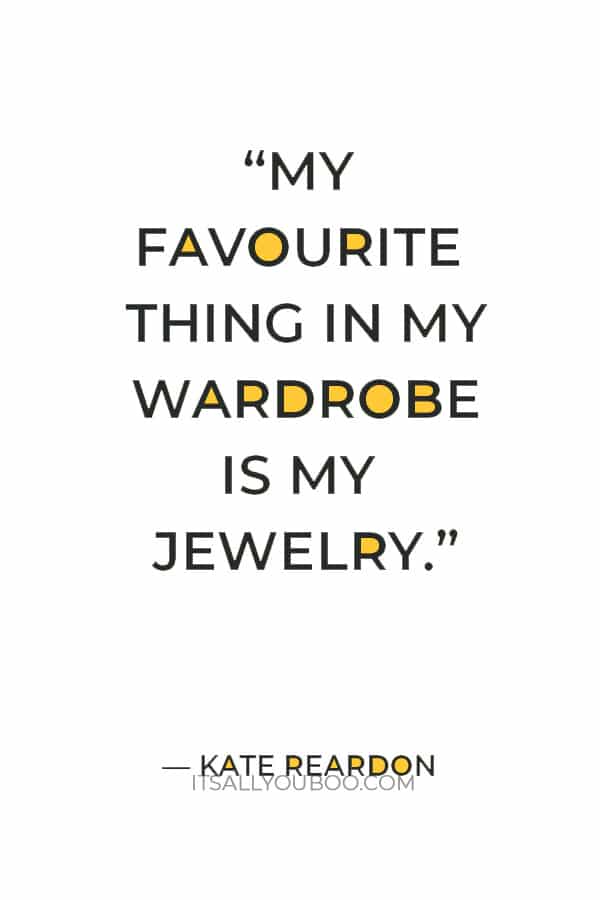 #5. A Go-to Pencil Skirt
There are few clothing items that are universally flattering, and the pencil skirt is one of them. Whether you love a long sophisticated skirt or a short-slitted one, this popular style staple has to be regarded as one of the wardrobe must-haves for every woman.
The beauty of items like a pencil skirt is that they're able to be worn in numerous settings, making them just as versatile as they are flattering.
Since they come in all styles and fabrics, consider looking into the different ways to wear a pencil skirt before you start shopping for a new one. Leather is an ideal option if you enjoy your style to be on the edgier side, while suede is slightly more sophisticated and business casual.
No matter what style of pencil skirt you land on, be sure to find one that pairs well with several different tops in your closet.
👉🏽  RELATED POST: How to Start Dating Again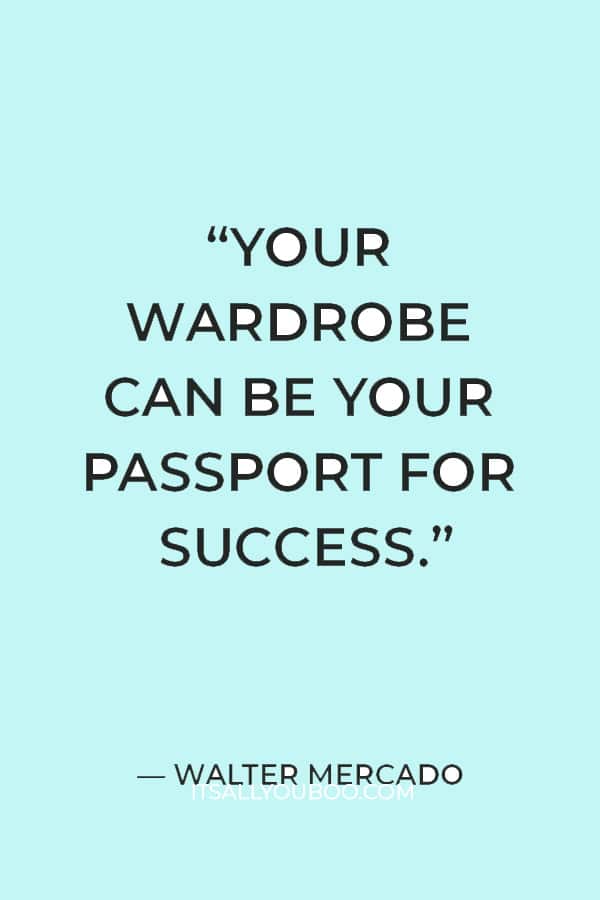 Ready to Dress More Confidently as a Woman?
How dressing affects your attitude and confidence?
Several studies have been conducted to show that clothes change the way you think in both positive and negative ways.
For example, putting on a full business casual ensemble can actually improve productivity at the office, because your brain associates such clothes with work. There is even evidence that demonstrates that wearing brighter colors is more likely to enhance your mood!
The idea follows that wearing an outfit that makes you feel good about yourself also has the ability to improve your confidence from the inside-out. If you want to be more self-assured about what you're wearing, and in yourself, start with the wardrobe must-haves we've listed for every woman identified above.
Get Your Self-Confidence Quotes
Want a reminder to feel more confident as a woman? Get your 10 FREE printable self-confidence quotes!
They're perfect for your office, home bedroom, or wherever you need to find inspiration daily. Each design is black and white and features brushed ink letter detailing.
This download comes with 10 high-resolution graphics ready to be printed and posted.
Most importantly, make sure that every piece of clothing you invest in is something you love.
A well-rounded wardrobe should have everything from universal pieces like perfect fitted jeans, to comfort classics like top-notch underwear.
These essentials will be the foundation pieces that allow the rest of the clothes in your closet to shine.
Want to dress more confidently as a woman? You can wear confidence with these 5 wardrobe must-haves for every woman. Click here to discover which pieces are essential! #Confidence #SelfConfidence

What wardrobe must-haves for every woman do you have?
Last Updated on July 11, 2021
✕
Get Your Confidence Quotes
+ get weekly tips to help you slay your goals.