How do you face your fears head on?
What's the best way to face your fears and anxiety?

If you had to guess, how often has fear prevented you from living the life you dream?
You bow out each time you attempt to ask for that raise or promotion.
Starting your own business is your dream goal, but the unknown venture prevents you from taking any real steps.
Your family doesn't believe in making an income as an author, so you put the pen and paper away.
Let's face it. You're no stranger to fear.
Fear of rejection. Fear of failure. The fear of the unknown. And the fear of being judged.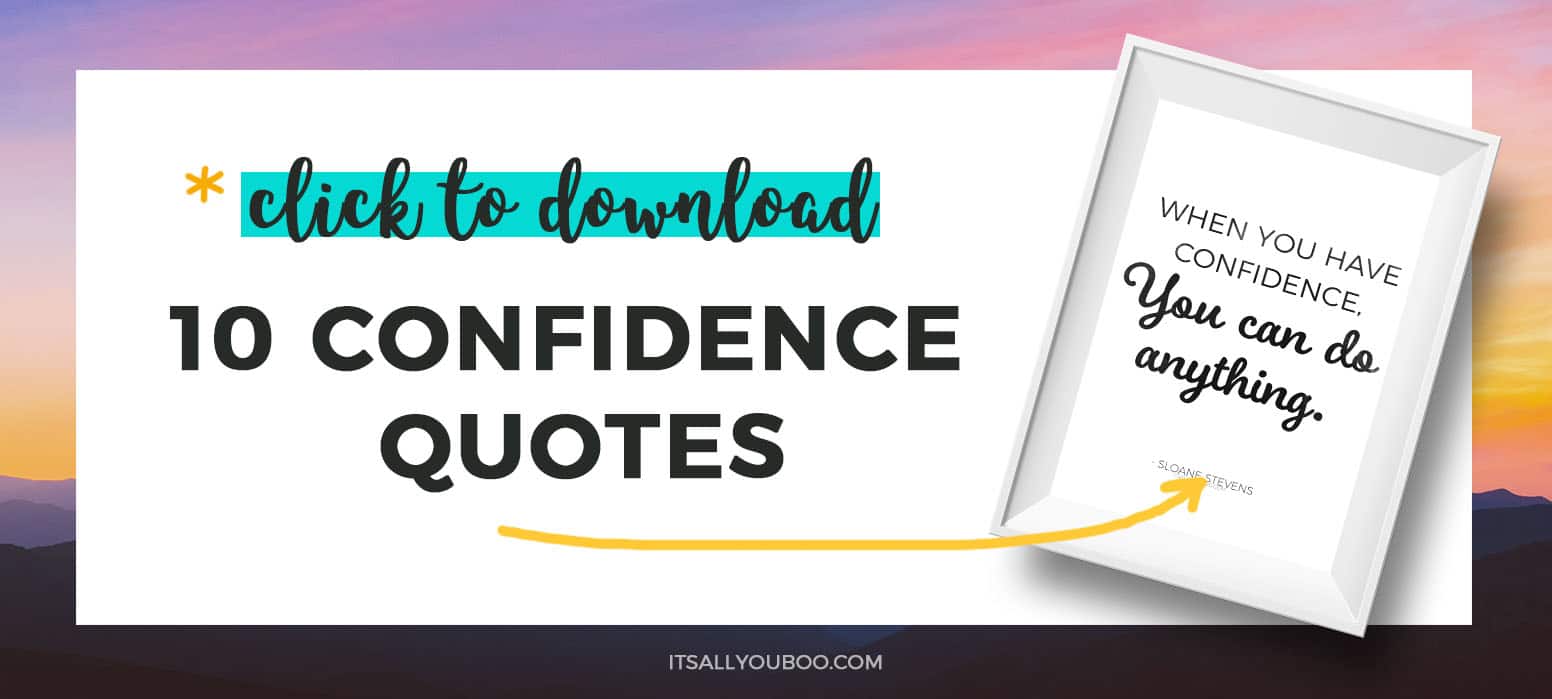 These fears prevent you from living your life. It stops you from fighting for your dreams.
In other words, you are just moving through the motions of daily life.
It sucks. And it's a waste of your life.
You want to move forward, but you wonder how to face your fears head on when the overwhelming – sometimes crippling – emotion always felt so impossible before.
This post is packed with inspiring quotes and will guide you through direct steps you can take today so you will know precisely how to face your fears head on. You can finally stop wasting your time and start pursuing the life you've always dreamed of.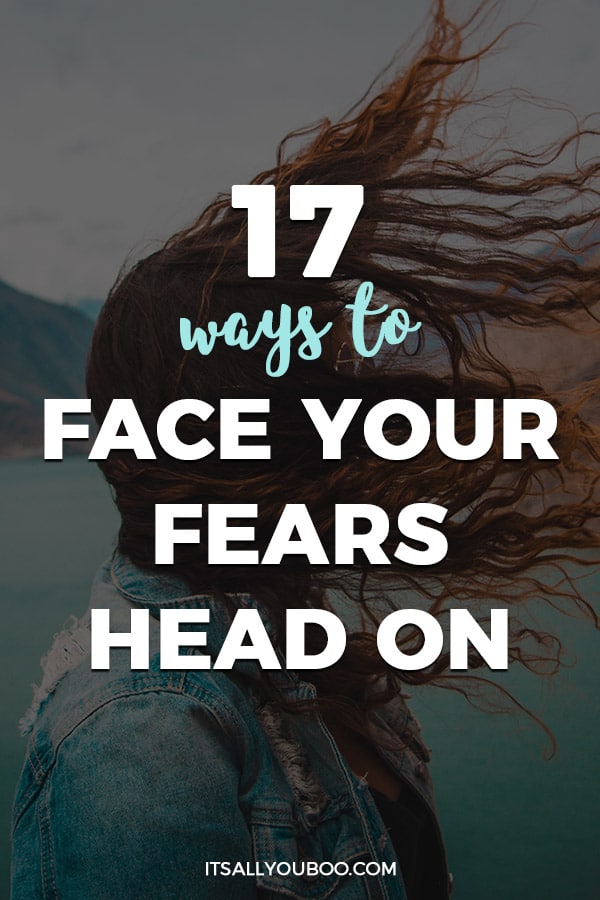 This post will also cover:
What it means to face your fears
The dangers of not facing your fears
Should you face your fears?
Is facing your fears the only way to overcome them?
What's the best way to approach facing your fears?
What to do before facing your fears head on.
How do you conquer your fears?
By the end of this post, you will feel:
Curiosity about your future
New hope for your strength
Acceptance that you can overcome your fears
Bravery and be able to take small steps

But first, let's look at some common misconceptions about what it means to face your fears.
What Does it Mean to Face Your Fears?
"Not having fear isn't brave, it's foolhardy. Any real hero knows fear…the difference is, a hero masters his fear." – The Wizard of Oz
When my son was eight years old, he came to me with big break-your-heart tears. After a tight squeeze and asking him what was wrong, he calmed down enough to tell me that he'd stood up to his friends at school who weren't being very nice to a classmate.
"Oh, darling," I said, "That must have been so hard. What a brave boy you are."
My poor son started crying even harder! "No, I'm not!" he howled. "I was scared to say it, and now I'm crying. I'm the least brave person on the planet!"
👉🏽 RELATED POST: How to Do What Scares You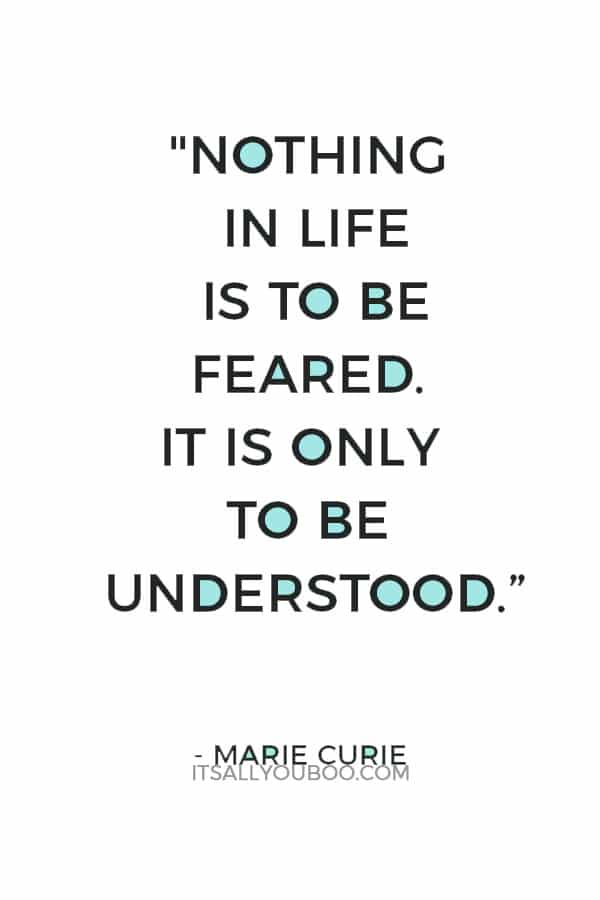 Facing your fear does not mean that you no longer feel fear, anxiety – or even pain.
So what does it mean?
Being brave and mastering your fears means you've:
Realized emotional fear is a learned reaction
Accepted your fears for what they are
Understood that facing your fears is the only way to overcome them
Determined a course of action to overcome those fears
I'll venture a guess that you aren't in the mood to realize, accept, understand, create a plan, or even read about how to face your fears head on in general. Your fear is already – on some days – paralyzing and exhausting.
But what you do want is freedom: the freedom to choose any future you want without fear holding you back.
The Danger of Not Facing Your Fears Head on
"Avoiding danger is no safer in the long run than outright exposure. The fearful are caught as often as the bold." —Helen Keller
In her book, How To Be Happy, Dammit (A Cynic's Guide to Spiritual Happiness), Karen Salmansohn provides the perfect story that illustrates the importance of facing your fears.
The fable is about a criminal and a King. The King gives the criminal two choices for his punishment:
He could be hung by a rope
Or receive whatever was being a mysterious iron door
The criminal chose the rope.
As the criminal wore the noose, he curiously asked the King what was behind the door.
👉🏽 RELATED POST: How to Understand Your Fears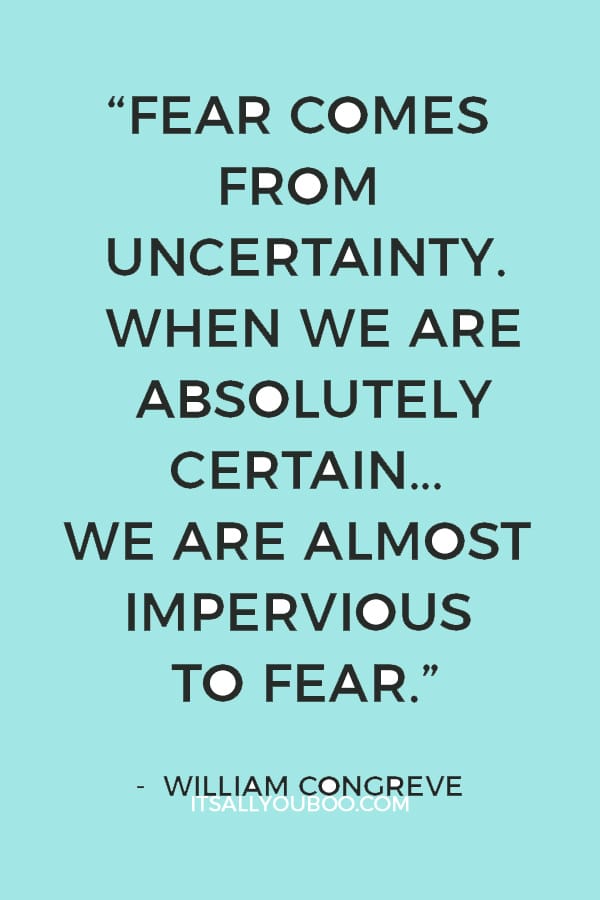 "Freedom," said the King. "But it seems most people are so afraid of the unknown that they immediately take the rope."
Are all your fears based on life or death? Probably not. But they certainly can feel that way at times.
But the danger of not taking chances by facing your fears remains: don't waste your life just because the alternative is unknown, or it's too uncomfortable to take a chance on something new and mysterious.
Learning how to face your fears head on requires you to choose the mystery door – understanding that taking a risk will always be better than wasting your life away.
Should You Face Your Fears?
"Fear comes from uncertainty. When we are absolutely certain . . . we are almost impervious to fear." —William Congreve
You may not feel certain about the steps you need to take to stare down your fears, but you may feel absolutely certain that something needs to change.
👉🏽 RELATED POST: Quotes About Changing Your Life for the Better
Because you're tired of living day after day and not seeing any results. You're not any happier, not any more satisfied, or feel like you have any purpose.
When is the right time to face your fears so you can start to feel purpose and accomplishment? Well, that's up to you. But here are some things to consider before you do (I suggest writing these considerations in list form):
Do you have a support group established?
Have you evaluated the risk level? (Family conflict, etc.)
The benefits of facing your fears (success, autonomy, strength, etc.).
If you've considered the above and believe you are ready to learn how to face your fears head on, you will also begin to feel genuine curiosity:
What will life look like if I can move past my fears?
Could I actually get what I want if I can be brave enough to get it?
How would it feel to unload this heavyweight of fear I've been carrying around?
Beginning the process of taking action against your fears can be scary. It begs the question: is facing your fears the only way to overcome it? And if so, how do you overcome fear?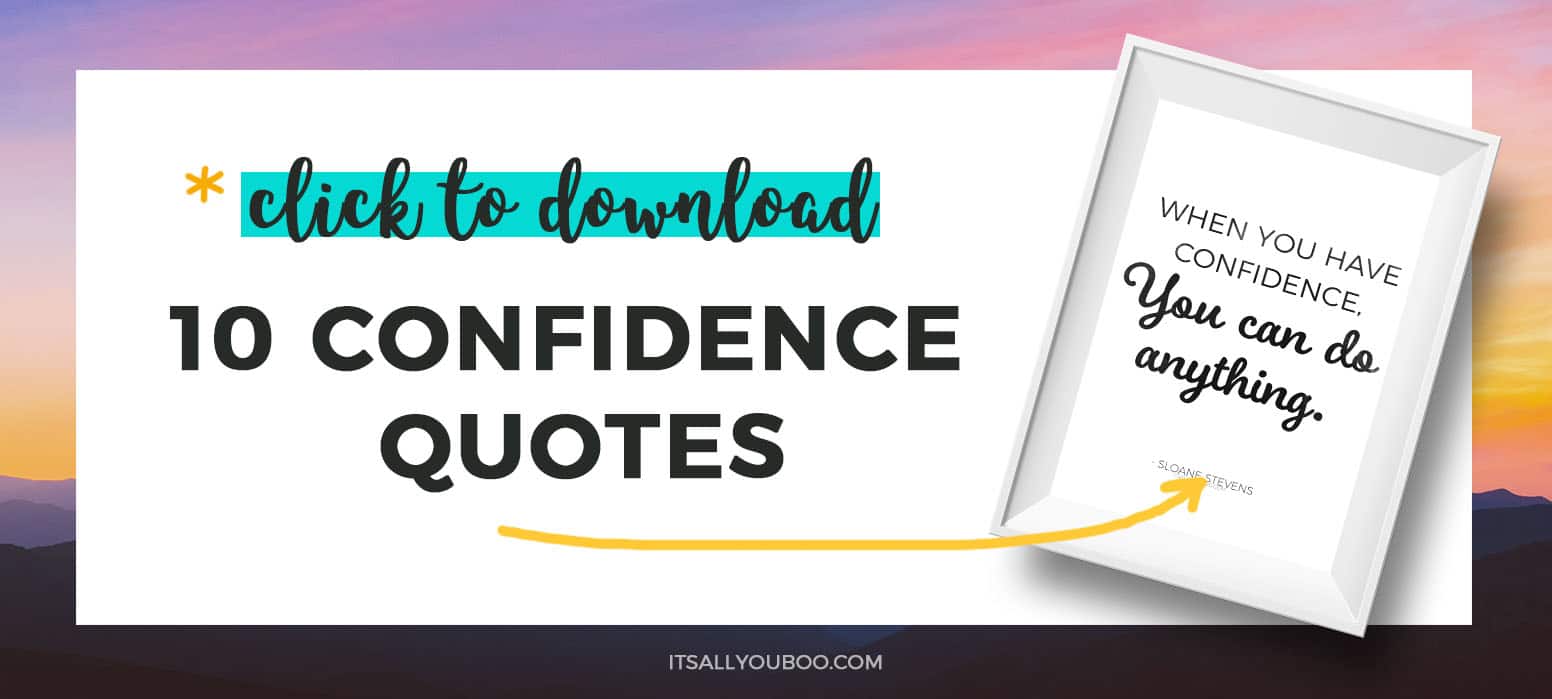 Is facing your fears the only way to overcome it?
"Action cures fear. Inaction creates terror." —Douglas Horton
Avoiding fear triggers (such as conflict, risk of rejection, or the unknown) will make your already deeply rooted fears worsen over time. Why?
The act of avoidance reinforces the fear itself.
You're basically telling your psyche, "Avoid this feeling of fear from [trigger] because it is legitimately dangerous," even if that's not necessarily the case.
Facing your fears by taking action (in small steps) breeds confidence and power. It calms your brain while reducing anxiety – decreasing the odds that you will negatively react and make choices based on fear triggers.
👉🏽 RELATED POST: Quotes to Boost Your Confidence
So unless there's some fancy surgery that can remove your emotional fears when you are dealing with a trigger, learning how to face your fears head on is the only way to overcome it for good.
What's the best way to approach facing your fears head on?
"If you don't go out on the branch, you're never going to get the best fruit." — Sarah Parish
You may be wondering what the best way to approach facing your fears head on is. Make sure you:
Face your fears before starting a new goal
Create a plan of action and system to work through your fears (more on this later)
But before you set off on your brave journey, there are a few things you need to get in order before facing your fears head on for good.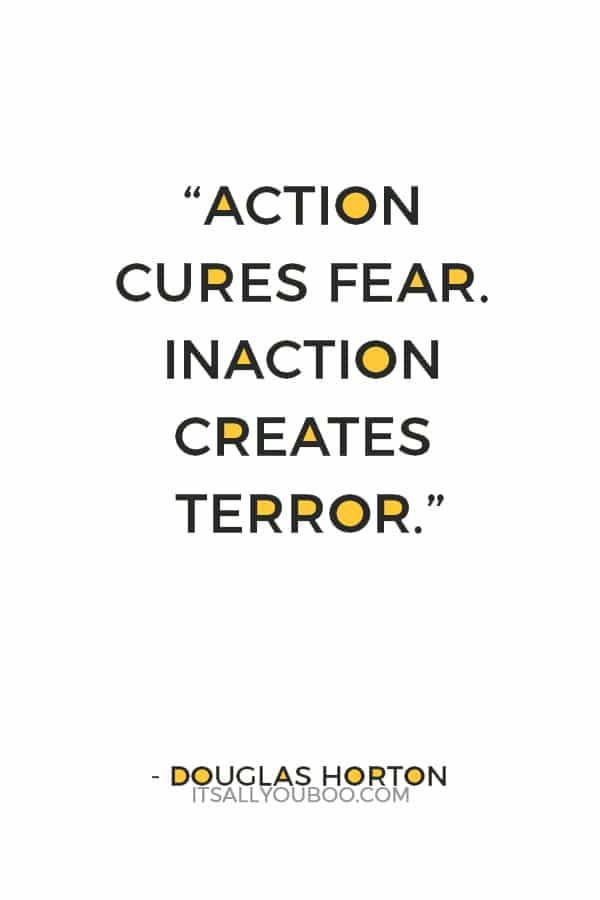 What to do Before Facing Your Fears Head On
"Being brave is having that fear but finding a way through it." —Bear Grylls
Learning how to face your fears head on is no easy feat. It requires dedication and a deep desire to want more in your life.
That's why it's important to set yourself up for success when beginning any challenge. Here are three things you must do before taking the brave leap of facing your fears.
Accept your fear
Fears can feel embarrassing, especially when they are tied to deeply rooted dears like rejection and failure.
Accepting your fears means you get clear on them. Write them down. Write down why you may have those fears. But until you can verbally speak your fears, you haven't quite accepted them yet.
Realize you're not alone
It can be easy to isolate yourself, especially when dealing with vulnerable issues such as fears and emotional triggers.
Write and maintain a physical list of friends, family, online groups, etc. of people you can reach out to when you are feeling down, scared, wanting to give up, or if you are feeling isolated.
There will always be someone who will support you. You just have to be willing to open your eyes and look. Support doesn't always come in the package you've imagined it might.
👉🏽 RELATED POST: How to Find an Accountability Partner
Get organized
As an organization coach, I can confidently say that, yes, you can organize facing your fears head on. I'd argue that it is imperative for success to do so. So let's get organized!
Create a list of your fears associated with your goals and dreams
Group similar fears together
Decipher between rational and irrational fears related to the outcome of your goals. Research statistics for your irrational fears to help keep them in perspective.
List your fears and goals in the order you want to face them (it's best to start with small, less intimidating fears and goals and work your way up).
Focusing on one fear at a time, note one small step you can take today to

It takes a ton of courage to face your fears. The excellent news is that you don't need to learn how to face your fears head on all in one helping.
As you work on your life goals and fear perks its ugly head up, there are small ways you can work through them. Working through fears as they pop up with the following 18 techniques will ensure that you will have the courage and strength to face them.
How To Face Your Fears Head On and Win
"Knowing what must be done does away with fear." —Rosa Parks
The following 17 techniques are proven methods to reduce anxiety, boost motivation, and strengthen our ability to face difficult challenges and fears.
Begin by practicing one method and slowly incorporate more methods as you need them.
#1.
Visualize Success and Practice Gratitude
Think gratitude and visualization are a bunch of woohoo nonsense?
In an original article by The Journal of Positive Psychology, a four-week experimental study suggested that practicing the act of gratitude and the visualization of your best possible self was the most beneficial for eliciting and maintaining a steady positive mood.
Visualize your best self and practice gratitude by:
Keep a gratitude journal and habitually write down three or more things you are grateful for every day. Be specific (I am grateful that I found the courage to ask my boss for a raise today) rather than generic (I am grateful to have housing).
In the same journal, write down three or more "facts" about your future life as if they have already happened (I am confident. I have accomplished [goal]. Many people look up to me.).
Feel gratitude for the strength you've shown in the past, and visualize yourself facing your fears head on.
👉🏽 RELATED POST: 15 Ways to Practice Gratitude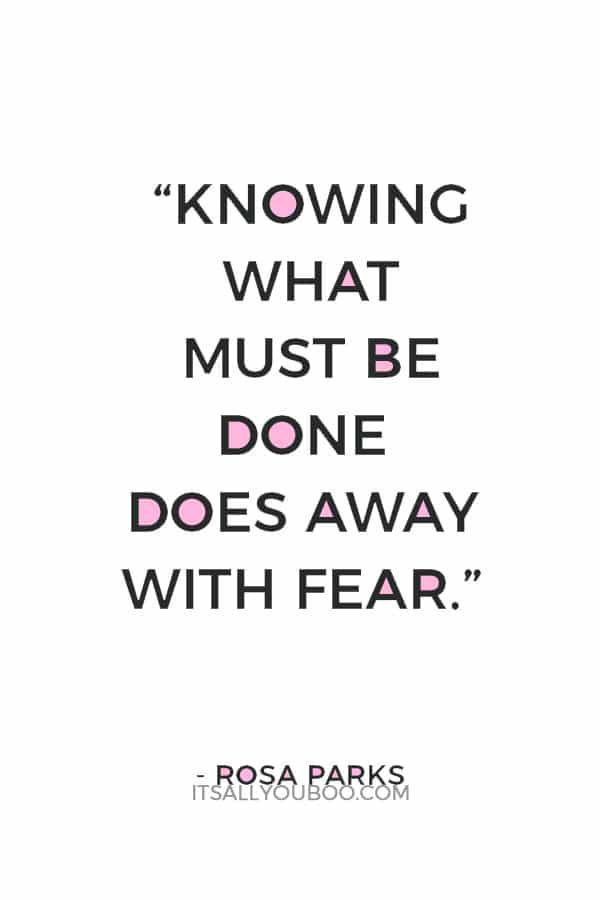 #2.
Relax Your Body and Breathe
Breathing to relax your body is drastically underrated.
After a challenging or stressful day full of one fear trigger after another, diving into bed with a bottle of red wine and Netflix can feel like the only answer.
👉🏽 RELATED POST: How to Deal with Stress and Anxiety
But when you breathe deeply, it sends a message to the brain telling it to calm your body down.
It literally only takes less than thirty seconds to complete one deep breathing cycle:
Breathe in to the count of four.
Hold your breath for the count of four.
Breathe out to the count of six.
Repeat until your body has calmed.
Face your fears by keeping a calm mind and body so you can make decisions based on your goals and not your fear.
#3.
Meditate and Practice Mindfulness
Fear (no matter the source) triggers your fight or flight response, which can make your situation feel impossible at that moment.
Taking a couple of minutes to meditate and breathe deeply to calm your body will bring you back into the present moment. Staying in the present moment is the act of being mindful.
Practicing mindfulness will keep you in the present moment, decreasing the odds that your fear trigger will blow the situation out of proportion and further freak you out.
#4.
Turn Nervous Energy into Productivity
You're shaky. You can't focus on any one task. Your mind is in an endless loop of rumination and anxiety.
Instead, put all that nervous energy to good use. If you find it too difficult to complete work in this state of mind, try being productive in other ways:
Dust your bookshelves
Paint a wall
Mow your lawn
There are an endless number of activities that will help expel all that nervous energy. And after your body has calmed down, you'll feel great about having accomplished a task. Now you can apply this energy to your life goal tasks.
#5.
Think About Past Accomplishments
You need to feel progress. Otherwise, motivation plummets and you can end up feeling like a lump on a log going nowhere with your life.
But past accomplishments are often forgotten if you don't write them down.
Take a moment to reflect on your past accomplishments- there will be plenty! Write them down. Reserve a notebook and continue to write down your accomplishments as they happen.
👉🏽 RELATED POST: How to Focus and Follow Through on Your Goals
Tracking your accomplishments will help you feel as though your life is heading in a fantastic direction, and your motivation to keep going will soar.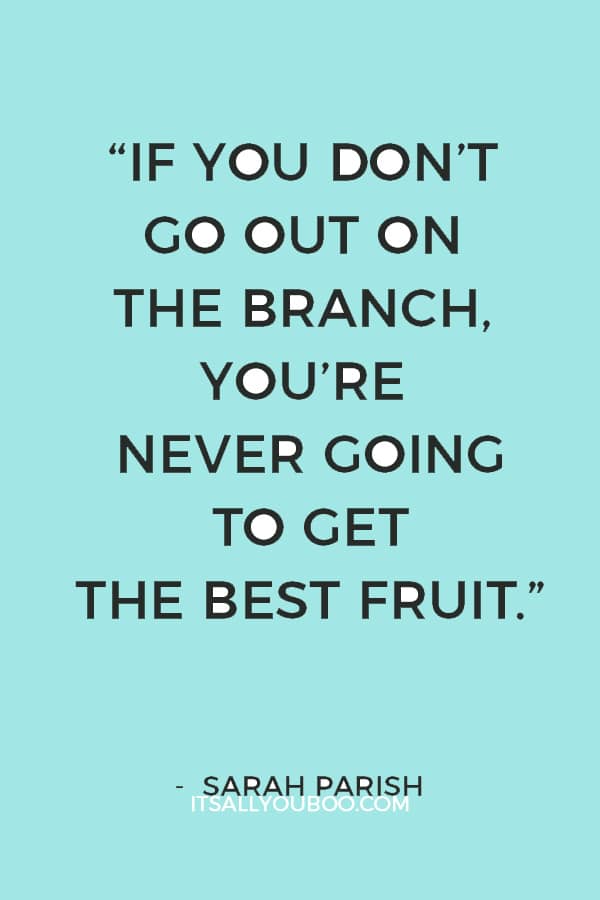 #6.
Just Get Through the Next 30 Seconds
If you've taken an any-size step toward a life goal and are looking your fear in the face, breathe and count to thirty when you feel overwhelmed.
During the hard moments, tell yourself all you have to do is just get through the next thirty seconds.
Once you've gotten past the panic, try these five fast and easy steps to reduce overwhelm.
#7.
Take Small Steps
Do you ever feel like you should be able to tackle a task in its entirety – then beat yourself up when you become overwhelmed and feel like giving up?
Even the pros break down a project or challenge into small steps. They understand that breaking down challenges into small steps is the way to success.
👉🏽 RELATED POST: 6 Secrets to Setting Achievable Goals
A small step to one person may be completely different from another. A small step one day may be too overwhelming on another.
As long as you are taking steps – in any size – you are moving the needle closer to the dream life you want.
#8.
Genuinely Participate in Support Networks
Support networks can include:
Family
Friends
Online groups
Group meet-ups
The more support networks you have, the more encouragement you'll feel. Engaging daily in support networks will keep you feeling invincible. Accept support and give support.
A note about online groups: spend your time in groups of people that have similar goals as you (not necessarily the same fears). It's your life goals you want to focus on, not what's preventing you from achieving them.
👉🏽 RELATED POST: How to Put Yourself Out There
#9.
Embody Confidence
Practice confidence and you will begin to take on confident qualities:
Stand up tall
Be aware of your posture (don't fold into yourself)
Smile more
Practice giving eye contact with strangers
Confident people take confident action.

#10.
Reward Yourself
Celebrating your successes with milestone rewards will remind you that you are taking active steps toward creating the life you want. You will feel proactive and motivated to continue forward.
Reward yourself in proportion to your successes. Give yourself one goal to accomplish daily, then give yourself an end-of-day reward (hot bath, wine, quiet time, etc.).
Treat yourself to more significant rewards when reaching important milestones (such as a weekend trip away when you finish your novel's first draft).
#11.
Practice Thinking Best-case Scenario
Imagine all the positive results that will come from the action you want to take.
Don't focus on everything that could go wrong, or about how terrified you are to make a move. And if you cannot help but imagine the worst – flip it and try imagining the alternative.
Visualizing the best case scenario will increase the likelihood that you will follow through, rather than crumble at the thought of any worst-case scenario your mind has conjured up.
#12.
Create an Action Plan
If you don't want to waste your life by allowing fear to prevent you from creating the life you desire, you must have a specific target goal.
Otherwise, you are floating aimlessly. Plus, you're wasting precious energy on random actions – energy you need to help support you when making brave decisions.
Create an action plan:
Write down your vision of the future you want
List specific goals that will lead you to that future
Choose coping methods from this list when fear strikes
👉🏽 RELATED POST:  How to Plan Your Year in Advance
#13.
Set an Accountability Goal
Choose one significant goal each year.
Break your yearly goal down into 12 monthly tasks. Take each monthly task and break them down into four weekly tasks. Break each weekly task down into daily tasks.
Then, stay accountable to your daily goals by focusing on and prioritizing them.
#14.
Get Some Perspective
Attitude greatly impacts your perspective (your point of view). The messages you feed yourself impacts your attitude.
Give yourself the gift of positive attitude affirmations to keep your perspective in check.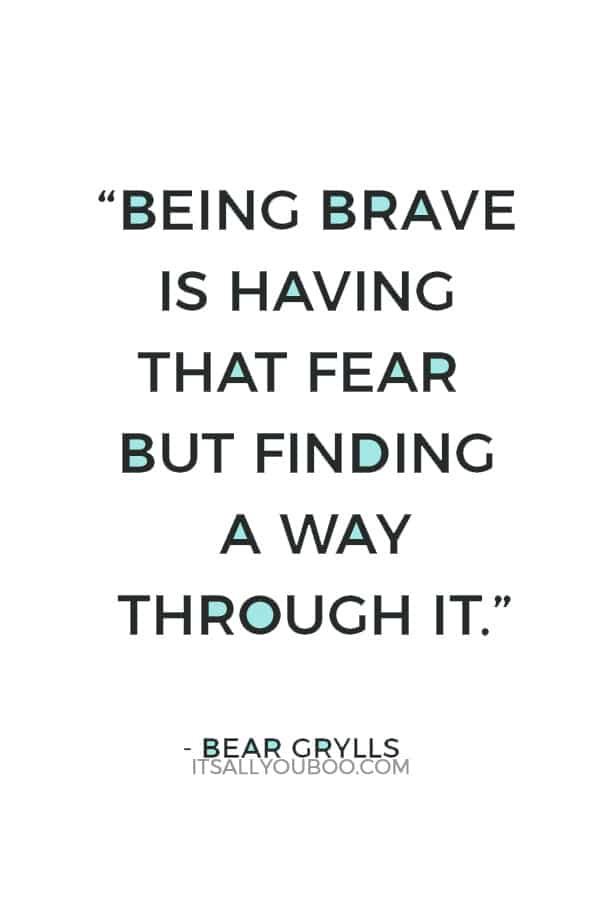 #15.
Exercise Regularly
Exercise, even just a ten-minute walk a day, dramatically increases your ability to:
Feel confident
Beat depression
Fight your fears
Work out (see what I did there?) a way to include exercise into your daily schedule. Bonus points for listening to positive attitude affirmations while walking!
#16.
Use Humor to Attack Your Worst Fears
Laughing is the best medicine because of the way it positively affects your brain and body.
Spend time with people who make you the happiest
Watch your favorite comedies
Imagine your fears in a comedic situation – blow them so out of proportion they become hilarious.
#17.
Appreciate the Courage You've Shown
Much like your tangible accomplishments, noting your emotional accomplishments is equally essential.
Although you may feel thus far like you've wasted a lot of time and have shown zero courage (why else would you be reading this post?)- it's simply not true.
Deciding that you want to face your fears head on to create the life you want takes tremendous courage. Give yourself some brownie points here!
Stop Letting Fear Rule Your Life
"The brave man is not he who does not feel afraid, but he who conquers that fear." —Nelson Mandela
If you're tired of just going through the movements day after day and allowing your fear of the unknown control your destiny, it's time to take action.
Be curious. Be brave. Be a badass.
Imagine how powerful you'd feel if you set a goal, took small, challenging steps, conquered your fear, and won.
How would your life look then?
Get Your Printable Confidence Quote
Ready to beat the fear and live life with confidence? Get your free printable self-confidence quotes that are perfect for your home, office or wherever you need to find inspirational daily. Each design is black and white and features brushed ink letter detailing.
This download comes with 10 high-resolution graphics ready to be printed and posted. Read them daily for inspiration.
Let's review all you've learned about facing your fears head-on:
You know what it means to confront your fears
Decided whether you should face them
learned the best ways to approach your fears
And how to face your fears head-on and win
Start being brave today and take one small step. If you don't know how to face your fears head-on, start by creating an action plan, then work through the 17 ways you can stop wasting your life on fear.
Tired of being too afraid? Stop wasting your life by letting fears get in the way of dreams. Click now and learn how to face your fears head on TODAY by @renzeerose. #Fears #Brave #Courage #Success

How do you face your fears head on?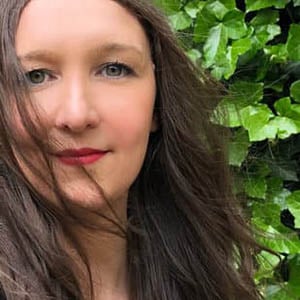 More About Guest Contributor
Renzee Lee is a millennial momma of two precocious pre-teens from Oregon. Renzee of www.countyourwords.com is obsessed with helping single mothers achieve their non-mom goals without feeling crappy or guilty. Her work has been featured at Goals.com, LisaDesignsLife.com, PaulSating.com, GetRichInHealth.com, and The Stories We Tell podcast. When Renzee isn't reading or writing, she can be found at the local cinemas in a luxury lounger holding a vat of red wine.
Last Updated on July 11, 2021
✕
Get Your Confidence Quotes
+ get weekly tips to help you slay your goals.