How do you make money as a freelance writer?
How do I get started as a freelance writer?

Are you looking for a permanent freelancing job that lets you work from home every day?
If so, you've come to the right place. Freelance writing is one of the most popular work from home jobs out there.
Thankfully, learning how to make money as a freelance writer is not just easy; it's a great way to take back your time and create a better work-life balance.
Can You Really Make Money as a Freelance Writer?
Absolutely! Today, content is a critical part of marketing strategies for entrepreneurs. When you're considering how to make money as a freelance writer, the possibilities are endless. You can write blog articles, case studies, and white papers for businesses or articles for thousands of magazines and newspapers. Really, you can get paid to write about anything online.
Many writers make a great living on the money they make from freelance writing, and earning six figures is entirely possible. Now, you've probably heard about content mills and bidding sites like Upwork. And you're wondering how in the world you can make good money writing when you have to compete with many other writers.
👉🏽 RELATED POST: How to Get Your Dream Job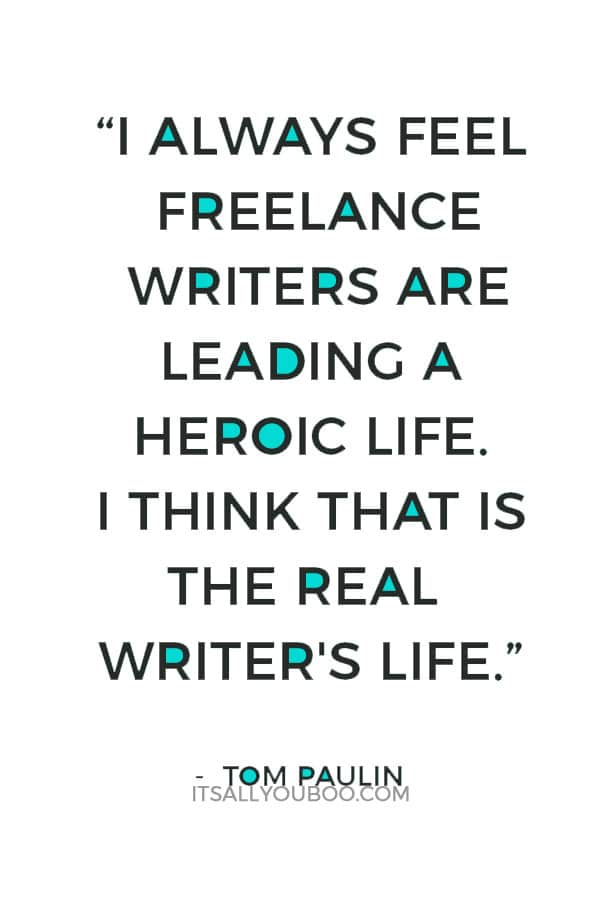 The answer is, well, you don't. You would never be able to write enough $10 articles to create the six-figure income that you dream of. Very few people can make enough money on Upwork to create their dream job, but unfortunately, new writers often end up on platforms like this and get discouraged.
Don't get me wrong; there are large writing platforms where you can make an excellent income. In fact, the most money any client has ever paid me to date for an article was one that found me on ClearVoice. So, not all platforms with freelance writer positions are considered content mills.
The best ways to make money writing online is finding businesses you can create content for, but we'll discuss the best places to find freelance writing jobs and more on content mills a little later. Discovering the secrets to how to make money as a freelance writer gives you an advantage over other new and aspiring writers.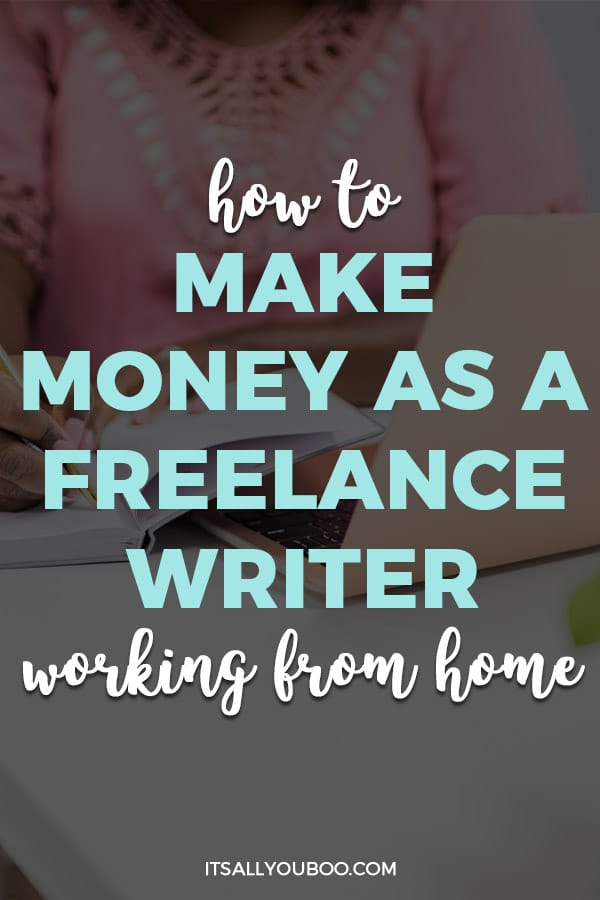 Is Freelance Writing is the Right Work From Home Job for You?
While you want to work from home, how do you know if freelance writing is right for you? There are several questions you can ask yourself:
Do You Actually Like to Write?
Do You Want to Run a Business?
Are You Self-Motivated?
Can You Accept Feedback and Implement It?
Do You Write Well?
Are Your Finances in Order?
So, what do you think? Does freelance write from home sound like a good fit for you?
How to Make Money as a Freelance Writer-Freelance Writing Niches
One of the first vital tasks of setting yourself up for freelance writing success is to pick a writing niche.
So, what exactly is a niche? A niche is essentially a topic or industry that you want to write about. While that sounds simple, the key is picking a profitable niche-one you can make a lot of money from. You might think that if you appeal to more people, then you get more money, right? Wrong.
Picking a niche allows you to specialize and position yourself as an expert, and that lets you ask for more money for your writing. It also helps you develop a strategy for providing your clients with the results they want. When you can give your clients the results they need, you'll have all the testimonials you need to get better, higher-paying clients.
👉🏽 RELATED POST: How to Be Your Own Boss

Pick a Niche Topic or Industry
You can niche down by topic or industry as well as writing projects. For example, I write blog articles for businesses in the security and law enforcement industries since my background is in law enforcement. By optimizing my LinkedIn profile (that's where my ideal clients hang out), my clients find me, and it's a great way to onboard long-term or retainer clients.
Maybe you have a strong background in computer technology. You can specialize in writing case studies for businesses in computer technology. By choosing one topic to focus on, you can become an expert in that niche. Now, if you just want to niche down to computer technology but write blog articles, white papers, and case studies, that's perfectly fine. A specific topic or industry is a perfectly acceptable niche.
To see if your ideal niche is popular, see if other writers or bloggers are making money in that niche. Or if the industry itself is profitable and has the money to pay you well for your writing. A profitable niche is an integral part of figuring out how to make money as a freelance writer.
Where Can You Find Freelance Writing Jobs?
One of the most critical parts of learning how to make money as a freelance writer is knowing where to find writing jobs. While this question should seem easy in theory, it's not. First, let's talk about where you SHOULDN'T look for freelance writing jobs.
Avoid Content Mills and Bidding Sites
Ah yes, the dreaded content mills and bidding sites I mentioned earlier. Many new writers end up writing for bidding sites and content mills because they have more opportunities and are the easiest writing jobs to snag. New writers often type in where to find writing jobs in the search bar, and the first sites you see are freelancing platforms like Upwork. Other content mills include:
Demand Studios
eByline
Textbroker
Writer Access
Yahoo Contributor
Blogmutt
CopyPress
Freelancer.com
Fiverr
👉🏽 RELATED POST:  Legit Ways to Make Money At Home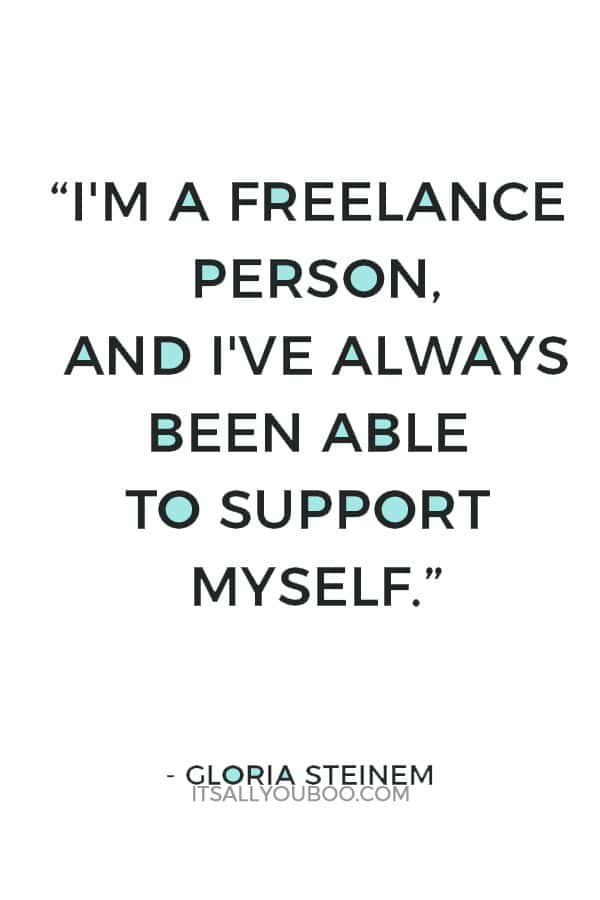 Most of these places don't pay writers well, and you end up working yourself to death. Unfortunately, there are more writers stuck barely making a living from these websites than those making six-figures.
So, how do you make money as a freelance writer if you don't write for content mills and bidding sites? Well, there are many websites and job boards that do allow writers to make good money writing online. Here are some great places to find freelance writing jobs online.
The Best Places to Find Freelance Writing Jobs
#1.
ProBlogger Job Board
The ProBlogger Job Board is a great place to find freelance writing jobs for all levels of experience as well as learning more about how to make money as a freelance writer. This job board is reputable, and they work hard to vet the postings, so you're less likely to run into scams. Scams are a growing problem for new writers trying to make a living writing. This job board has a variety of writing jobs in many niches.
#2.
Freelance Writing Jobs
Freelance Writing Jobs is another website where you can find freelance writing jobs for beginners as well as more general information on running a business and freelance writing. It has daily round-up articles on the most recent job postings. There are many topics to choose from.
#3.
Blogging Pro
The Blogging Pro Job board has different freelance writing jobs, but it mostly has blog writing jobs and paid blogging jobs.
#4.
ClearVoice
Many people consider ClearVoice a content mill, but it's a high paying one. I suggest you give it a try for several reasons. First, the jobs pay well. You'll also set up a portfolio, which is how clients find you. Some big brands find their writers here, such as LifeLock, Cabellas, Carfax, and more.
They operate a little differently from other writing platforms. Jobs more or less search for you. You'll get notified when a possible writing opportunity matches your portfolio or things that the client desires. Then you have 48 hours to apply for the job, which is merely hitting a button that says you're interested. Then you're notified if you got the job.
The biggest problem with this process is that you may not get offered jobs for months, depending on your niche. While my highest-paying jobs came from a big client through ClearVoice, I've received very few opportunities. But when it comes to learning how to make money as a freelance writer, you should try a variety of places to earn money from.
👉🏽 RELATED POST: How to Make Extra Money on the Side

#5.
Facebook Groups
Facebook is a great place to find freelance writing jobs and network with other professionals, which can lead to writing opportunities. The people you network with may tag you when they see freelance writing jobs that fit you. There are also groups dedicated to freelance writing jobs like Female Freelance Writers or Freelance Writing Jobs.
How Much Do Freelance Writers Make?
A common question for people who want to learn how to make money as a freelance writer is how much do freelance writers make? Well, that depends on many factors.
First, it depends on the types of freelance writing projects you plan on writing. You can generally charge more money for case studies and white papers than blog articles. It also depends if you want to write full time or just part-time. Also, you can command more money in some niches compared to others.
The amount of money you make directly correlates with how much time you have to write and the price you charge for each project. If you ask a dozen freelance writers how much they make, you'll likely get 12 different answers.
But to answer the general question, you can make a lot of money, even six figures and more if you write on a variety of projects.
👉🏽 RELATED POST: Can I quit my full-time job?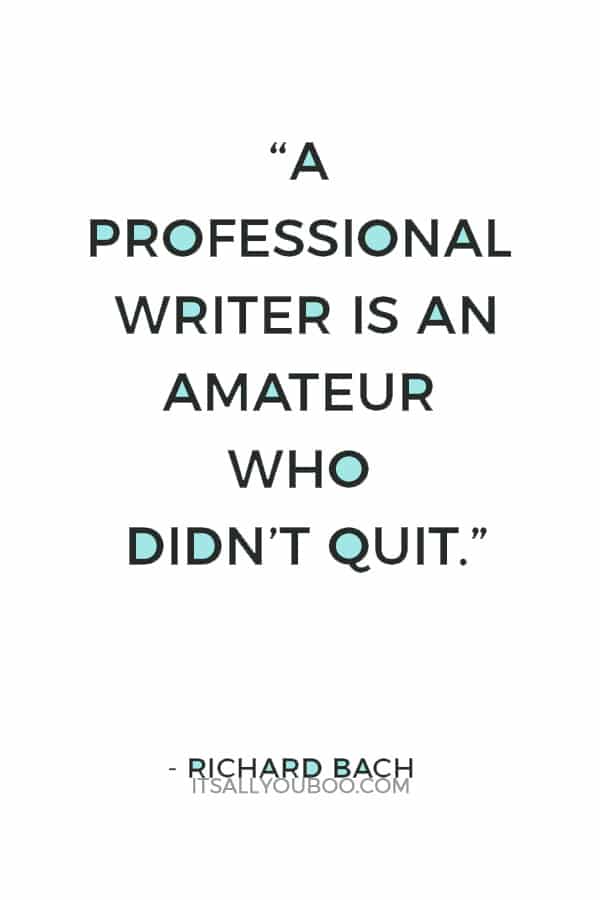 How Do I Get Started as a Freelance Writer?
I'm glad you asked! First, you need to create a domain and freelance writing website. Some people may not agree, but you need a place to showcase your work, expertise, and prices. A website is the best way to convey all those things.
Then you need to set up social media profiles in the name of your business or your own name. You don't necessarily need all of them at once or ever, but you do want to make sure to include the places where your ideal client hangs out. If you're targeting businesses, LinkedIn is probably the first place to set up a profile. Facebook is another popular social media platform to find clients depending on the niche.
You'll need to identify some problems that your ideal client faces, and this usually has to do with growing their audience, establishing their expertise, and generating new leads.
👉🏽 RELATED POST: How to Go from Side-Hustle to Full-Time
If you choose a niche that you don't have a lot of experience in (which you totally can), you'll want to start researching so you can learn the skills necessary ASAP. I also challenge you to write every day. I've written every day for three years now, literally every day. It will help you become a better writer and increase other skills closely related as well.
Those are the basics of how to make money as a freelance writer. If you set yourself up for success, freelance writing can be a lucrative work from home options. I must say that it's one of the best choices I ever made, both personally and professionally. Plus, I reduced my commute down to between the bed and the coffee pot every morning, and it doesn't get much better than that.
Want to make money working at home? Thinking about freelance writing? Click here for how to make money as a freelance writer working from home by @Writerslife78 #Freelancer #Freelancing #WorkFromHome

Ready to make money as a freelance writer?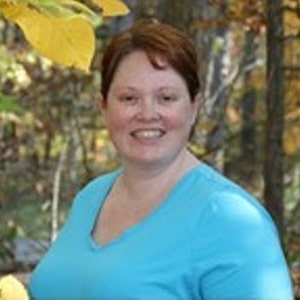 More About Guest Contributor
Heather Ritchie is the Founder of Writer's Life for You, a blog that helps women who want to leave their 9-5 to work from home as freelance writers as well as Ritchie Writing where she ghostwrites for business in the security and law enforcement industries. When she's not writing blog articles for clients, she's helping women achieve a better work-life balance and makes the process of becoming a writer easier. Heather has a course and several eBooks in the works and can't wait to help you write your way to the life you've always dreamed of.
Last Updated on July 11, 2021